Contributed by A Wanderful Sole
The Filipino Backpacking community went abuzz when a photo of a newly discovered waterfall in Laguna surfaced the internet late September 2015. The photo was no doubt beautiful that it immediately took my breath away and triggered my inner curiosity. Words about it spread like wildfire. Days passed and more and more people are posting their wonderful experiences in Hulugan Falls on Facebook and Instagram. It made me unable to resist its charm that I decided to pay it a visit before Christmas.
My first attempt to witness the beauty of Hulugan Falls was a failure. I and Ian, my boyfie-slash-constantly-complaining-travel-buddy woke up late and started preparing at 8am. Traffic in Calamba made the travel twice longer than normal causing us to arrive in Sta. Cruz a little over 1pm. While I already realised that we were a little pressed with time and Brgy. San Salvador (Jumpoff point to Hulugan Falls) is still an hour away, I haven't thought of calling it a day until one of the locals confirmed that we might as well be wasting time if we would still pursue Hulugan Falls as there might be a great chance of local officials not allowing us entrance that late unless we are in to spend a night there. Staying there overnight on Christmas Eve wasn't part of the plan.
Also read: Chasing Waterfalls in Laguna: A Weekend Getaway with Friends
A little upset, I decided to head home. Just when I thought the world was conspiring against me, I discovered another hell of a surprise along the national highway on our way back. It was an utterly weird restaurant called Isdaan. And wow! It pretty much compensated the missed Hulugan Falls adventure as the food was good, the staff were the friendliest I've known and the scene, absolutely stunning!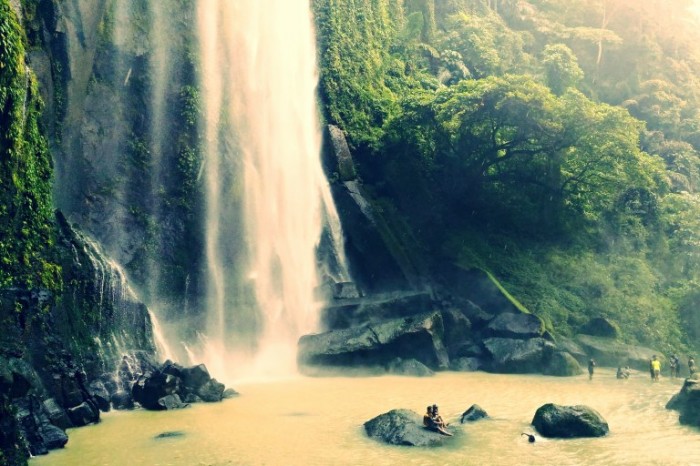 My second attempt was a day after Christmas. I made sure not to go on indulging in holiday merriment and drinking too much so I would wake up early the following day. My being a party pooper on Christmas day paid well as I woke up at 5am and prepped up for that day's adventure early on. From our home in Biñan, we reached Sta Cruz at 9am. When during our first attempt what bothered us was the limited time, it was rain on the second. The ever pessimist Ian urged me to quit and try another day but I on the other hand was hard as steel in seeing Hulugan Falls, not tomorrow nor some other time but that very same day. What can a soft drizzle do to us anyway? He was wise not to argue any further as few minutes passed, we were already ridden on the passenger's seat of a jeepney heading to Brgy. San Salvador in Luisiana.
The journey through the roads going to Luisiana made us discover other beautiful things the province of Laguna has to offer through the tarps displayed along the highway. There's the magnificent waterfalls in Pagsanjan (Of course I've read about it in my geography class!), the irresistible underground cave river in Cavinti and the white water rafting/tubing in Majayjay. It surprised us how this province near the bustling Metro Manila got so much up its sleeves. Perhaps I was just overpowered by the thought that anything near Manila is as exploited and exposed to people and pollution as that busy city itself. I was too caught up with that thought that I didn't open myself to endless possibilities in this side of the wood. Such a shame to know that I have been missing a lot of amazing things lain in my backyard for a very long time.
Also read: Finding Peace & Quiet at the Twin Lakes of San Pablo, Laguna
The ride got even more exciting as we paved our way through the uphill roads of Laguna. The richness of the greenery along the highway was something I appreciate the most. It made the travel bearable as it completely took my attention away from my aching butt. Normally, rides like this would get me shifting positions from time to time like I'm the most uncomfortable human in the planet but the scene got me so hooked that I forgot I was cramped up inside a moving jeepney with Ian sleeping on my shoulder with all his weight on me.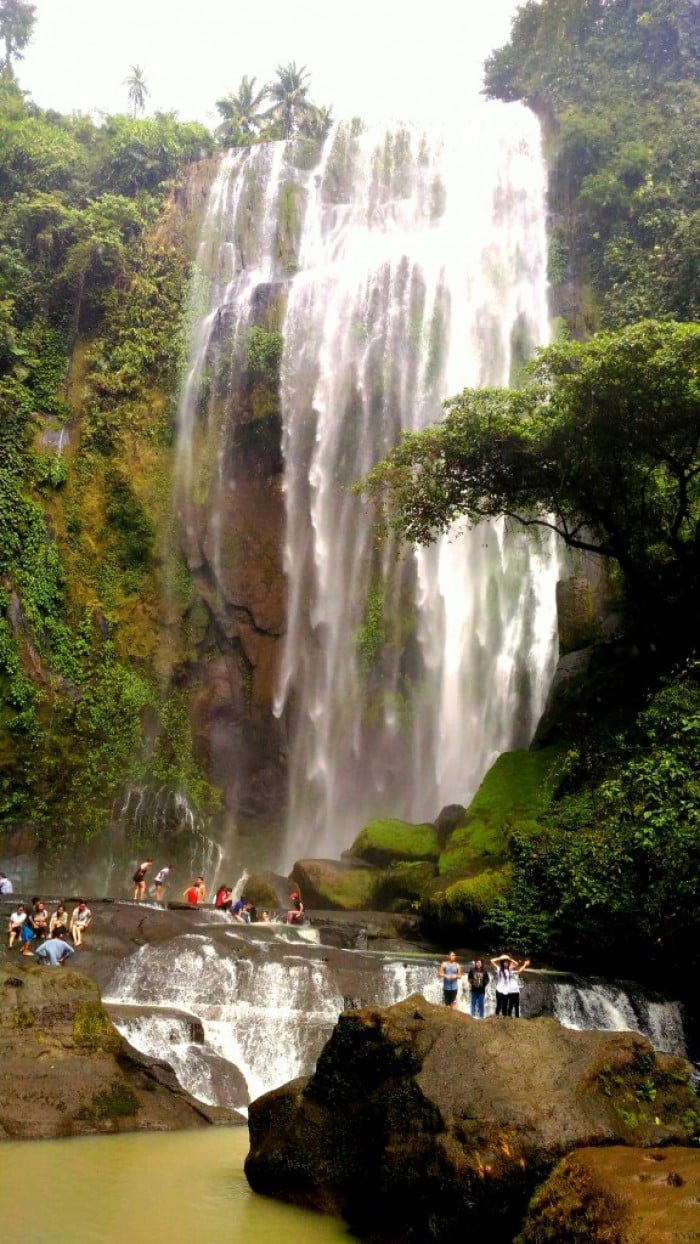 The downpour had stopped several minutes before we reached Brgy. San Salvador which took a little longer than I expected. The jump-off point is an inverted T-junction, at the mouth of the street going to Hulugan Falls and spotting it is easy if you pay attention to the road. There's a huge signage facing those coming from Cavinti and a small waiting shed. A little walk leading inside the street is a spot where you get your guide.
After getting ourselves a guide (the meek and kind Kuya Wilbur – #27), we then rode a trike going to the captain's house where we registered and payed the fees. From the captain's house, we then walked passing through local houses towards the first block turning left to a then still under construction road.
The walk is just easy. No tiring uphill walk. Just the bearable one but it lasted for about an hour. Halfway through, along the road is a signage on the left with the trail going to the other waterfall called Talay. You can take this route if you want to see the 2-tiered Talay Falls first then trek your way down to Hulugan Falls. We chose to stay  on the road until we reached the end of construction and landed on a dirt road. We walked down the muddy trail for a little over 15 minutes before reaching a resting camp.
We rested for about 10 minutes and headed on to face the challenge of the main trail going to Hulugan Falls. The trail was a very steep decent along a ragged path that stretched to about 100 metres. It was like a straight forward downhill natural staircase. The first 30-40 feet was the most difficult since the gaps between each step is longer than what a normal human can actually manage. Bamboo pipes were placed in both sides of the trail to serve as support.
Upon reaching the bottom of the first part, you will then have to turn left and walk along rocks with some of them covered with moss. It will stretch to some 30 feet. Upon reaching the end of it, another descending path similar to the first part will have to be taken. It will turn left upon reaching the first 20 feet and will continue all the way down to the foot of the river. If you encounter some showers, don't fret. It isn't rain but sprinkles of water coming from the falls blown softly by the wind. In that same spot as well was where we had the first glimpse of the wonder of Hulugan Falls. We also have to be very careful in trekking the final left going down as it was totally muddy and dripping wet.
Also read: Top Laguna Attractions for Your Next Weekend Escape
Standing on a rock at the base of the trail was where I first marvelled at the exemplary Hulugan Falls. Her water flowing softly down from a 150 ft. (just an estimate) elevation was oh so flawless. She was so elegant. Seemed so delicate with her mist engulfing everything within her reach. I can hear her singing with every pounce she makes at the basin. She was so enchanting that she had me entangled in her charm, making me care less about how crowded was her world that day.
We walked near her towards her catch basin which seemed like a natural swimming pool tracing east to an area resembling a cave. There we left our valuables to Kuya Wilbur's care to take a swim and indulged in her cold waters. There were not too many people swimming so it was such a perfect opportunity. We settled at the rock near the falling water. We could no longer swim any further since we were advised it wasn't safe. From the spot where we were seated, we saw several rainbows formed in the water. It was so amazing that spotting a rainbow after the other pretty much took our time. Silly but it was fun.
I still haven't had enough when Ian told me that we were heading out. I thought it was to explore the other waterfalls in the area but heck no! He was so obsessed with going home! Upset, I tried to convince him otherwise but you know men, when they are up to something, there's no way they'd back down. So I gave up and called it a day. The events may not have turned out as planned but the very fact that Hulugan Falls exceeded far my expectations is more than enough for me to content myself with how things unfolded that day. Maybe getting a new travel buddy would do me the magic next time. Kidding. (Laughs)
My 5 cents of thoughts
1. I'm saddened how hundreds or thousands of trees were cut down just to pave way to tourism in the area. Locals said construction of the road was spearheaded 6 months ago just about the same time when news about Hulugan Falls surfaced and the influx of tourists poured tremendously in the area. I wish someday we could promote tourism without sacrificing what's still left of our forest.
2. I was surprised to know how Kuya Wilbur didn't impose how much to pay him only saying "Whatever we think is good enough compensation for him" when asked how much would he charge us when all over the internet people are stating ₱650. If I would be asked whether ₱650 is fair enough, I think it is a little bit overpriced, at least in my opinion.
How to get there
1. Commute
Ride a bus going to Sta. Cruz from Buendia or Cubao Stations. You might also find some buses enroute Sta. Cruz in Edsa. Fare is ₱140. Alight the bus in front of Sunstar Mall. From across the street beside Sunstar mall is a jeepney terminal. Ride one going to Lucena which departs every 30 minutes. Fare is ₱30. Ask the driver to drop you off in Brgy. San Salvador.
2. Private Car
Drive south in SLEX taking Calamba exit. From the toll gate turn left passing through the bridge then follow the National Hwy going to Sta Cruz, then to Pagsanjan and Cavinti. Upon reaching Brgy. San Salvador turn right at the street with a signage of Hulugan Falls.
Things to bring
Waterproof bag
Waterproof camera (If you don't have one, try putting them in a waterproof case. You'll badly need it.)
2L Water
Packed lunch
Trail food/Snack
Trash bag
Waterproof mat (where you can place your valuables while you take a dip in the water)
Toiletries (for washing up)
Towel
Extra clothes
Summary of expenses
RT Fare Sta. Cruz – ₱280
RT Fare Sta. Cruz – Brgy. San Salvador – ₱70
RT Fare Jump-off to Captain's house – ₱30
Registration Fee – ₱20
Guide Fee (Up to you) – ₱650 (Hulugan-Talay-Aliw Falls) or ₱300 (Hulugan Falls)
Bath – ₱20
TOTAL – ₱570/pax for a group of 2
*You may bring friends along to at least have the 5 of you share the guide fee cost.
Other information
Guides are available at the registration point. While others may recommend a specific guide, please understand that there are 130 of them and it would be for everybody's best interest if we would give them equal chance.
The latest that local officials will allow tourists to the see Hulugan Falls is no later than 3pm unless you are to stay overnight.
There is a campsite situated by the river above Hulugan Falls. Camping fee is ₱50 per person.
If you still haven't had enough chasing waterfalls, you can visit Talay and Aliw Falls. Please note that Aliw Falls is situated within a different Barangay than Hulugan and Talay Falls which may require you to get a new guide or pay another fee.
Locals sell special bibingka which is perfect as snack after the long trek while marvelling at the beauty of the waterfalls.
The parking area for those bringing their car is beside the Brgy. captain's house. Not sure though whether there is a parking fee.
To those going home to Cavite, you can get off the terminal of passenger vans routing to Calamba/Sta. Rosa. Dropped off is at Sta. Rosa public market. The terminal for vans routing Cavite is a few walks' away from the drop off point . There, you can ride another passenger van going home.
Isdaan Floating Restaurant is a perfect sidetrip after a long day chasing waterfalls.
Sample Itinerary
Hulugan Falls only
0530: Assembly Buendia/Cubao Station
0600: ETD Sta Cruz
0800: Sta Cruz
0900: San Salvador Registration site
1000: Hulugan Falls
1200: Lunch
1400: Pack and Leave
1500: Wash up
1600: Head Home
Hulugan, Talay & Aliw Falls
0530: Assembly Buendia/Cubao Station
0600: ETD Sta Cruz
0800: Sunstal Mall Sta Cruz
0900: San Salvador Registration site
1000: Hulugan Falls
1200: Lunch
1400: Talay Falls
1600: Aliw Falls
1700: Wash Up
1800: Head home
Other interesting places to visit in Laguna
Isdaan Floating Restaurant
Bukal Falls
Taytay Falls
Mt. Romelo, Buruwisan Falls and the other stunning waterfalls
Pagsanjan Falls
Buntot Palos Falls
Pandin and Yambo Lakes
Cavinti Underground River Cave
There you go folks! If there is anything I missed to mention, feel free to leave them in the comments. Until next time. See yah. 🙂