Contributed by Anatomy of the Awesome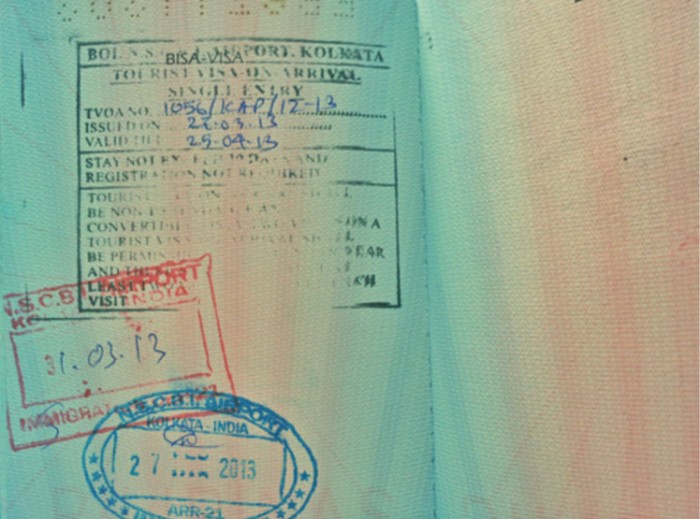 I just realised that I failed to write about my previous experience of getting a Tourist Visa from the Indian Embassy in the Philippines, which I think is already obsolete. Instead, let me make up for it by sharing my first-hand experience of applying for an Indian Tourist Visa on Arrival in India. If you are like me who makes impulsive decisions of booking a ticket to see an online friend or wants to do side trips while backpacking, this post might help you.
Also read: 18 Reasons You Should Travel to India
Things to remember:
Visa on Arrival in India is available for the citizens of these countries: Finland, Japan, Luxembourg, New Zealand, Singapore, Cambodia, Vietnam, Philippines, Laos, Myanmar, Indonesia. See updated list of countries here.
Indian tourist visa on arrival are being issued in four major Indian airports: Delhi, Mumbai, Chennai and Kolkata.
The single entry visa that will be given is going to be valid for 30 days from the time of entry.
Application should be a maximum of 2 times in a calendar year with a minimum gap of 2 months between each visit
Who are eligible for tourist VOA:
The purpose of visit to India should only be for tourism (recreation, holiday, vacation, sight-seeing, visiting friends and relatives)
Should not have a residence or occupation in India
Not a person-non-grata to the Government of India
What to prepare:
Passport should have a minimum of 6 months validity
Has a good financial standing which is shown by production of return ticket and availability of sufficient money on the duration of stay
Photocopy of the first page of your passport
1 passport sized photograph
Completed application form which is provided by VOA immigration officer
Accomplished arrival card
60 USD or 3,300 INR visa fee
Tips and Tricks:
Go straight to the visa on arrival desk which is before the immigration counter. In Kolkata, I did not see a VOA desk so I approached an immigration officer regarding my concern and they gladly escorted me to their office.
You can present supporting documents like bank certificate, itinerary and hotel bookings if you are not confident with the documents that you have.
In some websites, visa application will cost 60 USD, but I highly recommend that you pay the exact amount of 3,300 INR instead to avoid hassle of causing a scene in the immigration counter and going out to exchange money in the airport arrival area. I don't know what is up with the increase of VOA fee but IO told me that the updated amount they should receive is 3,300 INR.
Immigration will ask you basic questions. They asked me what my purpose of visit was and I mentioned that I will be visiting an acquaintance and also I want to experience the Holi Festival (which I didn't really experience since I came a day after it). They also asked me how many days I plan to stay, where I will stay, do I have plans of marrying an Indian and what my religion was. It is important to only give out the specific answers they are looking for when they ask you questions. Do not give out any other unnecessary information because this will only lead to further interrogation.
Do not be surprised if the days of visa validity issued to you is not exactly 30 days like what is usually expected. The Immigration officer explained to me that I have roughly 28 days for my visa but then I frankly told them that I don't need that much amount of time, and I only need 4 days since I have to head back to the Philippines because I have to report back to work ASAP.
One should take in consideration that tourist visa on arrival depends on the discretion of the authorities. Rules and regulations change from time to time. It is still advisable and appropriate to get a tourist visa before travelling to India to avoid any problems.
Do not leave without being issued an official receipt from the VOA you purchased.
If you were able to submit everything they need, then it is very unlikely that Immigration officers will not give you a visa on arrival.
Until now, I cannot imagine the anxiety I had when I was applying for an Indian tourist visa. I was really scared because I did not have anybody to ask about it. Also, I came from Kuala Lumpur and I thought immigration officers will question me of my previous consecutive whereabouts (I went to a lot of places before I got in my connecting flight to KL). Being a solo female backpacker travelling to India is scary, but it will definitely make you a better person. I have learned that India is never for the fainthearted so make sure to plan your travel ahead of time. As for me? I have plans of going to India in the near future but this time, I'll probably go to see the Taj Mahal. I want to do a golden triangle tour—travel to Delhi, Agra and Jaipur and I think this is going to be an exciting experience of a lifetime.
Incredible India is waiting for you. Good Luck!