Do you know what has kept me going during these crazy times? A lot of Netflix, and a lot of food. At this point, I find nothing more thrilling than trying out all the movie recipes I've seen so far. Surprisingly, many of them are very doable! But before I blabber on, I'll let these movie recipes speak for themselves.
Also read: Studio Ghibli Food Recipes: How to Make the Delicious Food in Ghibli Movies at Home
1. Jjapaguri in Parasite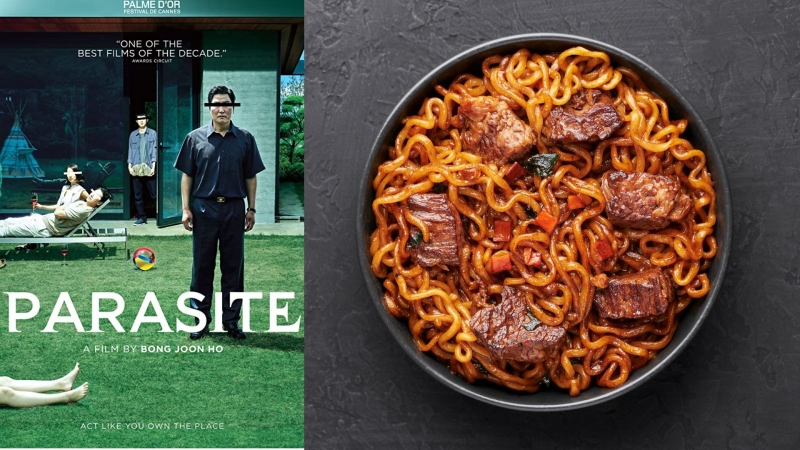 I'm not gonna lie: What really piqued my interest enough to watch Parasite was the viral jjapaguri (aka ram-don). Apparently, I'm not alone. After the Oscar-winning film premiered, Google saw thousands of searches for "ram-don recipes". Safe to say, this dish totally got its fair share of the spotlight in the film.
It's also probable that the jjapaguri got as much praise as it did because it's one of the easiest movie recipes to cook. Plus, every Pinoy loves instant noodles.
Ingredients
8 oz tender beef, sliced into bite-sized pieces
Salt and pepper
1 tbsp oil
2 cloves of garlic, minced
1 pack of Chapagetti
1 pack of Neoguri
Recipe
Season beef with salt and pepper.
In a heated pan, fry beef and garlic.
In a separate pot, boil the noodles and vegetable mixes from both packets.
Strain the noodles.
Transfer the noodles to the pan of beef.
Pour a cup of water into the pan.
Add the Chapagetti sauce and ⅗ of the Neoguri sauce.
Stir until combined.
Also read: Canned Goods Recipes: 10 Emergency Dishes You Can Cook This ECQ
2. Taco sausage in The Half of It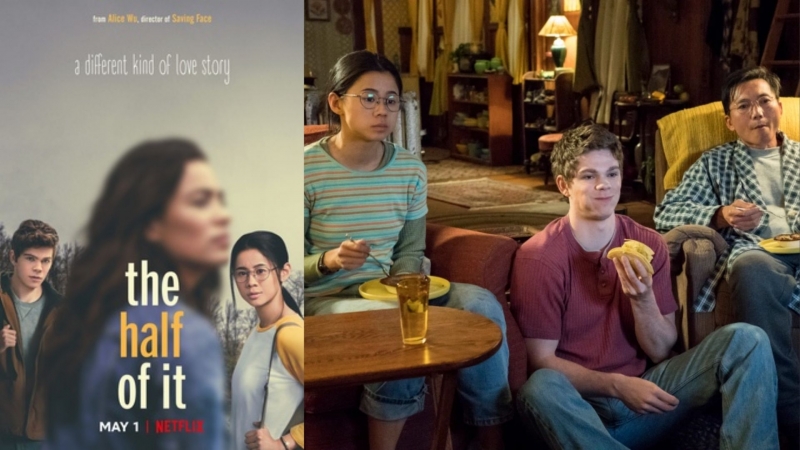 The Half of It's Paul Munsky (Daniel Diemer) is a small-town boy with big dreams. As he narrates in the film, his family has a multi-generational sausage business in the fictional town of Squahamish. His ultimate fantasy? To jazz things up with his ingenious taco sausage. And interestingly, both Ellie Chu (Leah Lewis) and her dad (Collin Chou) — who seem to be huge foodies themselves — find the dish splendid.
In later interviews, Diemer revealed that the cast were actually eating real taco sausage while filming. In one of their promotional materials, Lewis even hinted that her amazed reaction towards tasting the dish was genuine! Thankfully, the cast disclosed Munsky's famous taco sausage recipe after a lot of prodding. So, here it is.
Ingredients
Soft-shell tacos
Hard-shell tacos
5 tomatoes, chopped
1 lettuce, cut into strips
5 pcs sausages, sliced into bite-sized pieces
Salt and pepper
Guacamole
Chipotle pepper
Mayonnaise
Sour cream
Cheddar cheese, shredded
Recipe
In a heated pan, fry sausages.
Mix chipotle pepper and mayonnaise together.
Apply the guacamole inside the hard-shell taco.
Season with salt and pepper.
Add the sliced sausages.
Layer on the tomatoes and lettuce.
Add sour cream, then the chipotle mayo.
Sprinkle it with cheese.
Place on top of a softshell taco.
Heat in a microwave until the cheese is melted.
Serve wrapped.
3. Cherry turnover in To All The Boys: P.S. I Still Love You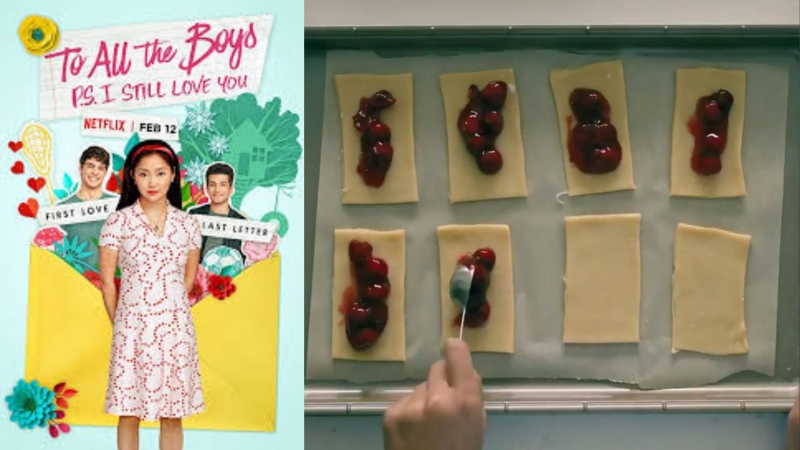 As if being effortlessly charming weren't enough, Lara Jean (Lana Condor) just had to be a great baker, too! In the sequel of the famous To All The Boys I've Loved Before, we see her baking cherry turnovers for Peter Kavinsky (Noah Centineo).
The aesthetic baking scene shot on flatlay makes the dish seem fairly easy to make. But if you don't have any baking experience, it's actually one of the more daunting movie recipes! Check out this cherry turnover recipe from Missy for yourself.
Ingredients
For the crust
2 ¼ cups all-purpose flour
¼ tsp baking powder
1 tsp sugar
½ tsp salt
4 tbsp vegetable shortening, cold and cut into pieces
10 tbsps unsalted butter, cold and cut into cubes
2 eggs, beaten
For the filling
3 cups pitted cherries, roughly chopped
⅓ cup granulated sugar
1 tbsp cornstarch
2 tbsp fresh lemon juice
Salt
Recipe
Blend together flour, baking powder, sugar, and a pinch of salt.
Add the shortening and half of the butter cubes before blending again.
Add the rest of the butter before blending again. By this time, the mixture should look like peas.
Pour in ¼ cup of ice water. Blend again.
Roll the dough into two disks.
Wrap in plastic and refrigerate for an hour.
Meanwhile, cook the cherries over medium heat. Add sugar and salt.
Stir for five minutes, then simmer.
Take two tablespoons of the sauce into a separate bowl.
Add cornstarch to the sauce in a bowl. Stir and pour the mixture back into the saucepan. Stir until thick.
Remove from heat and stir in lemon juice. Let cool.
After the dough is chilled, remove from plastic wrap.
Roll out the dough until flattened into ⅛ of an inch.
Cut out rectangles (approximately 2.5 inches wide and 4 inches long) from the dough. Leave half of the rectangle slices for later.
Place 1 ½ tbsps of cherry filling into the middle of each dough.
Cut a few slits into the top of the other half of the dough. Cover each filled dough with these.
Once layered, press the edges with a fork.
Beat the two eggs and apply as a glaze.
Bake the pastries for about 20 minutes.
4. Kimchi jjigae in Always Be My Maybe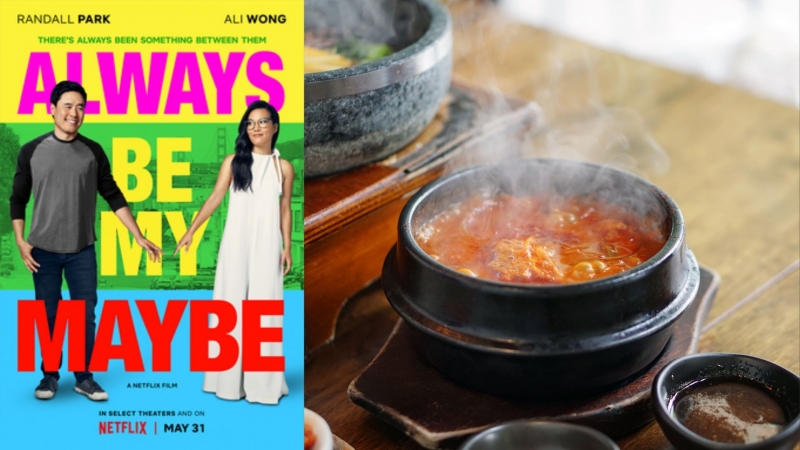 Alas, we have another Asian film on the list. But who can blame me for loading on Asian movie recipes? We have the tastiest flavours ever! And, Always Be My Maybe recognises that.
Sasha Tan (Ali Wong) plays a Vietnamese-American celebrity chef and restaurateur for this Netflix film. At the heart of her career remains the kimchi jjigae — a dish she learned to cook from the mother of her Korean neighbour, Marcus Kim (Randall Park).
If you're as interested as I am to try out cooking kimchi jjigae, I recommend the following recipe from All Roads Lead to the Kitchen. Oh, and don't forget to use scissors whenever applicable!
Ingredients
4 oz salmon, skinned and cut into two
1 ½ cups kimchi, aged at least three weeks
6 oz extra firm tofu, cubed
2 oz shiitake mushrooms, stemmed and sliced
1 tbsp gochujang
½ tsp gochugaru
2 cloves of garlic, minced
½ inch of ginger, peeled and grated
Salt and pepper
2 scallions, cut into 1 ½ inch pieces
Recipe
In a large pot, heat the salmon, kimchi, tofu, shiitake mushrooms, gochujang, gochugaru, garlic, and ginger.
Season with salt and pepper.
Pour in two cups of water. Bring to a boil.
Over medium-low heat, allow the dish to cook for 10 minutes.
Garnish with scallions to serve.
5. Grilled cheese sandwich in The Devil Wears Prada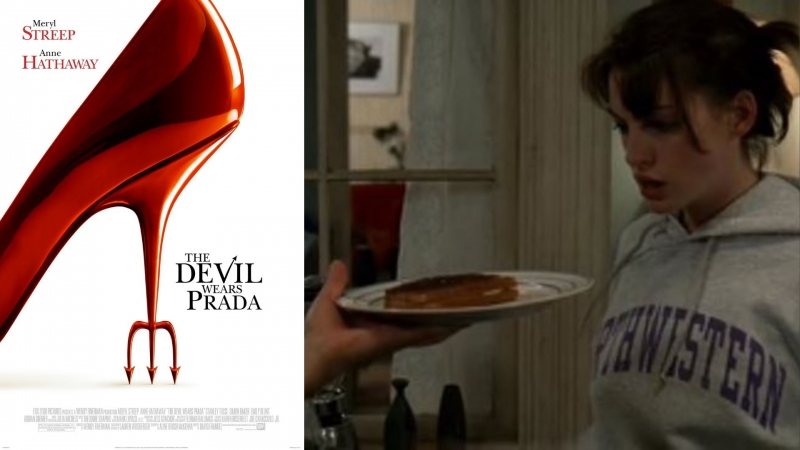 As a frustrated stylish journalist, I admit that I've taken too many cues from post-makeover Andy Sachs (Anne Hathaway). Aside from her chic full-bangs (worked pretty well for me) and thigh-high boots (as a short-legged girl, not as much), I even paid close attention to how she ate. This is probably why I can still hear Nate's (Adrian Grenier) protests over Andy not having the appetite for his grilled cheese with "eight dollars of Jarlsberg".
According to Hungry Forever, an US$8.00-worth Jarlsberg cheese roughly translates to six ounces! And apparently, deli Swiss cheese is a good enough alternative — just in case you want to try this at home.
Ingredients
Butter
4 slices of white bread
6 oz Jarlsberg cheese, slice
Recipe
Spread butter over each slice of bread.
Add slices of cheese on the same side.
Join slices of bread together.
Grill the sandwiches until golden brown.
Serve and enjoy.
6. Chilli dogs in The Irishman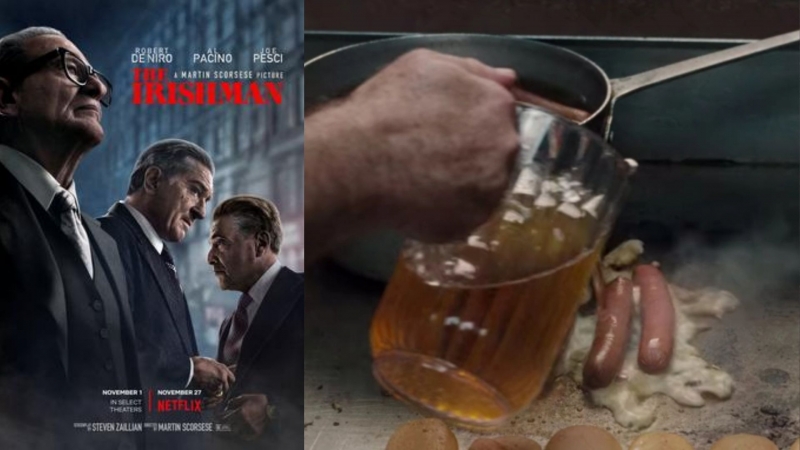 When I first heard about chilli dogs and beer, I thought — Great! Yum! But when I realised that this recipe actually calls for the chilli dogs to be cooked in beer, I started having mixed feelings about it. (Ultimately, the experimental foodie in me gave in. I'd love to try this!)
To be specific, the chilli dogs from The Irishman are steamed in beer. But besides that, the film isn't too keen on disclosing Lum's chilli dog secrets. So for a more detailed recipe, I headed to Binging with Babish instead.
Ingredients
For the chilli
2 lbs ground beef
1 medium-sized yellow onion, diced
4 cloves of garlic, minced
1 can of tomatoes (28 oz)
2 tbsp chilli powder
1 tbsp cumin
1 tbsp salt
½ tbsp brown sugar
1 cup beef broth
For the chilli dog
1 bottle of German beer
Hotdogs
Hotdog buns
Recipe
In a skillet, fry ground beef until brown.
In a separate pot, sauté onions and garlic.
Add the browned beef and a generous amount of salt.
Pour the tomatoes into the pot.
Add chilli powder, cumin, brown sugar, and beef broth. Stir.
Simmer over low heat for 10 minutes. Set aside chilli.
In a skillet, add hotdogs.
Pour beer over the hotdogs. Cook until nicely browned.
Place hotdogs in hotdog buns.
Serve topped with a generous amount of chilli.
7. Chicken paprikash in Captain America: Civil War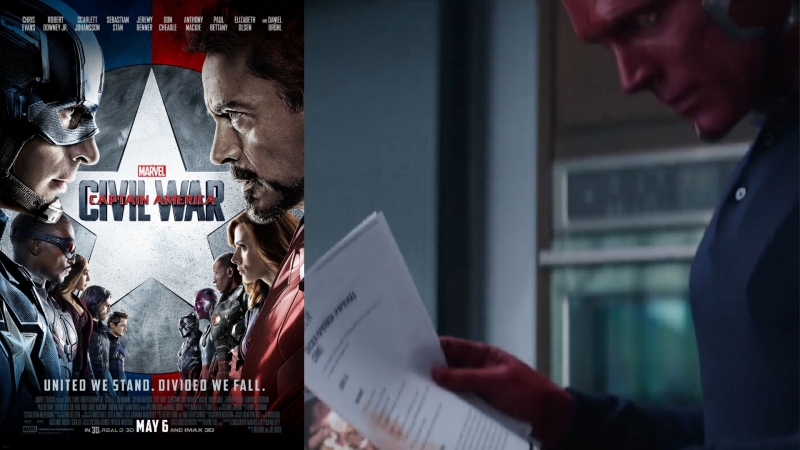 Who else here is an avid fan of Vision (Paul Bettany) and Scarlet Witch's (Elizabeth Olsen) love story? You might remember the scene in Captain America: Civil War where the mightiest Avenger tries to cheer Wanda up with chicken paprikash.
If you haven't heard of chicken paprikash, it's actually what it sounds like: a Hungarian chicken dish, with a hint of paprika. And if you pause and zoom into the printed recipe Vision had in his hands, you'll recognise that the recipe he's using is actually from Saveur.
While Vision failed in making the dish (and in cheering Wanda up), you probably stand a chance. Try it out for yourself — this is the actual recipe Vision used!
Ingredients
¼ cup oil
1 pc of chicken, cut into 8 pieces
1 large yellow onion, minced
3 tbsp sweet paprika, plus more for garnish
2 cups chicken stock
2 tomatoes, chopped into 1-inch pieces
1 Italian frying pepper, chopped into 1-inch pieces
½ cup sour cream
Salt and pepper
Recipe
Season chicken with salt and pepper.
In a saucepan, heat oil over medium-high heat.
Fry each side of the chicken until browned.
Set aside.
Sauté onions until soft.
Add paprika.
Place chicken and juices to the pan.
Add stock, tomatoes, and Italian frying pepper.
Simmer until chicken is fully cooked, about 30 minutes.
Serve chicken on a platter.
Pour over its sauce and top with sour cream and paprika.
8. Spaghetti sauce from The Godfather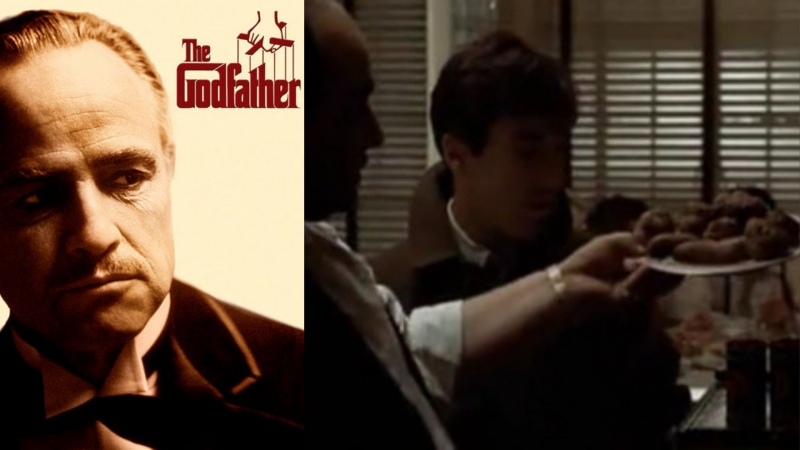 Among all the movie recipes in this list, The Godfather provides us with the most basic ingredients and instructions to follow. So, if you're lacking the cooking skills for the rest of the movie recipes, why don't you try this out?
When you watch the film, you'll find Pete Clemenza's (Richard Castellano) spaghetti methods easy to digest. Yes, even if you're Michael Corleone (Al Pacino), a man who can't even tell his girlfriend that he loves her (!!!).
Disclaimer: Do note that this sauce recipe is good for 10 servings of pasta. Cooking for a group is precisely what Clemenza wanted Michael to learn. If you're quarantined with no one but yourself, kindly do the math. Or you can also devour the 10 servings of pasta by yourself. We won't judge!
Ingredients
2 tbsp olive oil
3 cloves of garlic, chopped
2 cans of tomatoes (28 oz)
2 cans of tomato paste (6 oz)
3 Italian sausages, grilled and sliced
1 lb meatballs, cooked
A splash of red wine
¼ cup of sugar
Recipe
In a large pot, sauté garlic over medium heat.
Add tomatoes and tomato paste.
Stir for about five minutes.
Add sausages and meatballs.
Add a splash of red wine, then sugar.
Let simmer for 20 minutes. Stir occasionally.
Serve over pasta.
Also read: 10 Difficult Food Items We Wish We Knew How to Cook
Are you excited to try out these movie recipes as well? Maybe you have your own favourite film-inspired dish! If you do, drop a comment and let us know how you make them.