Contributed by What Distance Tells Us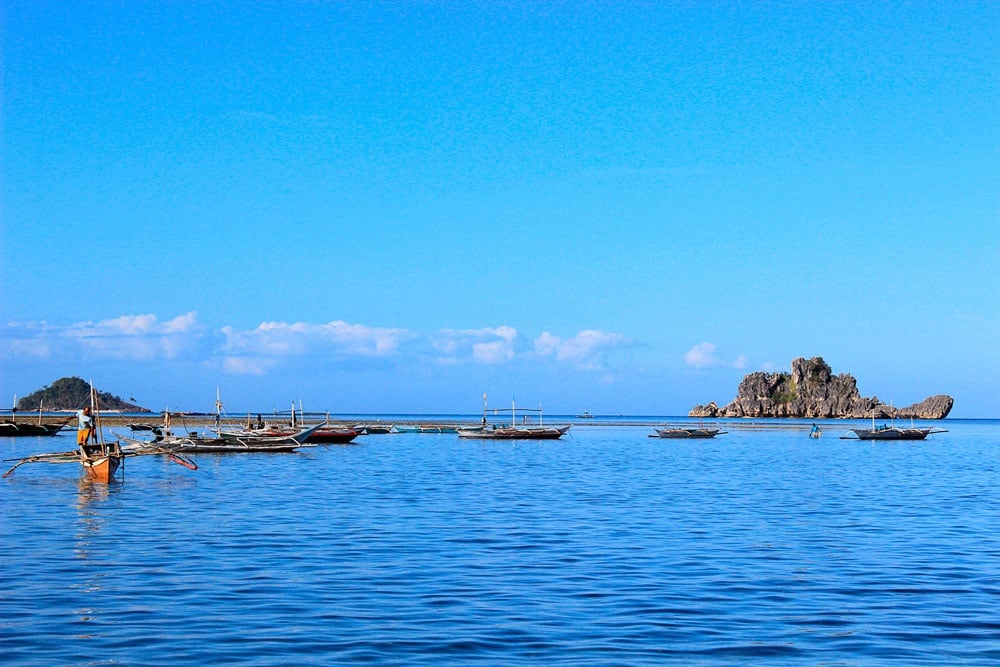 A boat that had gone all too soon, and an on-the-dot appointment that called for Option B. The overnight ride would've been a leisurely 12-hour sail from the port of Cebu straight to the arms of sofstpoken Ilonggos. It would've allowed this sleep-deprived to find comfort in an air-conditioned cabin. The bags tucked at the feet. Food and water a pick-me-up.
Iloilo, in the beginning, had seemed too reachable. There is no reward to be had from easy access, was my haughty thought. But the missed boat changed these dynamics. What would've been a no-brainer had been replaced by pitstops that dragged the hours from a passive 12 to an active 24. To keep that on-the-dot appointment, I would now have to take a 3-hour bus ride to the South of Cebu, cross to Negros, drive to Dumaguete, take another 6-hour ride to Bacolod then cross again via fast craft, finally, to Iloilo.
Also read: Islas de Gigantes Travel Guide: All You Need to Know Before Your Getaway
To realise that inconvenience is a gift is the consciousness of the comfortable, or the enlightened. It is said in the redundancies of the everyday where the unfamiliar draws us out of the mundane, only to realise, later on, that the unfamiliar also belies discomfort. All these concepts – escape, reality, an escape from reality – are said in the safety of rooms and relationships. It is not said in the light of a cramped bus where a pickpocket sits waiting for a hefty donation.
By the time I got off that bus, whichever one, I could no longer trace, I had donated a good amount to an anonymous in-need, and the camera lens, the one I thought was safely tucked in the belly of my backpack, had found a convenient exit point all the way to the floor.
Inconvenience aside, the on-the-dot appointment was kept, but the pressure of keeping it, the very convergence of time and space that allowed me to be on the spot where I should be at the time when I should be in it, was cloistering. That we need to escape from the very convenience that we somehow built is the paradox of a modern world.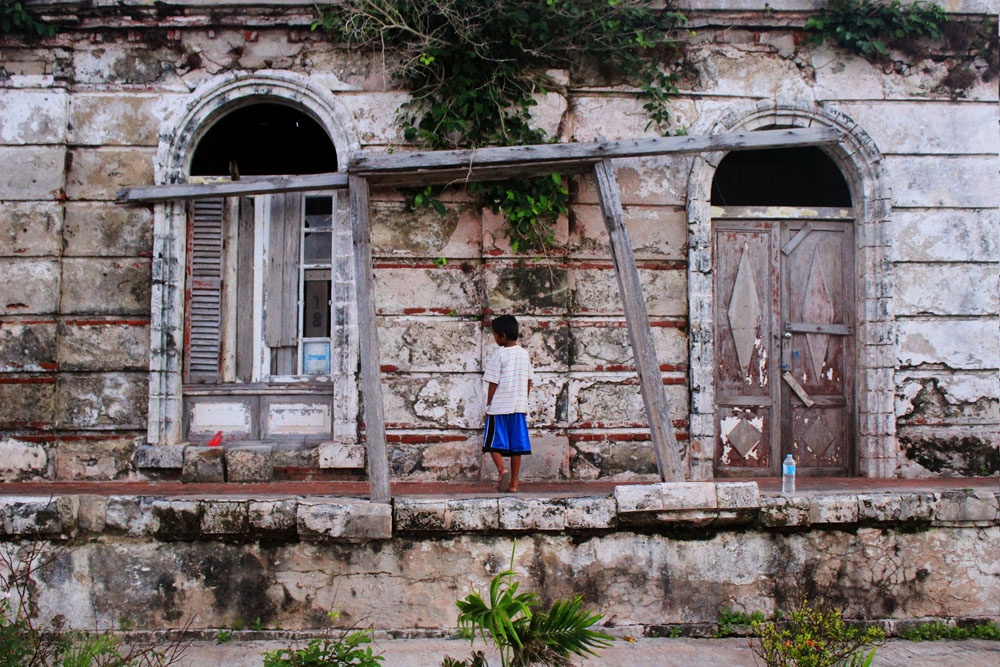 Abandoned lighthouse at Barangay Asluman
2 to Paradise, 9 to return
So, I find myself in the Iloilo countryside as soon as the appointment released me. From Tagbac Terminal, buildings transformed into rice fields. And mothers breastfeeding their babies open their chests insouciant to watchful eyes. The bus was headed to Estancia, drop-off point to Islas de Gigantes, a collection of 10 islands, 2 hours away from the mainland.
Francis, a lawyer from the heartland of Sagada, checks his GPS to show me we were still 3 hours away. It is one of those providential meetings. How do two people, for instance, one from the mountains, the other from the sea, meet in the city and agree in a span of 10 minutes to travel together?
On the bus, demonstrating his debacles in court, Francis uses terms like "testicular fortitude", more politically correct, he says, than ones he previously considered. But more than the language, I am interested to see how a mountain person takes to the sea.
Estancia Port is a busy commercial area where freezer trucks go in and out, fish packed as soon as fishermen could dock their small vessels. Hoses releasing tons of water constantly clean out the air of the smell of fish. While in our boat, the operators are busy transporting goods needed in the island, goods often taken for granted by those with easy access, crates of GoldEagle Beer, baskets of fruits, stacks of eggs, kilos of onions. Francis is almost seasick, he says, the weight of produce shifting the boat left and right.
There is only one trip going to Gigantes every day. It leaves at 2pm, and returns to mainland at 9 the next day. Locals don't mind. But travellers who'll reach there at nighttime yet, do.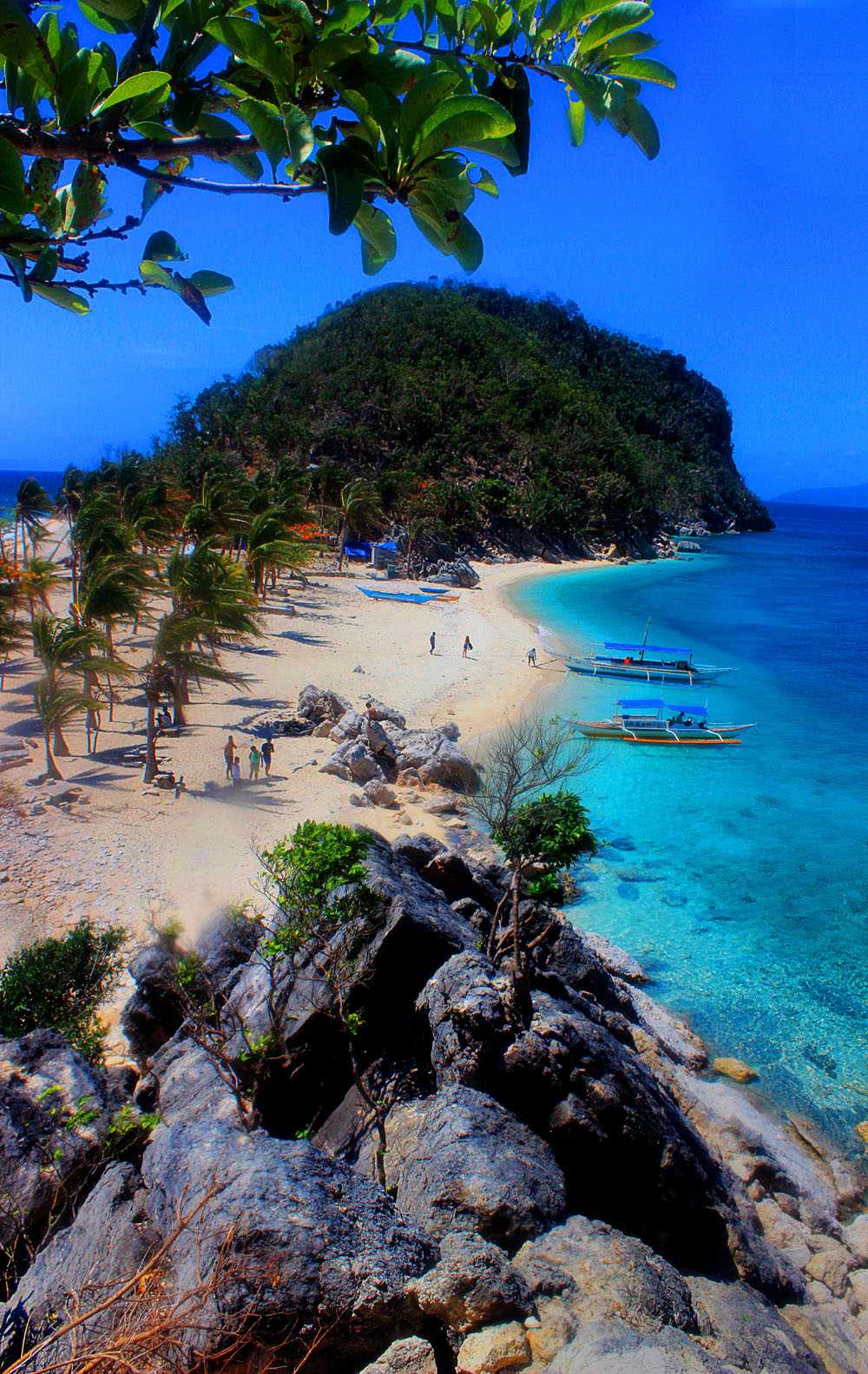 On all sides, the sea seems to have given birth to islands, islets, most corrugated by trees, and even more so by the etched patches of Typhoon Yolanda. A number of them do not have the need for names.
"I wish I could own an island", I gushed.
"Bawal yan under Philippine law.", Francis morosely tells me.
Of the first two islets that greet from Gigantes Norte, one is shaped like a turtle, the other is home to a white solitary house built on top of its limestone formation.
Also read: Forget Boracay: Islas de Gigantes White Sand Beaches are Unspoilt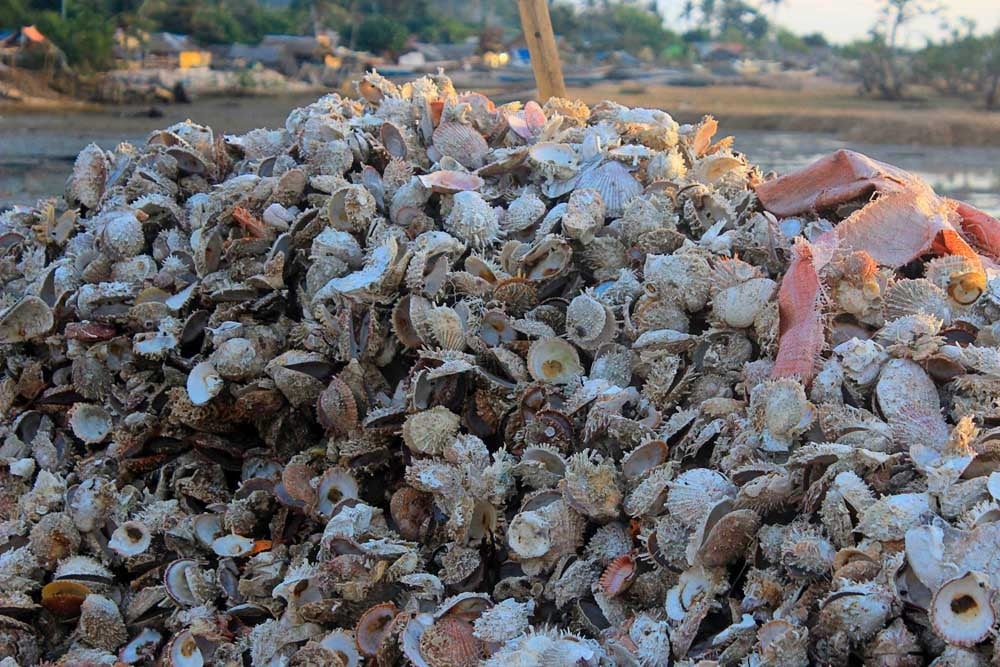 Mounds of empty scallop shells everywhere in the island.
The shores, like most parts of Gigantes I later realised, are covered in mounds of scallop shells. They pile up in residences, in front of school buildings, on roads. In makeshift huts, women and children are busy taking out its meat.
"Di nauubusan ang dagat.", Louie, my guide, tells me. Too much supply that some residents have stopped eating them altogether.
It was unquestioned what dinner would be. No need to order, the guide tells me, as he brings in plate after plate of, aha, scallops. In adobo. Creamy gata. Steamed. Sizzled. Grilled. And just to add in variety, easy favourites like sagang, calamari, tilapia. All under ₱85. Francis whispers to me how he's sure of what breakfast will be tomorrow.
"Scalsilog. ", he jokes.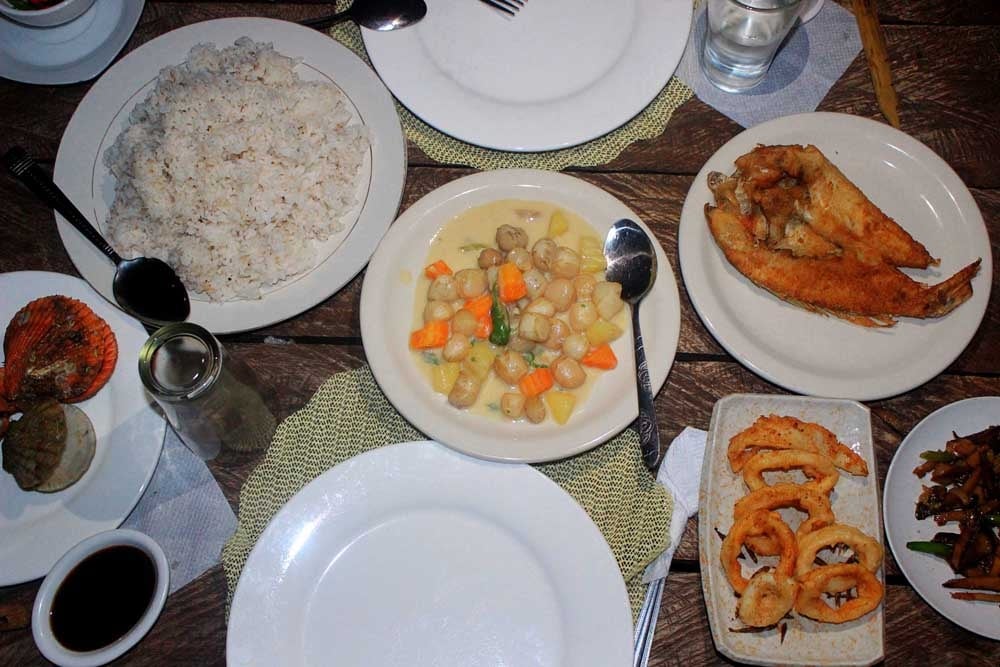 Scallops in gata and other seafood favourites
Scalsilog and sour water, the very element its Barangay where our resort, Hideaway, is known for. Barangay Asluman. Their tap water has a sour aftertaste that stays in the tongue.
Earlier in the day, while crossing to the other two Barangays, Louie tells me, that Granada is as understandable as its counter Barangay Asluman. Granada is named after hundreds of the said fruit trees. Sweet granada. All yellow and meticulous to eat.
"Dalhan kita bukas.", the good-natured Louie originally from El Nido, tells me.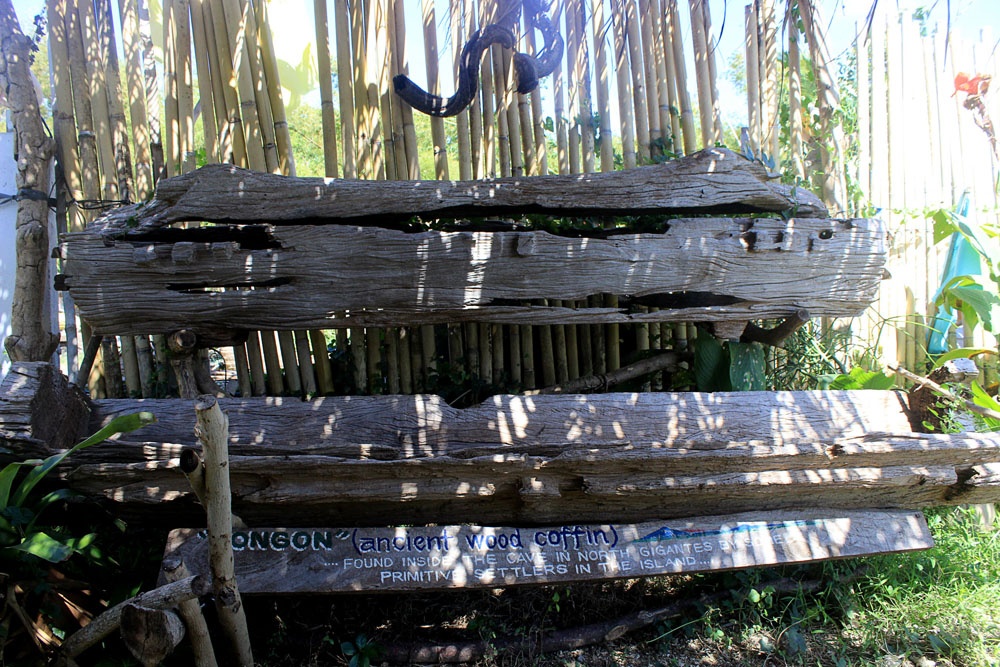 Giants' coffins found at Hideaway Resort
Light at Pasil Point
After catching the sunset at an abandoned lighthouse, Louie cuts through Barangay Granada and points out to a place, a short uphill slope, he humorously names the "call centre".
It is the only area in Gigantes where a decent signal could be found. Silhouettes sit by the roadside, light from mobile phones the only indication of their presence, engrossed with the outside world.
"Busy ngayon, Ma'am. Traffic. Graduation kasi ng highschool.", Louie explains, as we met two or three motorcycles with togaed passengers along the way.
Yolanda has doused whatever light Gigantes may have had. Commercial establishments have generators. But Pasil Point, the brooding rock formation that only adds to the absence of light, is pitch black.
What can be seen, firing the greed to swim at night, are limestone formations that stand 60 feet above water and silhouettes of late night drinkers in cottages near the shore.
But always, with an absence of the artificial, are sparks of light that only show themselves to those who choose to see.
The stars fall to their own synchronicities, a tad different from that of El Nido or Sagada, we point out. And on the trees are fireflies, some emitting white light, others yellow, a few orange.
It is low tide and as we strive to submerge completely, the eye catches something in the water, sparks of bioluminescence that follow the body in motion. Every time the hand moves, for instance, pixie dust follows. Until the whole body is surrounded with light. I would've wanted to unexplain the surrealism of the moment, but Francis cuts with the more natural shriek.
It's shrimp, Francis tries. It's fish, or scales from the fish, says Louie. Or perhaps a reflection of the stars?, I ask them. But it couldn't be. We continue to bathe in light until Louie warns of the dangers of lightless roads.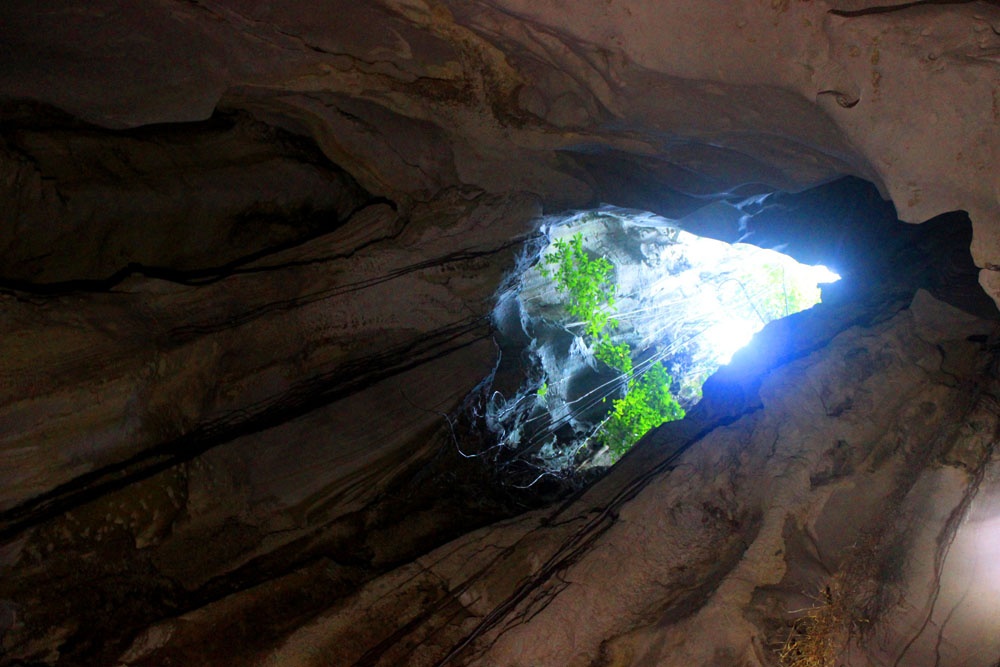 One of the exit points at Bakwitan Cave
Bakwitan and the Four Islands
Or perhaps the danger was more of sleepy drivers. Riding on the back of his motorbike, he contradicts his earlier statement by saying the island was protected somehow.
In Hideaway, the safety of giants' coffins metres away somehow provided an abnormal comfort. The 12-foot carved tree trunks sat at the back of the resort. Like the coffins of Sagada, the sleeping giants, they said, were crouched down to half of their length. It enamoured me how tall they must've been standing up.
In the morning, we would visit one of those 70 caves that once held such coffins, and saw fragments of skulls and femurs at the entrance. The Japanese had tried to climb Bakwitan, Louie said, where the locals evacuated back in World War II. But constantly failed.
They must've passed out, I presumed, the kilometre-deep cave a challenge of heights and dips. Some areas you crawl on, and others you harness whatever upper body strength left. It is the type of difficulty that sells.
Another group had backtracked, and it is only near the exit where our guide jokingly comments, "Malapit na matapos yung paghihirap nyo.", that we learn very few finish. Or the sellable story's told. And to borrow Francis' term, it is perhaps a test to testicular, or womanly, fortitude that very well vends inconvenience. The cave exits to a 60-foot drop with only a slight allowance between living and joining the giants.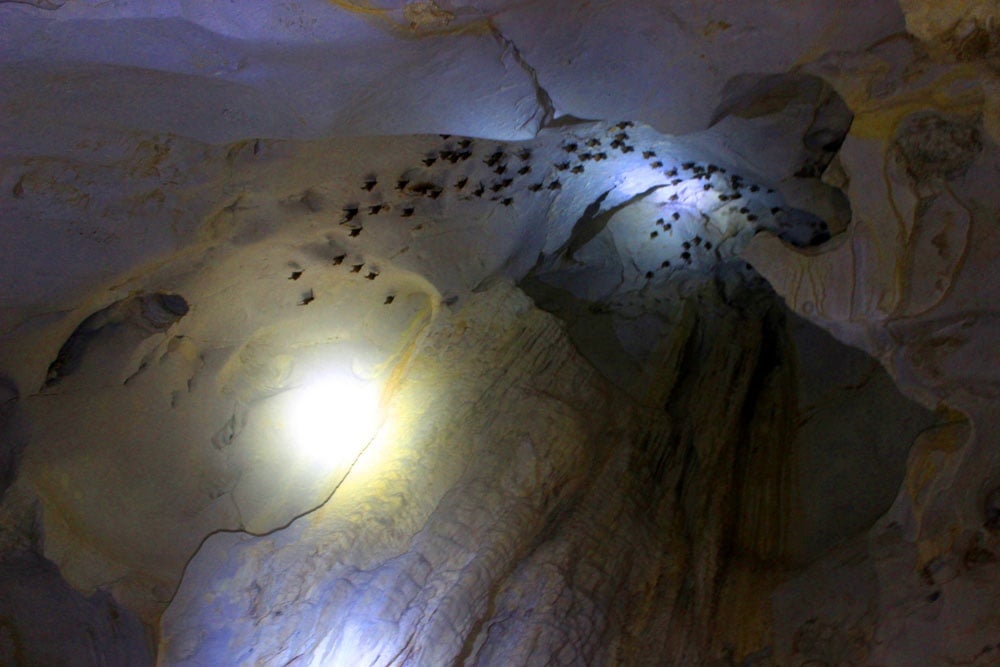 It is the same concept perhaps that brings about the charm of islands. That the threshold we cross to get there is oftentimes followed by the savoured knowledge that many did not. With Louie still as guide, we hopped through several islands after the travail, until the sweat from the cave mixed inconspicuously with that of the sea.
Salt mixed with midday heat though made Francis look for in vino veritas even before lunch. It has become a useful tool to his negotiations, he notes. And Antonia, one of the many islands, had just that: a solitary house with a solitary store, and vino at the right temperature.
Seemingly waiting for us on his kawayan bench is Manong Danilo, and at his feet, like a loyal watchdog is his Blackwater rooster. Iloilo produces the best fighting cocks in the country, and Blackwater, Manong Danilo says, just happens to be the best one.
"Sus, spoiled.", he says of the rooster. "Hindi pa nga ako nakatikim ng Centrum na imported, peru ang manok ko nakatikim na!"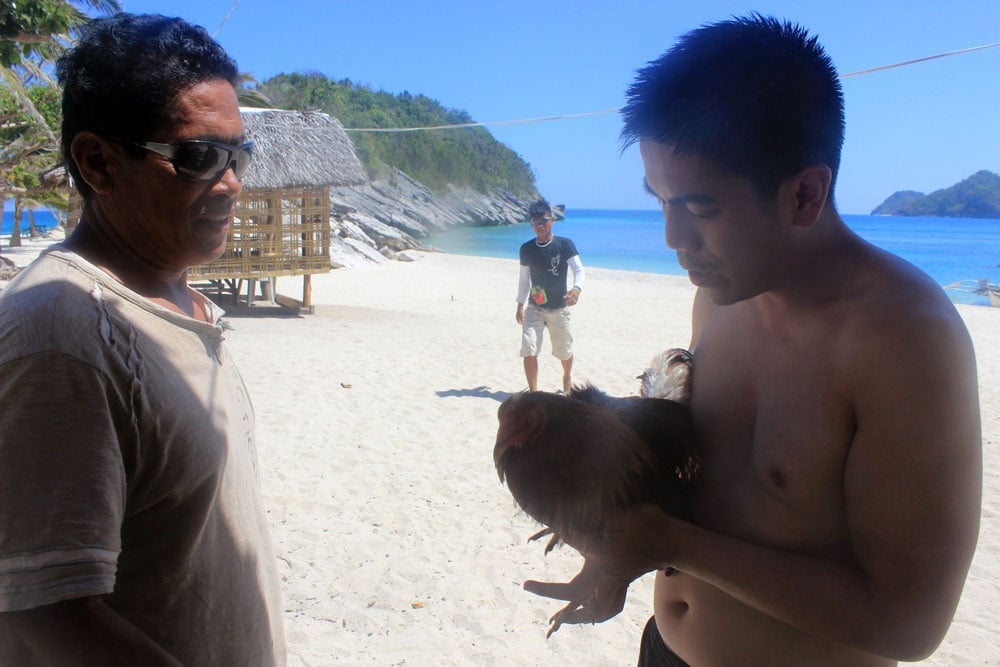 Manong Danilo with cockfighting afficionado, Francis, as Louie watches at the distance.
Manong Danilo takes care of his chickens like the children he used to take care of. All have since flown off his nest. To London. To Paranaque. To Cebu. And over beer and heat, he talks of the apos he has seen only through Facebook. And the children and ambitions who have since outgrown these patches of sand. In vino veritas.
"Maski isang apo naman lang, Ma'am", he says. But such comes with the beauty and isolation of islands perhaps: that the threshold we cross to get there is followed by the sad realisation that many cannot.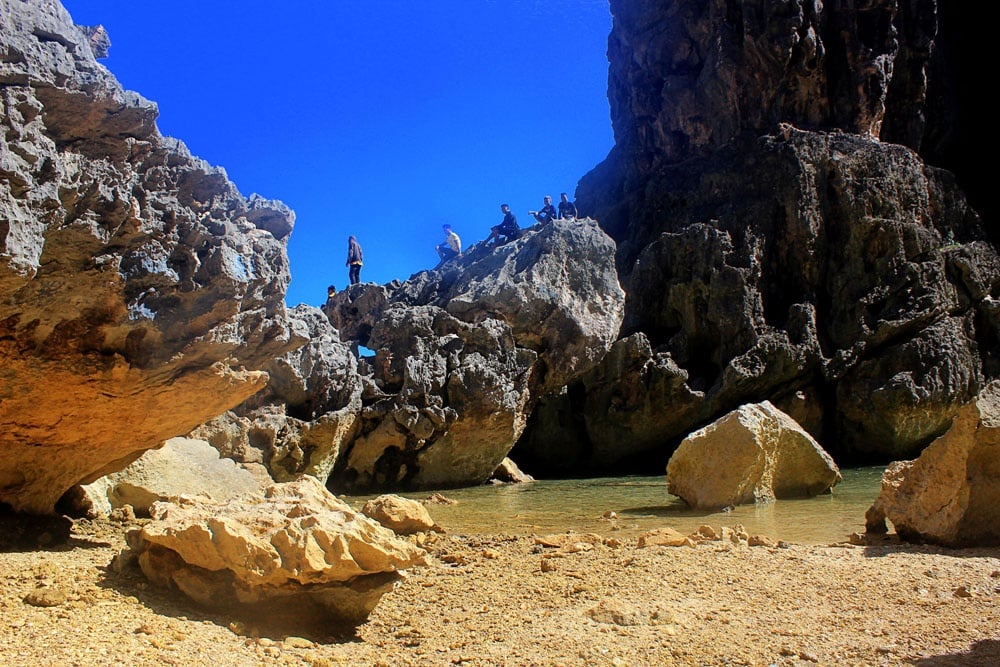 We leave Manong Danilo and Blackwater for an island more isolated, Tangke they called it, with a lagoon and new graduates sitting on their jagged edges dreaming of bigger ponds. They too, like Manong Danilo's children, are about to outgrow the islands.
"Saan kayo mag-aaral?", I ask them.
"Tong isa sa Ateneo. Tong isa naman sa Singapore.", a skinhead answers for the rest.
"Sira!", they call back.
How to tell these crazy ones, the sira ones, to do just that, to be reckless in their dreams, to not give in to the terror of inconvenience. There will be plenty anyway along the way.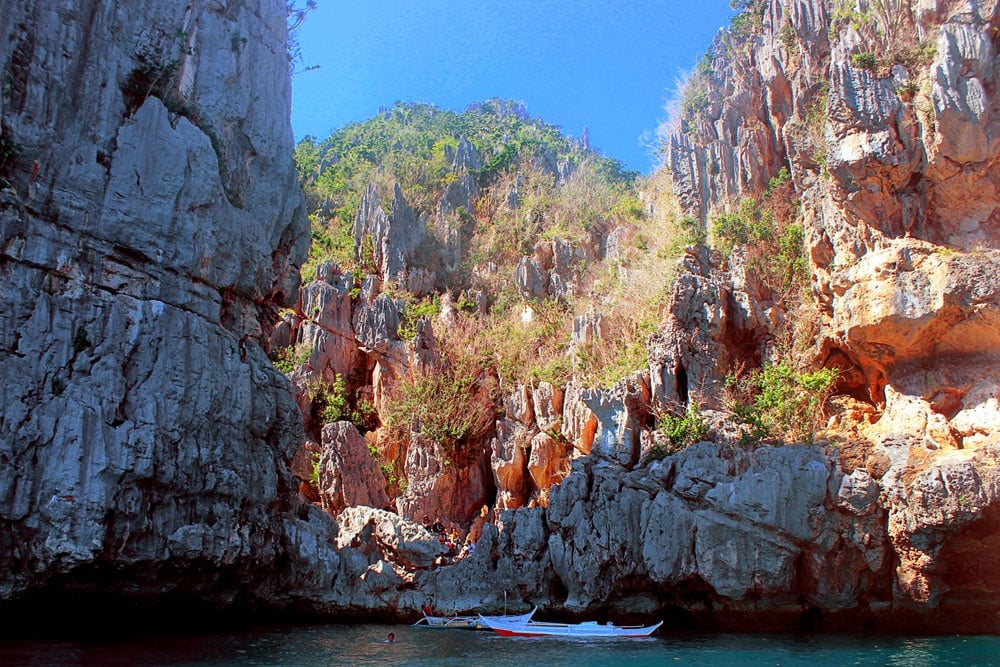 Tangke Lagoon
I often wonder why we strategically place ourselves in situations that belie frustration, and questioning, and oftentimes, an uncertainty that stays in the bones. Perhaps because what very often comes out of the inconvenient is the unconventional. Only there do can we question things beyond their common reasoning.
On the bus to civilisation, a beep finally signals the step back to reality. It cut through the realm where technology was once a drive-by.
"Alis na kmi", Louie texts, "Nka.banlaw ba kyo kc mahapdi ung dagat?".
He considers this from a standpoint of a tourist not used to such discomfort. But I told him I wanted the salt on my skin for just a little while more. The city – technology – and all that they stand for had become reachable again. The absurdity often is, sometimes we do not want to return to them.
"Kelan u babalik?", he asks me. He will visit the "call Centre" more often, he says, just in case a text comes in, one that will signal my return.
But like every place I promise to, the only answer to be given is "Soon".