Contributed by Chinito Wanders

I never imagined the day would come when I would be travelling to Japan. There are few reasons why Japan wasn't in my bucket list:
I heard things about Japan being an expensive place to visit, and probably the most expensive place to travel in Asia, especially for someone coming from the Philippines.
I haven't travelled solo outside the country. We all know that Japan isn't as easy to travel solo as any other Asian countries, especially to those who are on a tight budget.
I heard and I read about the complicated railway system of Japan due to a few private companies operating the railways.
Lastly, I thought that there's nothing much to experience in Japan but the cherry blossoms and shopping for gadgets and electronic stuff.
I've had a few people telling me that all I thought about Japan weren't really true and that it's not that expensive travelling there, that if you just follow the guidelines in the railway, you wouldn't get lost, and that there is so much to see and do other than cherry blossoms and shopping.
I admit, I am not a super budget traveller. But I do budget when travelling. It's just that I don't have the patience to book for a seat sale. As long as I think that the airfare is worth it, then I book for the trip. That's why, in this Japan trip, my round trip airfare from Cebu to Kansai International Airport (Osaka) costs almost ₱12,000 already. Although, if  you're based in Manila, the airfare will be way cheaper and could save you a lot of money and if you're patient enough to wait for a seat sale.
So, it came to a point that I challenged myself to travel solo outside the country for the first time and Japan is the destination of choice. Admittedly, I almost gave up in pushing through with this trip because when I researched about the places to go to and the transportation I needed to use, all seemed indeed complicated. But I told myself "I can do this. It's going to be an adventure." I guess getting lost will also be an adventure. Hahaha! I just needed time to research all the necessary things that I need to know about Japan — the places I want to visit, where to stay, the mode of transportation and what to eat. Those are the basic things that I needed to know to get me started.
My first decision was to travel to Tokyo then Hakone to see the Mt.Fuji. But it all changed when I found out that I have a small chance of seeing Mt. Fuji without the clouds blocking its grandeur. I made further research then I read that Kansai Region has a lot of sightseeing spots and not to mention tons of food to eat. (Exciting! Hahaha!) Not to mention the bowing deer in Nara. So I opted and decided that I'll travel to Kansai Region. Visiting 3 cities: Kyoto, Nara and Osaka respectively. Since those are the places that seemed to have the things that I wanted to see and do.
I finally managed to put everything up, piece by piece, and made the best itinerary I can possibly make.
First, you needed to apply for a Japan visa if you're from the Philippines. Please refer here on how to apply for a Japan visa.
I had mine processed at Friendship Tours in Cebu. They are the only accredited agency to process the Japan visa directly in Cebu. Friendship Tours is located in the Oakridge, Banilad, Cebu.
Also read: My 7-Day Trip to Japan: Travel Tips & Cost Breakdown for Filipino Travellers
Details of expenses
₱1,200 – Japan Visa processing Fee
₱11,536 – Total round trip airfare from Cebu-Manila-Osaka-Manila-Cebu  including 15kgs return check- in baggage (Cebu Pacific)
₱4,696 –  Hostel (3 nights in Kyoto, 1 night in Osaka). Booked my hostels in Agoda.com
₱3,000 – Total transportation allowance (train and bus)
₱1,670 – Tourist Data SIM card
₱4, 000 – Total food allowance for an all-out Japan Food trip.
₱500 –  Entrance fee allowances to temples
₱1,620 – Travel tax
₱2,000 – Souvenir allowance
₱450 – Taxi fare round trip Mactan-Cebu Int'l airport
Total = ₱30,672
Notes and tips
Travel costs can still be reduced, especially the airfare. I am from Cebu so I still needed to book a flight from Cebu to Manila since there is no direct  flight from Cebu to Osaka (Kansai International Airport).
The food allowance can also be reduced if you're not the foodie type. I went all out in eating all the Japanese food that I wanted to try. That's the reason for the big cost. Food cost in Japan ranges from ¥100-500. You can stick with convenience store food which is cheaper (7/11, Family Mart, Mini Stop).
For my souvenir allowance, I was able to buy an Airport Limited edition Starbucks Tumbler, 1 Uncle Rikuro cheesecake, 1 Pablo cheesecake, 1 bottle of sweet sake, 1 Japanese transparent umbrella and a few boxes of Royce Chocolate and Matcha Kitkats.
You can change your USD to JPY in the Airport. I had mine changed in NAIA 3.
Ask when in doubt. The Japanese are very hospitable, honest and helpful. Although most Japanese don't know how to speak English, they will do their best to help you.
Buy a tourist SIM card with data. This is very crucial as you will be using Google Maps and Hyperdia always in order for you to know what to ride and the timetable of your mode of transportation.
Use Google Maps and Hyperdia in your mobile every time you ride a train or bus. These apps will tell you or advise you the best route to your destination, what to take and the train time schedules. Google Maps will be very useful especially in locating the tourist spots. Google Maps is pretty accurate in Japan.
The budget does not include shopping. I'm not fond of shopping when travelling outside the country. I'm a foodie and a sightseer.
Flight details
Departure date from Cebu: 6 Sep 2016 –> 3.05pm-7.55pm
Departure date from Japan: 10 Sep 10,2016 –> 8.40pm- 11.50pm
So let's get the details started!
6 Sept 2016 – Arrival at Kyoto
I headed straight to Kyoto.
If you are travelling from Kansai International Airport to Kyoto, then your first stop may be the Travel Desk of Kansai Tourist Information Center. This is located on the first floor of the Terminal 1 building. Inquire where you can buy the ICOCA Card + 1 way Haruka Express train going to Kyoto.
Upon exiting to the arrival hall, buy a data tourist SIM card in a vending machine located at the right side of the wing when you get out of the arrival area. It costs ¥3,500 for 30 days with 1.5 GB data. This will be more than sufficient in your 5-day tour. Be sure to read the instructions carefully in activating the card. You need an internet to activate the card. Just use the airport's wifi or the JR Station's (the station is on the 2nd floor adjacent to the Kansai Airport. You may ask the Travel Information desk for direction) wifi.
After registering your Sim card, go to the 2nd floor and head to the other building (this is the JR Train station). Get ICOCA card + Haruka One way pass in the JR Office (one way only to Kyoto)  for ¥3,600 (1,600 for the Haruka, 1,500 credit on your ICOCA and 500 deposit). Just have your card charge an additional ¥2,000 in advance. A total of ¥5,600. There will be signs leading you to the JR Office.
Please refer here about ICOCA card Information.
After getting your ICOCA Card, ride the HARUKA TRAIN to Kyoto. Train station entrance is in front of the JR Office. Try to look for the TV Screen outside the office for the Haruka train departure schedule. You may also ask the attendant in the JR Office.
When you arrive at Kyoto, check in at your hostel/ hotel. Mine was K's House Kyoto – Backpackers Hostel. I chose to stay in this hostel mainly because of the good feedback it had from Agoda.com.  Address: 418 Nayacho, Shichijo-agaru, Dotemachi-dori, Shimogyo-ku, Kyoto, Japan
Also read: My 6-Day Solo Travel in Japan: Tips, Costs & Itinerary for Filipinos
How to get to hotel from Kyoto station
This hostel can easily be reached on foot from Kyoto Station. Just go out from the Central exit of JR Kyoto Station, cross the street towards Kyoto Tower and walk along Karasuma-dori (the street on the east side road of Kyoto Tower, near Starbucks). Turn right at the intersection of Shichijo-dori and Karasuma-dori and walk for about 5 minutes until you reach Kawaramachi-dori. Cross a signal and then turn left on the first street along Kawaramachi-dori. You will find K's House (white building) and Zen Café on the road to your right. Or you may just use your Google Maps to locate your Hostel/Hotel.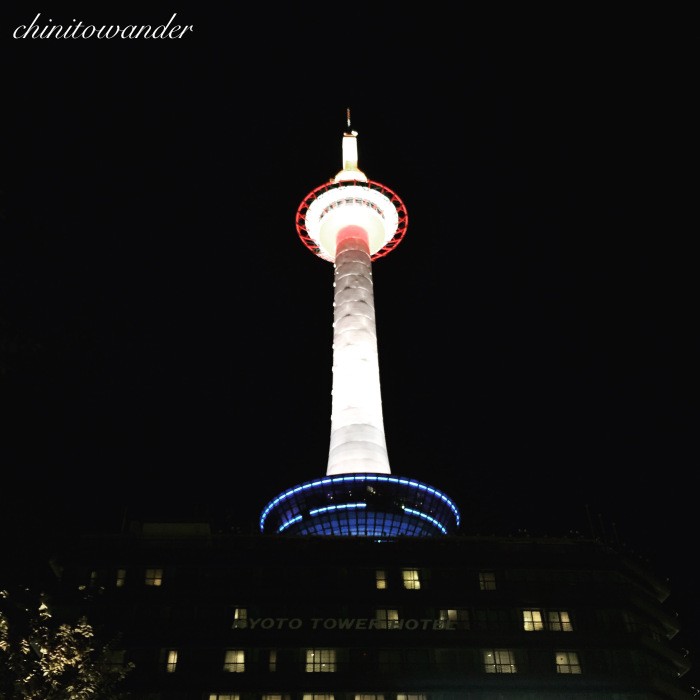 Kyoto Tower
After checking in, tell the receptionist that you want to get a one-day unlimited bus Pass for ¥500. This bus pass is all you need for your Kyoto Tour the next day.  Ask for any advise for your next day's itinerary, specifically about what bus to ride. This will help you get started. Also, ask for a bus map and Kyoto City map.
7 Sept 2016 – Arashiyama Bamboo Forest, Arashiyama Monkey Park & Temple Run, Nijo Castle & Dinner at Menbakaichidai Fire Ramen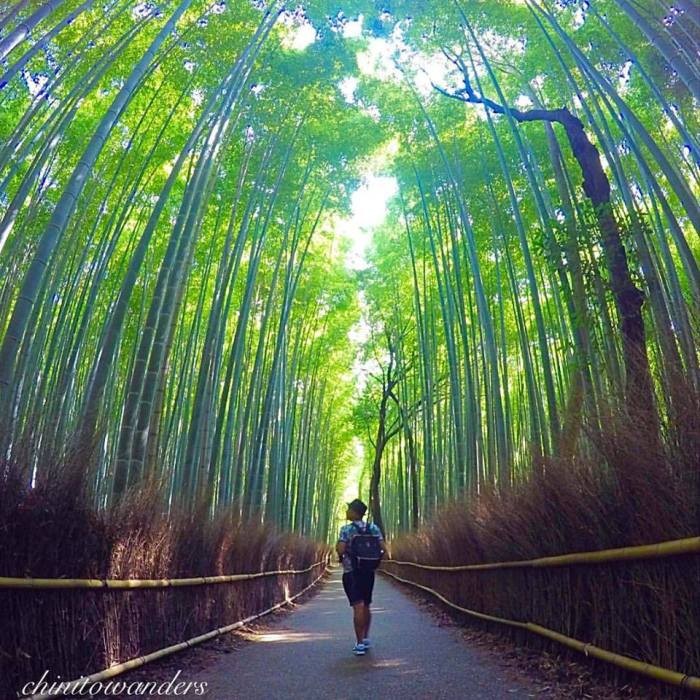 I woke up early and proceeded to Arashiyama Bamboo Forest. I woke up around 6.30am and left the hostel around 7am. I want to be early to avoid the crowd of tourists who might spoil my photos with lots of photobombers. Lol.😁
Address: 〒616-0000 Kyoto, Kyoto Prefecture Ukyo ward Arashiyama
Access: Go to Kyoto Station by taking a bus just beside the hostel and take the JR Train (San-In Line). After alighting, it will be a 10-minute walk from Saga Arashiyama Station on San-In Line
After I loaded my self with tons of photo ops, I walked to  Arashiyama Monkey Park Iwatayama. This is the place where you get to see the Japanese macaque, the only monkey species you could find in Japan.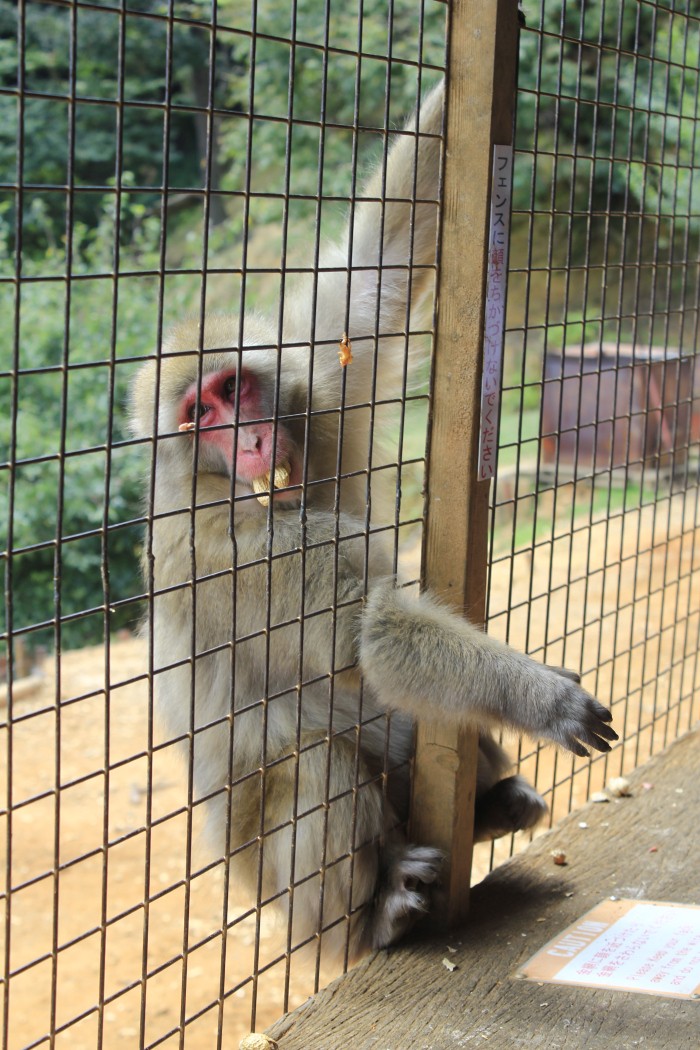 Address: 8 Arashiyama Genrokuyama-cho, Nishikyo Ward, Kyoto City, Kyoto Prefecture 616-0007
Access: Around 10 minutes walk from bamboo forest. Just follow your Google Map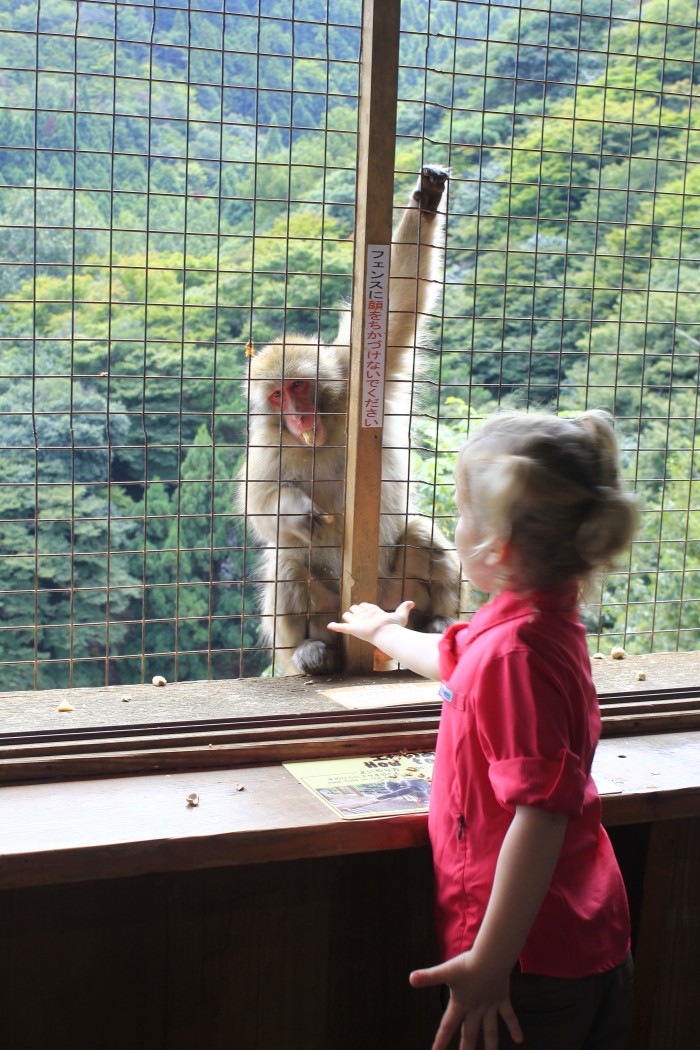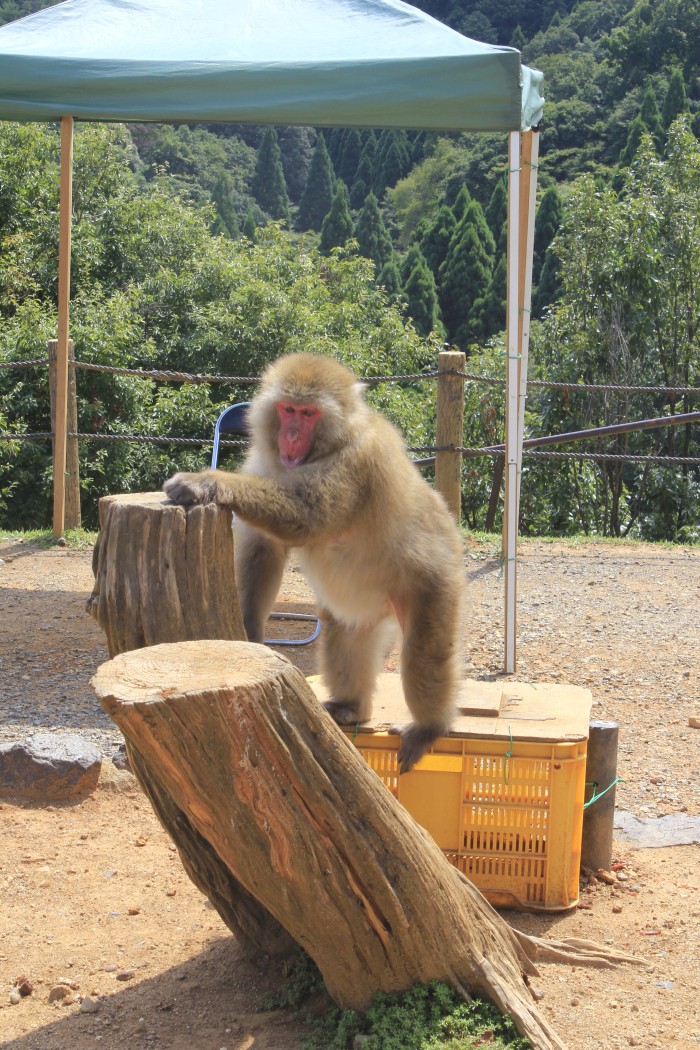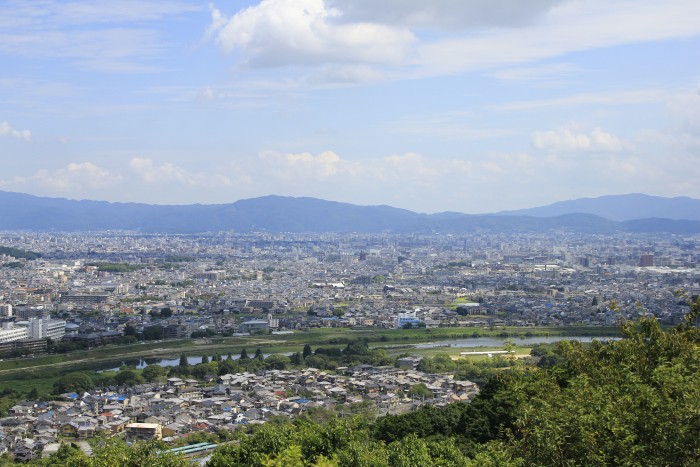 If you had enough of the place already. You may now proceed to temple run.
Temple Run –all temples can be reached via bus.
My first stop was, Ninna-ji Temple, World Heritage pagoda – free entrance
Address: 33 Omuroouchi, Ukyo Ward, Kyoto City, Kyoto Prefecture 616-8092
Access: Take the city bus from JR Kyoto Station and get off at Omuroninnaji-mae bus stop. 2-minute walk from Keifuku Omuroninnaji Station. If you are coming from other parts of the city, just follow the bus route and check which numbers are stopping at the same bus stop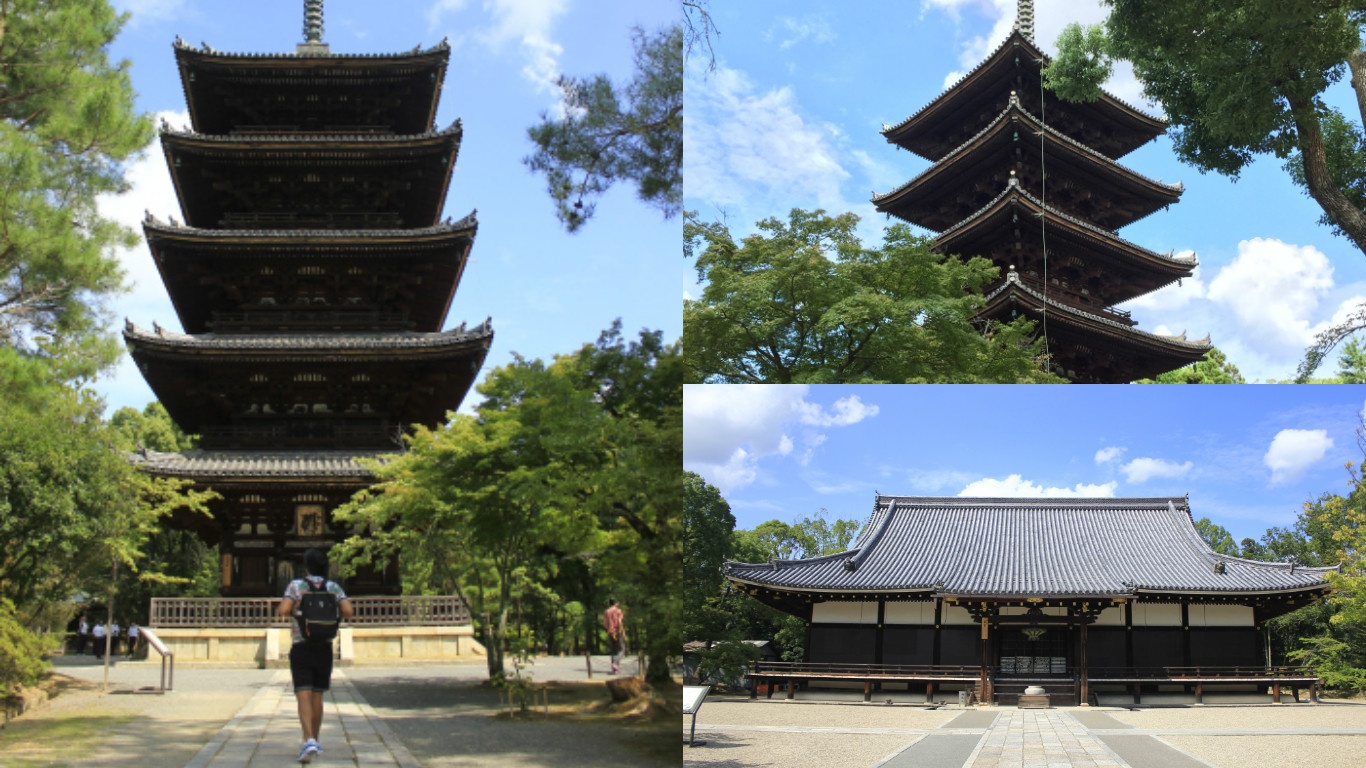 Second is, Kinkakuji temple (golden palace) – ¥400 entrance fee
Address: 1 Kinkakujicho, Kita Ward, Kyoto, Kyoto Prefecture 603-8361, Japan
Access: Take bus numbers 101 or 205 from Kyoto Station to the Kinkaku-ji Michi bus stop. If you are coming from other parts of the city, just follow the bus route and check which numbers are stopping at the same bus stop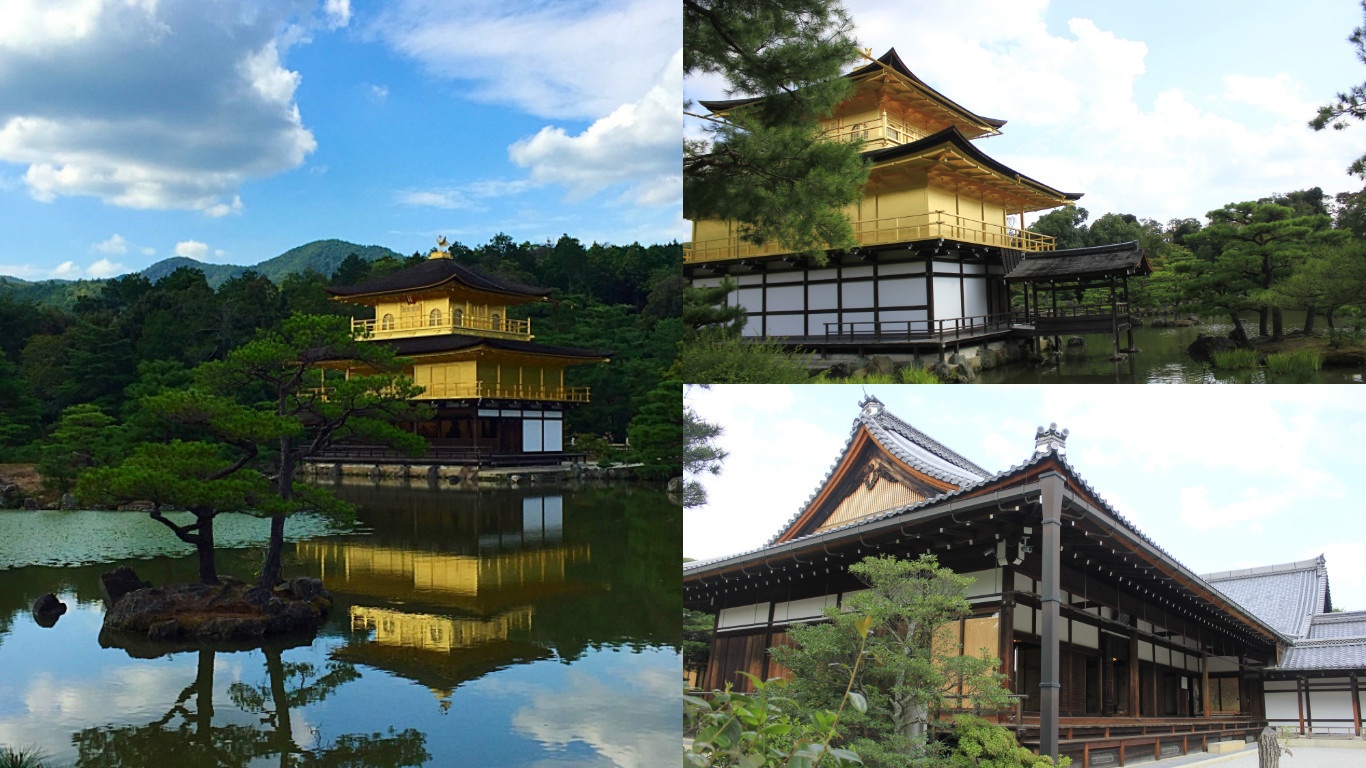 I headed to Nijo Castle after Kinkakuji Temple. Refer to your bus map or Google Maps to get there. To my dismay, the castle was closed at that time due to some reconstruction. Oh well, just don't forget to include this in your itinerary. I read that its wonderful inside the castle. By the way, on regular days, the castle ticket office closes at 4pm. So be sure to go there before it closes.
The temples look pretty much the same for me that's why I only opted to visit two temples and the castle. Also, my feet were getting tired from all the walking.
After visiting Nijo Palace, I walked to Menbakaichidai Fire Ramen for dinner then went back to the hostel and called it a day.
Also read: My Quirky Food Experiences in Japan Every Filipino Foodie Must Have
8 Sept 2016 – Fushima Inari Taisha, Nara Half day tour & Gion District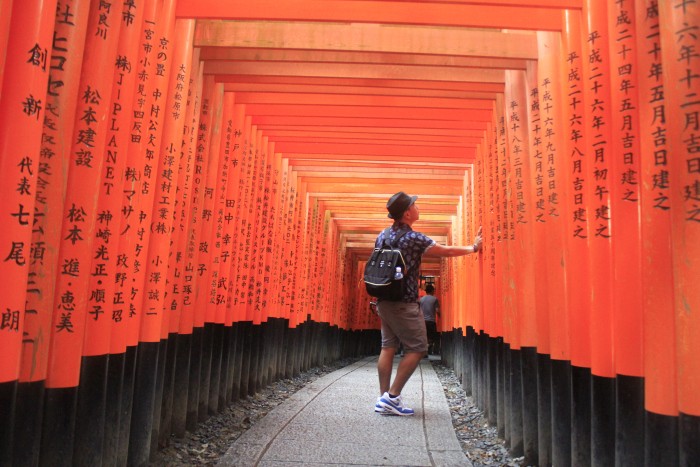 Still the same routine. I woke up early in order for me to have good photo ops at the location as this place gets pretty crowded when it's getting late just like the bamboo forest.
First stop was Inari shrine or Fushimi Inari Taisha in Google Maps.
Address: 68 Fukakusa Yabunochi-cho, Fushimi ward, Kyoto city, Kyoto Prefecture 612-0882
Access: Go to Gion Shichijo Station (keihan Line) à Keihan Railway Fushimi Inari Station. It's a 5-minute walk after getting off at Keihan Railway Fushimi Inari Station – ticket price ¥150
It was raining that day and I was just lucky that some foreigners offered to take me back to the main entrance because I was stuck in the restroom area for nearly an hour, waiting for the rain to stop. And yes, when we arrived back at the entrance, the rain stopped. Darn! I was very thankful for her. Thank you, Christine. That was her name.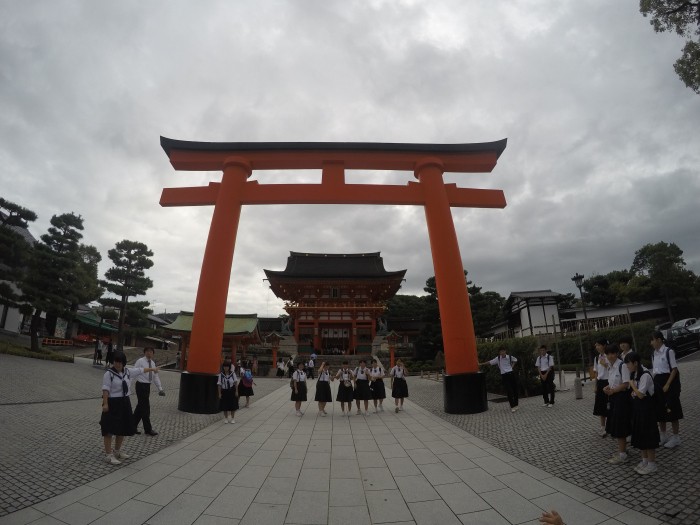 Because I don't want to get wet anymore, I bought an umbrella. And guess what, after I bought the umbrella, it didn't rain ever since then. Darn again! Hahaha. Well, I just carried it with me and brought it back home to remind me of that day.
After that, I rested for a while and ate a king crab meat in a stall. Then, I went my way off to Nara.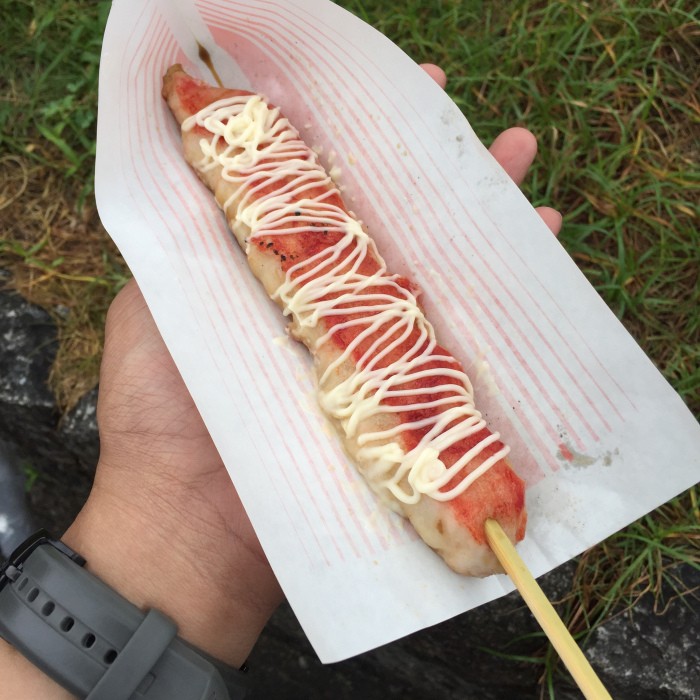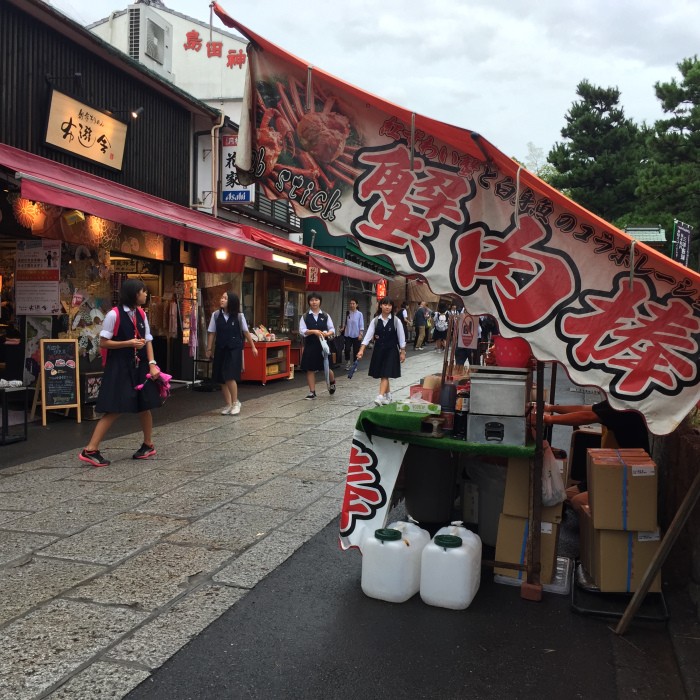 I'm excited that I'll be seeing free-roaming deer!!! Weeeeh!!😜
Visiting Nara: How to get to Nara from Inari Shrine
From Keihan Railway Fushimi Inari Station (keihan Line-Yodoabashi) – à Tambabashi Station, transfer to Kintetsu-Tambabashi Station using Kintetsu-Kyoto Line, NOT THE LIMITED EXPRESS as it is not applicable to your ICOCA Card (kintetsu Nara), and arrive in Kintetsu Nara Station.
Once in Nara, you'll most likely start this itinerary at Kintetsu Nara Station. Get yourself to the fountain just up the stairs from Kintetsu Nara Station to begin this walk.
Start from Kintetsu Nara Station and walk up Nobori-oji Street. You'll start to encounter Nara's famous sacred deer as you go.
Use the underground crossings to get to the northeast corner of the Nobori-oji/Route 169. Walk from there to Isui-en Garden. — cost ¥900 entrance
Walk from Isui-en along the backstreets to Todai-ji Temple. Before entering the Daibutsu-den Hall to see the Great Buddha (Daibutsu), walk a little south to check out the Nandai-mon Gate, with its two huge guardian figures.
Take your time marvelling at the Daibutsu and then exit Daibutsu-den. Walk along the east wall of the Daibutsu-den and then go up the path that turns up to the right just past the small pond to reach Nigatsu-do Hall.
Check out Nigatsu-do and then walk in the direction of the base of Wakakusa-yama.
Follow the narrow pathways through the forest to Kasuga-Taisha Shrine.
Follow the main path from Kasuga-Taisha all the way west until you reach Kofuku-ji Temple.
Cut through the precincts of Kofuku-ji Temple to get back to Kintetsu Nara Station or JR Nara Station.
Note that if you're really, really pressed for time, you can cut out the visit to Kasuga-Taisha Shrine. In this case, after visiting Nigatsu-do Hall, simply return the way you came to Kintetsu Nara Station.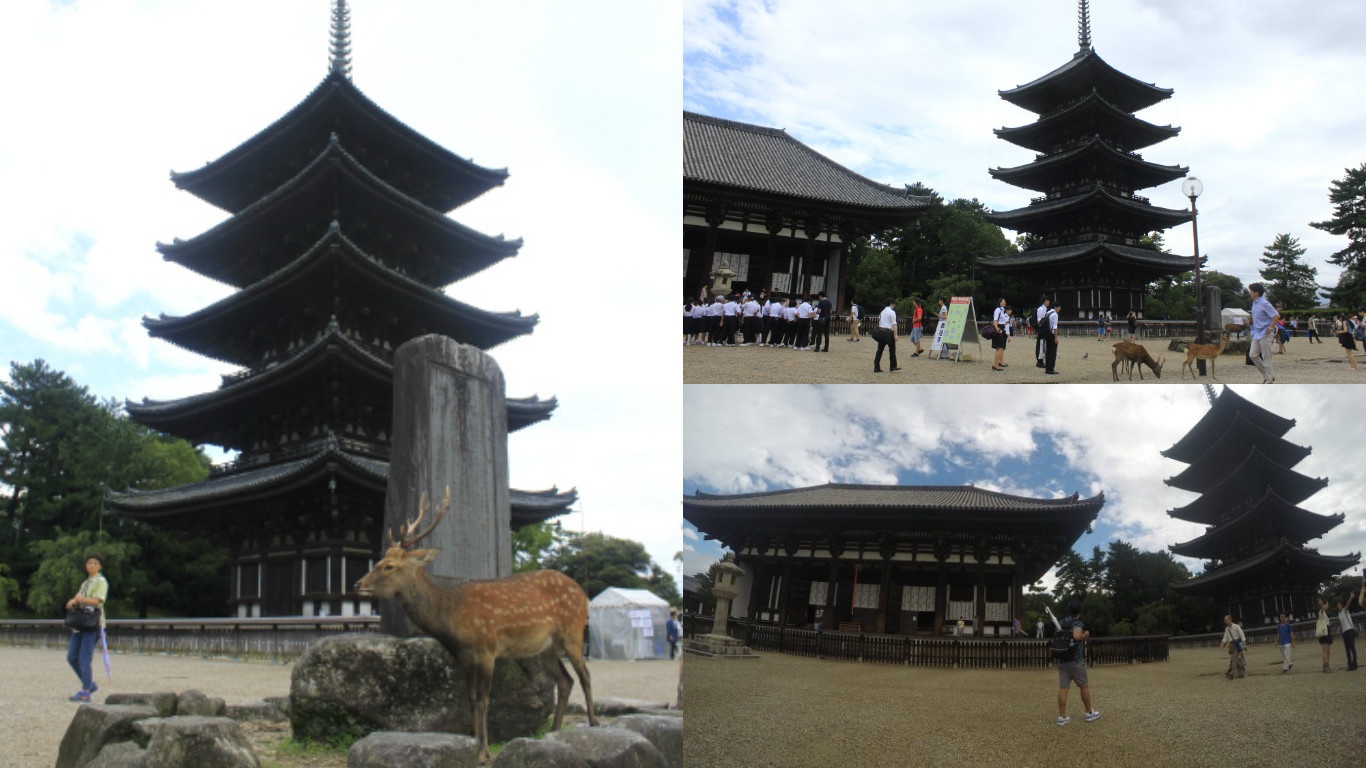 Kofuku-ji Temple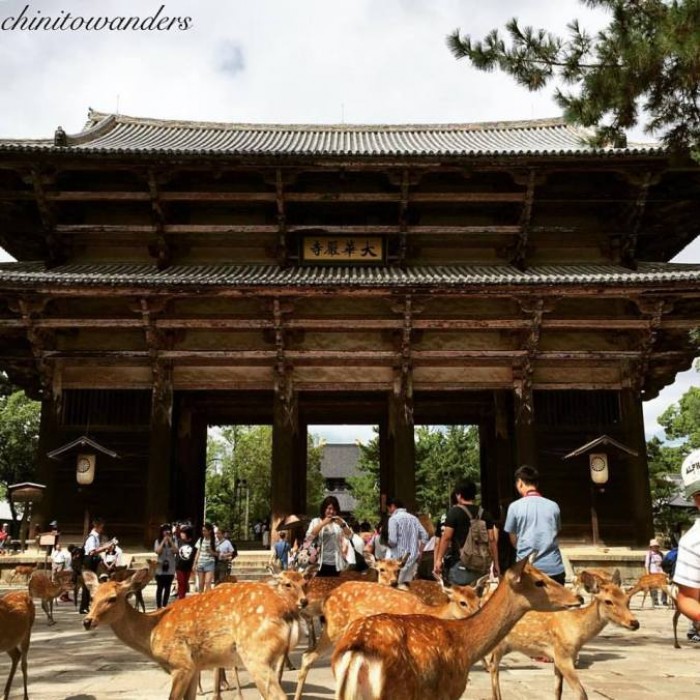 Nandaimon Gate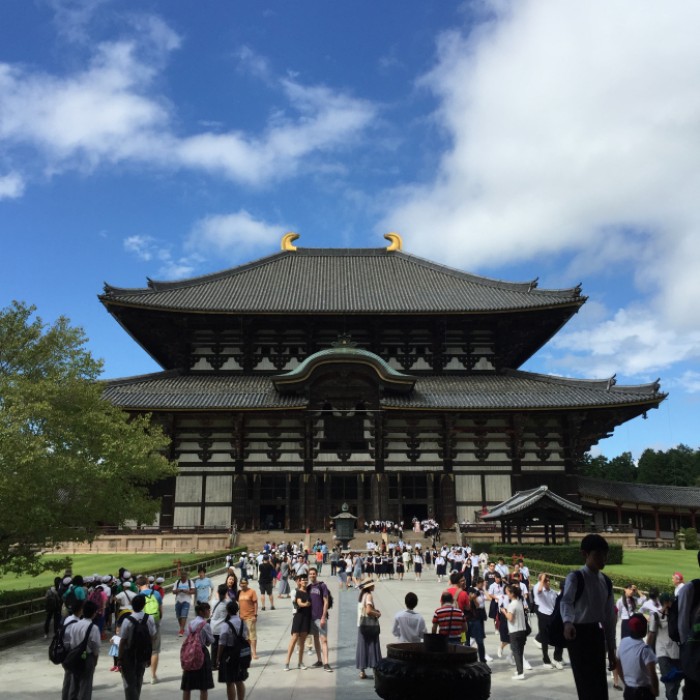 Todai-ji Temple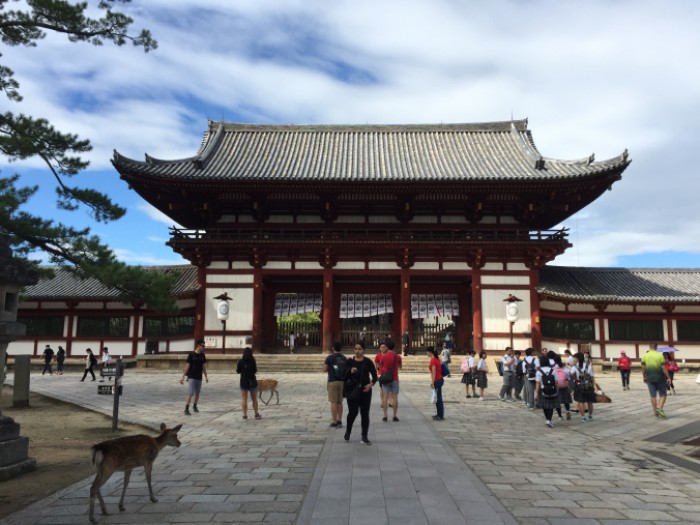 Daibutsu Hall
You may have lunch in between your walk. I recommend you eat at Kamameshi Shizuka. The location is just adjacent to Nara Park, you will know it's the one as people queue outside the restaurant.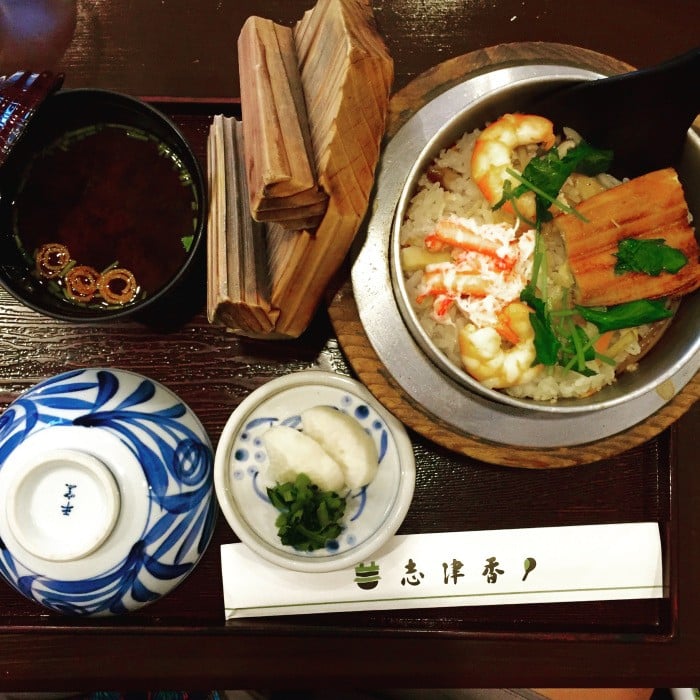 My Kamameshi Nara Special
After visiting Nara, proceed to Gion neighbourhood & Yasaka Hall Gion Corner. Now, it's time to hunt for some geisha!
Also read: Geisha Hunting in Kyoto: How to Spot a Real One
Address: Yasaka Hall Gion Corner
Yasaka Hall, 570-2 Gionmachi Minamigawa, Higashiyama ward, Kyoto city, Kyoto Prefecture 605-0074
Access: 1-minute walk after getting off at Keihan Gion Shijo Station.
Upon arrival in Gion Shijo Station, there will be Tourist Information Center. You may ask some details where you might spot an actual geisha and visit other sites or where you can have the best Okonomiyaki in Kyoto or where the best place to have some dinner. The attendant is very knowledgeable so take it from her.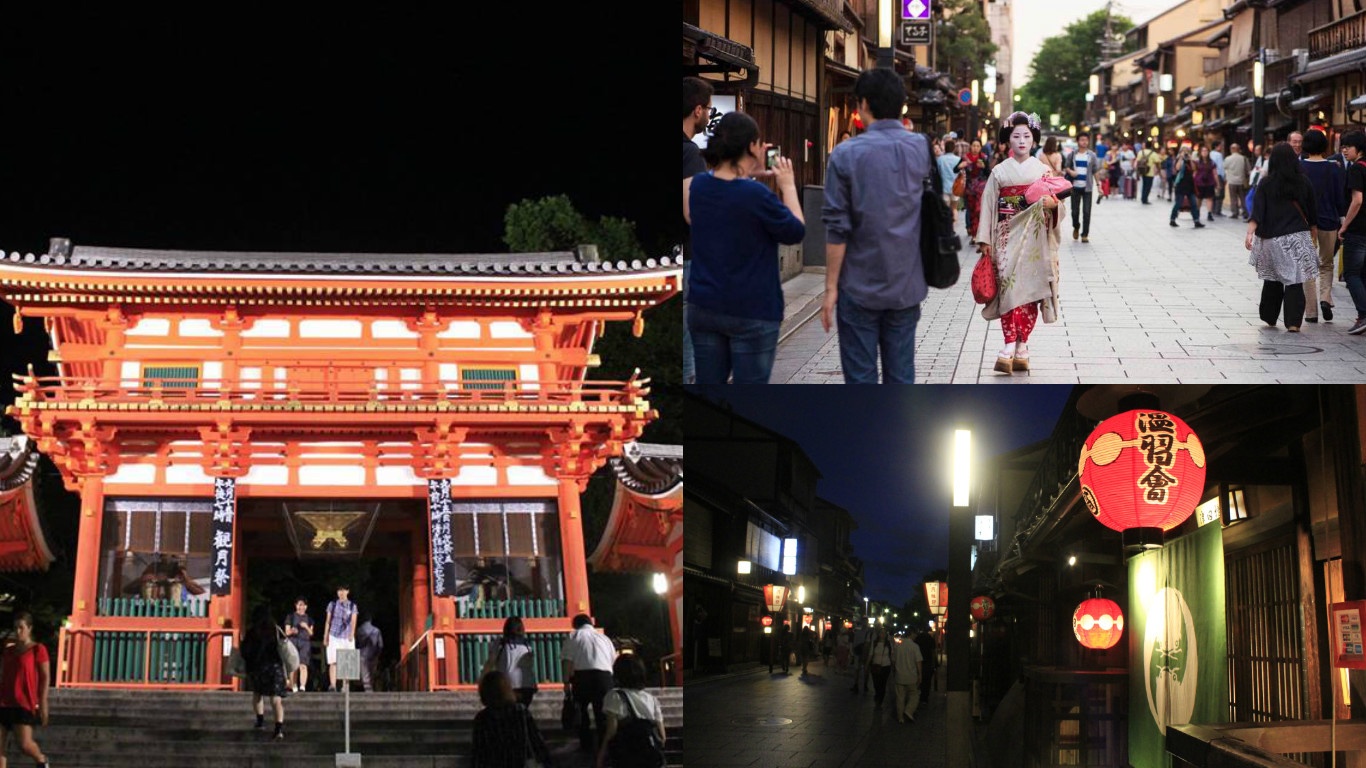 What to eat in Gion?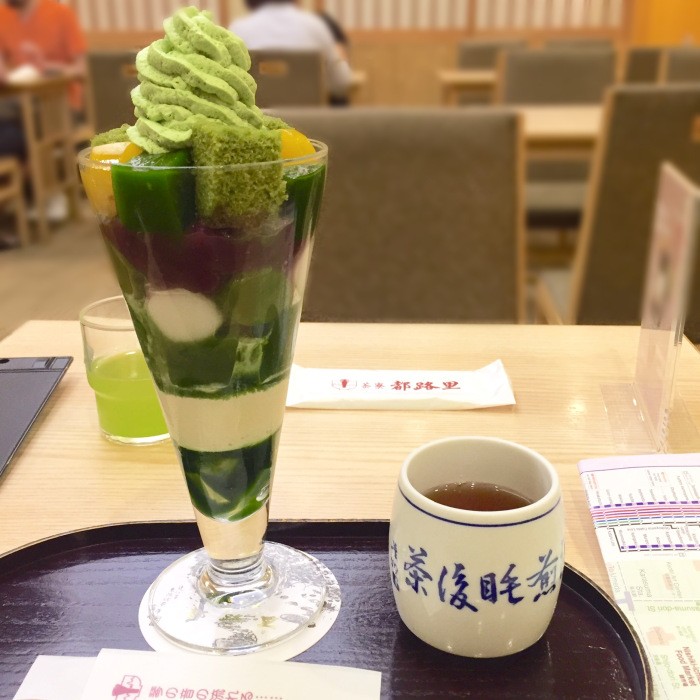 Gion Tsujiri –matcha dessert shop in Gion. Eat Tokusen Tsujiri parfait / ¥1,383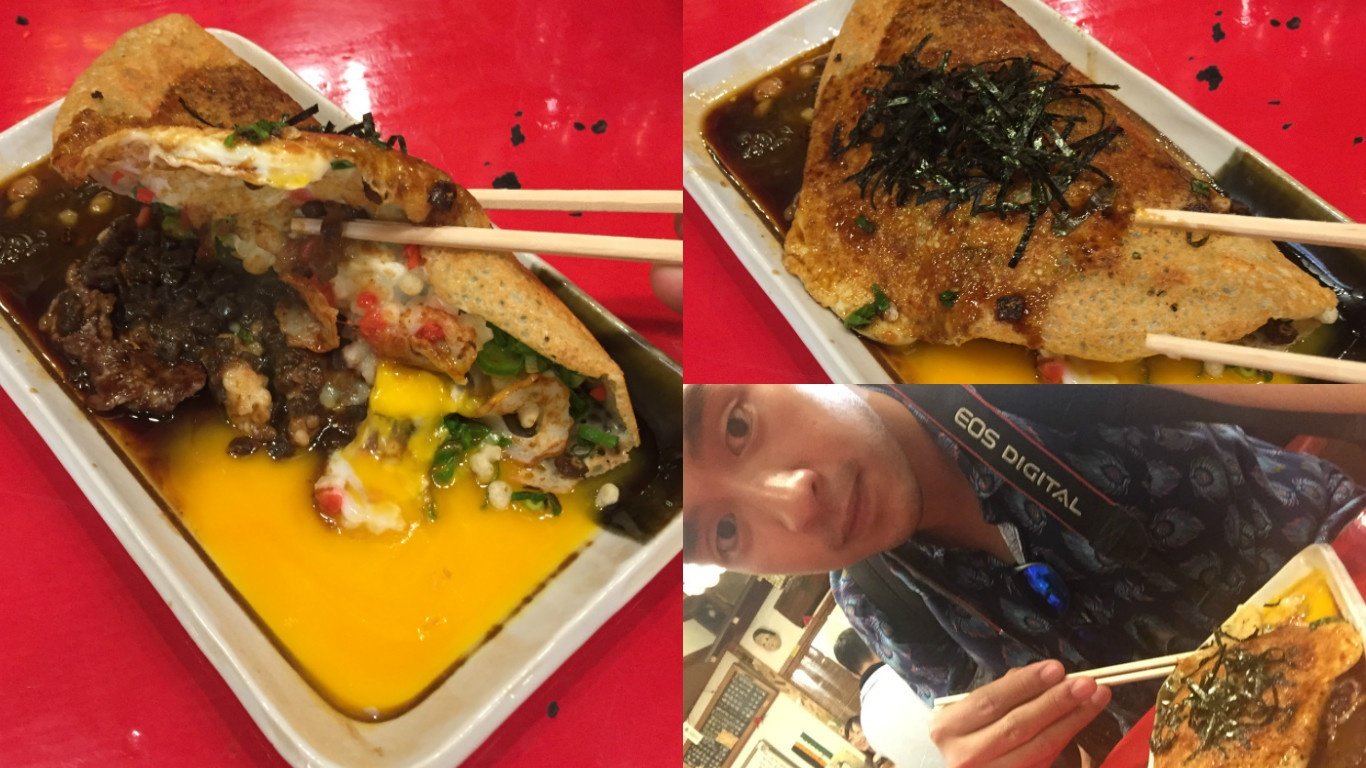 Issen-Yoshoku Okonomiyaki
A ¥680 okonomiyaki may seem pricey at first but the generous amount of ingredients in this savoury pancake fully justified its price and should be on your must-eat list! Exploding with ingredients, the okonomiyaki resembles a huge overflowing pancake.
Cost: ¥680
Opening hours: 11.00am – 3.00am (except Sundays which closes at 10pm)
Address: 238 Giommachi Kitagawa, Higashiyama-ku, Kyoto 605-0073, Kyoto Prefecture 〒605-0073東山区祇園町北側238番地
Nearest station: Gion-Shijo station (祇園四条駅)
9 Sept 2016 – Nishiki Market , travel to Osaka, Dotonburi & Shinsaibashi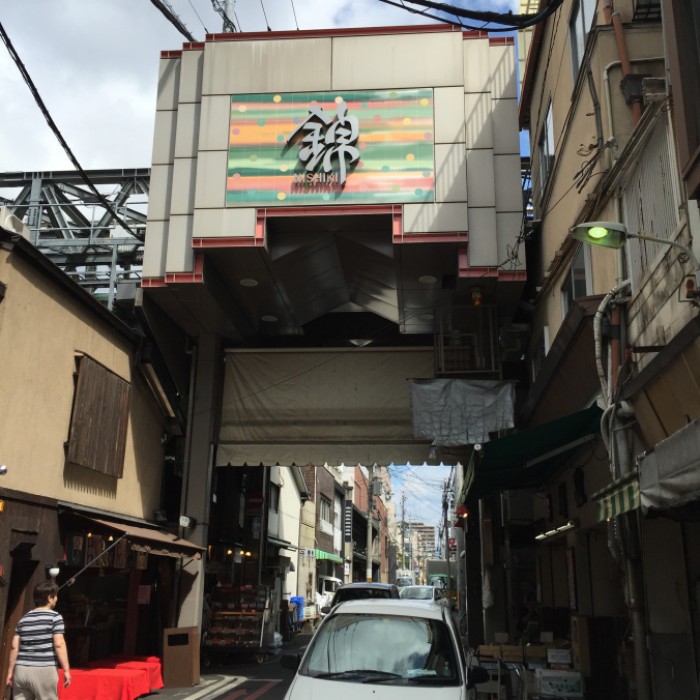 This time I woke up at 8.30am. A bit late since I needed a bit of rest from a fully packed itinerary and since my plan was just to stroll along Nishiki Market and have a good time eating freshly made/cooked foods.
I checked out and left my luggage in their storage room before I went to Nishiki Market. I walked my way to Shijo Station which was about a five-minute walk from the hostel then hopped on a train to Gion-shijo station (the nearest station to Nishiki Market). Alighted at Gion-Shijo Station then walked my way to the market after which I started my quest for good food.
After I had a very good gastronomic activity, I went back to my hostel to freshen up a bit, got my luggage and went on my way to Osaka.
Afternoon: Going to Osaka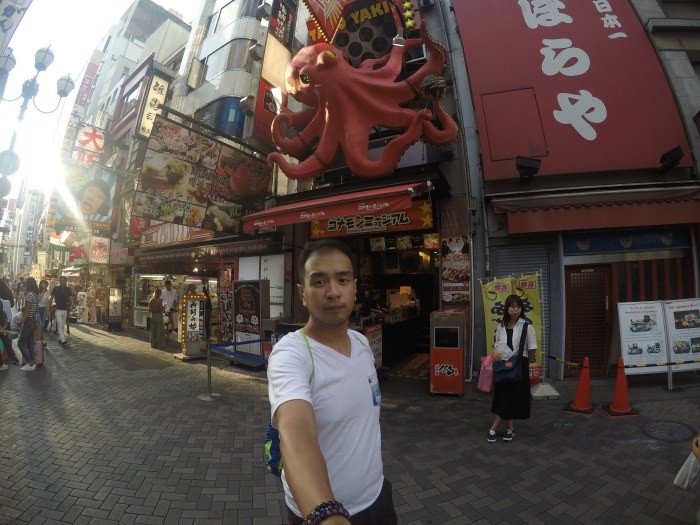 I booked a one night stay in Osaka at Khaosan World Namba Hostel. I have read good feedback about this hostel and it is surprisingly near to subways and even JR Bus Station going to the Airport. Though this hostel is pricier than the average, I think its location is an added bonus.
How to get to Khaosan World Namba Hostel from Kyoto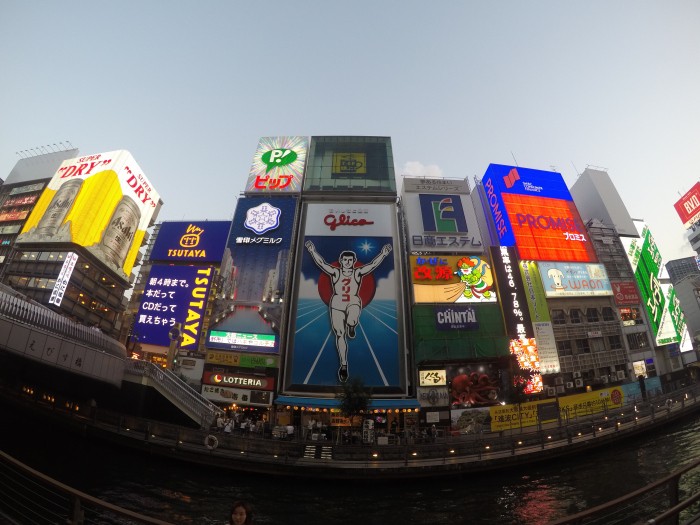 Google Maps will show you the fastest route going to your hostel from Kyoto, just carefully follow it.
Upon arriving at the hostel, I checked in and  then asked the receptionist for some advise on places to go. You may ask for an Osaka map from them for free. I went up to my room, rested for a bit before I went on strolling around Dotonburi / Shinsaibashi.
After I rested, I started my walk to Dotonburi. Dotonburi area might be the centre kitchen of Japan. The area has tons of restaurants, food stalls and everything about Japanese food is there. Go in an all out food spree!
Along the neighbourhood are Shinsaibashi and Umeda where there are tons of boutiques to shop in. If you want to buy some souvenirs, go to Tenjinbashi.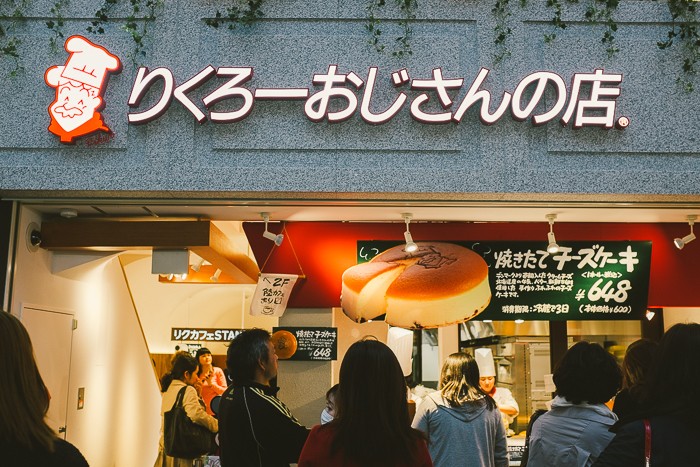 What to eat: Creo-Ru Takoyaki, Japanese Dango, Taiyaki, Tako Tamago in karamon market, Kura Sushi etc.
What I ate when I was there:
2 kinds of Takoyaki, a Korean-inspired ramen, Fugu, Piere Lotti Ice Cream and lots of ready to eat foods in convenience stores.
I went back to my hostel almost midnight just when my feet was like falling apart from all the walking, but it was fun! Really fun!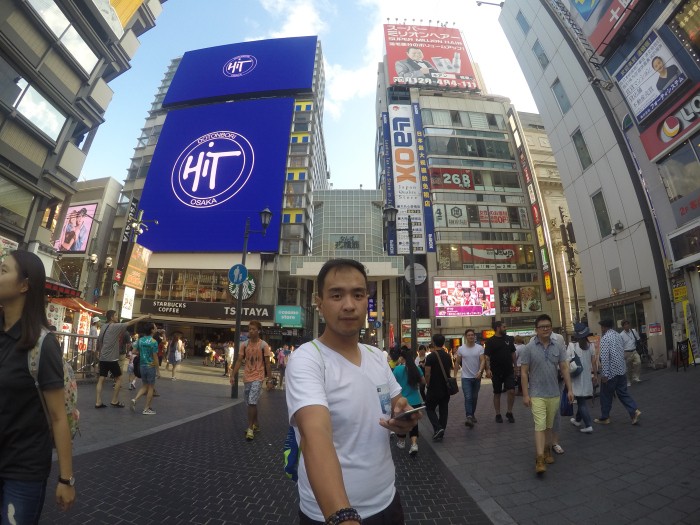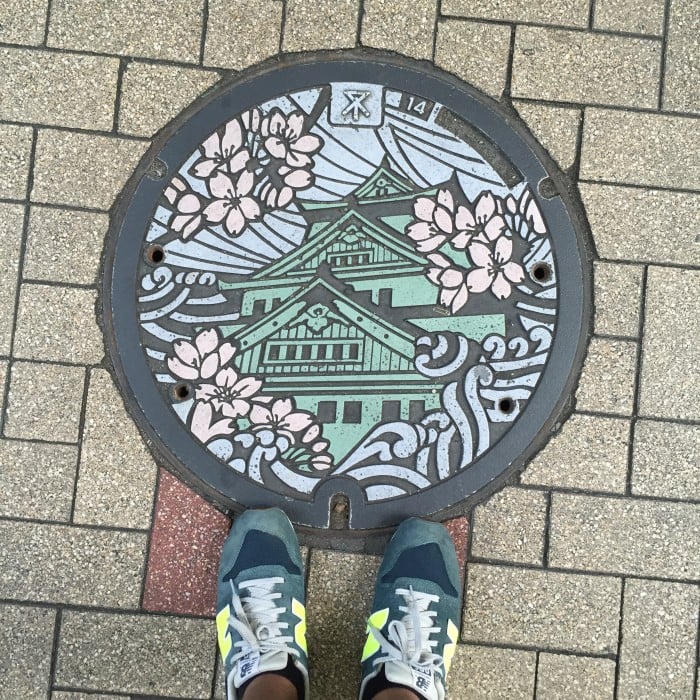 10 Sept 2016 – Check out, Osaka Castle, Shinsaibashi, Dotonburi, back to hostel & depart to Airport
I woke up at around 8am and had breakfast at the hostel. I just bought food from Family Mart the night before and placed it in the fridge and have it heated up by the morning.
I had an early checkout and left my luggage at the hostel while made a last minute strolling in Osaka. I visited Osaka Castle. Again, just use your Google Maps for the fastest route for you to get there.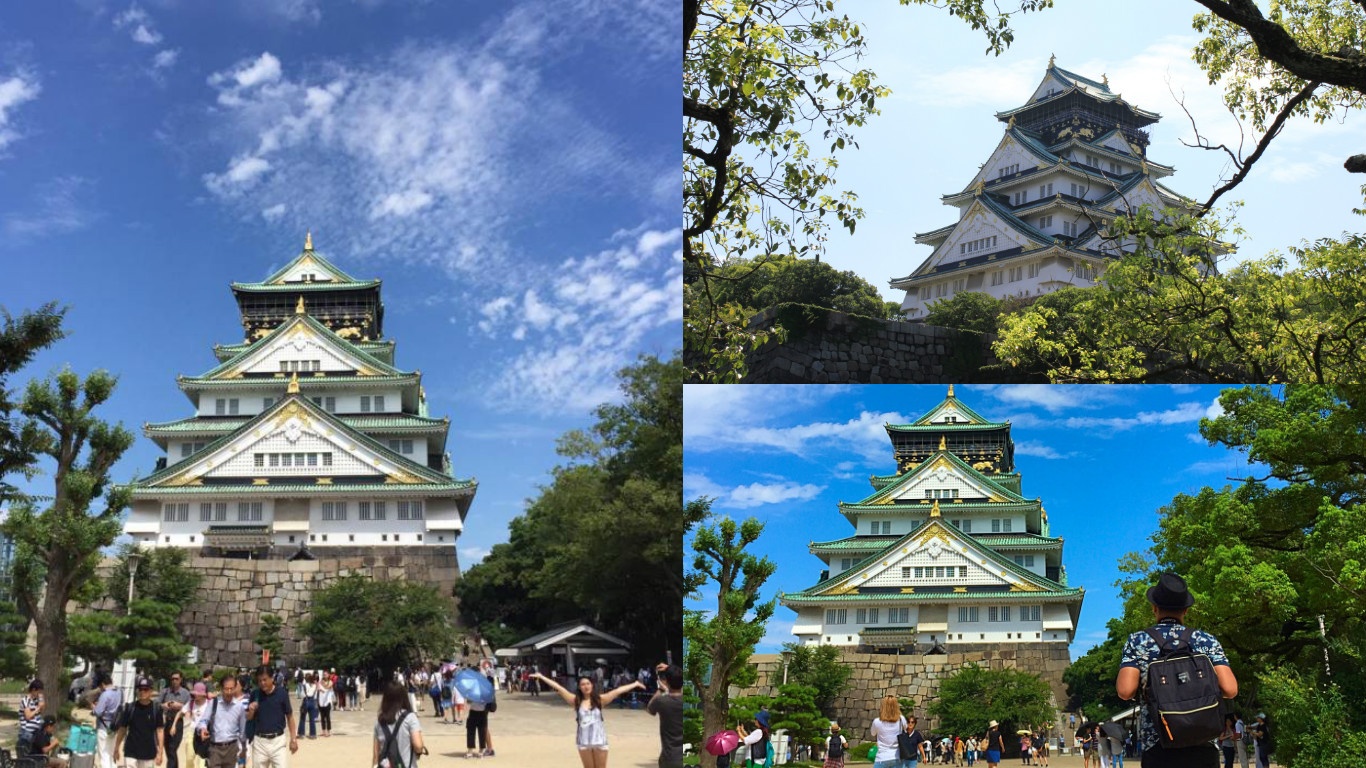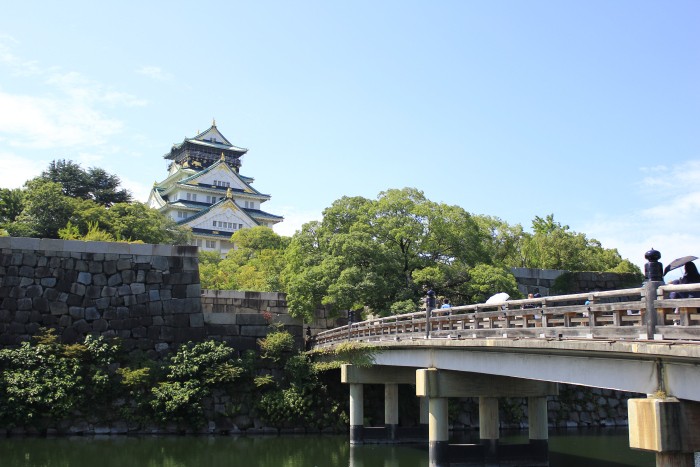 After I was done wandering around Osaka Castle, I went back to Dotonburi area for some last minute souvenir shopping and food trip.
Also read: 18 Places in Japan that Look Just Like a Fairy Tale
I went back to my hostel before 2pm and collected my luggage, then headed to OCAT JR Namba Bus Station for a limo bus to the airport. It is located just one block away from the hostel. It's very near. You may ask the receptionist for the detailed instructions to locate the building, but it's very close. The bus station is on the 2nd floor of the JR Building.
After getting on the 2nd floor of the JR Station Building, you will be able to see a ticketing area where you can buy your bus ticket going to the airport.
In a flash, I was already going back to the Philippines. It was a pretty short five-day trip with actually just four whole days to explore Kansai Region, but it was definitely a one-of-a-kind experience. Yes, in my experience it may be a bit more expensive to travel in Japan than in any other Asian country I've been to but you would be amazed not just because of the scenic spots or the food but you can also appreciate how rich their culture is, how they value and preserve it. I made lots of great memories and tons of checked items off the bucket list. I hope I will be able to go back to Japan, and this time, it will be Tokyo and the famous Mt. Fuji.