As sakura blooms fade away with the last weeks of spring and the rainy tsuyu season in early summer passes, temperatures gradually climb and long-hibernating creatures emerge, marked by the shrill chirping of unseen cicadas.
The summer sun has arrived, and with it, a plethora of matsuri (Japanese festivals) — something no Japanese summer is complete without. Home to the brightest summer festivals in Japan, Tohoku's festivities are hallmarked by paper lanterns, parade floats and fireworks. Hives of activity buzzing in both day and night, these Tohoku festivals offer great eats, fun times, grand processions and most importantly, invaluable cultural experiences.
Let's take a look at some of the major Tohoku festivals that you just have to visit in early August, all of which are just a convenient train ride away within the region.
The
JR East Pass (Tohoku Area)
is priced only as much as a shinkansen round trip between Tokyo and Sendai — incredible value for unlimited rides all over Tohoku and from/to major airports. What's more, all shinkansen, express and regular trains, and even Joyful Trains are available to travel in!
Explore each destination to its fullest before you head off to your next, as the Pass allows for any five days of usage within a 14-day period.
The five summer festivals of Tohoku
1. Aomori Nebuta Festival (+ Hirosaki Neputa Festival) — Aomori (+ Hirosaki)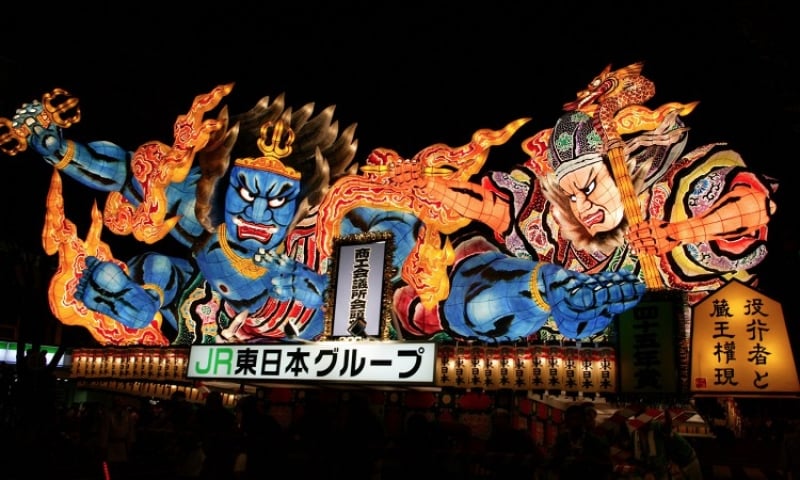 Giant nebuta lantern floats light up the night sky at Japan's most colourful festival, Aomori Nebuta Festival, drawing a crowd of around 3 million each year. These large floats are delicately made from washi (Japanese paper), wire and bamboo frames, often depicting various mythical characters and creatures, historical figures and kabuki actors.
There are three types of nebuta floats which differ in size and grandeur. Because the largest of these floats require no fewer than a small group of men to move them, they are often only paraded from 4 August to 7 August; smaller floats, such as children's nebuta, are paraded from 1 to 3 August.
While you may view these floats in the day and during the offseason at the Nebuta Museum Wa-rasse, viewing them at night as they are accompanied by parade dancers and musicians is an experience not to be missed.
The exact origins of Aomori Nebuta Festival aren't confirmed, with some stating that it has influences from the Tanabata Festival and others saying that the nebuta floats were invented by General Sakanoue-no-Tamuramaro to scare off enemies.
Nonetheless, the festival has evolved into its iconic and unique form today, making it one of the Three Great Summer Festivals of Tohoku — along with Akita Kanto Festival and Sendai Tanabata Festival.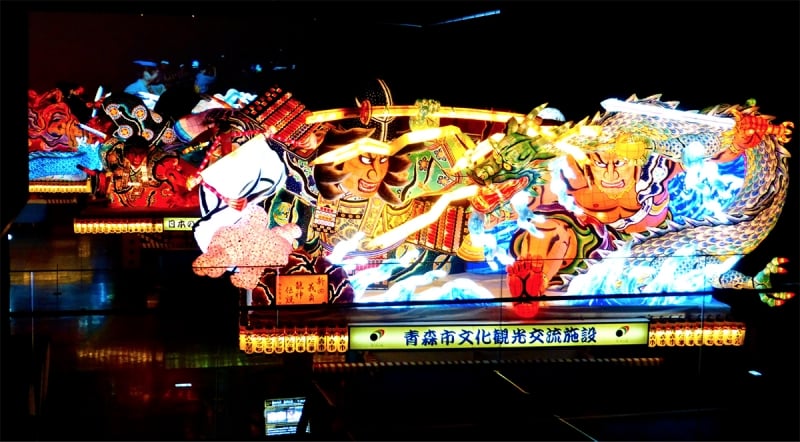 The nebuta are not the only things going for this festival. Visitors are more than welcome to participate in the festival, as haneto (nebuta dancers) respond to shouts of "Rasse Rasse Rassera!" from watchers of the parade procession, and will often dance and chime back "Rassera, Rassera!". Armed with uchiwa fans and bell chimes, these dancers help elevate the festivities of the event.
If you're game, you can buy or rent a traditional haneto costume and join the dancers yourself! Like the origins of the festival, the exact meaning and significance of "Rassera" is unconfirmed – but that has not stopped festival-goers from saying it and joining in the fun!
Aomori Nebuta Festival
Festival period: 2–7 August annually
Nearest station: JR Aomori Station (5-min walk to festival area)
Website: en-aomori.com/culture-038.html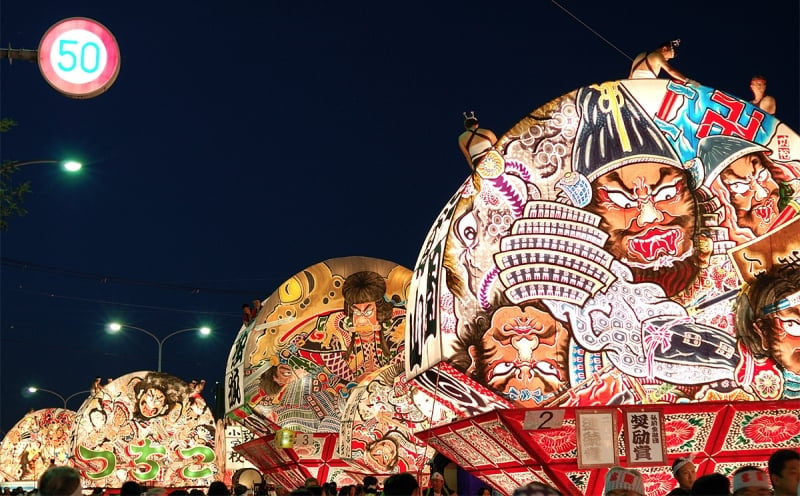 If you'd prefer a smaller but still equally energetic festival, head over to the Hirosaki Neputa Festival, held in the old castle town of Hirosaki. It is said to stem from Nemuri Nagashi, a traditional event where lanterns and lights were meant to banish the invisible sleep demon that plagued the farmfolk during the busy summer.
The festival also consists of a procession of neputa floats, musicians and the main highlight of the parade – the massive Ōdaiko, a large traditional drum producing deep reverberations that resonate through the festival crowd. With this being a community event, you can be sure of getting a chance to interact with the locals through the various activities of the festival.
Hirosaki Neputa Festival
Festival period: 1–7 August annually
Nearest station: JR Hirosaki Station (10-min bus ride to festival area)
Website: en-aomori.com/culture-039.html
2. Akita Kanto Festival — Akita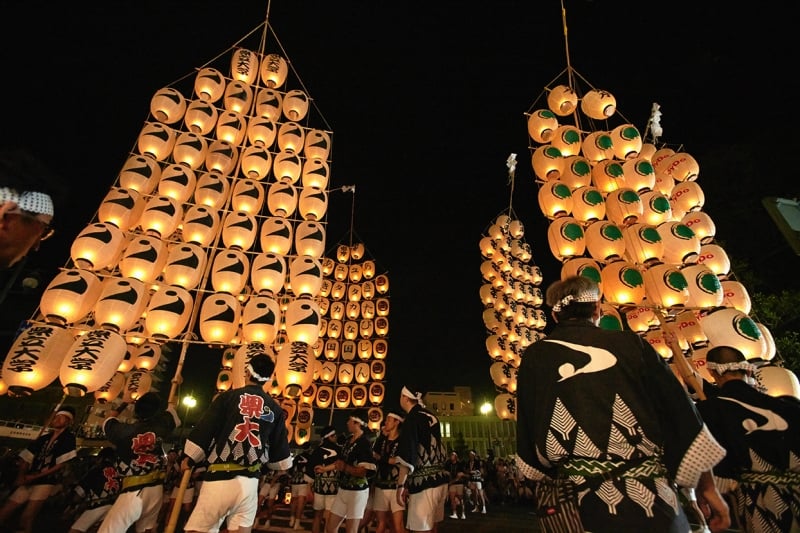 This visually stunning festival showcases several kanto, long bamboo poles with candle-lit paper lanterns attached to their ends. These towering structures resemble the ears of rice plants and the lanterns, rice pods — the Akita Kanto Festival is held to pray for a bountiful harvest for the grains grown in the region, a practice thought to have been around since the 17th century.
Performers have to balance kanto that can reach up to 12 metres in height and 50 kilograms in weight, holding up to 46 lanterns. With the kanto being only 7 to 8 centimetres in diameter, the skill needed to gracefully keep these poles upright, especially against the wind, is something to behold.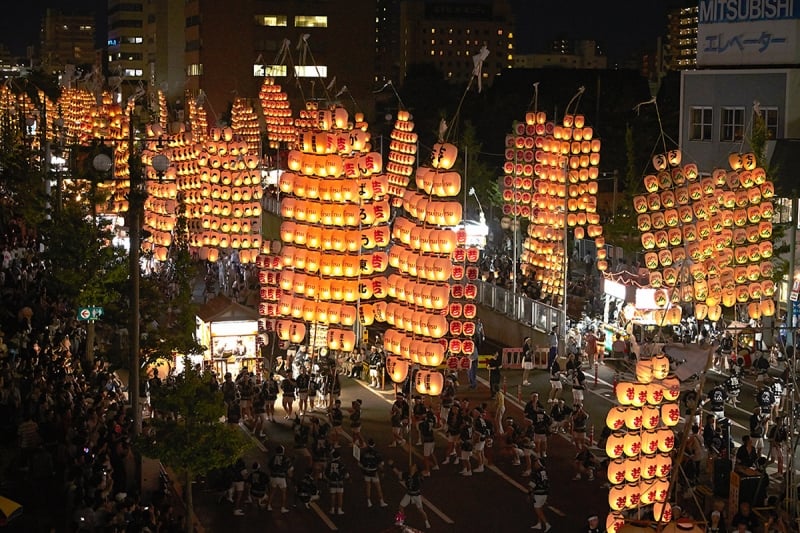 The night parades are where all the magic happens, lasting around 90 minutes on Chuo-dori, which is almost a kilometre long.
When the signal is given, nearly 250 kanto are raised simultaneously and performers proceed to showcase their skills and endurance. Spectators can interact and take photos with the performers after the parades, and also try their hand at carrying a kanto.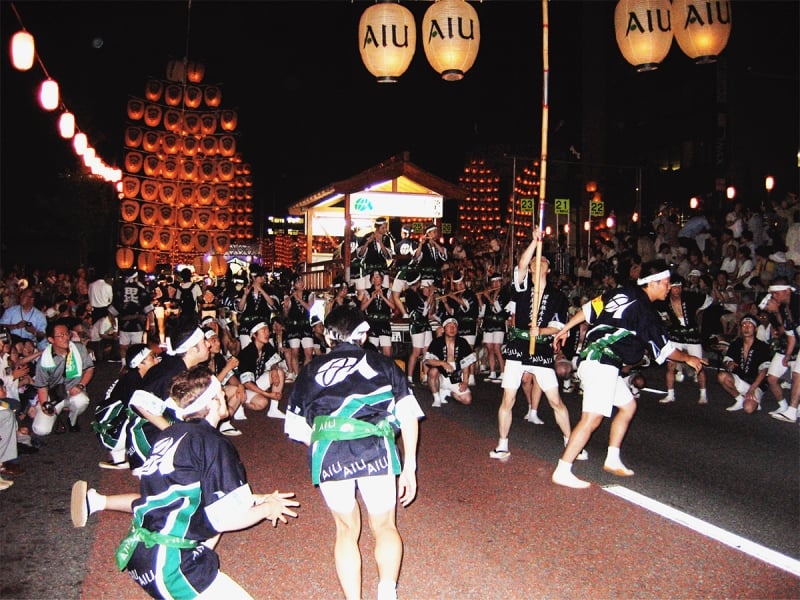 After the festival opening, kanto competitions are also held in the day, with several individuals and groups pitting their hoisting and performing skills against one another. Offseason, you can learn more about the history of the festival and try your hand at hoisting a kanto at the Kanto Museum.
Festival period: 3–6 August 2019 annually
Nearest station: JR Akita Station  (15-min walk to festival area)
Website: kantou.gr.jp/english/index.htm
3. Sendai Tanabata Festival — Miyagi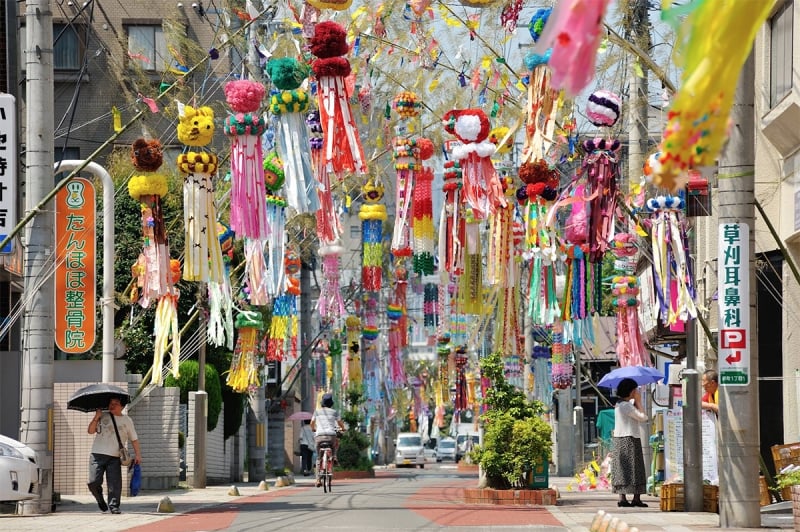 This colourful festival lines the city's shopping arcades with thousands of colourful fukinagashi, or paper streamers — the mainstay of Tanabata festivals (more on this in a bit!) — making it one of the largest and most famous of such festivals in Japan, drawing millions of visitors each year.
With each streamer contributed by a different local shop, community group or school, there's no end to the different designs and intricacies that you'll see at the Sendai Tanabata Festival, so have your camera ready to capture any that piques your curiosity.
Another typical practice of this festival is the tying of tanzaku, or strips of coloured paper with wishes written on them, to bamboo trees in hopes of them coming true. Why not read what others have wished for, and try it for yourself?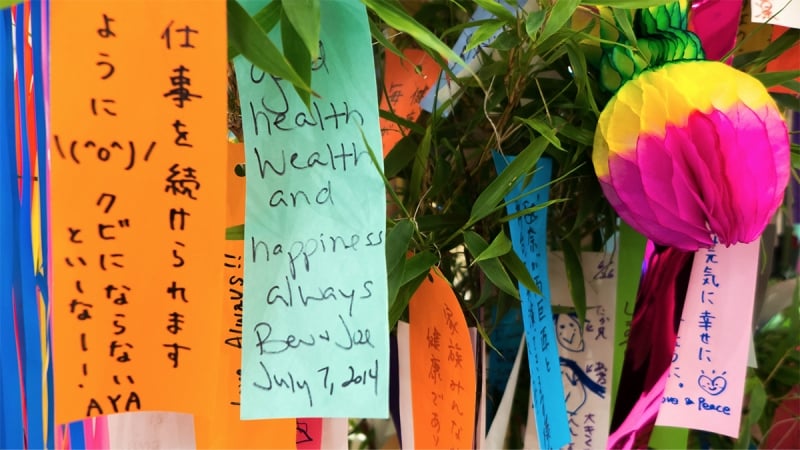 Tanabata typically falls on 7 July (or the seventh day of the seventh month), and it carries one of Japan's best-known love stories.
First held during the Edo period (1603–1868), the festival lore tells of two celestial lovers, the stars Vega and Altair (or Orihime and Hikoboshi), who are allowed to meet only once every year if the weather is clear enough for a flock of magpies to form a bridge between them (hence festival goers often pray for good weather so the lovers can reunite).
This legend has roots in the Chinese Valentine legend of Qixi, which came to Japan in the 8th century. As the Sendai Tanabata Festival is based on an ancient calendar that is one month later than the Chinese lunar calendar, it falls on 6 to 8 August every year to keep the seasonality of the traditional festival.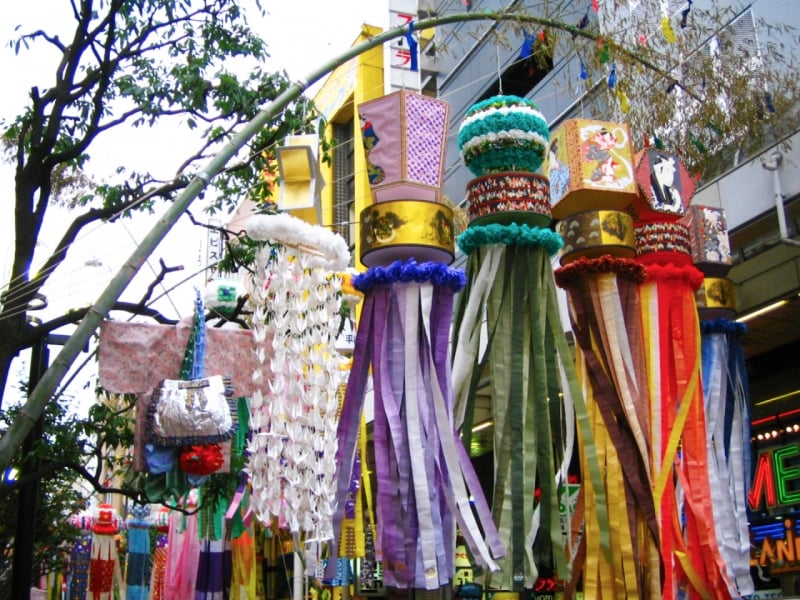 Besides the vibrant and colourful displays, you will be able to enjoy all the festivities you can expect at a summer festival in Japan. Feast on various yatai (food stand) treats, join the locals and try your hand (and feet) at the Bon Odori dance, or marvel at the advanced pyrotechnics of the fireworks display on 5 August, where over 10,000 fireworks will be launched to mark the opening of the festival.
Festival period: 6–8 August annually
Nearest station: JR Sendai Station (decorations are located at shopping arcades around Sendai Station)
Website: sendaitanabata.com/en
4. Yamagata Hanagasa Festival — Yamagata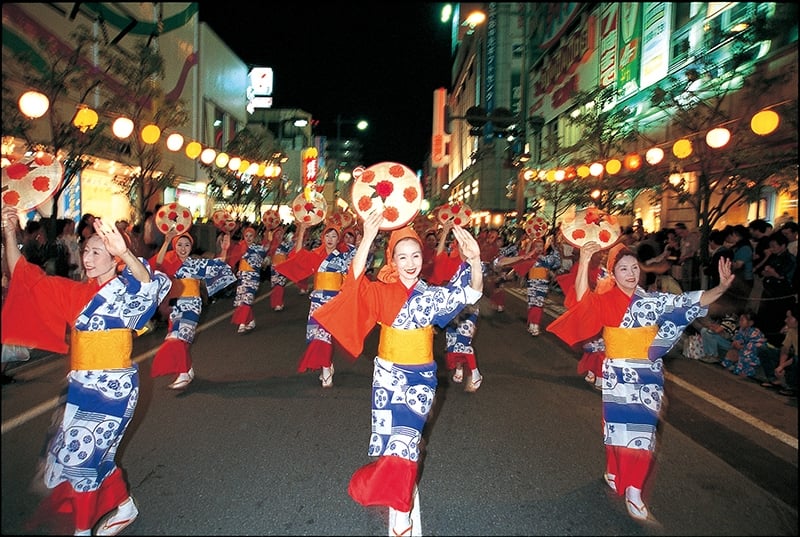 As one of the main Tohoku festivals, the Yamagata Hanagasa Festival attracts over a million visitors each year.
This festival will have you dancing with the parade performers as they proudly flourish their hanagasa, or straw hats adorned with benihana (safflower, the symbol of Yamagata Prefecture), to the beat of taiko drums and the hanagasa ondo, an old folk song sung by labourers since around 1919.
While the perfectly synchronised hanagasa dance performances have been one of the highlights of this festival, visitors are now also treated to a variety of creative freestyle dances which often involve the twirling of the hanagasa.
The Hanagasa Festival was once the Hanagasa Dance Song Parade, and was then part of the Zao Summer Festival aimed at promoting tourism to Zao in Yamagata. The dance parade eventually separated from the festival in 1965 and has since become its own event.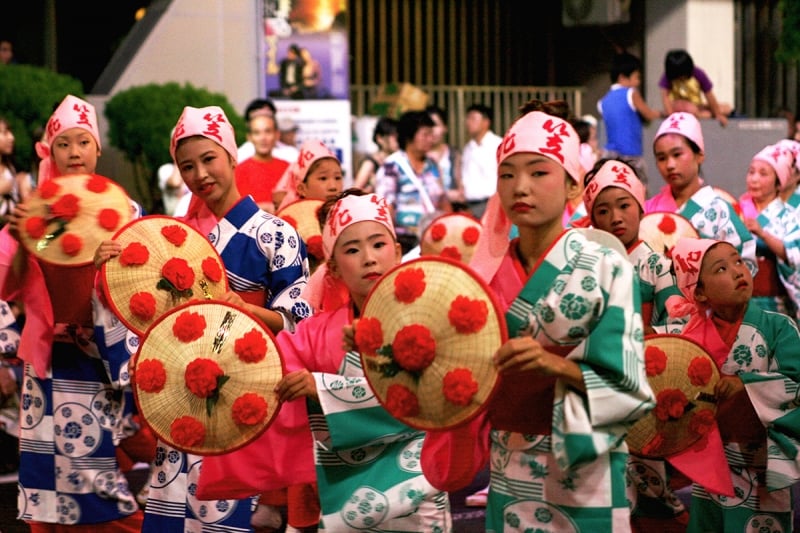 Truly soak in the festivities by being an actual part of the festival. Join in the Hanagasa Circle Dance which happens at the parade goal in front of the City Hall, or the walk-in corner at the tail end of the procession. In the former, instructors will guide beginners with simple basic movements so that they can easily take part in the dance. Do note that dance steps can differ between genders, with the kunpu mogamigawa being for females, and the zao gyoko for males.
Festival period: 5–7 August annually
Nearest station: JR Yamagata Station (10-min walk to festival area)
Website: hanagasa.jp/en
5. Morioka Sansa Odori — Iwate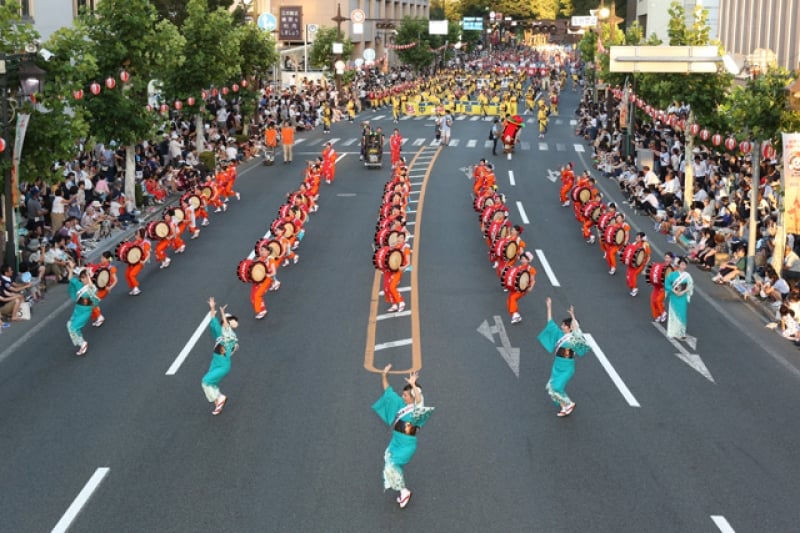 Feel the literal beat of summer at the Morioka Sansa Odori, which holds the Guinness World Record for being the largest taiko drum festival in the world. With over 10,000 drummers, musicians and dancers, this festival attracts more than 1.4 million visitors every year.
Origins of this festival tie in very much with the name of the prefecture, Iwate (岩手) — which literally translates to "rock hand". According to the legend Oni no Tegata, or "demon's handprint on the rocks", an oni called Rasetsu was made to stop terrorising the local folk by the deity Mitsuishi-kami, sealing his pledge with a handprint — on stones found at Mitsuishi Shrine. In reaction to the dispelling of Rasetsu, the local folk danced around the stones shouting "sansa, sansa", which was the beginning of the sansa dance.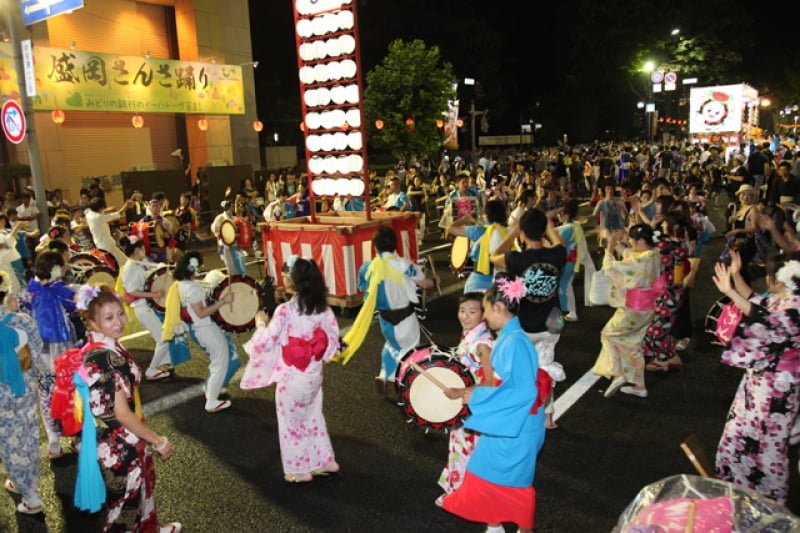 Today, the sansa dance is displayed at this festival, with colourfully clad dancers dancing to the beat of taikos and the blowing of yokobue flutes.
With each district represented by its own group of distinctively dressed performers, the lengthy parade is led by 5 Miss Sansa Odori dancers who have been chosen from the local population. Besides performing at the festival, they also play important roles in fostering friendships both in and out of Morioka.
If the beats have gotten you riled up, join in the Ippan-sanka Sansa Odori group in the parade, where all are welcomed to take part regardless of what you're wearing. Join in the Wa Odori (dancing in a circle) as well, which will start from around 8.30pm across 7 sites along the parade route simultaneously.
Festival period: 1–4 August annually
Nearest station: JR Morioka Station (20-min walk to festival area)
Website: sansaodori.jp/foreign/english.php
Other Tohoku festivals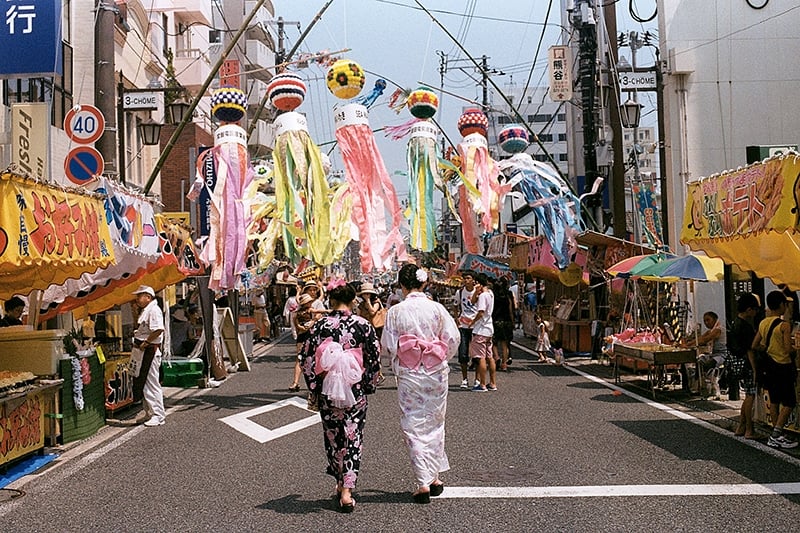 Besides these five major Tohoku festivals, there are several other summer festivals in Tohoku that you should visit too, if you have the time. While we would not be able to cover all of them in this article, here are two noteworthy ones that you should not miss.
6. Fukushima Waraji Festival — Fukushima
Albeit not a major festival on the scale of the five above, the Fukushima Waraji Festival is the biggest in the Fukushima Prefecture. With roots dating 400 years back to the Shinobu Sanzan Akatsuki-mairi Festival, the Fukushima Waraji Festival takes place in early August every year.
During the traditional folk dance segment of the festival, dancers wear waraji (or straw sandals) and dance to the relaxing reggae-inspired beats of the heisei waraji ondo, while the Dancing Soda Night features modern and international dances as remakes of the waraji ondo.
Another highlight of the festival are waraji races, where teams drag or carry large waraji and race one another to the finish line.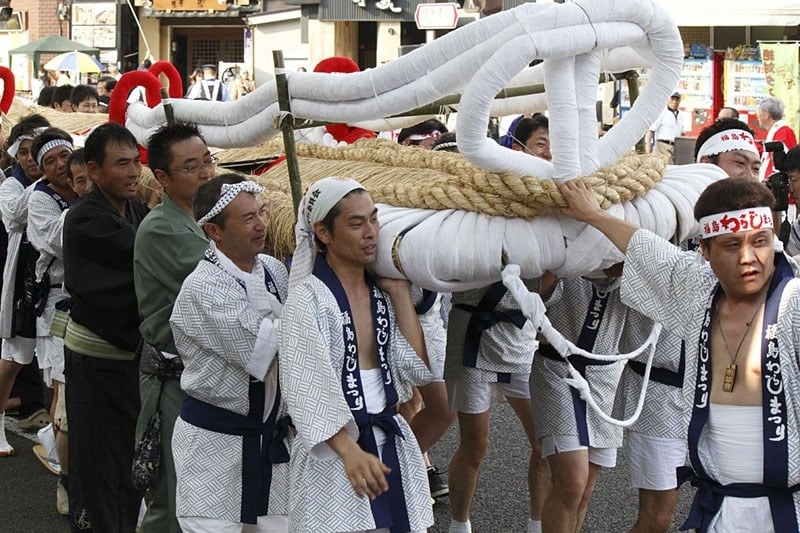 The star of the festival, however, is undoubtedly the 12 metre-long waraji which weighs 2 tons, making it the largest waraji in Japan. Dedicated to the Haguro Shrine at Mount Shinobu, this huge sandal is regarded as a symbol of safe travelling and walking, and is also the symbol of Fukushima City.
With the festival commemorating its 50th anniversary this year, big changes can be expected, such as new traditions and the invitation of musician Yoshihide Otomo, while old ones are preserved and honoured. You won't want to miss what will be in store!
Festival period: 3–4 August 2019
Nearest station: 5-minute walk from Fukushima Station East Exit
Website: fmcnet.co.jp/waraji (official Japanese website)
fukushima-guide.jp/event/waraji-matsuri (English information)
Bonus: Tohoku Kizuna Matsuri – Fukushima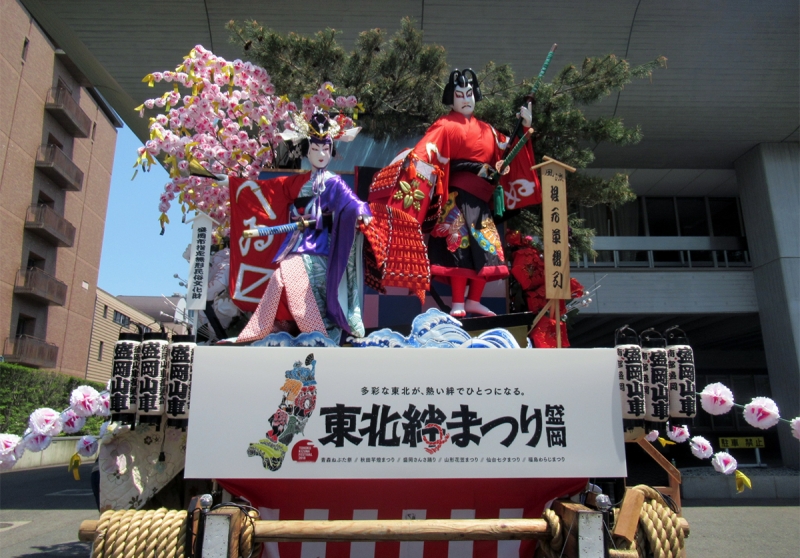 After the 9.0-magnitude 2011 Great East Japan Earthquake that devastated the Tohoku region, the six prefectures of Tohoku came together for rebuilding efforts, in the face of a long and arduous road to recovery.
To cheer its people on, remember the victims of the disaster and begin reconstruction, the prefectures created the Tohoku Rokkonsai (or the Soul of Six Festival) just four months after the disaster, bringing together the hallmarks of the prefectures' iconic festivals into a combined celebration.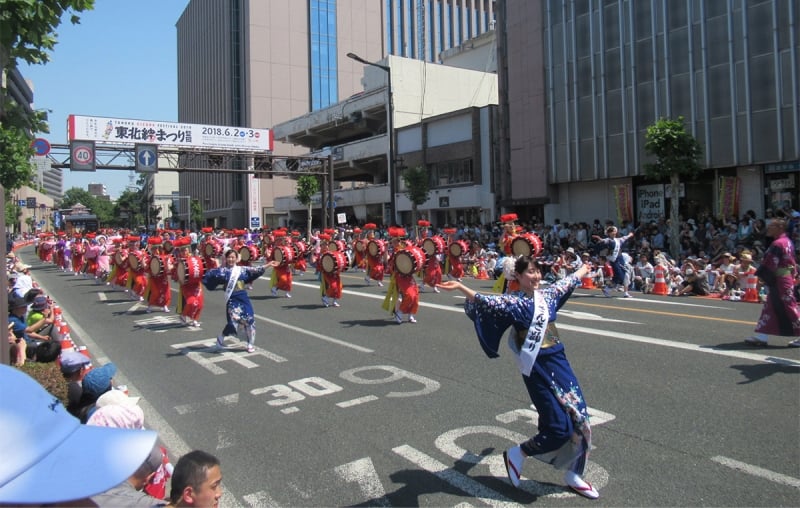 The Rokkonsai has since been succeeded by the Tohoku Kizuna Festival in 2017, which features elements from Fukushima Waraji Festival, Sendai Tanabata Festival, Yamagata Hanagasa Festival, Morioka Sansa Festival, Akita Kanto Festival and Aomori Nebuta Festival. The venue of the annual festival cycles through the six prefectures, and will be held in Fukushima in 2019.
In the face of region-wide devastation, the people of Tohoku cultivated deep bonds that span across prefectures, and it is with this significance that the Tohoku Kizuna (which means 'bond') Festival was named.
This festival is a special opportunity for visitors to the region to get a taster of not just the six festivals that are to come two months later, but the many things that the region has to offer as well, all in a single venue. They will get to experience iconic aspects of the prefectures' cultures and traditions, sample their local specialities and learn more about their various attractions.
Festival period: 1–2 June 2019
Nearest station: 9-minute walk from Fukushima Station
Website: tohoku-kizunamatsuri.jp (official Japanese website)
fukushima-guide.jp/event/tohoku-kizuna-festival-2019  (English information)
Recommended itineraries and routes
If you're looking to hit up as many of these exciting festivals as you can, we've put together itineraries for you, depending on where you're visiting from!
To visit all six festivals, starting on 2 Aug and ending by 8 Aug
Day 1: Tokyo → Fukushima Waraji Festival (2–3 Aug) → Morioka Sansa Odori (1–4 Aug)
Day 2: Morioka Sansa Odori (1–4 Aug) → Akita Kanto Festival (3–6 Aug) → Hirosaki Neputa Festival (1–7 Aug)
Day 3: Hirosaki Neputa Festival (1–7 Aug) → Aomori Nebuta Festival (2–7 Aug) → Yamagata Hanagasa Festival (5–7 Aug)
Day 4: Yamagata Hanagasa Festival (5–7 Aug) → Sendai Tanabata Festival (6–8 Aug)
Day 5: Sendai Tanabata Festival (6–8 Aug) → Tokyo
*Underline indicates nearest station; bold indicates recommended festival to visit on the day
Visiting from Tokyo
Fukushima Waraji Festival (2–3 Aug) → Yamagata Hanagasa Festival (5–7 Aug) → Sendai Tanabata Festival (6–8 Aug)
Visiting from Hokkaido
Hirosaki Neputa Festival (1–7 Aug) → Aomori Nebuta Festival (2–7 Aug) → Akita Kanto Festival (3–6 Aug) → Morioka Sansa Odori (1–4 Aug)
Recommended rides with the JR Tohoku Pass
If you're riding using the JR Tohoku Pass, make sure to hop on these unforgettable Joyful Trains for free as you head for the festivals!
Resort Shirakami Train (Akita Station → Hirosaki Station)

Enjoy the sprawling views of the Sea of Japan that this train offers, along with a variety of music and art performances that will give you a taste of local culture.
Toreiyu Tsubasa (Fukushima Station → Yamagata Station)

Lined with tatami mats and housing a bar serving local drinks, this train has an environment akin to a hot spring town, paying homage to Yamagata's hot springs. Dip your feet into a soothing warm ashiyu (foot bath) as you gaze out at the passing scenery outside.
Summer festivals really bring out the enduring cultural practices of the Tohoku region, all of which carry special historical and cultural significance to the people. No two festivals are alike, and it is a must to visit all of them as each offers a unique experience in their own right.
Also read: The Ultimate Food & Sakura Itinerary That Maximises the JR East Pass (Tohoku)
With festivals being held in the six prefectures across the region, the JR East Pass (Tohoku Area) is a cost-efficient and convenient way to get to them as each festival is within walking distance of JR stations.
You have the option of visiting each festival across the region without checking in and out of multiple hotels, as the unlimited rides that the pass offers allow you to reside in one place (such as Morioka or Sendai) and venture out from there.
The
JR East Pass (Tohoku Area)
offers UNLIMITED RIDES on all JR East Rail Lines in the designated area, and is also valid for the Narita Express to/from Narita Airport, Tokyo Monorail to/from Haneda Airport and all Shinkansen lines.
You also get free rides on the uniquely-themed Joyful Trains with a JR East Pass! Learn more about the Joyful Trains here.
The pass is valid for use for any five days within a 14-day period after collection, giving you flexibility and ample time to explore each area without rushing to the next.
Make advance reservations up to one month before departure, and you can get your pass in Japan or through licensed sales agents overseas.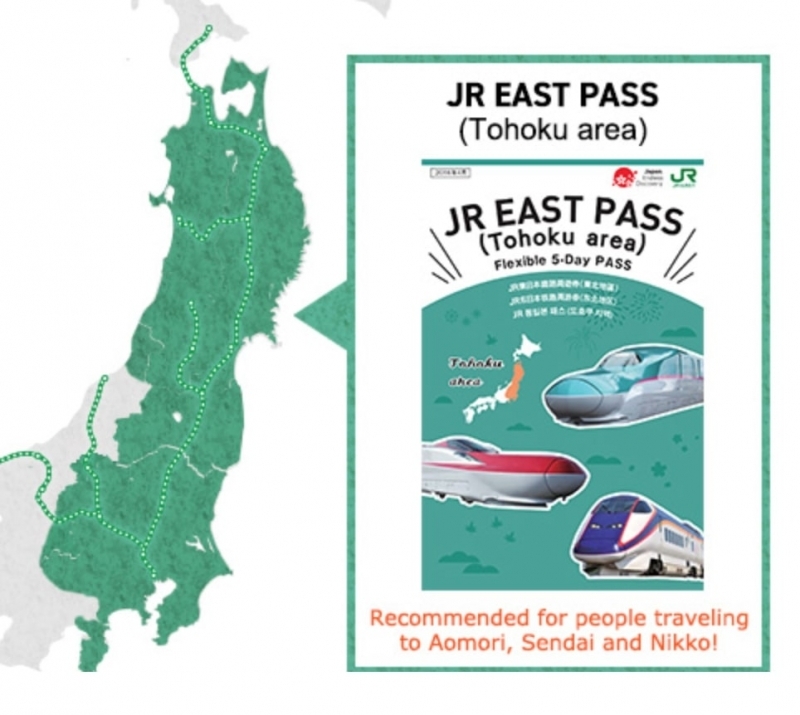 Psst! The pass is ¥1,000 cheaper if you purchase it from travel agents!
Contact any of the travel agencies below to purchase your JR East Pass (Tohoku Area) and immerse yourself in Tohoku's spectacular summer festivals this August!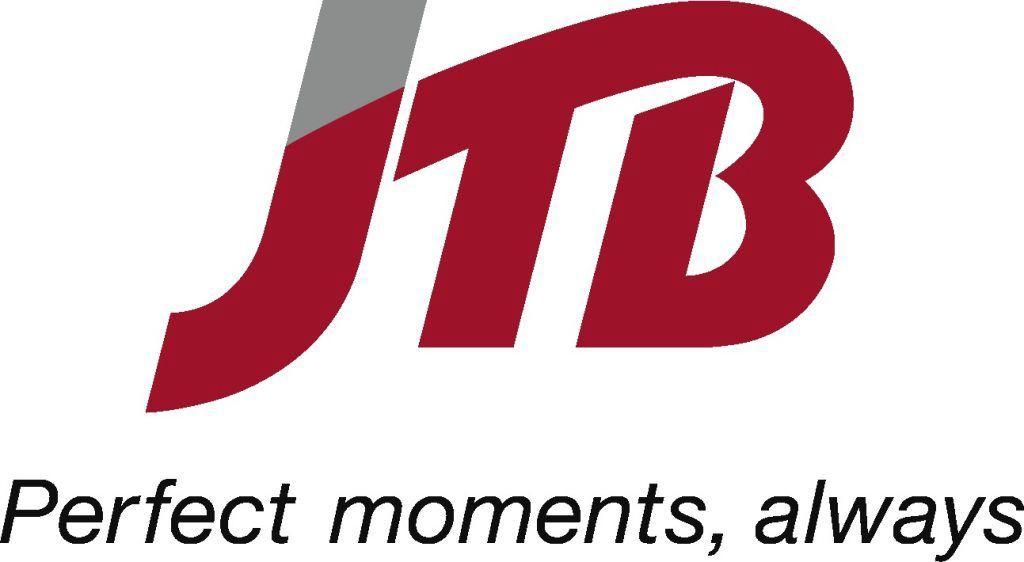 JTB
Tel: +63 (02) 894 5528
Website (Philippines)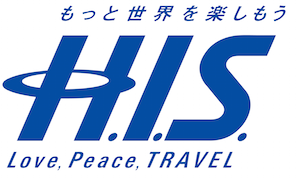 H.I.S.
Tel: +63 (02) 822 4496
Website (Philippines)
---
Brought to you by JR East (East Japan Railway Company).