As a first-timer to Japan, my expectations were set pretty low – because the realist in me did not want to be disappointed by what I saw. However, my initial thoughts about the country were immediately irrelevant the moment I stepped out of my seven-hour flight from Singapore to Tokyo at the Haneda Airport.
What defied my expectations the most are the Joyful Trains — themed concept trains that are meant to slash the mundane nature of rides, while creating a lasting memory for the passengers onboard. The routes on the JR East system were on my radar, and for that, I had a plan to check off as many Joyful Trains as I could in the Nagano and Niigata area.
Also read: The Ultimate Food & Sakura Itinerary That Maximises the JR East Pass (Tohoku)
Both these areas have extraordinary local produce – soba in Nagano and rice in Niigata. There is an abundance of astonishing views of the countryside and quaint little towns, but all I could think about were the Joyful Trains. How awesome the onboard features are, how cool the modified seats are, and how engaging the special performances are — these were some of the questions running through my mind.
Here's how my week-long Joyful Trains adventure went:
With the
JR East Pass (Nagano, Niigata area)
, all shinkansen, express and regular trains, and even
Joyful Trains
are available to travel in! You get
unlimited rides
all over Nagano, Niigata and from/to major airports. What's more, What's more, it's priced only as much as a
shinkansen round trip between Haneda/Narita Airport and Nagano, or between Tokyo and Niigata
!
Explore each destination (and train) to its fullest before you head off to your next, as the Pass allows for any five days of usage within a 14-day period.
Koshino Shu*Kura: For sake's sake, try this train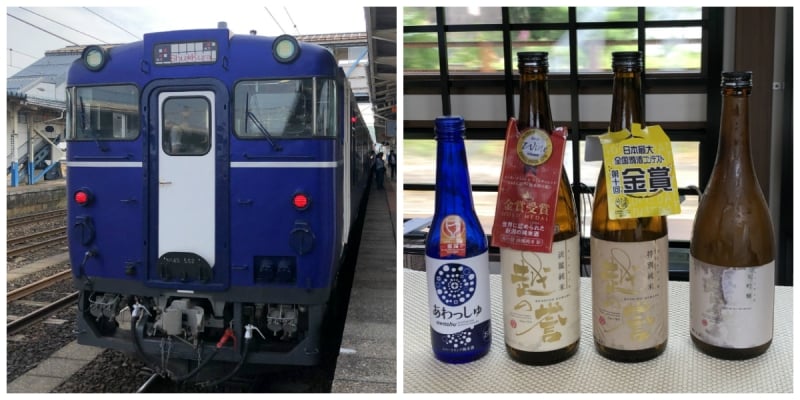 This Joyful Train is one of my top drawer picks, because of one thing: sake. It's no secret that Niigata takes pride in all things rice and fortunately, sake is a derivative of the same grain!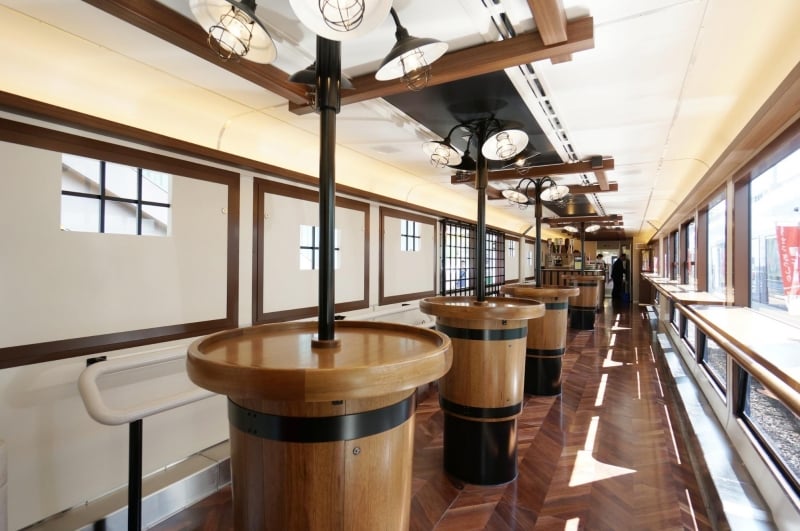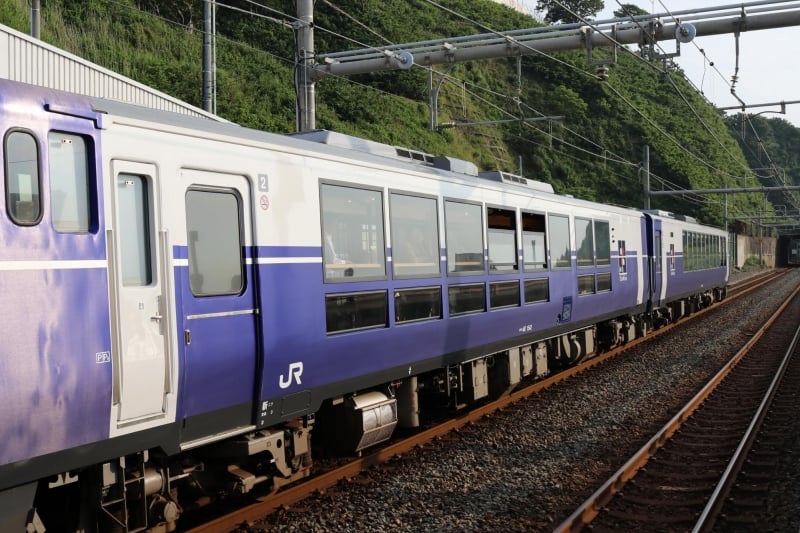 While travelling from Nagaoka to Joetsu-moyoko, I was one of the several passengers who had the pleasure of attending an in-train sake tasting hosted by a local sommelier, in a cabin that looks just like an actual brewery! Most of the dialogue was in Japanese and while that could be an outright bummer to a non-speaker, the free-flowing sake surely made up for it.
In between expert analysis of the locally-produced drinks, the host gladly gave me refills. I even had the privilege of sharing a cup with a local comedian dressed in a conductor's uniform — I'm probably on his TV show by this point, but I just don't remember his name. This is how you know that the train is indeed a joyful one.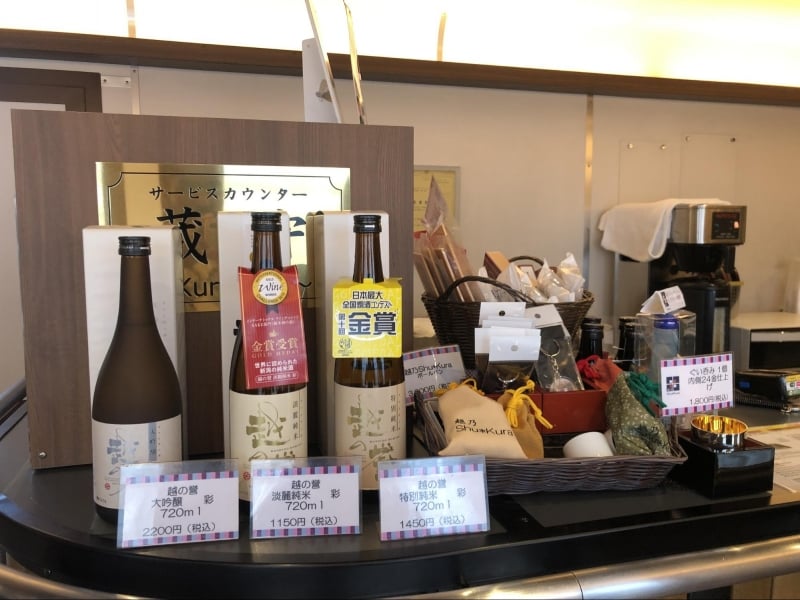 And if the servings during the tasting sessions are too little for you, you'll be glad to know that the bar pours more types of sakes in cute little three- and five-cup packages. Besides the extensive collection of sake available onboard the Koshino Shu*Kura, I had delectable snacks to munch on — and get this — while watching a live jazz performance! This is one concert where everyone gets a front-row seat. Attendees were also handed tiny egg-shaped shakers to join the jam session.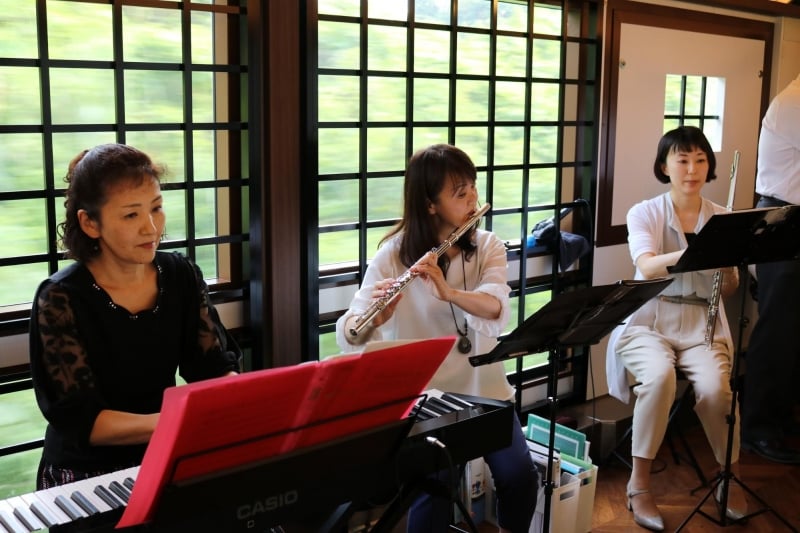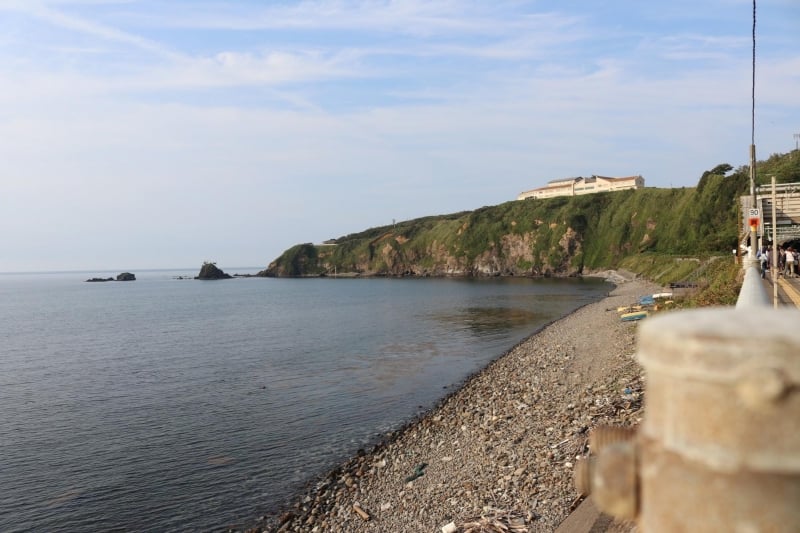 Need some air after all the booze? There is a 15-minute stop at Oumigawa – the station closest to the sea. Not only is the view absolutely stunning, the breeze is sure to cool you off and freshen you up! Fans of keepsakes can put on a conductor's hat for a kodak moment too, but I passed on that.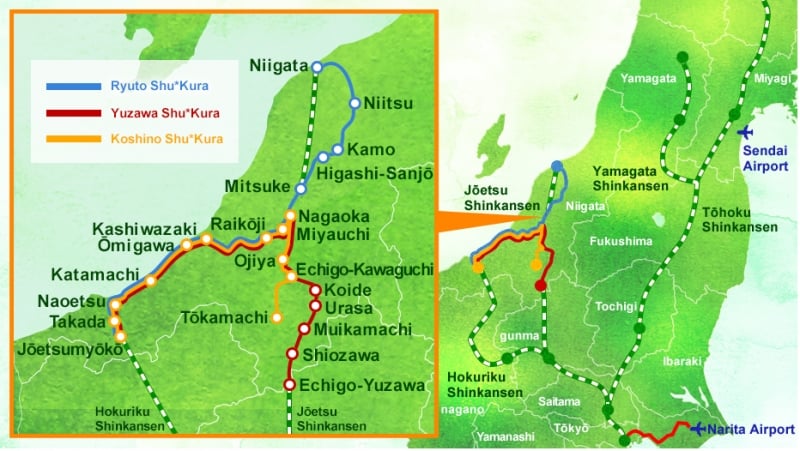 Routes: 
Koshino Shu*Kura: Joetsu-myoko ↔ Tokamachi
Ryuto Shu*Kura: Joetsu-myoko ↔  Niigata
Yuzawa Shu*Kura: Joetsu-myoko ↔ Echigo-Yuzawa
Accessible from: Joetsu-myoko Station (20 minutes by bullet train from Nagano), Nagaoka Station (100 minutes from Tokyo)
Oykot: A break from the city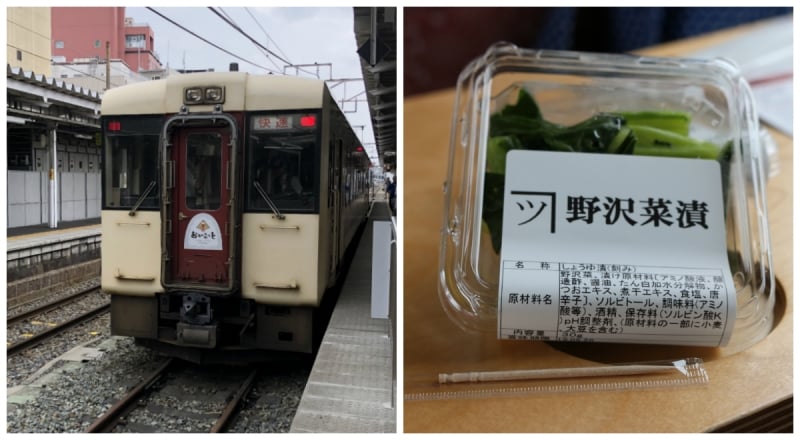 No matter what your preference when travelling abroad, everyone could use a little time away from the overly thronged city. That's where this Joyful Train slots perfectly into an itinerary. Cleverly named, the Oykot ('Tokyo' backwards) convoy took me away from the skyscrapers and crowds of the capital and into rural terrains, where life is pleasantly laid back.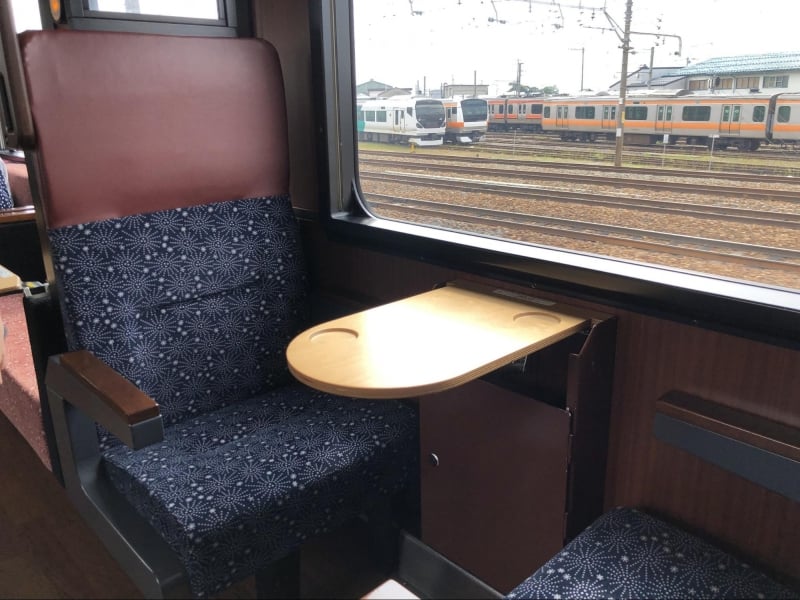 When in the belly of this train, I was immediately given the sense of relaxation — it literally reminded me of a cavern you'd see in the backwoods. Think of the closing scene of Marvel's Avengers: Endgame, but with a more homely vibe.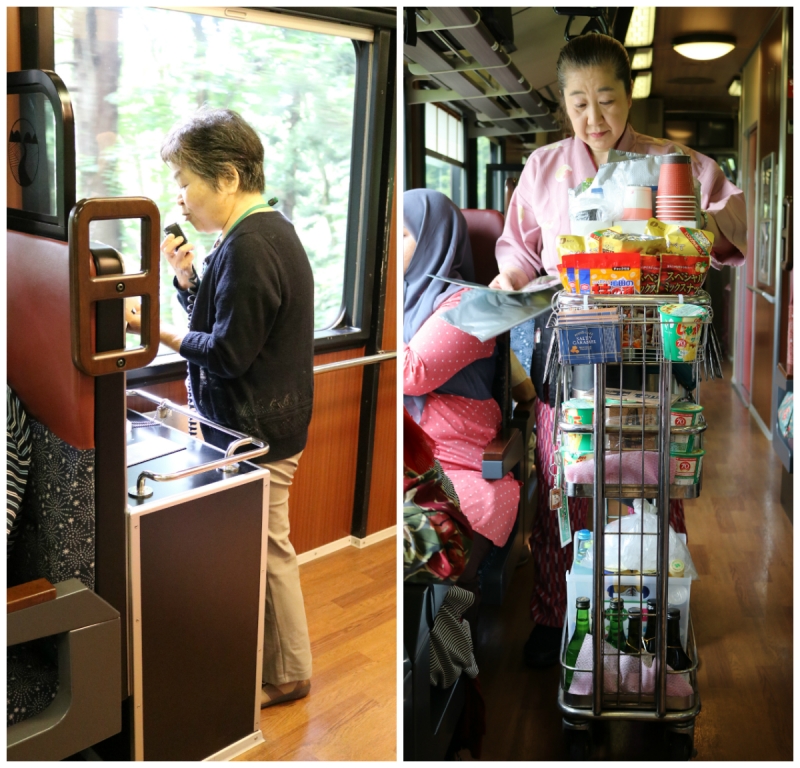 What truly tugged on my heartstrings were the welcoming natives who actually work on the Oykot — the elderly lady manning the food pushcart gave out free samples of pickled nozawana (a local pickled vegetable), making me feel like a five-year-old all over again. There was also a kind-hearted woman who tried her best to have a conversation with me, although I couldn't understand a word she said. This same person also took over the PA system to entertain the passengers with a folk tale — too bad I couldn't comprehend anything!
Along the way, I was treated to peaceful backcountry views of greenery and blue skies that left me zoning out quite a lot. The landscape was so hypnotic that I missed out on some epic "banana boats" — a soft sponge cake filled with cream and a whole banana — that residents from Iiyama (one of the stops along the way) boarded the train to sell. But I did get my hands on some locally-made sticky rice wrapped in two elongated leaves.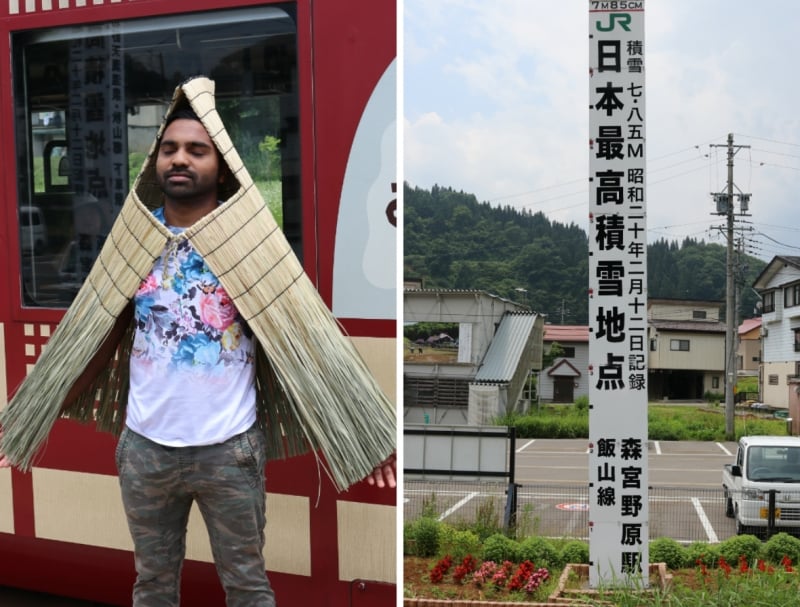 The icing on the cake for this journey was the stop at Morimiyanohara Station. I saw with my own eyes the place that received the highest snowfall in the history in Japan — can you imagine seven metres of snow?! I was so amazed at that fact! I was also immediately drawn to the opportunity of snapping a photo with an olden-day straw umbrella suit. These ornaments were antique rain protection used in the past before the modern ones that we know now came into existence.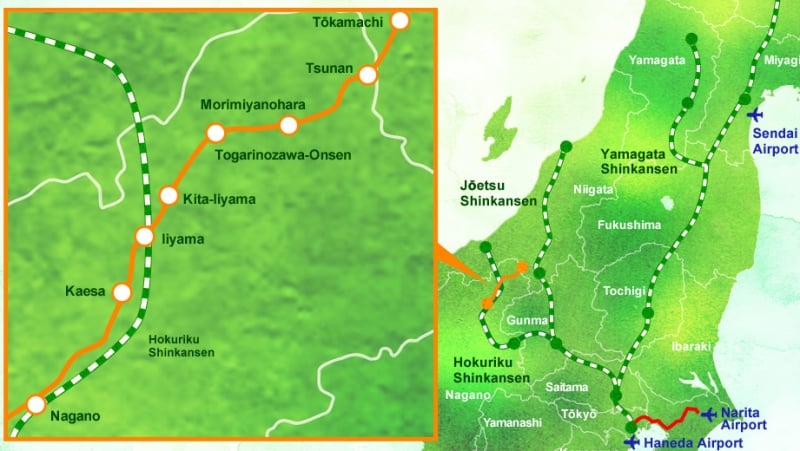 Route: Nagano ↔ Tokamachi on the Iiyama Line
Accessible from: Nagano Station. (90-minute bullet train ride from Tokyo)
Genbi Shinkansen: Quality art on the speed rail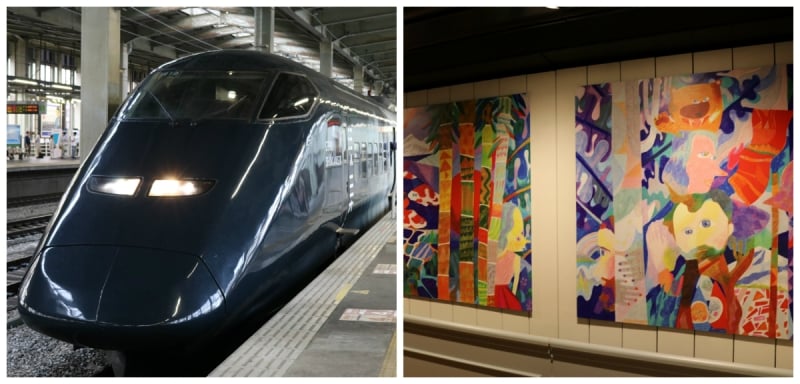 When I heard that the Genbi Shinkansen is the "world's fastest art museum", I had to see it to believe it — I mean how does any form of art stay in place at a maximum speed of 240kmh? This bullet train lives up to the hype, alright — every cabin is home to a different art form and I can assure you that nothing falls apart throughout the journey! Admirers of abstract art — a la Wassily Kandinsky (if you know, you know) — will revel in the gallery café.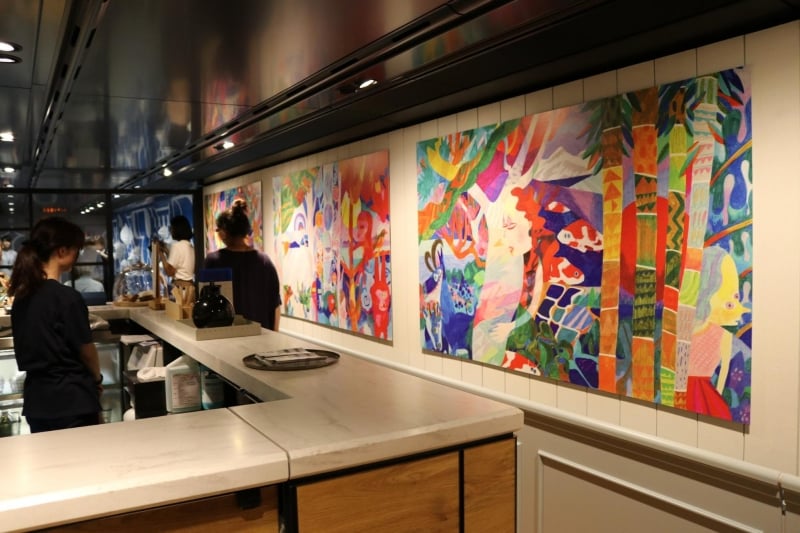 Walls here are plastered with modern and vibrant pieces, so I procured some Tsubame coffee from the counter and took my time to appreciate them. If you've got a sweet tooth, there are cookies and candy for sale as well, but don't spend too much time in one cabin because it's only a 60-minute ride — it's a shinkansen after all!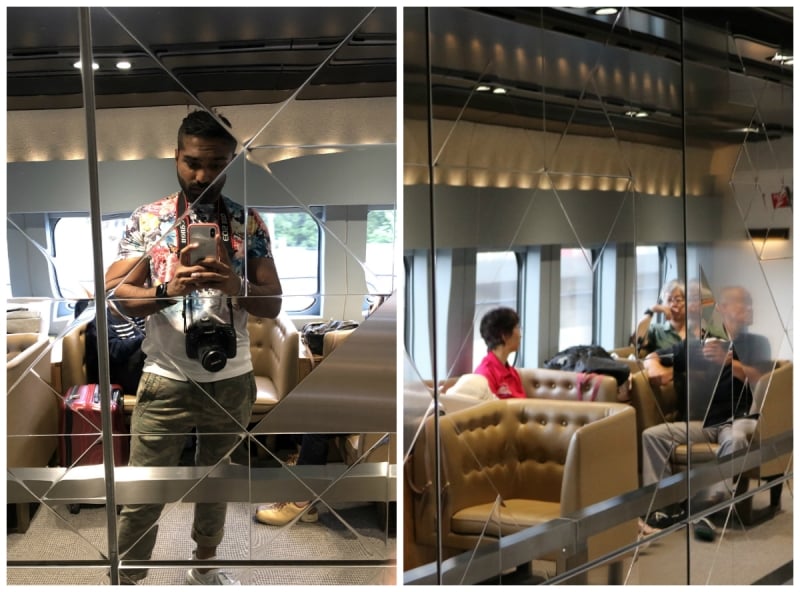 There's another cabin I call "The Selfie Section." It's not the actual name, but as you'll figure, I shot heaps of self-taken pictures here using the mirrors stretched across one side of the cabin. If you like geometrical shapes like I do, then you'll probably lounge in the sofas in this area for a while before moving on to my personal favourite zone.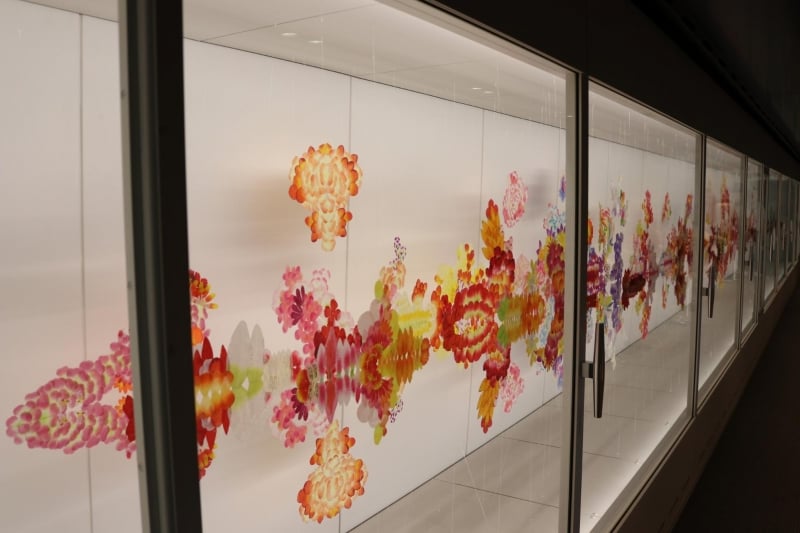 I really like colourful prints, especially those that resemble flowers and rainbows. The next cabin I toured had a sealed wall with three-dimensional smudge-like art. At every angle, I saw a different shape, and I must admit, I took a whole lot of photos and videos here. I really liked how the dangling parts swayed with the movement of the train. How I wish there were T-shirts made out of these!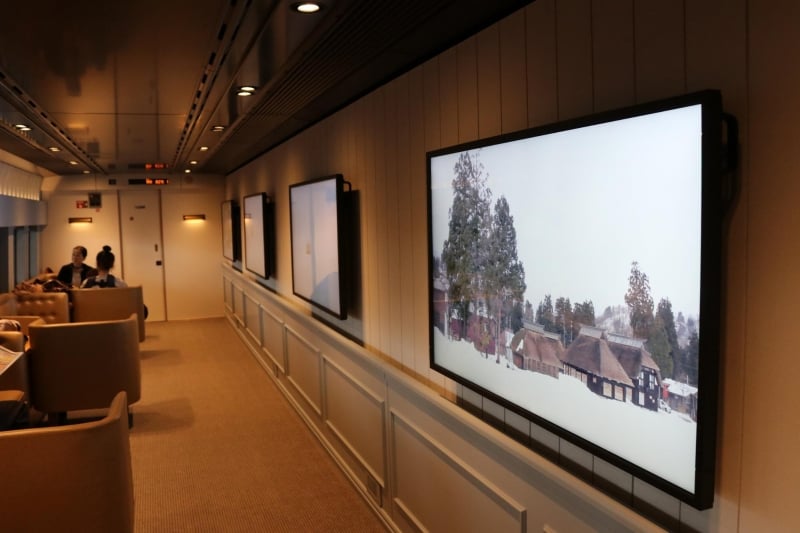 The next cabin I walked into featured actual television screens that showcased some top-class photography. Images scrolled like an aesthetic slideshow and the comfy seats here are perfect for shutterbugs to lay back and draw some inspiration for their next photowalk. 

Probably the centrepiece of the Genbi Shinkansen is the children's play area. Ideal for travellers with little ones, this cabin houses a platform for them to play with — you guessed it — toy trains! The Japanese take their trains pretty seriously and here's where it probably starts for some kids. They can build their personalised tracks and watch at the battery-operated shinkansens dart from one end to the other. The adults can be at ease and admire the spiral artwork on the walls, as the train staff keeps a watchful eye on the children.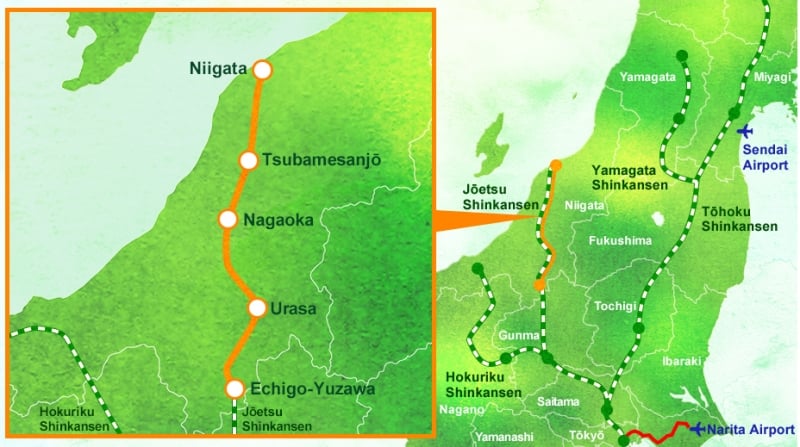 Route: Echigo-Yuzawa ↔ Niigata on the Joetsu Shinkansen Line
Accessible from: Niigata, Echigo-Yuzawa, Nagaoka Shinkansen Stations.
Kirakira Uetsu & Kairi: Forget food trucks and get on the food train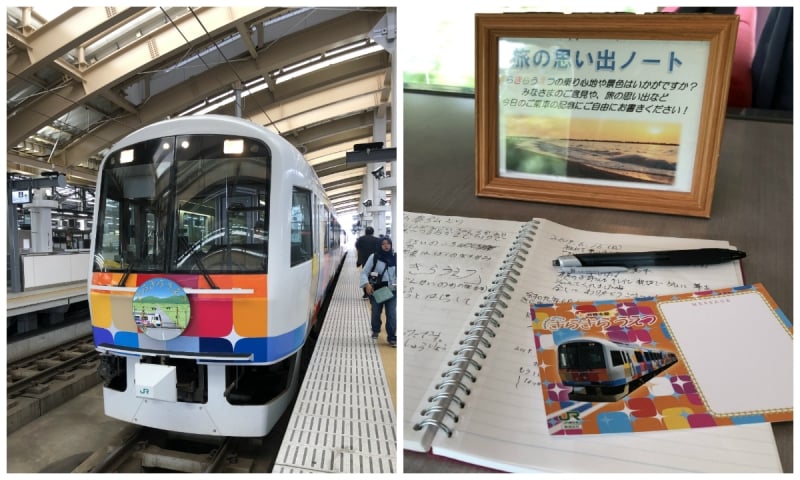 The moment I laid eyes on this Joyful Train — my very first, in fact — at the Niigata station, it was easy to see why there are train otakus (superfan, to the point of obsession) in Japan. In comparison to the more "ordinary" trains in the country, the Kirakira Uetsu stood out like a shining star in the night sky – the slim profile and multi-coloured pastel prints would make you go "whoa!" whether or not you're a train fanatic.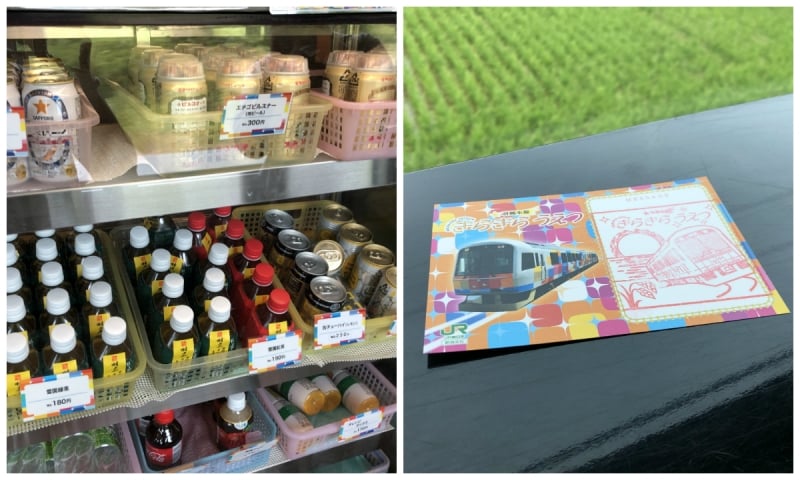 From the outside, I didn't know what the train's theme was, but after going in, it became clear that the Kirakira Uetsu celebrates Niigata's gastronomy. Known for its rice and fresh seafood — in no small part thanks to its coastal location  — so it's no surprise to find food like bentos made with locally-produced ingredients, snacks and craft beers on this train. The cosy teahouse lounge made the journey sweeter, as I gazed out to views of the Sea of Japan.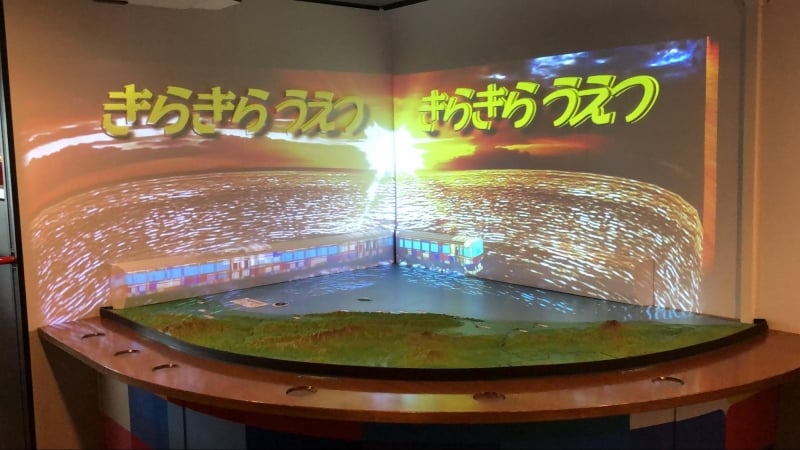 A couple of cool novelties found in this train are the AR projections displaying information about the full route of the Kirakira Uetsu, along with the traditional guestbook for passengers to pen down their heartfelt thoughts and emotions about their rides.
#NoobRiderTip: Every Joyful Train has a unique postcard for passengers to stamp and collect onboard. Grab yours for the scrapbook!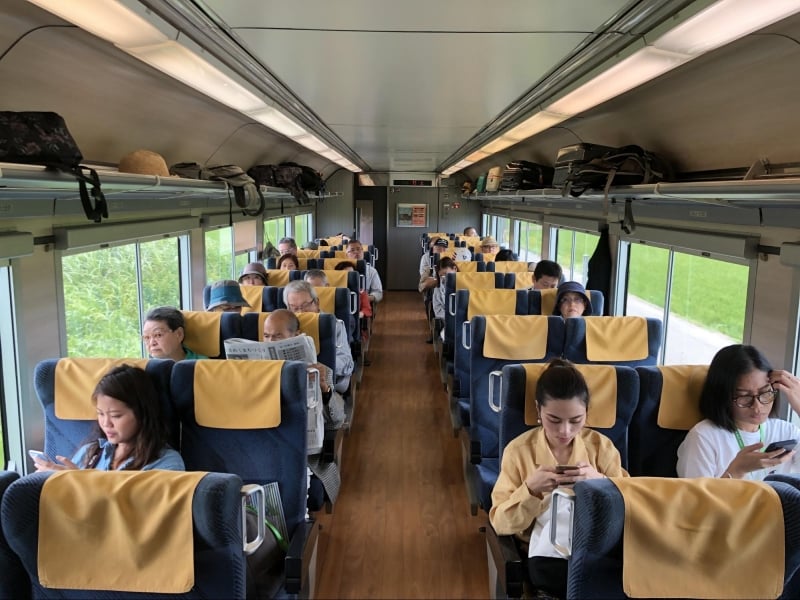 It's sad but important to note that the Kirakira Uetsu will end its service in September 2019 to make way for the debut of a new train — Kairi.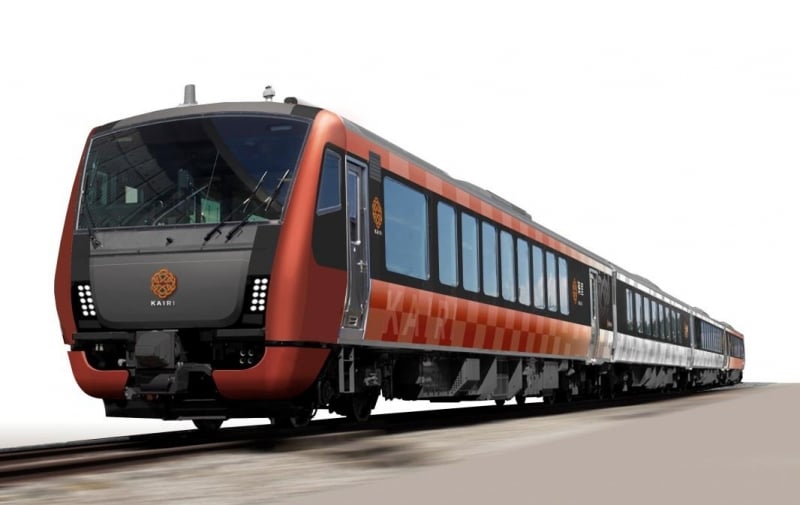 What we know about this new and elusive train so far is this: it would also be a centrepiece for the great food of Niigata. Seeing how its predecessor has already set the bar this high, it's surely going to be a blockbuster!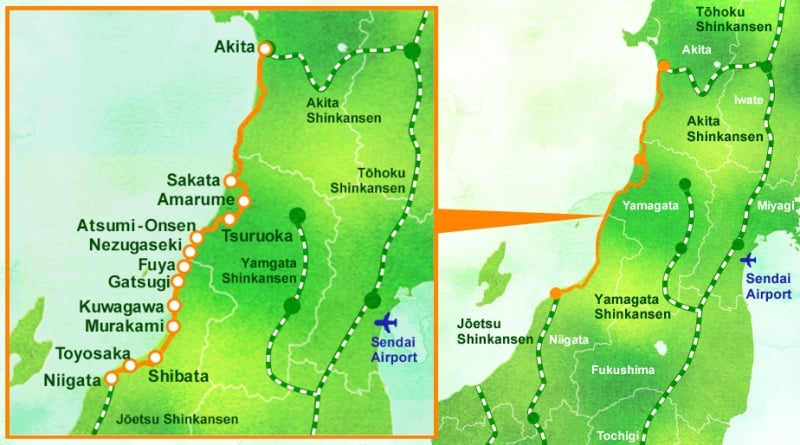 Route: Niigata ↔ Sakata on the Uetsu Line (extends to Akita on special days, please refer to timetable)
Accessible from: Niigata Station (2 hours from Tokyo)
During my journey through Japan's Eastern rail system, I scouted a whole lot of Joyful Trains, but unfortunately not all of them could fit my itinerary. I did my homework on all of them though, and here's a couple more I will surely try on my next visit – you should too!
High Rail 1375: A ride into the stars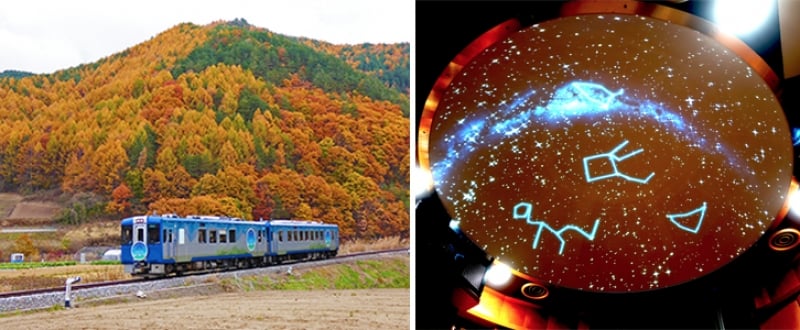 I can't get enough of Japan's wittiness and if you figure out why they call this Joyful Train the High Rail 1375, you'll understand why — let me explain. A ride via this route will bring passengers to an altitude of 1,375 metres above sea level and that's the highest rail of all the JR Lines.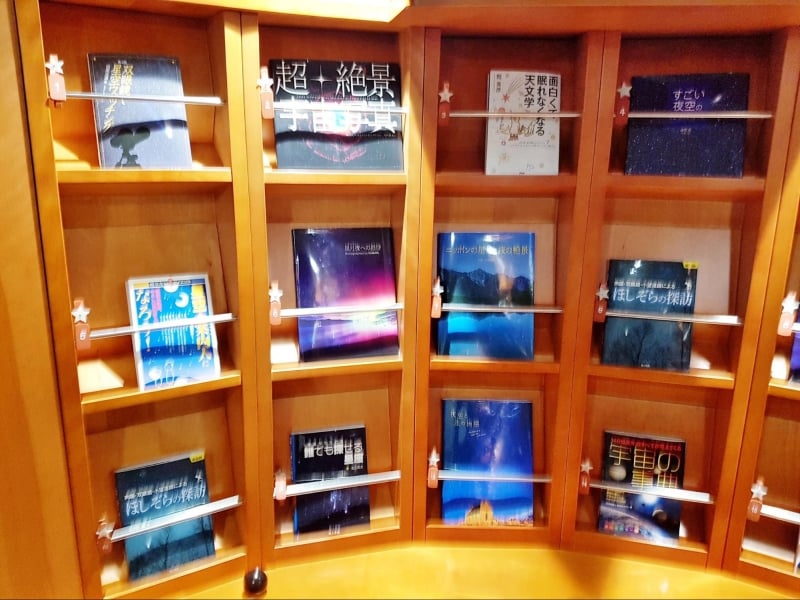 If that doesn't get you stoked to book a ticket on the train, this will — the two main features of the High Rail 1375 are especially exciting for astronomy aficionados. First, is the astronomy library that's housed in a domed planetarium. Personally, it looks out of this world even though I'm not a space fan.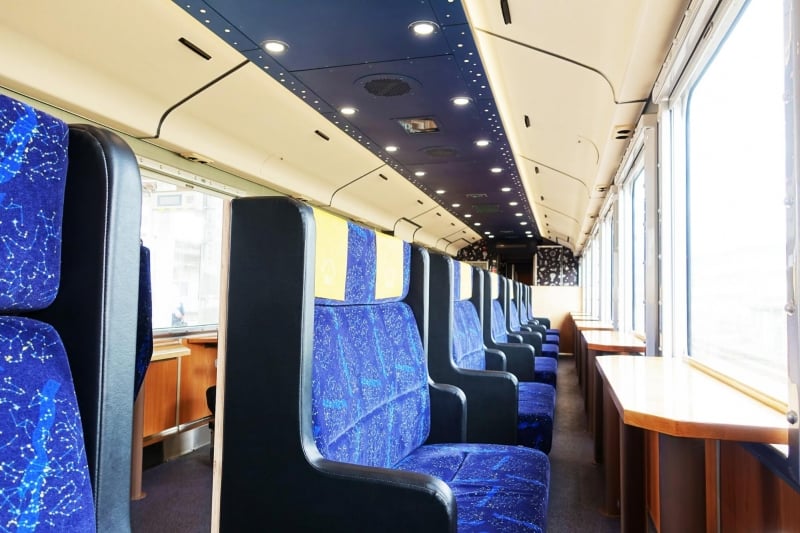 And second, there's a full hour of stargazing at Nobeyama Station. It's touted that this is one of Japan's best spots for "sky-watching", and there's even a local guide who'll show you where to look. So it'll be best to reserve a ride for the evening train, but even during the day, you can simmer down into the window-facing single or couple seats to see beautiful highland scenery as the train makes it way along higher elevations.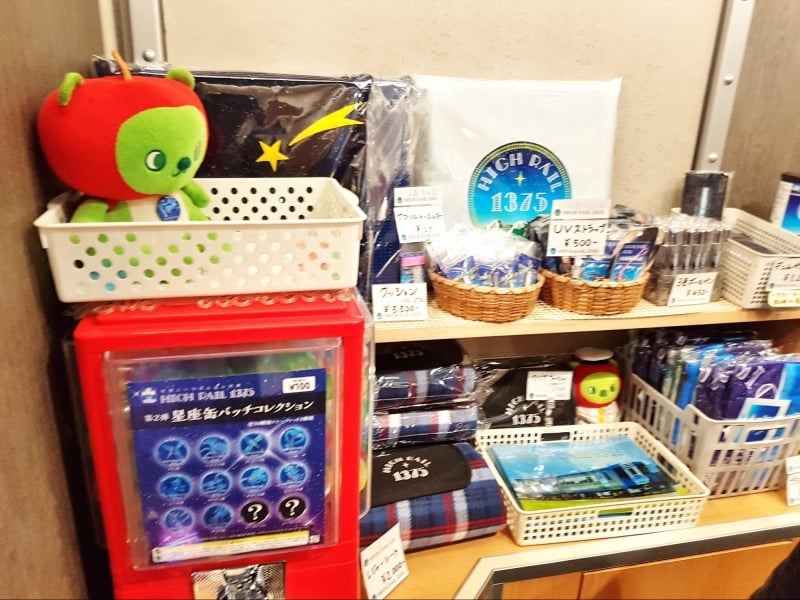 You know what train otakus will love about the High Rail 1375? The pin-badge with various constellations. These souvenirs change every season depending on what can be seen in the sky when you're there, and the best part is that there are two "secret" designs to collect! Are you hooked yet? Oh yes, they only cost ¥100 — just saying!
Route: Kobuchizawa ↔Komoro on the Koumi Line
Accessible from: Sakudaira Station, transfer from Tokyo / Karuizawa / Nagano on the Nagano Shinkansen.
Resort View Furusato: Stunning views and unusual tours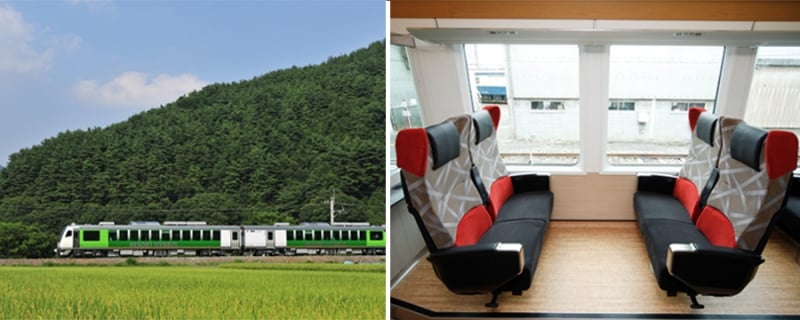 Quite similar to the Oykot, the Resort View Furusato Joyful Train will bring you to suburban and rural parts of eastern Japan, but with massive upgrades. A journey for true nature lovers awaits, as this train not only traverses clear rivers and lakes, it will treat you to mind-boggling views of mountain villages and the Japanese Alps too! You'll get to see all these amazing scenery through big, wide glass panels across both cabins.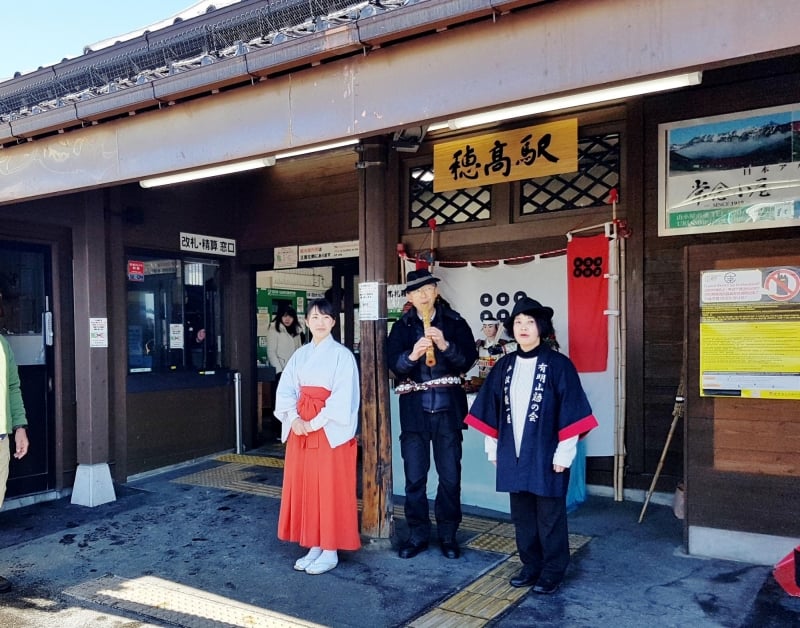 I'm already psyched for a trip on the Resort View Furusato because it's like a quick-fire sightseeing tour of the peaceful city of Nagano. I'll get to soak in all the great views, along with the mini-activities across multiple stops, which include local food samplings, unique photo-ops and shrine tours too.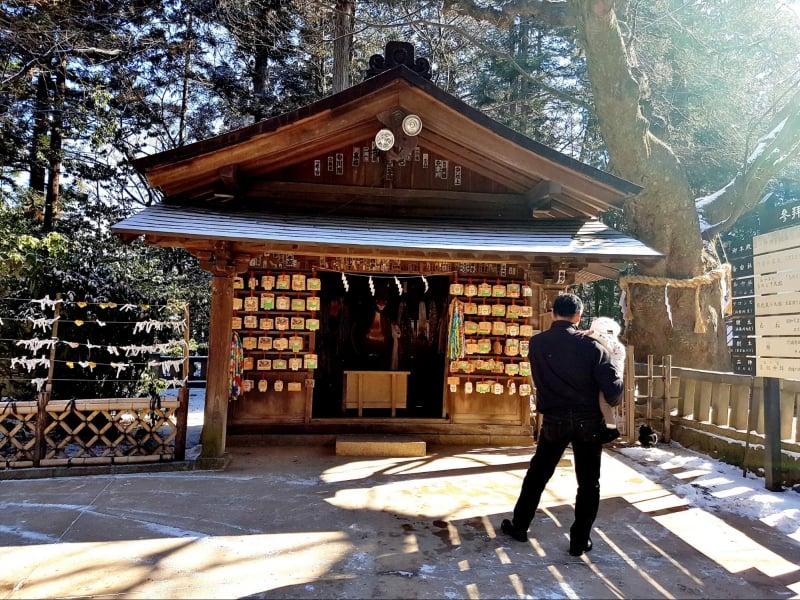 What I'm looking forward to the most is the pit stop at Hotaka Station, the home of the revered Hotaka Shrine. I heard that this particular sanctuary is known for its special energy concentrations. Although I've never been a huge believer of the supernatural, this one is pretty intriguing. If the revenant subject matter isn't your cup of tea, there are really old trees on the compound that tell their own tales too!
It would also be interesting to see the live performance after the shrine tour, from Hotaka to Shinano-Omachi, featuring traditional instruments and folk songs. You'll get to adjust the rotating seats based on your preferred view too, or just watch the live-cam showing scenes from the front of the train.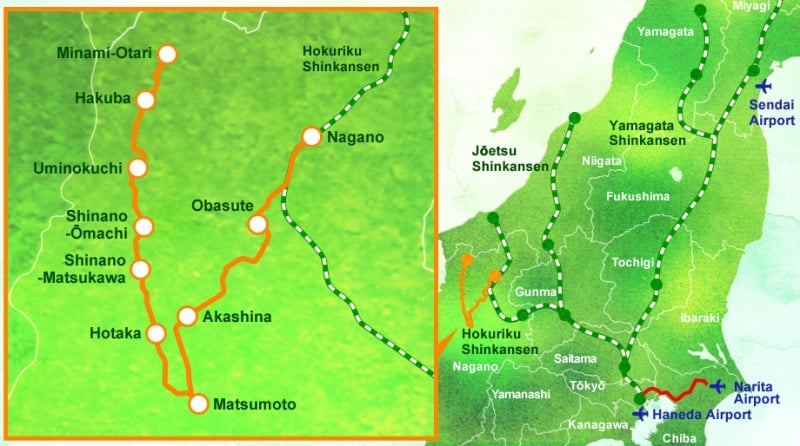 Route: Nagano ↔ Minami-Otari on the Shinonoi Line and Oito Line  
Accessible from: Nagano Station (90-minute bullet train ride from Tokyo), Matsumoto Station (2 hours from Shinjuku)
If you've always held back on taking a train holiday to Japan for whatever reason, I hope my experience and sharing changed your perspective — even if it's just a little. I had my doubts too, at the beginning, but the Joyful Trains should be tried at least once, simply because there's no easier or more interesting way to encounter something similar elsewhere — when you're travelling from place to place, no less.
And who knows, this could spur a new hobby for you too! Just remember to book your seat in advance via the website (up to one month ahead of your trip) or at any JR East ticketing offices, as reservations are required for all Joyful Trains. Of course, seat reservations are free if you already have the JR East Pass (Nagano, Niigata area)!
If you enjoyed this, look out for more of my Joyful Trains stories in the coming weeks!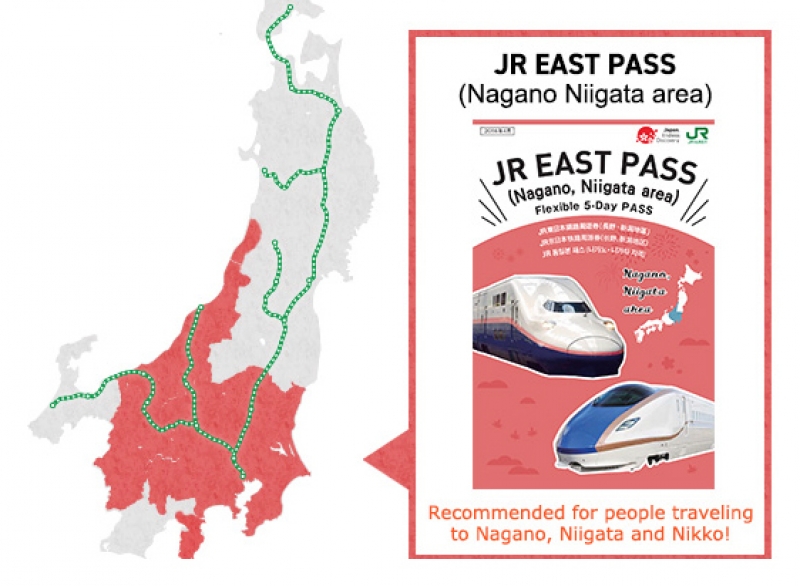 The JR East Pass (Nagano, Niigata area) offers UNLIMITED RIDES on all JR East Rail Lines in the designated area, and is also valid for the Narita Express to/from Narita Airport, Tokyo Monorail to/from Haneda Airport and all Shinkansen lines.
With a JR East Pass, you also get free rides on the uniquely-themed Joyful Trains above, and more! with a JR East Pass! 
The pass is valid for use for any five days within a 14-day period after collection, giving you flexibility and ample time to explore each area without rushing to the next.
Make advance reservations for free up to one month before departure, and you can get your pass in Japan or through licensed sales agents overseas.
Psst! The pass is ¥1,000 cheaper if you purchase it from travel agents!
Contact any of the travel agencies below to purchase your JR East Pass (Nagano, Niigata area) and hop on one of these delightful Joyful Trains en route to your destinations!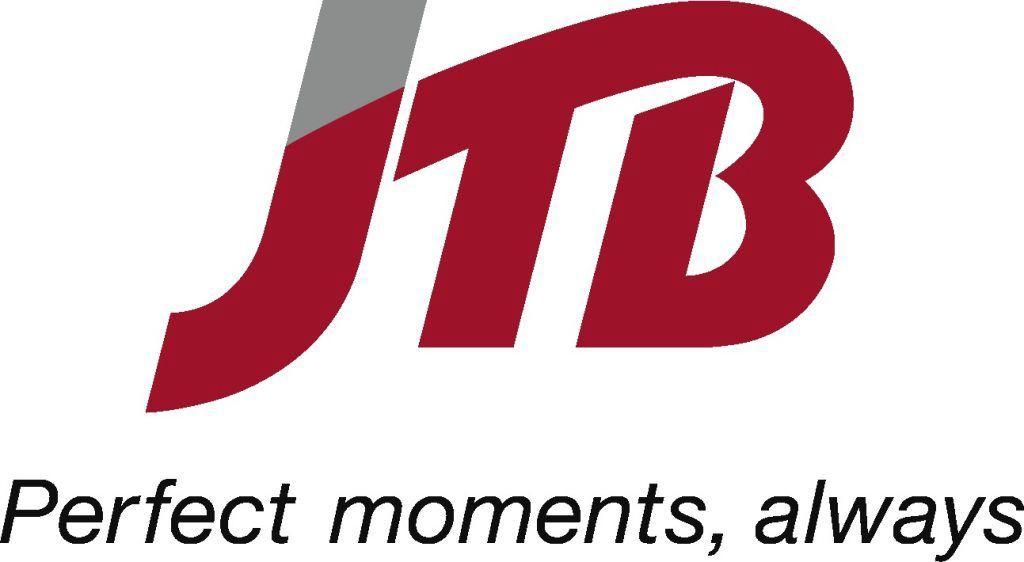 JTB
Tel: +63 (02) 894 5528
Website (Philippines)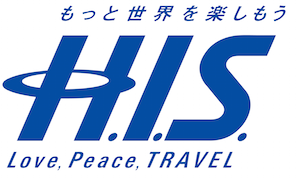 H.I.S.
Tel: +63 (02) 822 4496
Website (Philippines)
---
Brought to you by JR East (East Japan Railway Company).