If you're an avid traveller, chances are you've been to Japan for at least one of two reasons: 1) to indulge in the fresh, delectable seafood, and 2) to behold the charming views of cherry blossoms. While there are multiple ways to experience the Land of the Rising Sun, I recently discovered the Joyful Trains and feel that they are the coolest aspects of this Asian gem right now.
After riding a few of them in Tohoku (the northeast region of Japan) a couple of months ago, I have researched on all the others and planned journeys in all of them already!
Also read: Tohoku Joyful Trains in Autumn: Pikachus, Nature Walks & More!
For the benefit of those who are new to the idea of Joyful Trains, here's what they are, in a nutshell: instead of regular rail systems that bring people from Point A to Point B, these trains have unique themes, features and activities that make the journey a lot more enjoyable. I don't think I've said this enough — it's literally an experience in itself!
While I'm not the most discerning food critic out there, my time on the luxurious Tohoku Emotion was by far my all-time favourite, simply because I know a good time when I see one. Besides the Tohoku Emotion, there are two more restaurants trains to ride — the FruiTea Fukushima and Izu Craile. A foodie's dream awaits for passengers of these trains.
#NoobRiderTip: Unlike other Joyful Trains, admission to restaurant trains only come as packages. Even rail pass users have to purchase the respective packages to board the trains.
While the JR East Pass (Tohoku area) may not cover the restaurant Joyful Trains themselves, you can certainly maximise the Pass to get to the stations where you can board them!
With the JR East Pass (Tohoku area), all shinkansen, express and regular trains, and non-restaurant Joyful Trains are available to travel in! You get unlimited rides all over Tohoku and from/to major airports. What's more, it's priced at less than a shinkansen round trip between Tokyo and Sendai!
Explore each destination (and train) to its fullest before you head off to your next, as the Pass allows for any five days of usage within a 14-day period.
Tohoku Emotion: Five-Star Dining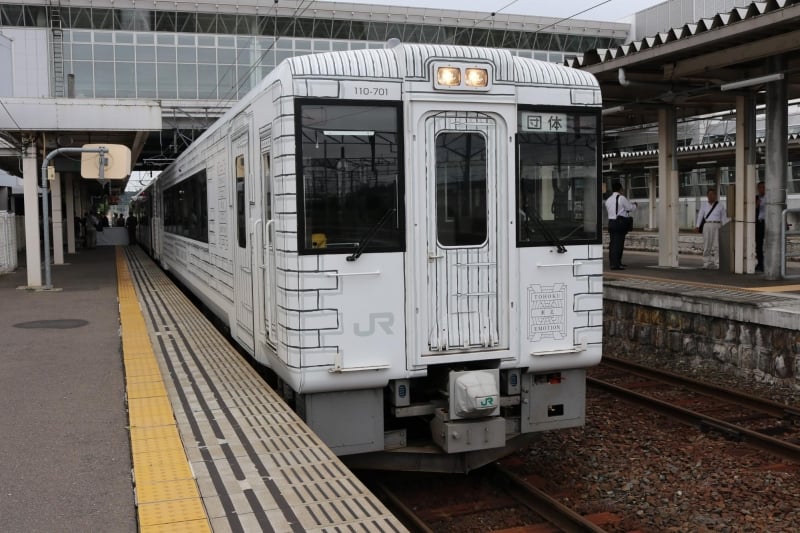 The Tohoku Emotion is the only restaurant train I experienced first-hand. From pre-boarding, you'll immediately put on a metaphorical crown as the smartly-dressed crew members literally have the red carpet rolled out for all passengers. If you've ever been on a premium cruise, this certainly feels like one — along with the warmth from the crew.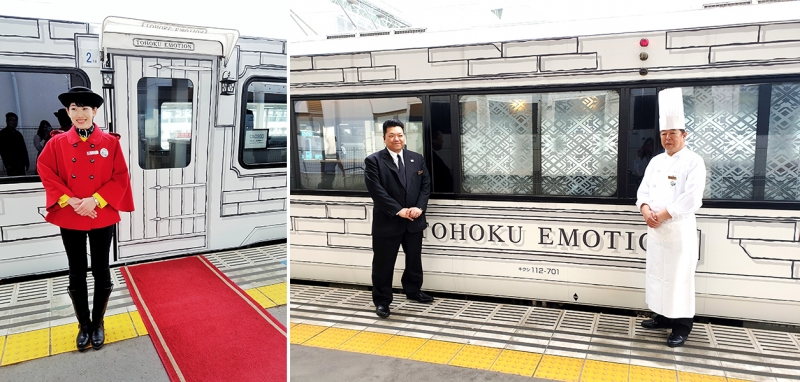 With its glowing white paintwork and rustic brick designs, the train's exterior may look unassuming, but don't be deceived! Inside, the windows line up perfectly with each table, so every passenger gets an awe-inspiring view regardless of which seat they are at.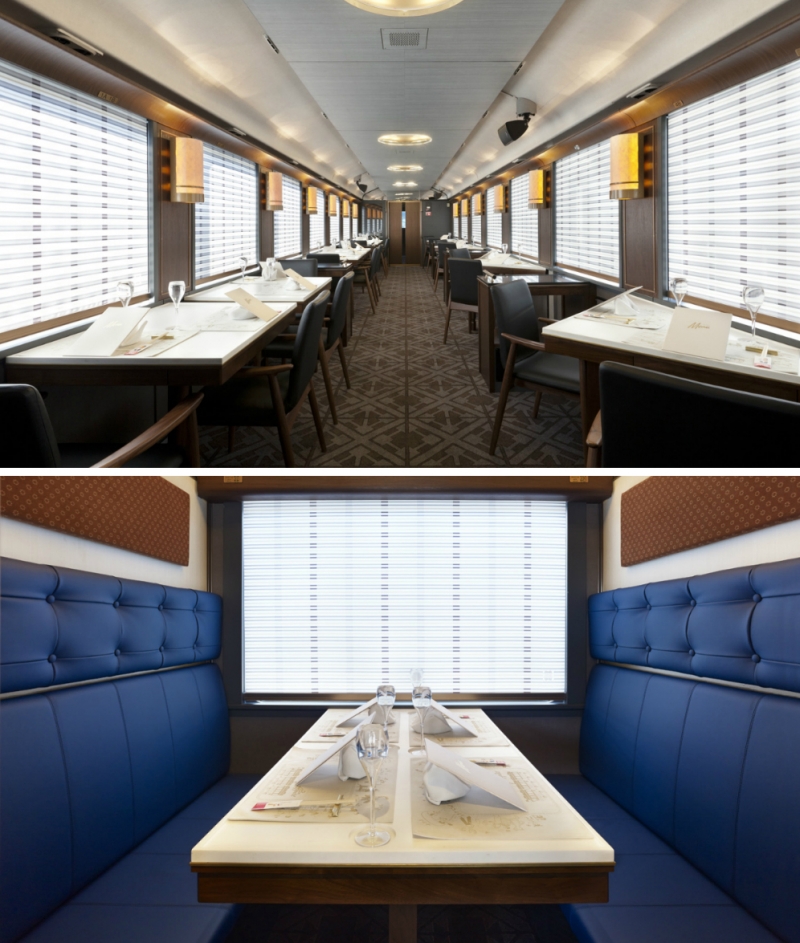 After shaking off the goosebumps from the red-carpet boarding, I stepped into the train cabin, looking every bit like a five-star restaurant. Everything is premium, from tables and chairs to cutlery and linen — lucky for me, I was dressed in a fancy shirt!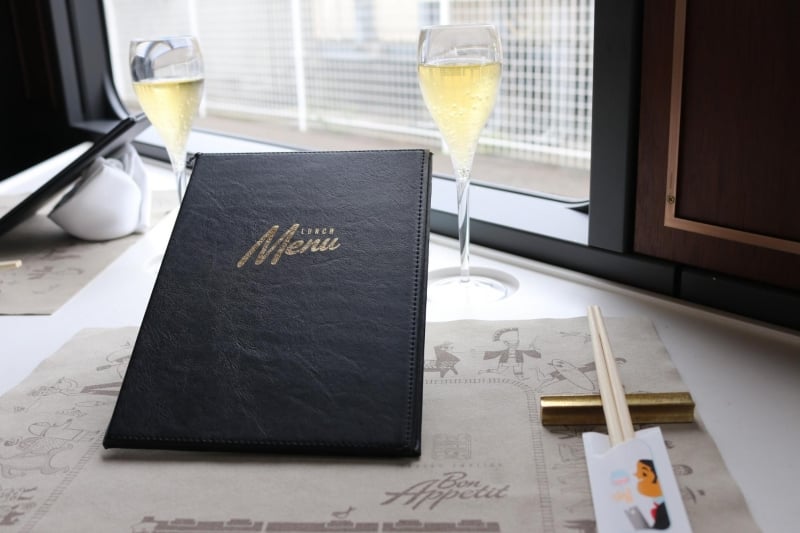 My table, which was neatly set for lunch as I walked in, was a two-seater perfect for couples to have an intimate meal together. I was served some sparkling wine to start and it was only 11am – woo!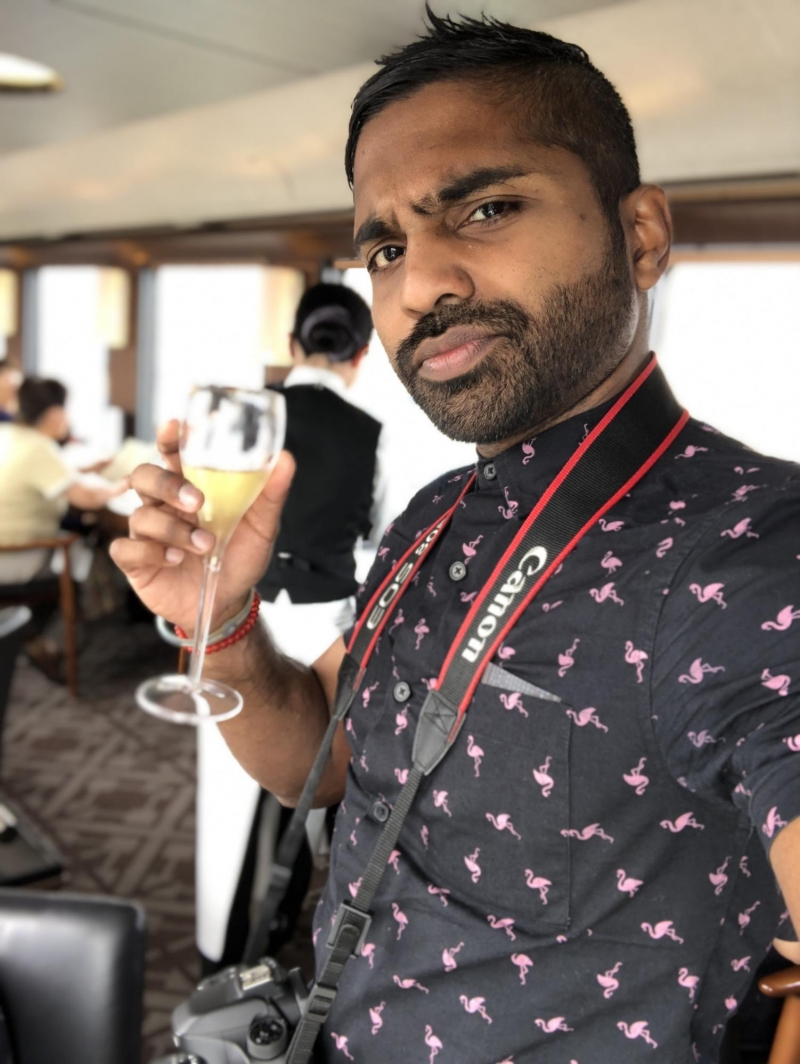 With exemplary service from the get-go, I never felt overlooked — the waitress attending to me made it a point to check in several times during the entire journey.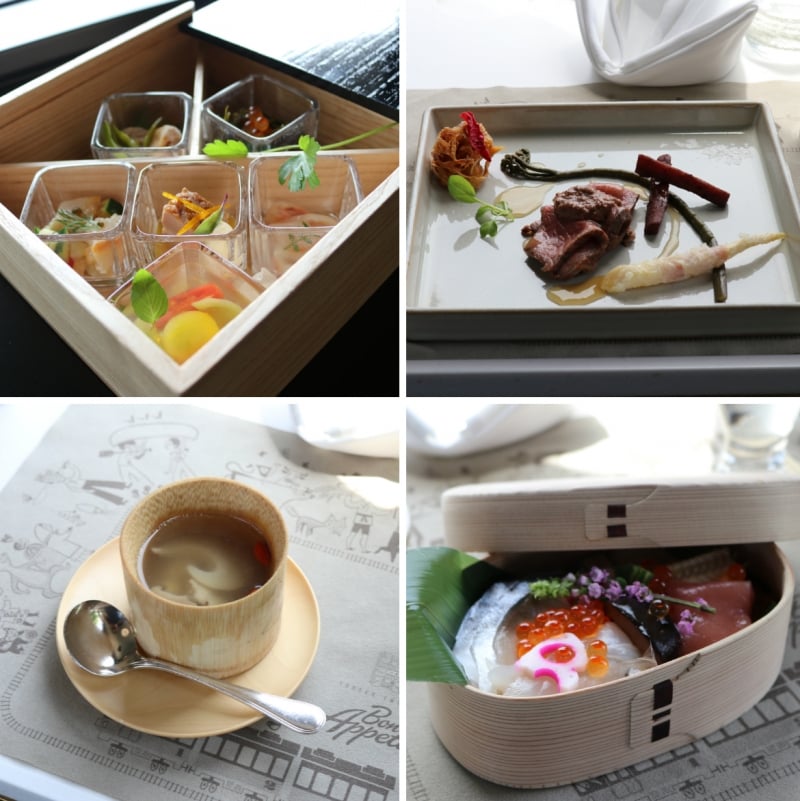 The lunch menu changes every six months, and if you look at the pictures above (my lunch), you'll be able to see the quality that's in store for Tohoku Emotion's passengers, with the chefs onboard putting painstaking effort into the presentation of each dish. If you're like me, you'll end up spending more time taking pictures of the food than tasting them!
If you'd enjoy watching chefs prepare your food right before your eyes, you'd be heartened to know that there's an open kitchen concept! There's also a bar right next to it if you want a quiet drink. I spent a lot of time here, gazing through the long glass panels here while sipping on sake.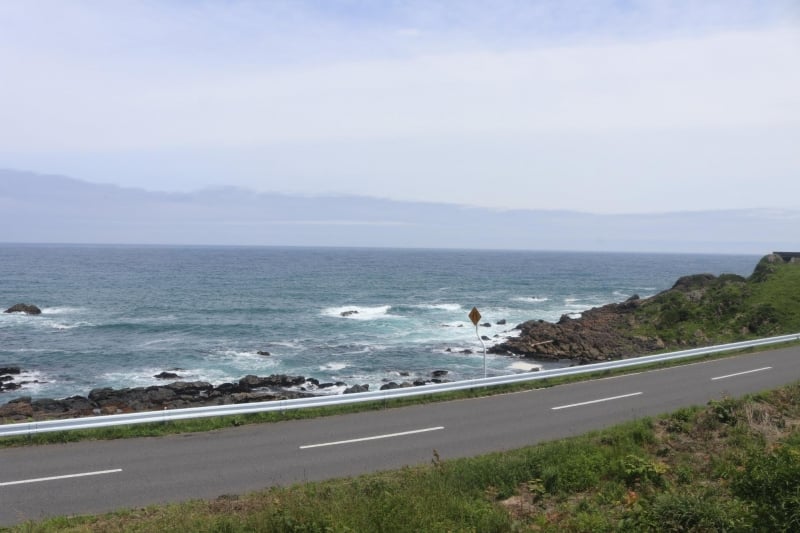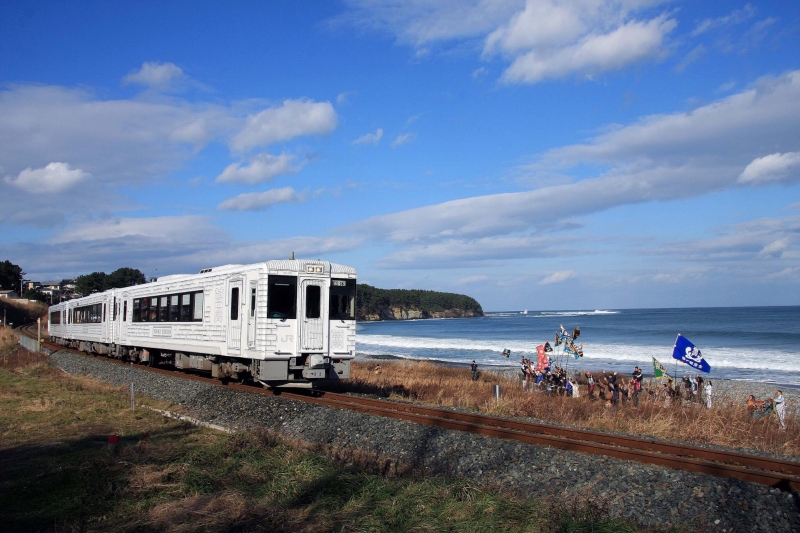 Throughout the journey, you'll get charming views of Japan's coastline or picturesque sights of the inlands — be sure to check the side you'll be facing if you have a preference, and look out for local volunteers waving flags at you.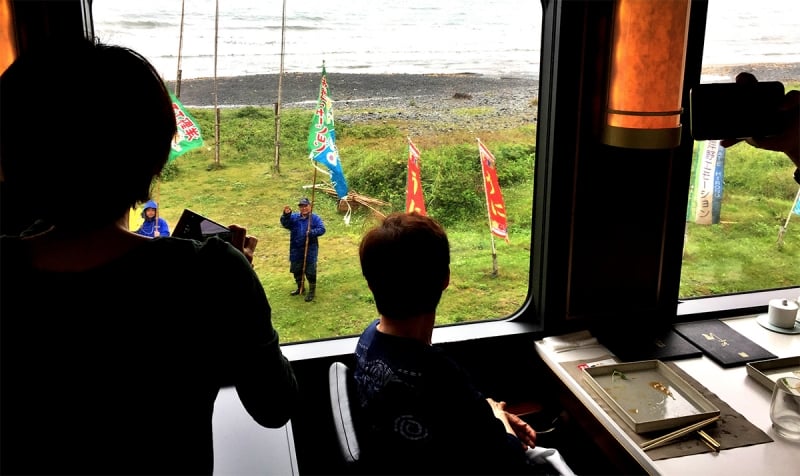 Regardless of where you sit, you can actually turn your chair to face your preferred side, or you could just walk up and down the cabins to fully soak in the experience just like I did.
Another interesting facet of this train is that, apart from the four-course lunch on the outbound train from Hachinohe to Kuji, there is also the dessert buffet on the train returning from Kuji to Hachinohe — the former takes approximately two hours, while the latter, about 90 minutes. Don't worry if it sounds like you have little time to dig into all the food — I had plenty!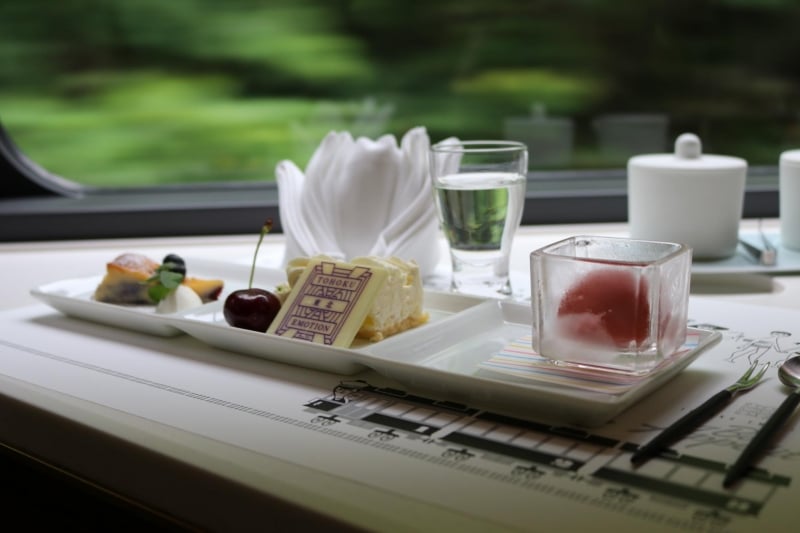 Before I got into the dessert buffet menu, I have to disclaim that I do not have a sweet tooth. With that said, I was pleased to find out that there is also a buffet of savoury items like seafood, ham and cheese. 
While I did go through the first set of treats in the image above, I only had samples of the other offerings, which included a variety of cakes, pastries, jellies, chocolates and baked cheese!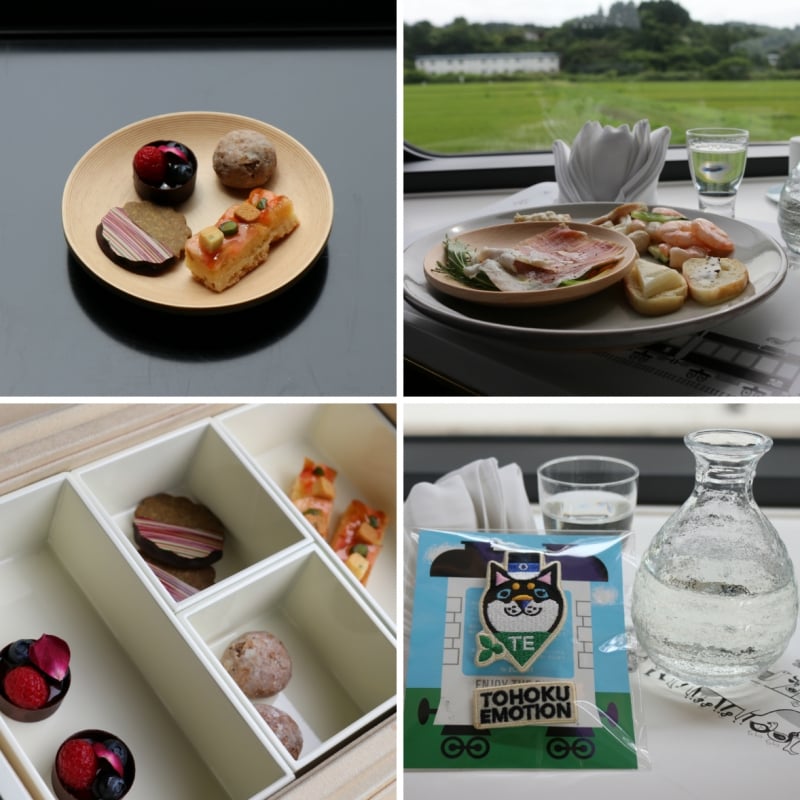 I had more than a meal's worth of savoury treats while most of the other passengers were getting their fill of sweets. Alcoholic drinks are free-flow, but availability depends on how much is left from the trip during the outbound journey. Lucky for me, I had the opportunity to ride on both ways back-to-back, and the same waitress was on duty to sort things out for me!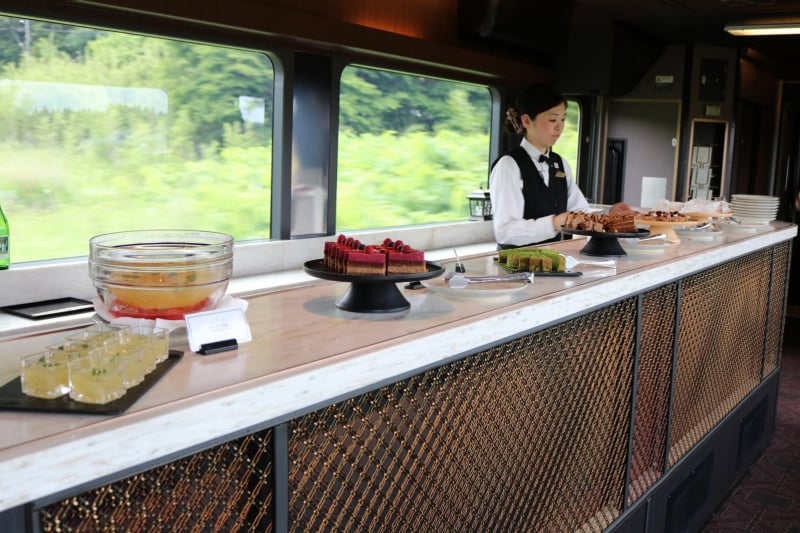 Things to note
The Tohoku Emotion usually runs on Friday, Saturday, Sunday and Monday.

It is only sold as a package of the train fare and meal:

Lunch: ¥7,900

Dessert buffet: ¥4,900

Round trip fare: ¥11,900
Information correct as of August 2019.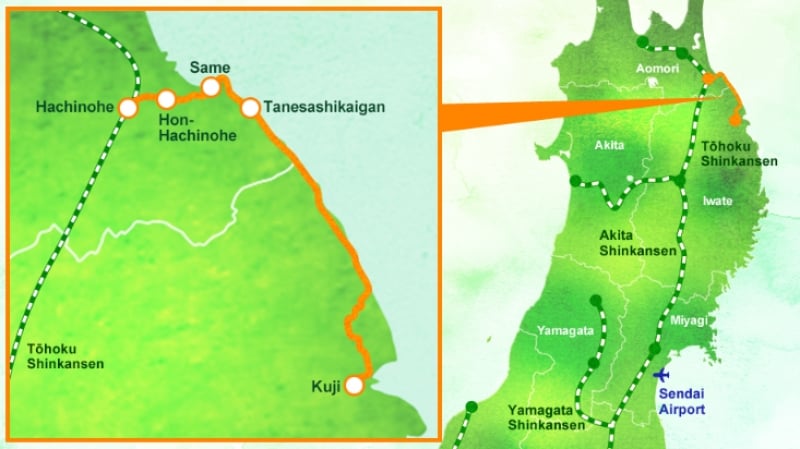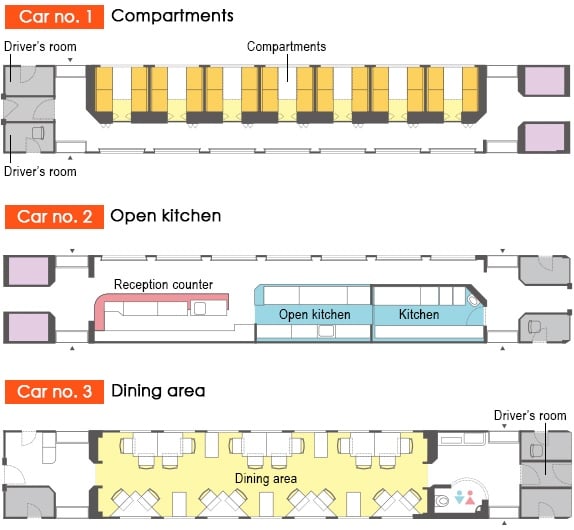 Route: Hachinohe–Kuji on the Hachinohe Line
Accessible from: Hachinohe Shinkansen Station
FruiTea Fukushima: the Best of Japan's Fruits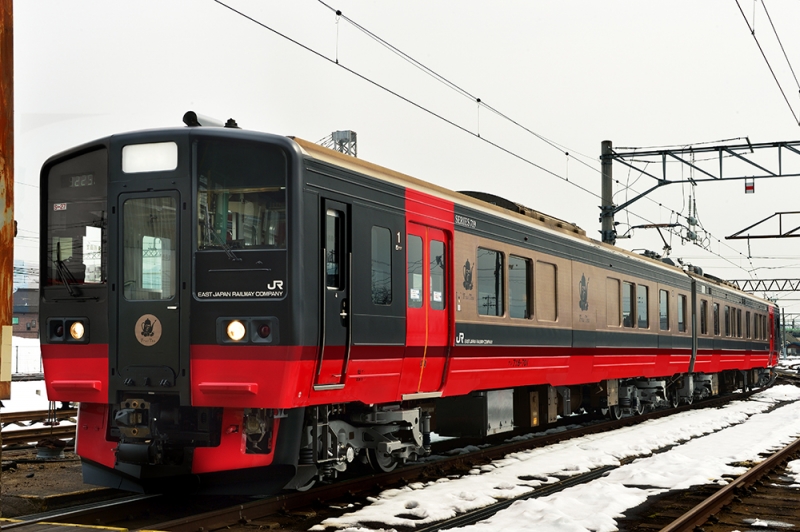 Before you get carried away and embarrassed like I did when I first said the name of this train out loud, the FruiTea in FruiTea Fukushima is pronounced FROO-TEE-AH, not FROO-TEE. Even though I haven't taken a ride on this one, I can't wait to do so because I'm actually a closet hipster.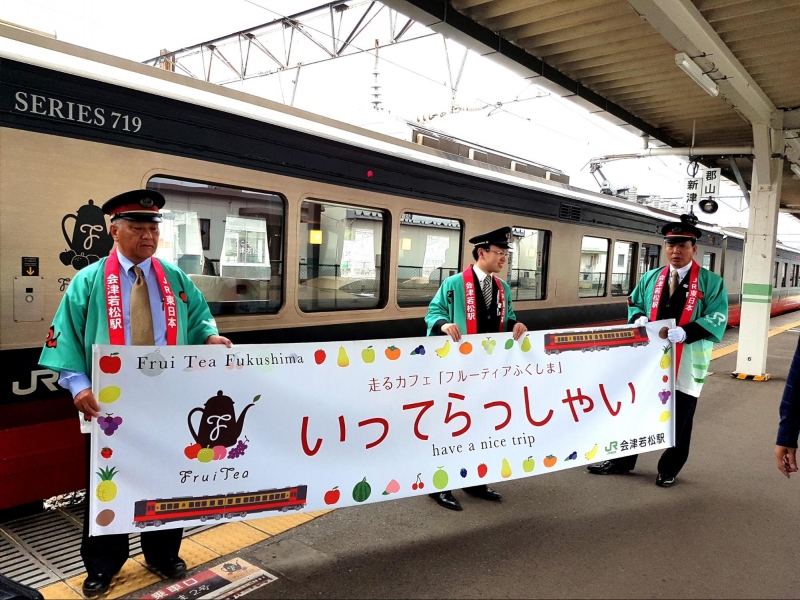 This two-car train is essentially a cool cafe on the rail tracks and it's headlined by its fresh fruit-based drinks and desserts from Fukushima — the coffee is homegrown too. 

Each FruiTea package includes the train fare and a tea set. The train recently refreshed its set menu, just in April this year — here's what you'll get in the package, depending on your route. An outbound journey from Koriyama to Kitakata will see you get two fruit cakes or tarts made with local fruits, one can of fruit juice, a cup of hot coffee, and free-flow iced tea or coffee. 
On the flipped journey from Kitakata to Koriyama, passengers will enjoy confectionery made with local fruits, accompanied by fruit juice, hot coffee, and free-flow iced tea or coffee.
FruiTea carries a concept akin to modern cafes that you can find in the streets of Melbourne and Tokyo. So on top of fancy drinks, you'll have more than enough material to post to your Instagram feed!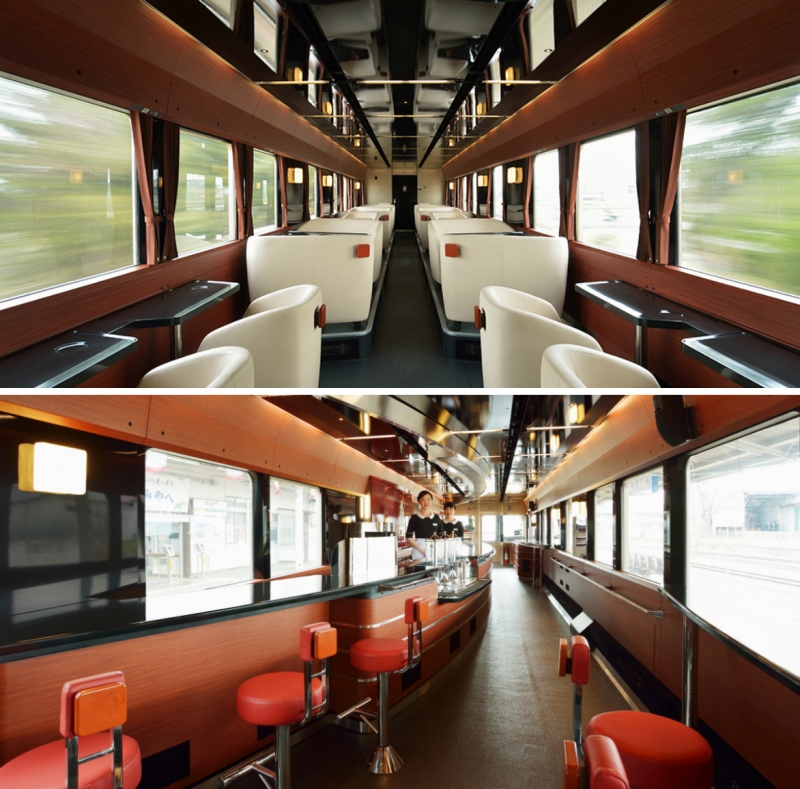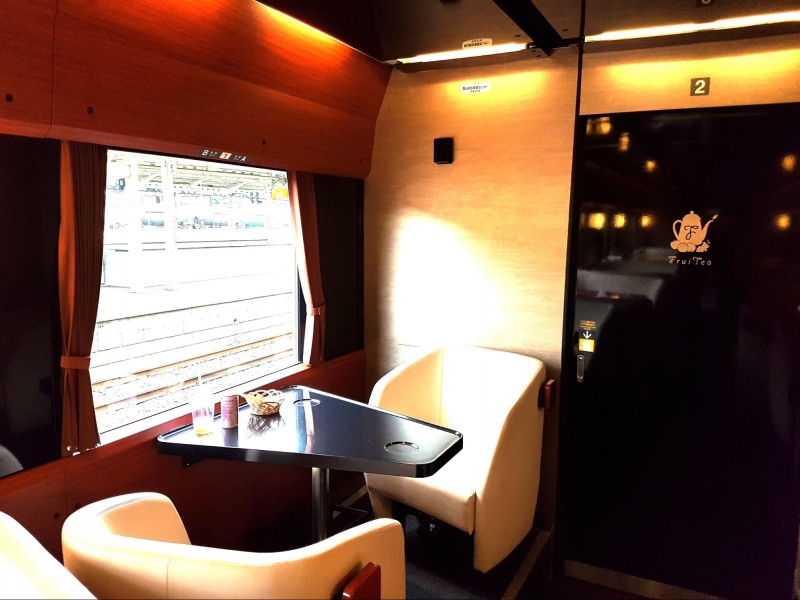 The warm interior maintains a deep shade of red, black and teak — there are lush white sofas too. Perfect for enjoying a cuppa while gazing out the train windows or engaging in conversation with your bestie.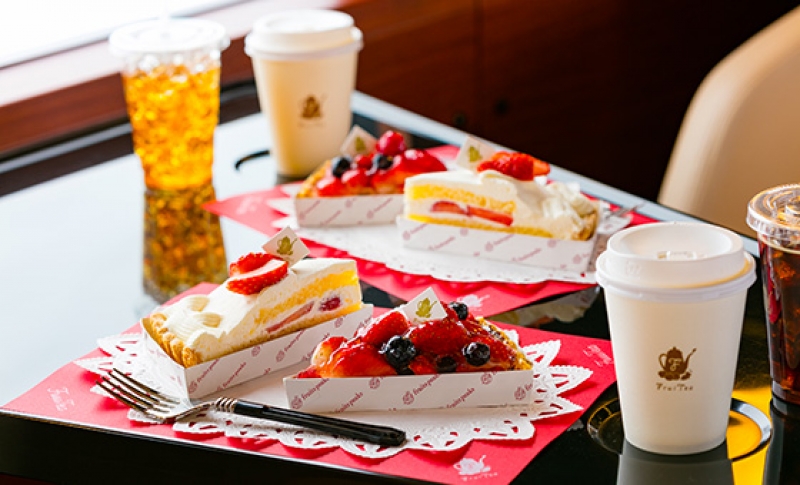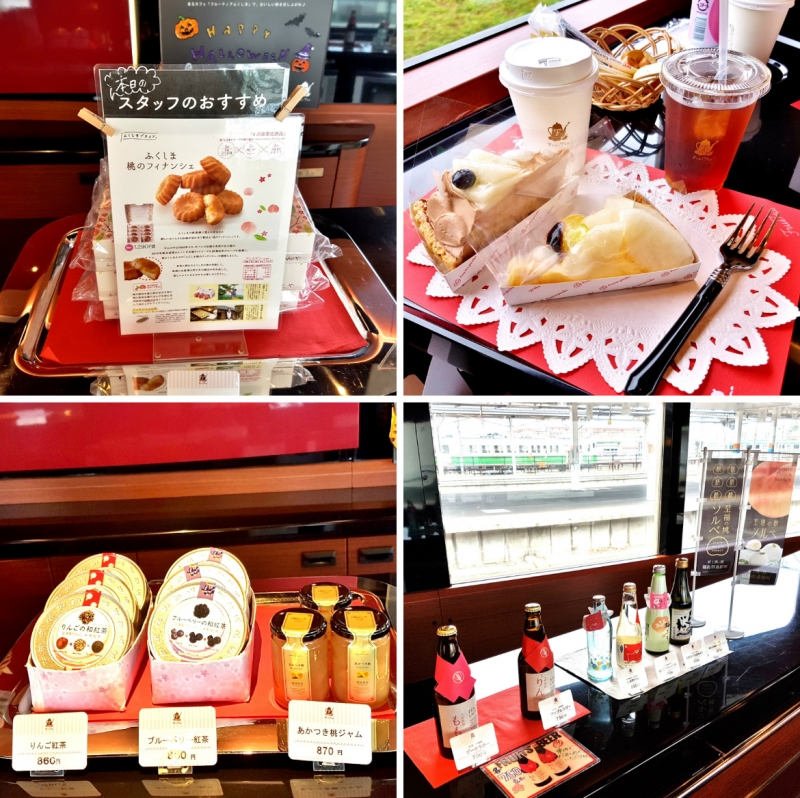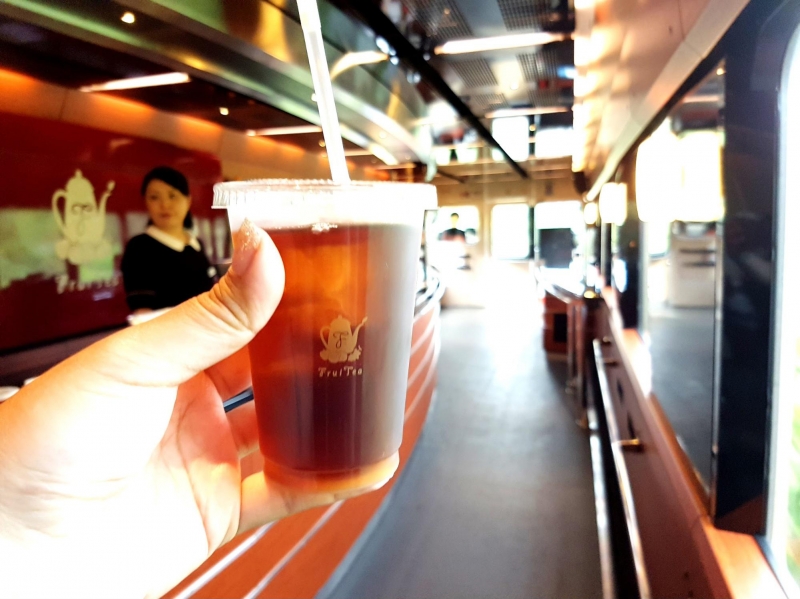 The cake, coffee and fruit juice are delivered to your table by the waitresses, so you can sit back in the dining car and get spoilt like a real king. You can of course help yourself to the refillable ice tea from the cafe car. And if these aren't enough, take a walk to the counter and purchase your fix of more snacks, such as cookies, fruit sorbet, financiers, fruit jams, alcoholic drinks and more!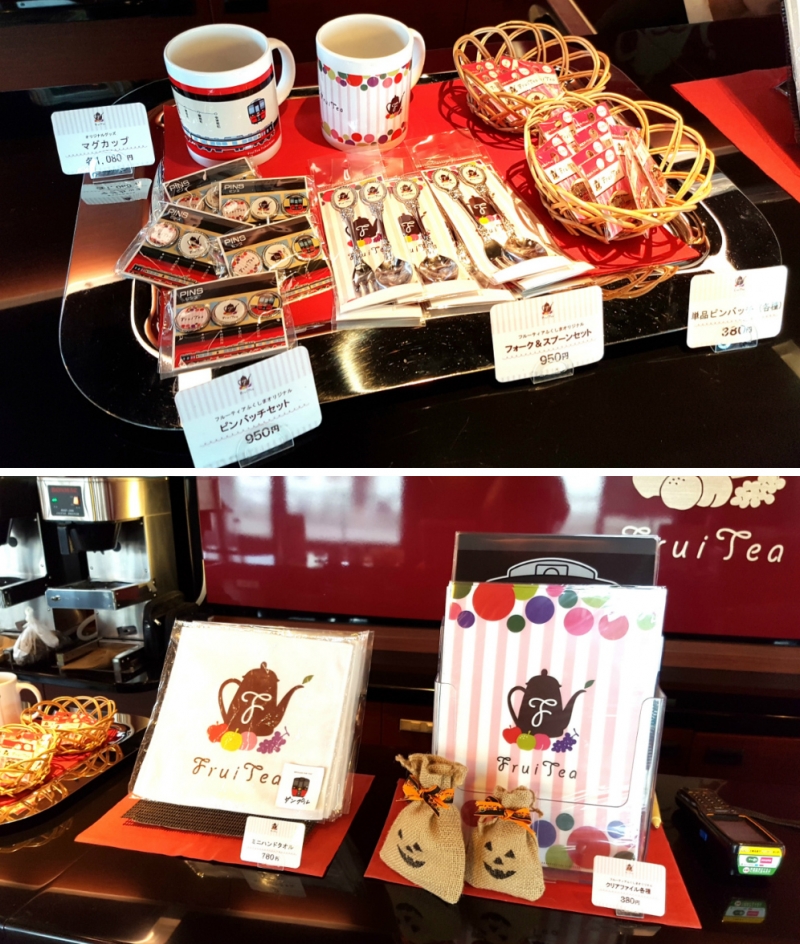 It would be pretty difficult to get seats on FruiTea because there are only 34 of them available and they are always sold out! When you do get a ticket, you'll realise that they are keeping the passenger count low so that you'll have more personal space — something I (and many travellers) can appreciate.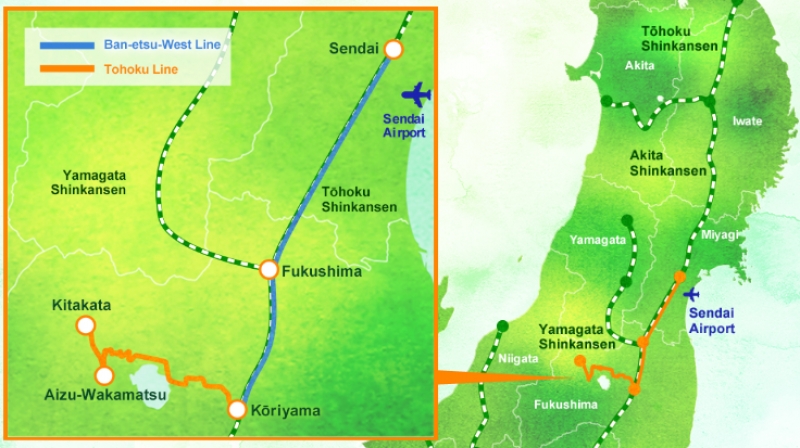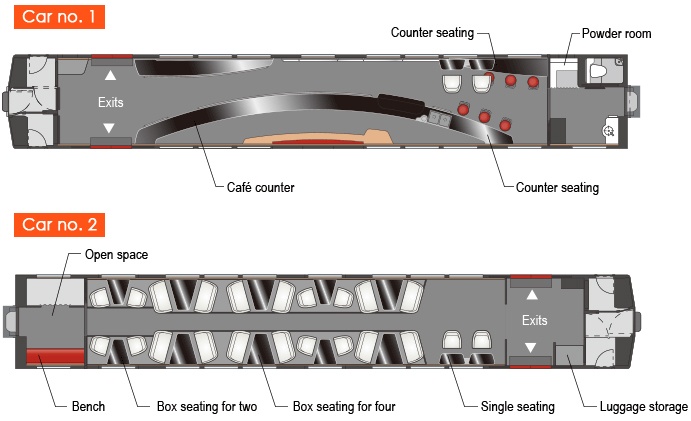 Route: Koriyama–Kitakata on the Ban'etsu West Line / Koriyama–Sendai on the Tohoku Line
Accessible from: Koriyama Shinkansen Station
Izu Craile: When You Need a Woman's Touch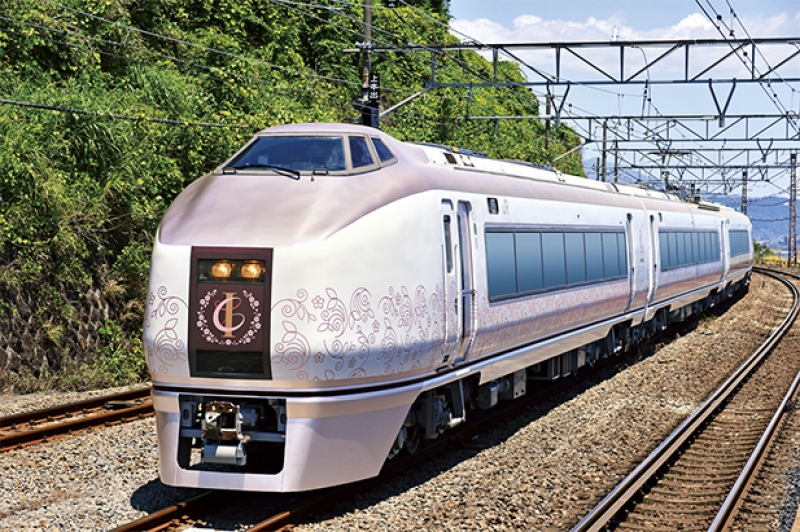 Inclusivity and appreciation of women should always be celebrated. In this case, the Izu Craile Joyful Train has all my attention due to its sleek and elegant appearance. The train's exterior was redesigned to incorporate a feminine touch, while depicting the cherry blossom trees, sea breeze, and waves of the Izu peninsula.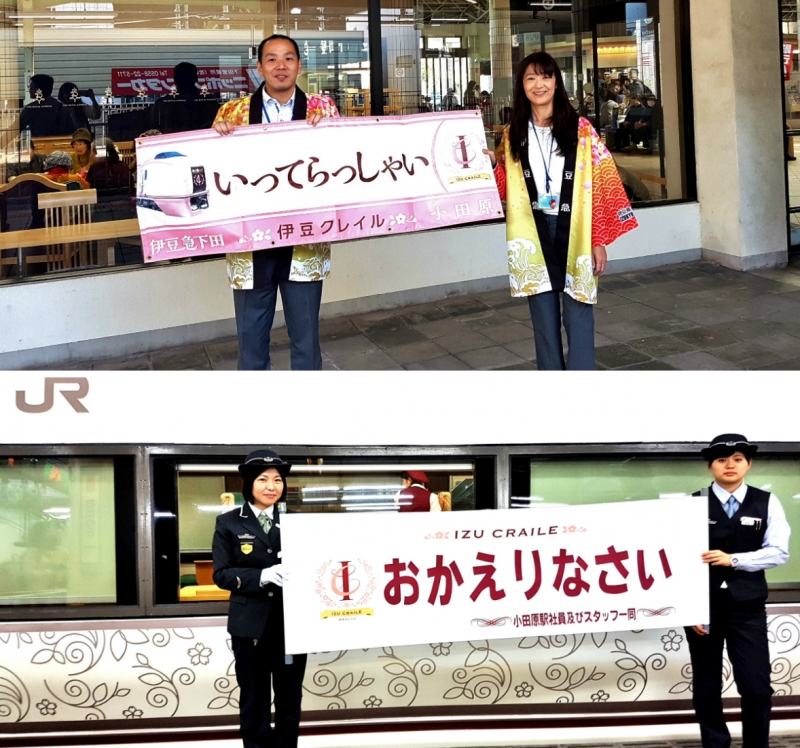 On the inside, colours are neutral, and the seats are spaced out to keep things a little more personal amongst travellers, especially those in pairs or on joshitabi ("girls' trip").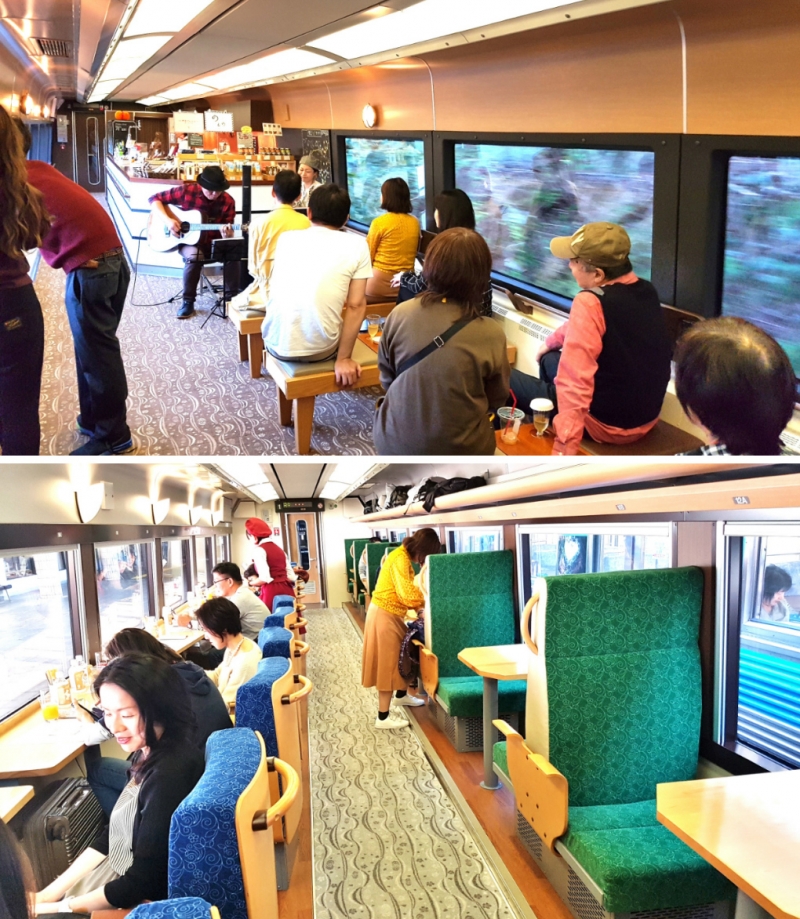 All seats are by the window, and are either sea- or mountain-facing — that is, unless you're in the lounge area, which also doubles as an event space, that has benches by the windows on the mountain side. There are no assigned seats in this area, but the benches are free to use.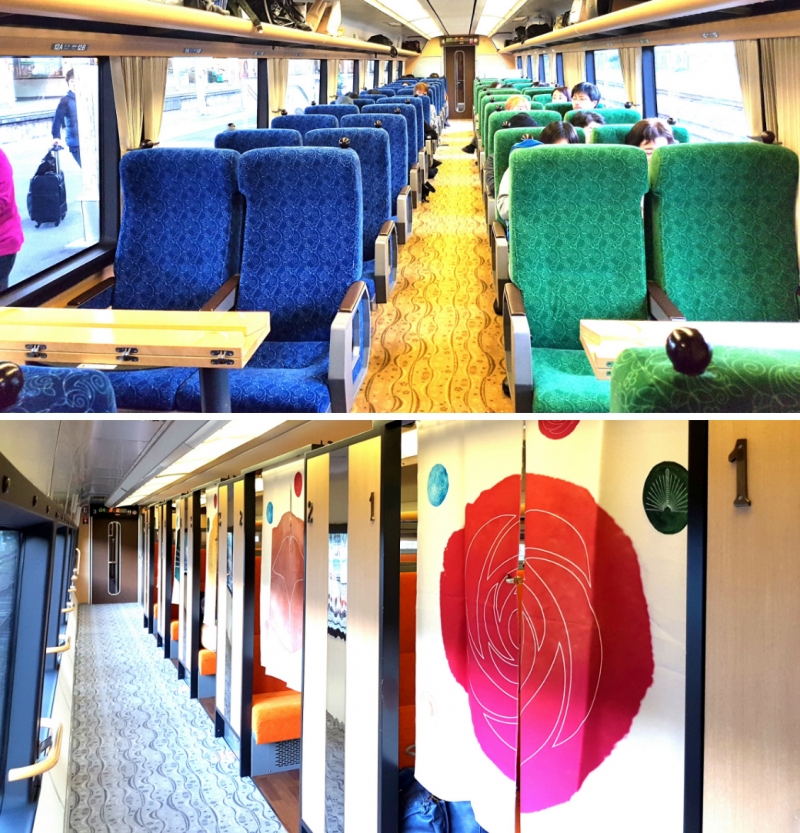 There's a train cabin meant for events and socialising too. During the journey, you'll surely be in here to check out the drinks, snacks and souvenirs — you can't miss it when a live jazz performance starts.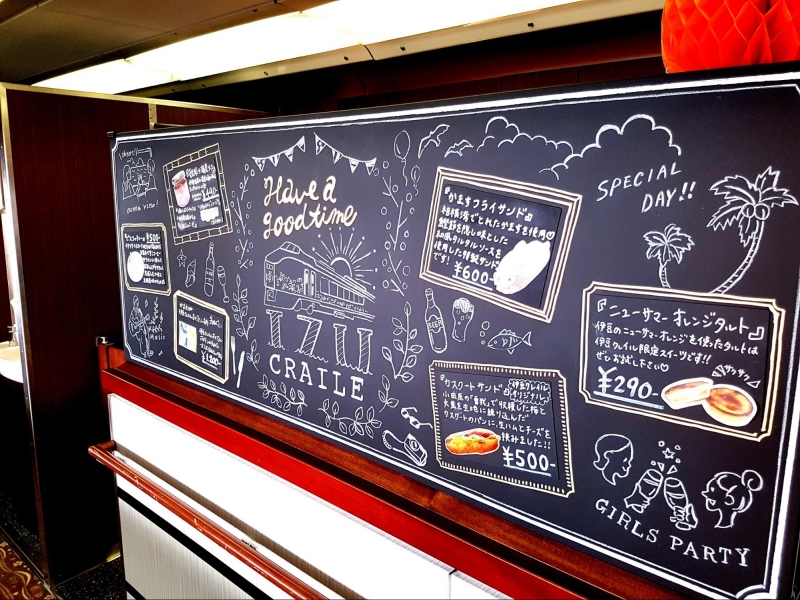 Dive straight into a celebratory mood with the train's unique French-inspired food offerings. Using fresh Izu ingredients, all meals are neatly packed in a wooden box divided into six compartments, each containing different bite-sized servings of varying flavour profiles to hit all of your taste buds. 
And just so you know what you'll be filling your tummies with, the set lunch is served along the Odawara–Izukyu Shimoda route, while a tea time set is available for the reverse journey. Either way, we'll all get a free welcome drink, with a choice of a glass of sparkling wine or orange juice — woohoo!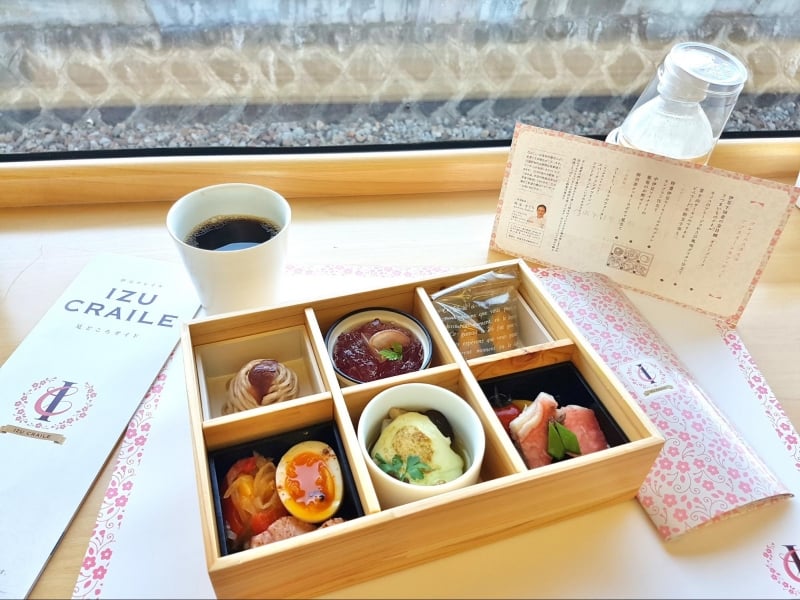 If you're not onboard for a celebration or special occasion, and prefer a quiet journey in the Izu Craile, you can get a regular seat in the last car. The layout is exactly like a conventional shinkansen cabin, but of course, you'll still get to enjoy the great views from the comfort of your own space. 
You'll definitely want to see for yourself why a trip around the Izu Peninsula is sought after — its beautiful blue waters and stunning sunsets are simply awe-inspiring. I'm getting goosebumps just thinking about it, so just imagine what it'll be like to soak in the splendour in person.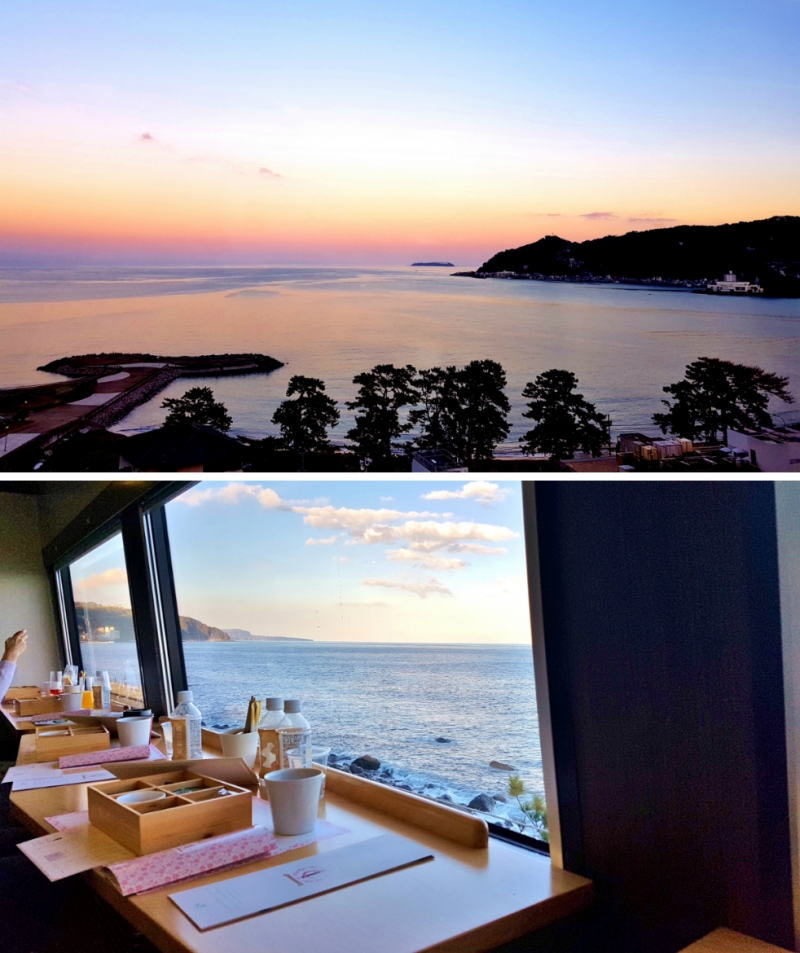 Things to note
The Izu Craile runs on Saturday, Sunday and public holidays.

All seats on the Izu Craile are considered green car seats. Rail pass holders need to pay the fare of a green car seat (¥1,280).

For meals, you need to purchase a package comprised of the train fare and food/drink in advance.

Anyone can purchase snacks at the counter and enjoy the events onboard.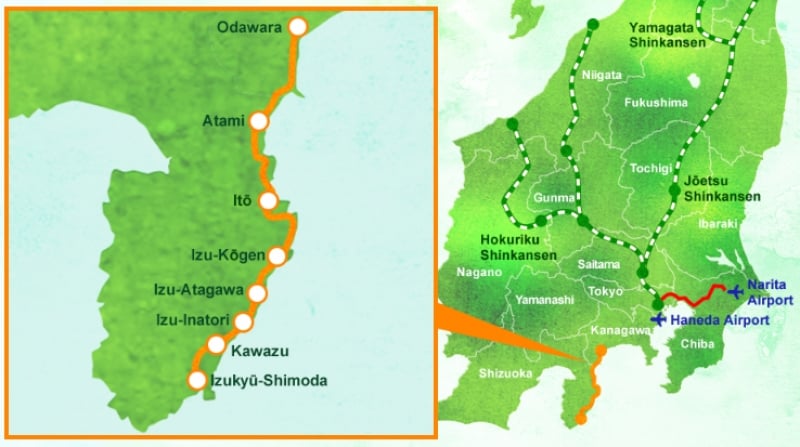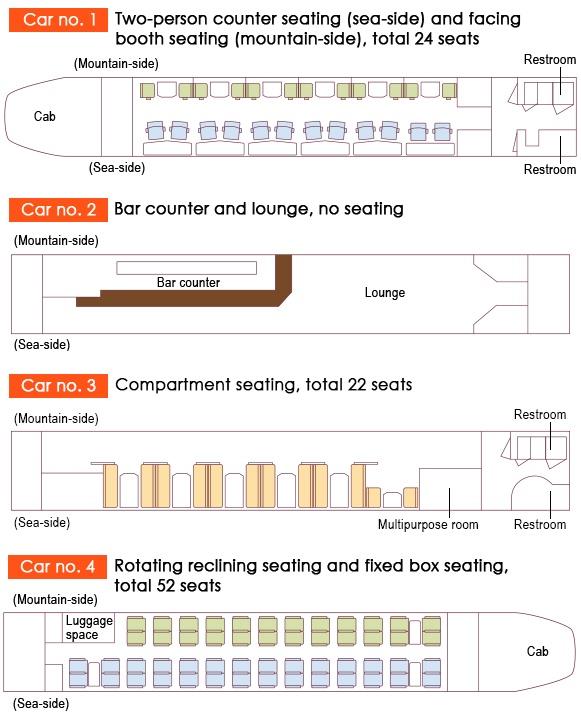 Route: Odawara–Izukyu Shimoda on the Tokaido/Ito/Izukyuko Lines
Accessible from: Odawara Shinkansen Station
Now that you know about these incredible Joyful Trains, they should be on your bucket list by now. If you happen to be travelling along any of these routes, you have no reason not to give it a go!
And remember, unlike other Joyful Trains, the restaurant ones require passengers to purchase packages, which includes train fares and meals. A JR East Pass will not grant you entry, with the exception of the Izu Craile, which may not require a package but will still require a top-up of an additional ¥1,280.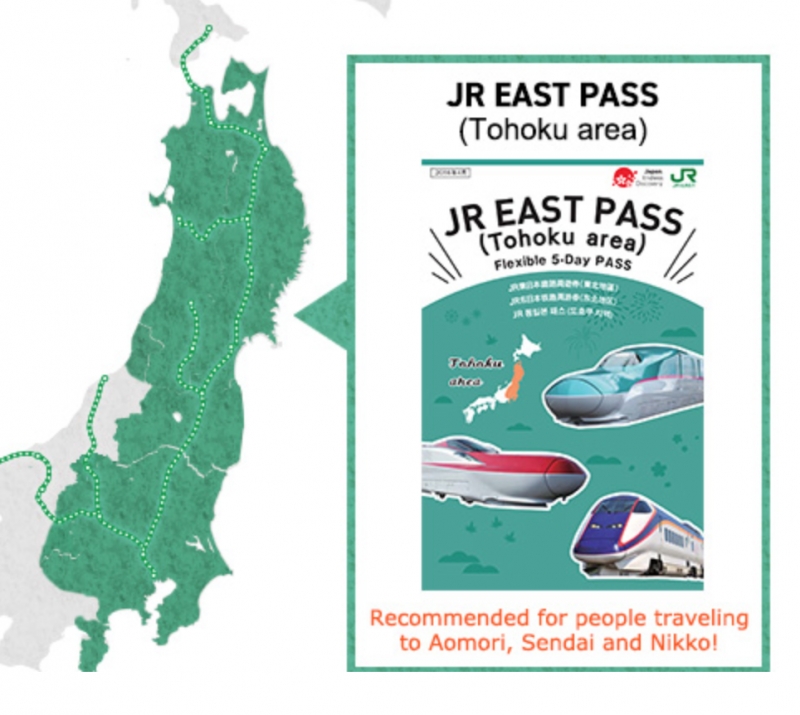 The JR East Pass (Tohoku area) offers UNLIMITED RIDES on all JR East Rail Lines in the designated area, and is also valid for the Narita Express to/from Narita Airport, Tokyo Monorail to/from Haneda Airport and all Shinkansen lines.
Make advance reservations for free up to one month before departure, and you can get your pass in Japan or through licensed sales agents overseas.
Psst! The pass is ¥1,000 cheaper if you purchase it from travel agents!
Contact any of the travel agencies below to purchase your JR East Pass (Tohoku area) and hop on one of these delightful Joyful Trains en route to your destinations!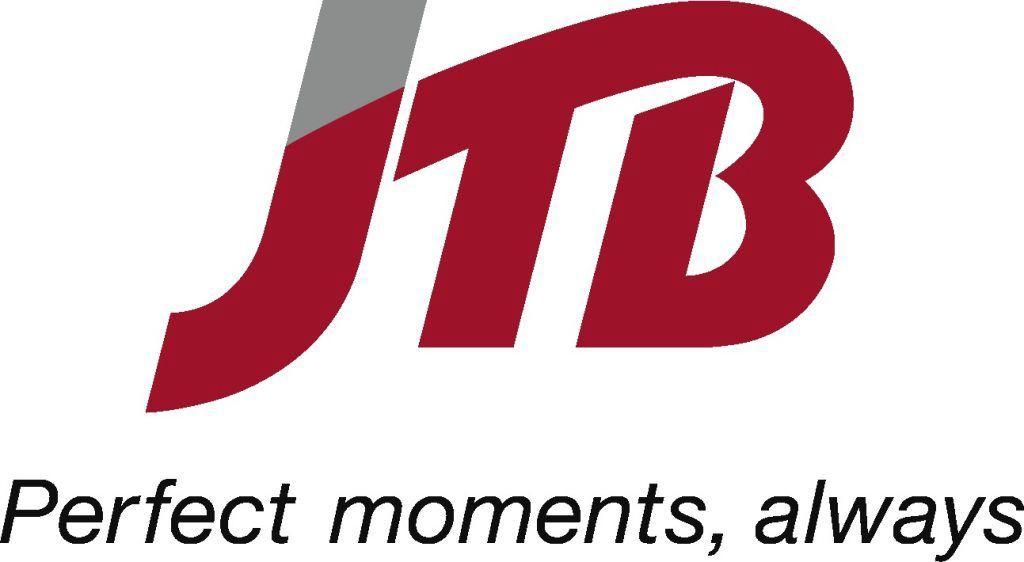 JTB
Tel: 6595 0600
Website (Philippines)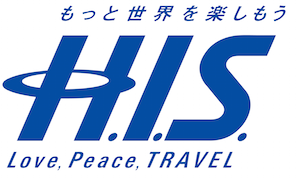 H.I.S.
Tel: 6222 1230
Website (Philippines)
---
Brought to you by JR East (East Japan Railway Company).