There is an admirable, almost sacred kinship between the natural world and the warm people of Japan's Tohoku region. What nature provides and transforms into, Tohoku folk embrace — whether it is winter's thick snow or the changing colours of fall.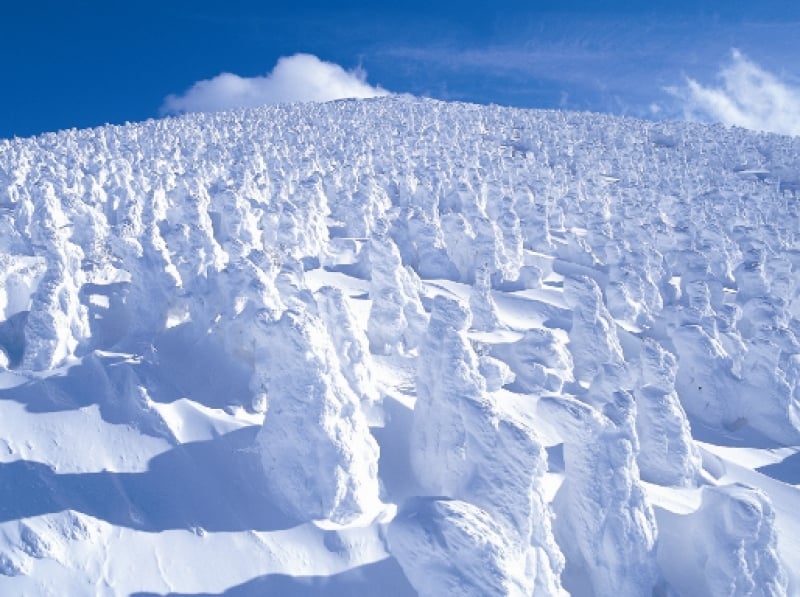 Much like the country's other standout destinations (which travellers cannot get enough of!), Tohoku is a gem whose astounding beauty remains unadulterated all throughout the four seasons. Unlike mainland Japan's more popular tourist hotspots, though — such as Tokyo, Kyoto, Osaka, to name a few — Tohoku maintains a somewhat underrated, unspoiled status. This, in turn, is something all visitors delight in, from the vibrant blossoming of spring to the picturesque settling of snow come wintertime. Put simply: Imagine the Land of the Rising Sun in all its glory, minus the crowd. For this reason, no one is immune to Tohoku's unparalleled charm.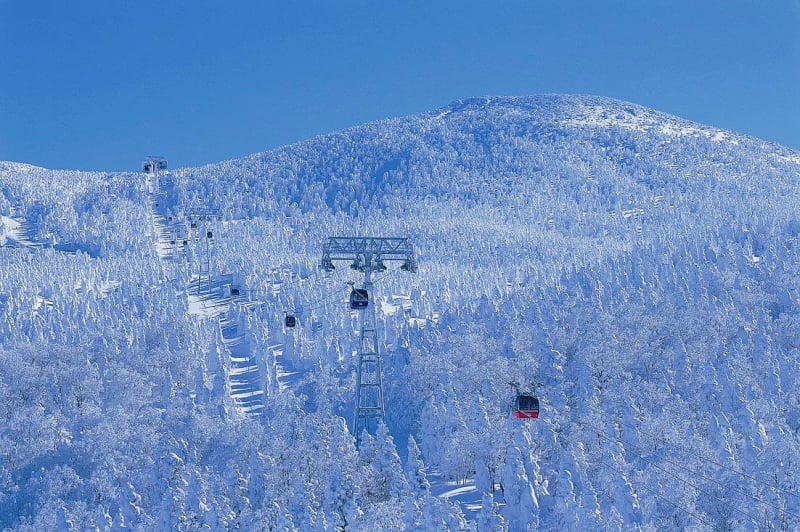 But despite the surprising remote vibe Tohoku gives off, the region enjoys reasonable proximity to Tokyo and other city centres in Japan — thanks to the efficient Japan Railway (JR) system. Imagine, then, all the endless possibilities if you were to secure your very own JR East Pass on your next trip to Japan!
It's time for Tohoku to take your breath away! The JR East Pass (Tohoku area) is a travel essential that will allow you to make the most out of your winter holiday in the region.
Avail of the JR East Pass today and enjoy huge savings on unlimited rides on all JR East lines in the area. To make things even more exciting and convenient, the JR East Pass offers flexibility! Enjoy the freedom to choose any five days for transit within a two-week travel period.
Experience winsome winters in the Tohoku region
If you're still deciding when's the best time to travel to Tohoku, though, wait no further. The truth is, any time is the best time to go to Japan, but a winter holiday in the Tohoku region gifts travellers with memories that last a lifetime. You'll bring home the most Instagrammable photos to boot since the area is famed for high snowfall from December to March!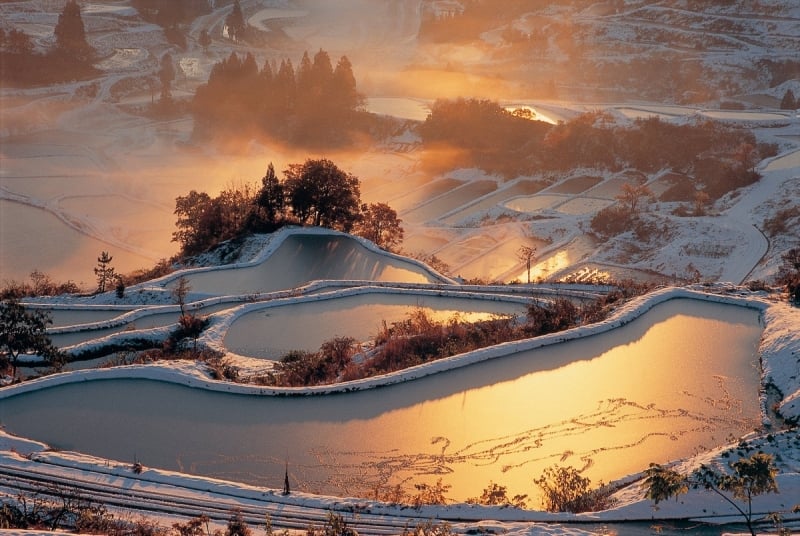 It only takes a quick Google search to picture what Tohoku's awe-inspiring scenery will look like when covered in a powdery blanket of snow, reminiscent of postcard-worthy scenes. We assure you: some of Tohoku's winter attractions border on otherworldly. We're talking about snow monsters, snow corridors, and the delicate allure of cherry blossom trees frozen in time. Intrigued? All this and more in Tohoku, but only if you follow our guide down to the last entry! Here are the best ways to enjoy your snowy escape in the northernmost region of mainland Japan.
Also read: Experience Autumn with Tohoku's Joyful Trains: Pikachus, Footbaths, Nature Walks & More!
1. Spoil yourself silly with all the oysters you can eat!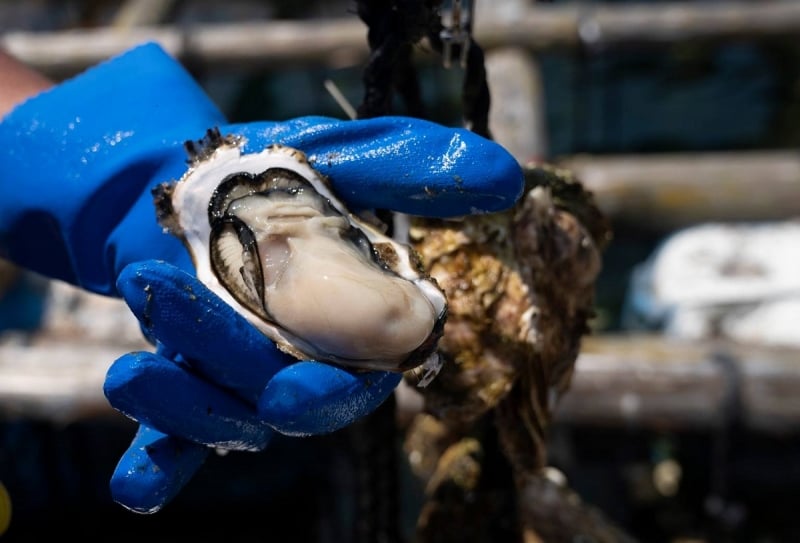 I don't know about you, but oysters remind me of special occasions and the best parties I've attended. Luckily, winter is the peak season for feasting on oysters in Tohoku! If you're an avid fan of this particular saltwater mollusk, then head to Miyagi Prefecture, where there are plenty of oyster huts to choose from.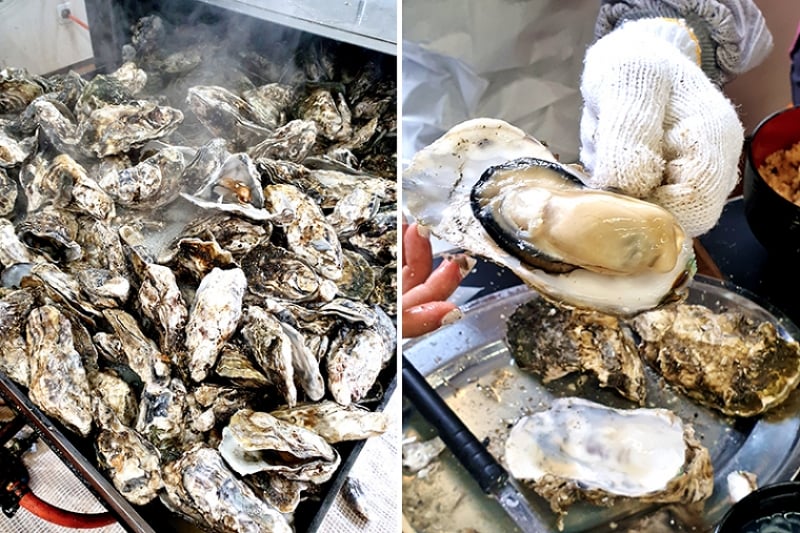 The best part is they cater to all appetites, big or small. For ~¥2,500, you can indulge in an all-you-can-eat grilled oyster buffet that lasts for 45 minutes. That's more than enough time to get your fill, don't you think? If a raw diet isn't your thing, fret not. Fresh oysters are plucked from the sea at Miyagi Prefecture and are grilled by the friendly staff to your liking. For seafood connoisseurs and lovers of any DIY experience, take the opportunity to shuck your own scrumptious mollusks!
Pro tip: Don't forget to wear the apron provided — you don't want to dirty your clothes, especially since there are so many places serving grilled oyster buffets in close proximity to the JR Matsushimakaigan Station. Pop in for one satisfying bite and head out as soon as your oysterlicious meal has settled in your belly. That's the greatest thing about attractions near public transportation stations; everything's just a ride or two away!
Best way to get there: Take a five-minute walk from JR Matsushimakaigan Station (served by JR Senseki Line).
2. Cruise in comfort on a heated blanket boat ride with breathtaking scenery
Mogami River Cruise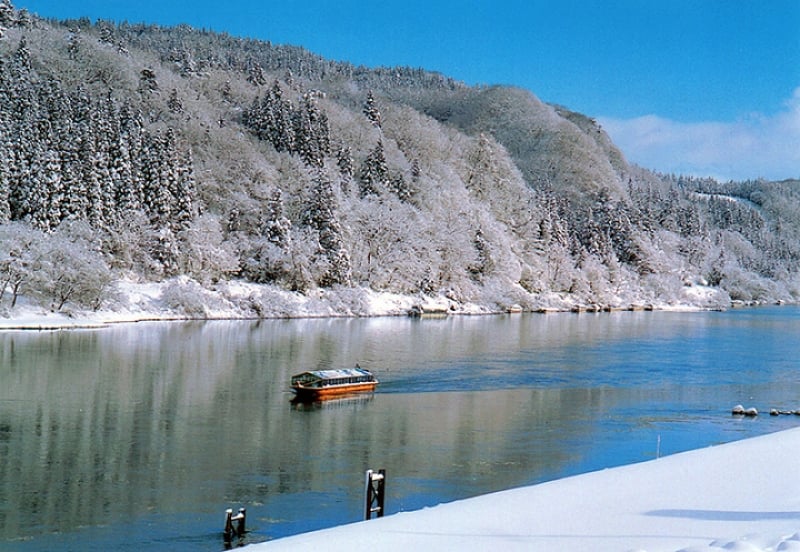 A favourite must-do while in Yamagata Prefecture is a soothing, scenic cruise along Mogami River — the largest river in the area and a vital water source for surrounding communities. While it's common to see visitors sightseeing aboard comfy, roofed boats that ply this route, a novel experience awaits during wintertime.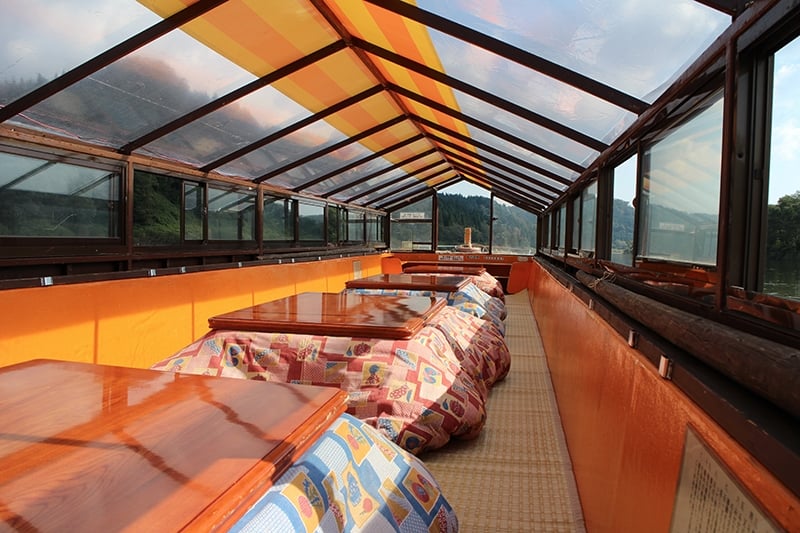 When temperatures drop and snow sticks to the ground, Mogami River boats are fitted with kotatsu, low tables equipped with heated blankets! This affords you a unique way of seeing Japan's 'secret' winter wonderland while keeping yourself warm and toasty the entire ride. Here's a hack: For the best scenes post-snowfall, sign up for the Mogami River cruise in February. Note that it's a one-way journey, which gives you a chance to explore more of Yamagata Prefecture. You can easily build an entire day's itinerary around your Mogami River cruise; just as long as you're armed with a JR East Pass.
Best way to get there: Take a five-minute walk from JR Furukuchi Station (served by JR Riku-West Line)
Geibikei Gorge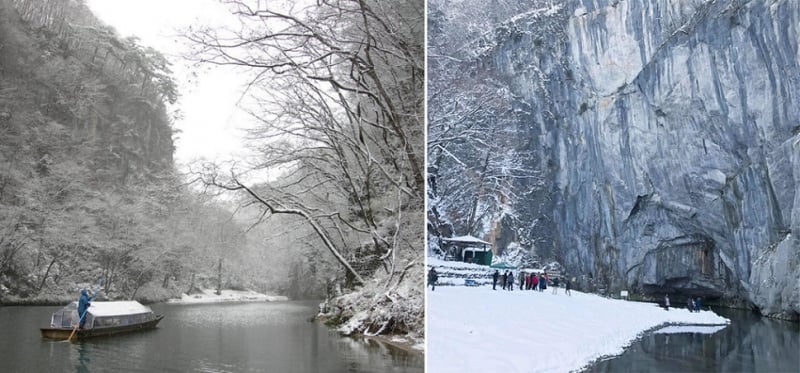 For a roundtrip boat ride that's just as picture-perfect, hop on a cruise along the two-kilometre Geibikei Gorge in Iwate Prefecture. This aquatic adventure steeps tourists in a 90-minute sightseeing sojourn that lets you explore the area on foot before heading back to your point of origin. What to expect during the boat ride? A wintertime spectacle punctuated by cliffs, waterfalls, a limestone cave, and snow-covered greenery all around. Indeed, a visit to Tohoku in winter will make for the most wonderful time of the year.
For the full package, dine onboard and treat yourself to a steaming bowl of nabemono (or nabe for short), a hearty hotpot dish that's popular during the colder months.
Best way to get there: Take a five-minute walk from JR Geibikei Station (served by JR Ofunato Line).
3. Join a snow festival and see the "snow sakura" at Hirosaki Castle Park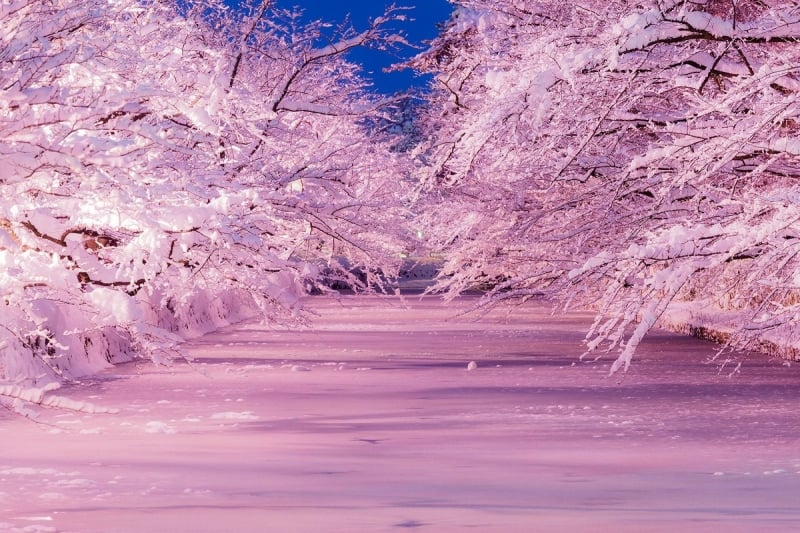 Brace yourself for a sensory overload because this next entry seems to put out all the stops! Add all of this up: a historic castle and its sprawling grounds, cherry blossom trees, a ton of snow, and an entire festival dedicated to the wintry season. What do you get? A trip to Hirosaki Castle Park!
Completed in 1611, Hirosaki Castle was built by a samurai clan called the Tsugaru. Although what tourists enjoy now is still gorgeous (a three-level castle that stands out amid thousands of sakura trees), the structure used to be even more impressive at five storeys.
During spring, people flock to Hirosaki Castle Park to admire the sakura in bloom. Once winter creeps in, the landscape transforms into a chilly wonderland. If you've never seen cherry blossom trees covered in snow before, then you're in for a treat! Each night from December to February, the immediate area near the Otemon Exit is illuminated with warm, pink lights. This gives the impression that the sakura flowers are blooming underneath a frosty, white veil. The scene truly makes for an immaculate sight!
Hirosaki Snow Festival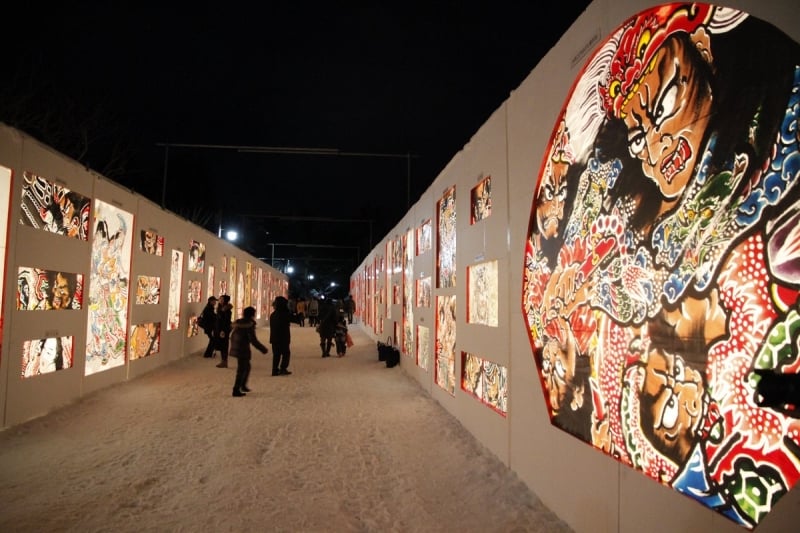 If you're determined to book flights to Japan in February, you might want to consider dropping by the Hirosaki Snow Festival, one of Tohoku's major annual events. In 2020, the festival will be held from 8 to 11 February. In case you're wondering what you'll see at the festival, it's not as simple (or literal) as it sounds. Sure, you'll witness the peak of snowfall in the Tohoku region, but you'll also get to see what locals do with all the frost. Believe us, they get very creative. There are snow lanterns and snow sculptures, and even light projections on life-sized structures beyond your wildest imagination!
Best way to get there: Take a 10-minute bus ride from JR Hirosaki Station (served by JR Ou Main Line) by the Dotemachi Loop Bus.
4. Walk among throngs of giant snow monsters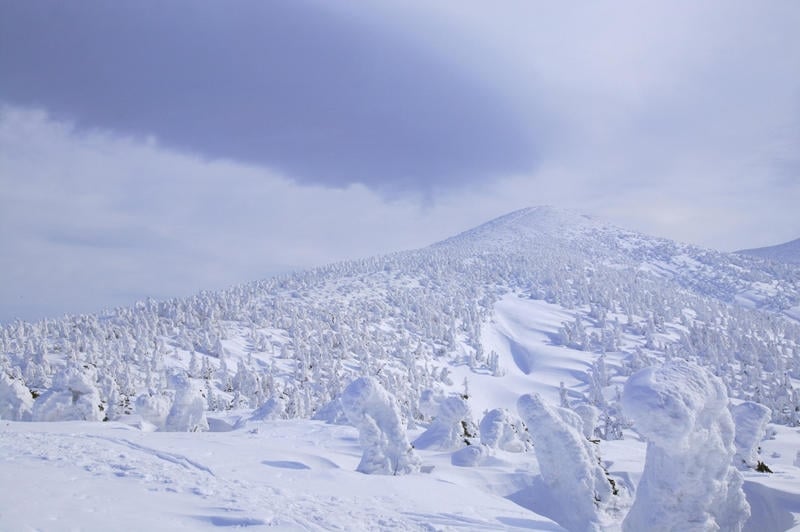 Don't worry; it's really not as scary as it sounds. Tohoku's "snow monsters" are actually trees covered with layers upon layers of frost and snow. It's a natural phenomenon that's quite a sight to behold. Since these trees come by the hundreds (or thousands, depending on where you go), they literally look like an army of snow monsters ready to take over Tohoku. At night, some of these snow monster sights are embellished with pretty illuminations, making the spectacle even more magical.
The most popular area to see these snow monsters is Yamagata Zao, where you'll also find a ski resort and a relaxing onsen. Other snow monster sights you can check out are Mt. Moriyoshiyama and Hakkoda in Aomori. Mt. Moriyoshiyama is known as a wellspring for alpine flora and fauna, so nature lovers would do well to note it. And don't think it's not worth visiting in the wintertime — colourful blooms may be in hiding this season, but the snow monsters come out to play.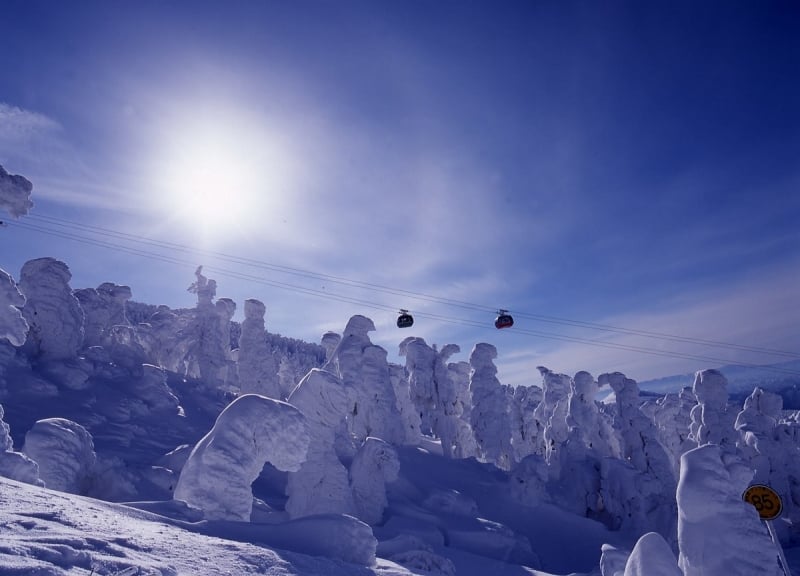 The Hakkoda Mountains, on the other hand, consist of stratovolcanoes and lava domes. These massive land formations make for the most interesting snowscapes you'll ever lay your eyes upon.
Best way to get there:
Yamagata Zao
Take a 40-minute bus ride from JR Yamagata Station (Station served by Yamagata Shinkansen, JR Senzan Line).
Mt. Morioshiyama
Take a 20-minute taxi ride from Aniai Station on the Akita Nairiku Jukan Line (non-JR, which cannot be used with JR East Pass) to.
Mt. Hakkoda
Take a one-hour bus ride (on JR Tohoku Bus, which is conveniently covered by the JR East Pass) from JR Aomori Station or JR Shin-Aomori Station to.
5. Stay toasty in an onsen of your choice while surrounded by the winter wonderland of your dreams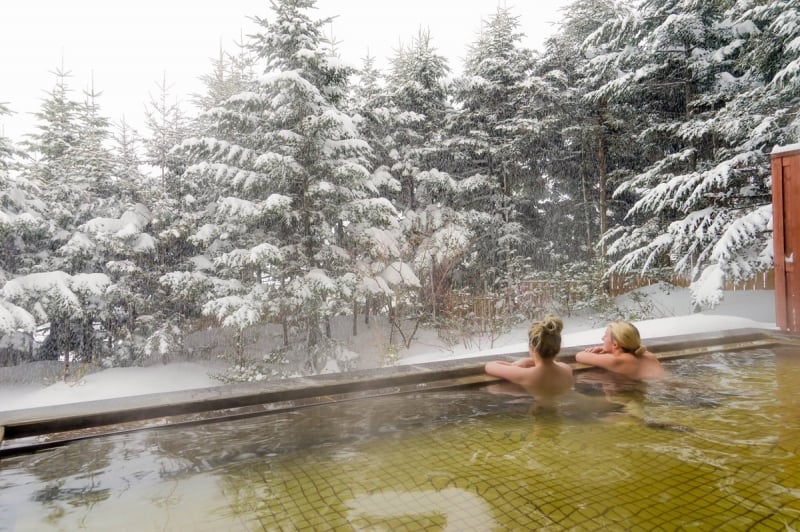 With high snowfall come freezing temperatures, and that's something Tohoku is well-prepared for. Avoid frostbite and windburn by cosying up in an onsen of your choice. Tohoku brims with these wonderful sanctuaries made for rest and relaxation! Just take your pick. Our advice? Choose an onsen that boasts of spectacular scenery.
Ginzan Onsen

Looking very much like it was taken straight out of a Studio Ghibli film, the Ginzan Onsen is a charming sight made prominent by yellow gas lights shining brightly come sundown. And with the winter season's thick layers of snow, it transforms into a quaint Christmas village reminiscent of the North Pole.
Best way to get there: Take a 35-minute bus ride from JR Oishida Station (served by Yamagata Shinkansen).
Nyuto Onsen Village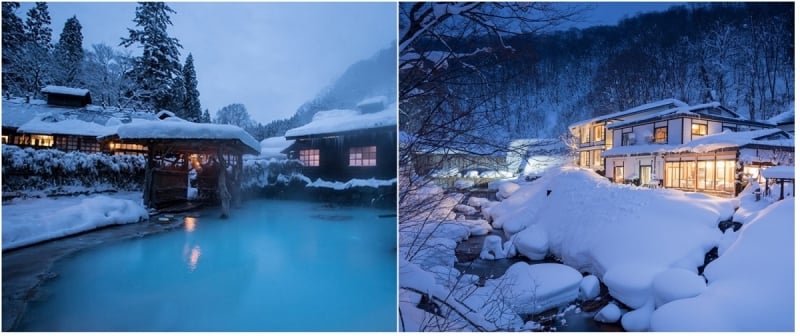 Tucked deep into the mountains, Nyuto Onsen Village offers a rejuvenating retreat away from, well, everything. Its secluded location allows guests to feel as if they're the only ones in the area. You'll find Nyuto Onsen Village at the famed Towada-Hachimantai National Park in Akita Prefecture. We're pretty sure the views won't disappoint in this part of Tohoku, so why not extend your stay and spend the night? Take a hike while it's still early and soak in steaming outdoor baths when you're ready to call it a day. You have plenty to choose from! Sounds like a good plan, right?
Best way to get there: Take a 50-minute bus ride from JR Tazawako Station (served by Akita Shinkansen and JR Tazawako Line).
6. Go on a leisurely stroll down a snow corridor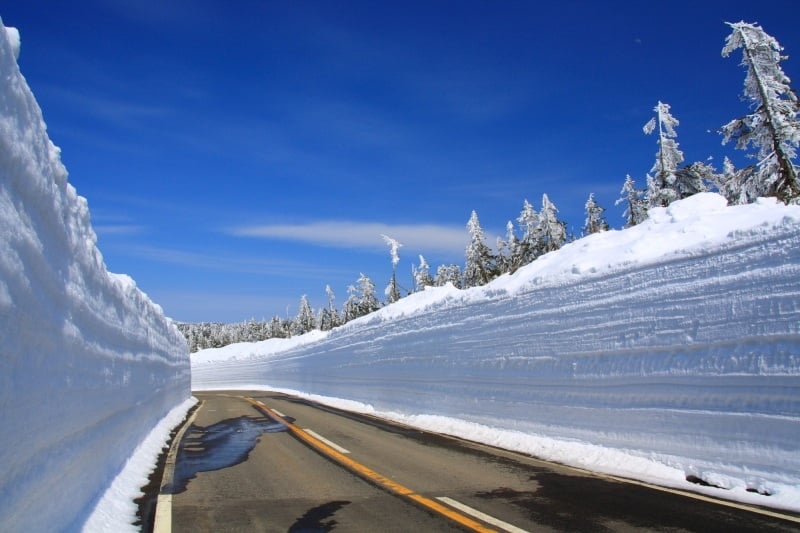 We'll let you in on one of Japan's most mind-blowing and photogenic secrets: In Tohoku, snow stays for months on end even after the winter season! Yes, you read that right — even after the winter season. We'll give you a moment to take that in.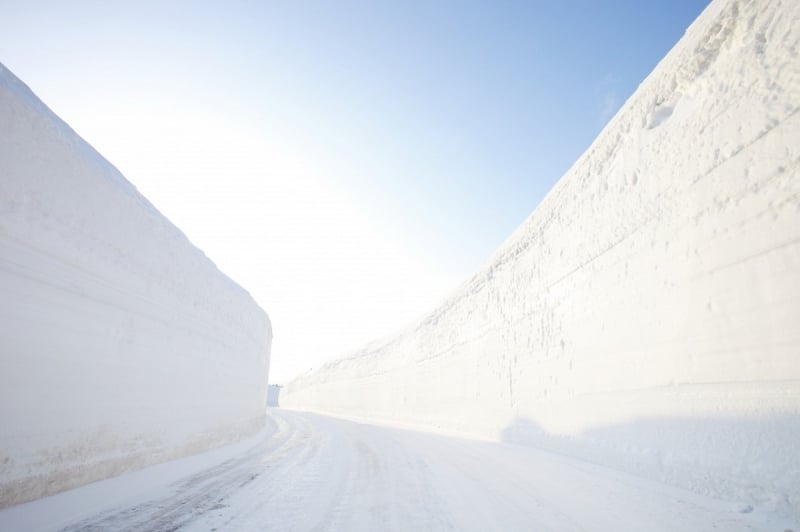 If you're visiting the Land of the Rising Sun from April to May, make a beeline for the snow corridors of Tohoku. You'll spot them near the Hachimantai Aspite Line and the best part is, popular areas for sakura sightings are just a stone's throw away from the snow-covered streets. Snow corridors are formed when paths are finally cleared once snowfall in the Tohoku region comes to a halt. The end results are towering walls that completely flank visitors walking by. These thick corridors of accumulated snow even dwarf passing vehicles. It sort of gives the illusion that you're in the middle of a maze made of frost!
Best way to get there: Take a two-hour bus ride from JR Morioka Station (served by Tohoku Shinkansen / Akita Shinkansen).
7. Savour the fresh flavours of the sea — simply oishii!

We already covered tasty mollusks at the start of this list but if you aren't fond of oysters, the sea's bounty offers way more than that in Japan — especially in Tohoku. In fact, the best time to enjoy catches of snow crab and fresh fugu (pufferfish) is in the winter season!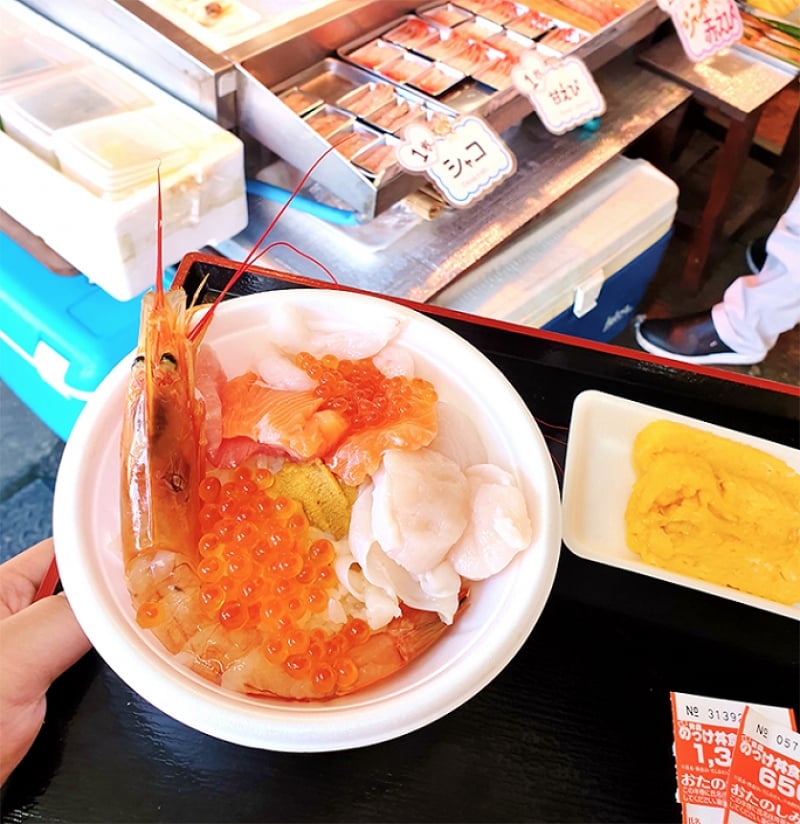 Anywhere you go in Tohoku, satisfying servings of kaisendon (seafood rice bowl) are made available. But if you're one to enjoy a more curated meal, try to create your own seafood donburi (rice bowl) in Aomori. This DIY treat is what you'll get if you order the nokkedon! Choose from assorted toppings and your favourite seafood, and make your purchases with coupons bought at the Furukawa Fish Market. Vendors are used to tourists selecting fresh catch for nokkedon so you can even ask around for recommendations. To do this, though, we highly recommend brushing up on basic Japanese. If that's too much of a challenge, you can always rely on photos from the Internet. Good luck!
Best way to get there: Take a five-minute walk from JR Aomori Station (served by JR Ou Main Line).
8. Light up long nights by visiting illuminations and light shows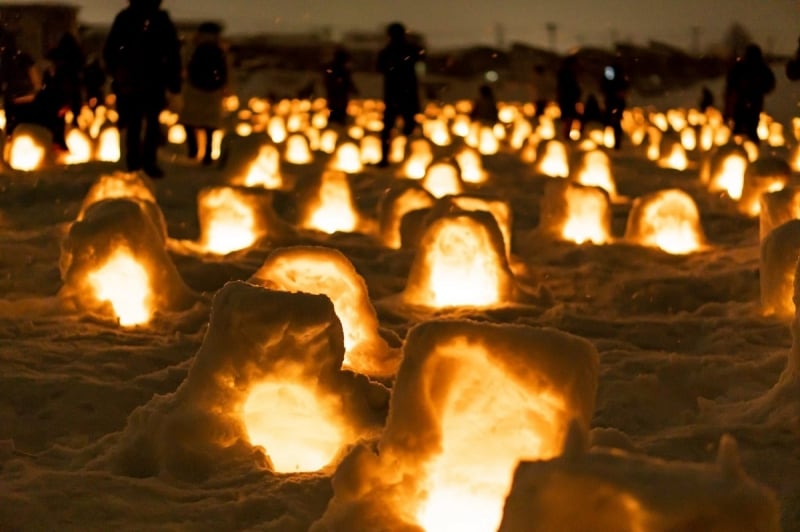 They say winter nights tend to be long and cold, but that doesn't mean you can't light up your itinerary once the sun sets. In Tohoku, the winter season brings about many illumination festivals and light shows, which add a touch of mystique to the region's snowy scenery.
Sendai Pageant of Starlight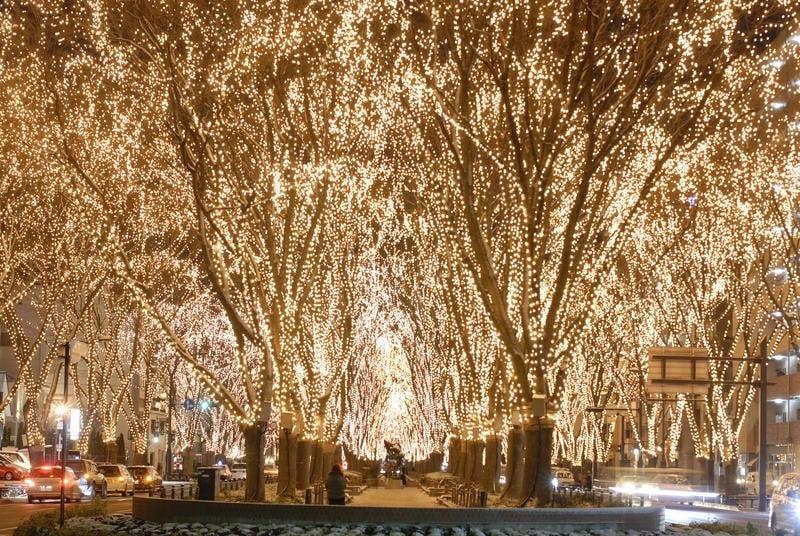 The Sendai Pageant of Starlight, for example, happens from mid to late December. It spotlights the Zelkova trees lining the streets of Jozenjidori and Aobadori in Sendai. These towering beauties look amazing at any time of the year, but you'll only see them bedecked with around 600,000 lights during winter. Be sure to take lots of photos; it's not every day that you can walk down a path that looks like a fairytale brought to life.
Best way to get there: Walk from JR Sendai Station (served by Tohoku Shinkansen / Akita Shinkansen).
Aomori Snow Light Festival (Aomori Yuki Akari Festival)
Flying to Tohoku in late January? You're not missing out! The Aomori Snow Light Festival is held at this time of the year and it's a pretty unforgettable way to usher in the new year. The experience boasts of handmade snow lamps lit with candles, which flicker and burn brightly against the haunting darkness of cold winter nights. Fun fact: Locals craft the snow lamps in time for the festival. It's their way of giving tourists something to look forward to when they visit Aomori.
Best way to get there: Walk from JR Aomori Station (served by JR Ou Main Line).
9. Take in the snowy scenery aboard Japan's many trains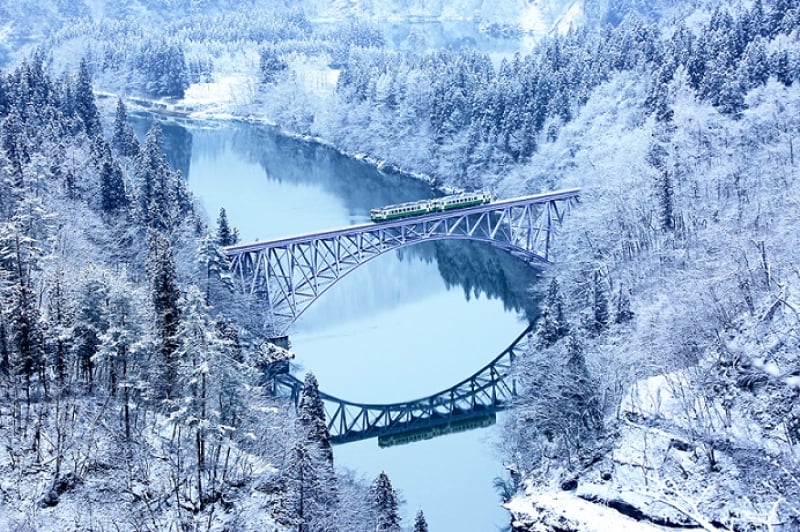 Sure, the landscape undergoes such a striking transformation during wintertime, but we understand that the biting cold isn't for everyone. If you'd rather stay indoors with a trusty heater, worry not. There may be hope for you and your sightseeing plans yet — in the form of Japan's reliable train services.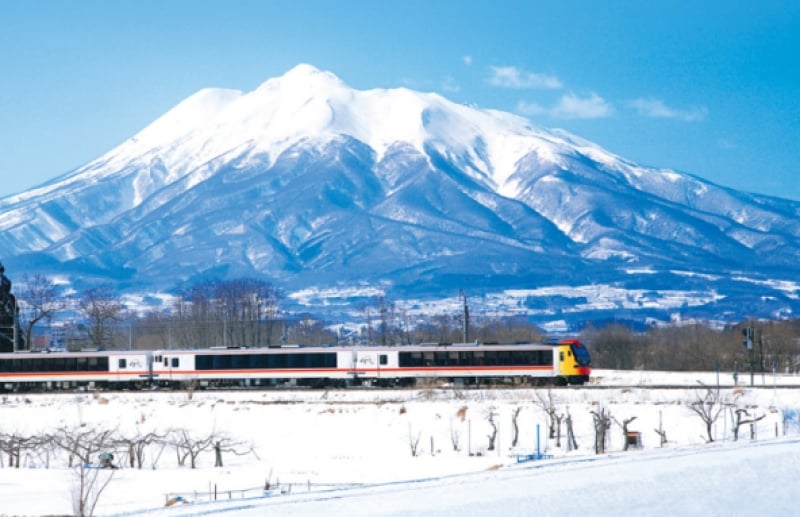 Train rides are a great way to enjoy sweeping views of any destination without breaking a sweat or having to subject yourself to the elements. This is certainly advantageous when the weather isn't necessarily cooperative!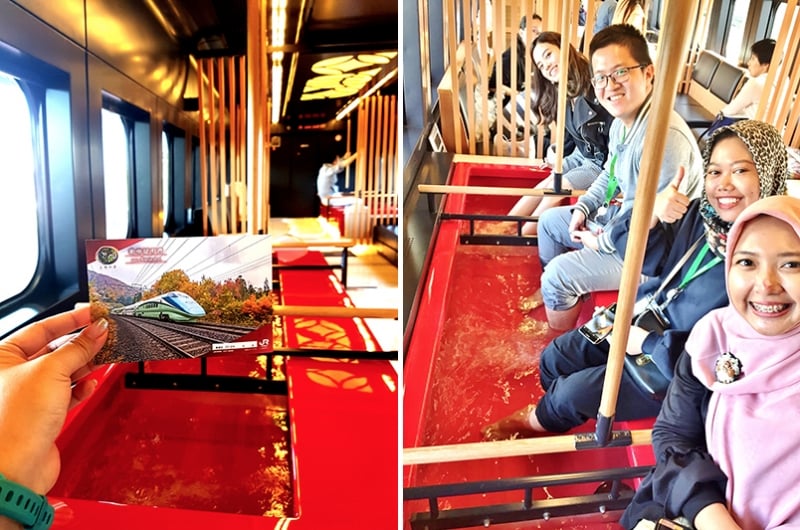 Tohoku's Toreiyu Tsubasa train keeps guests cosy and snug with well-furnished interiors and a selection of hot beverages. Running between Fukushima and Shinjo, this sightseeing shinkansen also boasts of ashiyu (footbaths) to warm your toes while capturing the snowy scenery with your cameras as you whizz by.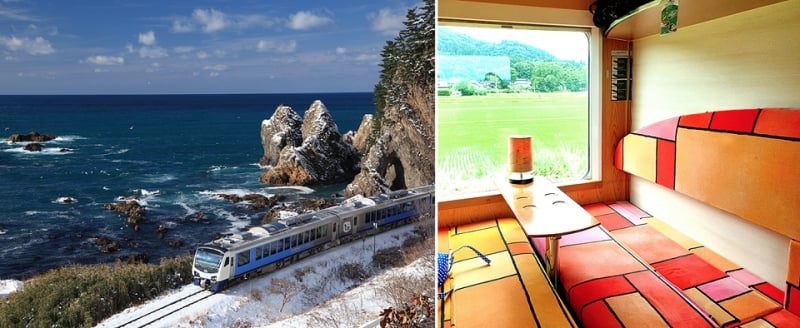 Another alternative is to board the Resort Shirakami between Akita and Aomori, which slowly reveals charming coastal views along the Sea of Japan. If you don't find yourself glued to the windows, there are also enthralling entertainment programmes on board, such as puppet shows, shamisen (a traditional Japanese musical instrument) performances and storytelling sessions by locals!
Best way to get there:
Board the Toreiyu Tsubasa on the Yamagata Shinkansen Line between Fukushima and Shinjo.
The Resort Shirakami, on the other hand, runs on the Gono Line between Akita and Aomori/Hirosaki.
It's high time to book that trip to Tohoku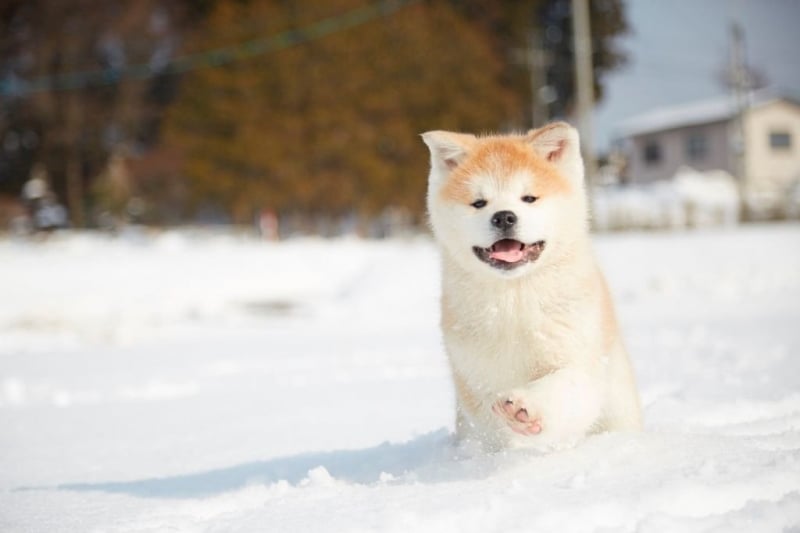 Scenic boat and train rides, all the freshest sea fare you can eat, and mother nature's wonders swathed in thick blankets of the finest snow you'll ever see! And that's just the tip of the iceberg. We can talk about the best ways to enjoy tantalising Tohoku come wintertime all day, but nothing beats witnessing this snowy spectacle for yourself. Waste no time and get booking! Heed Tohoku's call — northern Japan's under-visited jewel awaits.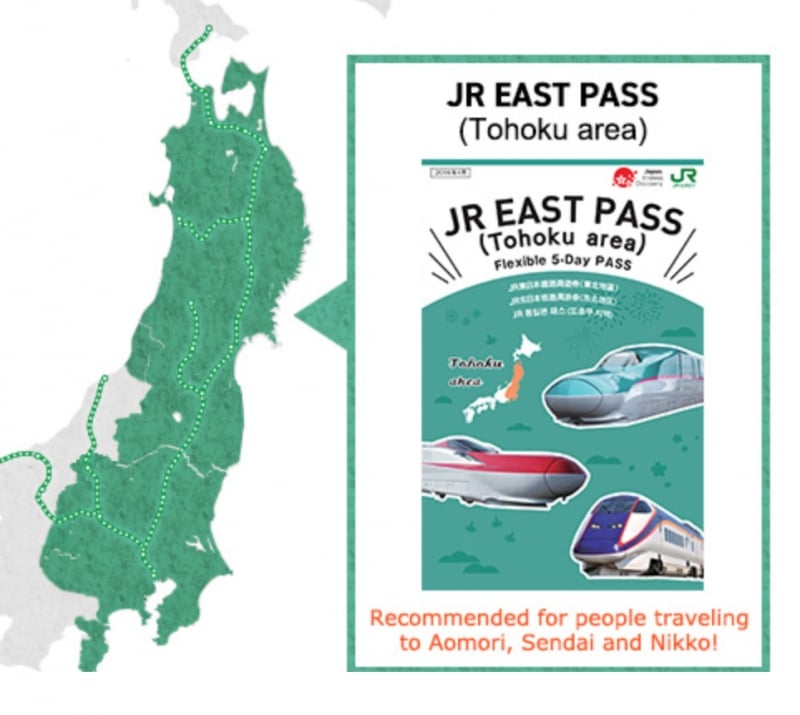 Great news! The JR East Pass (Tohoku area) offers UNLIMITED RIDES on all JR East Rail Lines in the designated area, and is also valid for the Narita Express to/from Narita Airport, Tokyo Monorail to/from Haneda Airport and all Shinkansen lines.
Did we mention you also get free rides on the uniquely-themed Joyful Trains with a JR East Pass? Learn more about the Joyful Trains here.
The pass is valid for use for any five days within a 14-day period after collection, giving you flexibility and ample time to explore each area without rushing to the next.
Secure advance seat reservations for free up to one month before departure so you won't have to deal with peak tourist seasons once the holiday rush sets in.
A friendly reminder — you can purchase your JR East Pass in Japan or through licensed sales agents overseas. But before you go, here's a budget hack: The pass is about ¥1,000 cheaper if you purchase it from travel agents.
Contact the travel agencies below to get your very own JR East Pass (Tohoku area) today!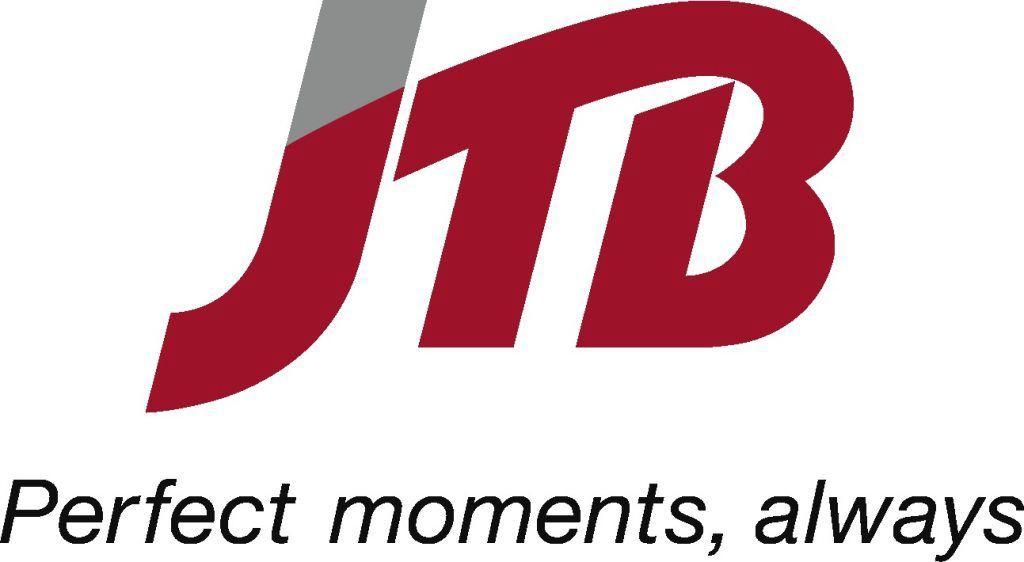 JTB
Tel: 6595 0600
Website (Philippines)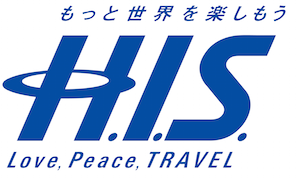 H.I.S.
Tel: 6222 1230
Website (Philippines)
---
Brought to you by JR East (East Japan Railway Company).