Contributed by Damn Good Travels
I like travelling without itineraries.  I like the flexibility that allows me to be open to unplanned adventures and other exciting possibilities.  I like going with the flow. Good thing I have friends who are as spontaneous and fun.
I recently posted photos of our Kalanggaman and Sambawan Island trip on my Facebook account and Instagram (@kellyaustria), and I got a lot of queries about our itinerary.  I had to explain several times we didn't follow one.  So, I am recounting here now how our trip went.
Also read: Escape the Crowd: These 10 Beaches in Eastern Visayas are Totally Unspoilt
These two islands are two of the most photogenic islands in the region, and we managed to squeeze them in one trip:  Kalanggaman is in Palompon, Leyte;  Sambawan is in the province of Biliran.
Mind you; we only had four days.  We initially had five days, but I had to move my flight to Tacloban City because of an important event: Rotary Club of Parañaque St. Andrew bestowed on me their Peace Award.  So, my two travelling companions went ahead.  I followed the day after.
So, here goes…
Day 1
Flight to Tacloban City
Travel to Palompon
It was already mid-morning when I arrived in Tacloban City. My flight was delayed. We had brunch in the city then went to the bus terminal to take a van going to Palompon. Van fare was ₱150 per person, and it took us three hours.
Since we didn't have anything planned, we headed out first to the tourism office to inquire about the boat trips going to Kalanggaman Island and get recommendations on where to eat and sleep.
We were almost tempted to camp out on the island for the night, but we didn't bring our own camping gears, and we thought sleeping in a hotel room would be more convenient.  We were already tired.
We got a dorm room at Pacci House, which is a stone's throw away from the tourism office.  I can't remember now if we paid ₱300 or ₱400 each.  We had the whole room, with six beds, all for ourselves.
The rest of day 1 was spent eating, sleeping and drinking.  Vacation, right?
Day 2
Kalanggaman Leyte
Travel to Naval, Biliran
We wanted to have full control of our itinerary, so we decided to rent our own boat for ₱3,000.  Other tourists opted to share the boat with their fellow tourists.
The rest of the fees we paid are listed here.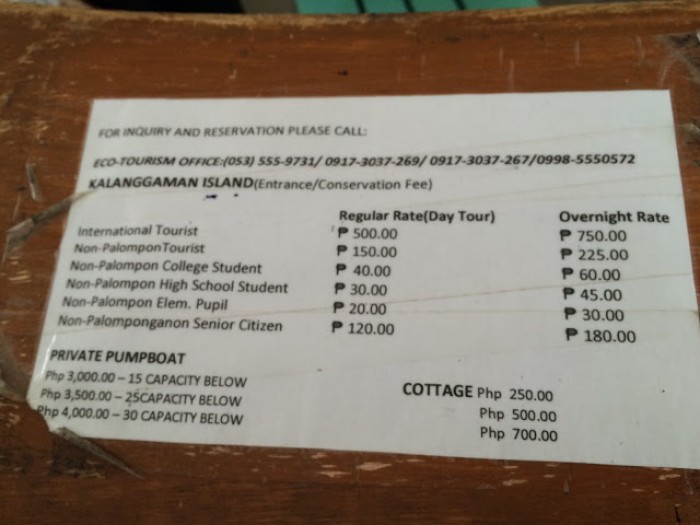 We brought to the islands fishes for grilling, a case of beer and some cooked meals.  Yes! We didn't want to be hangry (new word we learned in Tacloban City.  Hungry + angry = hangry).
After less than an hour of boat ride, we were in paradise.
It was exactly as mesmerising as I thought it would be with its clear turquoise water, verdant coconut grove and long stretch of white sand. It was perfect. No wonder it got the attention of international cruise liners.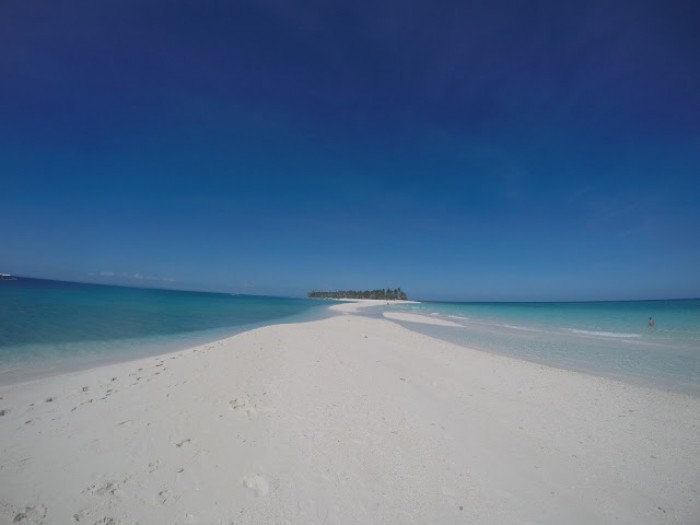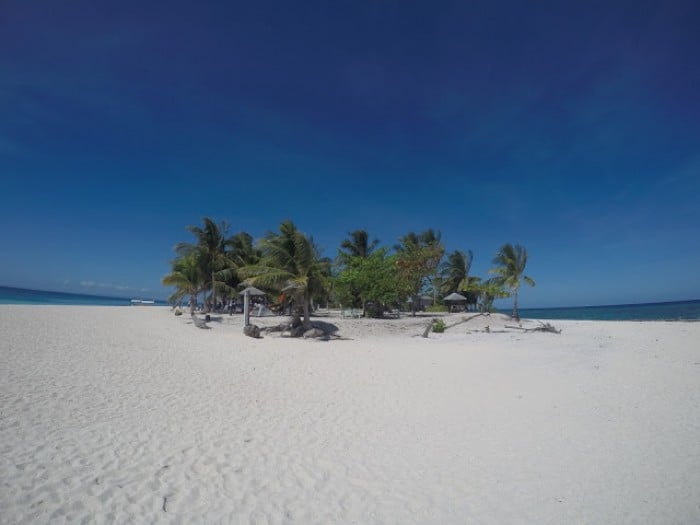 I spent my first hour in Kalanggaman Island enjoying the sandbar. It was bliss being surrounded by the crystal blue waters on a ridge of white sand with a patch of green in the distance.
I later joined my friends who already started preparing our lunch.  We got a small cottage where we had our little picnic. After that, we had our perfect beach moment – with our toes dipped in the sand, an ice cold, and lots of good stories. A nearby group of campers had their guitar, and they provided us with the fitting background music, the right kind of chill.
Also read: Kalanggaman Island Travel Guide: All You Need to Know Before Your Trip
Note: Aside from the cottages, there are also comfort rooms and grilling areas on the island, which makes beach outings a little bit more convenient for everyone. No rooms available. There are also solar panels in the area, which I guess are for lights at night.
We left the island at 2pm, did a quick freshening up and boarded a van to Ormoc City.
Since we were not familiar with the van routes, we asked a lot of questions on how to get to Naval.  The locals were very friendly and helpful.  There were no vans going directly to Naval, so we took one going to Ormoc then we went down in Libungan, as advised.
It was quite a long wait in Libungan, so when we a van headed to Tacloban stopped in front of us, we asked for alternatives.  They agreed to drop us off Lemon, where there are more vans headed to Naval available.
True enough, there were more vans, but most were full. We thought we would be stranded. It was already dark, and we were already considering asking for home stay options in the area. Since we were travelling without an itinerary, problems like that were bound to happen but we knew it would work out in the end.  So, it did. A driver offered to take us to Naval for ₱150 each and we gladly accepted.
By 8pm, we were already in Naval and inquired at the first lodging we found.  Good thing the first one we spotted was TJ Pensionne.
TJ was a good choice. Our room was only ₱700, good for two and we just paid ₱100 for the extra person since we didn't get anymore an extra bed.
We were tired, so we just had dinner at the nearby diner called Gelo's then called it a night.
Day 3
Maripipi Island
Sambawan Island
We researched online and learned that boats bound for Maripipi Island leave at 10am.  We went to the port early, but we found out that boats do not travel on Sundays. Strike 2!
Good thing we found an alternative. As I said, things always work out in the end. We took a multicab to Kawayan, about 30 minutes away from Naval where there are boats available for rent.
We hit strike 3 at the port of Kawayan. We got into a little bit of a situation at the port. But again, it turned out well, at least for us.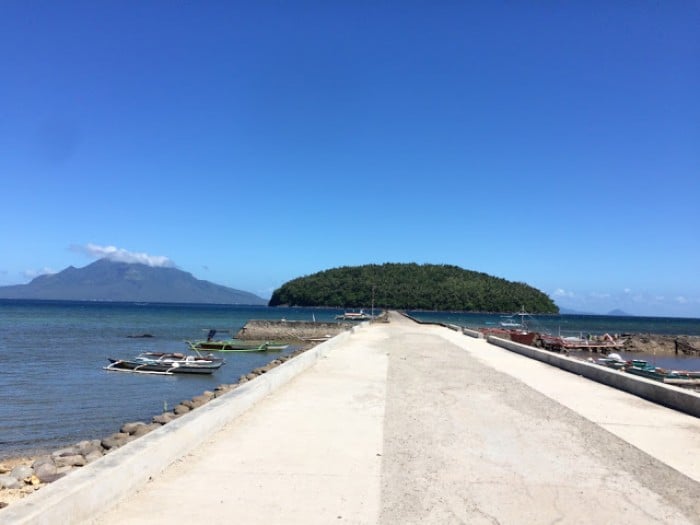 Operators were pressing us to rent a boat from them, which we thought was too pricey. We started negotiations at ₱3,000 for a round-trip journey, which then went down to ₱1,200 for a one-way trip to Sambawan Island. But, we saw a boat bound for Maripipi, which had room for the three of us. We really wanted to stay in Maripipi Island and take a boat to Sambawan Island from there because it is nearer the port and the boats leave for Naval very early in the morning.
Anyway, the passenger boat allowed us to join them, which was when the heated discussions between the locals began.
On the bright side of things, it was a cheaper mode of travel, as we only paid ₱100 each and we met Mr. Jun Salas, who owns a lodging facility near the port.  We got a nice room for only ₱1,200. But the room was not the best thing about staying at El Paseo Homestay (0917-311-1368 or 0917-673-4632).  It was the hospitality of Mr. Salas and his wife, Wilma. They made home staying really feels like a home stay.
We later found out that boats can be arranged from Kawayan to Maripipi or vice versa for ₱500.  Boats to Sambawan Island rents for ₱1,500 from Kawayan.
The best option really is to take the ferry boats from Naval to and from Maripipi Island, then just rent a small boat in Maripipi Island to Sambawan Island.
Mrs. Wilma Salas assisted us in getting a habal-habal (₱30 each) to Olog Village, where boats to Sambawan Islands can be arranged. It was actually easy. We only waited a few minutes for the boat. We paid ₱500 round trip.
Compared to the serene feel of Kalanggaman Island, Sambawan felt a bit more rugged, with its mountainous coastline. But, it was equally stunning. Also like Kalanggaman Island, Sambawan Island is not too commercialised, which is perfect for travellers like us who want the feel of getting away from it all.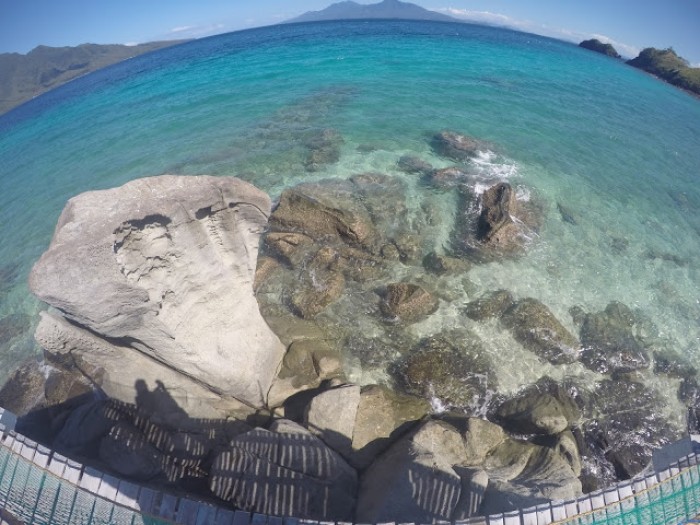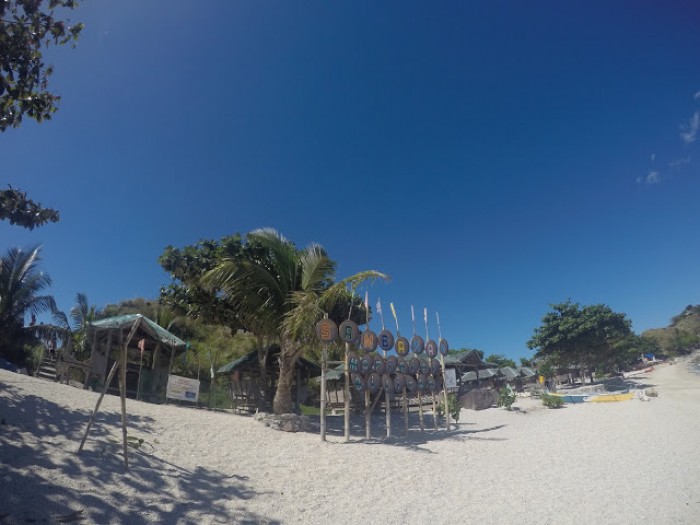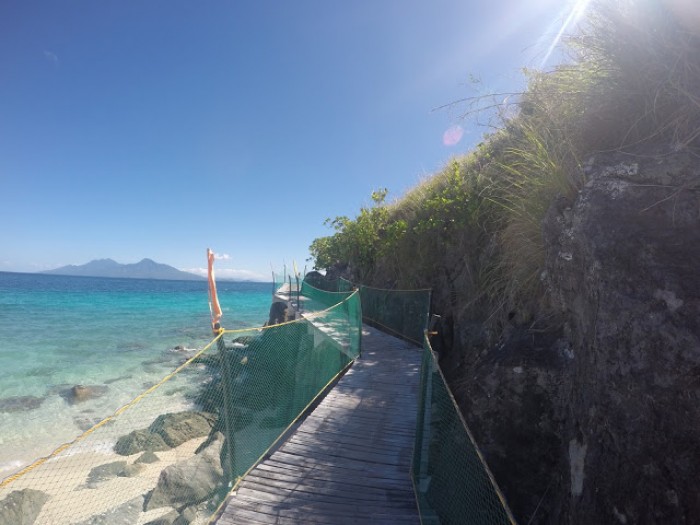 The highlight of the island is a view deck, which offers a panoramic view of the island. It reminds us of Gigantes' Cabugao Island, but this one has more features to boast.  The view deck requires a bit of trekking though.
Also read: Forget Boracay: Islas de Gigantes White Sand Beaches are Unspoilt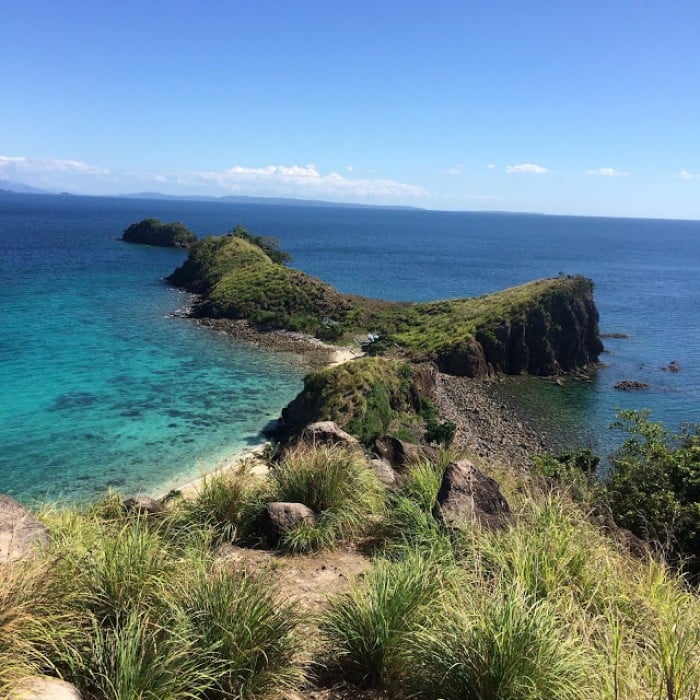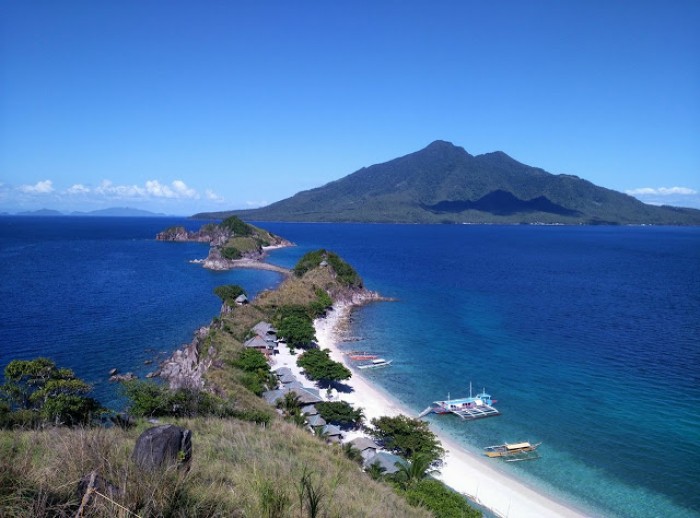 We stayed a bit long at the view deck to enjoy the moment.
Note: There is an entrance fee of ₱80 and an environmental fee of ₱20. It is quite cheap for a stay in this piece of paradise. There is a store on the island that sells soft drinks (no beer) and chips; a few picnic cottages; an accommodation good for a big group for ₱2,500 a night; and a comfort room.
After a few hours, we went back to the Maripipi Island and resumed our socials.
Day 4
Travel back to Biliran Island
Tacloban City
Flight back to Manila
At around 3am, I already heard the voice of Mr. Salas waking me up. I moved to the sofa outside our room because it was already a bit warm inside. Electricity in Maripipi Island is only up to 12am. He then walked us to the port.
I was prepared for a long, nauseating boat ride but it turned out to be my most magical voyage ever.  The boatmen recommended we stay on the open deck of the boat where I opted to lie to get a good sleep.
As soon as we started sailing, I felt the chilly breeze then I opened my eyes and saw the stars.  There were millions of them cloaking us, a tiny vessel in the big dark blue. It was breathtaking. Then, after a few moments, we saw the moon setting.  Then, the surroundings started changing colours as the sun started to rise letting us sea beautiful Biliran Island and its surrounding islets. The whole experience was so surreal.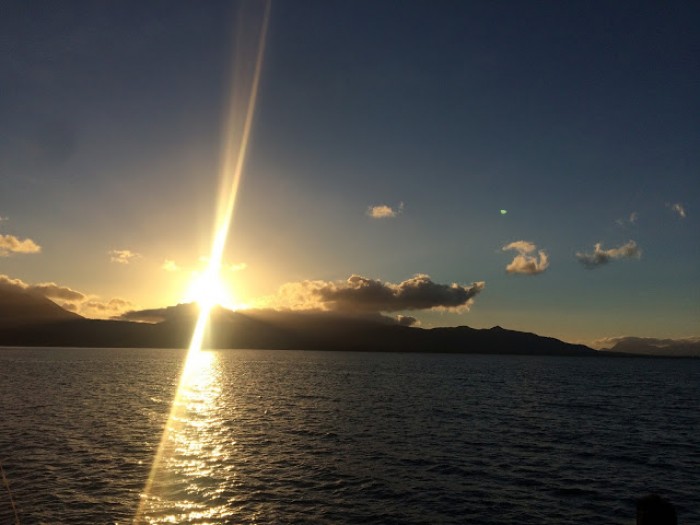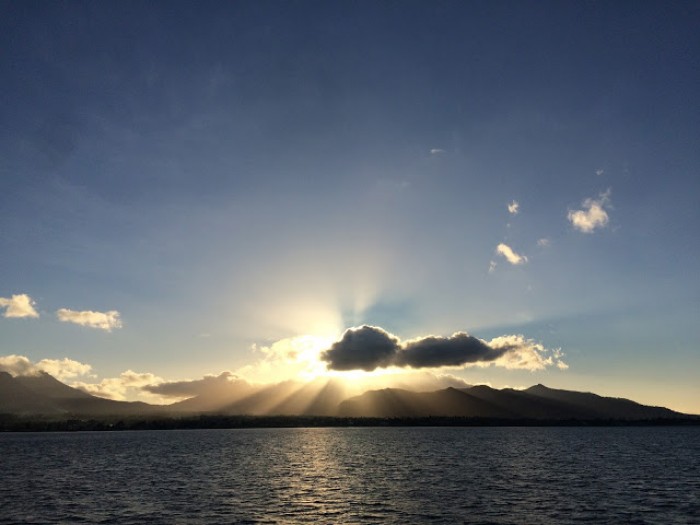 By 6:30am, we were already at the Naval Port. We had breakfast then we rode a van to Tacloban City, where we killed time by café hopping.
Also read: 10 Unspoilt Philippine Destinations for Your 2017 Getaways
So, that was it. We boarded our plane back to Manila at around 8pm with a truly worthwhile travelling experience.
Yep, travelling without an itinerary can be a bit difficult, but it is the best!