Contributed by Just Go Abby
Whenever people ask me what my favourite country is, I always tell them it is Laos. There are many reasons to love this country. Aside from its temples and majestic waterfalls, I have also fallen for the country's food, people, the safe environment, chill atmosphere and slow pace of life, which is what Laos is known for. "Laos PDR" (Please Don't Rush), as visiting travellers would say.
One thing that attracts me the most in this country are the people. During my trip, I never experienced any rip-offs. Tuktuk drivers might charge a little bit more, but take note that the fare is always negotiable and that the country's diesel is imported from Vietnam and Thailand. In fact, most of the country's products are imported, that is why basic commodities here are more expensive than its neighbouring countries. People are very friendly and welcoming to visitors. I was never mocked and catcalled even when I was travelling with a white guy as compared to how I battle with people's stares and curses in other countries. Although English is not widely spoken, Laotians are helpful when it comes to directions. They will direct and guide you to your destination and might even give you a free ride!
Also read: My 5 Days Solo Trip to Laos for Only ₱15k (All-In)
Laos is a landlocked country and can be travelled by land. You can start your journey from south to north and make your way to Thailand or Vietnam. You can also do it the other way around and end up in Cambodia. I have been to Laos twice, and I must say that given the chance, I will keep on coming back here. In this blog, I will be stating my experiences and observations in different regions, their cost of living, places to go to and things to do. Let's start with my most favourite city in the north, Luang Prabang.
Luang Prabang
The former capital of Laos is home to the stunning Kuang Si Waterfalls. My curiosity and desire to visit the city grew when I saw pictures of it online. I was totally in love with this place the moment I set foot on it. From the sunset from Mt. Phousi and dinner by the Mekong River to the enchanted Kuang Si Waterfalls — what more can you ask for?
Some of the more popular things to do here, aside from visiting Kuang Si waterfalls, are the half-day elephant bathing and riding as well as the village tours offered by tour agencies. Since this place is very famous, a lot of people flock here. However, the number of accommodations is not always sufficient especially in the peak season of Lunar or Chinese New Year.
It can be very crowded and your accommodation reservation can be cancelled without your knowledge. Your guesthouse or hostel hosts will not feel accountable for it saying visitors from a certain Asian country already rented out the whole place and paid 10 times more than the real price. Believe me, I experienced that and ended up walking on the streets on a hot sunny afternoon along with other backpackers from one hostel to another checking if they had vacancies. I enjoyed that experience though because I found a $5 shared dorm room, which was cheaper than my original hostel.
Disclaimer: Take note that not all travels will go as smooth as planned. This experience didn't turn me off since I found my favourite waterfalls in the world, the Kuang Si Waterfalls.
From Luang Prabang, you can ride a 22-hour sleeper's bus to Hanoi or an overnight bus to other parts of northern Vietnam and even Chiang Mai, Thailand.
Average meal: ₭15,000-35,000 (₱95-220)
Tuktuk fare: ₭30,000-150,000 (₱190-950)
Accommodation (shared dormitory): ₭40,000-250,000 (₱250-1,600)
Day tour activities without lunch: ₭50,000-250,000 (₱350- 1,600)
Vang Vieng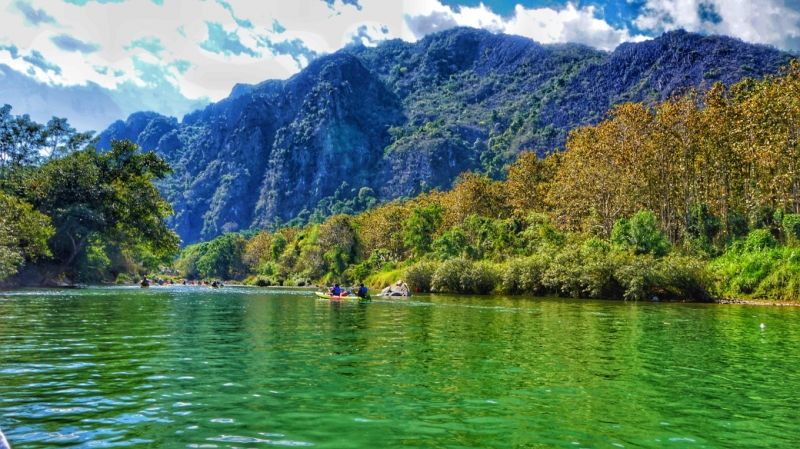 I would describe this as the party place of Laos. You can never run out of activities here. From tubing, kayaking and dipping in a blue lagoon to ziplining, rock climbing, riding a hot air balloon during sunrise or sunset and joining happy hour parties with free unlimited whiskies. A five-hour bus ride from Luang Prabang, this town is a must-visit or stop for travellers backpacking Laos. I suggest you book your accommodation in Vang Vieng Main Road because it is accessible to banks, stores, restaurants and bars. If you are looking for nightlife on a budget, head to Sakura Bar between 9pm and 10pm and Viva Pub at 11pm for unlimited free drinks and whisky.
Average meal: ₭10,000-25,000 (₱65-160)
Tuktuk fare: ₭10,000-70,000 (₱65-450)
Accommodation (shared dormitory): ₭50,000-70,000 (₱350-450)
Day tour activities with lunch: ₭50,000-200,000 (₱350-1,250)
Vientiane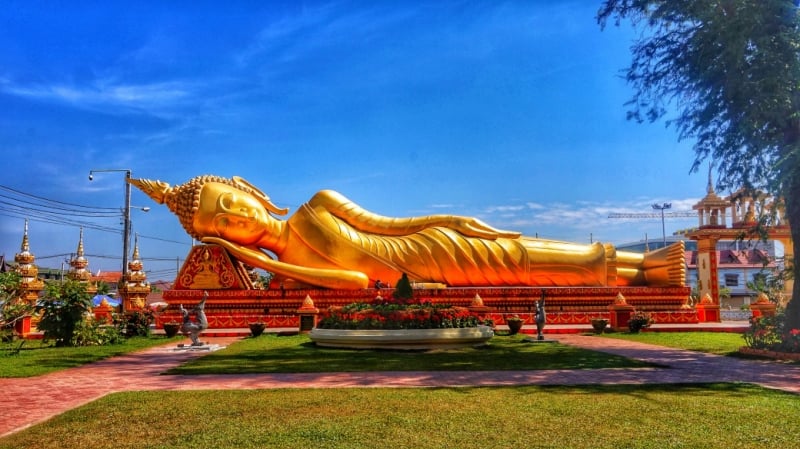 Three hours away by bus from Vang Vieng is the capital city of Laos. Vientiane is a chill city with no rush and very light traffic. This city can seem boring since there are not much things to do and places to visit. The main attractions are usually limited to Wat Si Saket, Patuxai Monument, That Luang, Lao National Museum and Buddha Park which you can visit in a day or two. During the night, you can stroll around the Mekong Riverside Park. It has a beautiful sunset view, various restaurants, bars and a night market. The best way to get around the city is to rent a bike since there are no day tour activities except ones going to Buddha Park.
You also have plenty of other options to go to from here. You can take 20-hour overnight bus to Hanoi or Danang, Vietnam, or a train and bus to Cambodia or Thailand.
Average meal: ₭10,000-30,000 (₱65-160)
Tuktuk fare: ₭30,000-100,000 (₱190-650)
Accomodation (shared dormitory): ₭50,000-80,000 (₱350-500)
Day tour activities with temple entrance fees: ₭5,000-30,000 (₱32-190)
Pakse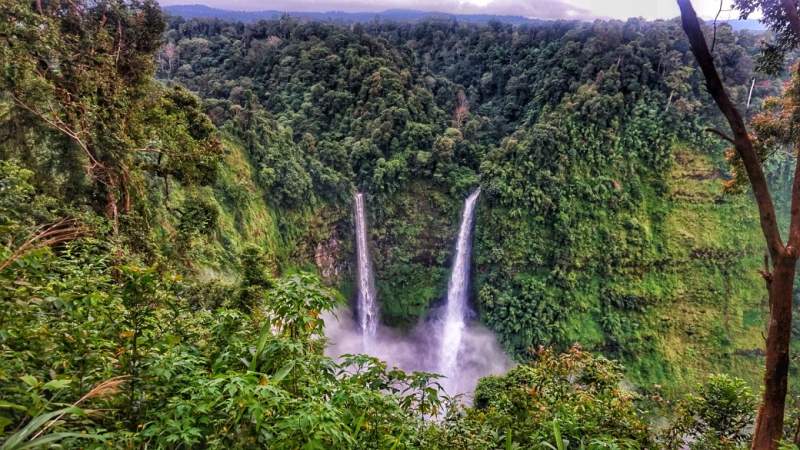 This is indeed the cheapest city in the country. I heard about this place from my roommate in Vientiane who planned to stay in Pakse for two weeks. Because of what she said, I got curious about it so I decided to also take a leap and visit it. I was a little disappointed because there's nothing special or any attraction within the city except for two temples, Wat Luang and Wat Phabad, and Tang Feres riverside market at night. However, it is a good location if you are planning to go on a day trip to Bolaven Plateau where Tad Fane, the 120-metre twin waterfalls is located, and Vat Phou, a Khmer Hindu ruin in the south of Laos. From this city, you can take an overnight bus to Bangkok, Thailand or go down south to Si Phan Don, also known as 4,000 Island.
Average meal: ₭8,000-20,000 (₱63-130)
Tuktuk fare: ₭10,000-20,000 (₱65-130)
Accommodation (shared dormitory): ₭40,000-60,000 (₱250-375)
Day tour activities with waterfalls entrance fee: ₭5,000-10,000 (₱32- 65)
Si Phan Don (4,000 Island)
My friend and I have a big debate about this island. For Asian travellers, you might not find this place interesting since it just has a farm and a river which we can find in our own backyard at home. I was born and raised in the countryside so I can say it is similar to where I'm from. But Westerners are usually amazed by the chill, slow-paced atmosphere and countryside vibe of the place.
This island became popular when the local government of Vang Vieng closed the irresponsible bars and party venues along the river. Gradually, Si Phan Don started to open bars and Vang Vieng's party vibe was transferred here. However, I must warn you about the partying because there are instances that the whole island loses its electricity and has a complete blackout. It's very creepy to walk at night from the bar to your bungalow in complete darkness.
A few things that you can do include going to the Li Phi Waterfalls, tubing and the Irrawaddy Dolphin watching which is offered by tour agencies. But the main highlight here is simply lying on a hammock outside your bungalow watching the sunrise and sunset. It is the most expensive place in Laos. The food costs double the amount of those in Luang Prabang and Vientiane. There are not many tuktuks on the islands so visitors usually go around in a rented bicycle or motorbikes.
From here you can take a boat and an eight-hour bus ride to Siem Reap, Cambodia or an overnight bus to Bangkok, Thailand.
Average meal: ₭20,000-45,000 (₱130-285)
Bicycle rental: ₭10,000 (₱65)
Motorcycle rental: ₭50,000 (₱350)
Accommodation (private bungalow): ₭50,000-150,000 (₱350-950)
Day tour activities with waterfalls entrance fee: ₭35,000 (₱220)
Tubing and Irrawaddy Dolphin watching: ₭150,000 (₱950)
Also read: Got Me Looking So Crazy In Laos