Las Casas Filipinas de Acuzar in Bagac, Bataan will truly make you love Philippine history even if you're not that much of a history enthusiast yourself. The brainchild of architect José "Jerry" Acuzar, this heritage resort is literally a huge open-air museum with over 20 Spanish colonial buildings and stone houses from different parts of the country. Some of them were turned into luxurious accommodations while others are open for public viewing.
Also read: How Las Casas Filipinas de Acuzar Made Me Love Philippine History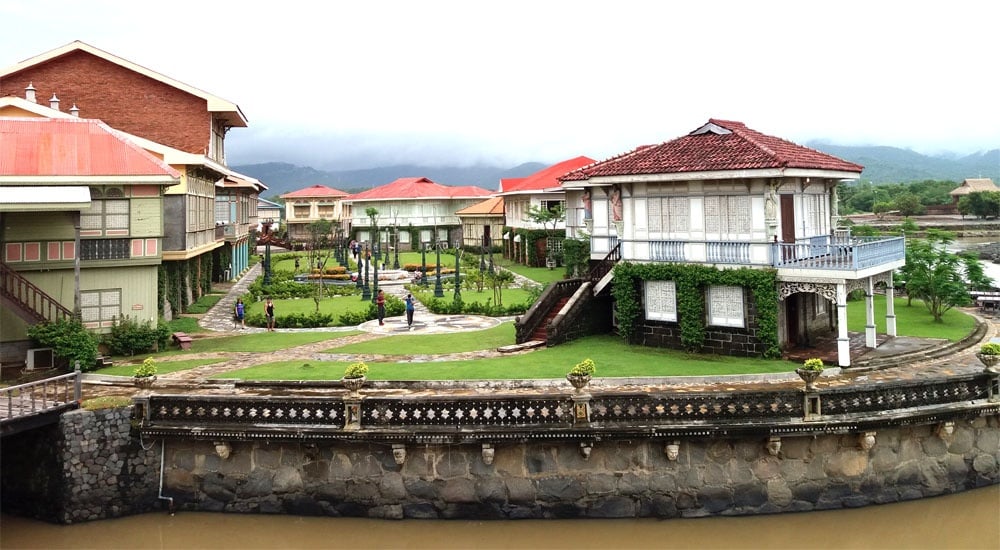 Most of the heritage houses here were carefully and meticulously reconstructed piece by piece. Picture yourself constructing a supersized jigsaw puzzle — simply mindblowing!
I really wanted to check it out myself after learning about it. So finally, I, together with my BF and a college friend, went there on a day trip this October.
I'm more of a DIY person but after comparing the possible expenses and the long commute, we've decided to grab the resort's Express Deal Heritage Day Tour for ₱1,999, which already includes the following:
roundtrip shuttle service from designated pick-up/drop-off points in Manila
entrance fee and use of swimming pool
guided heritage walking tour
vicinity map
welcome drink, bottled water (per way) and cold towel
all taxes and service charges
The heritage walking tour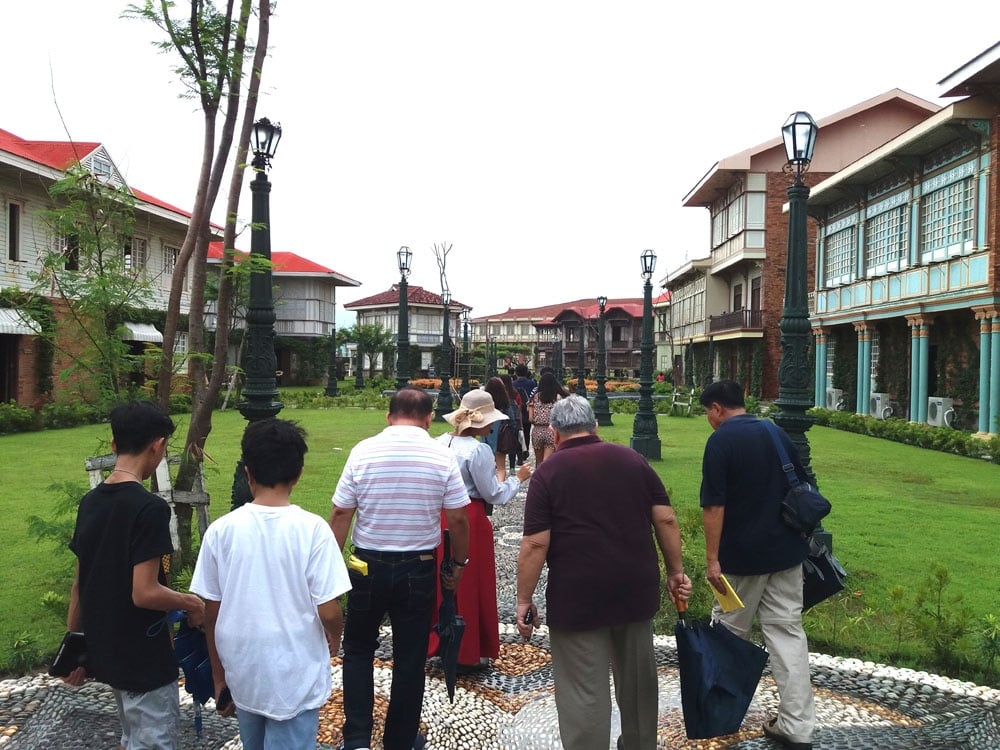 For the heritage walking tour, there are actually many schedules to participate in: 8.30am, 9.30am, 10.30am, 11.30am, 1.30pm, 2.30pm, 3.30pm and 4.30pm. But since we arrived at around 11.00am and don't have enough time, we immediately joined the 11.30am group.
Tip: If you don't want to get hungry in the middle of the tour, you might want to take your lunch first and join the 1.30pm group instead.
Phase 1: The Islamic Tour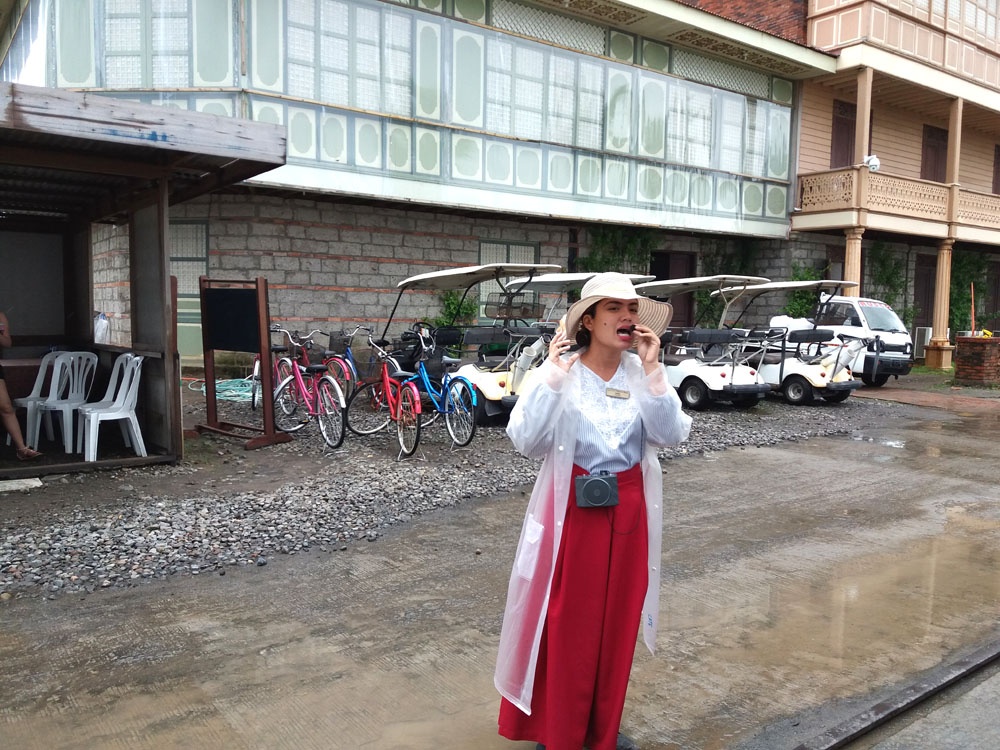 Our tour guide giving an introduction before we started walking
The first leg of the walking tour is the Islamic Tour wherein you will be introduced to indigenous houses of a Muslim Sultan or Datu and some bahay na bato (stone houses) from the Spanish era.
Tip: Listen carefully to your guide to learn some interesting tidbits about each abode. I don't want to be a spoiler so I won't tell you the funny (and sometimes gory) details. You must hear everything from the guide yourself! 🙂
Phase 2: The Estero de Binondo Tour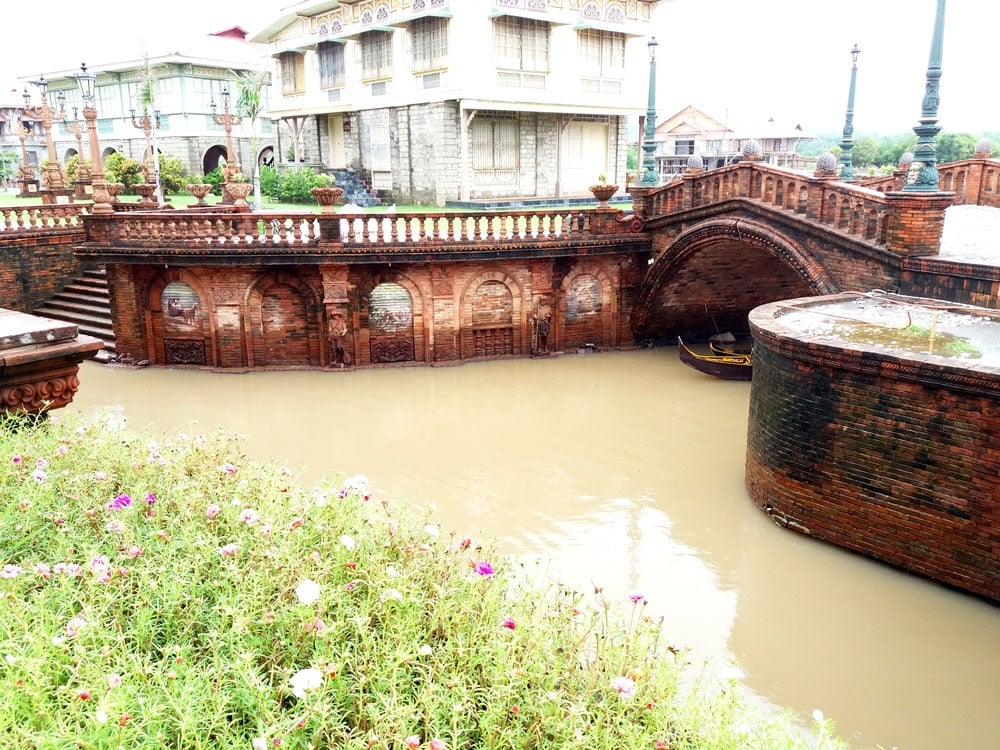 This tour will take you back to the old Binondo settlement where an estero (canal or waterway) slithers through the buildings and ancestral houses like the ones in Europe. Yes, you can trick your friends that you're in Venice!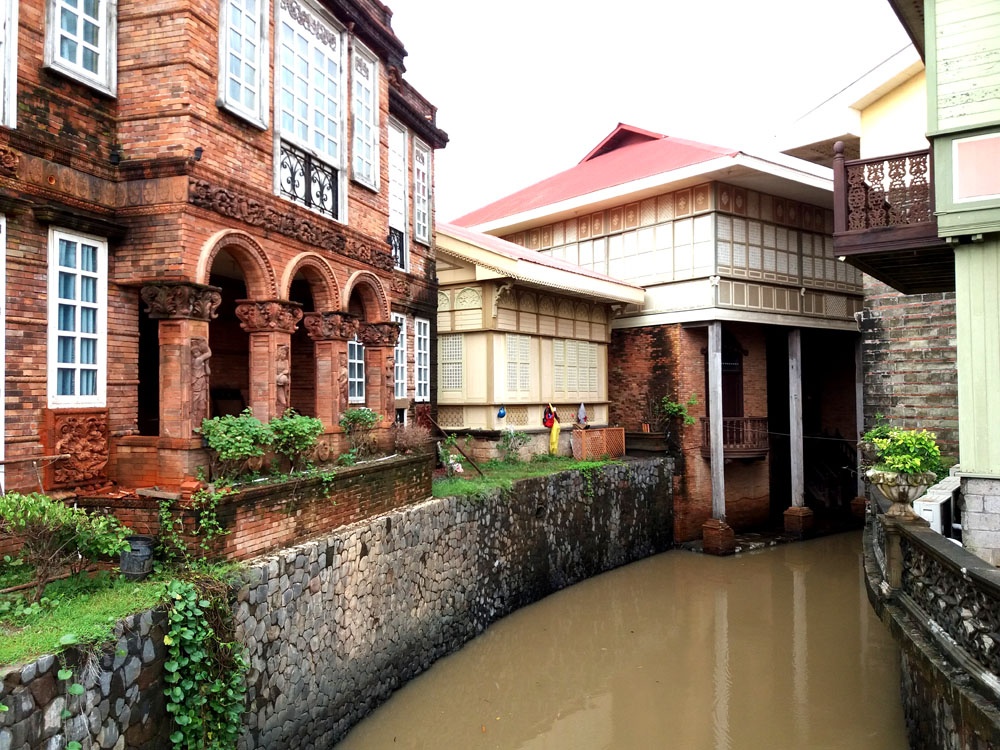 I can't believe I've been to the replica of Binondo first before seeing the real Binondo. Because of this tour, I was inspired to go on a food trip to the actual Binondo immediately after one week.
Phase 3: The Heritage Tour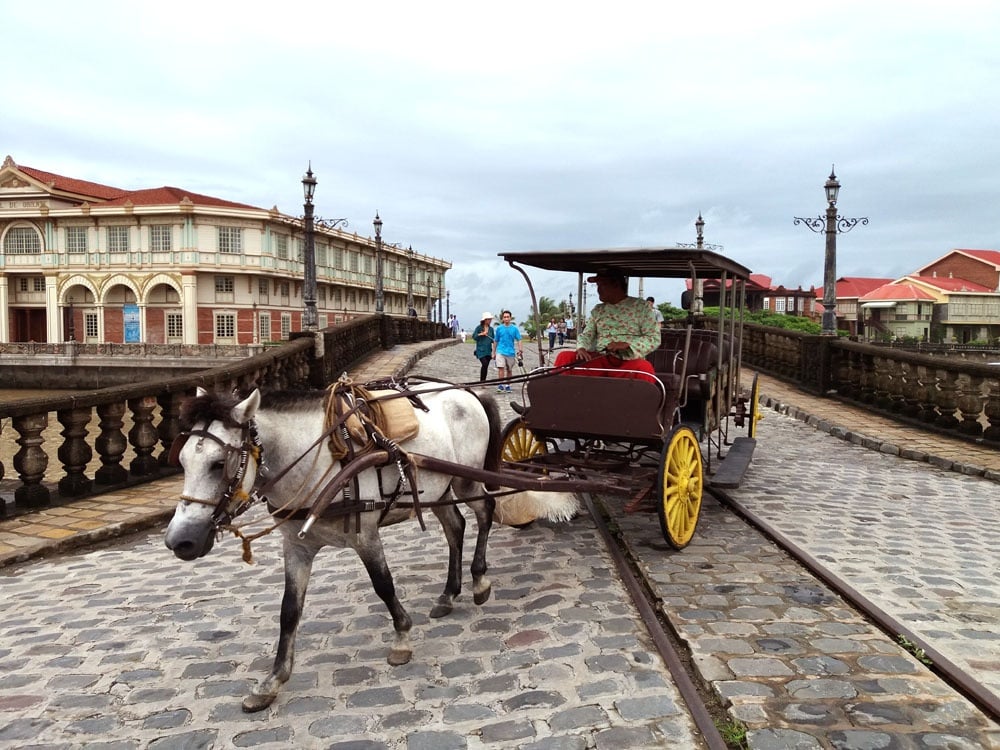 Riding this kalesa is not part of the tour, but you can opt to ride for a fee
If you think you've seen enough from the two phases, wait until you explore the last group of heritage houses and buildings. I highly advise that you complete this last leg of the tour. Sad that only a few managed to finish the third phase — it's probably due to exhaustion and hunger. But we survived! Yay!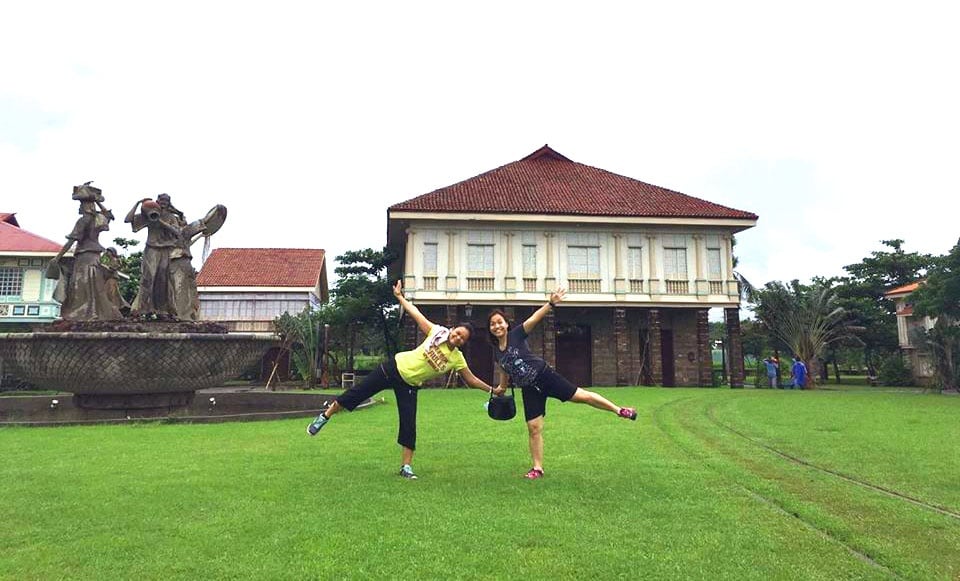 So what can you expect from this phase? This is the grand finale so expect more centuries-old heritage houses and relics with interesting (often heart-wrenching) stories. You'll experience how it feels like being a royalty in the Spanish colonial period, and at the same time, you'll go through the life of a slave. Remember aliping sagigilid and aliping namamahay in your history classes? In this tour, you'll really know the big difference between the two types of Filipino slaves no history book will ever teach you!
Also read: 12 Notable Sites in the Philippines Every History Buff Must Visit
Our day-trip itinerary
| | |
| --- | --- |
| Time | Activity |
| 7.35am | Pick-up point at Astoria Plaza, Pasig City |
| 10.45am | Arrival at Las Casas Filipinas de Acuzar |
| 11.30am | Start of heritage walking tour |
| 1.30pm | End of heritage walking tour |
| 2.00pm | Late lunch at Cafe Marivent |
| 3.00pm | Free at our own leisure |
| 3.45pm | Depart from Las Casas |
| 7.30pm | Back to Manila (we asked the driver to drop us off at Ortigas) |
Cost breakdown (per person)
Express Deal Heritage Day Tour = ₱1,999
Lunch at Cafe Marivent (rice, sinampalokang manok, humba) = ₱313
Others (stop-over snacks) = ₱88
Total cost = ₱2,400
Tip: You can still reduce the total cost if you bring your own snacks or sandwiches instead of eating a full lunch at their restaurant and buying some stop-over food. So it's entirely possible to just spend ₱1,999 for this trip.
More travel tips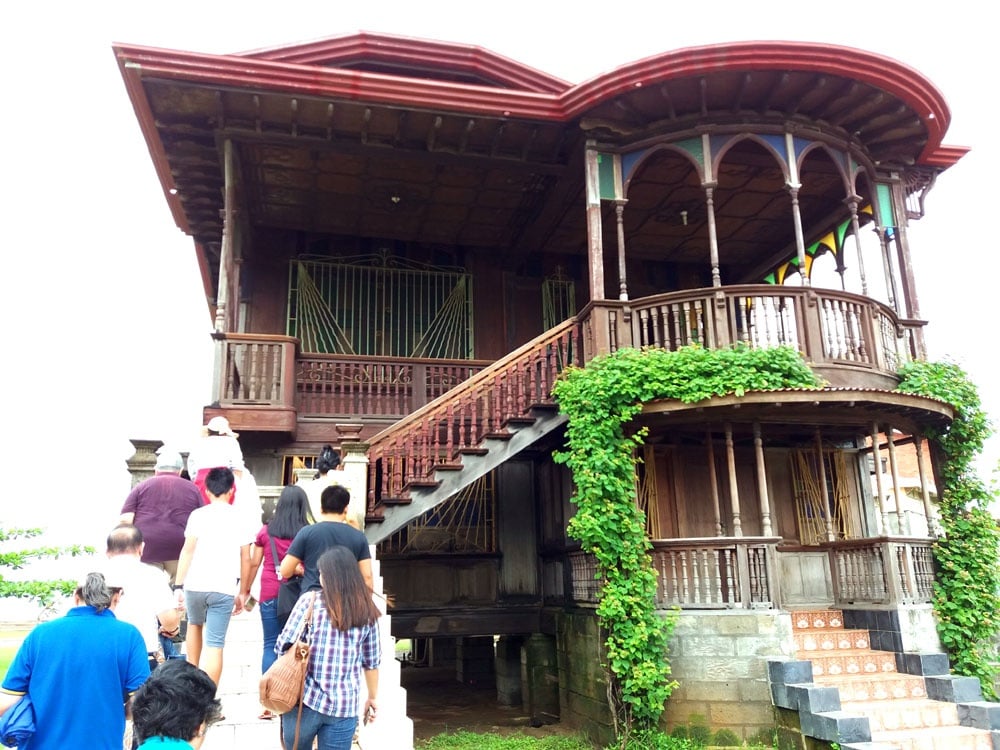 Always check the weather forecast prior to booking.
Wear comfortable clothes. You'll be walking most of the time so expect to sweat a lot.
Wear footwear that can be easily removed as you need to be barefooted when entering the heritage houses.
Bring swimwear in case you'd want to take a dip into their pool or swim at the beach
The resort does not allow you to bring food and drinks from the outside, but you can always put them in your bag and munch on them while travelling.
It's best to reserve your slots beforehand. I sent an enquiry through this email: [email protected]. They are very responsive and quick in giving updates.
Would I recommend this Las Casas day trip to everyone?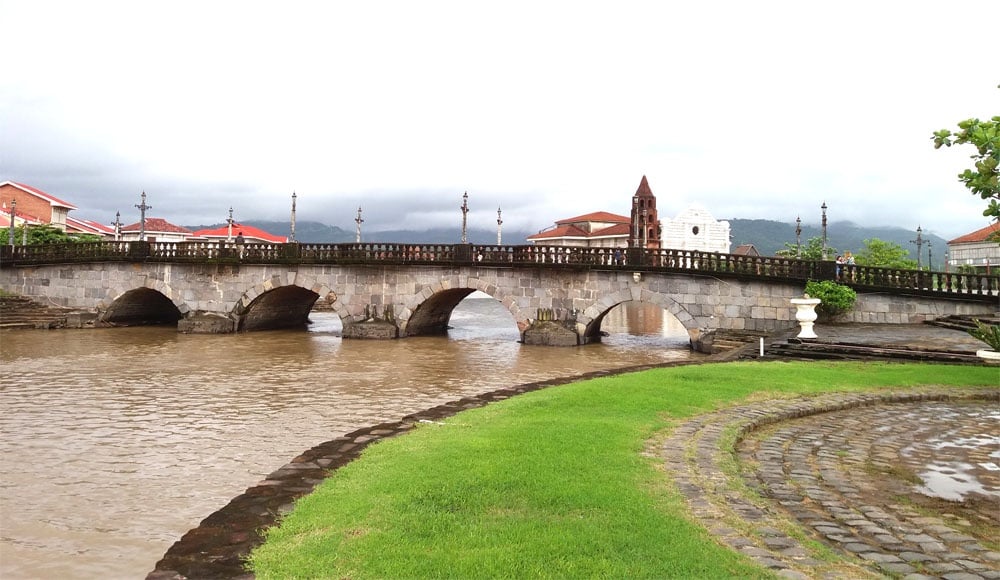 Well, physical fitness must be taken into consideration. I recommend this trip for young ones (and the young at heart) who won't mind the long road trip and almost non-stop walks. Note that you have to climb stairs to enter some of the heritage houses and you'd really have to endure walking for hours. If you think you can't handle the jam-packed itinerary, you might want to consider spending a night or two at the resort so you'd have more time to chill and explore at your own leisure.
How to get there
If you'd prefer to commute, here's how to go there via public transport:
From Cubao, take the Genesis Bus bound to Balanga, Bataan. (Travel time = 2 hours; Fare = ₱200 per person)
When you reach the Bataan Transport Terminal in Balanga, take a jeepney or bus to Bagac proper. Just tell the conductor that you're heading towards Las Casas so you will be dropped off at the corner going to the resort. (Travel time = 45 minutes; Fare = ₱47 per person)
At the corner of Las Casas, simply take the tricycle. (Travel time = 5-10 minutes; Fare = ₱10 per person)
Estimated commuting cost = ₱257 (one-way); ₱514 (round-trip)
Estimated travel time = 3-4 hours
More photos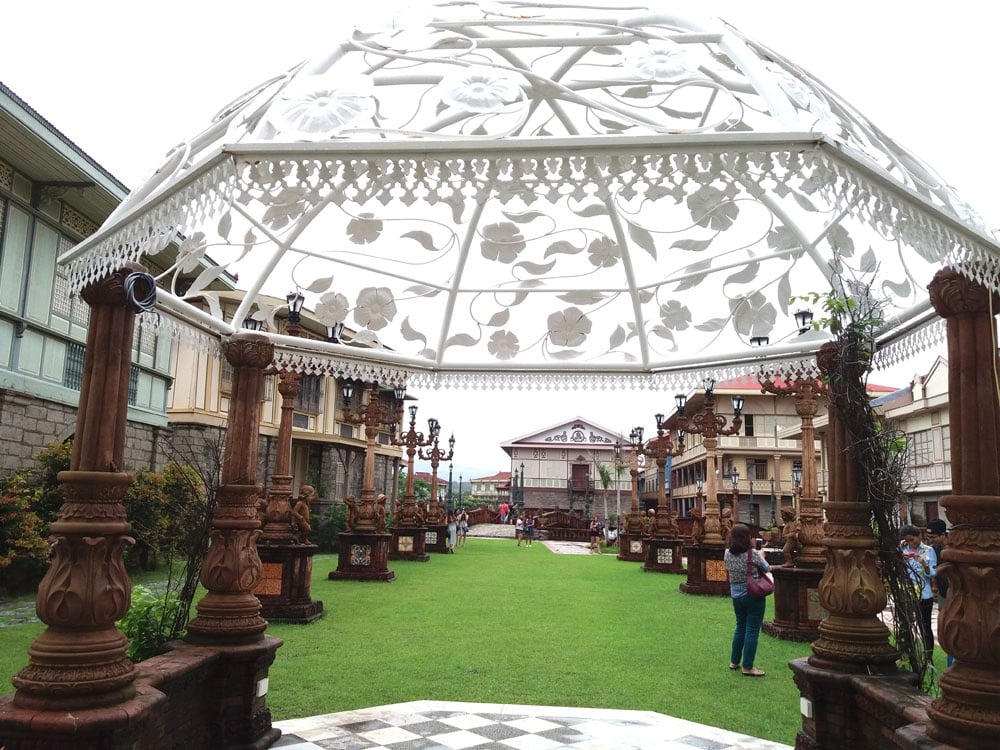 Heritage houses turned luxurious accommodations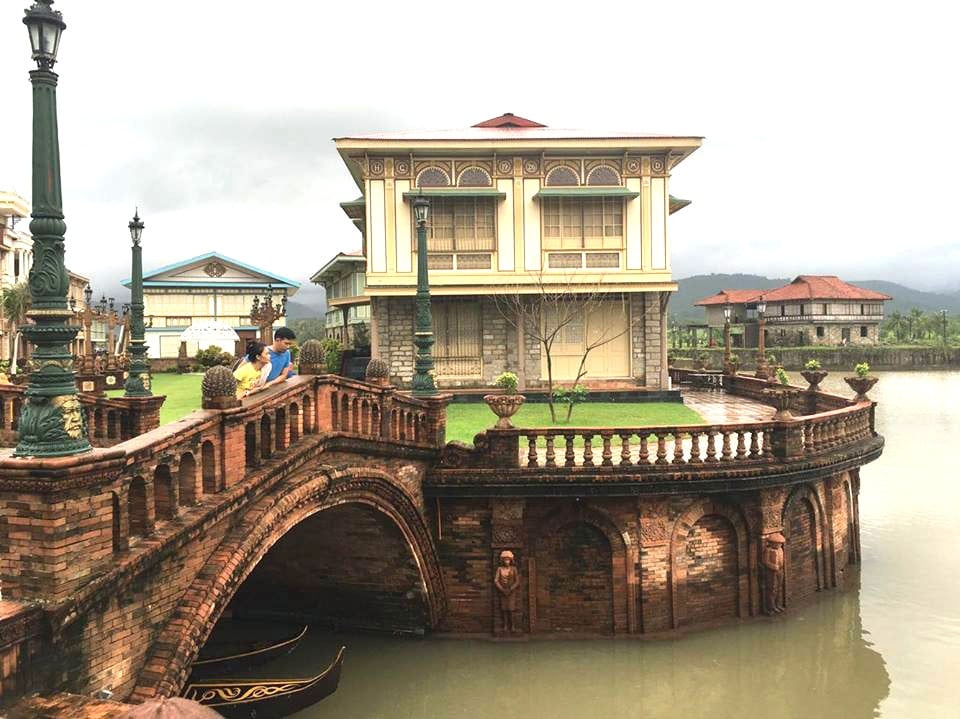 Lovers in Las Casas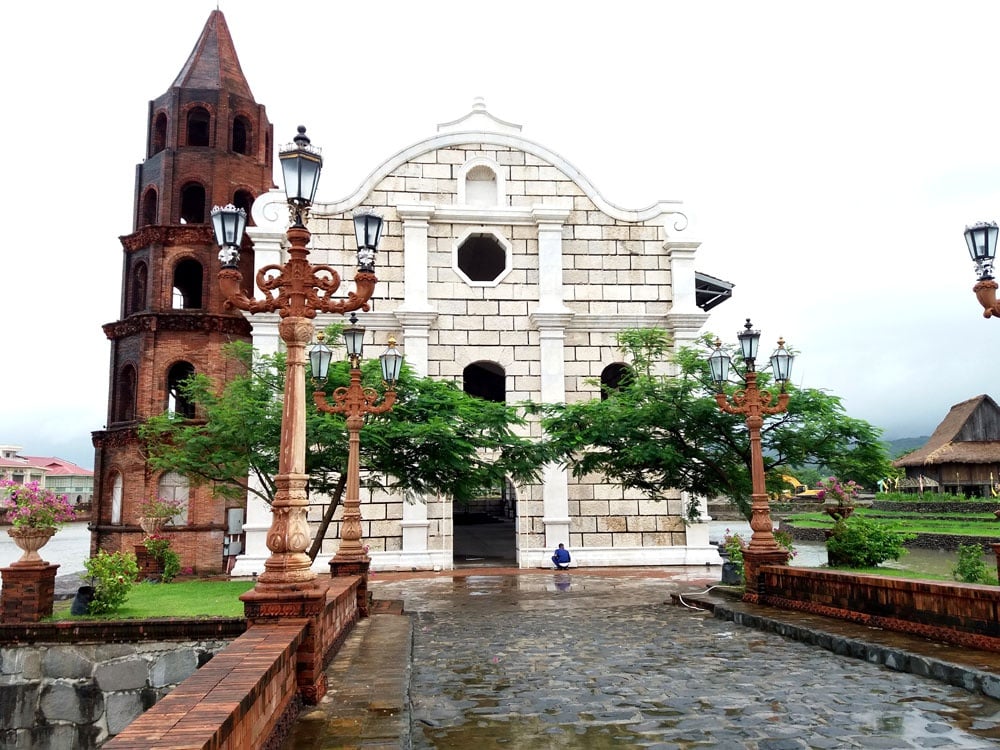 Sanctuario de San Jose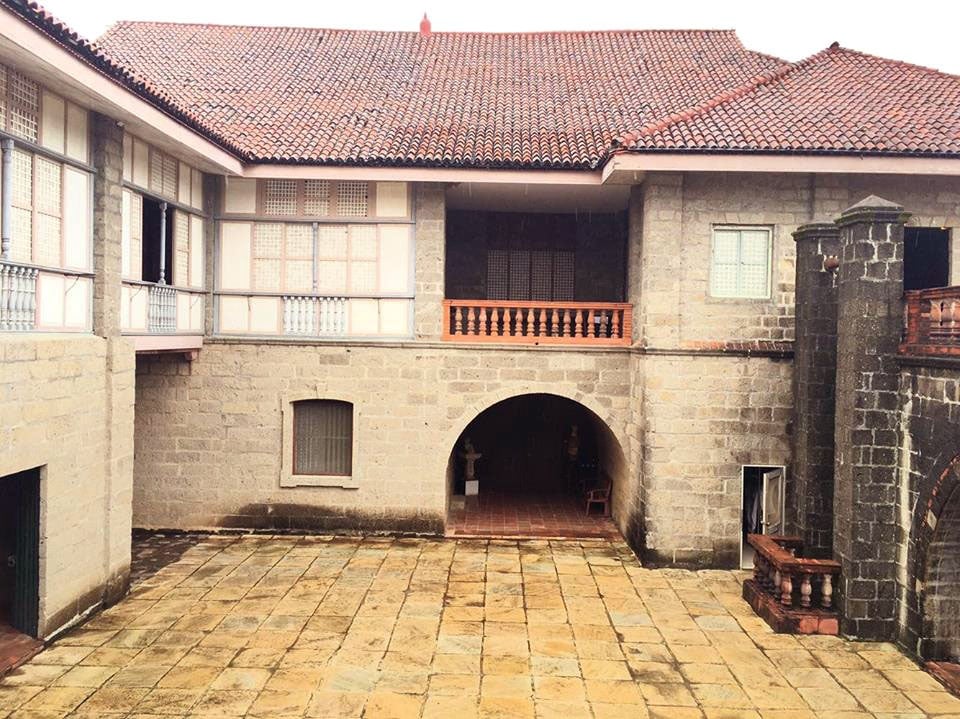 Looks familiar? This is the filming location where Heneral Luna was killed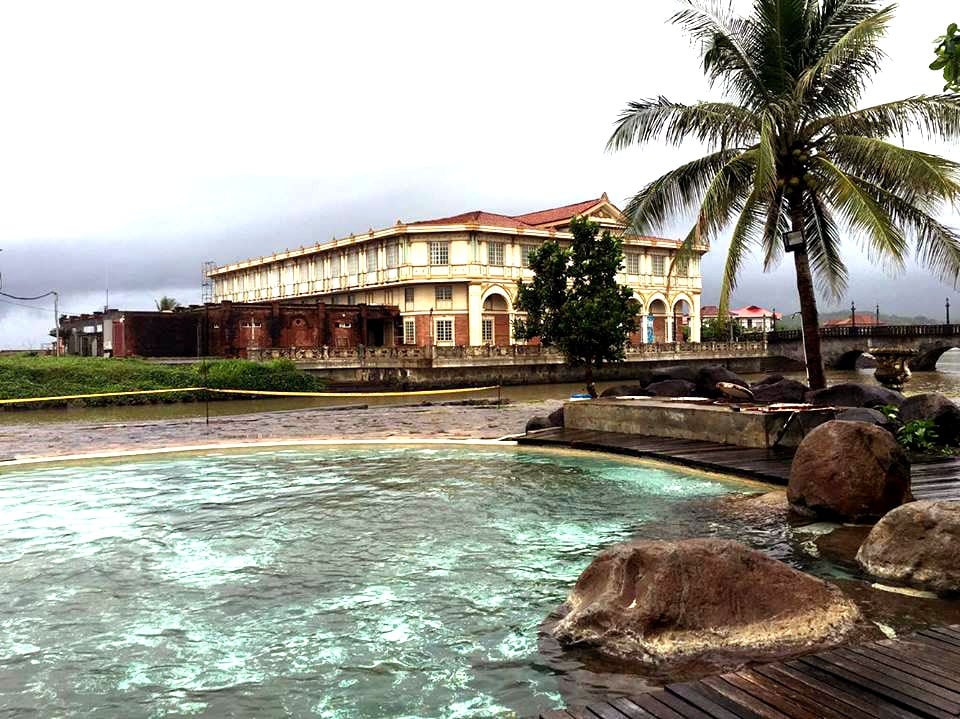 Swimming area with a view of Hotel de Oriente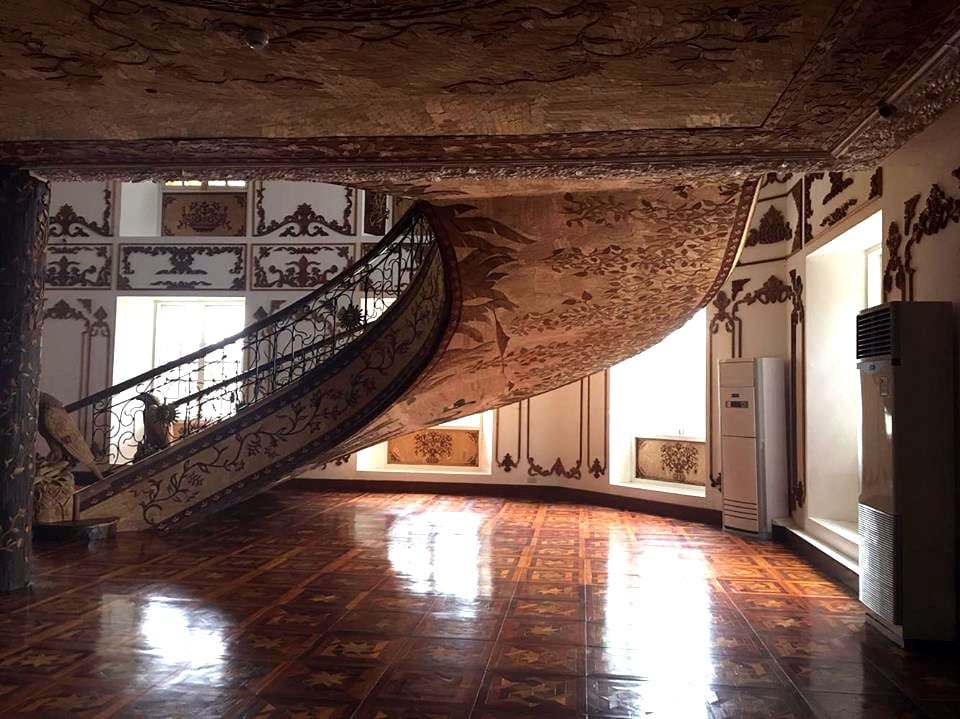 Interior of Hotel de Oriente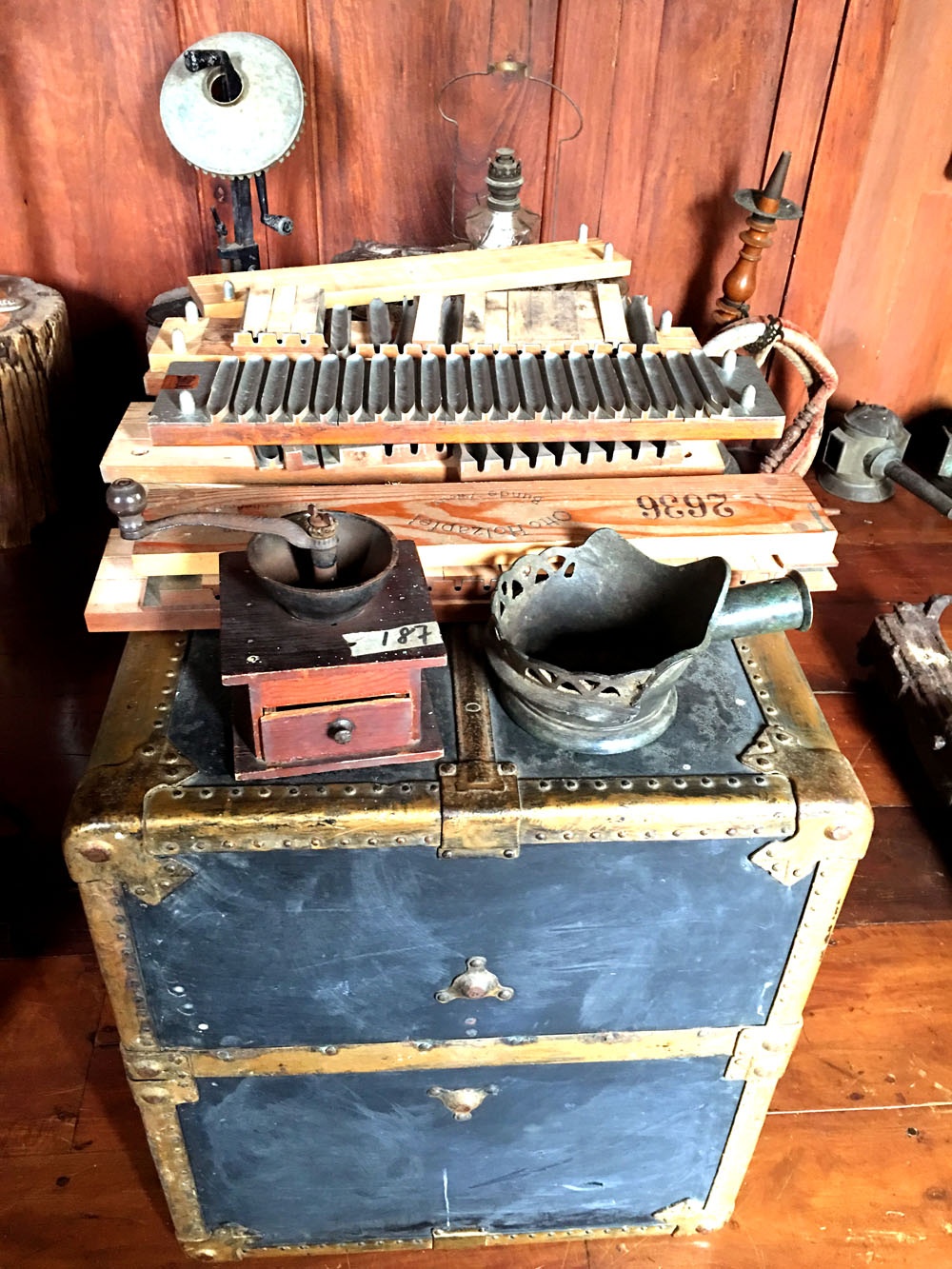 Can you spot the old plantsa (flat iron) used by Filipinos before?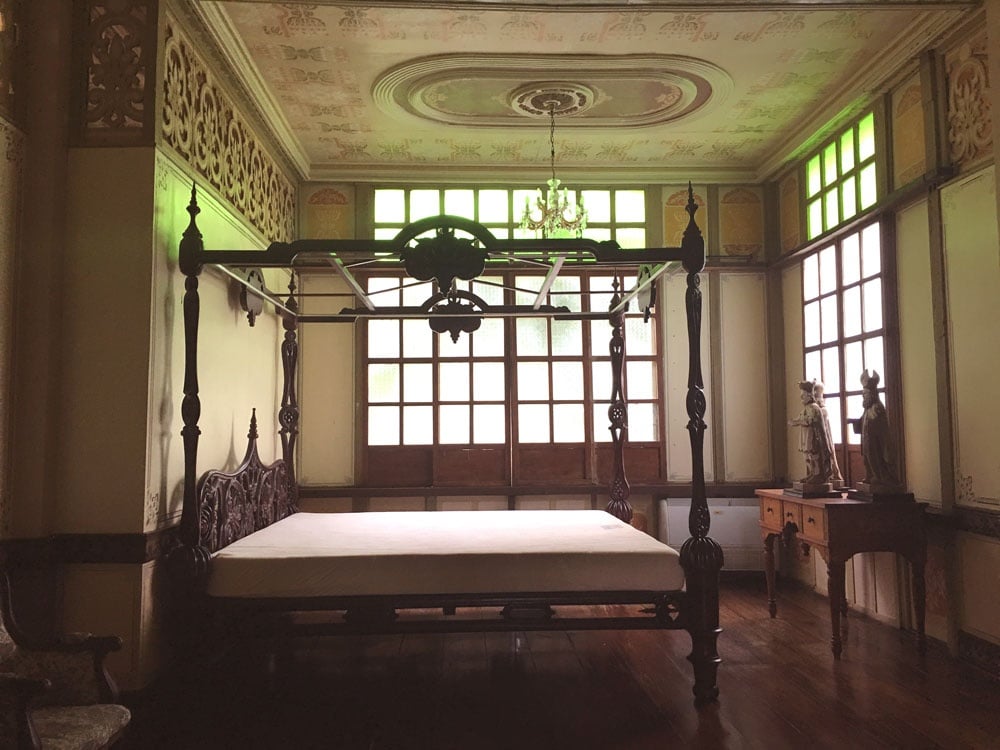 Bedroom in one of the heritage houses. Creepy or classy?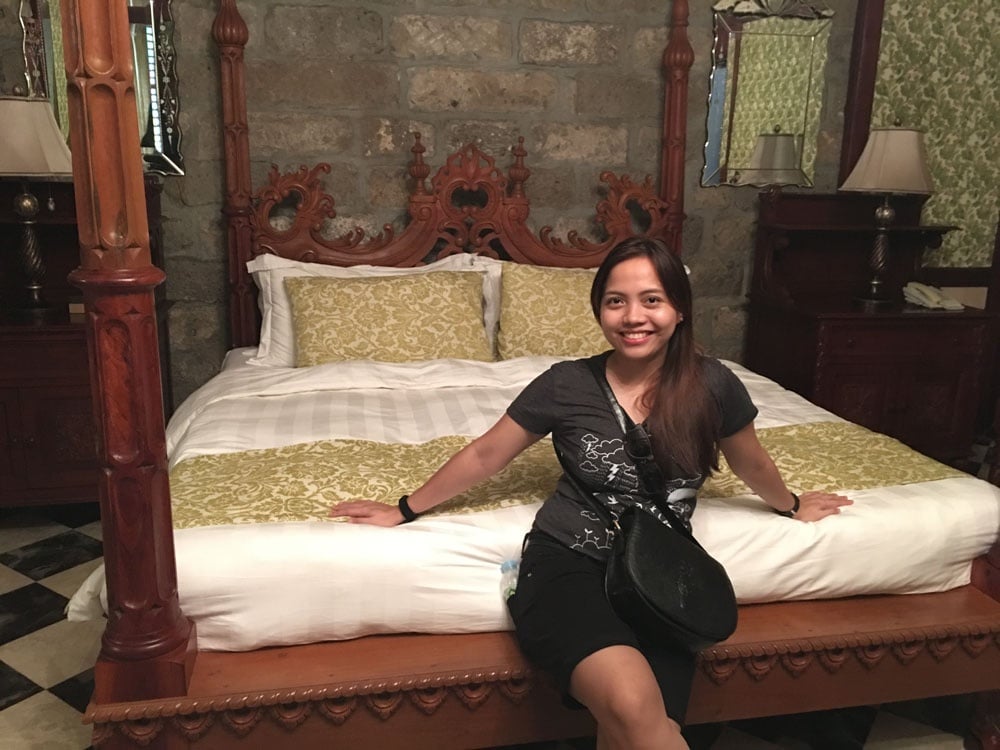 Feeling like royalty inside the most expensive accommodation of all
That's it! Aren't you excited to experience Las Casas Filipinas de Acuzar yourself?