In less than a few days, we will be welcoming a brand new year. With all hopes for a better year, more boxes in the bucket list to be ticked, and more adventures to begin, it would be such a great experience to welcome 2016 with a bang! Just like Christmas, celebrating New Year in the Philippines is one of the most sought after events in the world. There is something about the positivity and a hope for a better year that makes the New Year's celebration such a big deal for Filipinos.
Metro Manila has a lot of places where throngs of people gather for an exciting party as the countdown of the last remaining minutes of the year goes down. You will be in for a treat as you are entertained by spectacular lights, endless parties, and lots of fun.
Also read: 7 Different New Year Celebrations Around the World
Eastwood City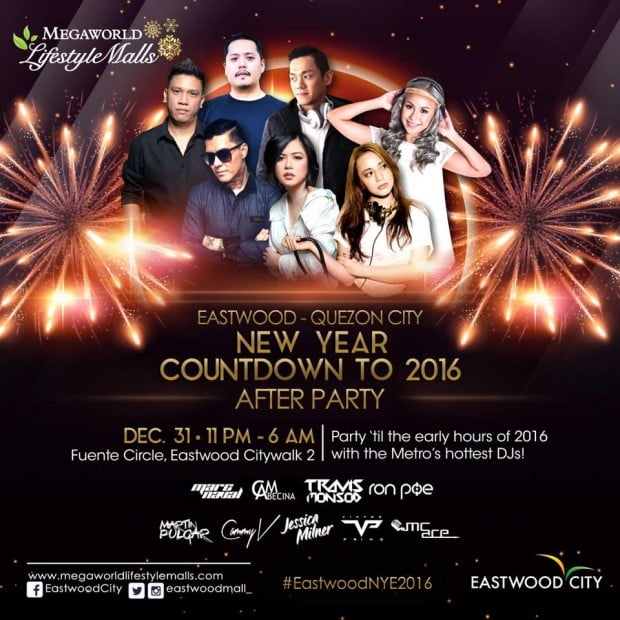 Image credit: Megaworld Lifestyle Malls
If you love watching live shows featuring reputed artists, then this mall is the right one for you. In this mall's auditorium, you could come to see the exclusive performances by famous singers and musicians. Along with this, the place also prepares special fireworks and countdown, shows which will add glamour to your New Year's Eve and make it more memorable for years.
The exhilarating serving for this year is tastefully studded with amazing talents, featuring a great combination of foreign and local acts, such as the international singing sensation Dawin, as well as the grand winner of X Factor Australia, Marlisa Punzalan. Local singers include Christian Bautista, Imago, and Rico Blanco.
One of the highlights for this New Year's countdown is the Dazzling Star Drop, which is the Filipinised-version of the iconic Ball Drop from New York Times Square. Also, thousands of balloons (10,000 to be exact) will take flight by midnight, carrying wishes coming from the participants of the event. So if you are hoping for a wishful 2016, this is something you won't want to miss.
SM Mall of Asia Grounds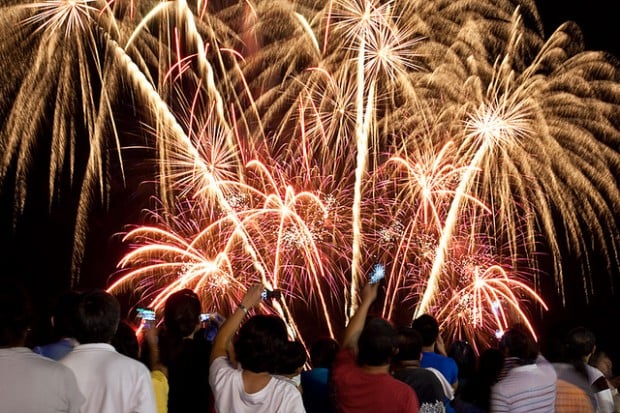 Image credit: Eugene
If you want to welcome the New Year by standing among the stars and celebrities, then this seaside destination is an ideal one for you. This will give you a whole new experience of celebrating the Cinderella hour with a massive sea of people having fun with hours of partying.
Also read: Filipino New Year Superstitions – Do You Still Believe in Them?
Dusit Thani Manila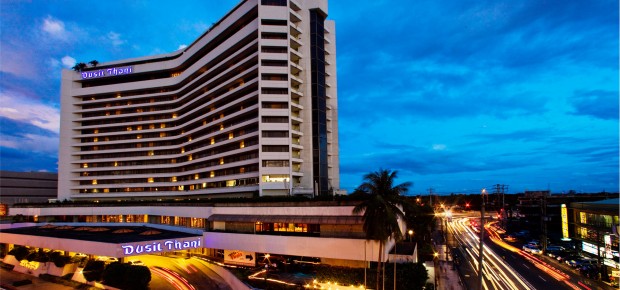 Image credit: Dusit Thani Manila
When it comes to food, visit Dusit Thani, one of the best and most prestigious hotels in Makati, to make your celebration a memorable one. In this time of the year, they offer their guests a crossover dinner with a special countdown party. Here, guests could come and enjoy the delicious international dishes. The party in this hotel usually starts at about 10pm and goes until the wee hours of the morning. The unique and glorious way of celebrating New Year in this hotel and restaurant lobby will add more charm to your New Year celebration. Both kids and adults can join hand in hand to enjoy that special moment of celebration.
Edsa Shangri-La Hotel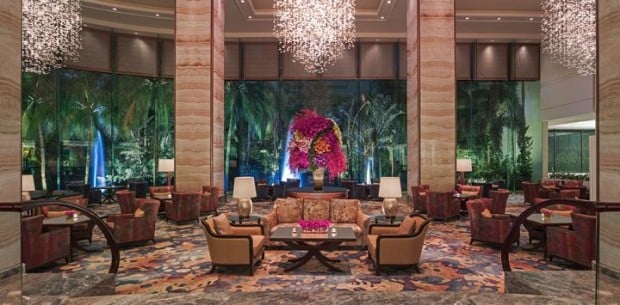 Image credit: Edsa Shangri-La Manila
Edsa Shangri-La Hotel has been creating amazing New Year countdown activities for quite some time now. Exquisite and impeccable, this is ideal for families who would like to start the year right in style.
Also read: 16 Coolest Staycation Ideas in Manila
Makati City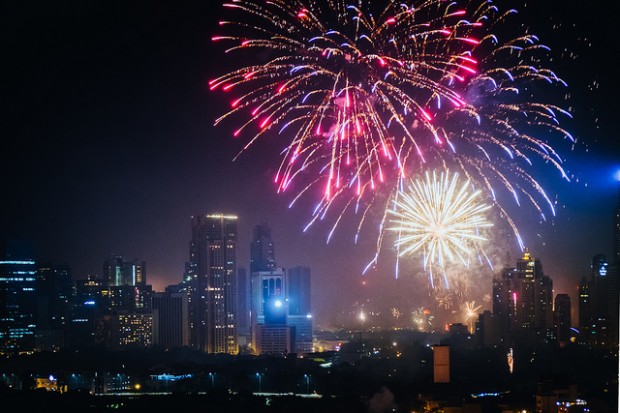 Image credit: Benson Kua
After two years of hiatus as an act of sympathy to typhoon-struck kababayans, the city government of Makati ups the ante once again with this year's New Year Countdown with the theme of "Shout." The event will be held in the track and field oval of University of Makati.
Featuring the hottest local artists of today's era, like The Dawn, Bamboo, and KZ Tandingan, the event will start at 4:00 in the afternoon of December 31, 2015 until 3:00 in the morning of January 1, 2016. The countdown will be divided into two segments: an opening program that will run until 8:00 in the evening and the main program that will run until the final countdown. A spectacular 15-minute fireworks display once the clock strikes 12 will be one of the grandest highlights of this event.
The Philippine Arena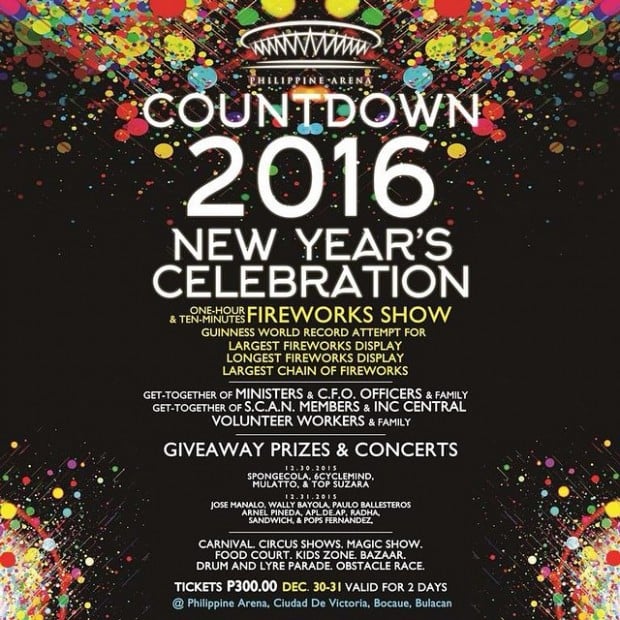 Image credit: arnelpinedarocks.com
One of the most iconic destinations when it comes to New Year celebrations is The Philippine Arena. Starting December 30, a two-day event filled with exciting events and entertainment awaits guests. This year, Apl.de.Ap will set the stage on fire together with Jose Manalo, Wally Bayola, Paolo Ballesteros and many more local artists and bands. The 55,000-seater indoor arena aims to claim several Guinness World Records, including the largest fireworks display in the world and the longest sparkler relay. These are truly memorable events that you don't want to miss!
Also read: Ring In 2016 With These Epic Countdown Parties in Southeast Asia
With only a few days remaining, we face a new year head on with good vibes and sparkling spirits!