If you ask me now where I'd want to be, I'd answer Macao in a heartbeat. I remember the first time I travelled to this small yet dynamic city a few months ago, and everything about it still stays with me till this day. There's the scent of freshly cooked minchi in the morning and the cold winter breeze caressing my skin as I walk along cobblestone streets in my improvised winter outfit. There's also the everyday sightings of magnificent old and new buildings that greeted me from every direction. In this Macao travel guide, I'll show you that it is possible to experience these (and many more Macao attractions) without breaking the bank… because that's exactly how I did it! Filipinos travelling to Macao on a budget, take note.
Do Filipinos need a visa for Macao?
Good news! Filipinos do not need a visa to enter Macao for visits no longer than 30 days. That's more than enough time for you to see all that the city has to offer in terms of food, history or luxury! All you need is your Philippine passport valid for at least six months and possibly, a copy of your round-trip flight tickets and confirmed hotel bookings. Take note, Macao immigration doesn't issue stamps on passports. You will only receive a small piece of paper upon arrival, just like in Hong Kong. Try not to lose it!
Also read: Food, History & Luxury: This is Why Macao Should Be in Filipinos' Bucket Lists
Best time to visit Macao
As always, it depends on what you're looking for, and how much heat or cold you're willing to brave while exploring Macao. But generally speaking, the months of March to May and October to December are ideal for long, leisurely walks around the city as the temperatures are mild and typhoons are unheard of. Also, this is the best time to watch or participate in sensational Macao festivities, like the first-ever Art Macao happening now until October and the Macau Food Festival in November. Since I travelled on wintertime, booking an affordable non-air conditioned room also helped me save a significant amount of money. This is something you might want to consider as well!
How to get to Macao from the Philippines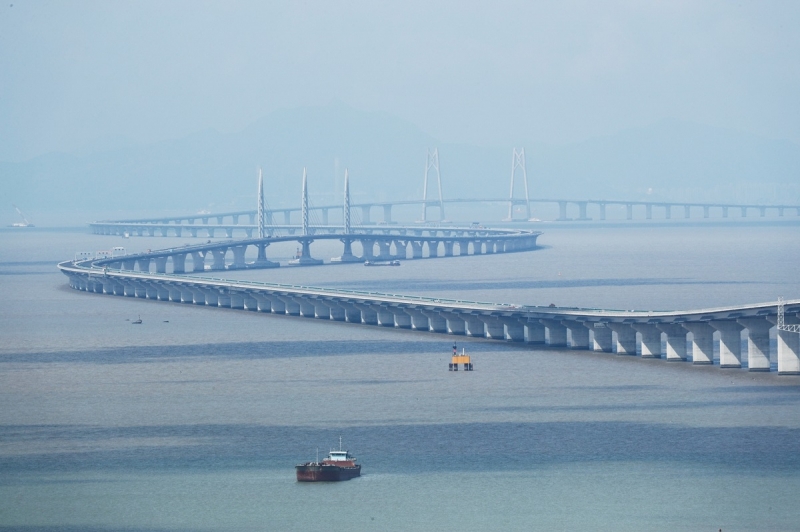 Direct flights to Macao from the Philippines via Manila, Clark or Cebu
Philippine Airlines, Cebu Pacific and AirAsia offer regular direct flights to Macao from the Philippines via Manila, Clark and Cebu at competitive prices. The average regular all-in round-trip fare is around ₱6,000 to ₱12,000, while promotional fares are sometimes offered for as low as ₱3,000 to ₱5,000. The flight takes two hours and 15 minutes and arrives in Macao International Airport (MFM) in Taipa Island, which is about 30 minutes away from Macao's Historic Centre.
Via Hong Kong
Alternatively, you can book flights to Hong Kong from the same airlines. From Hong Kong, you can easily get to Macao by helicopter, ferry or bus. Tip: Despite the short distance, flights to Macao from Hong Kong don't come cheap. For budget travellers like you, the best option would be to take the bus from Hong Kong to Macao via the newly opened Hong Kong-Zhuhai-Macao Bridge, known as the longest sea-crossing in the world! A one-way ride costs HK$65 (₱425) and takes only 40 to 50 minutes. By taking this option, I also managed to watch amazing views of the city and lush islets that I wouldn't have had the chance to see by flying or riding the ferry!
How to get around Macao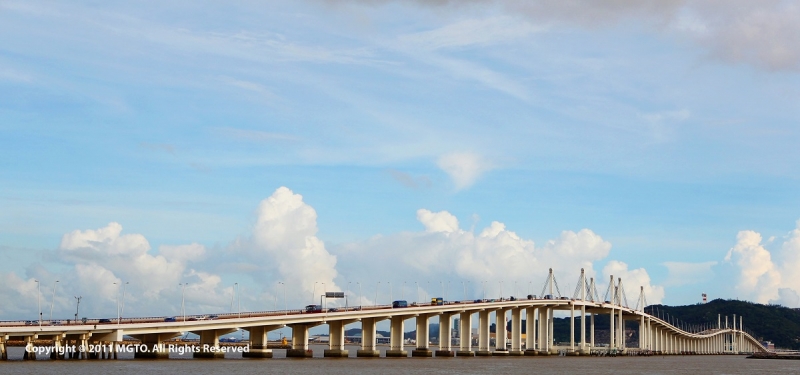 Exploring Macao on foot
Fun fact: Did you know Macao is just a few square kilometres larger than Makati City? With that humble size comes plenty of opportunities to explore the city on a budget. If you enjoy walking as much as I do, then you can easily walk from one place to another in a single district for a couple of days. This doesn't count the potential several stops you'll make along the way.
Macao's public bus, tour bus, and free shuttle bus
Another option is by taking the buses. For this, you have three options: the public bus, the sightseeing tour bus or a free resort shuttle. Riding the regular public bus costs MOP$6 (₱40) per way, and they're quite convenient to hop on and off as there are plenty of bus stops in the city. The sightseeing or open-top bus tour, on the other hand, is ideal for full-day tours around Macao. It departs from the Outer Harbour Ferry Terminal and takes you around various attractions in the city for 50 to 70 minutes.
Meanwhile, the free resort buses operate on a point-to-point basis, usually between ports and the respective resort, or between a couple of resorts. For example, to get to Cotai Strip from the Historic Centre, you can ride the City of Dreams shuttle which picks up passengers outside the Grand Emperor Hotel in the Macao Peninsula. As a (spontaneous) budget traveller, I found this option to be most opportune during my short visit to Macao!
Taxis in Macao
Travelling as a small group? Hire a taxi from anywhere in the city which gives you more flexibility in exploring Macao. A three-kilometre ride will cost you and your companions about MOP$31 (₱200).
Macao travel guide: Top attractions & things to do on a budget
Senado Square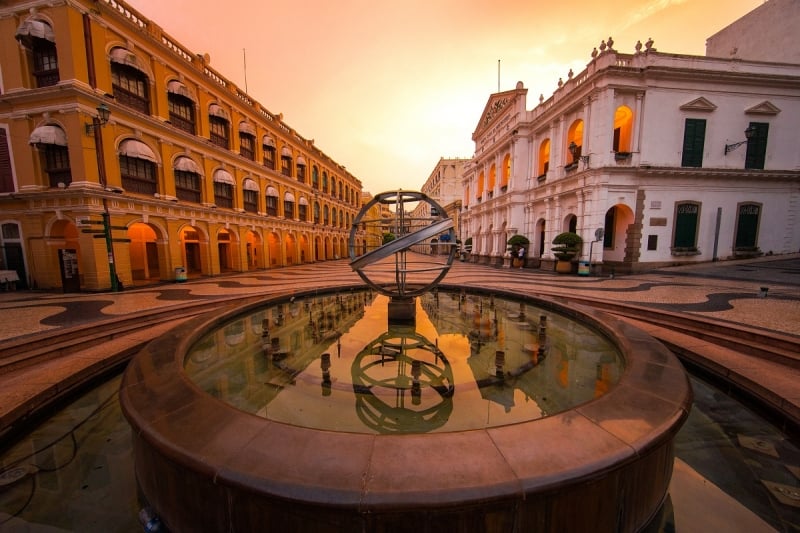 Formerly the seat of Macao government, Senado Square is Macao's main tourist destination. It serves as the heart of the Historic Centre of Macao, which was inscribed on the UNESCO World Heritage List in 2005. Most of the buildings in the 3,700 sqm square are now occupied by bargain and luxury boutique stores.
There are several under-the-radar cafés, free museums and stand-in local markets where you can buy fresh Macao produce as well. I even found a Filipino restaurant in one of the surrounding alleys! If you're visiting Macao for its Instagram-worthy spots, then this square should be at the top of your list. The buildings and alleys are designed in Portuguese style of architecture which make for wonderful backdrops for your photos, day or night.
Ruins of St. Paul's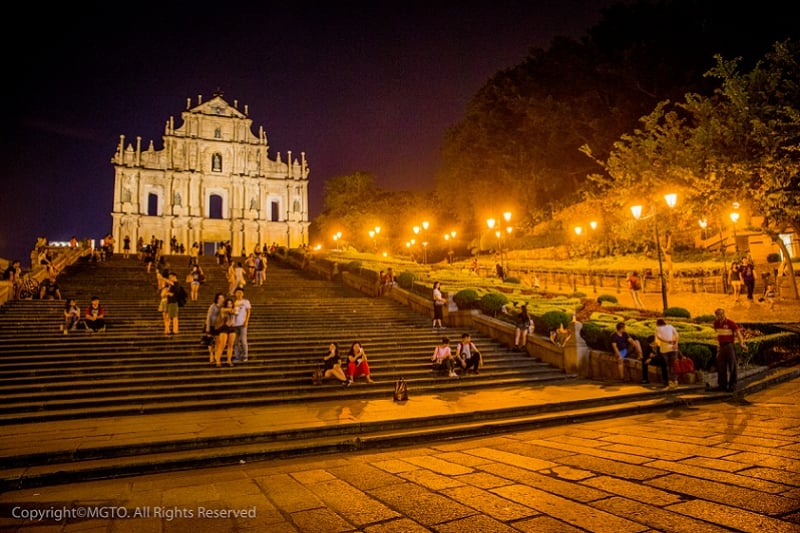 Walking approximately 10 minutes farther up Senado Square, you'll come upon one of Macao's most visited single tourist attractions — the Ruins of St. Paul's. Although the history-filled church facade is the highlight of the compound, there are a few other things to enjoy in the vicinity. Among them are the famed 68-step stairway leading to the ruins and a small park. What I would suggest is to visit the ruins at night if you prefer to avoid the daytime crowd. It's also an opportunity to see the ruins and its vicinity in a whole new light! Trust me on this.
Rua de Felicidades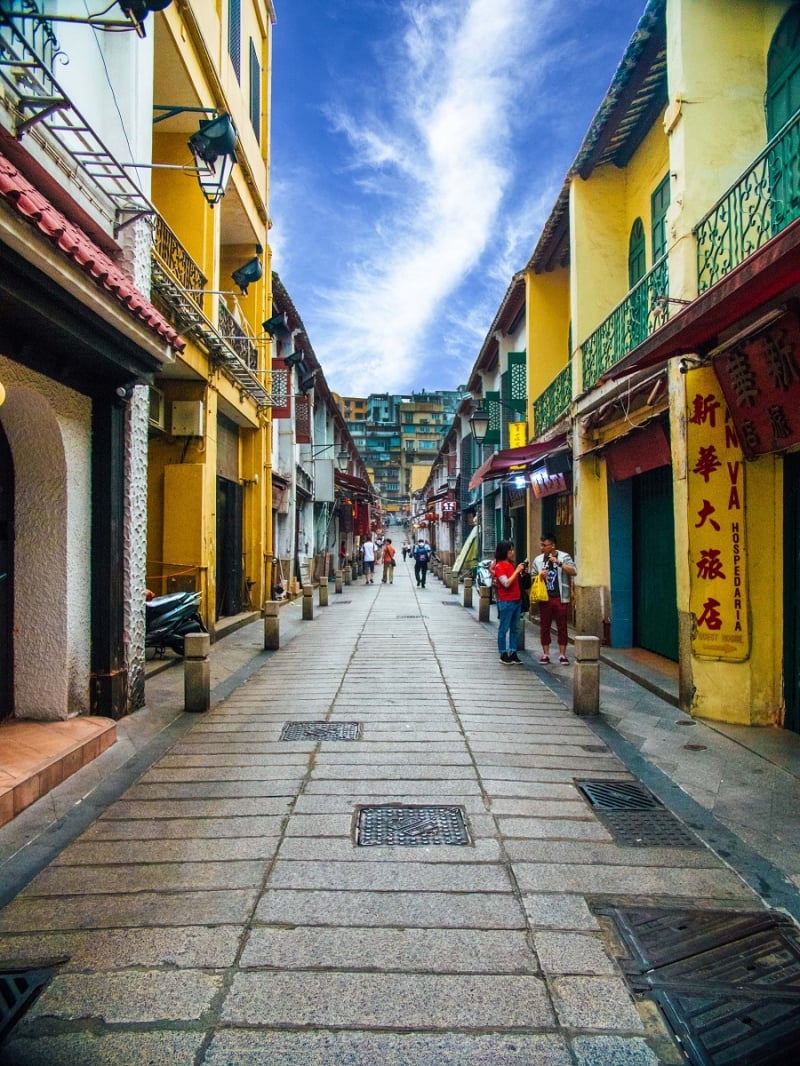 Literally translating to Happiness Street, Rua de Felicidades is one of Macao's most historically significant destinations. You won't find happiness in the form of glamorous shopping nor high-end Vegas-like resorts — but rather, in the form of nostalgic centuries-old buildings and modest local stores. They sell goods from dried fish and fruits to locally made Macanese seasonings. Oh, and it's also home to Macao's oldest and last standing budget guesthouse!
Cotai Strip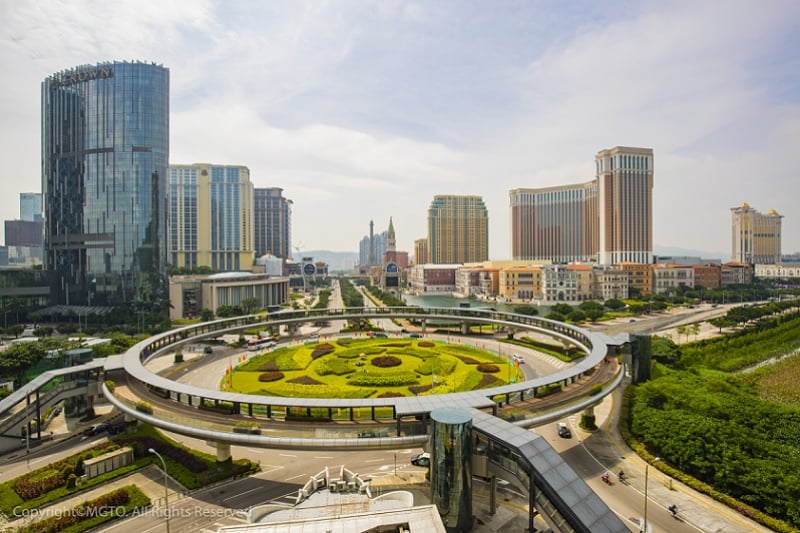 Cotai Strip is famous for its international hotels and resorts. But, you can find many other things to do in this cutting-edge district besides luxury dining and shopping. With your camera handy, you can spend hours photographing hotel and resort facades like The Parisian Macao's Eiffel Tower and The Venetian Macao's waterworks.
There's also an expansive garden next to Sheraton Grand Macao where you can people-watch and have a relaxing picnic of your own all afternoon long. Wrap up your Cotai strip tour by riding the skycab and watching the fountain show at Wynn Palace without charge! The former ended up being the highlight of my Cotai Strip adventure as I didn't have to deal with huge crowds of visitors!
Taipa Village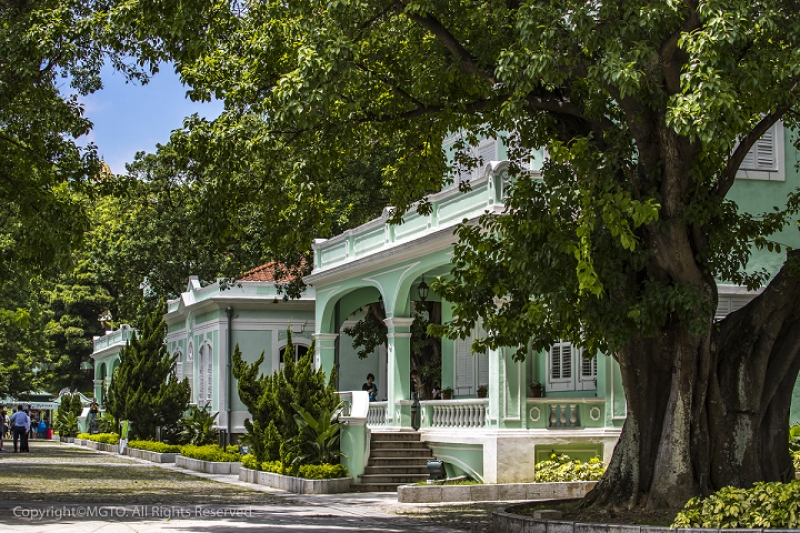 Looking for affordable food and more free museums? Make your way to Taipa Village. It's where you'll find the five famous Taipa houses, which are now open to the public as beautifully painted museums. They're perfect as a filming backdrop on the outside, while there are miniature classrooms to explore on the inside. Experiencing them up close definitely made me feel like I was in Europe. Plus, the laid-back vibe surrounding them encouraged me to step back and just relax for a while. Nearby, you'll come upon the Our Lady of Carmel Church, the Taipa food hub along R. do Cunha and a garden where you can see a panoramic view of Cotai Strip's buildings!
Macao Museum
Located on top of Mount Fortress, Macao Museum gives you a peek into the past and present of this Special Administrative Region in China. It is divided into three areas — the Genesis of Macao on the first floor, Popular Arts and Traditions in Macao on the second floor, and Contemporary Macao on the third floor. A small admission fee of MOP$15 (₱105) is required, except on Tuesdays and every 15th day of each month. As the museum is small, be mindful and respectful of your fellow visitors. Watch out for signs prohibiting you from taking photos, as some areas are still more restricted than others.
Macau Tower Convention and Entertainment Center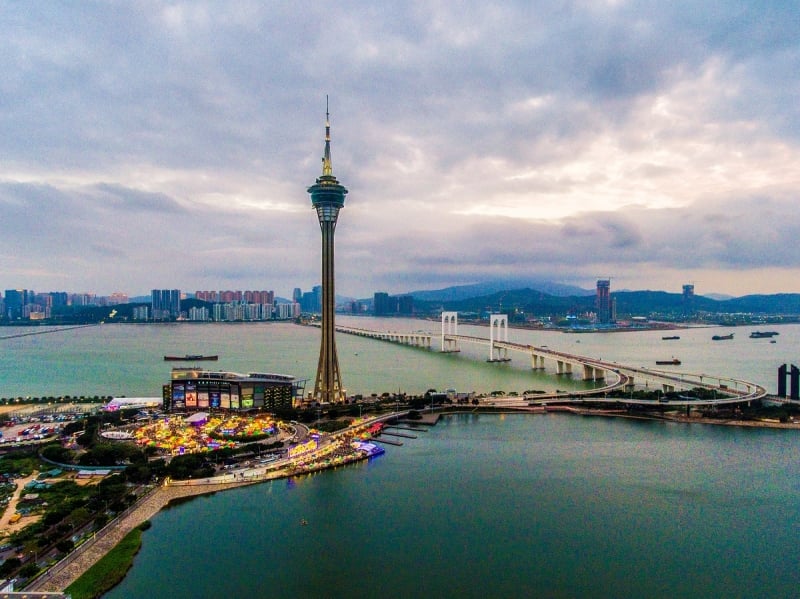 At 338 metres, Macau Tower is the tallest building in Macao. It houses the world's highest commercial bungee jump, the AJ Hackett Macau Tower Bungy Jump, and Macao's world-famous revolving restaurant, Macau Tower 360° Café! Both attractions have entrance fees. But, this doesn't mean you can't pay this world-renowned attraction in Macao a visit on a budget. Do what I did and enter the building to admire the harbour scenery from below while cheering on other tourists performing the adrenaline-pumping jump. This came at no cost!
A-Ma Temple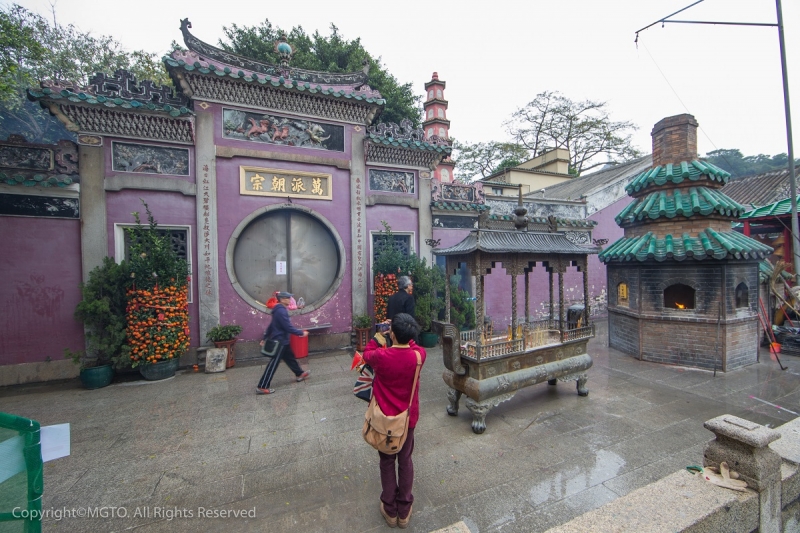 Built over 500 years ago, A-Ma Temple is the oldest temple in Macao. In fact, it is believed to have inspired the name of the city itself! With six different areas, you can conveniently explore the temple as part of a quick sightseeing tour of Macao or a more in-depth, extended visit to understand its impressive history. Watch locals worship the statue of Mazu, the sacred goddess of the sea for which the temple was dedicated. Or, admire the temple's intricate architectural designs including the stone lions guarding the different parts of the complex. Like in most temples, observe proper dress code and refrain from making too much noise as a courtesy to the worshippers.
Macao travel guide: What to eat in Macao on a budget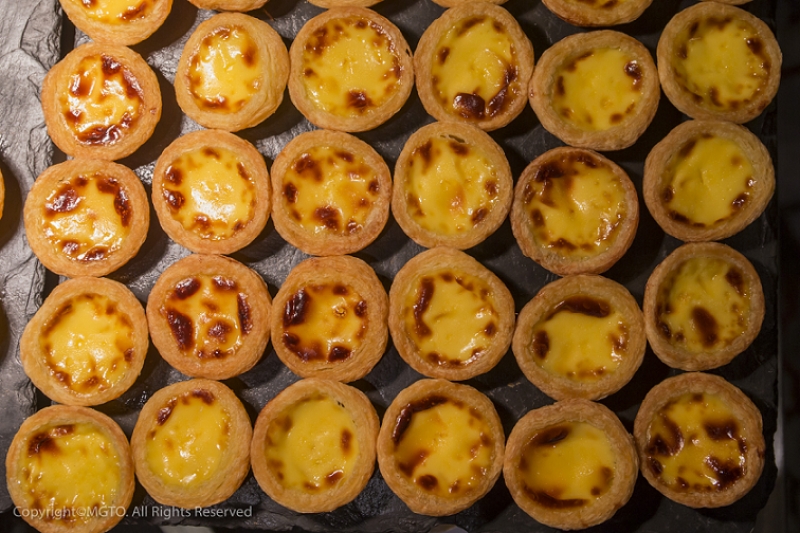 Looking for some of the best eats in East Asia? Macao is one place you wouldn't want to miss. It was, after all, designated as a UNESCO Creative City of Gastronomy along with several other cities across the world! What's more, you don't need to spend a fortune to taste its Chinese and Portuguese-inspired flavours.
First up on the list of what to eat in Macao? The iconic Macanese egg tarts, a delicious masterpiece of pastry, filled with smooth and creamy egg custard, and finished with a caramel topping. You can find them everywhere in Macao for an average price of MOP$10 (₱60) per piece.
For something a bit more filling, spare about MOP$30 (₱190) for a pork chop bun, which works great as a takeaway food as you discover Macao based on my experience. Some of the best pork chop bun in Macao are sold in most of the local cafes. Fun fact: I meant to eat one as a mere snack but I ended up getting full sooner than I expected. I managed to skip spending on another dish for lunch!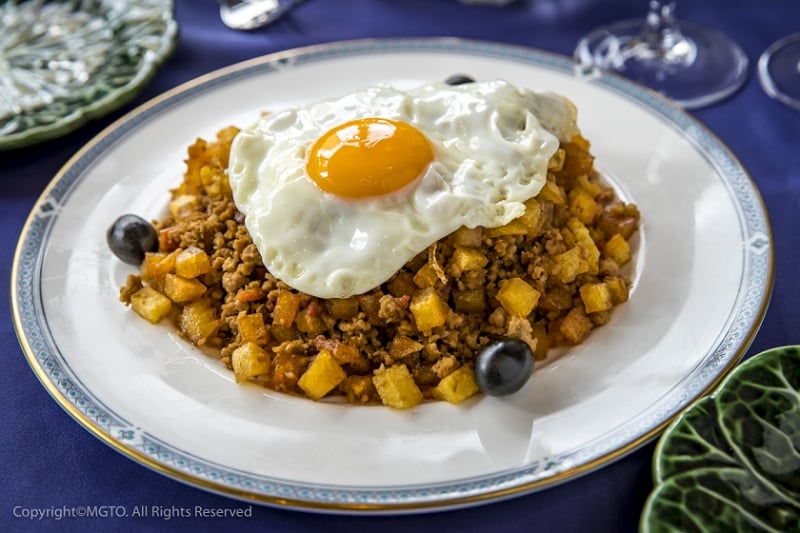 Then, there's minchi. Like our adobo, this staple Macanese rice bowl dish can be enjoyed in a variety of forms — beef, pork, fish, chicken, shrimp or vegetables. Topped with egg, minchi is, of course, best eaten warm and is perfect for starting (or wrapping up) your day in Macao. You can easily find it in many local restaurants!
For more amazing budget food in Macao, try the steamed milk pudding, the many types of meat jerky, almond cookies and dim sum. You'll find most of these and many other must-try dishes in Macao in the city's streets, sometimes for free (sample taste only)!
Macao travel guide: Where to stay in Macao on a budget
Macao may be renowned for its resorts, but budget hotels and guesthouses can also be found in the city, particularly in the Macao Peninsula. A single room in the most budget-friendly hotel I found costs MOP$220 (₱1,400) without air-conditioning and a private bathroom. What it lacks in luxurious amenities, it makes up in its story as the longest standing Macao guesthouse. Also, it's just three minutes away from Senado Square on foot! This made it easier for me to tour the rest of Macao's Historic Centre more than once.
Search through third party sites and you'll also discover top-rated budget hotels in Macao. Prices start from approximately ₱3,000 for one night. Aside from being affordable, these Macao hotels are also conveniently located near the Historic Centre of Macao. To find more options for your accommodation in the city, visit the Macao Tourism Industry Net website!
Macao travel guide: Sample 3-day Macao itinerary & estimated costs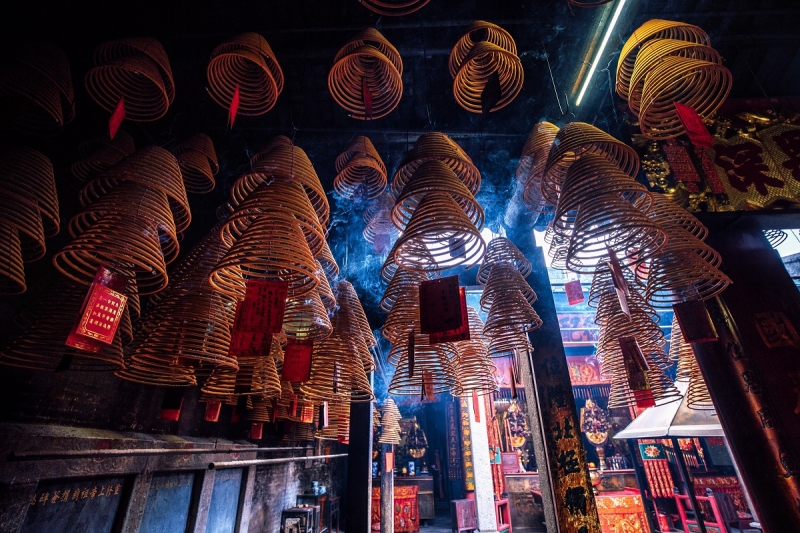 First time in Macao? Start with the basics so you can easily explore Macao while sticking to a reasonable budget. Here's a sample 3-day Macao itinerary or daily list of destinations which I personally prepared to help you get you started on your budget Macao trip.
Day 1: Historical places
Rua de Felicidades
Senado Square
Ruins of St. Paul's
St. Dominic Church
A-Ma Temple
Day 2: Arts and museums
Macao Museum
Mount Fortress
Macao Museum of Art
Maritime Museum
Mandarin's House
Taipa Museum
(Bonus) Art Macao
Day 3: Hotels and resorts
City of Dreams Macau
The Venetian Macao
The Parisian Macao
Studio City
Wynn Palace
Ready to conquer Macao with our Macao travel guide? Follow this 3-day Macao itinerary and expect to spend around ₱10,000 per person. This should be enough to cover your daily accommodation, food, and a bit of shopping! For an even more budget-friendly Macao trip, book your flights to Macao (or flights to Hong Kong, if you're taking that route) at least one month ahead. You can also regularly check online flight search engines and social media forums (e.g. Flight Deals – Philippines) for random and often non-advertised flight deals.
Macao travel guide: Budget travel tips for Filipinos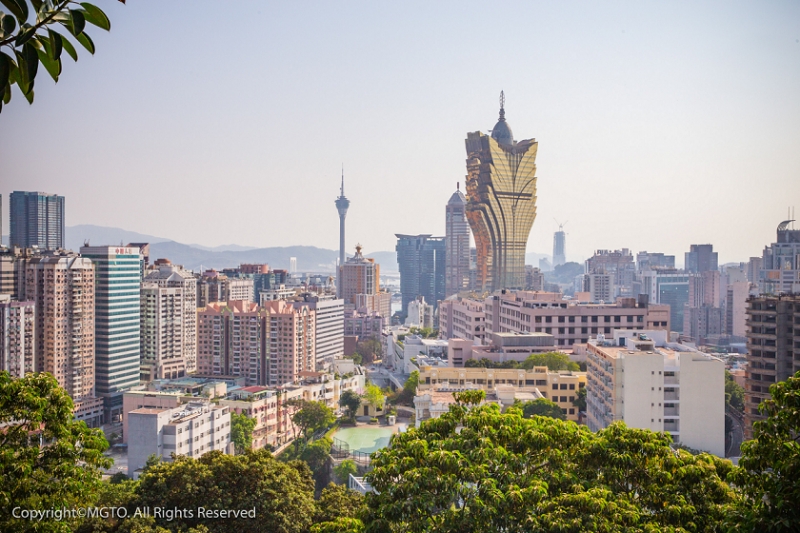 Before lining up to ride free resort shuttles in Macao, be sure to ask if a pass is required first as some properties ask their passengers to have one to qualify for boarding.
MOP$1 is equivalent to HK$1, so using Hong Kong dollars to pay for goods, accommodations and transportation in Macao is usually accepted.
Macao's attractions can get pretty crowded in the day as the city is also a popular day-trip destination among Hong Kong residents. For Senado Square and the Ruins of St. Paul's, consider dropping by at night instead as I mentioned earlier in this Macao travel guide.
For budget shopping in Macao, the best place is around Senado Square where many stalls, big and small, remain open until late in the night.
There are plenty of Filipinos in Macao, so don't be shy to approach a kababayan if you need any kind of help while exploring the city, particularly with directions.
Also read: Travelling to Macau: My Thoughts After a 3-Day Visit
Big things, they say, come in small packages. This couldn't be truer for Macao! Whether you plan to stay for two nights or a full week, this Macao travel guide will definitely come in handy. Book your flight to Macao and let this magnetic East Asian destination sweep you off your feet… even without charging you a hefty amount of money!
For more information on Macao tourism, or to check out the latest happenings in Macao, visit Macao Government Tourism Office's official website!
---
Brought to you by Macao Government Tourism Office.