Contributed by The Travel Guy Shops
Also known as "My Month of Michelin" as featured in Tokyo-based Metropolis Magazine.
You might not know it but Tokyo has the highest concentration of Michelin stars than any other city in the world, outnumbering even Paris, where the Michelin guide originally started (by the brothers who were behind the tire company of the same name). I found it ironic that after having lived in Tokyo for over a year, not once have I dined at any of its starred restaurants. So I decided to challenge myself.
Also read: Travel Cheat Sheet: A Wallet-Friendly Guide to Hong Kong's Michelin Star Restaurants For Different Foodies
Since there were too many options (over 500 in total), I narrowed down my choices 1) to those in Shibuya near where I work and live, and further 2) based on price (for lunch) and 3) variety of cuisine. Residents of Japan would know that most restaurants have a cheaper lunch menu compared to dinner, where "lunch sets" that include a main dish and any or all of a salad, soup and sometimes even dessert and a drink, average at an affordable ¥1,000.
Bib Gourmand
I decided to start off with a Bib Gourmand, which refers to quality food for great value (meaning good, cheap restaurants) and work all the way up to three Michelin stars, the highest tier of recognition. I picked Pappon Kitchen, a Thai restaurant conveniently located near Shibuya on the second floor of a small, nondescript building. The same building houses a number of other small restaurants, including a popular
katsudon place on the first floor. The cosy little eatery with a bar-type setting seats about only eight diners and is run by a Thai chef and his female server.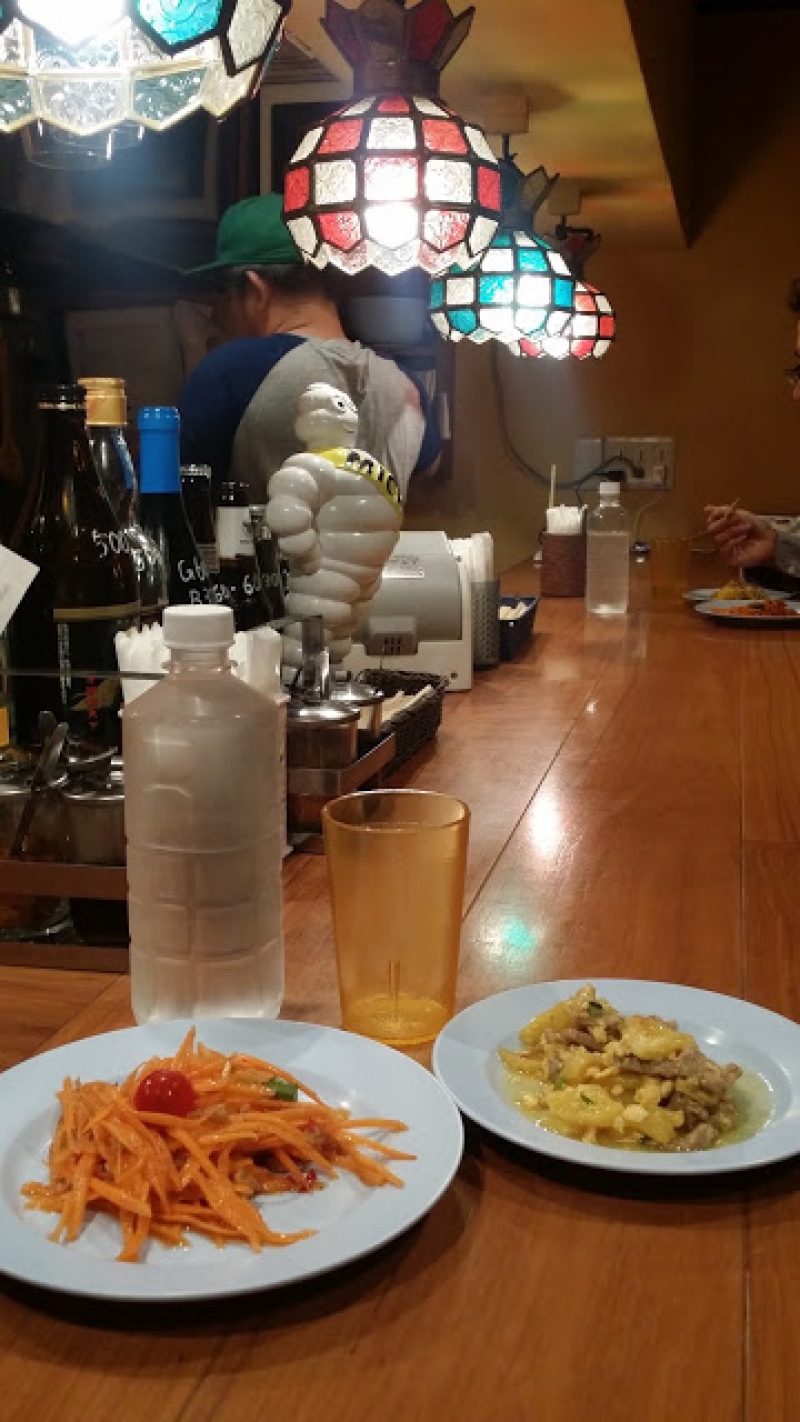 Price: ¥1,000 (only, for so much food!)
I loved the very Thai vinegar flavour of the fresh, crisp shredded carrot somtam salad the meal started off with, followed by a sweet pork dish topped with scrambled egg and an appetizer of dried, ground beef with potato. For the main course, they served fishball rice noodle soup which made me fondly remember the street food stalls of Bangkok. Like many Japanese restaurants, here you can also add ¥100 to upsize your serving of noodles (or rice).
Will I go there again? I would love to try their Pad Thai which I'm certain is also authentic.
One Star
The next on my list is the one-Michelin star Chinese restaurant, Masa's Kitchen in Ebisu that specialises in xiao long bao. In stark contrast to the restaurant earlier, this establishment is run by over a dozen staff, has a modern interior and is well-lit. Unlike most "Chinese" restaurants in Japan though (called chuka ryori) which serve food that still tastes like Japanese cuisine, this one served generally authentic Chinese food. But like most restaurants in Japan, single customers are always directed to the bar seats and I couldn't be happier this time since I got to see all the apprentice chefs hard at work, supervised by the Chef de Cuisine.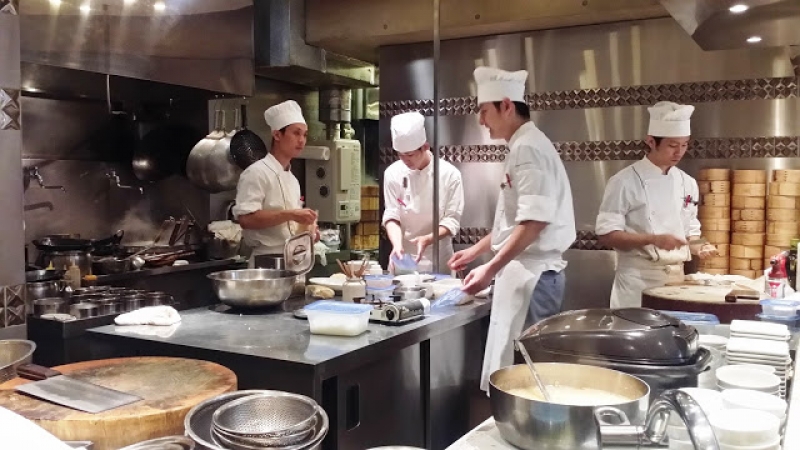 The lunch set started off with two appetisers: pork with ginger and vegetable (crisp daikon with mayonnaise and thinly-sliced mushroom flavoured with chilli oil). This was followed by a traditional thick egg drop soup, rice, shrimp shumai (steamed) and chicken karaage (fried), which was unique because the batter used was similar to fish and chips, although it still felt out of place in a supposedly authentic Chinese restaurant. Lastly, the main dish was an overwhelming serving of dandan noodles which I found extremely ordinary and not exactly the best way to finish a meal.
Price: ¥1,850
Will I go there again? No, unless they have a reasonably-priced dim sum buffet.
Two Stars
Picking one of the many Michelin restaurants in Tokyo of the most starred chef in the whole world Joël Robuchon could be intimidating, but I was pleased to see that La Table de Joël Robuchon in Ebisu offered several menu options on their website.
Trivia: Chef Gordon Ramsey once trained under Robuchon who is also known for his temper as a result of his standards for perfection.
I was personally escorted into the dining area that has an elegant purple motif. I chose Menu C, comprised of one starter, one main dish and one dessert with coffee or tea. Some dishes such as the duck liver or scallop have a surcharge, and it was possible to order three of the starters or desserts also for an additional fee.
Also read: 10 Alternative Eats to Try in Japan for the Curious Foodie
The meal started off with the famous bread that's proudly baked fresh every day in their kitchen. My starter was the chilled crabmeat avocado salad and the plating all the way to the temperature it was served in was flawless. Then I had the roasted guinea fowl served with natural gravy, herb salad and creamy whipped potato. The poultry was roasted to absolute perfection. The meat was most tender and the crispness of the skin was beyond compare.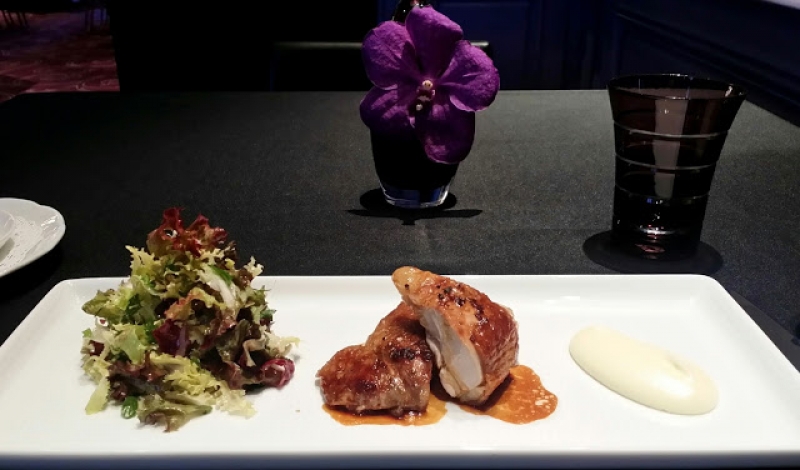 The experience ended in a climactic finish with the dessert. It had apricot and pistachio mousse, apricot sherbet, meringue flakes with crushed pistachio and it was the ultimate dessert. All the elements complemented each other so well that it's as if harmony was the sole aim when the idea of this dessert was conceived. The apricots had the perfect tart taste and time stood still as I savoured every second in consuming this dessert.
Price: Menu C costs ¥4,620 (including the 10% service charge)
Will I go there again? Definitely. I consider it the best meal I've ever had in my life. It was worth every penny, and I honestly felt it was an honour to have had the chance to partake in this meal.
Three Stars
Because the three-star Japanese restaurant I set my sights on was fully-booked until the next two months, and so was my second choice, once again I had to rely on Joël Robuchon. This time, it was at his eponymous and only three-star restaurant in Tokyo also found in the same chateau of his in Ebisu.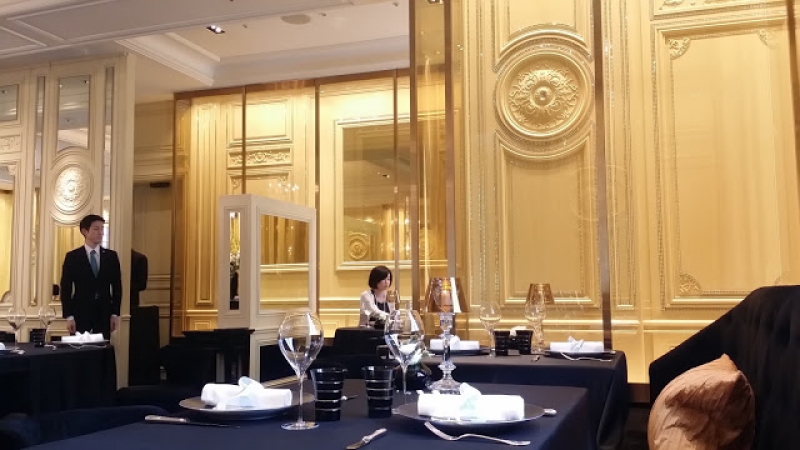 I picked the cheapest item, Menu D, which is at ¥10,000 plus 12% service charge and served only during lunch time (and to think it could potentially be four times as expensive for dinner!) This consisted of a caviar appetiser, one main course and a choice of either access to the cheese trolley or the dessert trolley (I chose the latter.) Access to the bread trolley and coffee or tea served with petit fours confectionery is included for all menus.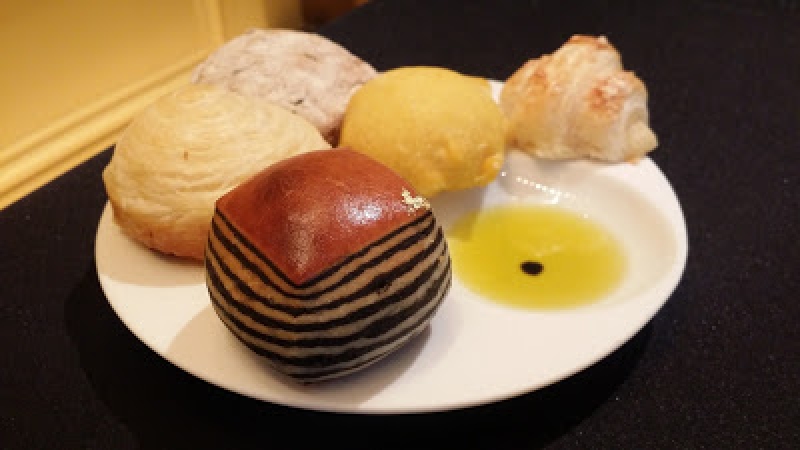 You can expect that a place that charges this much for a meal can only be the swankiest. The interiors have opulent gold walls and are decorated with crystals. Naturally, the maître d' was in a fancy suit and had a dramatic coiffure. The experience began with the introduction to the bread trolley which, although freshly baked earlier, were reheated and served with butter. All were bite-sized and my favourites were the butter croissant, cornbread and the chewy striped milk bread.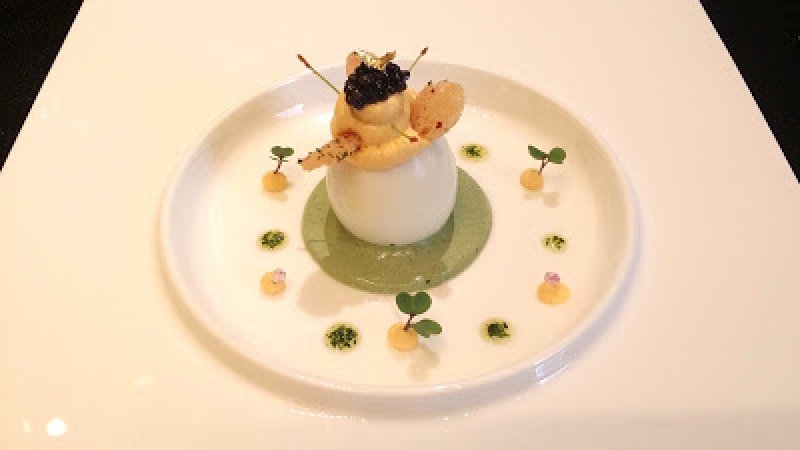 The actual course began with caviar served in hard-boiled egg. The egg was immaculately cleared of its yolk from the inside with the yolk pureed and placed on top and in drops around the plate. The craftsmanship of this dish was simply incredible. For the main dish, I had the beef served with an artichoke macaroni gratin. I asked for the filet mignon to be grilled medium-well and it was served with the foamy artichoke dish that looked like an elaborate spring roll. After dinner was the highlight of the meal. The dessert trolley came and it was a sweet dream all kids fantasize about. It had mostly fruit-based desserts such as strawberry éclairs and fruits in champagne. I loved the rose-pink peaches the most.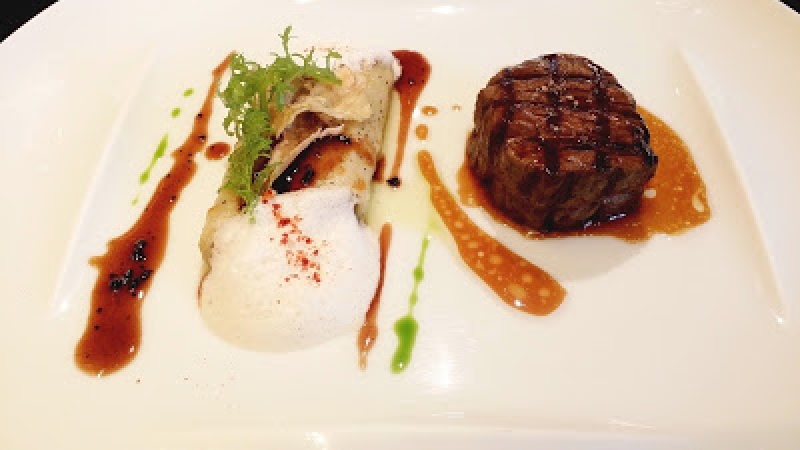 Much to my delight, there was a second dessert trolley, and this time, it had the macarons, chocolates and candies. You can tell everything was made on sight based on the personal touch they exuded. I adored the chewy nougat in particular.
Price: Menu D costs ¥11,120 (including the 12% service charge)
Will I go there again? Since there are only so many times you can request for the bread and dessert trolleys before you get embarrassed, I would much rather go to La Table because frankly, I enjoyed the dishes better and the meal I had offered better value for money.
Also read: 8 Michelin Street Food Stalls You Must Visit in Hong Kong