Featured image credit: Mak Tumang
Today on 9 December 2019, Filipinos from all over the world tuned in to Miss Universe 2019 as we rooted for our gorgeous candidate, Gazini Ganados, and of course, Catriona Gray who reigned supreme as Miss Universe 2018! While Gazini's journey ended with her in the Top 20, all of us waited with bated breaths until we witnessed Catriona's final walk and message as Miss Universe 2018. Like a true queen, Catriona Gray gracefully bowed out in a stunning and sparkling cerulean gown!
Her long-time Filipino designer, Mak Tumang, took to Instagram to explain the inspiration for the gown he calls Reflection.
What inspired the gown
Allow me to break down Mak Tumang's post. Reflection was inspired by two things: the Philippine Eagle and the turquoise seas of the Philippine archipelago. 
The Philippine Eagle is a monkey-eating eagle, hence one of the largest and most powerful raptors in the world. Magnificent as our national eagle is, it has sadly become an endangered species, which makes a Philippine Eagle sighting all the more precious. On the other hand, the turquoise seas of the Philippines need no introduction (see Boracay and Palawan!).
Also read: 8 Romantic Destinations In The Philippines Besides Boracay and Palawan
What the gown symbolises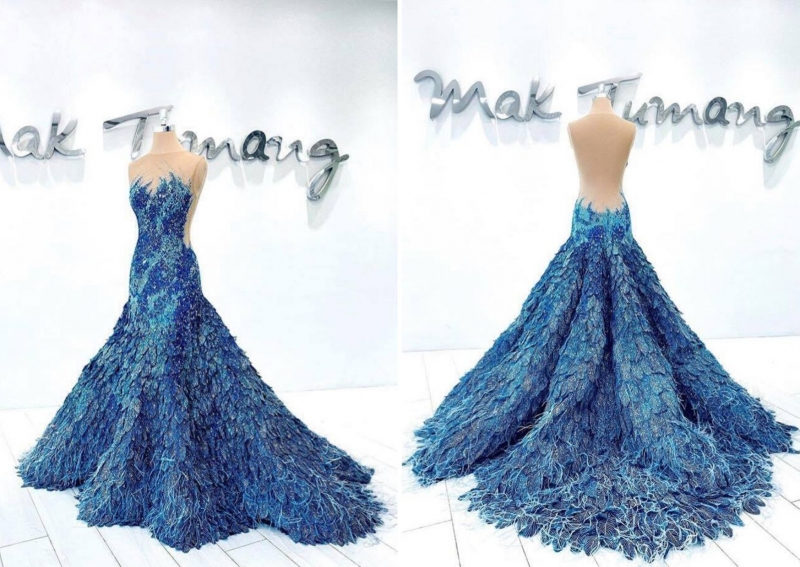 When it came to Catriona's blue studded gown, Tumang envisioned the Philippine Eagle flying close to the Philippine sea. Close enough, in fact, to be able to see its own reflection despite its ability to fly higher than the clouds. The moment Catriona came out wearing Reflection likewise symbolised every Filipino's moment of introspection in spite of his or her strength. 
Catriona's victory a year ago was a call to humility, and it was only fitting that she wore a gown which mirrored this Filipino value as she passed the crown to Miss Universe 2019, Zozibini Tunzi of South Africa!
Also read: Miss Universe Catriona Gray's Evening Gown & The Philippine Volcano That Inspired It
As always, the creative tandem of Catriona Gray and Mak Tumang never disappoints! During Catriona's campaign as Miss Universe, they both came up with the best pageant gowns, each one of them telling the story of the Filipino people in the most creative and enchanting ways! 
Congratulations to Zozibini Tunzi of South Africa for being crowned Miss Universe 2019! We can't wait to discover her fashion sensibilities too!