Contributed by The Bisaya Traveler
Exploring the magnificent Monte Cueva wasn't part of my agenda when I visited the city of Maasin. While I've already done my homework and read blogs about it, I really wasn't expecting that I would have the chance to see the Monte Cueva de la Virgen Shrine in person. With so little time for fun and adventure, I thought I would just be dropping by Maasin to attend a novena, and head back to Cebu.
Also read: A Simple Travel Guide to Leyte: What You Need to Know Before Your Trip
But eventually, we made some changes to our itinerary, so we can accommodate a visit both to Canigao Island and Monte Cueva for the weekend. After plotting our itinerary, I just burst into ecstasy and excitement.
Prior to our visit, my girlfriend's sisters, cousins and practically the whole Aguilar clan warned me about the steep stairway leading to Monte Cueva. As a matter of fact, they even suggested the place is not for those with weak knees and for folks who are a little scared of heights. With an elevation of 172 meters above sea level, hiking it can indeed be quite a challenge for anyone.
But with a solid workout routine and a string of successful hikes under my belt, I thought getting there would be a piece of cake. Little did I know, I would literally be drenched in sweat, once I made it to the top. It wasn't backbreaking, but it wasn't a walk in the park either.
Our short yet sweet retreat to Monte Cueva de la Virgen Shrine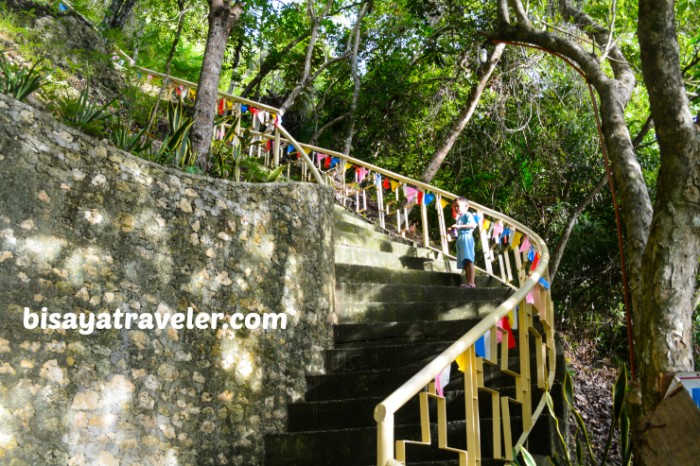 From their residence in Manhilo, we took a short tricycle ride to the gateway of Monte Cueva. We then entered the narrow alley that leads to the entrance of this sacred. Once there, we made a few poses and snapped photos of the lofty staircases of the shrine.
There are a couple of stairways heading to the top of the shrine, and we took the one the right side. My girlfriend's cousins said that the stairway we took had over 550 steps.
As it turns out, getting there wasn't as easy as I thought it was going to be. When I looked at the zigzagging concrete stairs, I said to myself "dude, you're in for a good cardio workout today." Without wasting any more time, I together with everyone ascended the stairway.
Along the way, we saw a pair of white statues that beautifully depict the Stations of the Cross. On the third station, everybody, except me, took a quick break from our hike. I, however, went forward with the journey, climbing each stair with a sense of joy and excitement.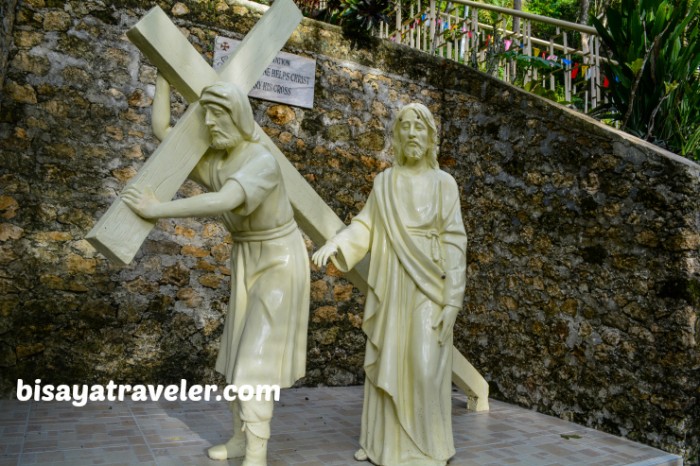 I was way ahead of them, and I barely took a breather. It was around 4 o'clock in the afternoon, and the sun was starting to set. I had to increase my pace, so I can catch sight of the small cave church before it gets dark. I only stopped whenever I saw a sight worth snapping.
Also read: Kalanggaman & Sambawan Island: A 4-Day Trip Without an Itinerary
Moments later, I found myself less than 20 steps away from the top. I rushed a bit and stepped into a small entrance that featured a lovely statue of Mother Mary. Afterwards, I stepped into the slightly dark cavern and got treated to a breathtaking sight of Monte Cueva.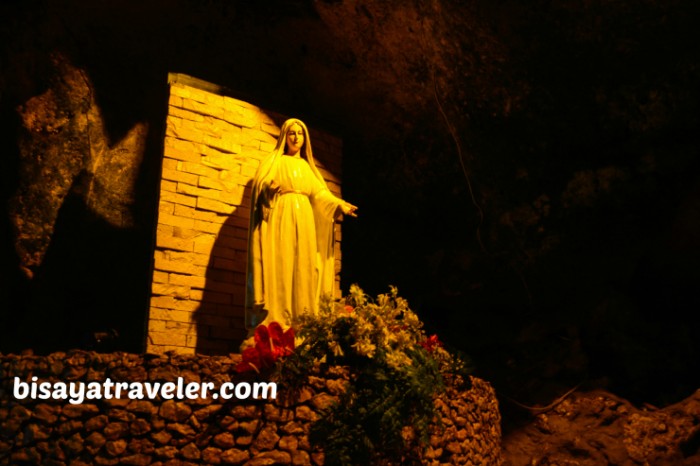 Quite frankly, Monte Cueva isn't as large and elaborate as some of the historic churches that I've been to in Visayas. Still, it is without a doubt one of the most extraordinary and strangely beautiful sacred sites I've ever seen. Although it's small, it has wonderful features that you won't see in other churches, such as its limestone walls.
There weren't a lot of people around, during our visit to Monte Cueva. I was even totally alone for a minute or two inside the cave.
I moved around the cave chapel and took some shots of its one-of-a-kind design and features. Eventually, the whole gang arrived, and like me, they were utterly amazed by the chapel's unique splendour.
We left the cave chapel and explored the area. Since Monte Cueva is a holy site, we also said our prayers as well as lit up some candles.
One of Rabbie's cousins instructed us to go to the viewing deck area to get a great overlooking view of Maasin. And I must say the vistas there were truly outstanding!
Nighttime was about to come, and we descended back to the gateway. This time, though, we took the easier staircase, to reach our destination.
How to get there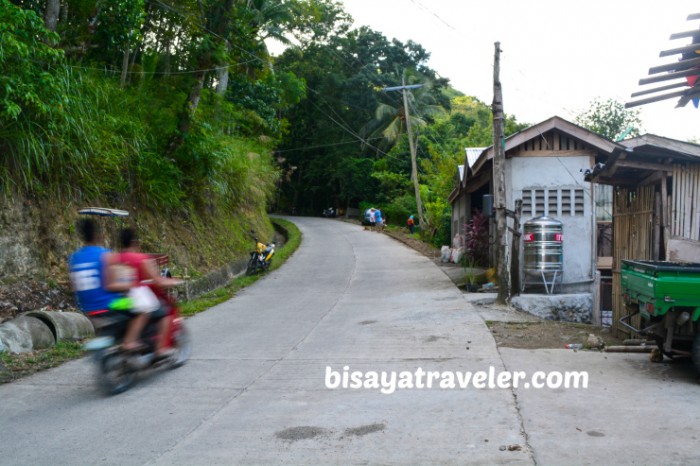 To get there, you need to travel to Maasin City. For those who are from Cebu, you may hop on a boat ride plying the Cebu-Maasin route for ₱330. For the most part, travellers from Cebu will arrive in Maasin at 2 to 3 am, meaning you'll have some spare time to rest, before going to the shrine. From the Maasin proper, there are tricycles and habal-habals that would take you to Monte Cueva.
As for the entrance fee, you can pray and soak in the scenery of Monte Cueva for everybody's favourite price of zero pesos!
Reminders
Bring a litre of water and light snacks.
Pack a handkerchief, face towel, or an extra shirt.
Behave, while there. Remember, Monte Cueva was designed as a place of worship.
Also read: Biri Rock Formations: Travel Guide & Things You Need to Know