Contributed by Laag ni Josh
Would you hike for a cup of coffee, a slice of pastry, or even both? Yes, yes, yes? Then Mt. Kalugong Kape-an/Cafe, situated in the Mt. Kalugong Eco Park in La Trinidad, Benguet, should be on your list.
While it has been operating since 28 Jan 2017, the coffee shop is still not that popular to coffee lovers and coffeeholics alike, in my opinion. My friends Vane and Andrea, who definitely love coffee, haven't heard about this shop yet. Perhaps because Mt. Kalugong Kape-an/Cafe is located on a mountain and requires patrons to exert some effort to be able to savour its parties and drinks.
And while some travel bloggers have posted about this already, it is not that hyped on social media as well. On Instagram alone, about less than a hundred users have checked in using its geotag. So why is it not popular? Are reviews not convincing? Or is it because it's not worth the hike? Continue reading to find out.
Also read: 15 Instagram-Worthy Cafes in Metro Manila
Getting there and the short hike
A day after attending our friend's wedding, Vane, Andrea and I still had ample time to explore the city of Baguio. Both of them had visited its top attractions before, so I had to look for other spots they haven't gone to yet. We agreed to visit two spots in La Trinidad, namely Colors of Stobosa and Mt. Kalugong Kape-an/Cafe. I convinced them to visit the latter as, according to an officemate, its coffee and carrot cake taste great.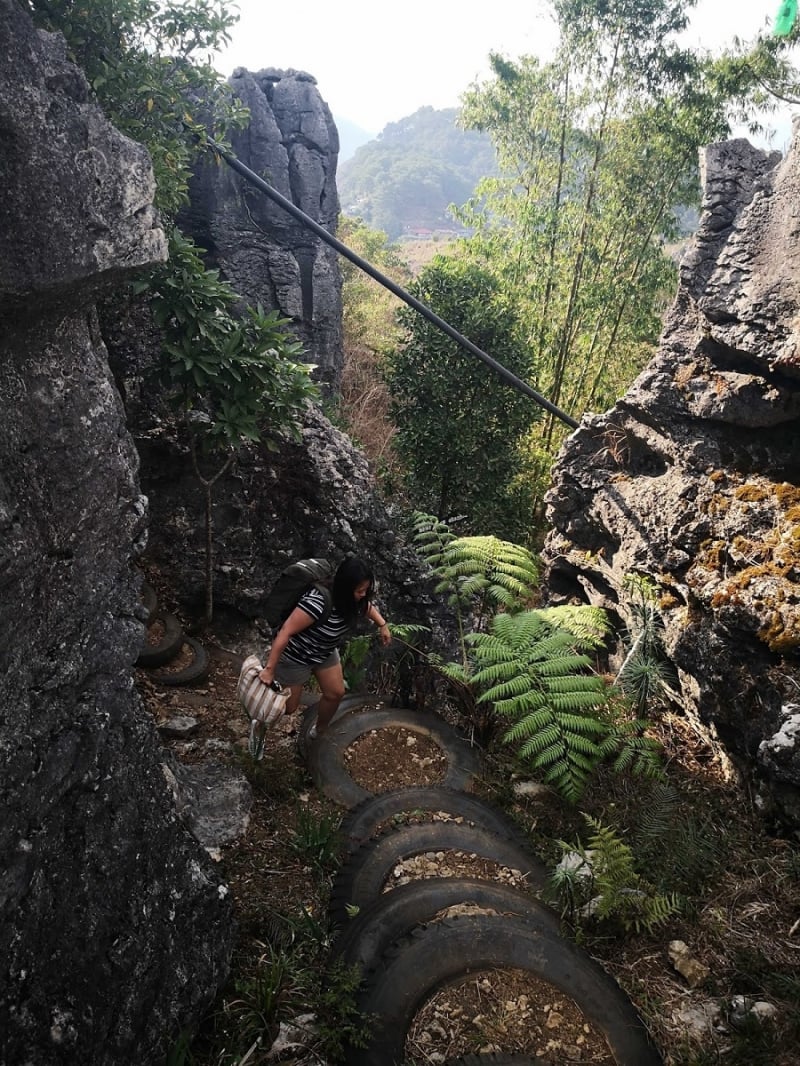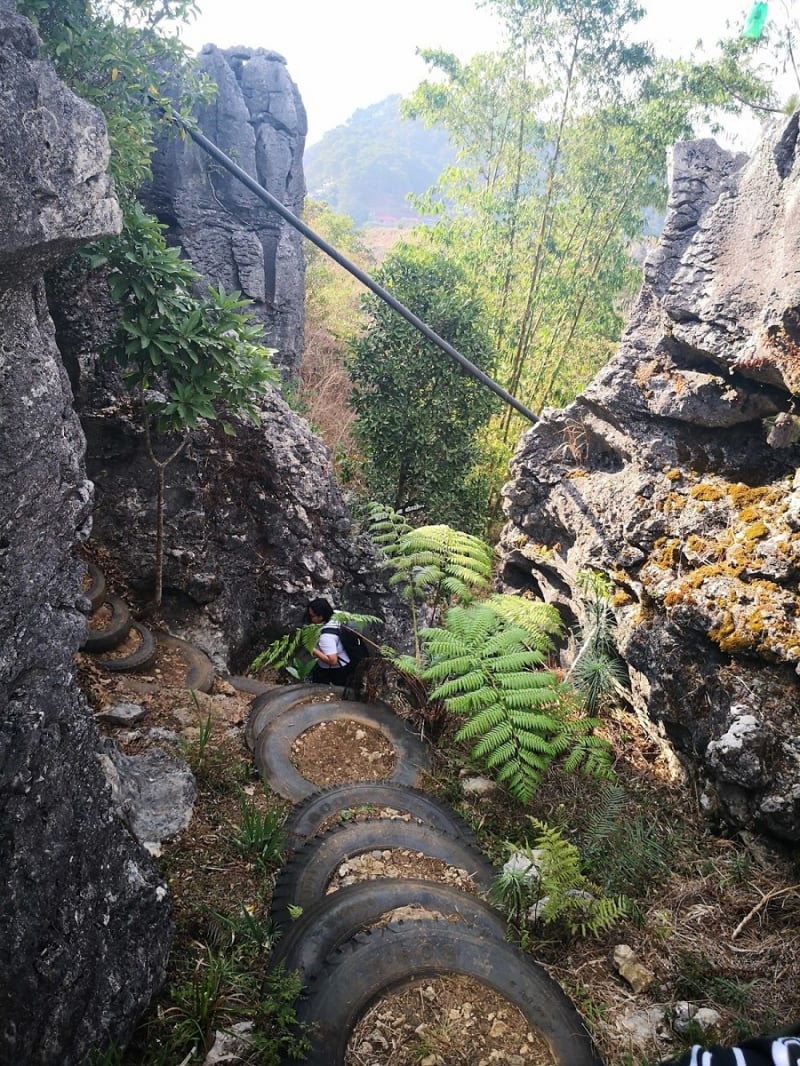 After stopping over and taking some snaps at the Colors of StoBoSa, officially designated as the StoBoSa Hillside Homes Artwork, we booked a Grab ride. The app estimated the cost to be about ₱190. But after we boarded the cab, the driver asked us to pay ₱350 because he said that it's the normal rate drivers charge for passengers heading to the cafe. Why? Because the road leading to the cafe is a slope. Without further questions, we agreed.
The driver was right. So we murmured, "Ah, tama lang pala na ₱350". But guess what? The driver of the cab we hailed going back to Baguio City noted that there's no such thing as charging ₱350; they still follow the metre. So we were scammed! If you are on a budget and don't want to take a cab, hail a Campdangwa or Tomay-bound jeepney from Baguio for ₱17 pesos. Just tell the driver to drop you off near Mt Kalugong. Jeepney terminals in the city are located along Magsaysay Road, near the city hall. Do note that from the highway, it would require you to walk for about 45 minutes to get to the cafe.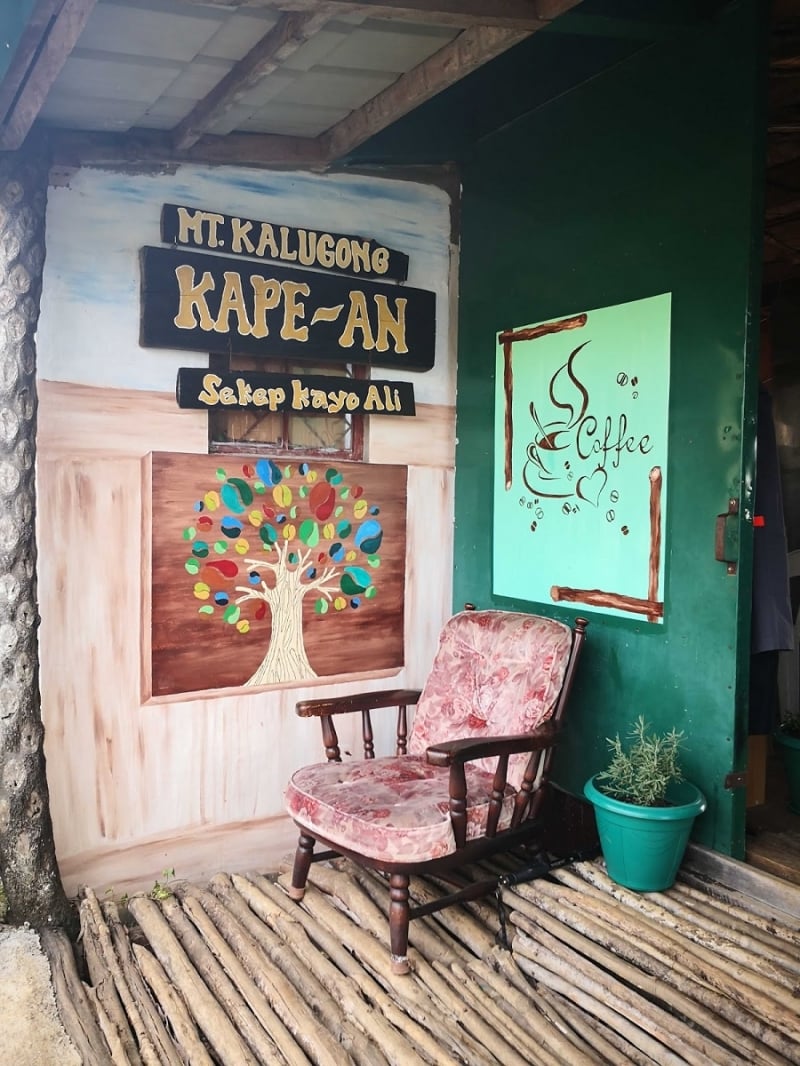 After traversing the road for about 30 minutes, we were dropped off at an entrance situated about 15 minutes from the cafe. There were no clear signs leading to it. While we were figuring out which way to take, a staff stationed at a nipa house called our attention, and asked us to log our names and pay ₱100 each. For me, this fee is too pricey. It didn't even include a free bottled water to keep us hydrated while trekking for a few minutes. We didn't mutter anything though, and commenced our short hike right after.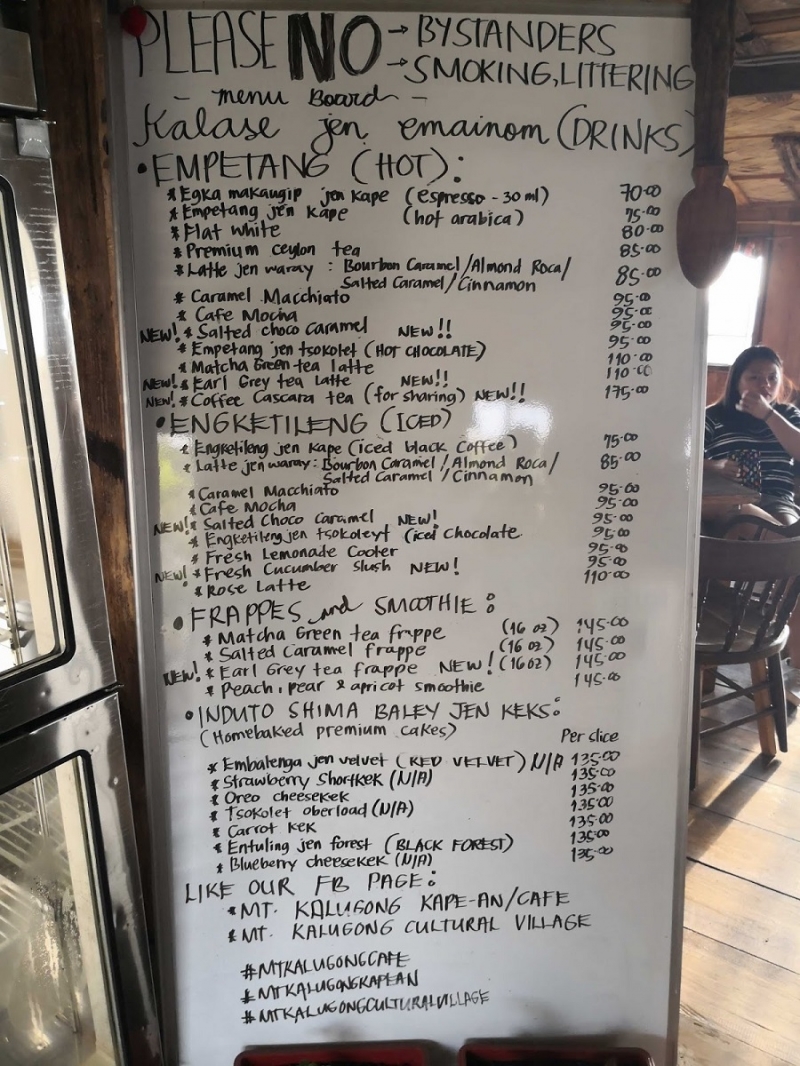 The girls weren't informed about this short hike (I wasn't either) so they were complaining along the trail and shouted, "Akala ba namin magka-kape lang tayo, Josh?" While the trail is an easy one, it would require you some energy if it's your first time hiking or if you haven't trekked for years.
The ambience and views
Several minutes after, we set foot at the cafe's entrance and were welcomed by an adorable dog. The first order of business? Check the views out (not the menu haha!).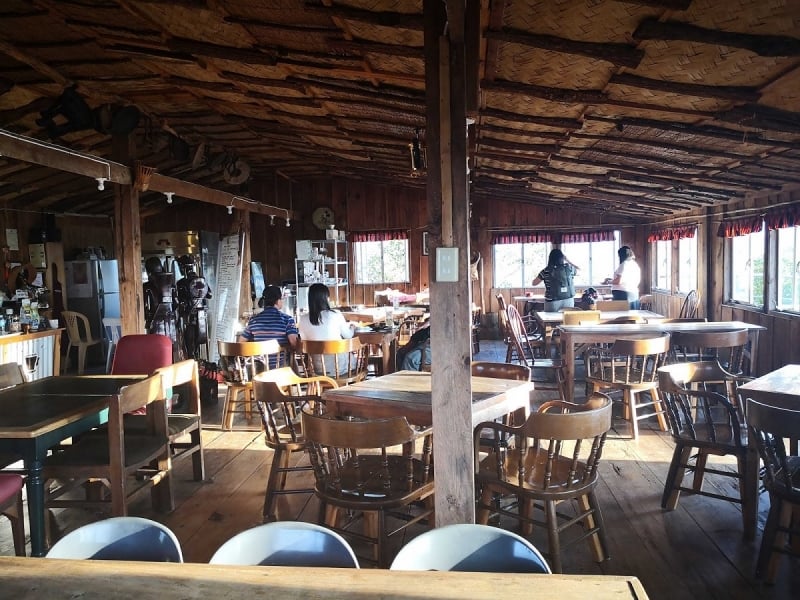 The cafe has a great ambience and features local displays. It also has an area with overlooking views of mountain and town sceneries. A stones throw away from the cafe are rock formations that offer similar stunning views, too. Just make sure to watch your steps! Sunset views are also said to be perfect from the cafe. Unfortunately, we did not wait for it as we needed to catch the earliest bus ride bound for Manila.
Was it worth it?
For me, the affordable coffee variants (prices start from ₱70) and the magnificent views were definitely worth the short hike. The hot cafe mocha I ordered tasted really great! And my friends loved their orders, too. "Apricot Peach and Pear Smoothie is a must-try! After wandering around La Trinidad and a short hike to this cafe, this (real) smoothie will give you an instant energy boost and hydration," Vane said.
Since we weren't able to taste most of the cafe's drink and party must-tries as we were full and only had about an hour to enjoy the cafe, our reviews are very limited. So I tapped our Instagram friends and asked for their honest reviews. Here are their takes:
"It's something refreshing to eat after having a hike because of the fresh strawberries in it. It was a great pair to [a] cup of hot coffee!" – @jdbshawty
"Absolutely tasty and perfect for the cold weather; I didn't feel queasy at all. Their drinks aren't that sweet, too. What's more exciting was our drinks were made in front of us. Would definitely come back!" – @animheyyy
"All I can say is that their pastries and drinks will tempt your taste buds. Not too sweet; perfect for all ages!" – @angelicadesteen
"Actually, we only tried those included in the shot and all of them were delicious, especially the green tea latte, as it wasn't overpoweringly sweet. The chocolate cake was bittersweet and kind of has a hint of wine in it." – @mooncraters
"I do enjoy visiting and experiencing coffee shops, but this coffee shop (Kalugong Kape-an) is actually pretty rare since it's located on [a] rocky mountain. We really had a fun and memorable experience in this place and we also enjoyed the iced coffee that we ordered here. I highly recommend this coffee shop if you are looking for a place where you can unwind. The place is good for taking pictures. Absolutely will be visiting this place again with the squad." – @emperor.jhed
"The blueberry cheesecake and strawberry cake were so delicious. Not so sweet unlike the chocolate. I wasn't able to try the matcha but my friend said that it was also tasty. Will definitely go back there. Especially [for] the sunset view." – @theroxanity
Also read: 10 Cafes in the Philippines with the Most Picturesque Views
There you go! The above guests loved their orders, too, and some even wanted to visit the cafe again. As to the question of why it's not that famous among coffee lovers yet, perhaps because it is simply not the talk of the town at the moment. Visit Mt. Kalugong's Kape-an now, and savour your pastry and drink of choice while enjoying the stunning views!