Contributed by The Bisaya Traveler
Travelling isn't always filled with rainbows and butterflies. From transportation pains to booking issues, there are a lot of unforeseen and inevitable setbacks along the way, every time we hit the road. Even in local destinations and nearby trails like Mount Kapayas, we, as travellers, go through a ton of hurdles and rough situations. But at the end of the day, these hurdles foster personal growth as well as make every moment in our trip even more worthwhile.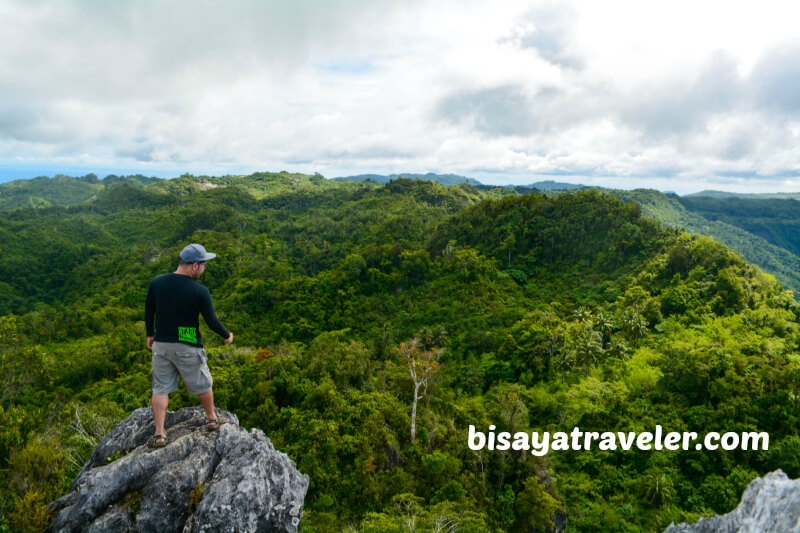 My hike with Team Bang to Mount Kapayas also had a share of misfortunes and not-so-bright moments. As a matter of fact, we were forced to cancel our Mount Kapayas trek a couple weekends ago, and move it to another date, after a week of seemingly endless heavy downpours. And though we've already agreed to a date, there were some of Team Bang's members who couldn't join us due to prior commitments.
To make matters worse, the LGU's mini dump truck in Catmon, which was supposed to be our mode of transportation to the jump-off point, broke down, just a few days before our hike.
But ultimately, our determination, paired with our strong sense of wanderlust, helped us prevail over these hurdles. With the guidance and help of our superb guide, Kyno, Team Bang finally trekked and conquered the so-called highest peak in Northern Cebu, one Saturday. What's more, we had a lovely little bonus to cap off our adventurous and fun weekend adventure – Tinubdan Falls.
Our Mount Kapayas adventure
Our Mount Kapayas adventure started with an early 4am meet-up at Cebu City's North Bus Terminal. Joining me for this weekend trip were other fellow Team Bang members – Christine, Kevin, Wilfred, Donna, Ace, Romelyn and Sherlyn. There were a few energetic and zesty people who did join us for this hike as well, including my good-old friend Jonas, Emile, Noel, Richell and the "Besh" squad – Marzi, Lieve, Jeshzeus and Sadam (or AKA Porn Star).
After a two-hour bus ride from Cebu City, we arrived at the Catmon proper and headed straight to the Police Station to register our names. From there, we took a long and rather bumpy ride, through a private mini dump truck, to our jump off point – Barangay Agsuwao.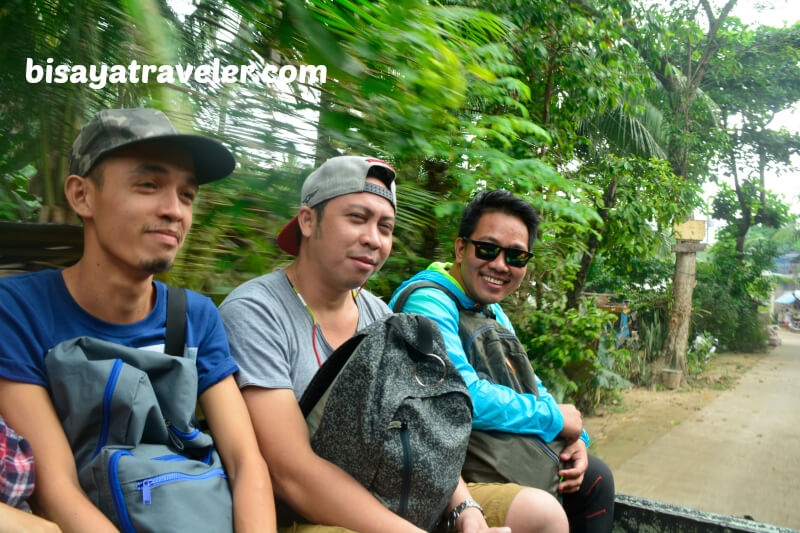 Upon our arrival, Kyno gave us a quick rundown of what to do and what not to do along the trail and at the summit. Before our trek commenced, the lovely Miss-Earth-worthy candidate Donna led a short prayer, asking for good weather and guidance.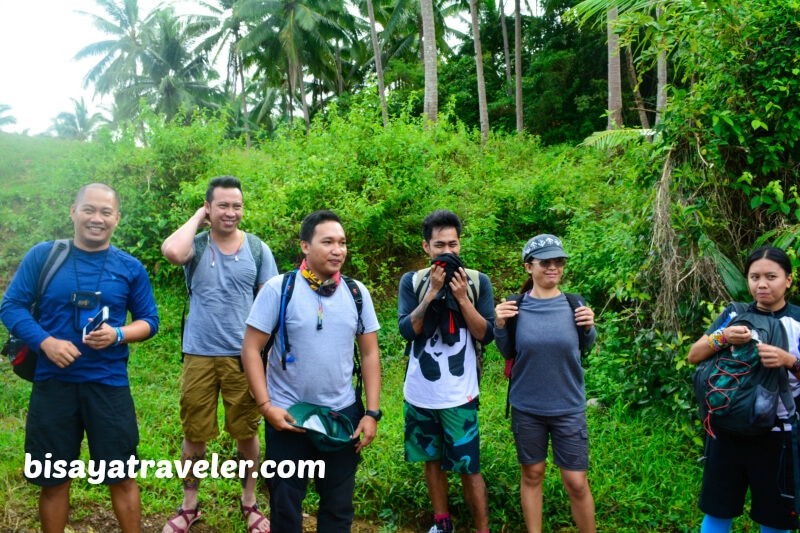 Even though the first part of the trail is fully exposed and open, our hike initially felt a bit easy, with a rolling landscape of gentle descents and ascents. The weather was on our side as well, making our trek less taxing on our bodies.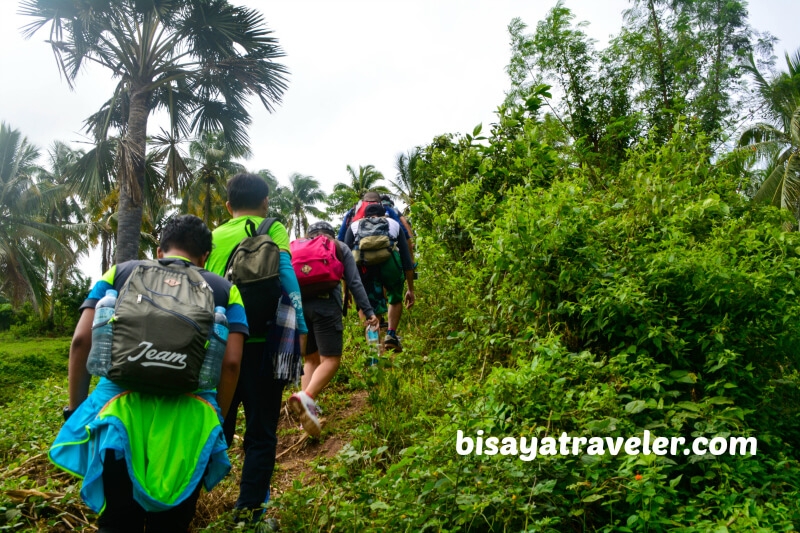 Along the way, we saw a couple of strong horses and a plethora of farm animals, such as cows, goats, pigs and chickens.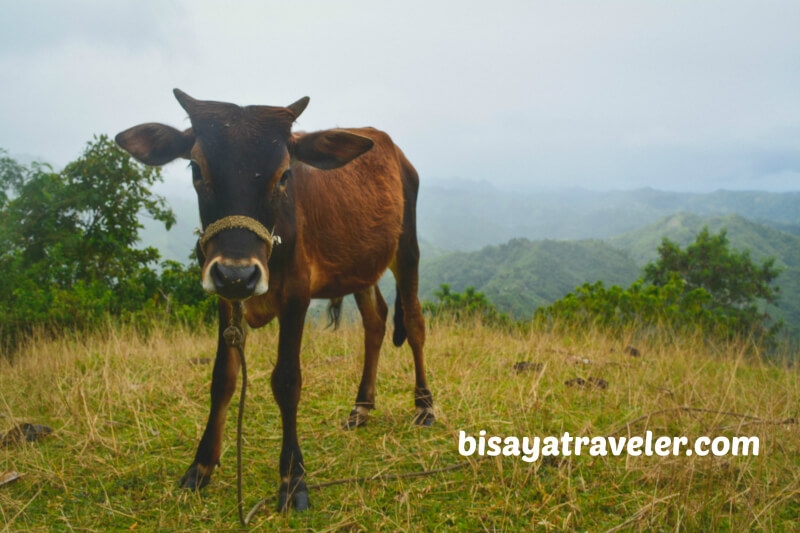 Plus, we also bumped into some interesting surprises, like this small cave.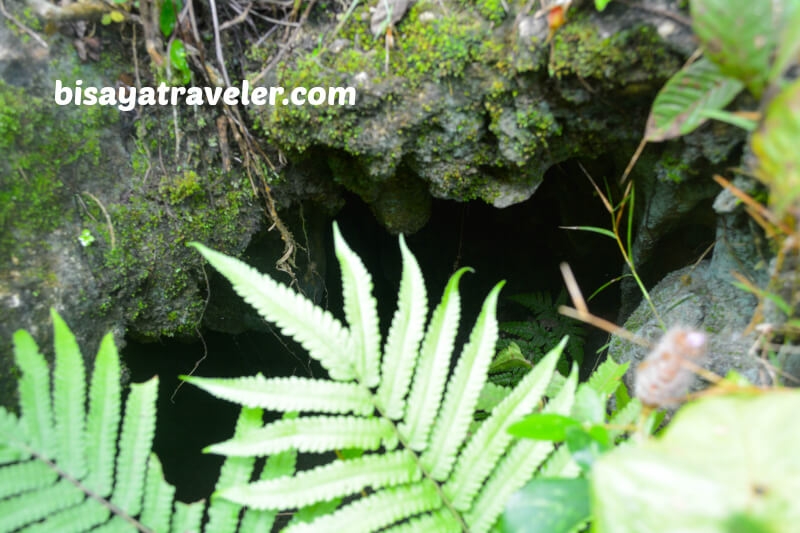 As for its landscape, the terrain in some ways reminds me of the nearby Mount Mago.
Also read: Mount Mago: Climbing the Boundaries of Danao, Carmen and Tuburan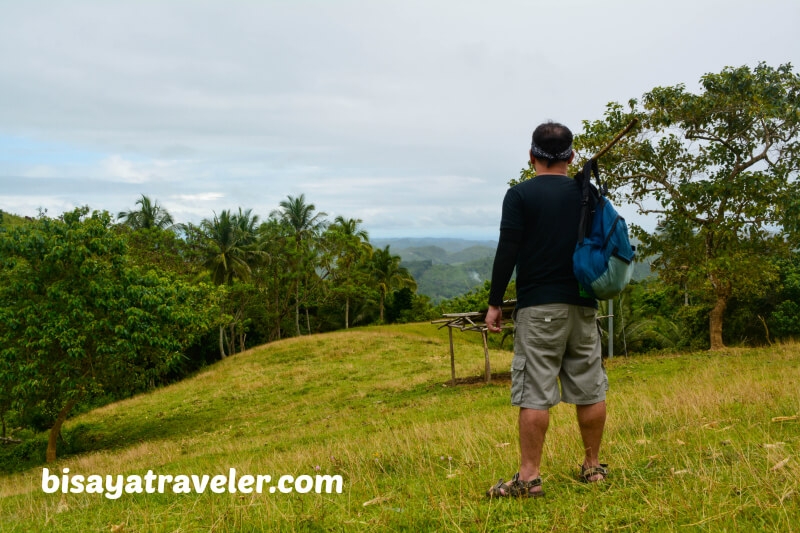 We talked and walked continuously, and got some awesome view of the mountainous regions of Northern Cebu. We didn't take plenty of stops because we were after all planning on going to Tinubdan Falls after our day hike.
Raindrops started falling on our head, and I was little worried that the "Torre" – the mountain's rocky peak would be all covered in mist. Still, we continued to walk, and make stops, whenever we saw a beautiful sight.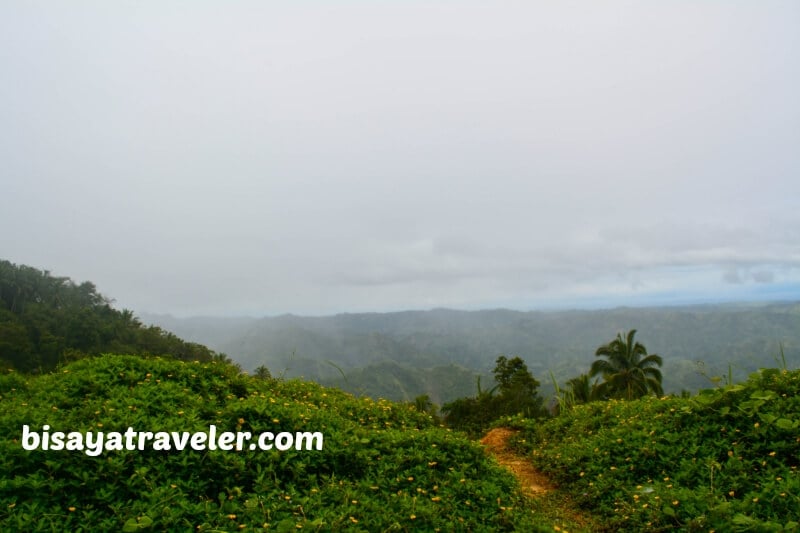 Eventually, we arrived at this place, to get refreshments and refill our water containers. Donna – the cover girl for this article – posed and took a picture of the sheepish local girls in the area.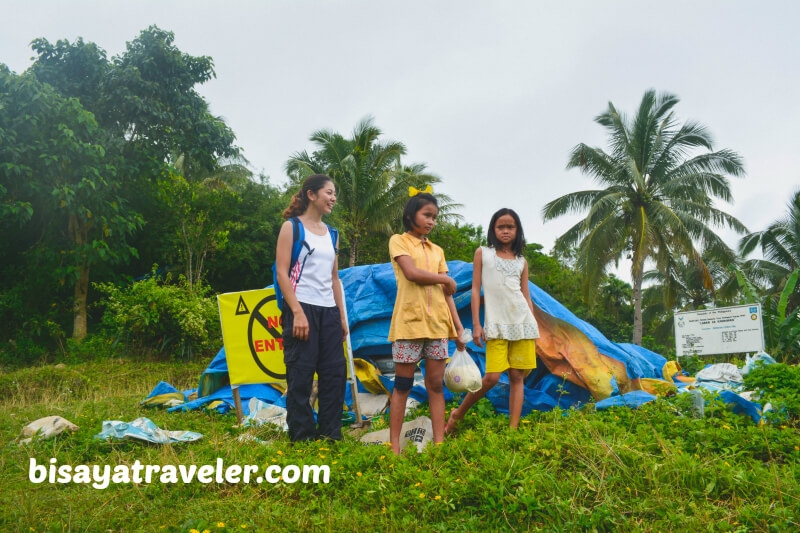 Once our quick break was over, Kyno reminded us that we will be taking on some challenging ascents to reach the base-camp. We wasted no time, and took on the muddy, slightly slippery slopes, to the base of Mount Kapayas.
After a few minutes of walking, we arrived at the base-camp or the Torre's cliff base, where Kyno gave us final instructions on how to climb the summit. He told us to secure our belongings and keep our hands free since we will be literally climbing a vertical rock face without ropes.
Although we had zero experience in rock climbing, I was utterly amazed by my team's ability to scale this cliff. Everyone channelled their inner rock climber, or as Jonas would say Spiderman, to reach the summit of Mount Kapayas.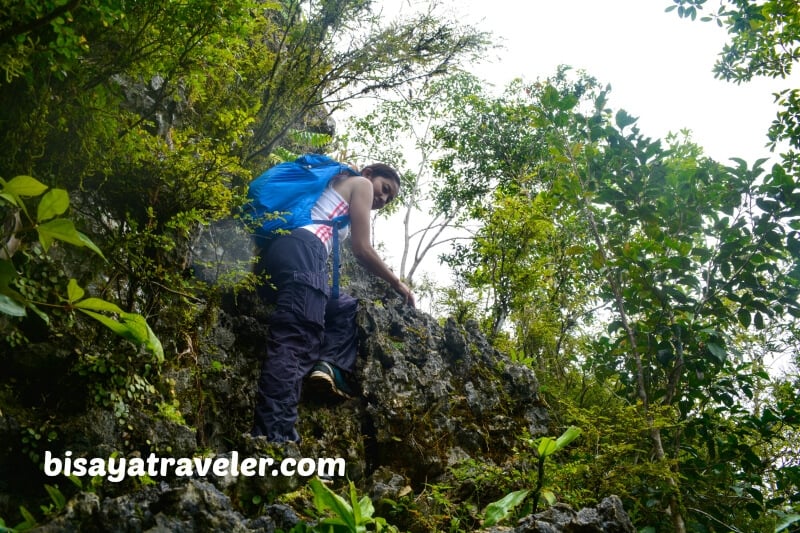 And when we arrive at Torre, I felt a sense of joy and accomplishment, despite the fog surrounding the Mount Kapayas.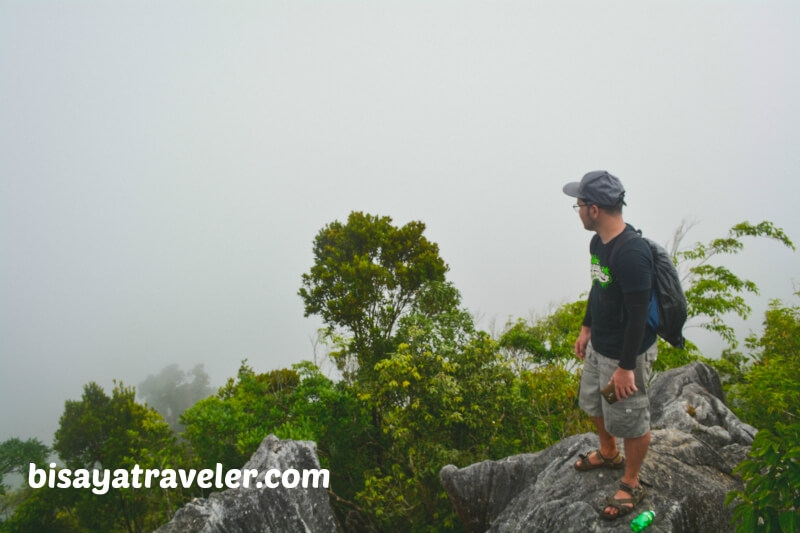 While others were catching their breath, Kevin and Wilfred were busy posing on different areas of the summit.
Moments later, though, the fog began to fade away, slowly uncovering the majestic scenery and verdant landscapes of Northern Cebu. Kyno, later on, pointed to the other mountains that can be seen from Mount Kapayas, including Mount Mago.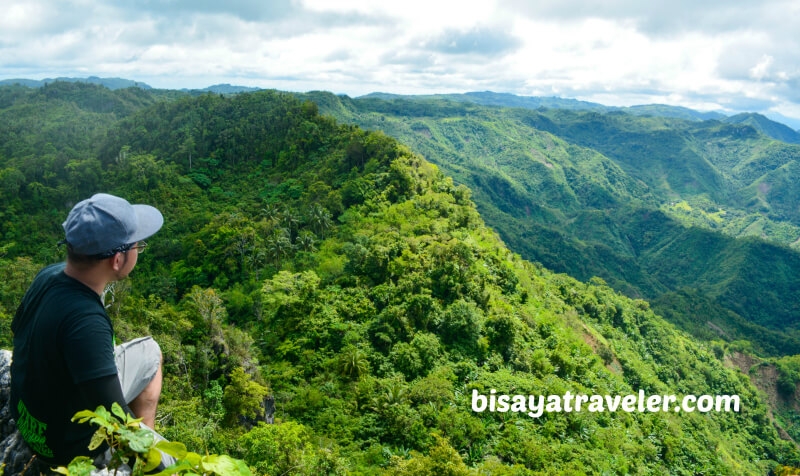 With the mist completely gone, we posed and snapped a plethora of photos on top of Mount Kapayas. As you can see, we had quite a swell time admiring the mesmerizing views from Torre.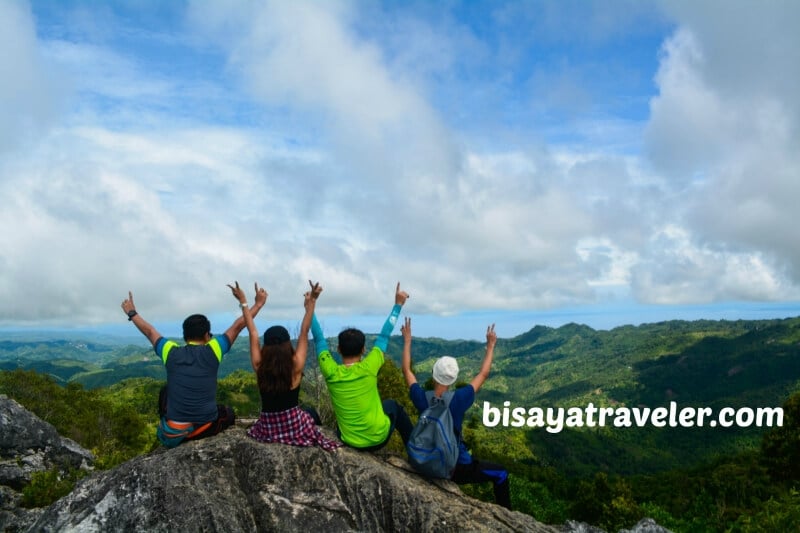 We spent about an hour at the summit of Mount Kapayas, before descending to the base-camp to eat our lunches.
After enjoying our lunch break, we said a short prayer and descended back to Barangay Agsuwao.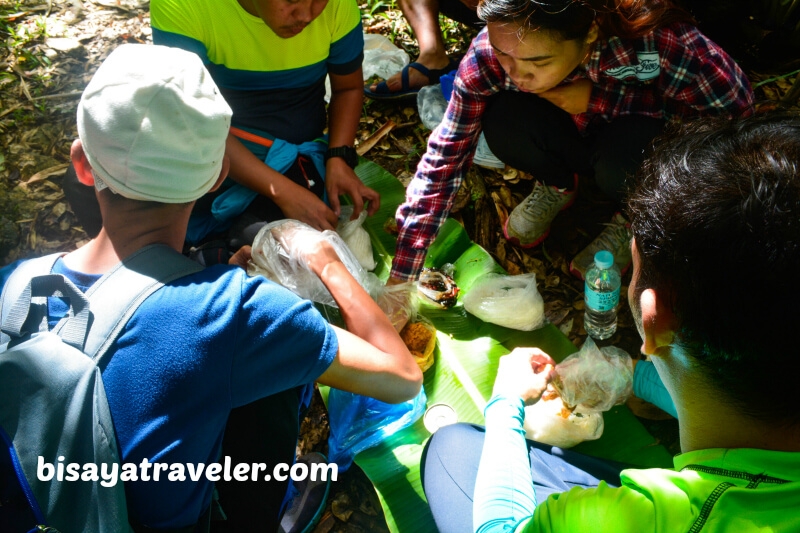 We did make some stops for photo ops and rest, on the way to the jump-off point. The whole trail, although not as physically demanding as Candongao Peak, made my legs a bit tired. Lieve, who had previous experiences in hiking, even suffered mild cramps on the way back to the jump-off point. It was raining too, making things more difficult for the newbies.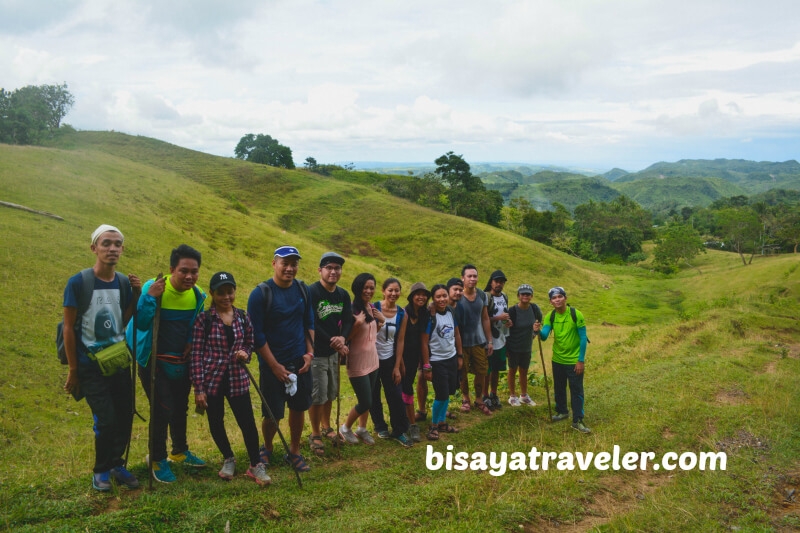 We reached the jump-off point at Barangay Agsuwao, where our transport service was waiting. Afterwards, we hopped on the truck to embark on a ride to our next destination – Tinubdan Falls.
Our side trip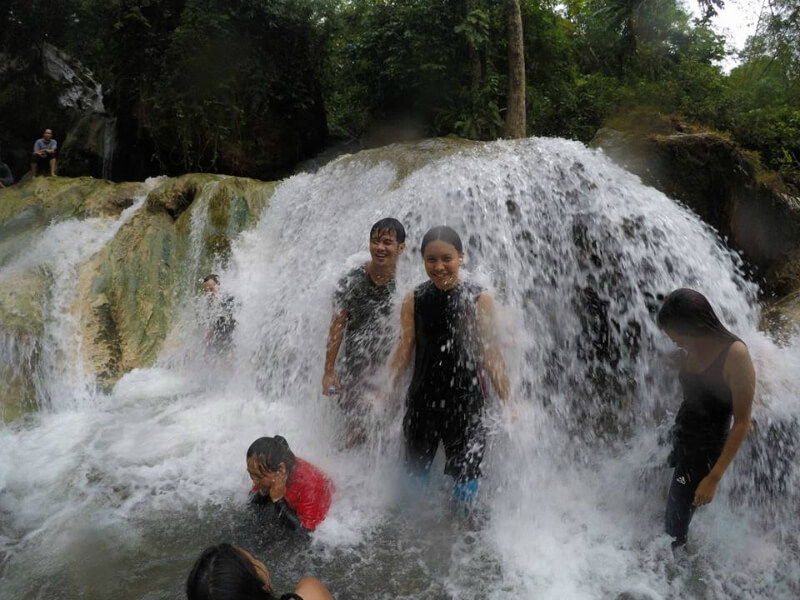 The Tinubdan Falls was truly one of the highpoints of my weekend trip with Team Bang. Not only was it extremely cold and refreshing, but getting there also involves some challenges. You'll have to crawl, squat and hold on to sharp rocks to reach the other levels of the cascading falls. And for me, the best part of this side trip was the relaxing free massage under the waterfalls. Indeed, it was the best and exciting way to end our trip on a high note.
Costs for the Mount Kapayas day hike via the the Agsuwao trail
Bus fare from Cebu to Catmon: ₱68 to ₱78 per person
Fare for the mini dump truck ride: ₱250 per person
Guide fee: ₱150 per person
Barangay fee: ₱20 per person
Bus fare from Catmon to Cebu: ₱68 to ₱78 per person
You'll also need to secure a permit, which costs ₱640 per group, to hike Mount Kapayas (maximum of 20 climbers and minimum of 10 climbers)
For guide services to Mount Kapayas, contact Kyno at 0999 325 9621 or through his Facebook account.
Sample Mount Kapayas itinerary
04:00 AM: Meet up at North Bus Terminal
05:00 AM: Depart from the terminal
07:00 AM: Eta Catmon Police Station
08:00 AM: Eta Barangay Agsuwao
11:30 AM: Eta Mount Kapayas summit (Anislag peak/Torre peak)
12:30 NN: Lunch at basecamp
01:00 PM: Start Descend
03:30 PM: Eta Barangay Agsuwao
04:30 PM: Eta Tinubdan Falls
06:00 PM: Back to Catmon proper
08:00 PM: Cebu city
Reminders
Bring sunscreen, a hat or umbrella to protect your skin from the heat in the exposed areas of the trail.
Wear trekking pants as well as arm guards for skin protection against the prickly plants and sun.
Wear trekking sandals or shoes with a great deal of traction.
Bring at least 2 litres of water
Pack ion beverages like Pocari Sweat and Gatorade to prevent cramping, and replenish the lost ions in your system.
Respect nature, and never leave your trash behind.
Prepare your rain gear, and waterproof your belongings, in case of heavy downpours.
Have fun, but do not disrespect the locals.
Make sure to contact a guide or the person in charge of the town's tourism prior to your hike.
In spite of all the drawbacks prior to our hike, Team Bang still managed to conquer one of Cebu's high peaks in flying colours. Hopefully, there will be more exciting escapades in store for me and the rest of the gang in the upcoming year.
Also read: 21 Mountains in Cebu with the Most Breathtaking Views
Got a question? Feel free to contact me through my Facebook page!