Contributed by A Wanderful Sole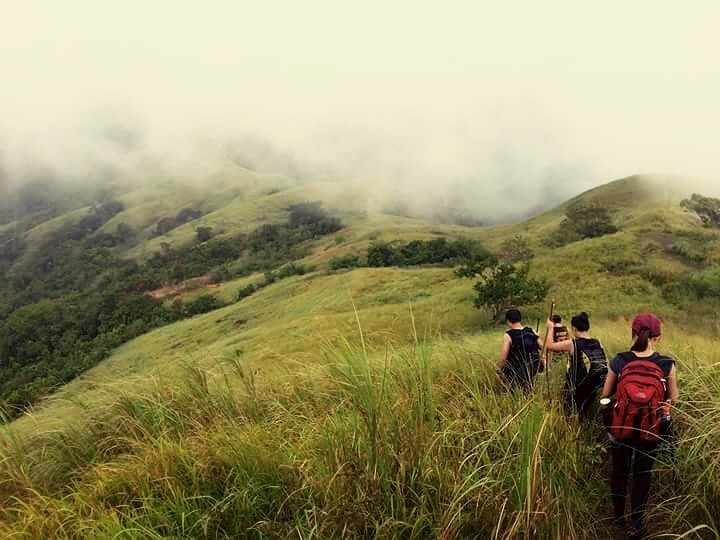 Basic Information
Location: Lobo, Batangas
Jump-Off: Sitio Hulo, Brgy Banalo – Lobo, Batangas
Height: 563 MASL
Difficulty: 2/9 Minor Climb
Trail Class: 1-3
Features: Woodlands | Grasslands | Scenic Views of the Coastlines of Southern Batangas
Mount Tibig is totally off the path. She is rarely on any hiker's list. While its neighbouring mountains are suffering from way too many footprints beating their trails, she, on the other hand enjoys the serenity and unperturbed silence of her land. Not that she is less stunning than the others. In fact, she has quite a few tricks up her sleeves. She offers a panoramic view of the lush mountain range that surrounds her which includes her close neighbour, Mount Banoi, and at the far corner of the horizon are the beautiful coastlines of Batangas. Her abundance is immeasurable. Tall, luscious trees. Various colourful flowers. Sweet scented air. And beautiful ridges of grasslands. All these she offers those who dare endure long hours on the road just to take a glimpse of her unspoken beauty.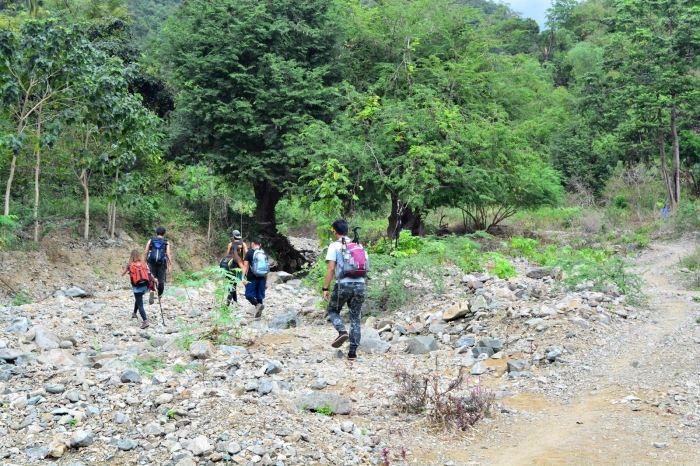 The climb
The hike kicked off a little late at 10am. There were just the six of us (Sir Teo, Poleng and Kuya Julius, Tin, Ian and I) and four came all the way from Cubao, Quezon City in Metro Manila. We joined them at the Grand Terminal in Batangas City at 6.30am and together we took a jeepney ride towards the terminal of passenger jeepneys enroute Lobo Batangas which turned out to be one more jeepney ride away. Yeah I know it sounds like a lot of work. After almost an hour getting lost (because none of us was familiar with the area and none of us had any idea where we were while ridden on a jeepney), we finally arrived in the jeepney terminal bound for Lobo, Batangas. We took another hour to fill up tanks and do some last minute buys then head on towards Lobo.
Also read: 10 Different Types of Hikers You Will Meet in the Mountains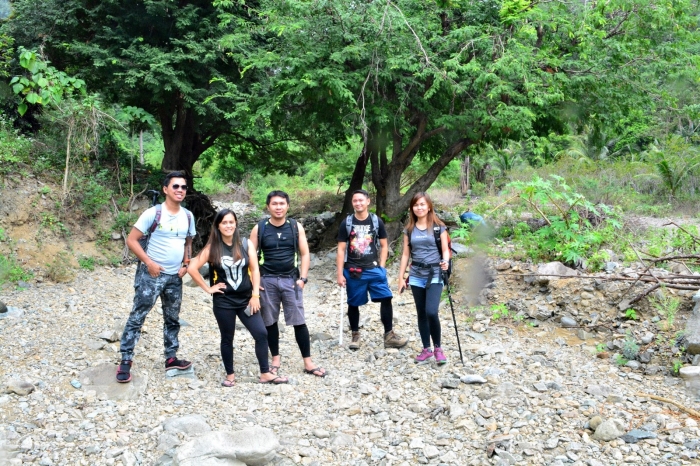 The jeepney ride to Lobo took an hour along a paved concrete highway which somewhat resembles the ride we had going to Mount Pulag but instead of vegetable plantation and terraces, we reached a busy town on a Sunday morning. We were advised to head to the Police Station first where we registered our names for their reference in case of emergency and paid ₱20 each for environmental fee. We couldn't find ourselves a cheap ride to Sitio Hulo Brgy. Banalo anywhere near the Police Station so we walked back to the town plaza. There, we found a tricycle driver who offered to take us to the jump-off point for ₱150 per ride good for 3-4 people, way cheaper as opposed to the first offer of ₱250. The ride towards Brgy. Banalo took around 30 minutes.
Upon arriving at the registration point in Brgy. Banalo, we were greeted with warm welcome by the locals. The only thing that turned me off though was the stink coming off the many pig pens situated near the registration site. We chatted with the locals for a little bit and when our guide (Michael) was ready, we then headed on to face the challenge of Mount Tibig. We took a few walks along limestone rocks towards the trail. After passing through the pens of farm goats, the ordeal began.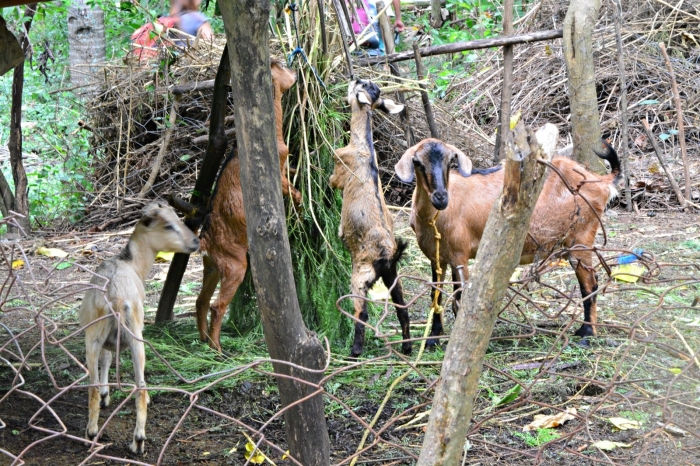 Mount Tibig may not be as tall as the other surrounding mountains, just standing at 563 MASL but she sure does know how to punish. Her trail is a snakelike nonstop assault from her foot all the way to her summit. There are no resting camps along the trail so taking short breathers is a luxury readily available at my disposal. Barely 10 minutes after we started trekking, my breathing already became laboured. I was so thirsty but my water bottle was with Ian who was nowhere in sight as he went ahead of the pack while I was at the tail end of it. I had to endure the too excruciating pang in my throat until I spotted them resting under a tree together with the first group of hikers we came across with that day. After satisfying my thirst, we then resumed trekking.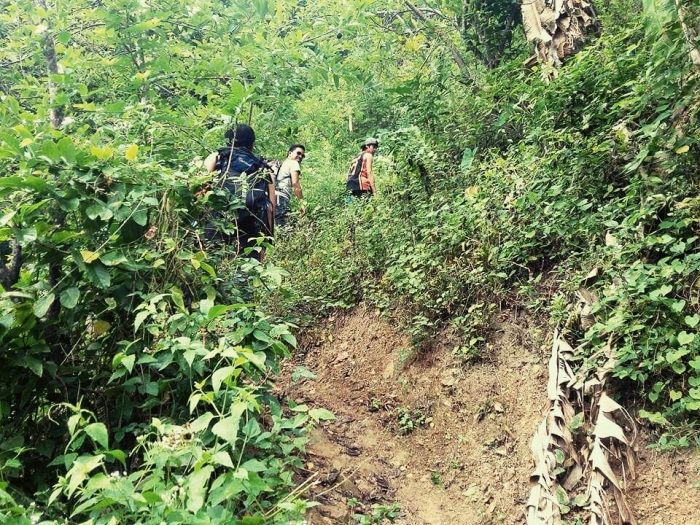 I couldn't remember trekking along a flat surface. If there was, then it might have stretched for just a few good feet because all I am reminded is how I came to survive every aching assault despite my trembling knees and heavy breathing which was made worse when the rain started pouring down the cloudy skies. The downpour had continued as we inch closer to the top. It would abruptly stop and start pouring down again after a few minutes making me unable to snap photos on my camera.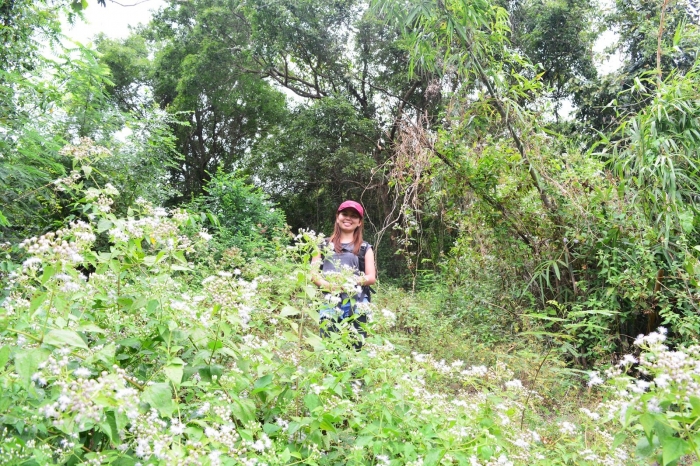 It was 11.30am when we reached a residential house, those typical in the mountains; small hut made of native materials but not entirely for this one. There was a long table situated under a tree and a bench that stretched for about 2 metres not far from the house. From that spot, we can clearly see the summit filled with acres and acres of greens. There we decided to have our lunch. The rain just stopped and the sky cleared a little bit giving us a better glimpse of the peak. After eating lunch to our hearts' content, we each enjoyed posing for the camera with the summit as the backdrop.
Also read: 11 Life Lessons You'll Learn From Hiking Up Mountains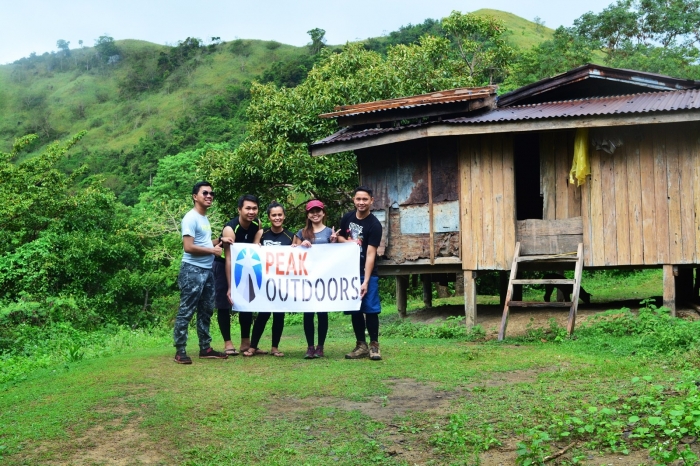 When we all felt well-rested, we resumed the trek. This time we passed through an obscured trail. The woodlands stretched for another 100 metres or less before the grasslands took over. It was so surreal being up in the mountains after the drizzle. The breeze has never felt so cold. The dewy air was so refreshing. Flowers seemed to be in full bloom with their sweet scent enveloping the entire mountain.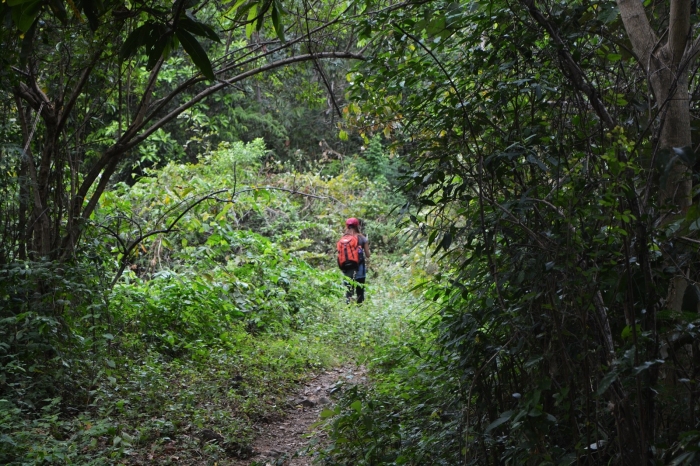 The trail from the hut going all the way to the summit was less difficult and not much of an assault as compared to the one that came before. I had recovered from exhaustion and all I felt was excitement as we moved nearer the summit. The ridges of Mount Tibig was so stunning. It was similar to that of Mount Batulao and Mount Pulag, just a bit greener. The mountains that surround her were so gorgeous and enticing. It got me wanting to take another ride to Lobo to hike up the other marvellous mountains I can see from afar.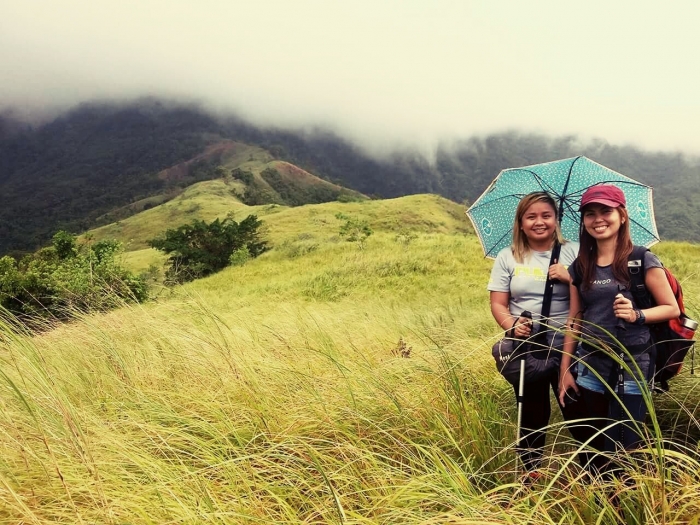 We had Mount Tibig all to ourselves that day. No stranger getting caught in one of our photos. No crowd chattering. No other joyful voices except ours. It was just us and the crisp of our laughter. We had plenty of time to admire the scenery without being disrupted from our reverie. There was no need for us to hurry since there was just us and no other soul waiting for their turn. Just us and a couple of hours we have to get ourselves enough dose of the extraordinary charm before our eyes.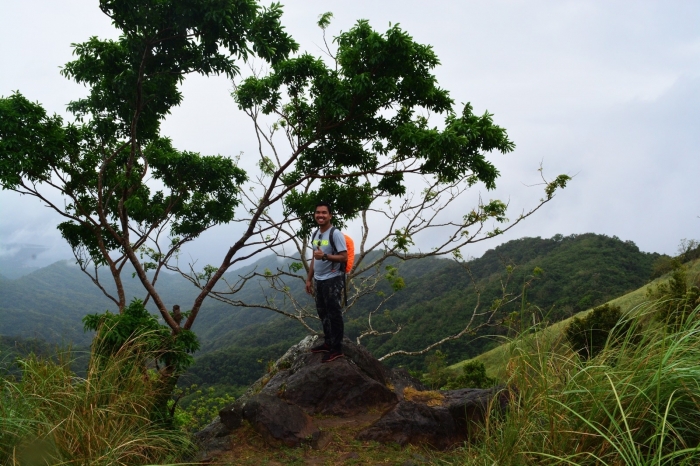 If it wasn't for the rain, we would have stayed longer. But there was no helping the sky becoming too upset. We went down the mountain while the sky drizzled. We were soaking wet but we didn't mind. The hike down was a lot faster which just took over an hour allowing us to reach the registration a little over 3pm. We spent several minutes prepping up and just before the clock hit the hour of 4, we head back to town to catch ourselves the last trip to Batangas City.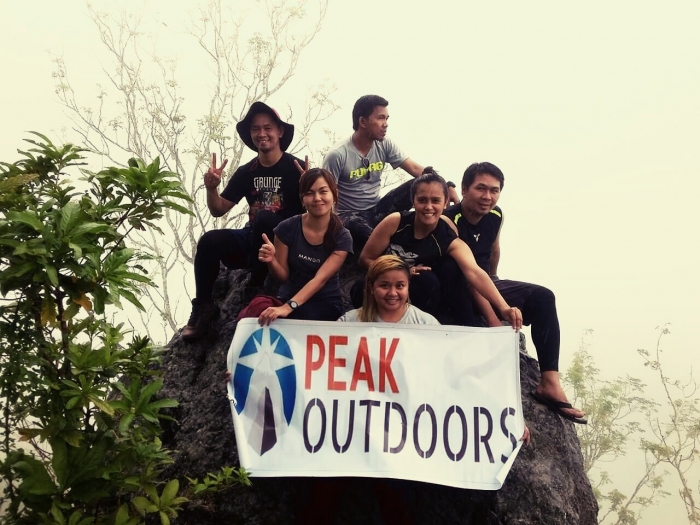 This is probably the shortest hike I've been to so far but one of my favourites for all the good reasons. Magnificent mountain. New found friends. Sheer joy and laughter. The day ended with a wish to see them another time, another summit.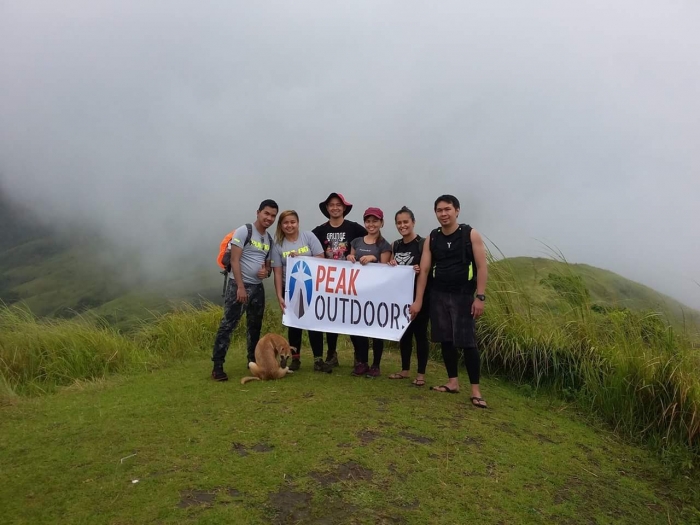 My 50 cents
I noticed people in that side of Batangas are very kind and accommodating. They were very eager to help and answer our queries. They were all smiles making me feel less intimidated.
I hope Mount Tibig stays the way it is and Barangay officials would impose strict regulations with regards to the number of hikers they would allow to hike up the mountain to avoid scenarios like those in Mount Batulao and Pico de Loro from happening.
How to go there
Commute
From Metro Manila, ride a bus in Cubao/Buendia Stations going to Batangas and get off the Grand Terminal (if you get to travel early in the morning, you can ask the bus crew to drop you off in Balagtas). From there, ride a jeep to Balagtas proper. Take another jeep going to Lobo jeepney terminal. Ride the jeep bound to Lobo get off at the main town. Take a tricycle going to Sitio Hulo, Barangay Banalo and get off at the registration site.
Private
Take SLEX and follow S Luzon Expy/R-3 and Calabarzon Expy to San Jose-Ibaan – Batangas Rd in Ibaan. Take the exit toward Ibaan from Calabarzon Expy. Continue to San Jose-Ibaan – Batangas Rd. TakeTaysan – Ibaan Rd and Taysan – Lobo Rd to Jaybanga – Nagtaluntong Rd in Lobo. Upon arriving in Lobo, continue to Barangay Banalo.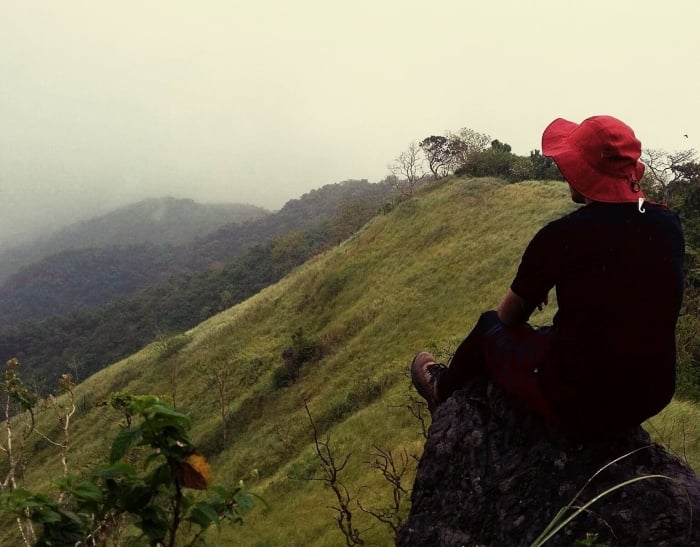 Summary of expenses (day hike)
| | |
| --- | --- |
| Items | Price |
| RT Fare Batangas-Cubao/Buendia | ₱350 |
| RT Fare Grand Terminal-Balagtas | ₱22 |
| RT Fare Balagtas-Lobo Jeep Terminal | ₱16 |
| RT Fare Lobo | ₱110 |
| RT Fare Lobo – Brgy. Banalo | ₱100 |
| Environmental fee (Lobo) | ₱20 |
| Environmental fee (Brgy. Banalo) | ₱20 |
| Guide Fee @ P500/5 | ₱100 |
| Food and/or other expenses | ₱200 |
| TOTAL (per pax for a group of 5-6) | ₱938 |
Things to bring (day hike)
Packed lunch
Trail water at least 2 litres
Gatorade
Trail food
Garbage bag
Umbrella
Bandana/cap
Extra clothes
Towel
Toiletries
Extra money
Waterproof bag for gadgets in case of rain
First aid kit including both OTC and maintenance meds
Sample itinerary
0330 Assembly Cubao/Buendia
0400 ETD to Batangas
0500 Grand Terminal
0630 Balagtas
0700 Lobo Jeep Terminal
0830 Lobo town proper
0900 Barangay Banalo/Register
0930 Start Trek
1130 Summit/Photo Ops/LUNCH
1300 Descent
1500 Registration Site/Wash Up
1600 Head Home
1900 ETA Manila
Contact person
Barangay Sitio Hulo: Gabino Boongaling:
0926 491 6824
0919 440 3941
Lobo Police Station:
You might want to check out
If you still haven't had enough of the awesome beauty of nature, you can traverse to Mount Banoi.
If you want somewhere to relax and get a dose of Vitamin Sea, check out the beaches in the area of Lobo.
Also read: Mount Mago: Climbing the Boundaries of Danao, Carmen and Tuburan
There you go! Another marvellous mountain survived! Do check out Brow-Brow and the Story of an Extraordinary Friendship to learn the story of the amazing fur buddy we came across within this enchanting mountain. And be awesome. Share this post! Until next time. See yah!