Contributed by A Wanderful Sole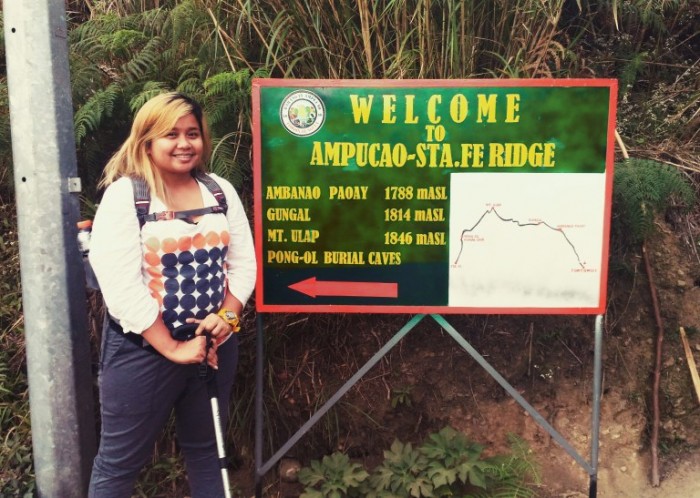 Posing before the ordeal
Basic info
Name: Mt. Ulap or Cloud Mountain
Jump Off: Ampucao, Itogon, Benguet
Exit Point: Sta. Fe, Itogon, Benguet
Elevation: 1846 MASL
Difficulty: 3/9 (Pinoy Mountaineer)
Features: Grassland and pine ridges. Scenic views of the Cordilleras. Burial Caves.
Adding to the impeccable selection of stunning mountains in Benguet is Mt. Ulap, a newly opened hiking heaven located in Itogon. She first welcomed avid mountaineers to her rich, unspoilt lands in September of 2015 and quickly, she rose on top sitting next to the more coveted Mt. Pulag and all for the good reasons. She would knock you off your feet during the first leg of the hike not only because of relentless assaults but also because of the beguiling scenery which your eyes can feed on in every direction. Early on she would give you tons of reasons not to regret giving her a try. Passed the sea of pine trees are endless slopes of grasslands and a marvellous 360 view of the surrounding mountain ranges. She won't give you a hard time and will keep you cool despite the unforgiving sun. She would get you closer to the clouds at her summit and just when you think she is pretty much uneventful as you inch closer to cap off the day, she would entertain you with a steep 80-degree cliff descent.
Also read: Hiking in the Philippines: 15 Trails with the Most Scenic Views
The unexpected hitch
My Saturday on February 27 was pretty much a run-of-the-mill kind of day until the clock hit the hour of 8:00 PM. I was to meet with the coolest gang, Sir Teo, Joyce and the rest of the friends I met in Mt. Pulag for the promise of an exciting climb to Mt. Ulap. I, together with Ian (Boyfie), journeyed the roads bound for Edsa Central from our home in Biñan at 6:00 PM. It wasn't until 8:30 PM that we joined Sir Teo, Joyce and another guy Rey in McDonald's Teleperformance. We waited for a couple more hours until the van and the other guys joining in the climb arrived.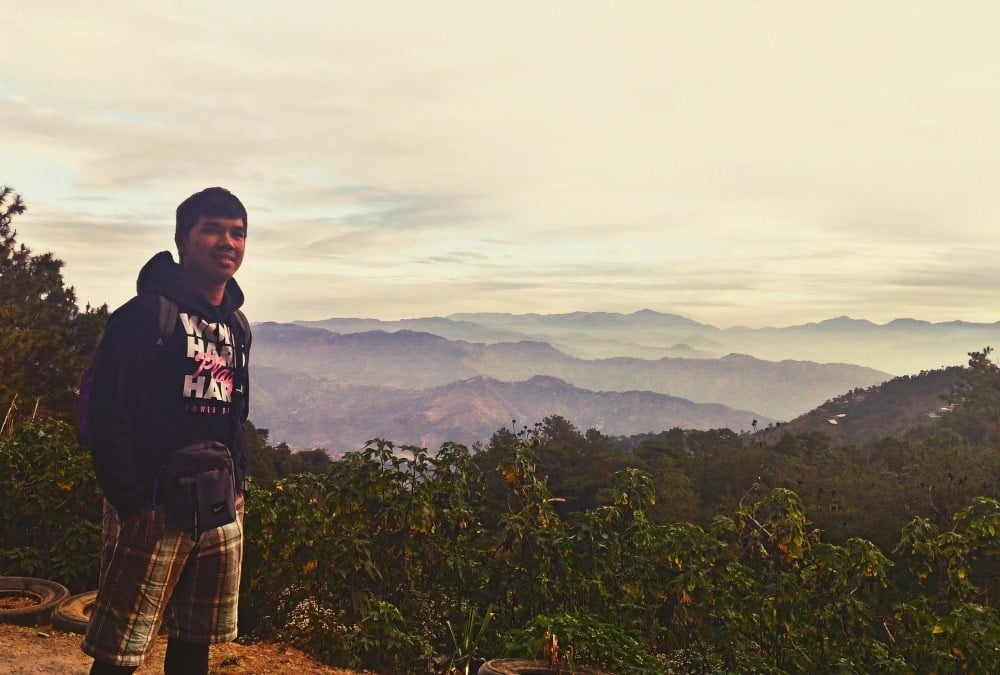 Beautiful morning in Ampucao with Mt. Pulag in the background
It wasn't all the time that a situation is pleasant and that evening, we tasted the sourest grape. Sir Teo rented an 18-sitter van but what arrived was a gorgeous, comfy looking 12-sitter! I was already dying to sit on those fabulously cushioned seats, close my eyes and sleep my way to Ampucao but this vehicle just won't do. It won't fit 18 people with huge backpacks no matter how we do it. We didn't have any alternative available and worse, the person from whom the van was rented was no longer responding. We all were frustrated and the longer we linger as the clock ticks the hours away, the more we risk the climb being postponed for another day.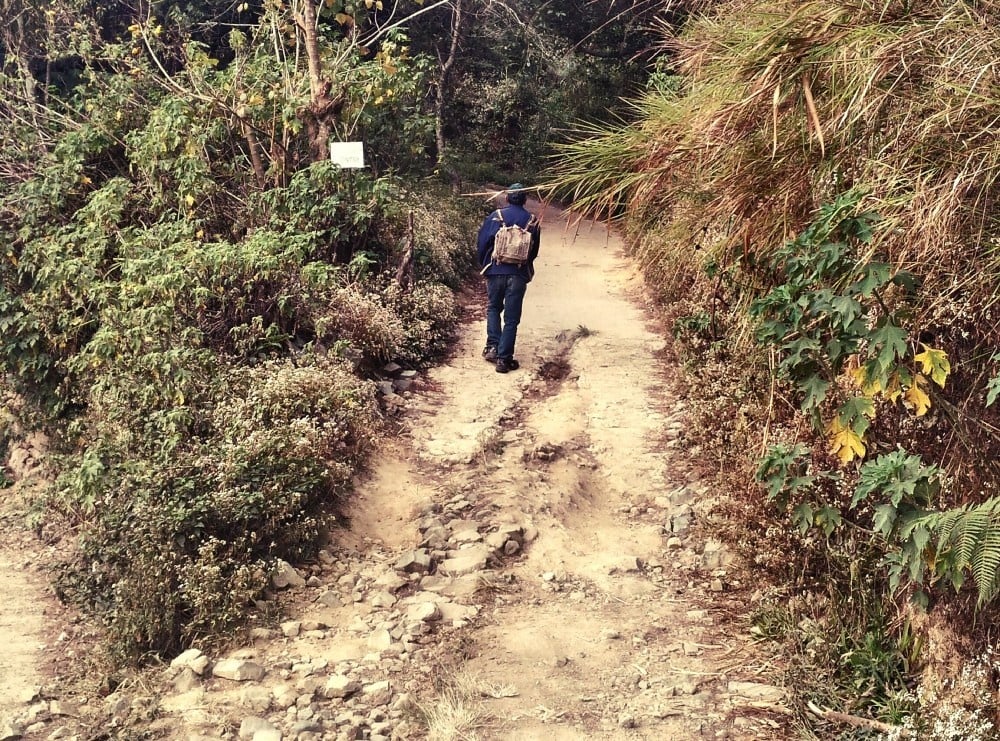 The Jump Off!
The situation was becoming hopeless and before it finally consumed us, we decided to take another route. We walked to the bus stop in front of Edsa Central and hopped on one of the buses bound for Balagbag in QC. The ride took another 20-minutes. We alighted the bus in front of 5-Star bus terminal and waited for Sir Teo to sort things out. The hour was quickly ticking its way to midnight and everyone was already wondering what's gonna happen next. Just before matters turn even more unfavourable, Sir Teo found us another van hindering impatience from taking its toll. The van wasn't entirely our best option but was the only one we got. We each hopped on to it, found our respective seats, headed on to pick our other lovely friend Reawel in Trinoma, then started the journey to the ever hyped Mt. Ulap.
I wanna skip to the climbing part as I don't wanna tell you anymore how nerve-wracking our ride was to Baguio. Our driver that night couldn't seem to get himself enough of the gas! But I reckon he knew what the breaks are for since we still managed to make it back to Manila ALIVE!
The climb
With barely enough sleep from the entire night spent on the road, we started the hike at 7:00 AM from the registration point in Ampucao Elementary School to the main jump off along a concrete highway which took at least 10 minutes. From the jump off, we ascended a narrow concrete road which stretched for about 15 metres before reaching the mouth of the trail of Mt. Ulap. Passed the sign that welcomes visiting hikers is a steep assault which stretches for about 4 metres. After the first steep assault is a walk along slopes of overgrown bushes in both sides. After probably 5 minutes, we stumbled into a trail carved few inches from the edge of a cliff where we first marvelled at the far-flung mountains. It led us west towards another steep ascent.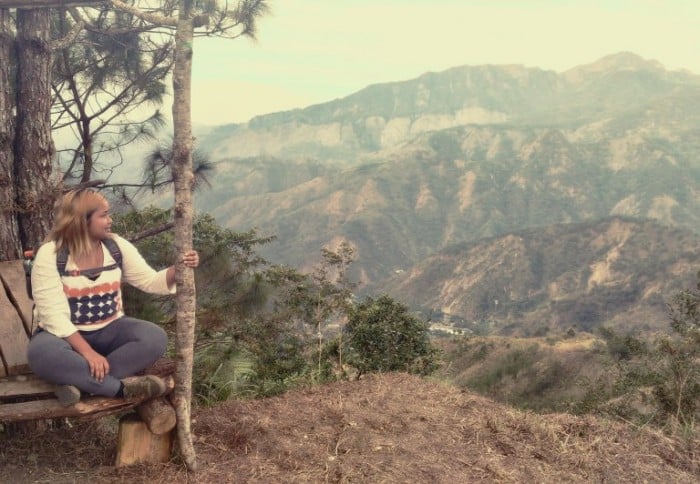 Stunning view after an assault
I found myself in a spot overlooking the mountain ranges to the east after the ascent. We rested for about 2 minutes. After that, we took off for another steep ascent. The steep assaults and walks over flat surface went on for couple of hours but it was made bearable by the splendid scene anywhere we looked. The refreshing scent of towering pine trees, the colourful flowers sprinkled everywhere and the intricate rock formations made Mt. Ulap to have one of the most beautiful trails out of all the mountains I've climbed. After probably 2 hours from the time we started the hike, we reached the place locals called Ambanao Paoay.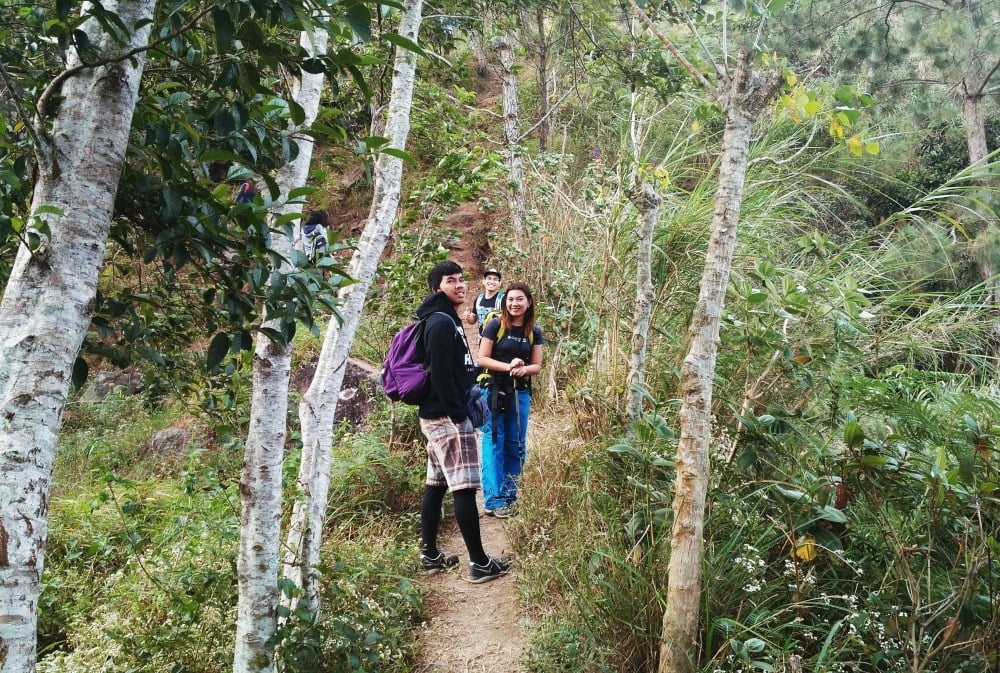 The beautiful indulgence
Ambanao Paoay as the local guide told me is the term they use to pertain to the vast ridges of grassland and endless skies. To me that was probably the first peak we reached. There, the scene became even more breathtaking with acres of grasslands seeming quite rich which is not a wonder why this mountain is known for grazing cows. We spent several minutes taking in the view and snapping some photos. From the first peak, we went through a very steep descent which took about 20 metres. After which we went on to pass through several slopes until we reached the infamous Gungal Rock another 2 hours later.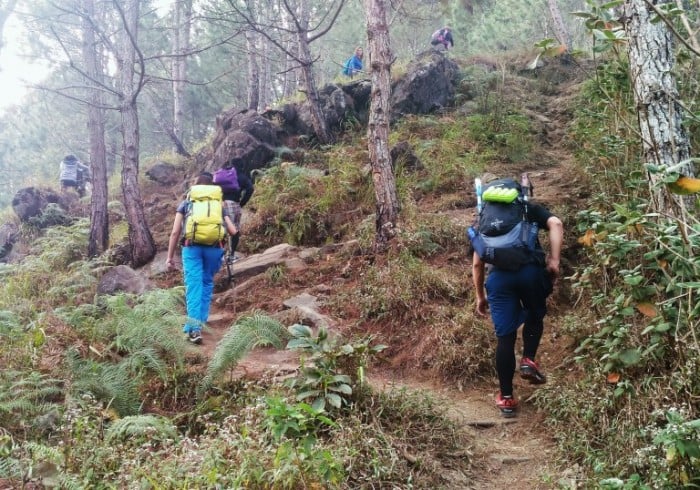 Another painstaking assault
We waited for several minutes to get our obligatory photos taken with the much talked about piece of rock! After that, we continued to trek towards the summit along slopes of grasslands with some parts blocked by fences which we needed to cross over. Lunch was calling when we were only one slope away from the summit. We settled in a spot near the uprooted tree trunk blocking the trail. We indulged over a sumptuous meal which consisted of rice, relyenong bangus, salted eggs and tomatoes. When we were all filled, we took another 30 minutes to take a nap.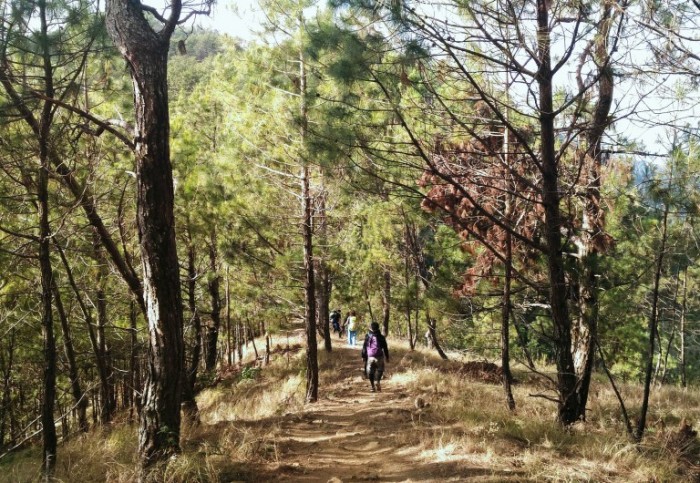 Towering pinetrees
At 1:30 PM, we resumed the hike. We took the shortcut from the spot where we rested, continuing to its peak and went on to approach the summit from the side or the back area. At exactly 2:00 PM, we reached the summit! There we had some photos taken too with the clouds slowly engulfing the peak as the backdrop.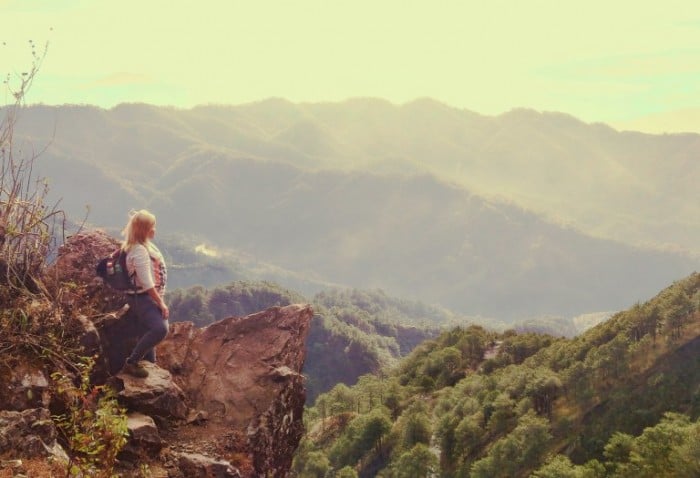 Stunning view atop a cliff
We didn't linger too long at the summit although there weren't that many people at the time. In fact, we were probably the last group to have reached it. We really did take our time! From the summit, we went through another steep descent which stretches for about 30 metres, went to walk at the side of another slope, then took another assault to the trail that leads to the steepest descent of that day's hike.
Also read: 12 Best Hiking Getaways in the Philippines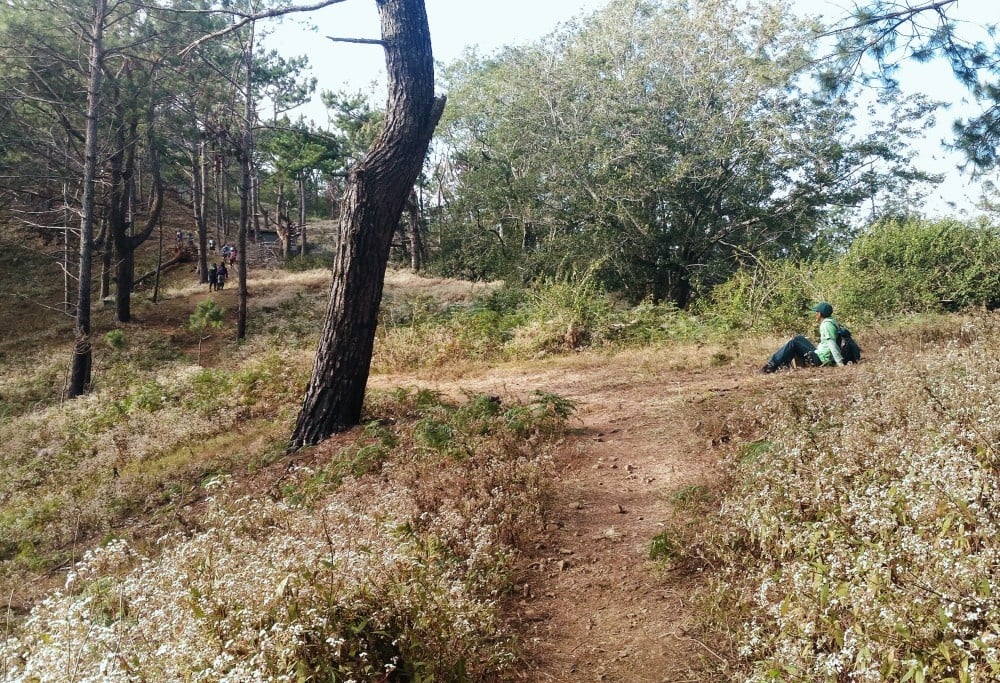 Sprinkle of flowers
The others went ahead leaving me and Ian at the tail. We started the steep descent which I consider the most challenging part of the hike after taking a short breather. If you are wondering why I say it was the most challenging, it's because literally we went down an 80-85 degree cliff. Locals put some wooden bars as support along the ladder-like trail and when I say ladder-like, I am talking about patch of soil put together with just a wood stretching for about 2 feet keeping it intact. It was a straightforward descent and if going down along an eroded trail is what normally slows you down, expect to take it for another 2 hours. Worse you may also go home with a broken and aching toes!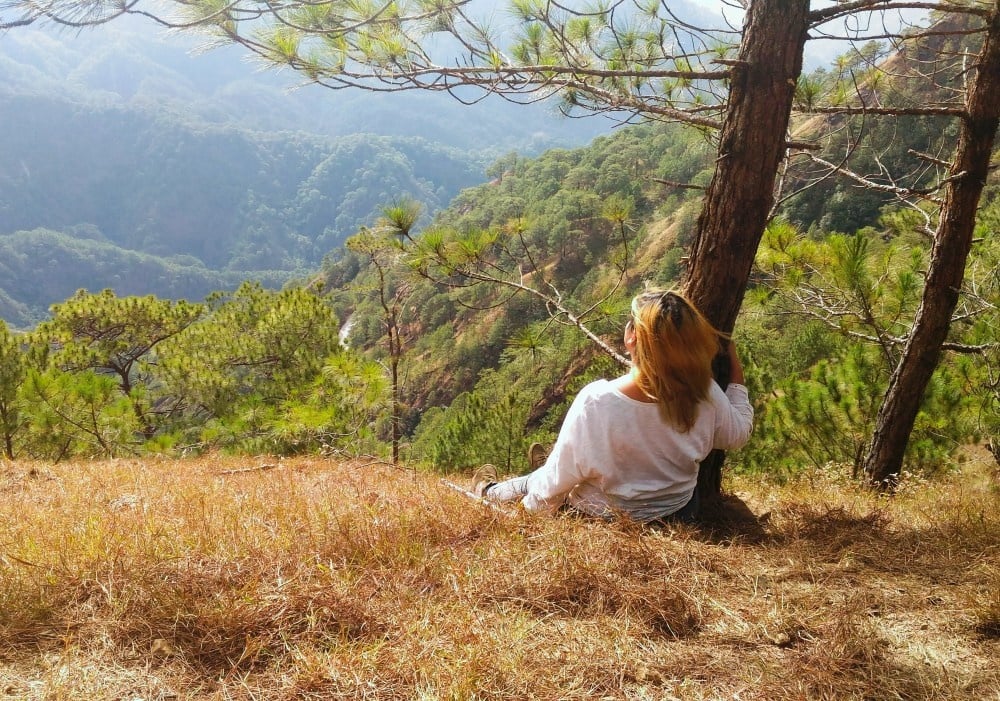 Serenity
We survived the first part of the steep descent after more than an hour and went to rest at the store nearest the trail leading to another steep descent. We took 15 minutes to chill and rest our feet! My toes were already bothering me and I longed to rid my feet of my shoes! Resuming the descent was another agony we needed to endure. It lasted for another 20 minutes and by the time we reached the ground crossing an empty river and a hanging bridge, that was when I felt the most relief. We passed by 2 more steel hanging bridges before reaching a house where we reunited with our climb buddies who were already wrapping things up after getting a much needed bath.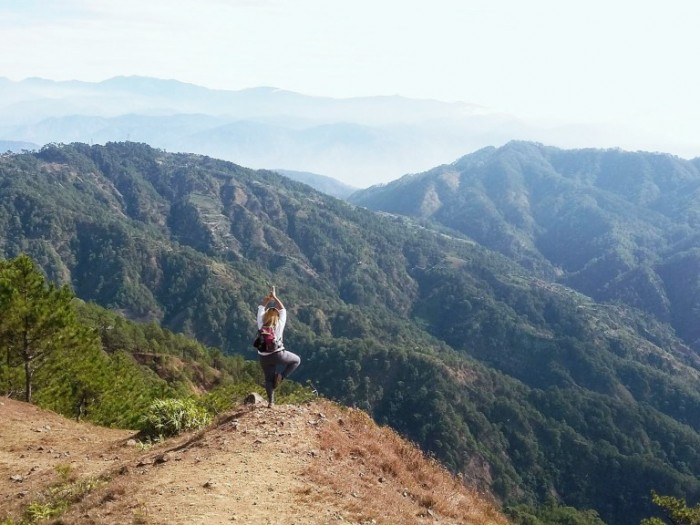 Yoga pose in Ambanao Paoay
We too took a refreshing bath and when we were ready, we resumed to complete the trek down to where the van we hired from last night awaits. We passed by residential houses along a concrete path and another 3 steel hanging bridges before finally capping off the day on a high!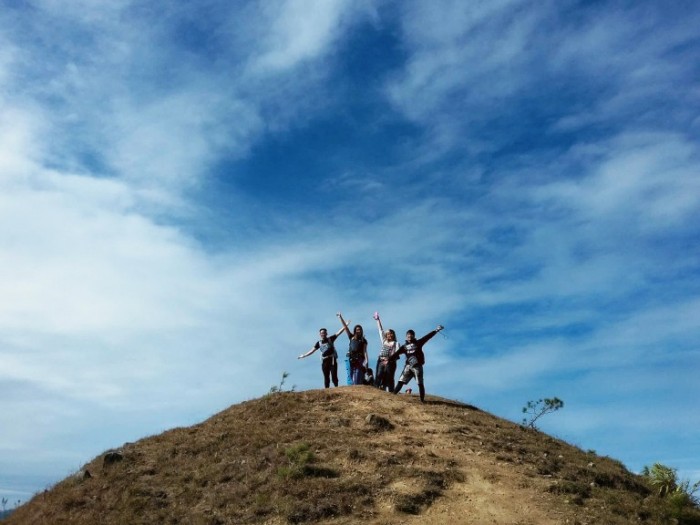 Beautiful Day!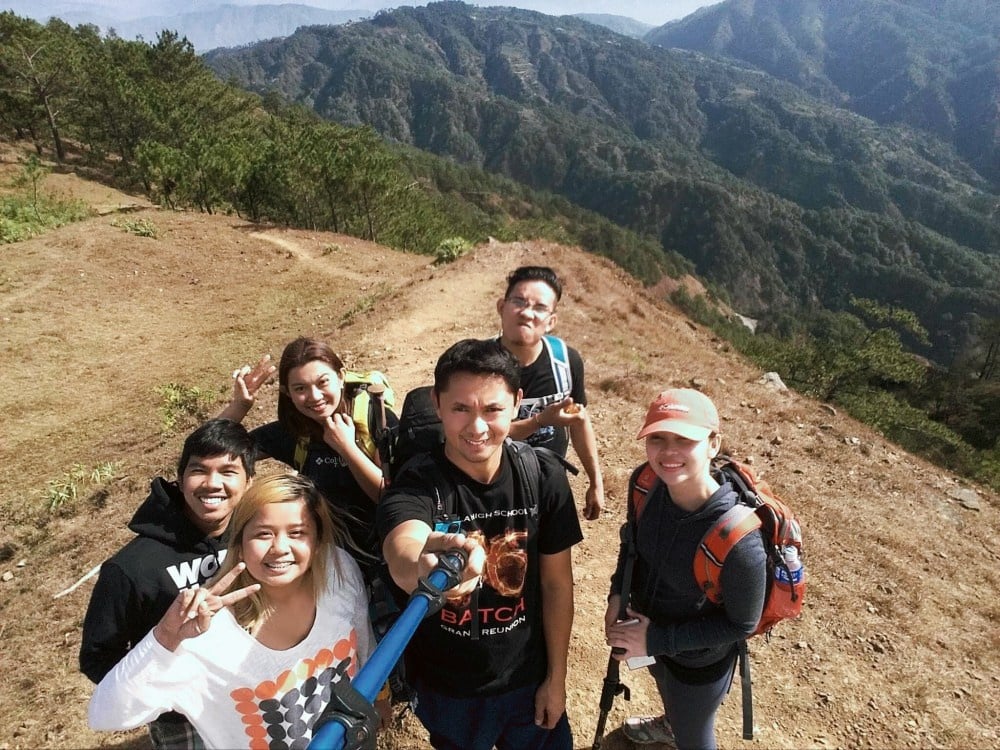 The gang's groupfie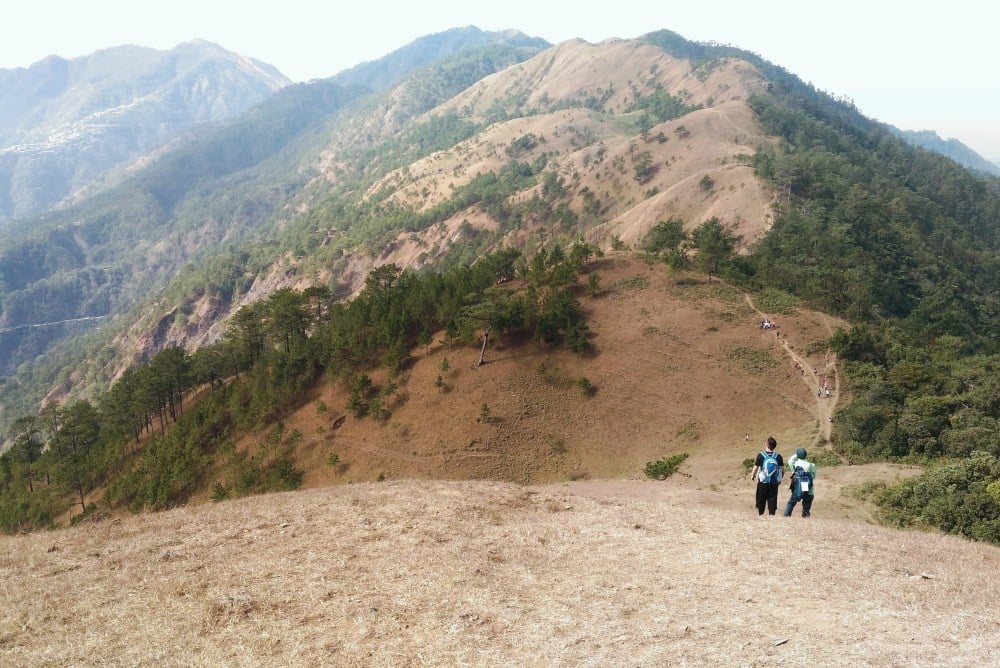 This adventure is definitely far from over.
Also read: Mount Pulag: On Climbing Luzon's Highest Peak
My 50 cents and other info
If you have noticed, I haven't written anything about me having a hard time hiking up Mt. Ulap but truth be told. I actually had countless breathless moments, not just because of the beauty of the place but also because of several assaults that made me run out of breath many times. I just didn't want this post to be overly dramatic. Maybe it's because I enjoyed Mt. Ulap way too much.
Not so perfect heart shot at the summit fronting the clouds
If you are to hike this mountain, bring with you lots of patience. Her trails may be tons less grueling than the other mountains but long walks along ridges can still take up much of your energy and time making you feel like the hike is taking way longer than necessary.
We had not seen a single trash anywhere along the trail or anywhere in Mt. Ulap that even those tiny cigarette butts and candy wrappers were nowhere in sight. Let's keep it that way. Let us help the locals keep this magnificent mountain clean. Observe LNT (Leave No Trace). Bring your trashes down Mt. Ulap and dispose them upon getting home.
Don't let the cool weather fool you. Wear sunscreen to protect your skin. The sun is still up there even when the air blowing through the whole time is as cold as the early morning breeze.
Feel free to climb DIY style. Mt. Ulap doesn't require early reservation and they welcome walk-ins.
How to get there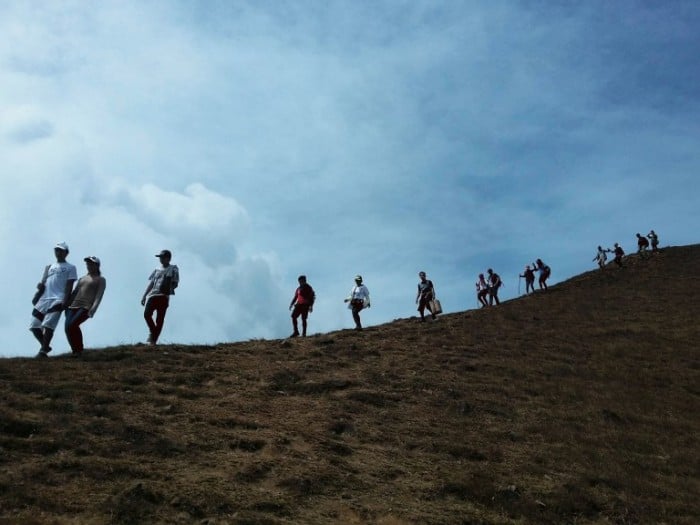 Commute – Ride a bus in Cubao/Pasay to Baguio City. From the bus terminal, ride a jeep going to Central Mall. Then from there, ride another jeep enroute Phillex Mines and get off Ampucao Elementary School.
Private – Take NLEX continuing to SCTEX taking the exit to MacArthur Highway. From MacArthur Highway turn right to Kennon Rd continuing to Loakan Road then to Balatoc Road until you reach Ampucao Elementary School.
Summary of expenses

DIY Commute
RT Fare Bus Manila-Baguio ₱900
RT Fare Jeep Central Mall ₱16
RT Fare Jeep Ampucao ₱70
Registration Fee ₱100
Guide Fee @ ₱400 – ₱40
Total – ₱1,126/pax for a group of 10
DIY Van Rental
Van Rental @ ₱10k – ₱1000
Registration Fee ₱100
Guide Fee @ ₱400 – ₱40
Total – ₱1,140/pax for a group of 10 ***Can be a lot lesser if more people will share the van rental cost. For 12-sitter van rental, please contact 0936 951 4130 and 0920 979 9924 or 18-sitter 0915 733 7688.
Not feeling hiking Mt. Ulap and doing the planning on your own? Or you are more into going with the crowd than going solo? Then join an open climb and get to know awesome people. Check out Champ on Facebook or give him a ring thru mobile no. 09301166001.
Reminder: Make sure to go with a group of 15-20 participants max. We don't really want to wear down the beauty of Mt. Ulap too quickly, do we?
Things to bring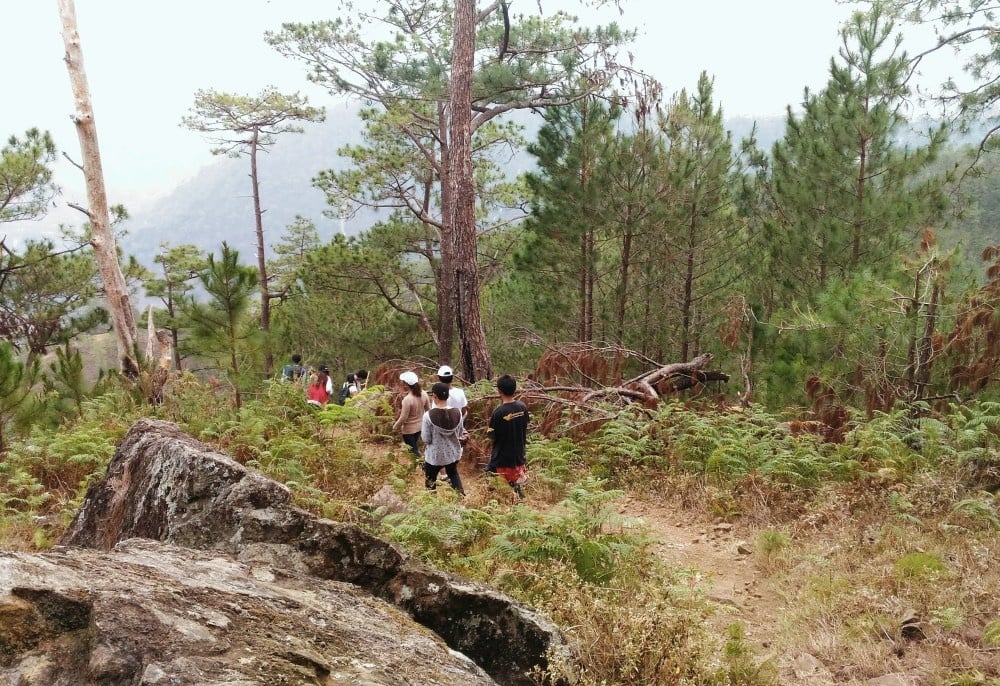 Jacket
Weather gear (gloves/bonnet)
Extra clothes
Toiletries
Umbrella
Trekking pole
Poncho/Raincoat
First aid kit including personal meds
Trail snacks
2L trail water
Packed lunch
Sample itinerary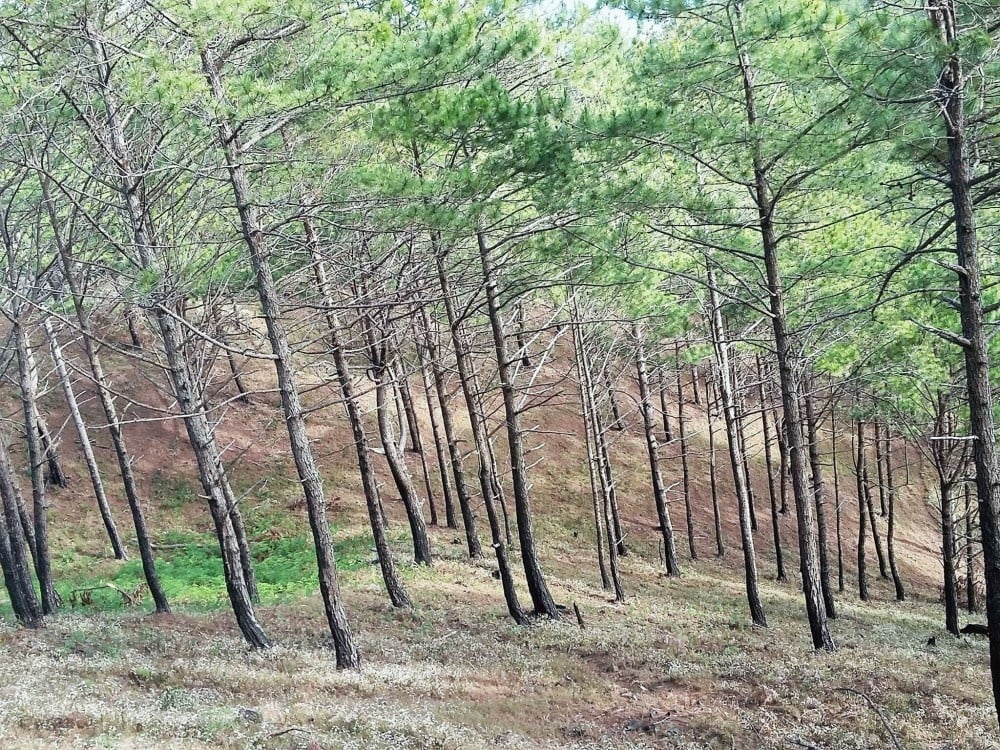 Day 0
19:00 Assembly at Edsa Central/Cubao
20:00 ETD Ampucao
Day 1
02:00 Arrive in Ampucao
03:30 Start Trek
04:00 Ambanao Paoay
05:00 Gungal Rock
06:00 SUMMIT
08:30 Pong-ol human cave
09:30 Sta. Fe (Wash Up)
10:00 Depart for Baguio City side trip
10:30 Baguio City Free Time
19:00 Depart for Manila
24:00 Arrive in Manila
Also read: 10 Beginner-Friendly Hiking Trails in the Philippines
There you go lovely people. If you need more info about this much talked about Mt. Ulap, feel free to leave them on the comments box. Until next time. Ciao!