There are two things Naga seems obsessed about. One calls out through the church bells that ring at strategic times throughout the city. The other has his name plastered on the Coliseum. It looms above almost as soon as stepping out of the bus terminal, a monster of circular concrete, shiny metal and cut letters.
But his name doesn't stay there. It trickles down to tricycles emblazoned with a now iconic slipper. It is in the banners plastered all over City parks that declare August 18 to be "His" day. It's in store panels that shout out "I am the Best of Bicol."
Also read: 20 Underrated Provinces in the Philippines Totally Worth Visiting
There are two things Naga seems obsessed about. One of them is the Lady of Penafrancia. The other is Jesse Robredo.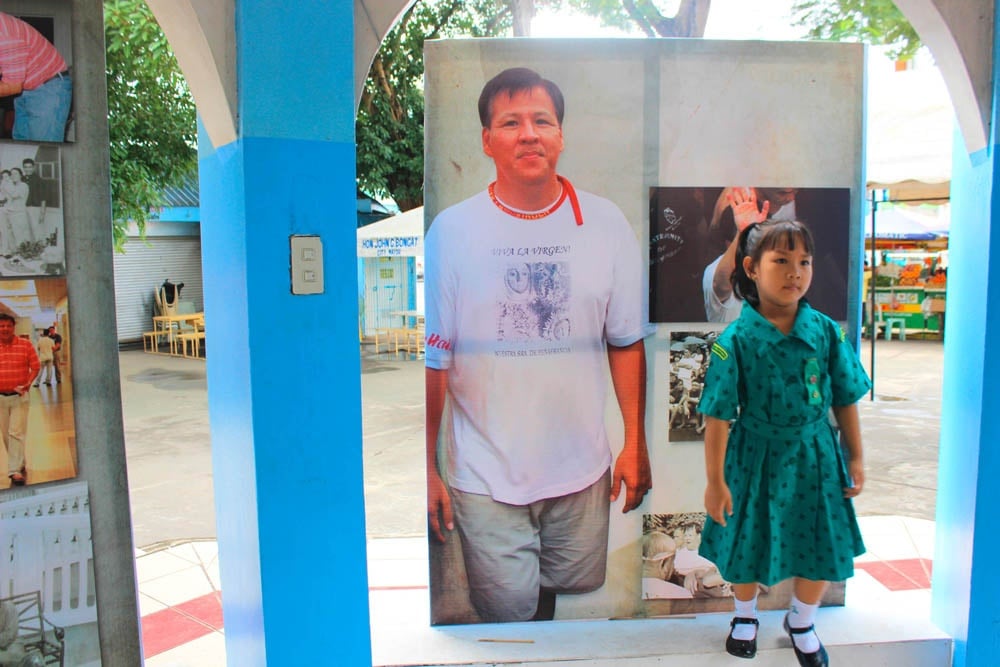 Girl Scouts having their picture taken with a Naga legend.
Laconic functionality
What makes a man, mere mortal, so in demand in the "What would've been's" of his premature death is like asking what makes Naga so special.
From the surface, there is nothing.
We are in a place called Sampaguita. Brochure talk would describe the accommodation as a "spacious room and balcony, with a stunning view of the riverside, nestled away in a convenient part of the city."
It is, in reality, just that.
Except Naga's river is murky and the mentioned convenience is a 7-Eleven at the corner. There is a floating consistency of mass: plastic, raw materials, tree cuttings. Untended leaves climb up on walls. And once in a while, a fisherman passes by, in search for supper, hito, catfish.
In the distance, there is billowing smoke in factories, air vents, concrete.
As fragrant as Sampaguita sounds, it can't hide what Naga seems to be at the surface: industrial and growing as a city should be.
As Robredo must've imagined it to be.
What is progressive is not always beautiful. But what is beautiful may not always be progressive. Somehow one must learn to contend without the other.
Maps on the lobby promote legends of laconic functionality. The Government. Education. The Finance Sector. It is a map meant for the Nagueno, what Jesse referred to as "Naga's most important asset." There are no legends for tourist spots, or even for tourists. And the receptionists, often reliable in their knowledge of people and place, scratch their heads on where to go.
"Ah, yung ecopark? Hindi ko alam. Hindi pa kasi ako nakapunta."
"Malayo pa yata yun. Not sure ha."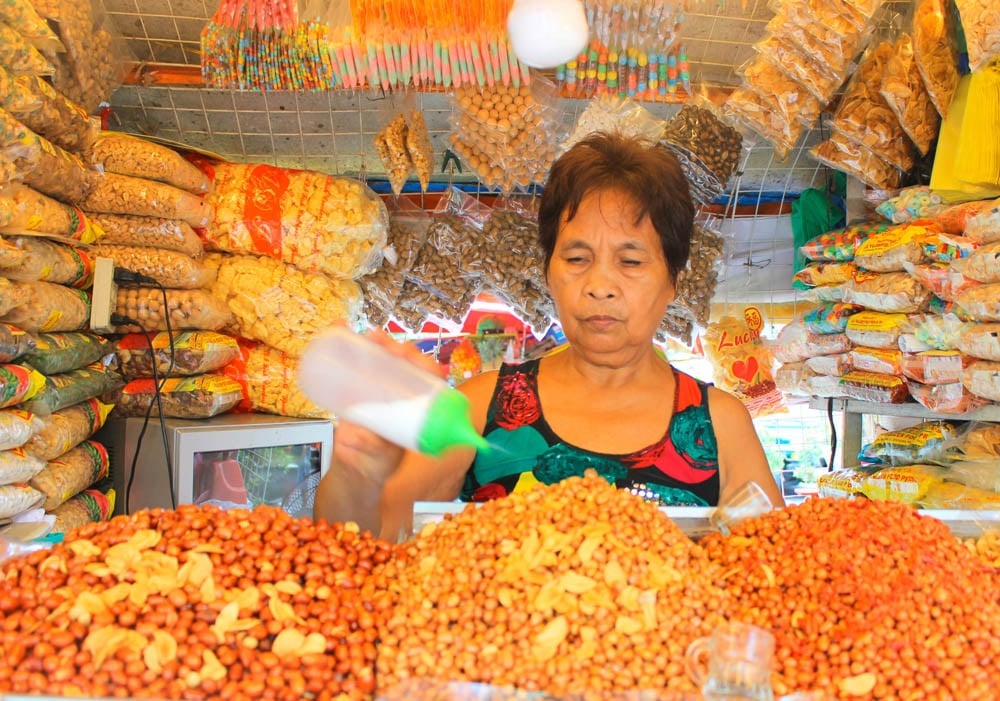 An overload of spices in Rizal Park.
Face The Wall
What Naga lacks in natural wonders though, it more than makes up in food. Arriving in the city a little before lunch, the Bisaya taste that hankers mostly on salty and sour finds the spicy and creamy instead. In Naga, sili espada and gata are prerequisites. Oftentimes, they are both, confusingly, in one plate.
Beside the San Francisco Church, in the City Centre, is a back alley in Red. The roofs. The tarps. The banners. Locals have named this Face The Wall, a strip of carenderias that offer Bicol Express, Laing, Bopis, Hito, for ₱10 a serving. Pancit is for ₱5. Lumpia Shanghai is ₱3. We ordered the whole lot, the thought of leftovers in mind. None were left.
Bicolano, they say, is closer to Bisaya and Waray than it is to Tagalog. So, we let the carenderia owners explain each dish. There were stingray, catfish, liver. But drowned in coconut milk, who can tell? Sili Espada here, unlike other parts of the country, is cheap. So they place in plenty.
Rain trickles down on tables, on arms, on legs. It drips on the laing, which by now has become a puddle of water and gabi. When you want to eat with the masses, a blogger once said, eat in Face the Wall. But travellers unwary about labels only find one affirmation, that in Naga, food is a way of life.
In front of the Church is an old woman selling Puto Bucayo, candied coconut strips and sticky rice wrapped in banana leaf.
This is her spot. She is here everyday, she says, and the smoke that comes out of her pot rises up with the lighted candles of the faithful.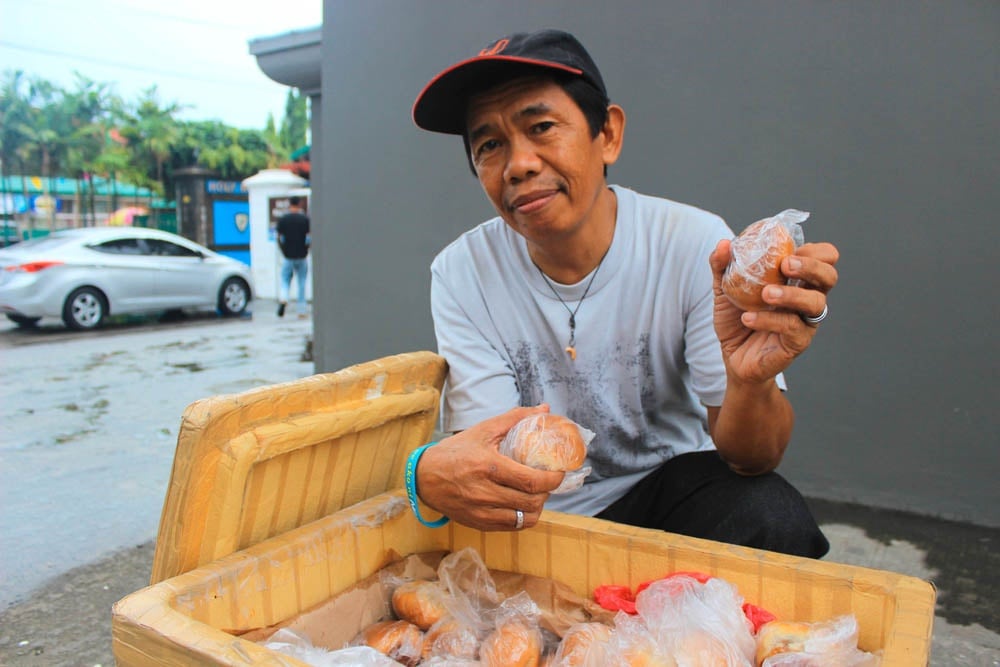 Dao Ming Sy, also known as, Dominggo.
People than place
"Nakita nyo na ba yung exhibit ni Jesse Robredo sa Plaza?", a vendor of fried Siopao asks. We are at the Porta Mariae, an impressive offering to the Lady of Penafrancia. In Gratitude, the emblem says, for saving Naga.
And while munching on the oily pastry, a combination of bread and dumpling, for free, the vendor insists, he retells stories of Jesse Robredo. Of how the former mayor gave him a house. Of how his children went to school because of.
And Lani? "Kamukha ni Pops Fernandez.", he attests.
So the day after, we walked over to Rizal Park, where Naguenos come in droves for the exhibit of their former mayor. Oftentimes, the word "former" is dropped.
It is the exhibit's last day. Girl scouts with their mothers have their pictures taken with a smiling Jesse, a walking Jesse, a Jesse that sat down on the streets with his constituents.
He was loved, there is no doubt.
Also read: Luzon to Samar by Land: A Road Trip via Bicol Region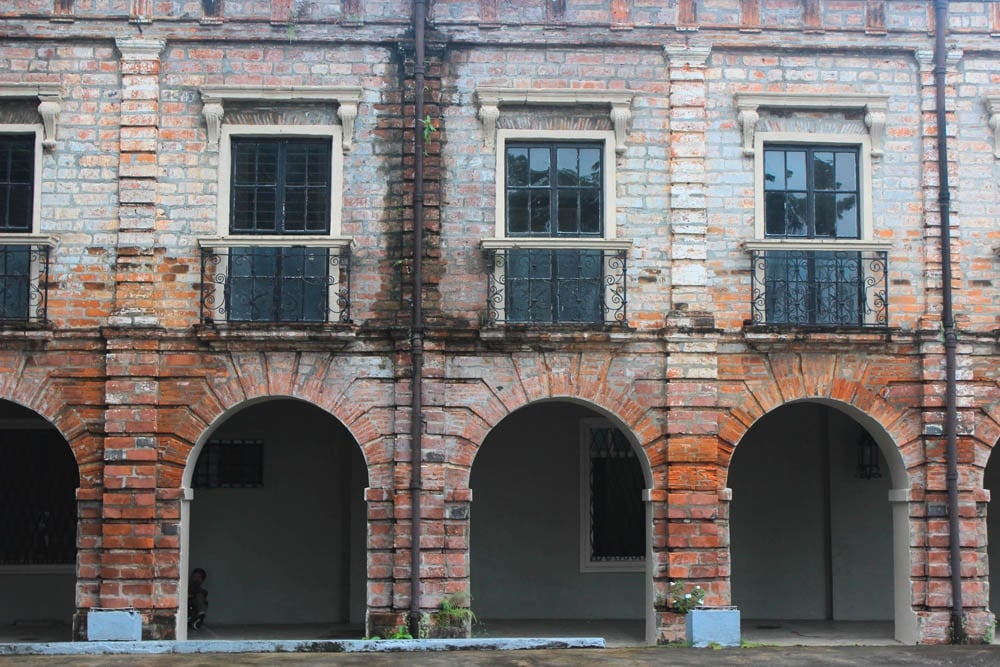 The Priest's Residence and Offices beside the Cathedral
But more than being loved, he is missed. If not for him but for the possibility of what he stood for. Such is the brunt of those who die young and die as a symbol of the unordinary. Messages are printed on white canvass. And a big sign in yellow says it all, Jess, Mabalos.
But foreigners would rather have their picture taken on the I Love Naga cutouts. They wonder perhaps of the importance of this man, enough for his name, when Naguenos speak, to be given a different tone.
I sit on the steps of the Gazebo where his face is plastered, and continue to wonder much like a foreigner why these people, old men who guard the park beyond their call of duty, children too young to understand his legacy, everyday men, going through the rigors of livelihood, are finding comfort in remembering, when the rest of the country is starting to forget.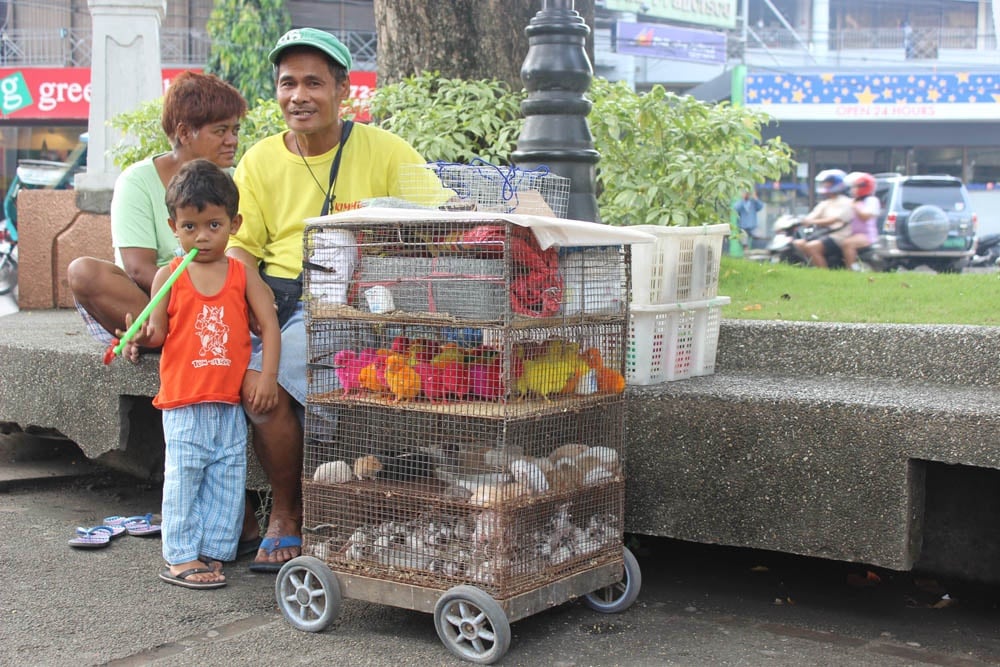 A father and son selling coloured chicks in front of the Cathedral.
Already in the hotel lobby, I suddenly remember I had left my notebook, all travel notes, on the very same steps I had sat in, in Rizal Park three blocks away.
The policemen I had interviewed, by now familiar with this 26-year old who somehow asked too many questions, quickly goes around the perimetre to search. Old men supposedly sitting at their quiet corners retrace my steps with me. They show me where I sat, what I did, where I placed my water bottle.
Yes, Yes, But where's my notebook?
They asked the park cleaner, busy in his tasks.
"The black notebook?", he asks. Yes.
He kept it, he says, in case anyone was looking.
It must be true then of this place, so lacking in the ordinary prerequisites of a tourist spot, that its people is its number one asset. It is more than enough.
Also read: An Open Letter to Filipinos: Travel the Philippines First
Robredo once said of his beloved city, that it wasn't brilliant because he was, but because the city itself wanted to be brilliant, and somehow demanded this from him.
"Naniniwala ang mga tao sa kanilang nakikita, hindi sa kanilang naririnig", Jesse once said.
Waking up to Naga on a Sunday though, it is the sounds more than the sights that capture: the honk of tricycles, the whirr of motors, the bells of the Penafrancia Cathedral calling back her prayerful. A morning vendor yells "Tahoooo…". Construction workers shout from building to building. It is a working city, a city that refuses to keep quiet even on a rest day.
Just as once perhaps, the efforts of a single man who refused to keep mum, placed a passable town on the map.
When terms like "on the ground" and "accountability" become confusing jargon of the times, one must learn to ask what the rest of Naga probably does.
What would Jesse do?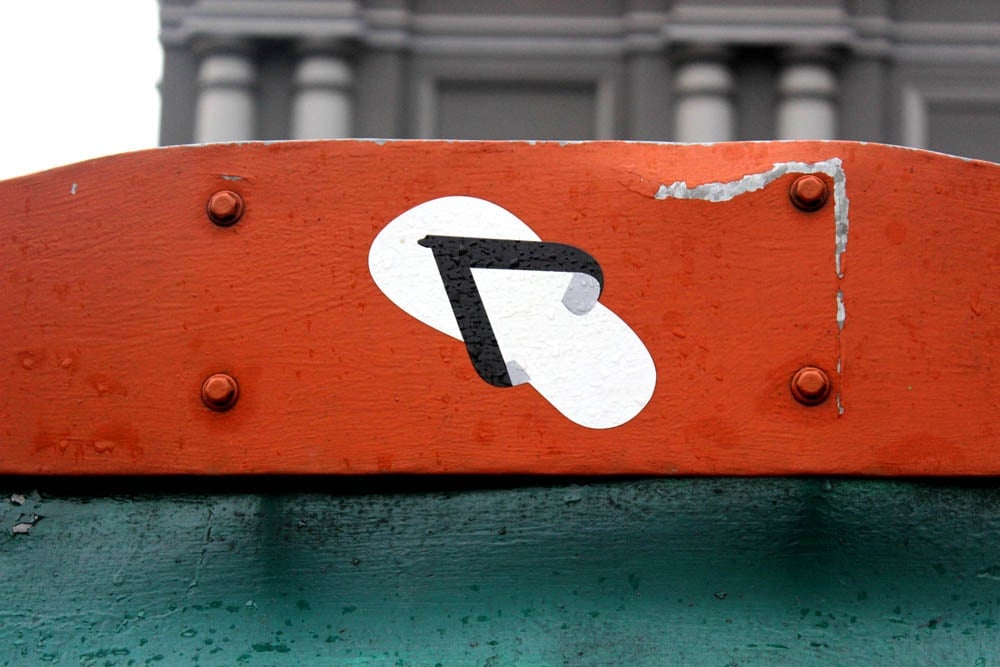 The now iconic slipper on most of Naga's tricycles.