If pictures were still worth a thousand words, capturing the nature of Dachstein Salzkammergut imposes a challenge. I'm one of the biggest fans of this Austrian region, and I would have to say that the place has a particular charm that is way beyond words. I have gone through picture after picture of Dachstein Salzkammergut, and I fall more in love with it every single time. Although mere photos won't suffice to say how scenic the place is, we have to give our best shot.
Also read: The Secrets of Dachstein Salzkammergut — Austria's Enchanting 'Cultural Gem'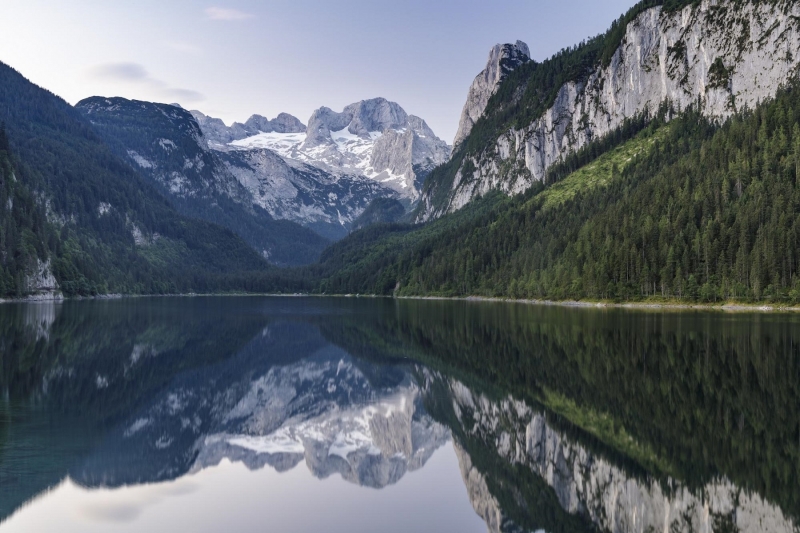 With all this said, I find it essential to walk you through the best points to witness the picture-perfect nature of Dachstein Salzkammergut. If you're planning on visiting this region soon, make sure to drop by as many of these spots as you can. I'm sure capturing Dachstein Salzkammergut can be overwhelming because of its panoramic beauty, but trust me: With the right angles, your snapshots will let you relive your Austrian adventures any day!
Admire viewpoints from above
Remember the #flatlay trend? Of course you do — by now, almost every Instagram user has attempted to compose the perfect flat lay. But, who says all flat lay photographs have to be meticulously curated? In Dachstein Salzkammergut, nature has laid it all out for you! Take the finest bird's-eye view shots of this region and head over the following viewpoints.
1. 5 Fingers, Dachstein Krippenstein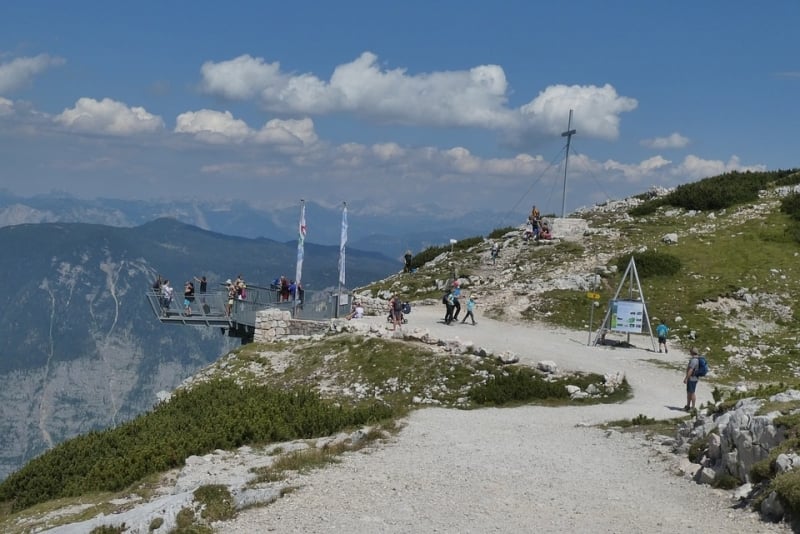 Observe the panoramic nature of Dachstein Salzkammergut to the fullest as you stand atop its highest viewpoints. Many of these, you will find along the snow-capped mountain range otherwise known as the Dachstein Mountains. One of the most ideal viewpoints for those seeking to marvel over the entirety of northern Dachstein is the 5 Fingers Viewing Platform, or the "World Heritage View Point," in the Krippenstein mountain.
Hiking up this viewing platform takes 20 to 30 minutes from Krippenstein Station II. The hike is fairly easy — even suitable for children! However, the view from 5 Fingers can be a little daunting for some. With the platform protruding from the Krippenstein rock face, visitors will be overlooking a 500-metre fall!
Although its height may be overwhelming, the spectacle from 5 Fingers definitely soothes the nerves. The viewpoint offers a glorious bird's-eye view of Hallstatt and the inner Salzkammergut region.
2. World Heritage Spiral, Dachstein Krippenstein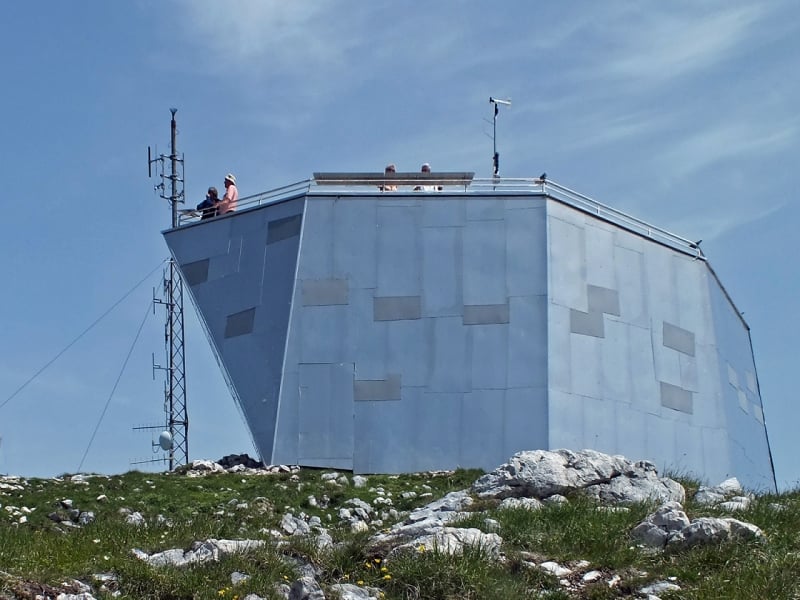 Standing near 5 Fingers and just above the Lodge am Krippenstein is the World Heritage Spiral Viewing Platform. From here, travellers can see the stunning panorama of the Dachstein Glacier.
Perfect for your snaps, the World Heritage Spiral even has a photo point that allows visitors to take Instagrammable pictures of Dachstein Salzkammergut!
If you just want to lounge around, the area also has wooden recliners for your comfort and enjoyment. This place is so relaxing that even sheep have found their home in it! Keep your eyes peeled and you'll spot them grazing around the Alpine meadows. 
3. Dachstein Shark, Dachstein Krippenstein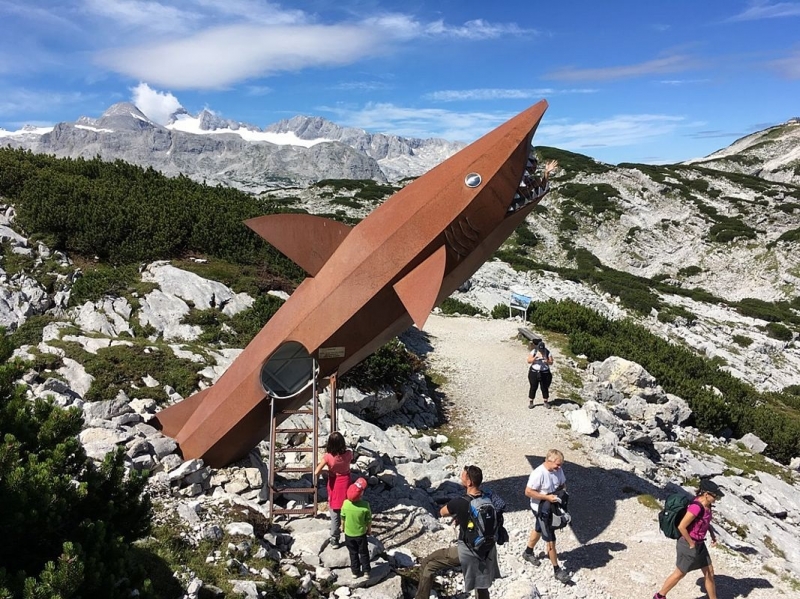 Offering a unique viewing experience, the Heilbronn Circular Trail erected a viewpoint in the form of an eight-metre shark-like structure. But, the Dachstein Shark is not a random installation — rather, it serves as a reminder that its perimeter is actually a fossilized seabed. In fact, when the Dachstein Shark was completed in 2013, locals celebrated the return of the "King of the Primeval Ocean" to Krippenstein.
As travellers climb up the Dachstein Shark, they will be able to access a panoramic view of the prehistoric seabed through the shark's jaws; but the structure itself isn't a bad backdrop either! Around the Dachstein Shark, you'll also see numerous fossils of crustaceans. Now, who says it's impossible for underwater creatures to emerge 2,100 metres above land?
4. Dachstein West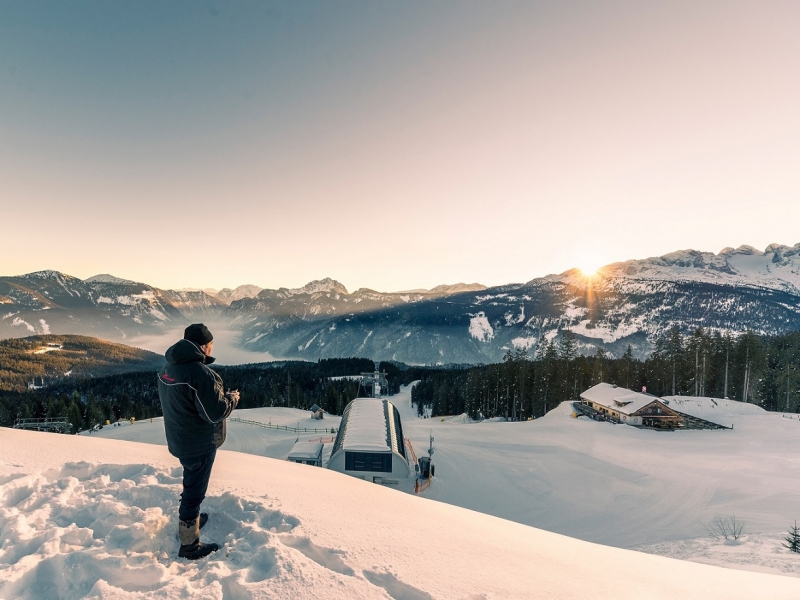 If you're one to look for adventure, head over to Dachstein West, where panoramic slopes await your arrival. At the snowy centre of Austria, Dachstein West is known as a fantastic ski region. It spreads 160 kilometres of pistes perfect for beginners and pro skiers alike!
Tying Hallstatt, Russbach, and Annaberg together, Dachstein West holds the alpine villages of your dreams! The area, although towering 800 metres above sea level, is easily accessible by public transport.
Still relatively unknown to the public, Dachstein West is kind of a local secret. Skiing enthusiasts, however, applaud its landscape. Other than its well-loved pistes and traditional ski lodges, the area also offers a picturesque backdrop of Dachstein Salzkammergut!
5. Hallstatt Skywalk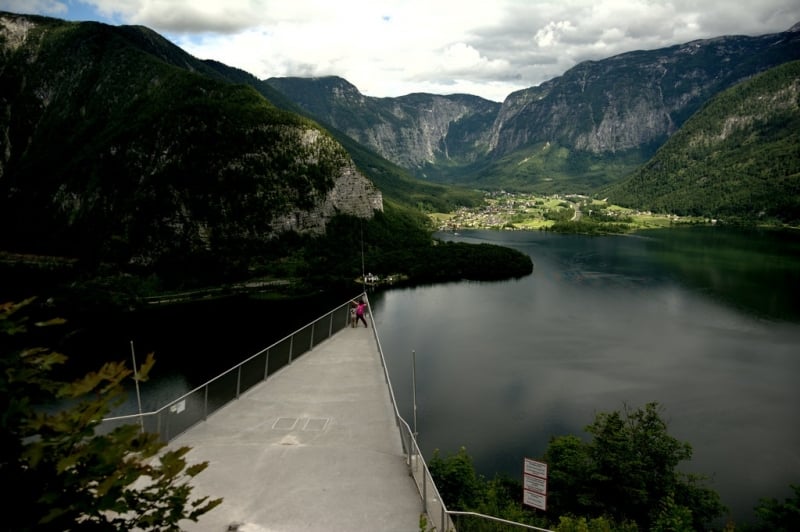 Marvel over Hallstatt from the Hallstatt Skywalk observation deck, a viewing platform soaring 350 metres above the UNESCO World Heritage region. Hailed as "Austria's Most Beautiful Lake Town," Hallstatt is definitely a spectacle to behold from above. 
To get to this point, ride the funicular up to the Hallstatt Salt Mountain — also a fun experience in itself! But if you're up for a moderately difficult hike, you can follow one of the hiking trails instead. Hiking up the salt mine typically takes an hour and 45 minutes, but the journey is surely thrilling. Along the trail, you will find educational boards and signs about the history of salt mining in Austria. 
6. Zwieselalm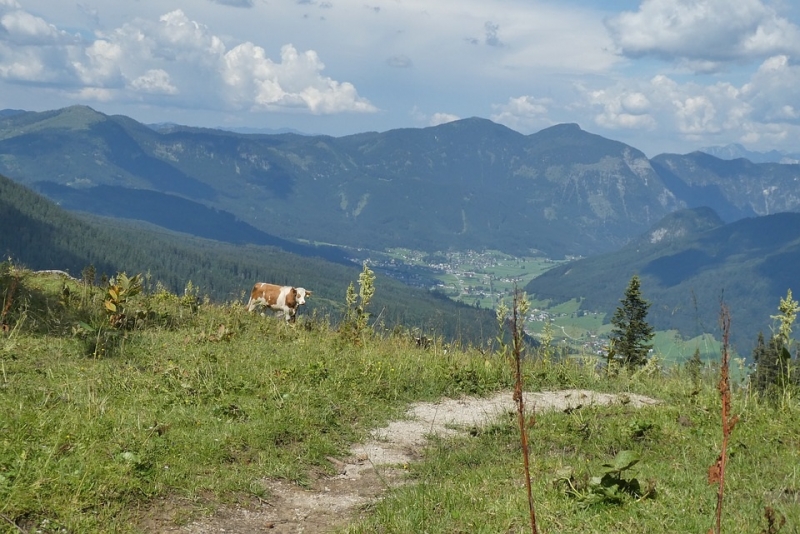 A steep alpine grassland, Zwieselalm offers some of the best views of the unspoilt nature of Dachstein Salzkammergut. Its highest peak, Törleck, rises 1,619 metres high. Running a close second is Zwieselalm Höhe, the area's central peak, with a height of 1,587 metres.
If you're an experienced climber, take your adventure up a notch and climb up the Donner Kogel Via Ferrata. Its threatening height of 40 metres has gained it the title, "the ladder to heaven" in Gosau. This top attraction is exclusively for adrenaline junkies!
For a calmer experience, hike up the gentle pastures of Zwieselalm instead. Hiking trails start in Gosau and lead to various peaks in Zwieselalm, depending on the chosen trail.
7. Löckermoos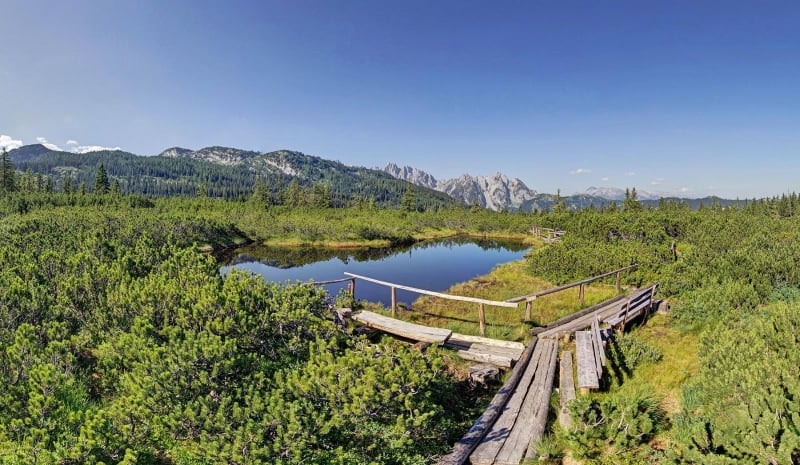 Bask in the serene nature of Dachstein Salzkammergut in Löckermoos — home of Löckensee, the "Most Beautiful Place in Upper Austria." Sitting on the grindstone quarries in Gosau, the area is an idyllic spot for those seeking peace and quiet. 
Löckermoos poses away from the populace. By foot, it takes two hours to reach from the centre of Gosau. Enclosing the trails are flourishing pine trees; soaring above are an abundance of birds. The hike to Löckermoos is both a workout and a meditation session, so definitely don't miss it!
8. Hoher Kalmberg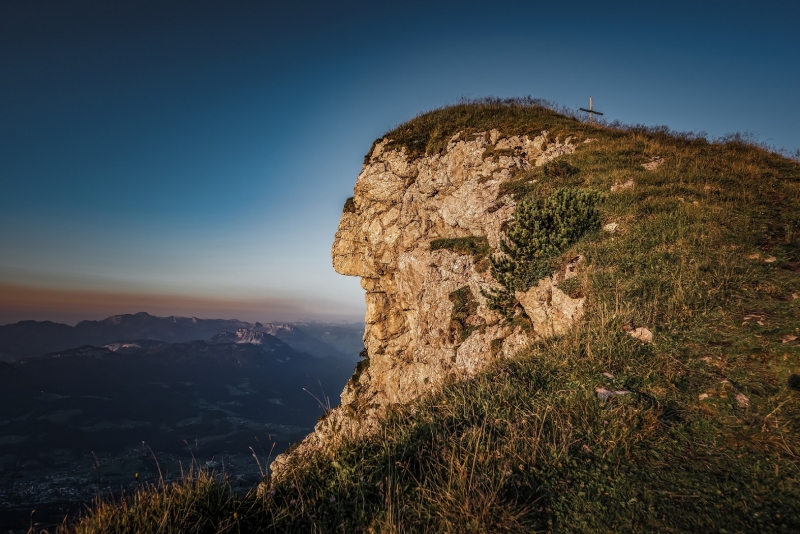 A stunning view as much as an ideal viewpoint, Hoher Kalmberg is most beautiful during fall and summer. Simply admire the Native American rock head from afar or hike up the summit cross 50 metres above it. From the latter, one can overlook the panorama of Bad Goisern am Hallstättersee. 
Charming up close, but all the more scenic from above, Bad Goisern stretches out as a picturesque village in Dachstein Salzkammergut. Some time ago, it was hailed as "The Monarchies' Most Beautiful Village." With its timeless allure, Bad Goisern remains a top destination in Dachstein Salzkammergut to date.
You can also access Goisererhütte and other cosy huts in Kalmberg upon ascent. Eat your heart out with locally made food as you bask in the starking view of the mountains! 
Get close and personal
When you're back in the city, all you'll want to do is remember the tranquility Dachstein Salzkammergut so generously gave you. Memorialise your stay through taking focused photographs of Dachstein Salzkammergut's natural wonders! Here are the best spots for some close up nature shots.
9. Lake Gosau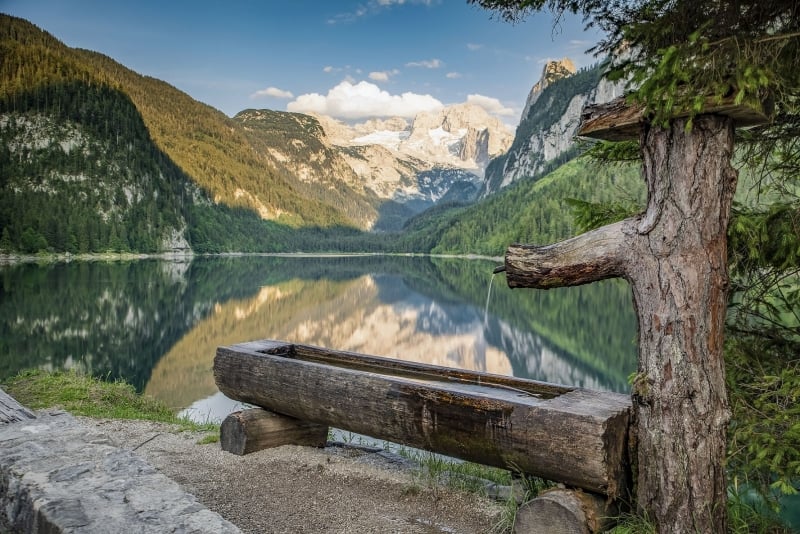 Landlocked in the majestic Dachstein mountains, Lake Gosau possesses crystalline waters that reflect its enchanting surroundings. Its allure is almost magnetic, with travellers from all over the world falling head over heels for the scene. Just look at it: it's almost unreal! 
Because of its overwhelming beauty, Lake Gosau boasts of being one of the most photographed spots in Austria. In fact, traveller Alexander Freiherr von Humboldt described it to be "the eye of God."
Needless to say, any view featuring Lake Gosau is effortlessly striking. The mountain lake serves as a testament to the dreamlike nature of Dachstein Salzkammergut. But visitors of the mountain lake are in for a lot more than just photo ops. Anyone can bathe in the lake — an idyllic activity while immersing in the beautiful mountainous backdrop!
Take note: You won't be the only one swimming around the waters of Lake Gosau. Pristine as it is, numerous fish live and breed in its waters. This said, the lake is as safe as can be. You can even drink out of it!
10. Lake Koppenwinkl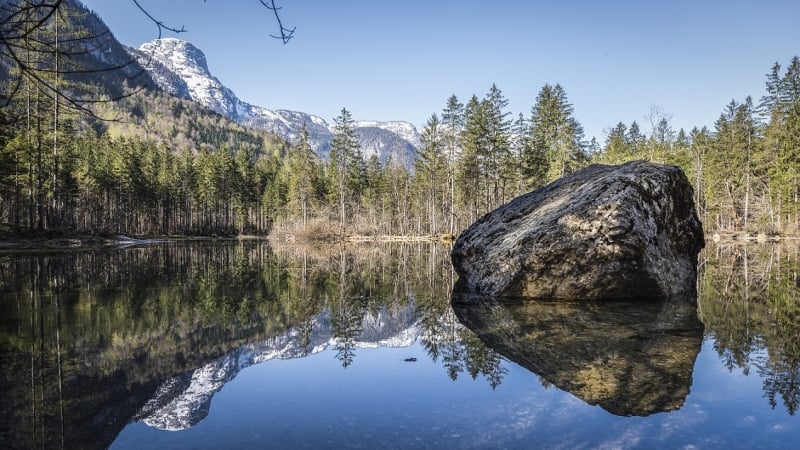 An enduring natural gem, Lake Koppenwinkl has stood as a nature reserve in Dachstein Salzkammergut since 1978. Because of the quaint size of the lake, it radiates a homey and romantic ambience; but, its surroundings composed of scarp rocks and lofty trees add an impressive aura to the sight.
Hands down, Lake Koppenwinkl is the place to be for capturing the soft nature of Dachstein Salzkammergut. The journey to the lake is already interesting in itself, with mystifying lakes and orange meadows lining the trail. Make sure to drop by the Koppen Brueller Cave, the youngest grotto in Dachstein!
Also read: Dachstein Salzkammergut: Top Activities for an Immersive Austrian Holiday
Capturing the beauty of Dachstein Salzkammergut is close to impossible, as its charm begs for the human eye to see. I can already envision a traveller, such as myself, soaking in this prepossessing land for the first time. With fingers quivering out of wonder, the traveller scrambles for the camera ⁠— a futile attempt to remember all that is Dachstein Salzkammergut. 
It's simply daunting to encapsulate the region's beauty with meagre snapshots. But through the fresh eyes and lens of a besotted traveller like you and me, angles from above or up close will surely do some justice to the unspoilt nature of Dachstein Salzkammergut. At least, we hope so. 
For more information, please visit Dachstein Salzkammergut Tourism's official website and Facebook page.  
---
Brought to you by Austrian National Tourist Office (ANTO) and Dachstein Salzkammergut Tourist Board.
Originally posted on TripZilla.com.