Contributed by Vinn En Route
This time, we explored Northern Cyprus via a private vehicle. We headed to Nicosia's Agios Dometios, also referred to as Kermia or Metehan checkpoint. For private vehicles, you need to secure a car insurance for €25 valid for 30 days, which you can purchase before the checkpoint. You can return within 30 days and use the same insurance. Be sure to read on Cyprus Border Crossings to learn more.
Also read: Travelling Back in Time in Fikardou, a Villain's Village in Cyprus
There are two fascinating villages in Northern Cyprus — Kyrenia and Famagusta. Both villages have so many heartfelt stories that will forever remain in the hearts of the locals.
These villages used to be the main holiday destinations in Cyprus before the invasion. However, at present, most of the international travel insurance does not cover TRNC areas (Turkish Republic of Northern Cyprus) since only the Turkish Republic recognises this as a state. Hence you would understand the reluctance of the travellers in visiting this part of the island.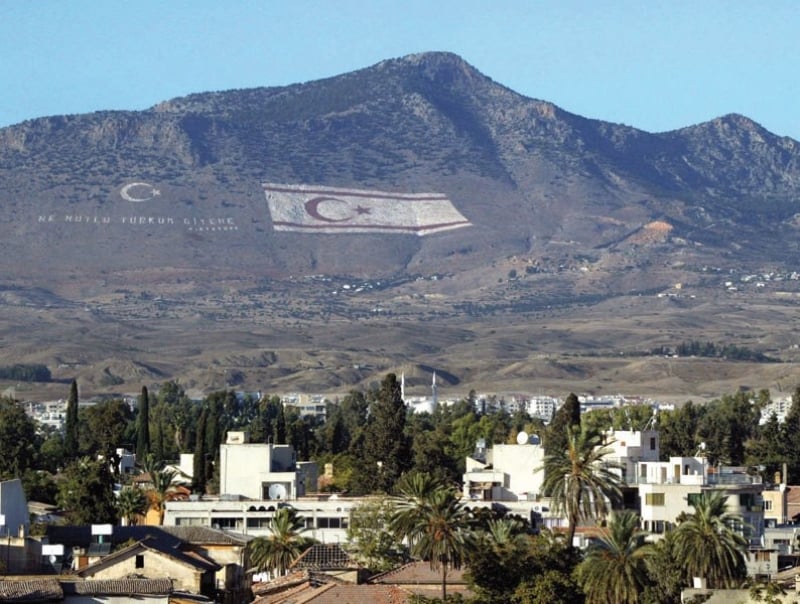 After checkpoint formalities, you are now in the northern territory. A Turkish flag in the middle of the mountain is very visible. Signages, products, shops, and restaurants are all in Turkish.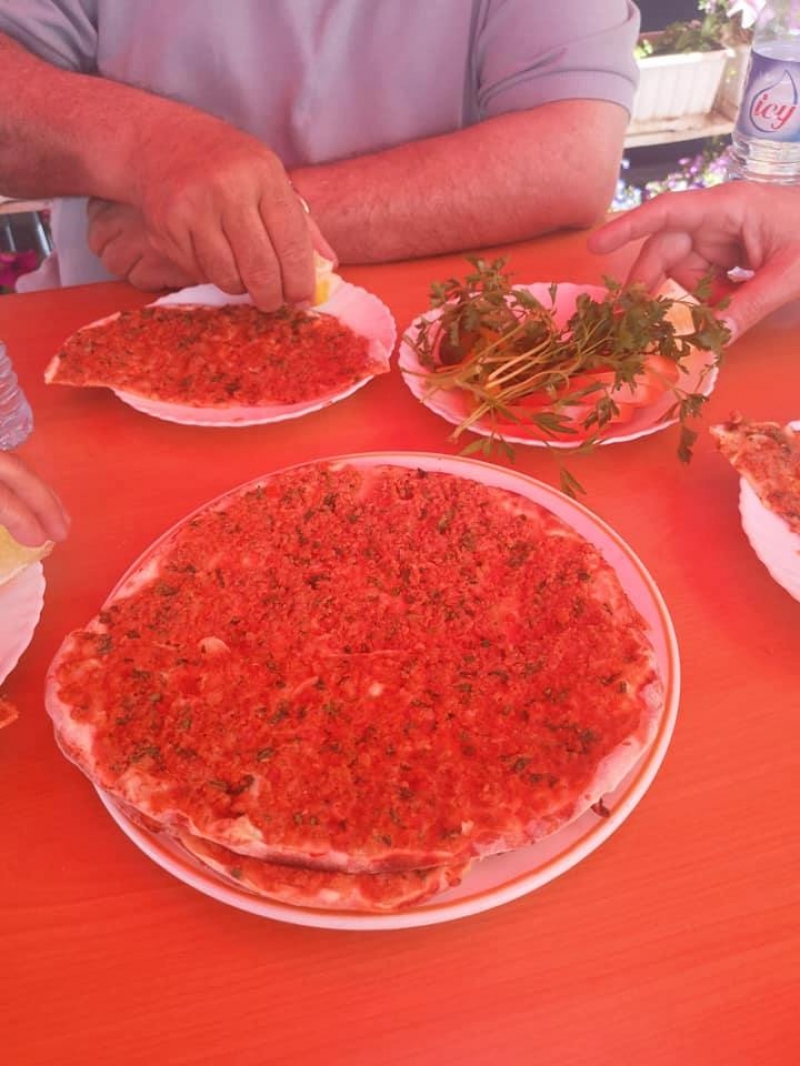 We first stopped for a well known Turkish snack. These snacks were familiar to me while living in the Middle East, but this time, they are tastier. Couldn't it be because they are prepared in a more traditional way? And all that snack for three persons with drinks at €10 only!
I thought we have reached Kyrenia, but we were still in a place which used to be part of Nicosia municipality.
Back to the road for another 30 minutes, passing through Kyrenia mountain range. Then finally, a calm blue sea greeted us, and we slowly descended to our destination.
Also read: Exploring Ledra Street – A Historic Shopping District in Nicosia, Cyprus
Kyrenia
Kyrenia (Greek: Κερύνεια; Turkish: Girne [ˈɟiɾne]), a small village on the northern coast is known for its charming harbour, castles, and cobblestone walkways.
The Castle, which dates back to the Byzantine period, is located at the end of the harbour. Also called "The Jewel in the Crown", this was used by the Crusaders, Venetians, Ottomans and British to guard the harbour.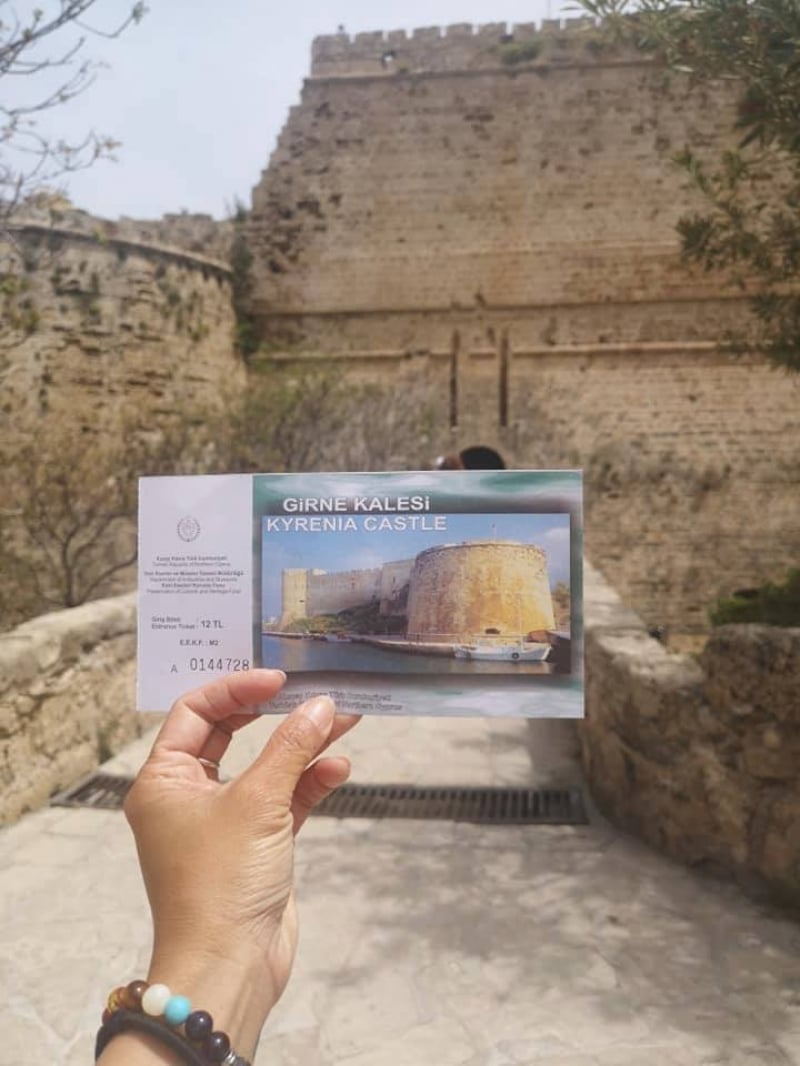 Here, you will see the remains of the Byzantine church, shipwreck museum, archaeological tomb museum, castle quarters, and the rooftop with the spectacular view of the harbour.
Entrance fee: TL12 (€2.5)
Opening hours: 0800 – 1800
The Harbour used to be a trading port during the British occupation in 1880.
Today, it remains a popular tourist destination in Northern Cyprus lined by restaurants, bars, shops, and tour operators. It is usually busy with tourist crowds strolling around the harbour or just sitting in one of the restaurants to enjoy the view.
We had a seafood lunch, but it was not fresh, and the bill was €110, which we thought was a rip-off. Just be careful in choosing restaurants. We should have read the Harbour Balikci Fish Restaurant reviews first.
But this happens sometimes. There's more to the food or bill in a dining experience –you have an interesting location, excellent company, and a relaxing day. Also, we gained something priceless in this visit – we relived the history, immersed in the present, and enjoyed the picturesque view that stops the clock from ticking.
Famagusta
Famagusta (/ˌfæməˈɡʊstə, ˌfɑː-/; Greek: Αμμόχωστος, Romanised: Ammochostos, meaning buried in the sand [aˈmːoxostos]; Turkish: Mağusa [maˈusa], or Gazimağusa [ɡaːzimaˈusa]) is a city on the eastern coast and known as the "ghost city".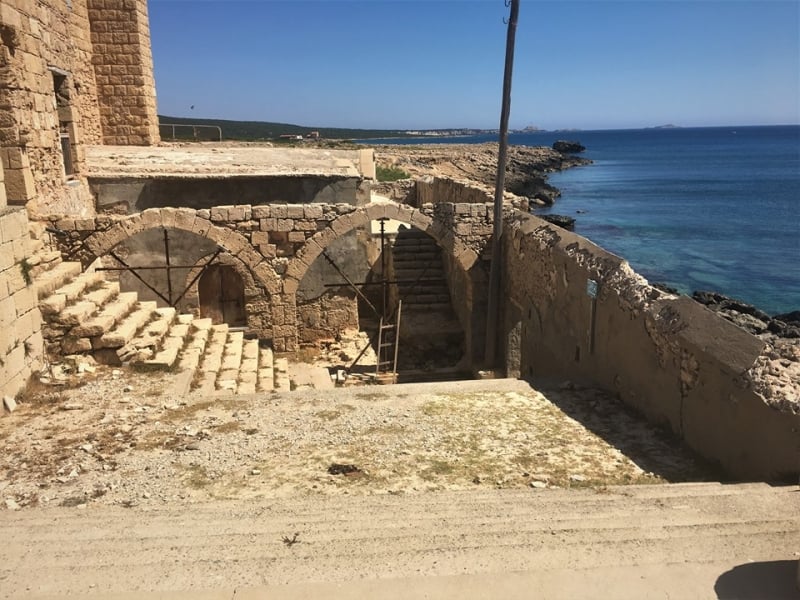 This is a three-hour trip, so we scheduled this at a different day. Better start early in the morning. So at 7am, we were at the same checkpoint.
Be ready for a pilgrimage and a dip on the beach.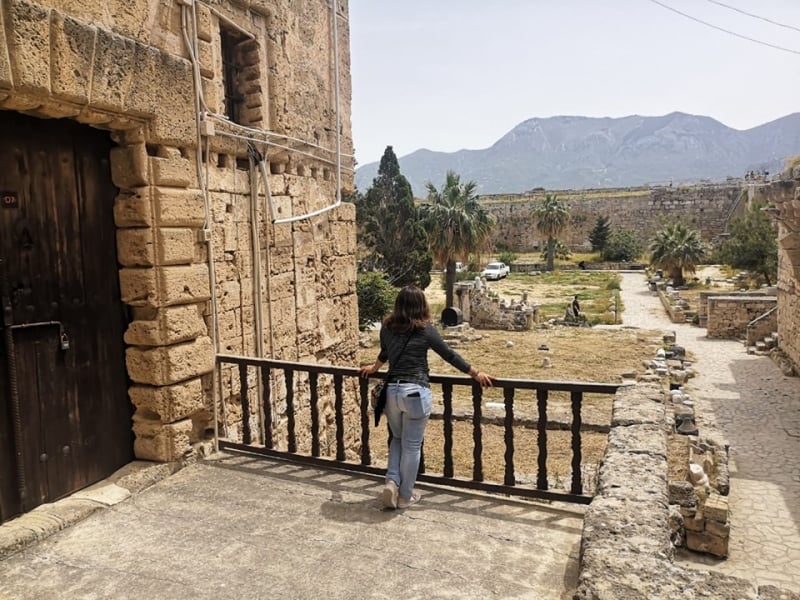 Going to Famagusta, you'll drive between two mountains: Mount Trodoos on your right, and Five Fingers mountain (Pentadactylos in Greek. Beshparmak in Turkish) bordering the north on your left side.
You'll have plenty of time to enjoy the scenery and to start digesting what's in store for this day.
Approaching Famagusta, we were greeted by a glistening sea. Yes, sparkling as the sun rays bathe it. It was a mesmerising view but I forgot to take a snapshot.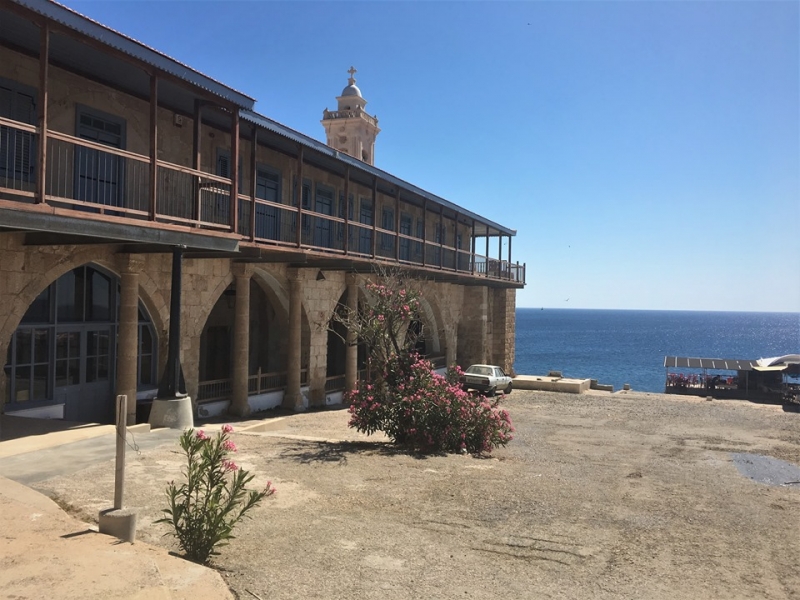 Apostolos Andreas Monastery (Greek: Απόστολος Ανδρέας; Turkish: Apostolos Andreas Manastırı) is a holy and miraculous monastery dedicated to Apostle Andrew. This is an important site of the Cypriot Orthodox Church. The site existed some 2,000 years ago. This is also known as the Lourdes of Cyprus. Back in the 60s, this was a major pilgrimage for the Cypriot Orthodox family. Preparations are done accordingly for a three-day trip which includes an overnight at the monastery, food, beddings and donkeys!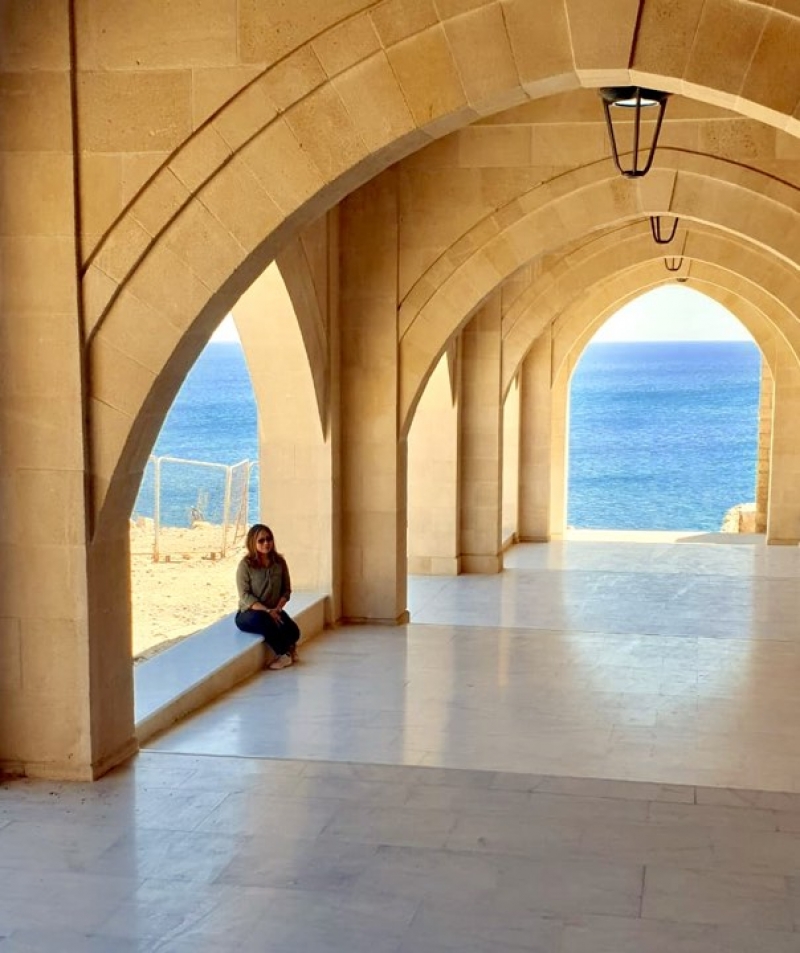 It is located at the north-easternmost point of Karpaz Peninsula, northern district of Famagusta. Navigation is easy through GPS or Google maps.
We arrived at 10am but the monastery was still closed. We walked around the area with a spectacular view of the sea. There are cafes, and I had a fresh pomegranate juice for €1. There are several specialty shops here such as souvenirs, accessories, garments, and organic food products.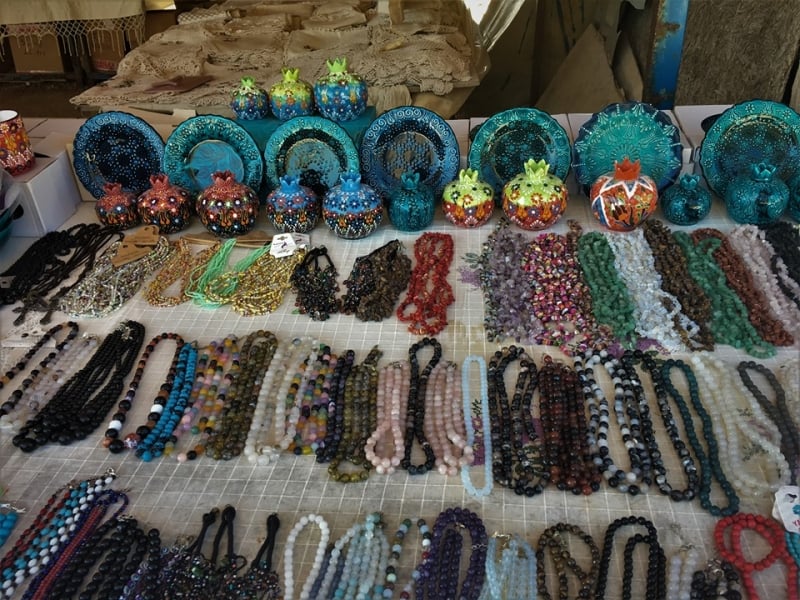 So if you're into this, try not to splurge. But I wasn't able to resist two bracelets: a multicoloured stone and pure leather. And of course, they give you a free taste of that almond nut wrapped around in honey or Carob syrup. Also, there was an organic lotion and that I stopped! This was supposed to be a pilgrimage.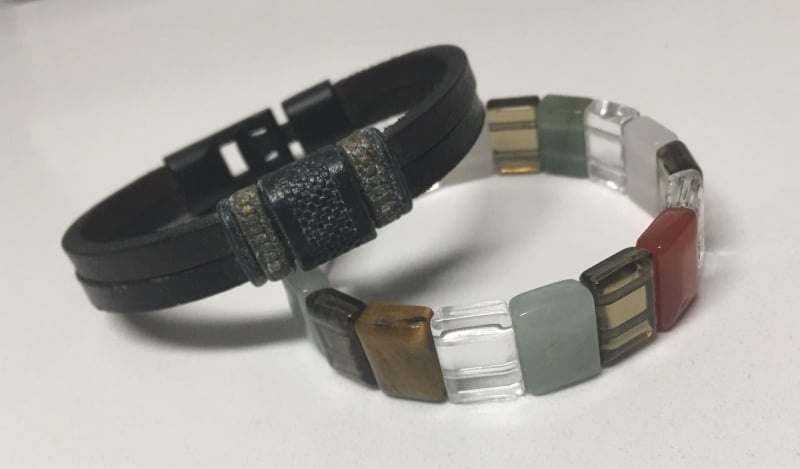 Me: Where is the priest?
Seller: Usually, it opens at 10.30am. Sometimes, the priest decides not to open.
Me: Hmm… After this long drive, I mean I don't know if I can ever get back here.
Well thankfully, he was right on time, and tourist buses started to arrive. The place was slowly filling up.
We lighted candles, and for special intentions, there is a big candle for that. Inside the monastery, my Orthodox friend touched and kissed the images, and I also touched the miraculous image of Apostle Andrew.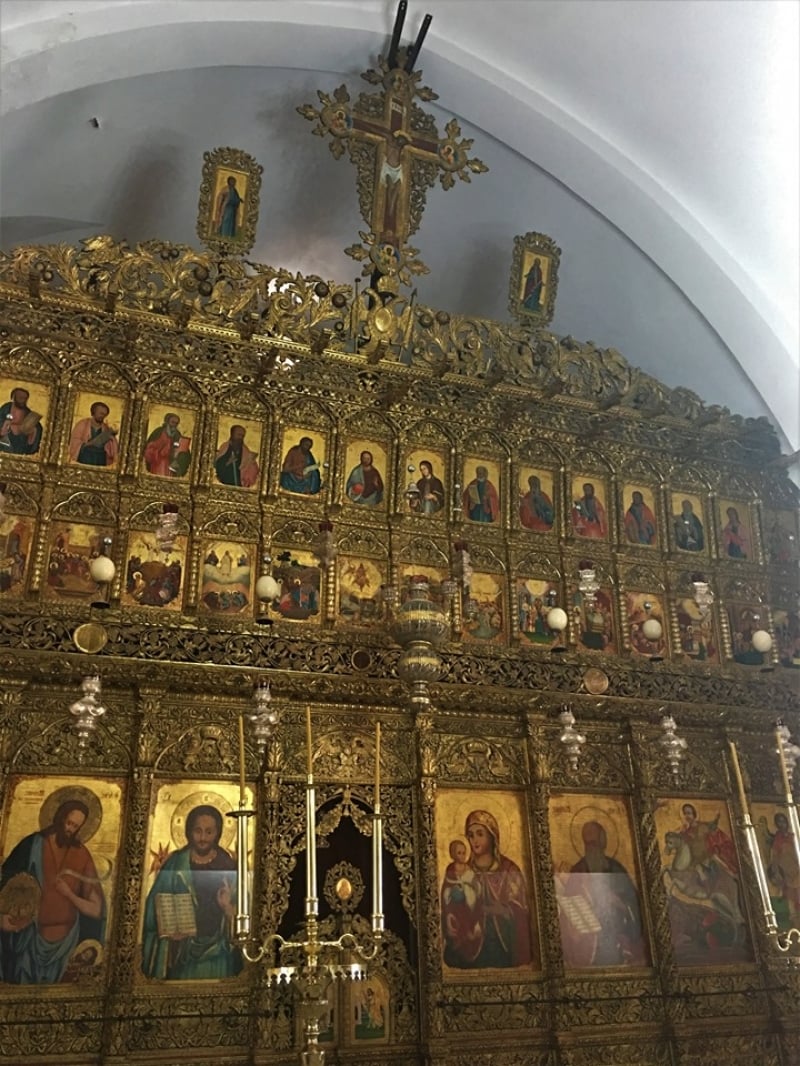 Currently, the monastery is undergoing restoration with the United Nations Development Program that provided a separate protocol agreement with the Cyprus Church and Turkish Cypriot religious foundation. The Greek church is funding it for approximately €2.5 million.
Fun facts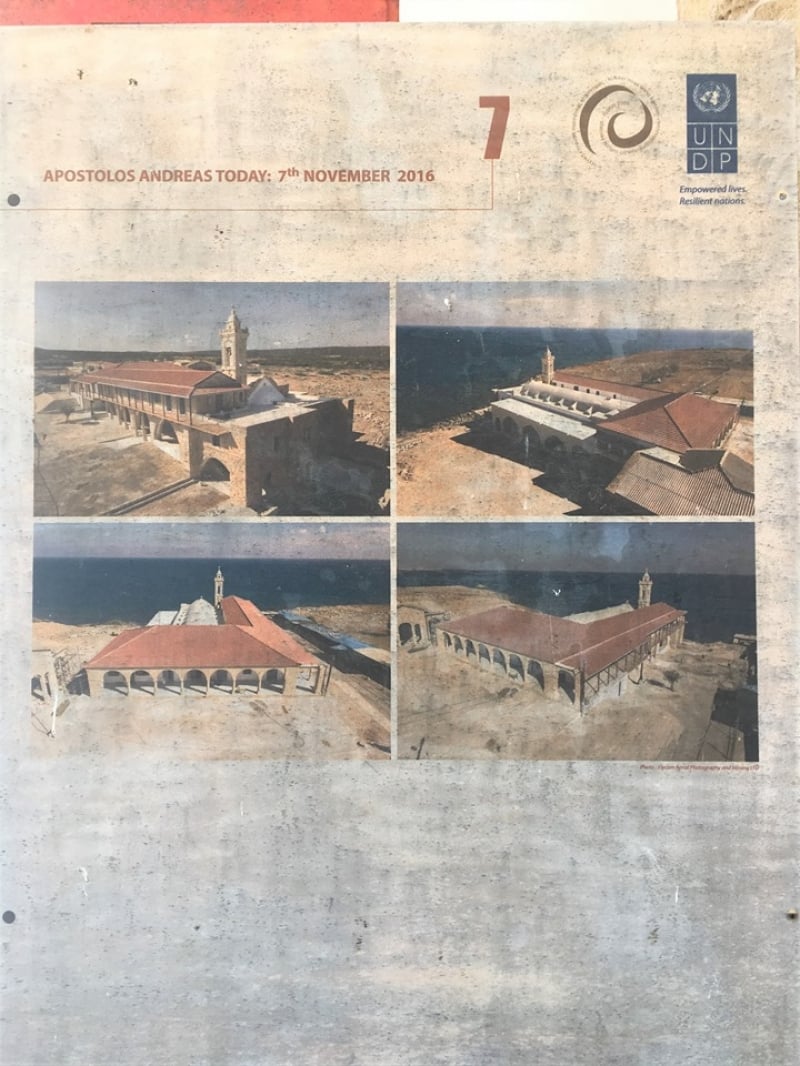 Do you know that there is a donkey toll fee at the monastery?
Approaching the monastery, the road narrows down, and you will start seeing donkeys that are freely roaming the place. Be ready with your carrots or they don't let you pass! Donkeys have spots along the road waiting for the carrot toll and they will stop at the vehicles. The los banditos donkeys!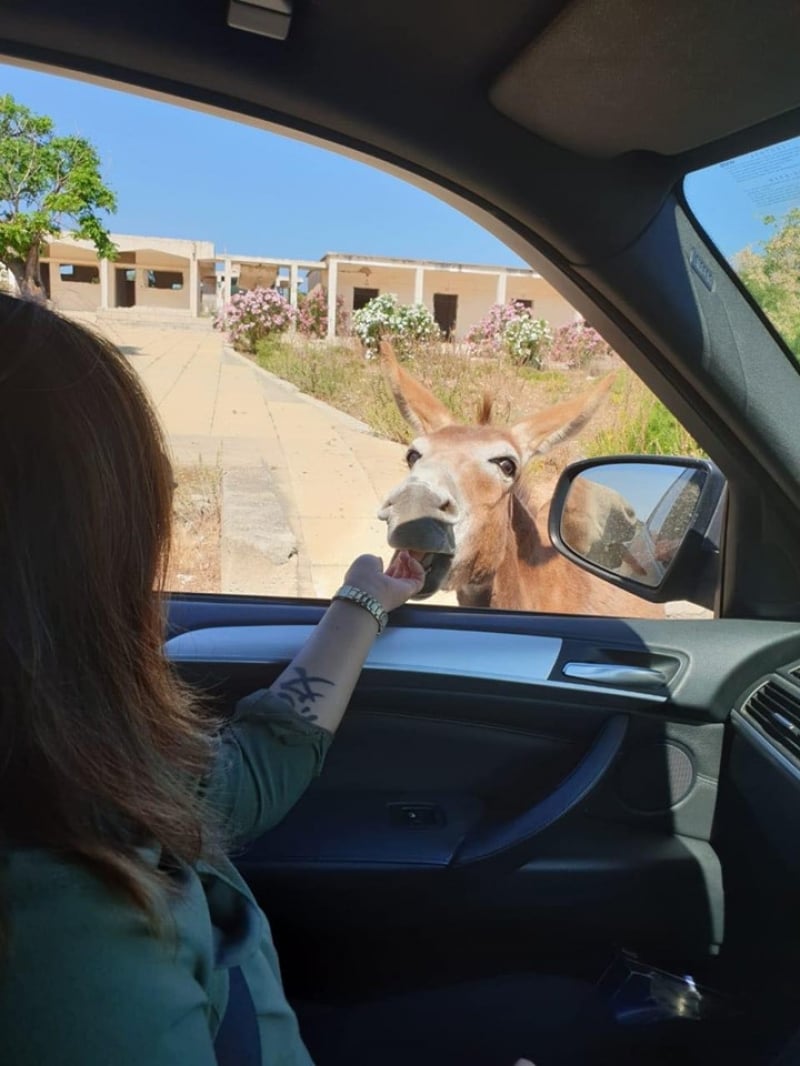 LOL! Just kidding.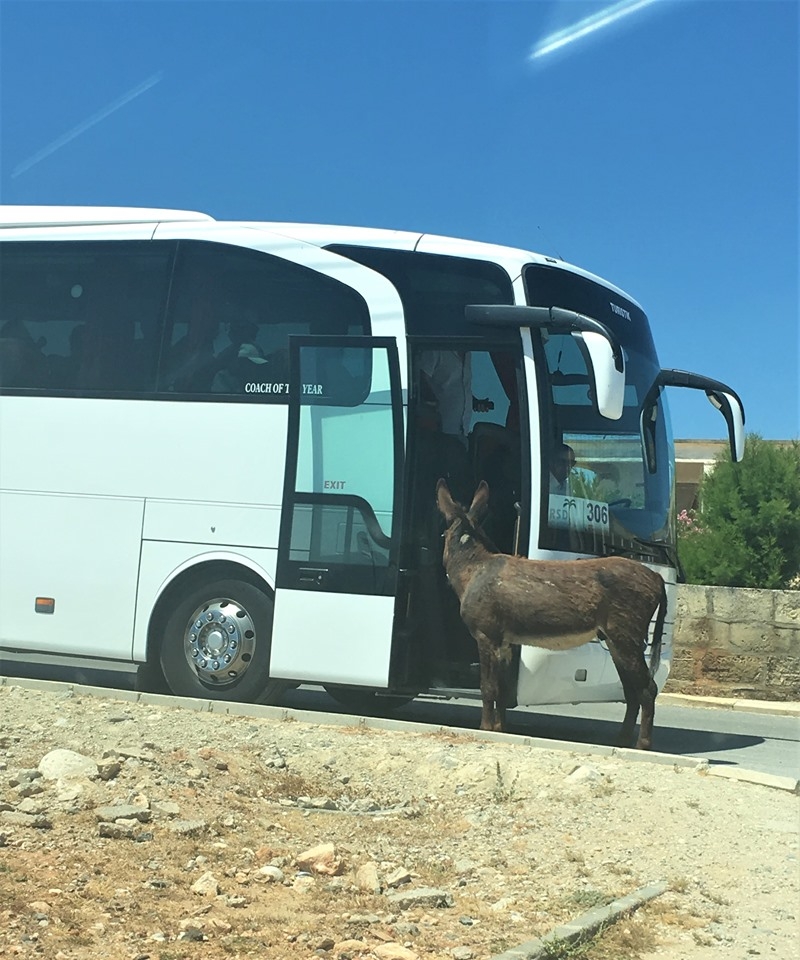 But hey, see this tourist bus? I saw that donkey running towards the bus. And yes, he blocked it, so the bus just stopped in the middle of the road.
Knock, knock! Se parakalo, karrota mou! (My carrot, please!).
If you want to get up close and personal with these donkeys, bring some carrots for feeding!
Lunch at Dipkarpaz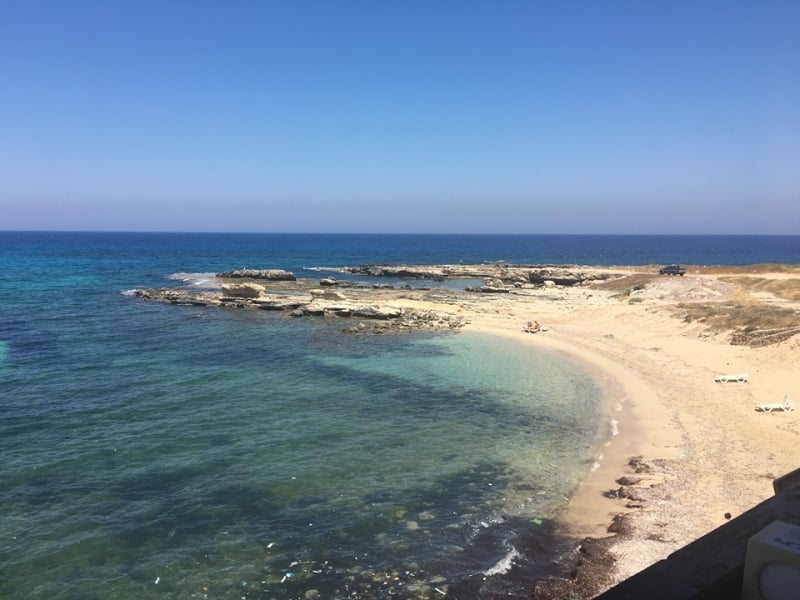 This time, we had an amazing seafood lunch, as recommended. The view, ambience and food are totally exceptional at Oasis Ayfilon Hotel and Restaurant.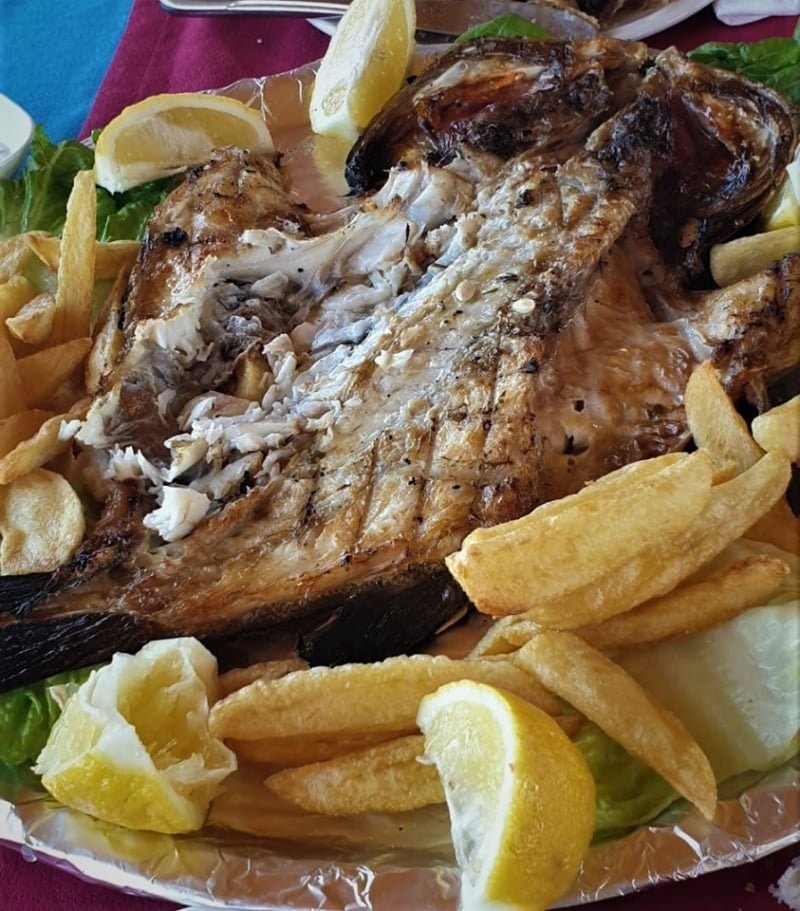 The fish was well grilled. In fact, the best grilled fish I've tasted all my life. Well done chef! We went to the kitchen and gave him our compliments.
Now I am so ready to head to the beach!
Varosha, Famagusta
From the northern district, we headed to the southern part of Famagusta, about an hour and a half drive from Karpaz. We passed several towns until we reached the commercial centre.
On the other side of the road was a covered area, and it stretched a long way further. This is the "ghost city". Between 1970 and 1974, this was the prime tourist destination in Europe with pristine beach waters and high rise hotels.
All inhabitants fled after the invasion, and since then, it remained untouched. Negotiations with the United Nations since 1984 and up to this day still remain unresolved. The People of Cyprus can only hope for the return of this precious land in the near future.
We don't know exactly where the beach is until we found a crowded area where tourists come and go. There was a barricade separating the abandoned town, and there was a walkway towards the beach.
And yes, there it is!
With fine sand, clear waters, you can see the small fishes! It was not so deep; it has smooth sand with no stones, which is ideal for swimming. Water and air temperature are just so perfect for a dip!
Sunbeds can be rented at €5, or you can bring your towel and select a spot along the shoreline.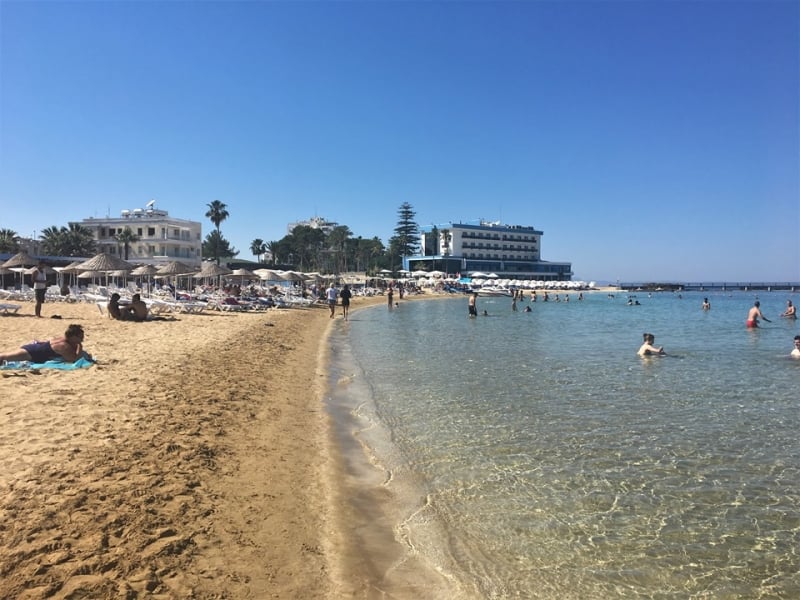 I walked along the beach strip and the abandoned area. The shore goes along several kilometres and so does the lonely town of Varosha. However, it is not allowed to take a photograph, so I just took a shot from afar.
I was so looking forward to this trip. My Cypriot friends shared several stories about the beauty of Famagusta. Their families were once living there and just one day they lost everything and got displaced. Some fled to Nicosia, Larnaka and other villages. Some of their relatives are living in Kyrenia and other TRNC areas. Many of them have not visited here since then. It's been decades…
Famagusta was once a major trading seaport as goods were coming from all over Europe. It is also a major hub for passengers. Now, the port activities are diverted in Limassol. Interested to know more about its story? Read Famagusta: An Overview of the "Ghost City". Up to now, the captures of these areas created a very deep scar to the People of Cyprus.
I recommend a novel by Victoria Hislop, The Sunrise. It is set in Famagusta in the summer of 1972, the glorious days. Sunrise was one of the popular hotels owned by a rich Greek Cypriot. This is a story of two families, the Greek Cypriot and the Turkish Cypriot before and after the invasion. Most of the Turkish Cypriot families fled to Kyrenia from Famagusta.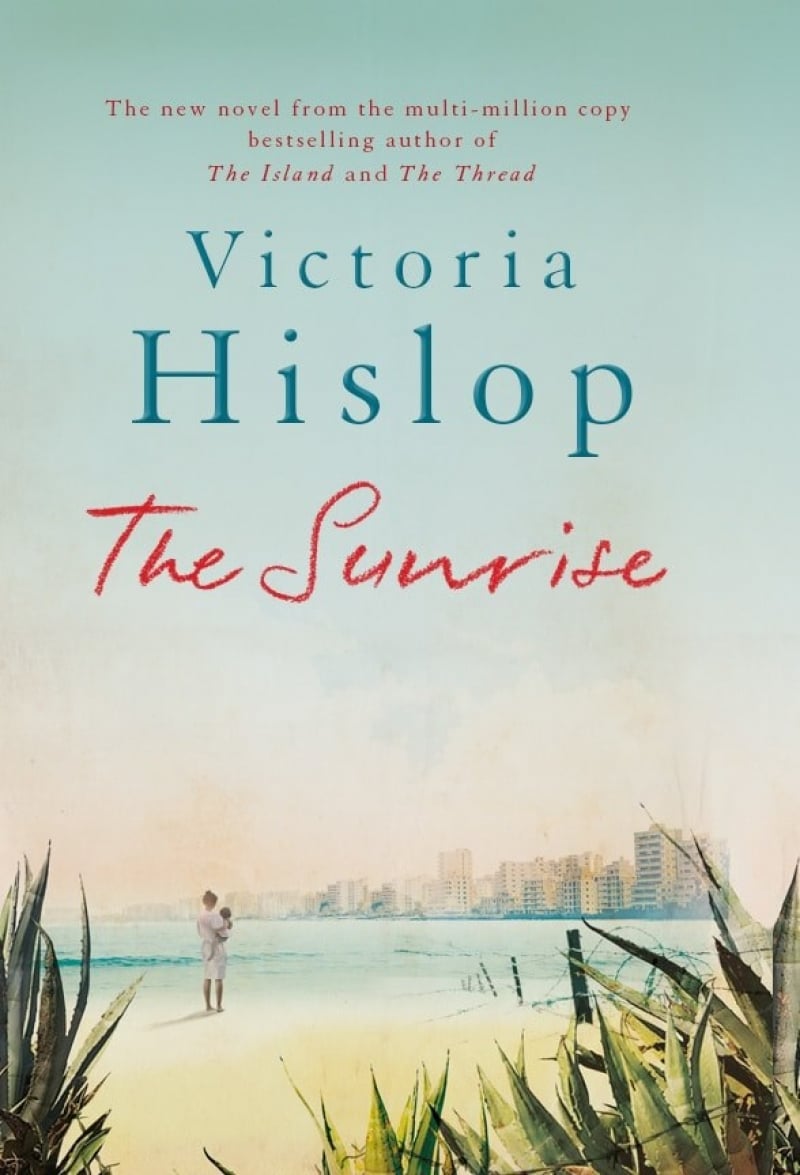 Hislop was able to convey the intensity of emotions as told by my Cypriot friends. I was deeply moved, and it sparked an interest for me to visit these places someday… and I did!
Here are two more good reads from this author: The Thread, set in Thessaloniki, Northern Greece during the German invasion, and The Island, set in Greece's Crete Island, an island which was once a leper colony. The latter was made into a movie, and I have watched it too.
Oh, I know this is such a long post. There is still so much to share and show you. I really hope that someday you will see and experience this side of the world!
Here are your options to get to the Northern side:
1. Cross via a private vehicle from the south, just like what we did.
2. Take the Northern Cyprus Bus Services. However, the schedule is not fixed and buses may not go to the main tourist spots. But if your schedule is flexible, you can hop on and see where it takes you. Cross the north border from Ledra to find the bus station.
3. Via a tour agency. Have them set up an itinerary. In fact, there are several points of interests to see for both of these places.
4. Via Ercan International Airport. It is a civilian airport at the Northern side, located 13 km east of Nicosia.
Kindly note that routes go through Turkey airports (Istanbul, Antalya, Ankara) before you can proceed to other parts of Europe. Operating airlines: Pegasus, Turkish Airlines, and Anadolu Jet.
5. Via ferry boat from Turkey. Here are two options:
a. Mersin (a port city in southern Turkey) to Famagusta
b.Tasucu (a harbour in town Silifke ilçe (district) of Mersin Province ) to Kyrenia/Girne
For schedules and prices, kindly check this.
Also, check the embassy for visa requirements if you are departing from Turkey. But still, you need a transport service to get you through these places. There are several tour operators from the northern side.
Still having second thoughts visiting here?
I would love to come back whenever I get the chance.
Othello's Tower is in Varosha. Ring a bell? Shakespeare? The play of Othello refers to the port in Cyprus. So here goes your English literature…
Some Kyrenia photos courtesy of J-Anne
Some Famagusta photos courtesy of Stefos
Thanks!