Contributed by Chinito Wanders
For this Northern Vietnam tour, we covered 4 places: Hanoi, Ha Long, Hua Lu and Tam Coc in just 3 days!
I have been to Ho Chi Minh City (Saigon) a month prior to my trip in Hanoi, Vietnam's Capital. My parents wanted to visit here so they asked me to make a schedule and an itinerary for our trip. I gladly made one heck of an itinerary for them.
Sorry to break it to you, but this budget itinerary does not include airfare cost since we are not really into seat sale. Our airfare alone costs almost ₱11,000 each. You will greatly cut the cost if you're keen on waiting for a seat sale. However, I made sure we won't spend too much in Hanoi while making sure not to compromise the fun and experience. Knowing that Vietnam is supposed to be cheap, I find that Hanoi is quite the opposite. Well, I can't blame it since there are more tourists visiting Hanoi because of the famous Ha Long Bay and even other parts of Northern Vietnam.
We only had a full 3-day tour here, but it did not stop me from making a comprehensive itinerary that will make us visit some of Northern Vietnam's highlights.
Since Hanoi is the start off point in visiting other Northern tourist attractions, there are tons of tour agencies that are scattered throughout the city especially in the Old Quarter district (which you need to stay at in order for you to really see the Traditional Vietnamese culture). You don't actually need to book a tour in advance.
Also read: What Filipino Travellers Have Been Missing Out in Vietnam
Okay, so let's get into the details. I will provide tips and the budget on how I came up with a $165 expense.
Detailed expenses
₱1,350/person or $27 – Hotel for 3 nights
₱250/person or $5 – Lunch at Cha Ca Thang Long
₱150/person or $3 – Dinner for day 1
₱200 or $4.5 -Water Puppet Show
$45 each – Ha Long Bay Day tour
$40 each – Hua Lu and Tam Coc Day tour
₱150 or $3 – Dinner for day 2
₱150 or $3 – dinner for day 3
$12 each – Roundtrip airport transfer
₱100 each or $2.5 – Taxi allowance for city tour
$10 – Souvenir allowance
$10 – Food trip allowance
Total: $165
Flight details
Depart:
Ceb-MLA: 7 Dec 2016 – 5.55pm-7.20pm
MLA-Hanoi: 8 Dec 2016 – 10.15pm
Return:
Hanoi-MLA: 11 Dec 2016 – 1.15am-5.40am
MLA-Cebu: 11 Dec 2016 – 8.35am-10.00am
Summary of itinerary
8 Dec 2016: Hanoi City tour
9 Dec 2016: Ha Long Bay Day Tour
10 Dec 2016: Hoa Lu and Tam Coc Day Tour
10 Dec 2016: Depart to airport
Tips
Use Google Map. This app is very useful in locating the places you want to visit. You may download an Offline version of Hanoi in Google Map so that you don't need to buy a tourist sim card for data. In case I did not mention how to get to a specific place, just use your Google Map. Google Map will be your buddy when you're doing a city tour in Hanoi. The app is also pretty accurate.
We stayed in New Vision Hotel. The price already includes breakfast buffet for 3! There are more cheaper hotels and even backpacker hostels in the Old Quarter. We stayed here because of the good reviews I read. If it was only me that was travelling, I would have picked a cheaper inn or a backpacker's hostel as it only costs around ₱500/day with free beer!
Walking is mandatory in order for you to explore the Old Quarter. We only rode the Taxi twice (to Mausoleum and back to Hotel).
Tourist sim card is not really needed unless you want to constantly update your social media. Hotels and even guesthouses offer free WiFi.
You may opt to book day tours at local travel agencies around the Old Quarter. The prices are very competitive and most of them have English tour guides. We just booked ours at our hotel since they provide better inclusion, and of course, the price is a bit more than what others are offering. But in case you're on a tight budget, I would suggest you go for the cheaper one. You can actually get a day tour trip in Ha Long Bay for as low as $23, just to give you a range in price.
Always ask for the full detailed itinerary and the inclusions of the day tours before you book.
If you have a different place in mind, you may always choose other options to visit. There tons of local travel agencies around the Old Quarter that offer day tours in different parts of Northern Vietnam.
The budget does not include shopping as there isn't really much to shop in Hanoi, aside from the North Face Factory Outlets. But the receptionist from our hotel told me that those were fakes that's why I crossed it off the list.
Transportation
Our flight arrival was midnight and knowing that there is no public transportation at that time, we opted to get the hotel pick up services so that it will not be inconvenient for my parents.
Be very careful about riding a taxi in Hanoi; there are still mafia groups lurking in the city that will swindle tourists. There are two reputable taxi companies that are trustworthy. You may ask your hotel about the names. Sorry, I forgot the names of the taxi companies.
When riding a taxi, flag down rate should always be 10,000 dong. If it's 5,000 dong, get off the taxi immediately as that is one of the signs for a fake taxi! We experienced it and I personally don't want this to happen to you. It was very traumatic.
Detailed itinerary
Day 1: Hanoi City Tour & Water Puppet Show
Breakfast at Hotel
Mausoleum tour
Lunch
Explore old quarter
Dinner
Water puppet show
We woke up around 8am to have breakfast. I wanted this day to be at a chill pace before tackling 2 days of travelling to other parts of Northern Vietnam. After we had our breakfast, we strolled the Old quarter heading to Thang Long Water Puppet to buy our tickets for the puppet show. We ate some street food along the way. You may locate Thang Long Water Puppet via Google Map. I advise that you to head there first to book your ticket in advance so that you can pick your desired seat and time.
After getting the ticket and booking our trips, we headed our way to the Mausoleum. This will be your first destination for the city tour. You have 2 options going to the Mausoleum: One, by Hanoi city bus number 9 that departs every 15 minutes from the stop near the Water Puppet Theatre (15 cents) and alight at Ho Chi Minh Museum bus stop. Two, you may opt to get a taxi going to Mausoleum (which we took to save time). There are 2 reputable taxi companies that are trustworthy, you may ask your hotel for the names. Maximum rate from the Old Quarter to Mausoleum will be around 50,000 dong.
1st stop: The Mausoleum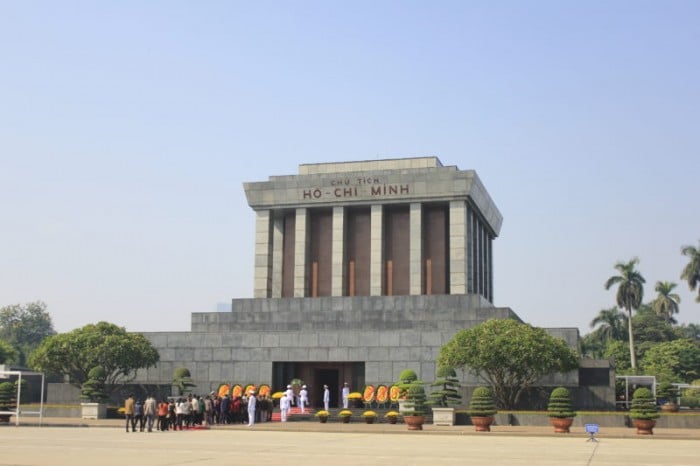 2nd: Presidential Palace (Văn phòng Chủ tịch nước Phủ chủ tịch)

3rd: Ba Dinh Square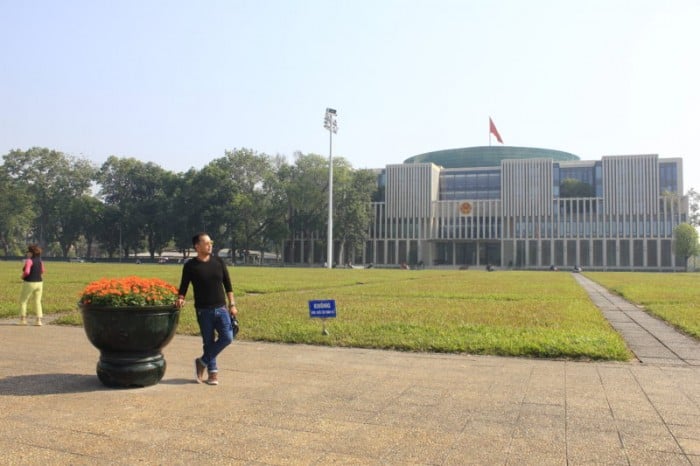 4th: Ho Chi Minh Stilt House (Nhà sàn Bác Hồ)
5th: One Pillar Pagoda (Chùa Một Cột) also called Dien Huu Pagoda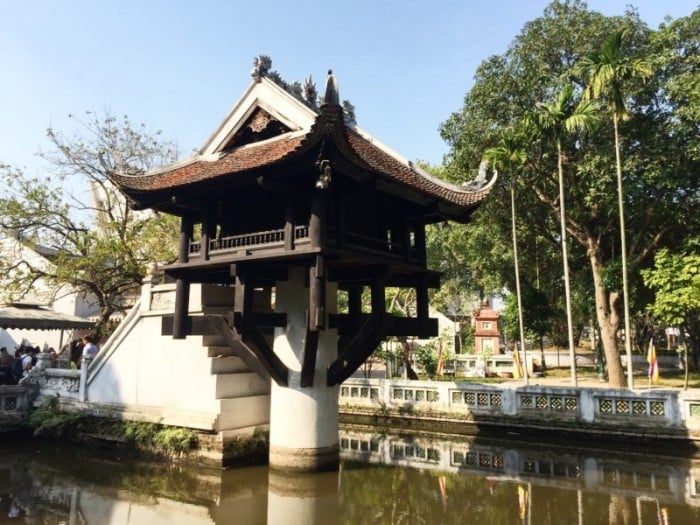 6th: Ho Chi Minh Museum (Bảo tàng Hồ Chí Minh)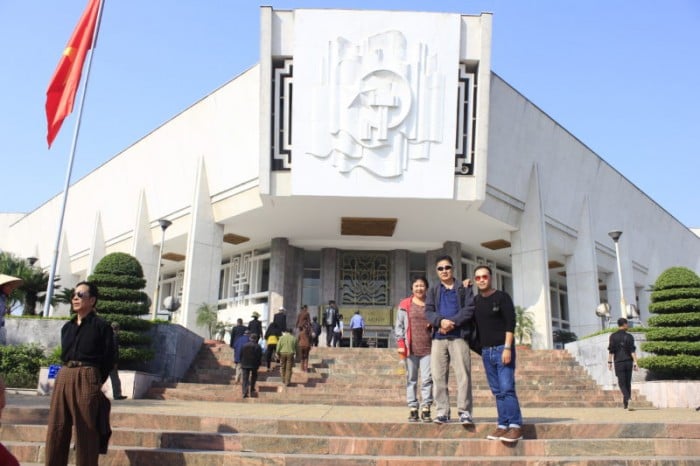 These 6 places are all neighbouring attractions, so you can walk around before going back to the hotel.
After we had a morning tour, we headed back to the hotel for lunch.
Allow time to enjoy Vietnamese cuisines at one of the most famous restaurants in the city and country. Hanoi Old Quarter is the food hub, with Bun Cha (1 Hang Manh Str.), Cha Ca Thang Long (21 Cha Ca Str.), or Bun Bo Nam Bo (67 Hang Dieu) topping the list. We tried the Cha Ca Thang Long since my dad was craving for a fish and it was the nearest from our hotel.
Châ Cá (also known as Châ Cá Lã Vong) is an infamous Hanoi traditional dish. It is a turmeric marinated fish that is first grilled and then fried table-side. It is served tons of fresh dill, scallions, herbs, crushed peanuts and rice noodles.
After lunch
We walked back to our hotel to rest for a bit and then proceeded to explore the Old Quarter. It would be a mistake if one forgets to travel on cyclo around the Old Quarter and Hoan Kiem Lake (though walking is still the best option for me). This unique type of transportation would give you the best view to take some photos while watching Hanoian life.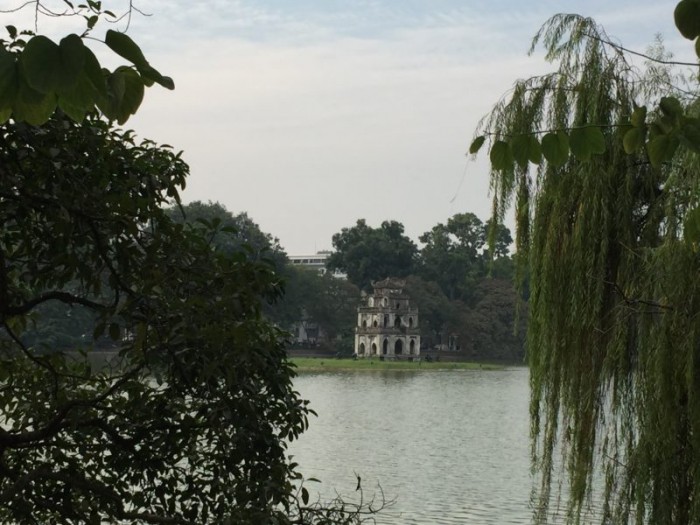 The Turtle Tower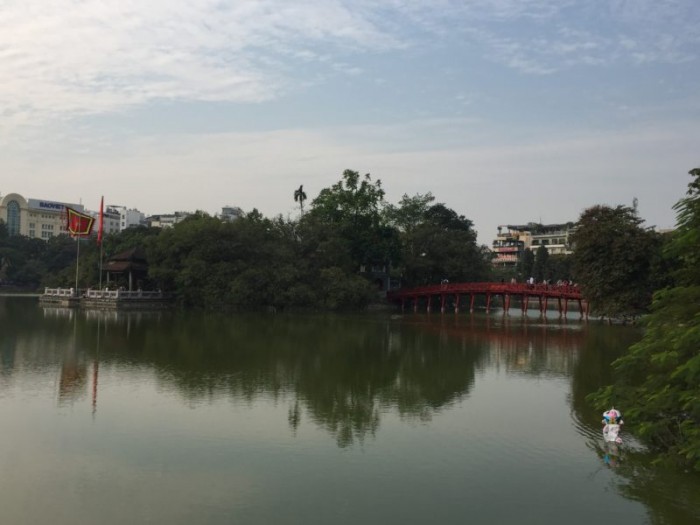 The Huc Bridge
Also, it would be flexible if you want to stop by and try out Hanoi's street-foods or buy souvenirs in the Old Quarter. Visitors should also go to Ngoc Son Temple on Hoan Kiem Lake to explore the legend about the preternatural Turtle who helped Le Loi King won against Chinese invaders.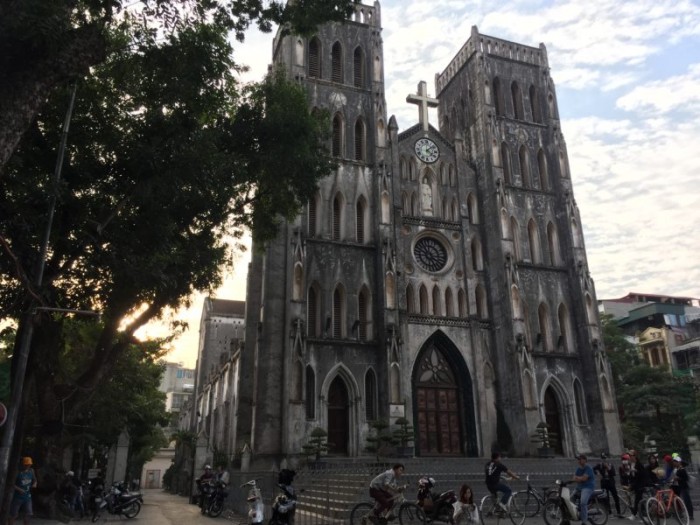 St. Joseph Cathedral
Aside from Hoan Kiem lake, one needs to visit Hanoi's oldest church, The St. Joseph Cathedral. It is a church on Nha Tho (Church) Street in the Hoàn Kiếm District of Hanoi, Vietnam. It's a late 19th-century Gothic Revival (Neo-Gothic style) church that serves as the cathedral of the Roman Catholic Archdiocese of Hanoi to nearly 4 million Catholics in the country.
Construction began in 1886, with the architectural style described as resembling Notre Dame de Paris. The church was one of the first structures built by the French colonial government in Indochina when it opened in December 1886.
After much exploring in the Old Quarter, we cinched to rest at Cafe Giang and have a sip of Hanoi's infamous egg coffee.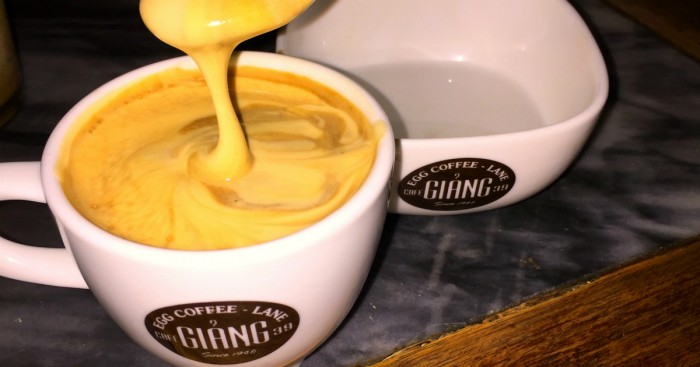 After relaxing, we had dinner at a local food stall beside the Water Puppet Theatre that serves Fried Bird! Yep, birds! I don't know what type of bird they are using as the owner cannot speak well in English. But I think they are using either a pigeon, a quail or a few week old chick.
Bird salad
After dinner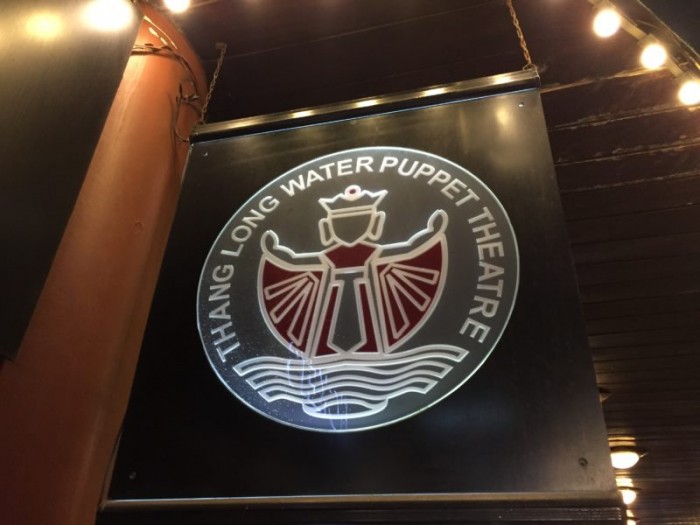 A Hanoi night would never be complete if this Vietnamese performance art is missed: water puppet. This art form appeared in the tenth century and became unique to the North of Vietnam. In a puppet show, puppeteers stand in the water, behind a screen and control wooden puppets by long bamboo sticks hidden beneath the water surface.
Thang Long Water Puppet Theatre is the most well-known puppet theatre in Hanoi, located at 57B Dinh Tien Hoang, Hoan Kiem, looking out to Hoan Kiem Lake. The theatre opens everyday from 2pm-8pm with the ticket prices vary from $3–$5 depending on types of seat. We got ours at 100,000 dong, that's around $4.5.
After the Puppet Show, we headed back to our hotel while stopping by some shops once in a while and had an Authentic Pho Ga Bo, which is a stir fried beef noodles. It was actually like our own Chinese-Filipino Satimi but Vietnamese style.
Also read: 20 Reasons Why Travelling to Vietnam is an Absolute Waste of Time
Day 2: Ha Long Bay Day Tour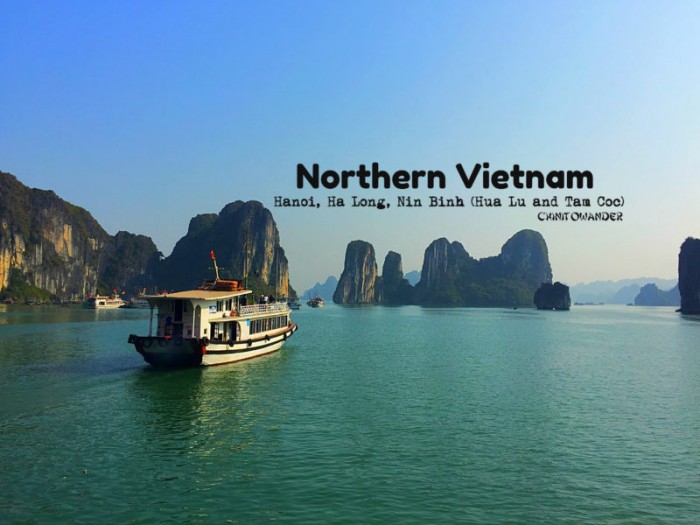 I initially thought that Ha Long Bay is just a stone's throw away from Hanoi. Damn, I was wrong. Ha Long Bay is actually located three hours away from Hanoi. We got this day tour at a local travel agency in our hotel. We had this tour for $45 each with the following inclusion:
Free pick up and drop off in Hanoi [Old Quarter]
2 bottles of water per person on bus and welcome drink on boat
Professional English speaking tour guide
Cruise through stunning Ha Long Bay on traditional Asian junk
Seafood lunch (we have Vegetarian Menu for vegetarians)
Visit fishing village
45-minute kayaking around Halong Bay
Visit Thien Cung Cave
I noticed that there are other cheaper travel agencies that offer as low as $23/person. But found out that you will be going to a bunch of other tourists, it does not include kayaking or small boat riding around Ha Long Bay Lagoons, and also the land transportation as well as the cruise are not new. If you don't mind all of this, then you can have the cheaper one. Since my parents are with me, I want them to feel convenient, so I opted to get the pricier one with good inclusions.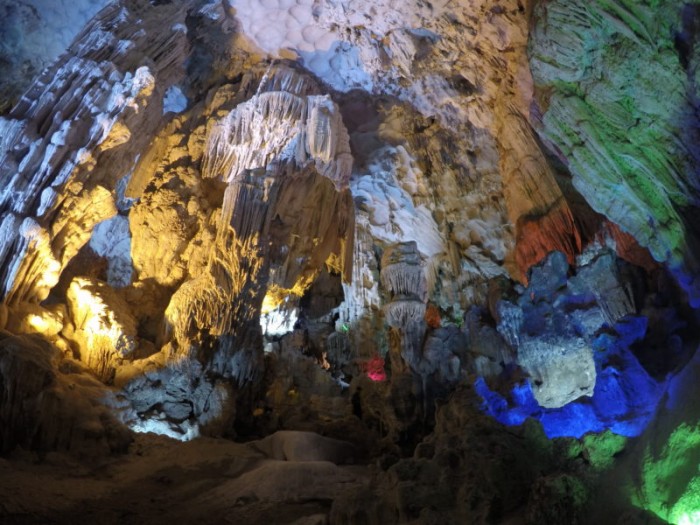 The Thien Cung cave (Heaven Cave): probably the best cave I've seen so far. Truly majestic!
Halong Bay Itinerary
7.30am–8.00am: Picking up from hotel/stay and depart for Halong Bay
10.30am: Stopping over to stretch the legs on the way
12.30pm–4.30: Arrival Tuan Chau Harbor, boarding Alova Day Cruise and Cruising on the bay.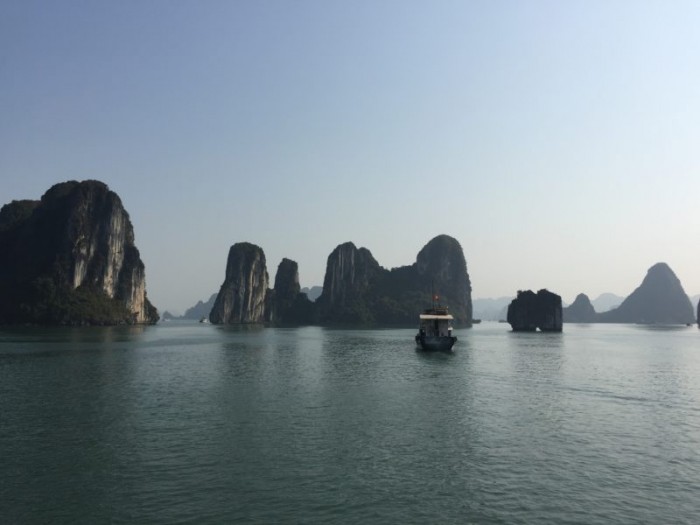 Inclusions:
Welcome Drink
Safety briefing
Lunch with Vietnamese dishes
"Kayaking, bamboo boat rowing" OR Relaxing
Visiting Thien Cung cave (Heaven Cave)
Enjoying afternoon tea
Disembarking to get on shuttle bus
6.00pm: Short stop to stretch your legs
8.30pm: Arrived back in Hanoi
Two Ha Long Lagoons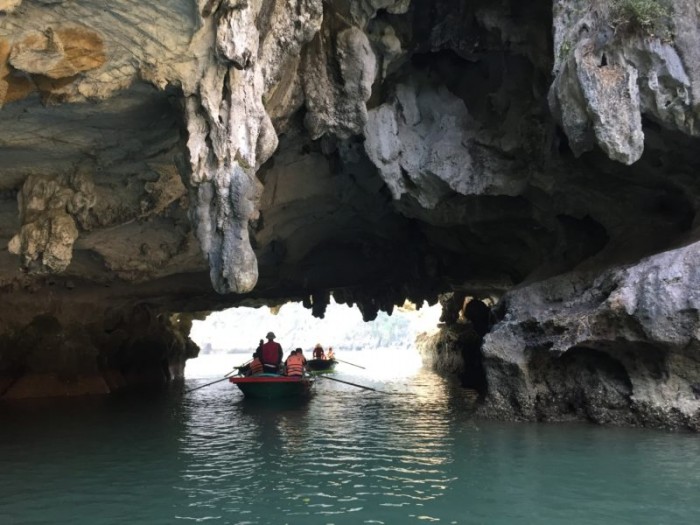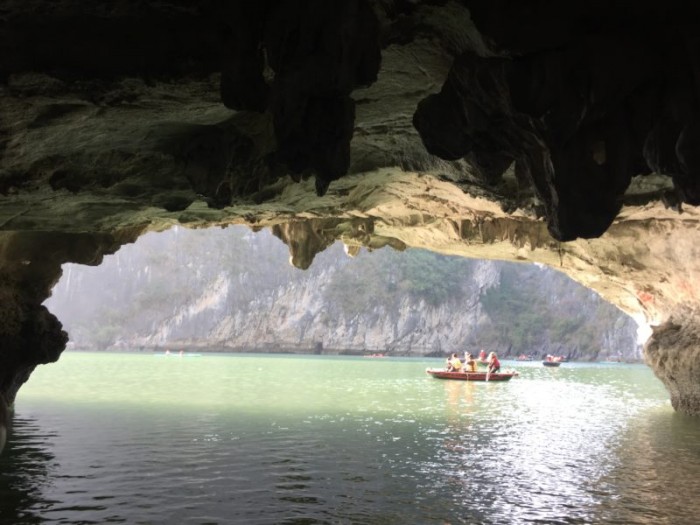 Basic info
Passport with valid visa
Some cash in Vietnamese Dong / USD for personal expenses
Sun block or insect repellent, sports shoes, or even swimming attire
Bring something warm to wear [From Dec till March] – Winter Season
Please be ready on time for your pick up service
The cruise does not accept credit card payments on board
Outside beverage has applicable corkage fee
Travel light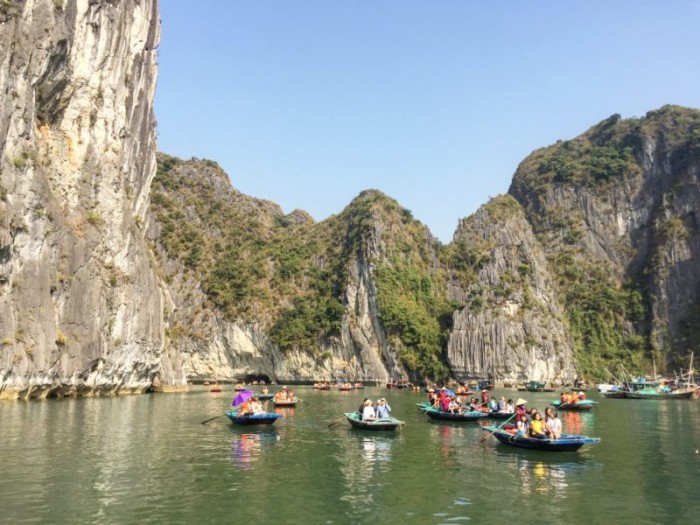 The area of the 2 lagoons and fishing village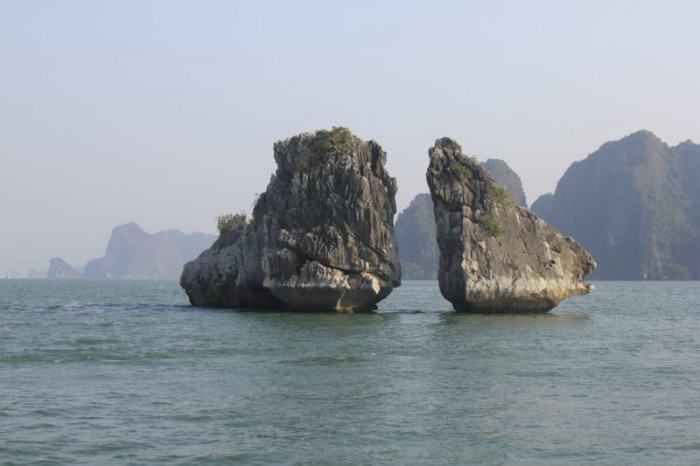 The Fighting Cock Rock Formation: Ha Long Bay's iconic landmark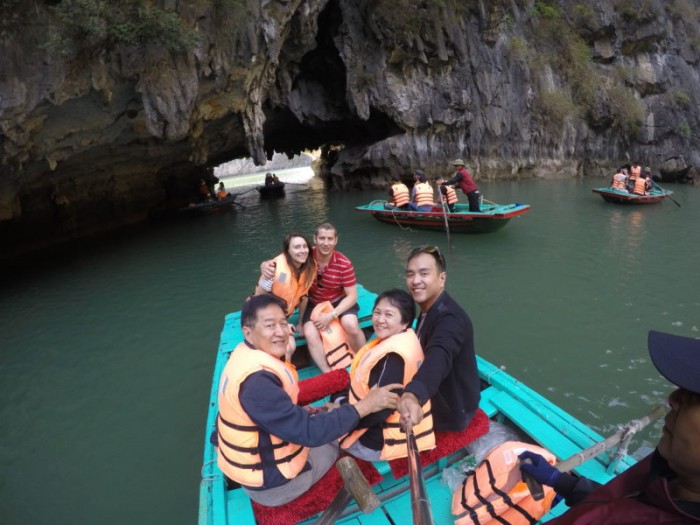 With our fellow tourists
We had our dinner at Old Quarter at Quan Highway4 Hanoi (hoan Kiem District). When heading back to Hanoi, you may ask your guide to drop you off at the restaurant so that you won't have to walk going to the restaurant.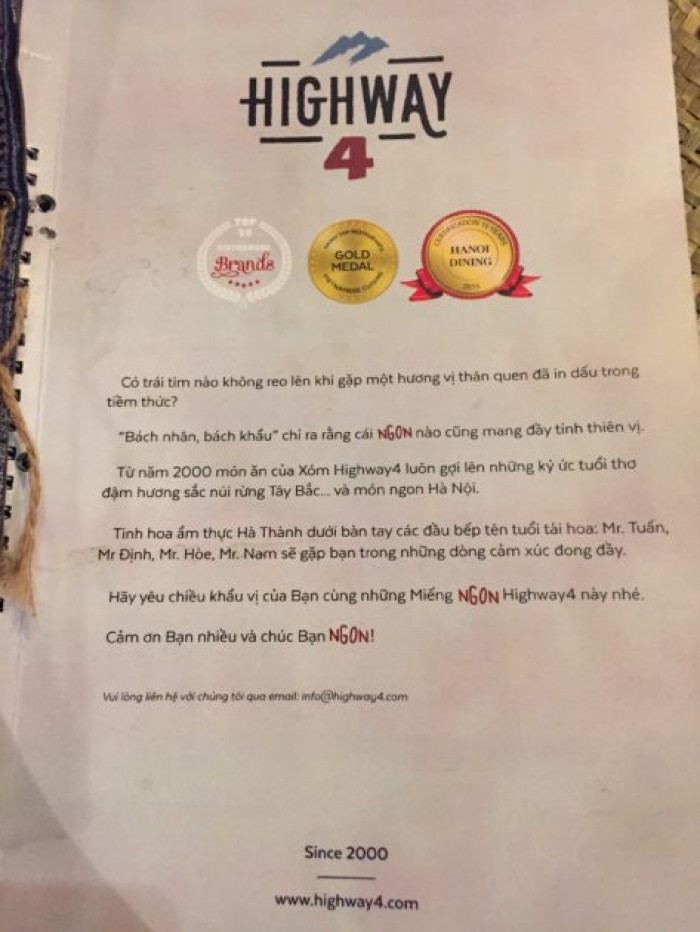 This restaurant offers authentic Vietnamese and other exotic dishes. They are mostly known for its fried cricket and locusts, but my parents wouldn't dare to try it so we settled on something less exotic. Here are some photos of what we ate: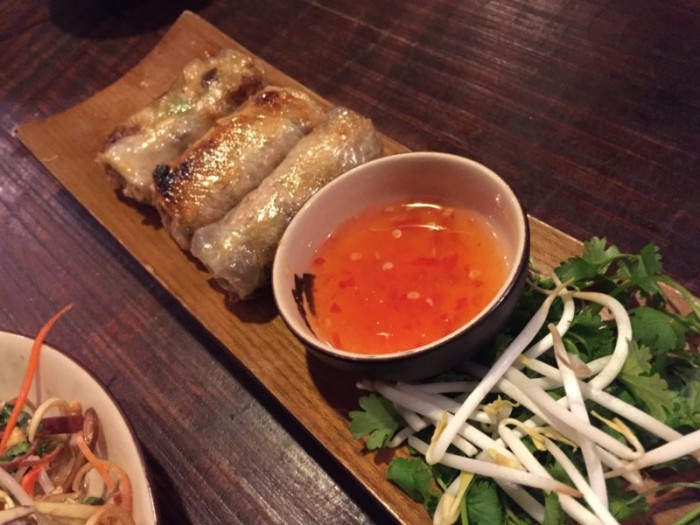 Fried Snail Spring Roll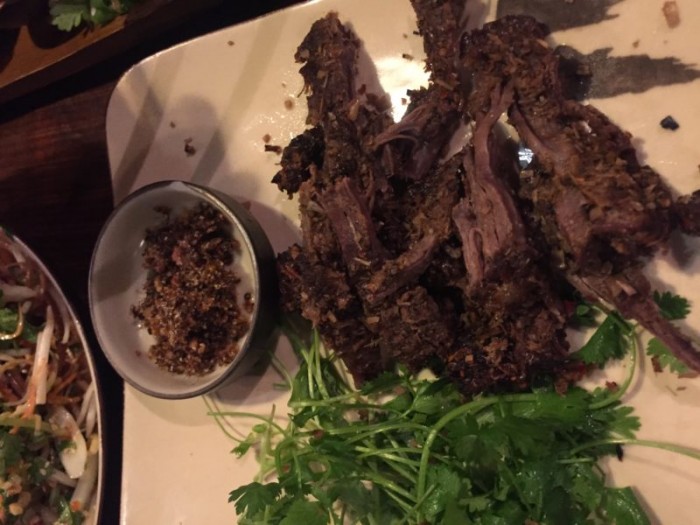 Dried Beef in Ant and Salt Dip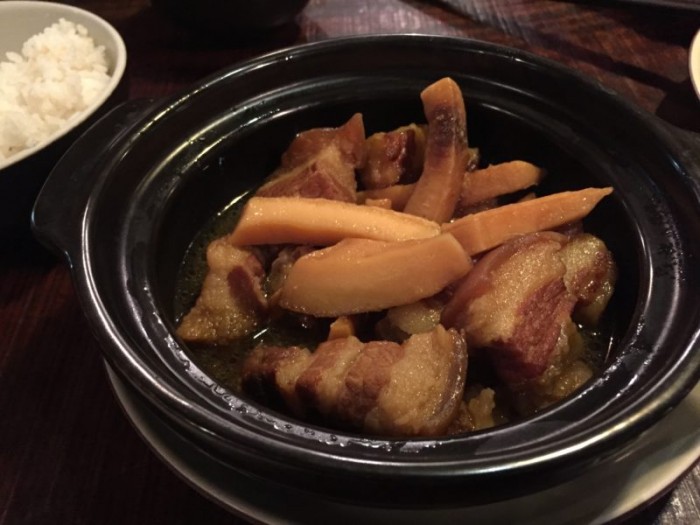 Caramelised Pork in Coconut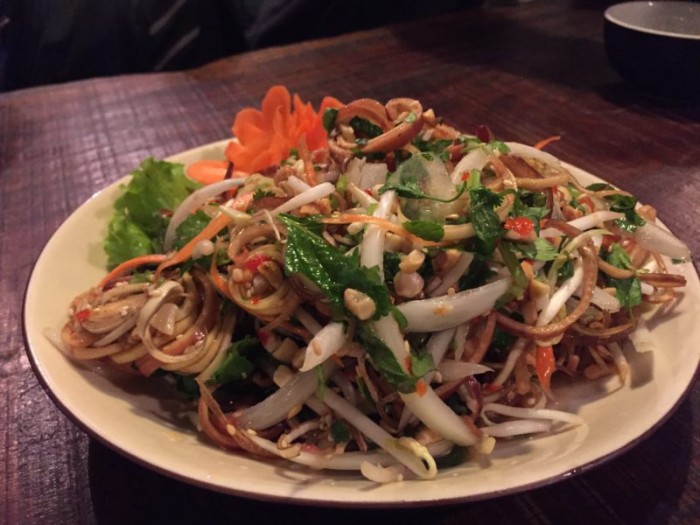 Banana Flower Salad with Roasted Peanuts
Day 3: Hua Lu and Tam Coc Day Tour
Ninh Binh City is the city where Hua Lu and Tam Coc are located. It is situated around two and a half hours south of Hanoi. We got this tour from the same travel agency in our Ha Long Bay Tour. We paid $40 each with the following inclusions:
Pick up from hotel/stay in Hanoi Old Quarter to Hoa Lu – Tam Coc and Return
All entrance tickets to sites indicated in itinerary
Complementary bottles of water on bus
Buffet lunch with Vietnamese Cuisine
English Speaking Tour guide during the trip
Bike and Sampan Boat Riding in Tam Coc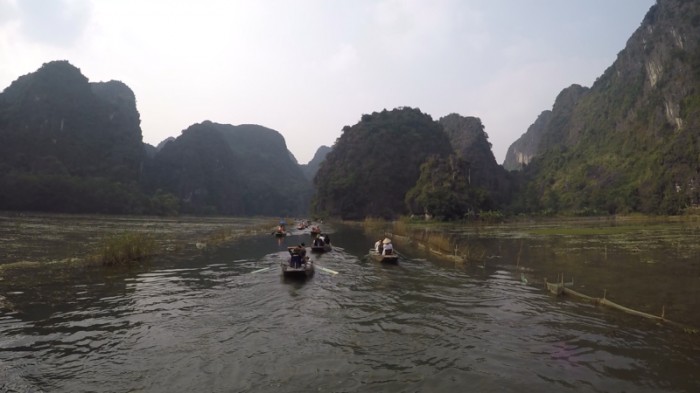 This is our detailed itinerary
08.00: Picking up from hotel/stay.
08.30: Starting drive to Ninh Binh Province
10.00: Arriving at Hoa Lu Ancient Capital
10.15: Visiting King Dinh and King Le's temples.
11.30: Arriving in Tam Coc Wharf.
11.45: Having buffet lunch with Vietnamese Cuisine.
13.00: Getting on Sampan boats through caves and visiting countryside landscape
15.00: Back to Tam Coc Wharf to chill out.
15.15: Biking on countryside road around the village
16.00: Getting on shuttle bus to go back to Hanoi
18.30: Trip ends
Details and information about the tour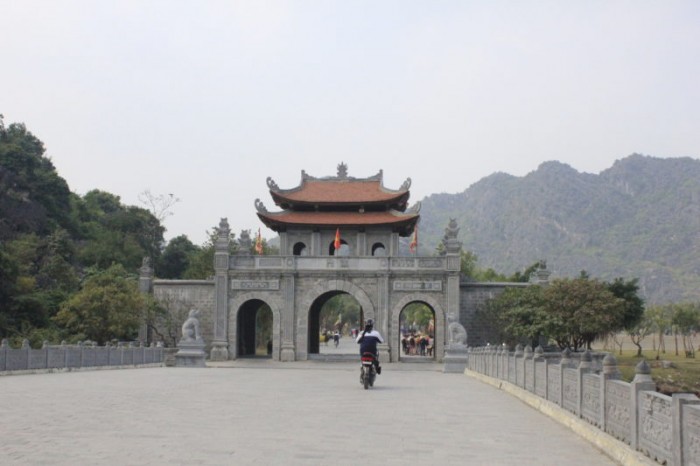 Hoa Lu is the site of a 10th-century capital of an ancient Vietnamese Kingdom called Dai Co Viet. This small Kingdom covered an area of only 300 hectares, and reigned from the 10th century, during the Dinh and Le dynasties, to the 11th century, during the Ly Dynasty. The Kingdom was enclosed by a citadel. The citadel and the Yen Ngua limestone hills provided good defence for this kingdom against the invaders.
Not much of this ancient kingdom is left standing. There are two 17th century temples, modelled after their 11th-century originals that are on most itineraries to Hoa Lu. They are the Dinh Tien Hoang Temple (King Dinh temple) and Le Hoan Temple (King Le Temple).
The Tam Cốc ("three caves") portion is a three-hour excursion by small boat along the Ngô Đồng River, beginning at the village of Van Lam and proceeding through a scenic landscape dominated by rice fields and karst towers.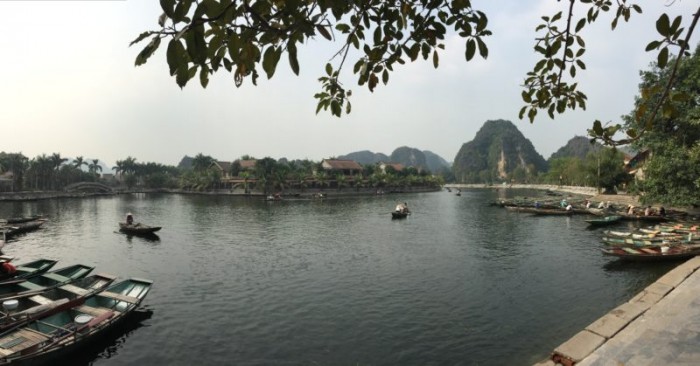 It is a very well-known with "nickname" Dry Halong Long or Inland Halong bay. Travellers come here to take small rowing paddling along Ngo Dong River along the rice fields and karst Limestone Mountains.
To reach up the three caves, local boat women take 2 hours for rowing a boat through three caves and long Ngo Dong River. The most interesting time to visit Tam Coc, the natural special relic, is between late May and mid-June when endless paddy fields are turning yellow.
We visited here during December; it wasn't planting season, so we were not able to witness the grandeur of the paddy fields. Maybe when I get back here soon, I'll make sure to come around late May.
After the tour, we travelled back to Hanoi. It's been our 3rd day and still my parents haven't experienced a taste of an authentic Pho. So I asked our guide for a recommendation. He gladly dropped us at Pho 10 Ly Quoc Su.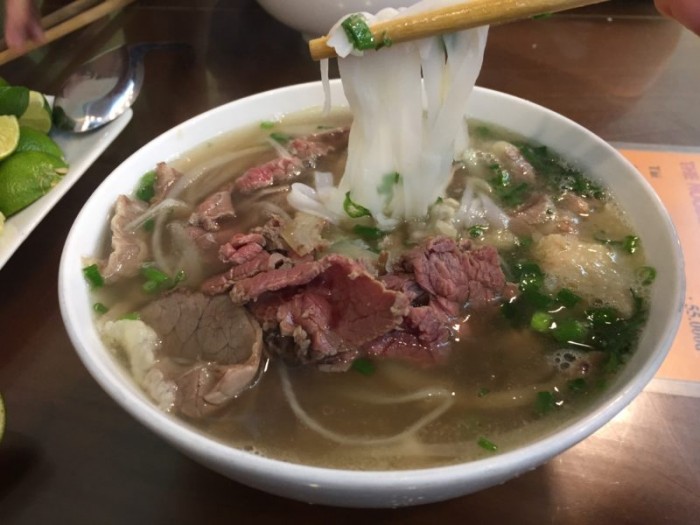 Our guide told us that this restaurant is quite known in Hanoi for its Pho. He also added that we should order the Special Pho. I tried Pho way back in Ho Chi Minh, but this Pho really has added flavour and more meat! We went back to our hotel satiated. We rested at the lobby for a while before we departed.
Also read: 12 Experiences Every Traveller Should Have in Vietnam
It was a very short trip, but we visited all the places we wanted considering our time! Vietnam will still be on the list of must-go places for all the foodies and adventurers alike. Next time, I'll visit the northern most part of Vietnam, Sapa! =)