It's never difficult to think of a good reason to visit Japan. But while the world has its eyes on Tokyo, the tropical landscapes of Okinawa Prefecture showcase a different side of the country altogether. Certainly, I've explored many big cities like Kyoto and Osaka, yet Okinawa holds such an enchanting mystery to me. Here, the coastlines are flecked with powder-white sands and shimmering cobalt waters. Meanwhile, the ruins of ancient castles and Japanese monuments invite travellers to take a step back in time. 
For curious visitors like me, Okinawa is a treasure chest of wonders — overflowing with too many hidden gems to count. From underground caves to crystal-clear pools, these are the best reasons why Okinawa should be catapulted to the top of your bucket list.
Also read: A 7D6N Okinawa Itinerary: How to Explore One of Japan's Hidden Gems
1. Okinawa's cherry blossoms are the first to bloom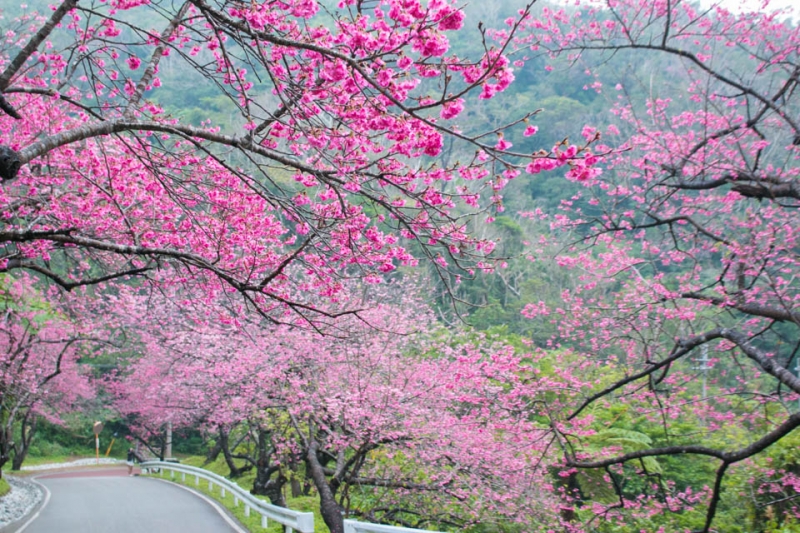 In Okinawa, the cherry blossom trees bloom ahead of other islands in Japan, reaching their peak season from mid-January through mid-February. If you look closely, you can see that Okinawa's sakura possess a darker hue than the petals growing in the mainland. 
In Tokyo, hanami usually means having a picnic under the trees. However, the locals in Okinawa prefer to stroll through their streets and soak up the sight of their rosy flowers billowing in the wind. Like them, you can witness the full splendour of these flowers as they frame popular attractions such as Mt. Yaedake, Nakijin Castle, and Nago Central Park.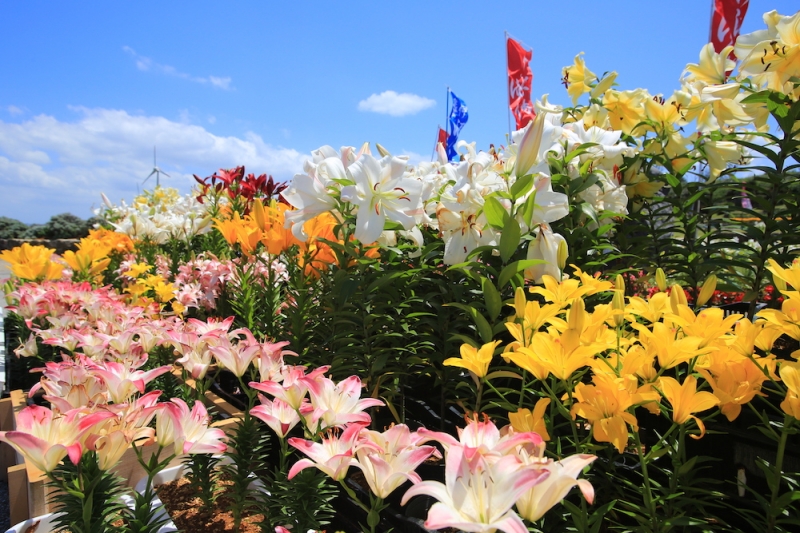 Beyond the cherry blossoms in spring, Okinawa also enjoys different seasonal flowers blooming throughout the year as well. You're just as likely to stumble upon fields dotted with sunflowers, cosmos, begonias, azaleas, hydrangeas, and lilies, too! 
2. Any season is a good time to visit Okinawa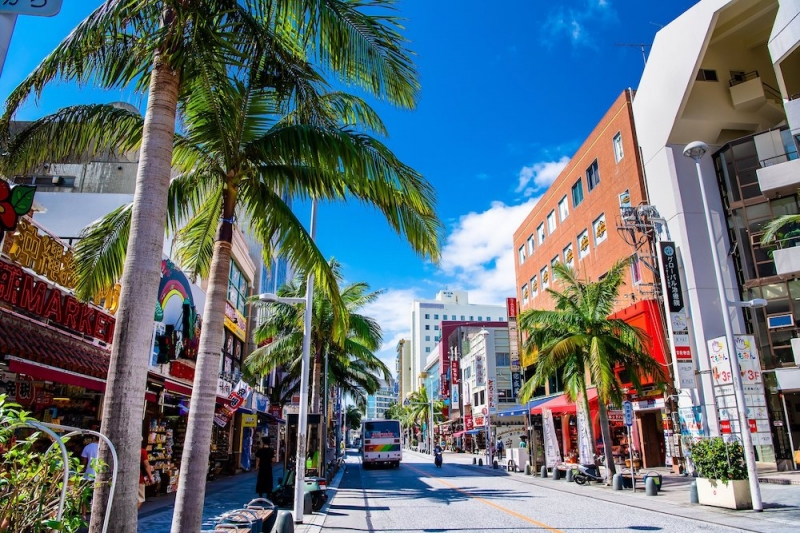 Drawing comparisons to Hawaii, Okinawa is often praised as a romantic destination for honeymooners and beach-trippers alike. But the similarity between the two doesn't end with gorgeous beaches. Rather, it has everything to do with Okinawa's climate, which stays mild and pleasant all year round. For this reason, Okinawa offers a warm welcome when you're travelling with young kids, as well as older parents or seniors. 
Unlike its urban counterpart, Tokyo, where the temperatures can drop as low as 9℃ in April — and Filipinos must prepare thicker coats for nighttime — Okinawa's springtime days remain steady at 18℃ to 25℃. No need to dress too warmly, as you can easily bring a light jacket instead. Even in January, the coldest month in Japan, Okinawa's average temperature stays balmy at 17℃. This means Filipinos can pack a bit lighter for Okinawa, compared to other places in Japan! 
3. Home to scenic beaches and landscapes, it's perfect for island-hopping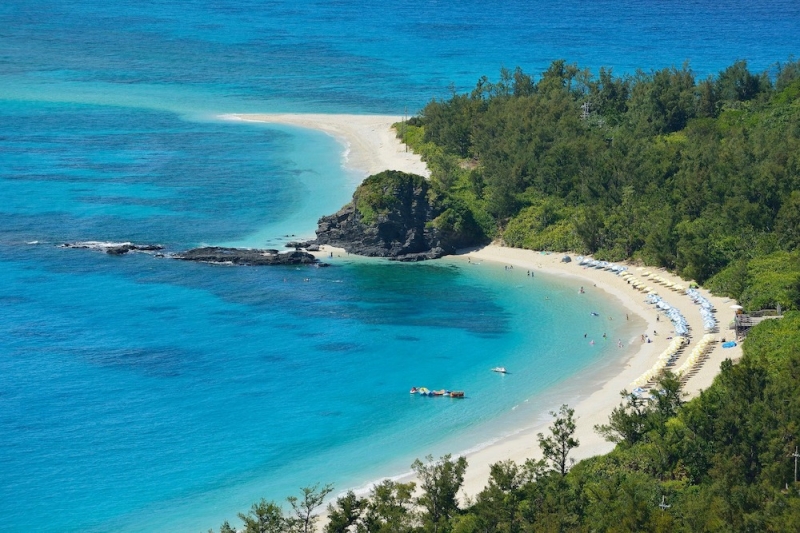 Revel in breathtaking escapes across the islands of Okinawa, where you'll find postcard-worthy shores, heart-shaped rock formations, mangroves, underwater ruins, hot springs, waterfalls, jungle treks, and verdant landscapes ringed with sandy and stony beaches. 
Cast yourself away on Ishigaki Island, which holds coral reefs and tropical fishes in Yonehara Beach for snorkellers, and emerald waters in Kabira Bay for glass-bottom boat rides. Join river kayaking tours that will carry you across the lush mangroves of Fukido River and Miyara River. 
On top of all that, don't forget to wriggle your toes in the star-shaped sands of Iriomote Island, one of the few places in Japan where you can find black pearls. Or, steal away towards Kerama Island in the autumn — and you just might be lucky enough to glimpse the humpback whales that have migrated from Alaska to Okinawa, swimming peacefully with their calves.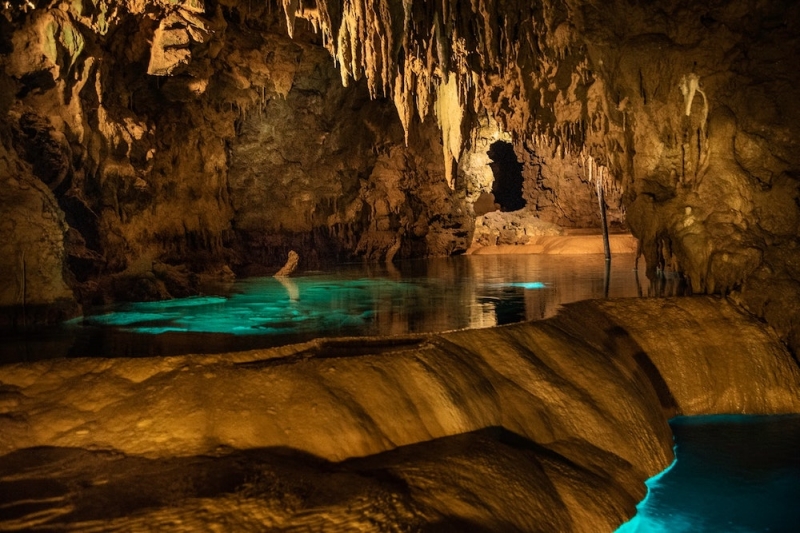 Love Palawan's underground river? Then you'll adore Gyokusendo Cave, a mesmerising display of stalactite ceilings, limestone formations, and turquoise pools. Additionally, this tunnel has illuminations that enhance its natural geology — so otherworldly, it looks like it could be made of crystal!
Also read: 8 Stunning Sights in Okinawa Best Explored by Car
4. It boasts one of the world's largest aquariums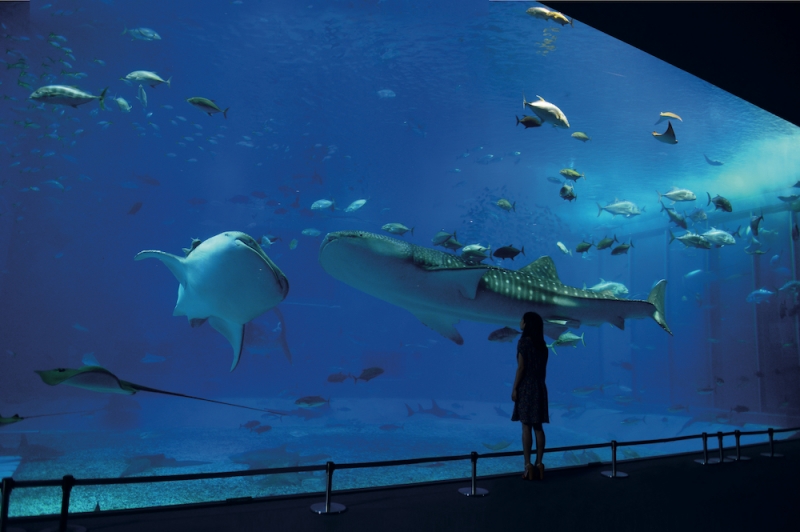 Apart from diving sites such as the Blue Cave, there are plenty of attractions that showcase Okinawa's marine biodiversity. For sea creatures that are harder to locate in the wild, you won't find a better place than the Okinawa Churaumi Aquarium in Motobu. What makes it special? For one, it's the fourth largest aquarium in the world. Secondly, the largest tank holds about 7.5 million litres of water — that's plenty of room for whale sharks to swim around! 
Visitors can marvel at the colourful spectacles of Kuroshio Sea Tank, which houses whale sharks, manta rays, living coral, and schools of fish. While standing in front of this tank, you will surely gawk at the size of the oniitomakiei — the giant oceanic manta ray, the world's largest species of ray — as it drifts past your head. You won't be able to tear your eyes away! 
For a deeper immersion into Okinawa's waters, you can also check out the Deep Sea Experience Room for bioluminescent fish that thrive in the dark. Even the most experienced divers have probably never encountered such funky-looking organisms, as they reside between 200 and 700 metres below the surface of the sea. It's so fascinating to see how the tanks recreate the environment of the ocean floor!
5. It's a delicious haven for foodies
Due to its bountiful oceans, it would be too easy to believe that Okinawa's cuisine puts the spotlight on seafood. But while they do serve some of the freshest sushi and sashimi you'll ever taste in Japan, the locals pride themselves on an entirely different ingredient: pork. 
To every Filipino's delight, the Okinawans enjoy preparing and feasting on all parts of a pig — everything, they say, "except for its hooves and its oink!" Sounds familiar, right? 
If you want to savour the local cuisine, try the Okinawan soba made with thick wheat noodles and topped with slow-cooked spare ribs. Sate your sweet cravings with beni-imo tart — a baked pastry that uses purple yam, which is a native crop of Okinawa that's similar to the Philippine ube. Another surprising delicacy you'll want to sample is the taco rice, a product of American influence on the naval bases. While you're travelling in Okinawa, don't forget to include a cup of awamori, as this happens to be Japan's oldest liquor!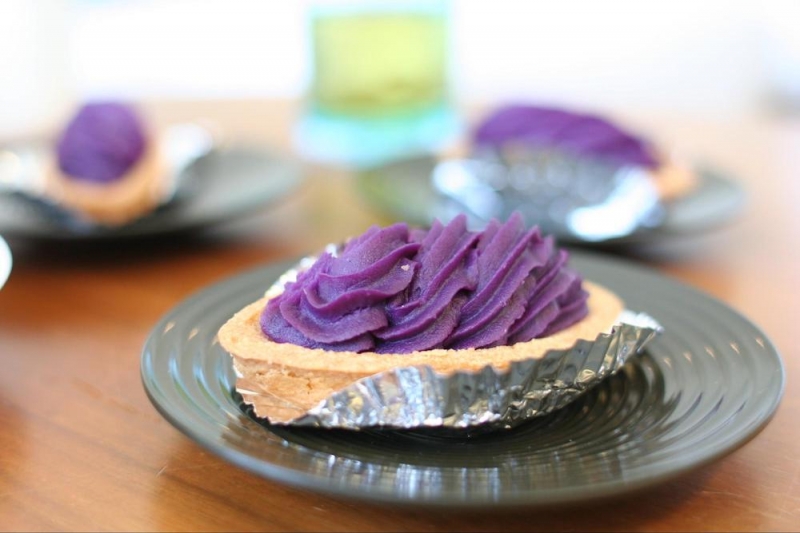 Meanwhile, a healthy diet that generously uses tofu, seaweed, and yam helps the elderly population live longer. Okinawan dishes are not only delicious, but also nutritionally balanced, providing enough sustenance without sacrificing the quality that makes you say, "Oishii!"
6. Historic and cultural attractions are never far away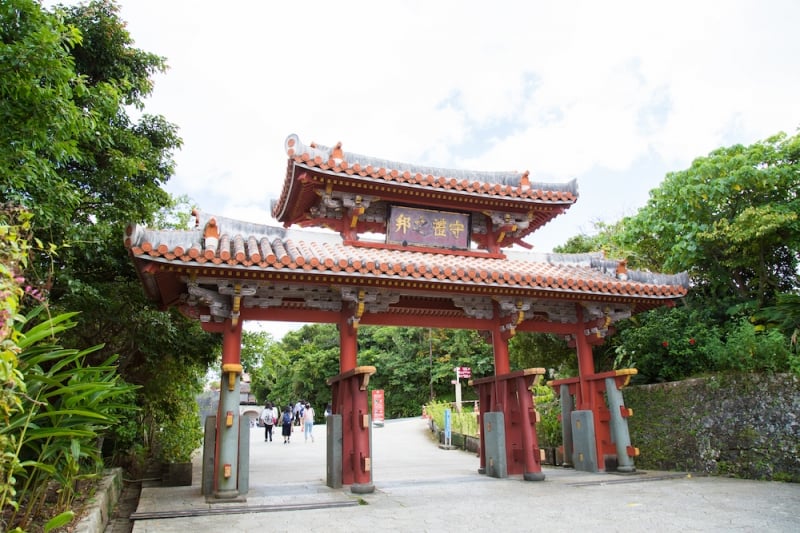 Before it became a part of unified Japan, Okinawa was known as the Ryukyu Kingdom — a dynasty whose reign stretched from the southern tip of Kyushu Island as far as Taiwan. Those days of independent rule may be long gone, yet an ancient past remains in Okinawa. 
Step back in time at Shuri Castle, a vermillion fortress in Naha that once doubled as the central government and residence of the royal family. While this historic castle continues to rebuild after a devastating fire incident in Oct 2019, most of the castle park is now open for visitors. You can admire the iconic Shureimon Gate, an elegant gate that leads to the castle and appears on the ¥2,000 note, which was printed in the year 2000 to celebrate the millennium in Japan.
Further testifying to the Ryukyu Kingdom's grandeur are other remnants of old castles in Okinawa, which include Nakagusuku Castle Ruins, Katsuren Castle Ruins, Zakimi Castle Ruins, and Nakijin Castle Ruins — all of which happen to be UNESCO Heritage Sites! 
7. Okinawans have discovered the secret to long life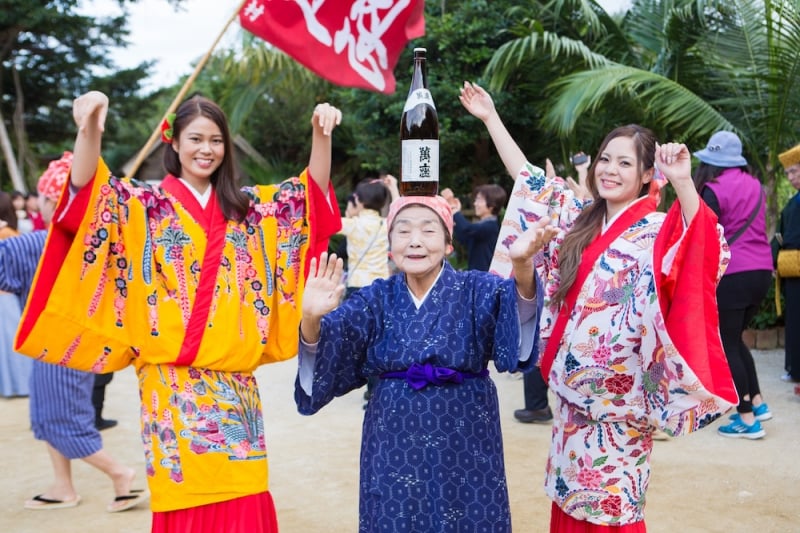 Looks like ojii (grandpa) and obaa (grandma) can still teach us a thing or two! The mystery of long life is a puzzle that experts have tried to crack for years. But where they failed, the Okinawans seem to have succeeded effortlessly. 
If you've experienced the warmth and friendliness of Okinawans before, it might not come as a surprise that these citizens have some of the longest lifespans in the world. Something about the place they live in — the mild and temperate climate, the nourishing flavours of their food, the proximity to the ocean — has a way of enlivening people's spirits. And when the locals are happy to live where they are, that's how you know that you've chosen the right place. 
Also read: Top Things to Experience in Okinawa
Another reason to visit Okinawa? It's less than a five-hour flight away from Metro Manila! Trade the frenetic pace of city living for Okinawa, and you'll find many hidden pockets of paradise waiting to be discovered. Once you're ready to travel to these evergreen islands, so many natural wonders will be ready to greet you — come rain or shine.
For more information, please visit Okinawa Tourism's official website, Facebook, and Instagram.
---
Brought to you by the Okinawa Convention & Visitors Bureau.