When I think of Japan, its vibrant cityscapes come to mind — scenes of professionals walking back to their office buildings, groups of students with matching randoseru (backpack), and tall skyscrapers as far as the eye can see. Truth be told, I'm a traveller who enjoys immersing in the hustle and bustle of the metropolis. Although just like many Filipino travellers out there, I'm always willing to try something new.
If you told me that I'd find lush greens and magnificent beaches in Japan that rival those of Southeast Asia, I would have never believed you! Okinawa was exactly that, and I didn't expect to love it as much as I did.
Looking for a place to experience and witness the magnificent creations of the earth while seeing the city and doing some shopping, too? This Okinawa travel guide is the right fit for you!
Also read: Love Japan? Okinawa Deserves the Next Spot on Your Bucket List — Here's Why!
How to get to Okinawa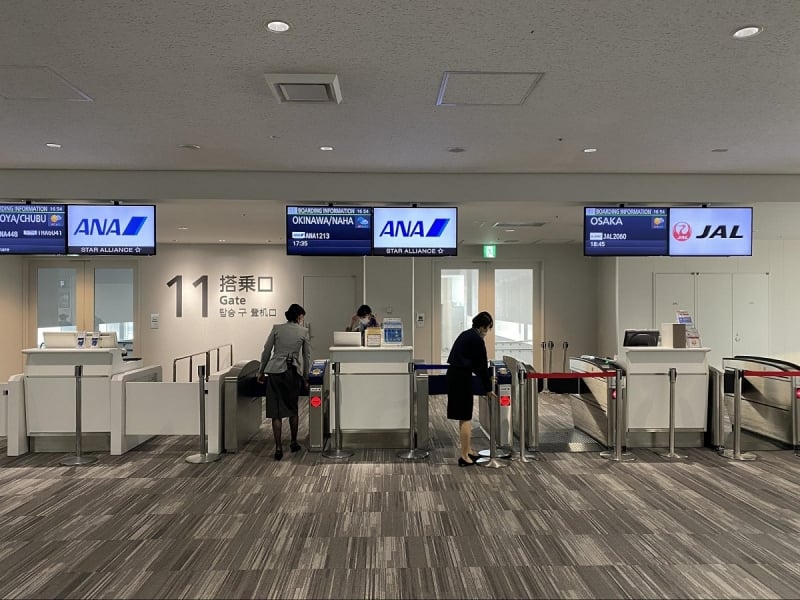 Located approximately 1,484 kilometres from Manila is Okinawa, Japan's southernmost prefecture and only subtropical region. Did you know that it's about a 1 hour and 30 minutes to 3 hour flight away from Taipei, Hong Kong, and Seoul as well?
Okinawa's strategic location provides travellers with many flight options from Manila! The fastest way would be to take a connecting flight with a stopover in Taipei. Some travellers also decide to take other routes — depending on one's budget, of course. In my case, we flew from Manila to Fukuoka, and took another flight from Fukuoka to Naha, Okinawa.
Best time to visit Okinawa
For those who want to enjoy beach activities and make the most of the tropical weather, the best time to visit is between May and October, when temperatures range from 23 to 32°C. However, if you're like me who enjoys more of a chilly vacation to escape the year-round tropical climate that we have back in the Philippines, it would be best to go from December to March. During these colder months, Okininawa's temperatures fall between 17 and 20°C.
Lastly, Okinawa is blessed to be the first prefecture to see the beautiful cherry blossoms bloom! If you're on the hunt for some breathtaking sakura, watch out for them in Okinawa from mid-January to mid-February. I was lucky enough to catch a few on our trip!
Getting around Okinawa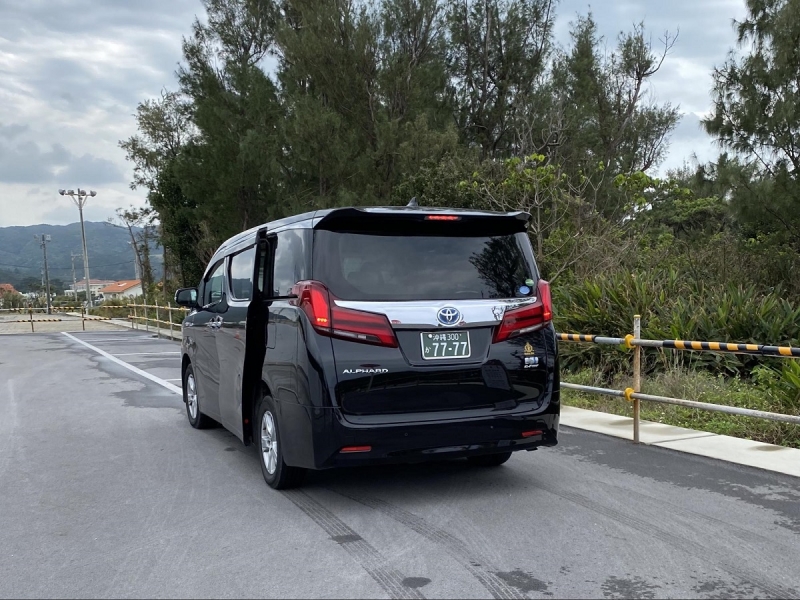 Taxis, rental cars, rental motorcycles, and buses are the primary modes of transportation in Okinawa. While there is a monorail, it only runs within the cities of Naha and Urasoe. Bus services are in Japanese and may prove to be troublesome for travellers who did not do thorough research on the bus routes of their chosen destinations. Thankfully, the Okinawa Convention & Visitors Bureau provided us with a modern, spacious coach and pocket Wi-Fi so we could stay connected and avoid getting lost all throughout our trip. Equipped with ultra-comfortable seats, our vehicle made all the difference as we were able to rest in between our walking tours!
Renting a car on a 24-hour basis is one of the best ways to explore Okinawa. The rate usually depends on the season and the type of car. On average, a standard five-seater car costs ¥5,000 (₱2,310) a day during the off season. Meanwhile, motorcycle rental services start at ¥3,600 (₱1,670) per day. Taxis cost ¥550 (₱254) for the first 1.8 kilometres, with an additional ¥70 (₱32) for every 372 metres. Bus tours are also available within Naha City, so make sure to check those out if renting a car or motorcycle may not be for you. Some hotels also offer their guests pocket Wi-Fi devices at no additional cost — perfect for getting around Okinawa on your own!
Where to stay in Okinawa
Among the many things that make Okinawa truly wonderful are the numerous world heritage sites scattered throughout its south, central, and northern islands. Of all the islands that dot the prefecture, the most popular areas to stay in are Naha and the central areas.
Naha is the capital city of Okinawa, where an abundance of hotels, restaurants, convenience stores, and shopping centres can be found. On the other hand, the central area houses many five-star resorts perfect for couples and families. You can also find the American Village in Chatan, an entertainment complex with many Western options for dining and shopping available. Looking to have a drink or two? A hotspot for locals and tourists alike, American Village is home to lots of bars, too!
For this trip, we got to stay in both Naha and the central areas. Here are some hotels you can check out for your Okinawa trip!
Budget
The Kitchen Hostel AO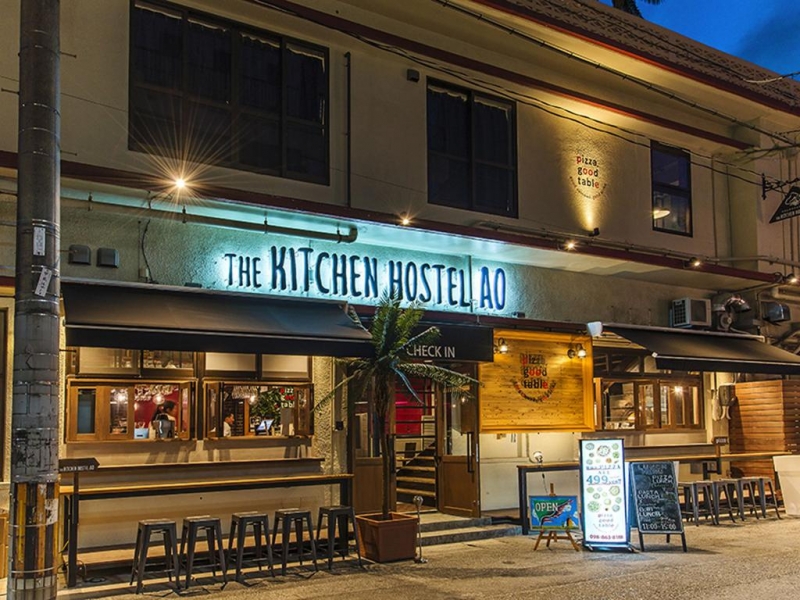 The Kitchen Hostel AO is located in Naha, and is four minutes away from the Kencho-Mae monorail station. A dormitory-style hostel with a bar and shared lounge, the property is a no-frills choice for the budget traveller. It's located close to Kokusai Street, Naha's busiest major thoroughfare, which will make your stay here a feast for the senses!
Tip: Take a walk around the Naha City neighbourhood on your first night so you can acquaint yourself with restaurants, bars, and stores you'll want to come back to!
Mid-range
Hotel Rocore Naha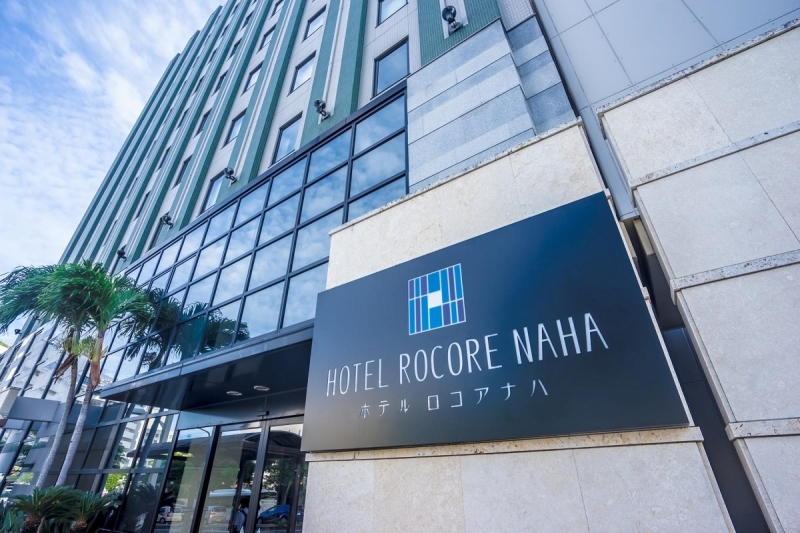 Hotel Rocore Naha is located in front of the Okinawa Prefecture Government Office and is a few steps away from Kokusai Street. 7-Elevens, FamilyMarts, and Lawsons abound the street offering some quick snacks, while there are homegrown restaurants around for you to experience authentic Okinawan cuisine! If you want a taste of the city life, this hotel is perfect for you.
Tip: Wake up early for buffet-style breakfast at the Aletta restaurant, where you can enjoy the best breakfast in the city as it offers the best of local, international, and even fusion cuisine!
Hotel Okinawa with Sanrio Characters (Naha)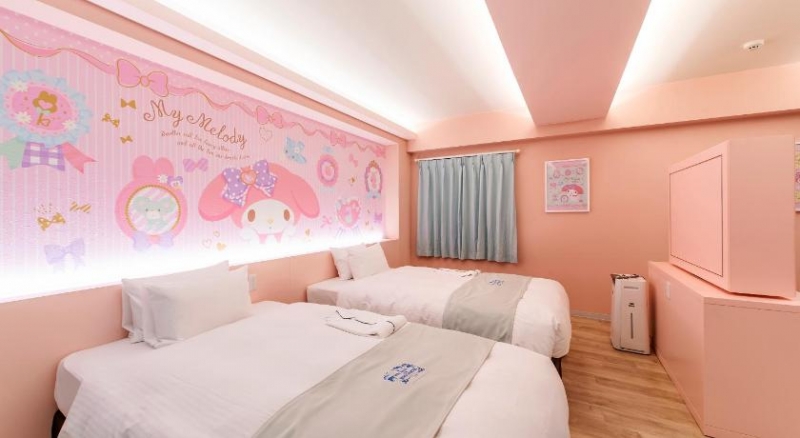 Who wouldn't want to stay in a hotel that features our favourite Sanrio characters?! The child in me couldn't contain my happiness seeing all of the characters under one roof. While Hotel Okinawa with Sanrio Characters caters more to families with young children, its strategic location and affordable price point make it a great hotel to stay in at Okinawa! Did I also mention that Hello Kitty is the first to greet you once you enter this kawaii boutique hotel?
While there are no restaurants in the hotel, breakfast is served to guests in their rooms, should they avail of this option. Breakfast in bed while inside the cutest hotel room you could possibly imagine? A dream come true, if you ask me!
Tip: If you have young children to give souvenirs to, there is an abundance of Sanrio merchandise at the gift shop in the lobby! You'll surely be a shoo-in for your pamangkins' 'Best Tito/Tita' lists!
Luxury
Kafuu Resort Fuchaku Condo Hotel (Onna)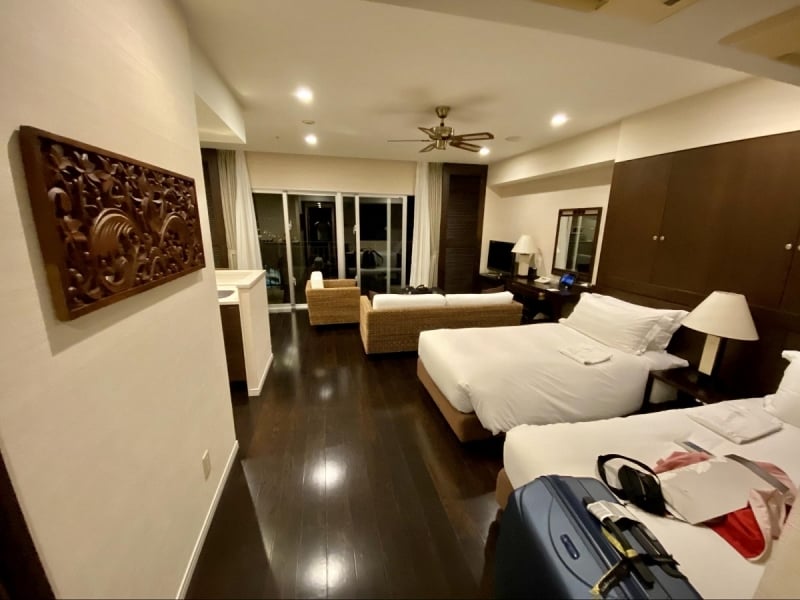 Kafuu Resort Fuchaku is located in the central area, where many other family-style resorts are located. What makes Kafuu different from all the other resorts in the area is that it has consistently been awarded and ranked as both a top LGBT-friendly and top Muslim-friendly property by many reputable travel companies worldwide! Knowing that the resort prides itself on being an inclusive property made my stay a whole lot more worthwhile!
Tip: Since Onna is a bit far from downtown, there aren't many convenience stores outside. However, Kafuu Resort Fuchaku has a small convenience store for your cravings. Of course, being in Japan, they have vending machines on every floor, too! We recommend having an Orion beer for your nightcap while watching the night sky from your balcony.
DoubleTree by Hilton Chatan Resort (Chatan)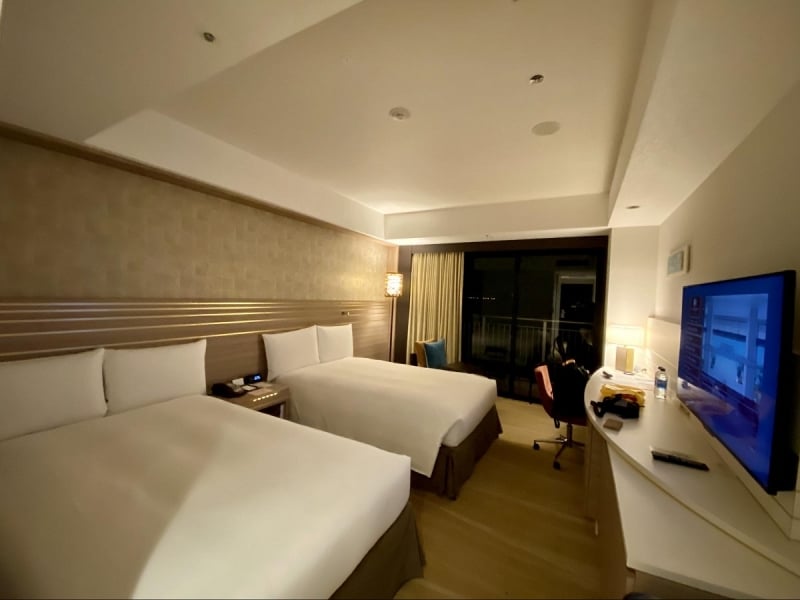 A name familiar to any traveller, DoubleTree by Hilton Chatan Resort certainly does not disappoint. As we entered, we were given some refreshments and cookies, which made me feel like a VIP! What truly made the stay worthwhile were the spacious rooms we were able to relax in. It's also a stone's throw away from the American Village, which means plenty of dining and shopping options are easily accessible!
Tip: Hilton Okinawa Chatan is the older sibling of DoubleTree by Hilton Chatan, but guests at the DoubleTree are granted access to Hilton Okinawa! This being said, you can have breakfast at the other hotel and pass through it to get around, too.
Must-try Okinawa food and drinks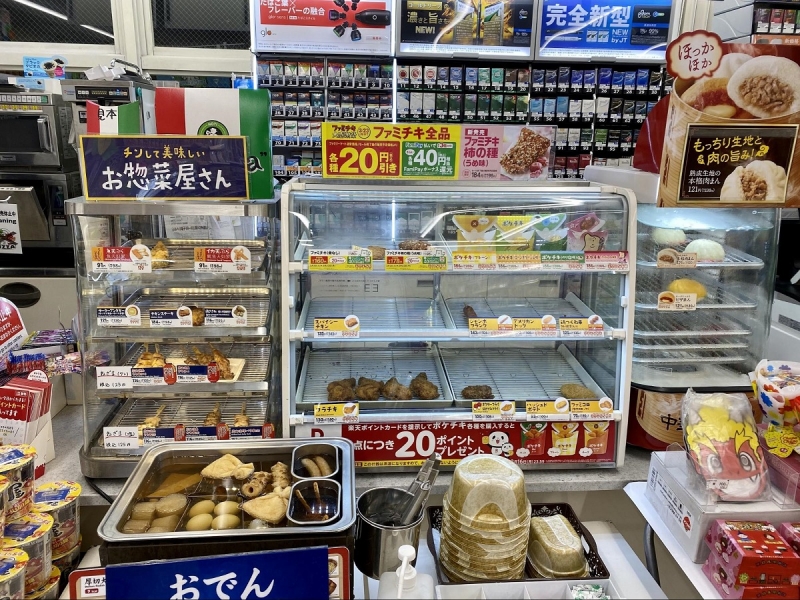 Everything. I'm serious — we're in Japan, after all! Okinawa's status as East and Southeast Asia's gateway to Japan is proven through the strong influence of its cuisine. This is because the Ryukyu Kingdom engaged in trade with China, South Korea, and the rest of Southeast Asia. What do you get with all this influence, you may ask? The most amazing food ever, no doubt about it!
The old Chinese saying goes, "Medicine and food come from the same source." In line with this, Okinawans believe that their traditional food doubles as their medicine. That said, they take their food very seriously!
1. Awamori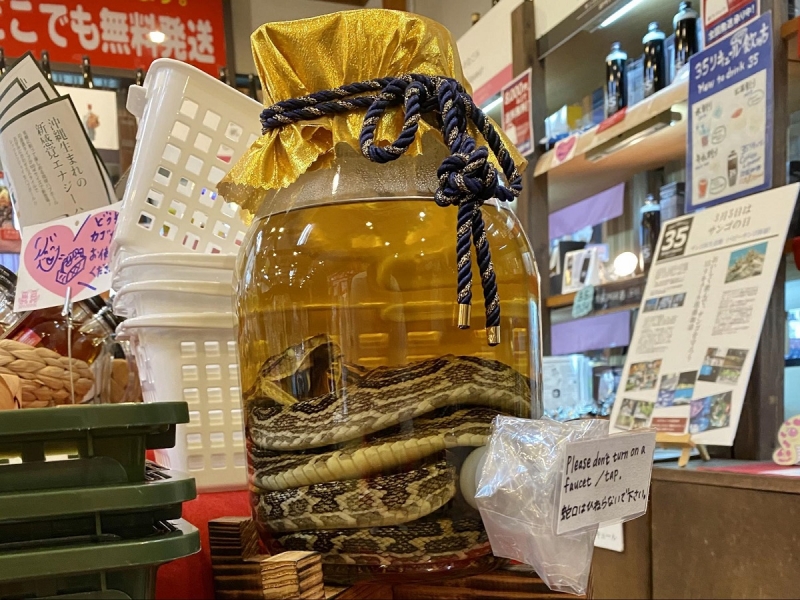 Contrary to other Japanese prefectures, seafood is not a main staple in Okinawa. This is because it was difficult to preserve seafood products back in the day, due to Okinawa's high temperatures relative to other areas of Japan.
Instead, Okinawan cuisine focuses more on fruit, pork, beef, and vegetables like seaweed, potatoes, and beans. To top it all off, no Okinawan meal is complete without Awamori, an alcoholic beverage found only in Okinawa. Its method of distillation is said to have originated in Thailand in the 15th century.
2. Chanpurū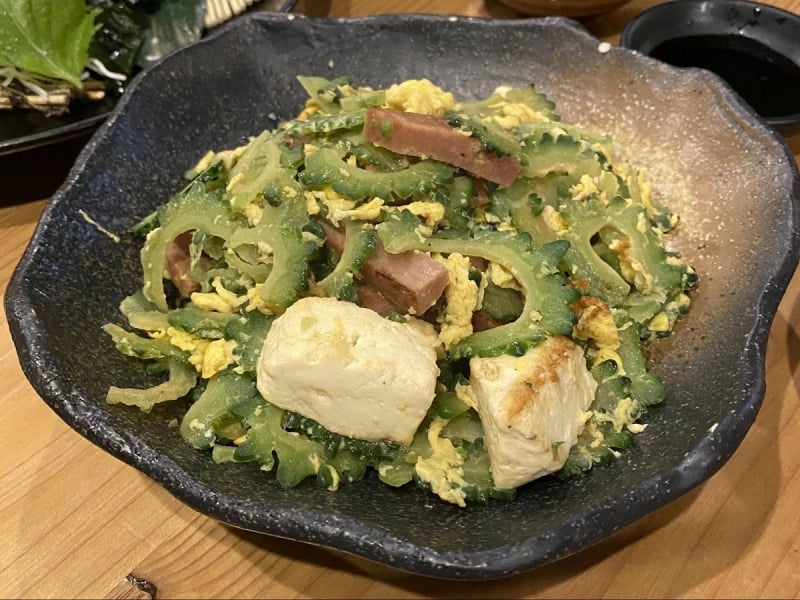 What was most interesting to me was the presence of ampalaya or bitter gourd in Okinawan cuisine. Yes, you heard that right! In fact, they even cook ampalaya with scrambled eggs and call it chanpurū. This Okinawan stir fry dish is also made with carrots, egg, tofu, and meat. There are many different variants, and the possibilities are endless with this dish!
3. Okinawa soba
Another signature dish is Okinawa soba or the "soul food" of the Okinawans. Despite being called "soba," the Okinawan version actually uses thick and chewy flour-based noodles rather than the traditional buckwheat. The noodles are best enjoyed with a broth made with seaweed, bonito flakes, and pork — then topped with some pork and fish cake. Make sure to have some of this on your trip!
4. Agu pork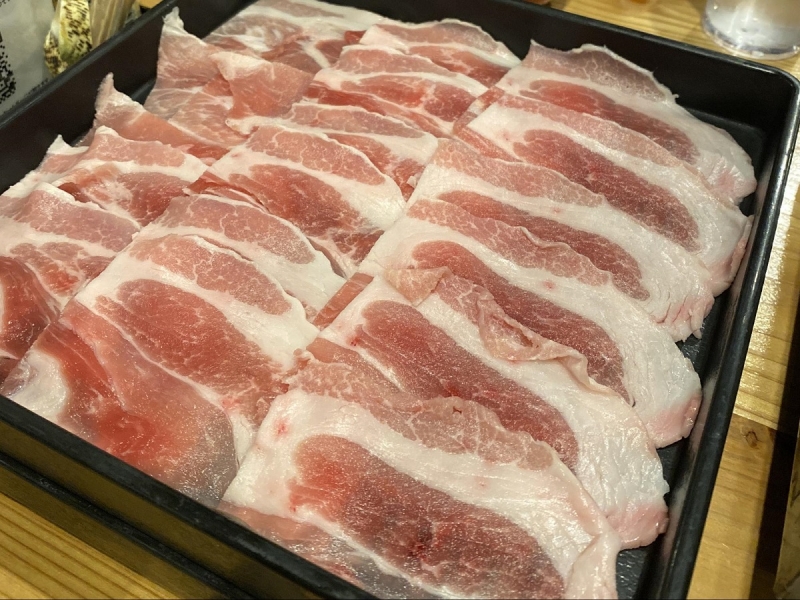 Pork lovers will be glad to know that Okinawans love pork just as much as you do! They even have a saying that Okinawans "eat all parts of the pig." Sounds quite comparable to Filipinos, don't you think?
When in Okinawa, look for some agu pork, famous for its soft meat, flavourful fat, and beautiful marbling, which sets it apart from other pork varieties in Japan!
5. Steak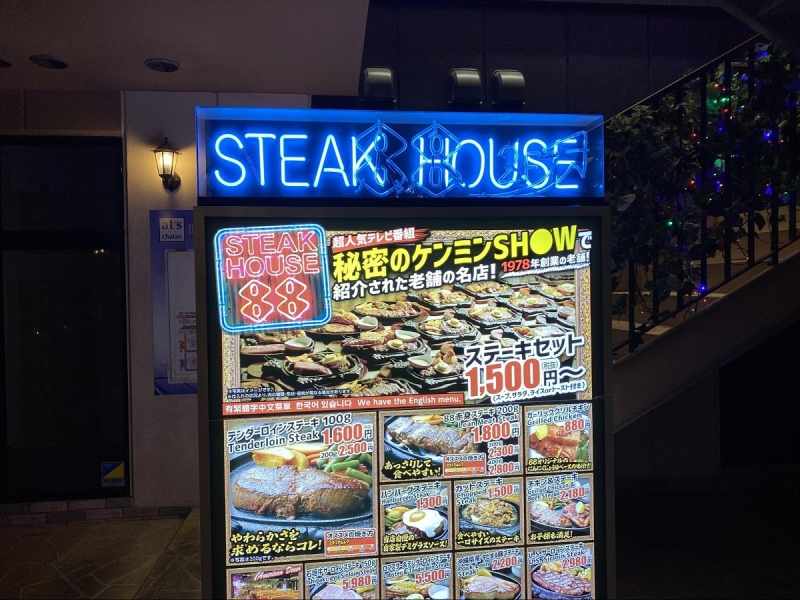 Modern-day Okinawan cuisine has a strong American influence too, as evidenced by its must-try steakhouses. Besides steak, other crowd favourite dishes include taco rice and pork tamago (scrambled eggs with luncheon meat)!
6. Ice cream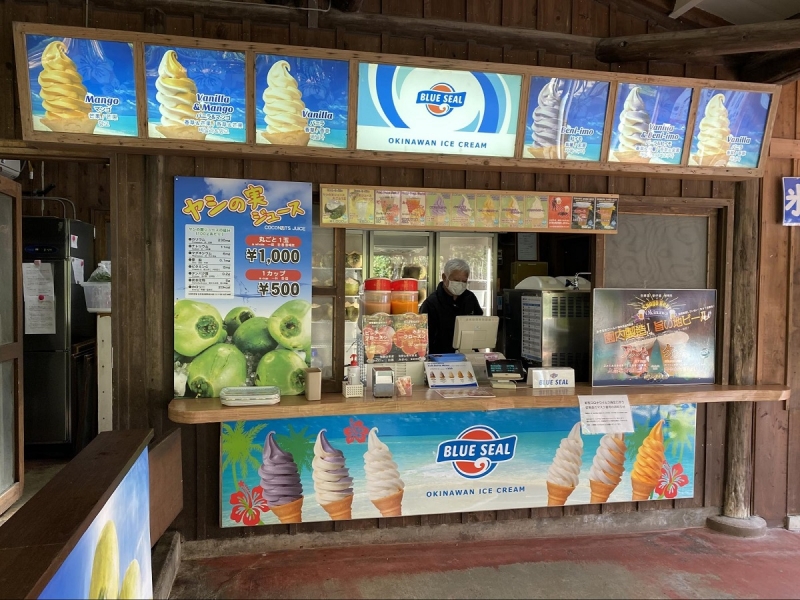 Did you know that there's also an ice cream brand that is said to be "born in America and raised in Okinawa?" Blue Seal Ice Cream came to Okinawa in 1948 to supply the U.S. military with some dairy products within their bases.
However, in 1963, Blue Seal finally moved to its new home in Urasoe City, Maki Port — and as they say, the rest is history. Try out their traditional flavours such as the beni-imo (special sweet potato) and the chinsuko (shortbread cookies). I had more than my fair share on our trip!
7. Orion draft beer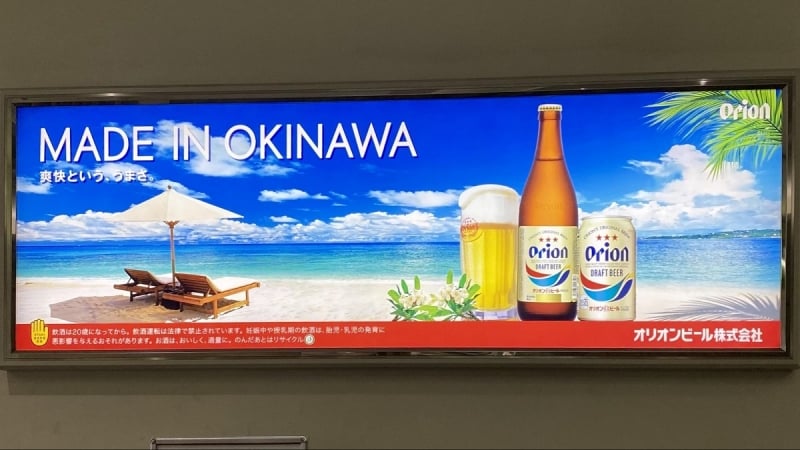 Last but not the least, do take the opportunity to try some Orion beer! They say it's always happy hour somewhere, after all! Orion's smooth and light texture has cemented their position as the number one beer in Okinawa. It can be found in every vending machine and restaurant in the prefecture but it's best enjoyed with Okinawan traditional dishes, of course!
Also read: Only in Okinawa: Things & Places Unique in This Japanese Prefecture!
Top things to do in Okinawa
1. Learn about Okinawa's role during World War II at the Former Japanese Navy Underground Headquarters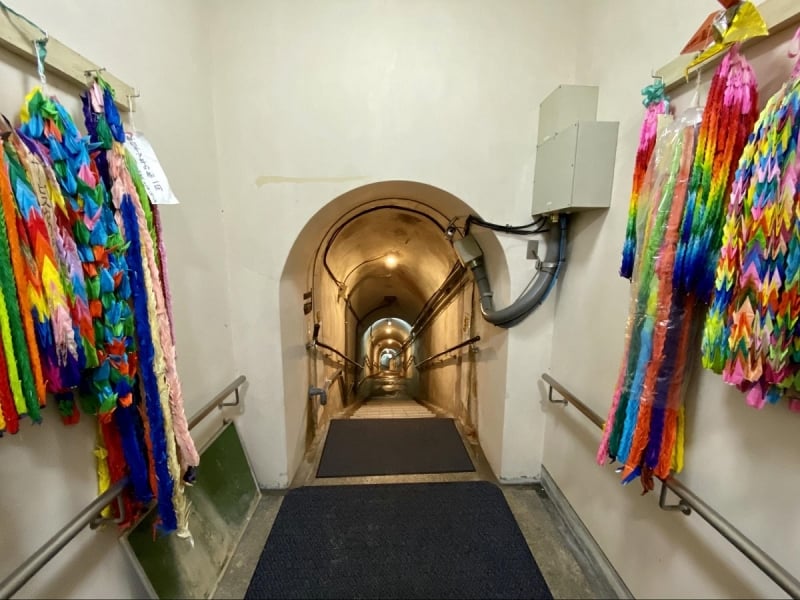 This 450-metre underground tunnel served as one of the vital structures of the Japanese navy during the Second World War. Referred to as the "steel typhoon," the Battle of Okinawa left 90% of Naha City destroyed, together with important cultural and historical treasures of the Okinawan people.
"This is how the Okinawa people have fought the war," Commander Ota Minoru said on one of his telegrams to the Vice Admiral of the Navy. The cooperation and sacrifice of the Okinawan people moved the Commander so much that his telegram noted that Okinawa should be given preferred consideration after the war for all their efforts.
Paper cranes made by schoolchildren decorate the entrance to the underground complex, and the crane wings are believed to carry souls up to paradise. Today, the former headquarters serve as a necessary reminder of the pains of war, and why peace is something that we should work towards sustaining.
2. Shop till you drop at Kokusai Street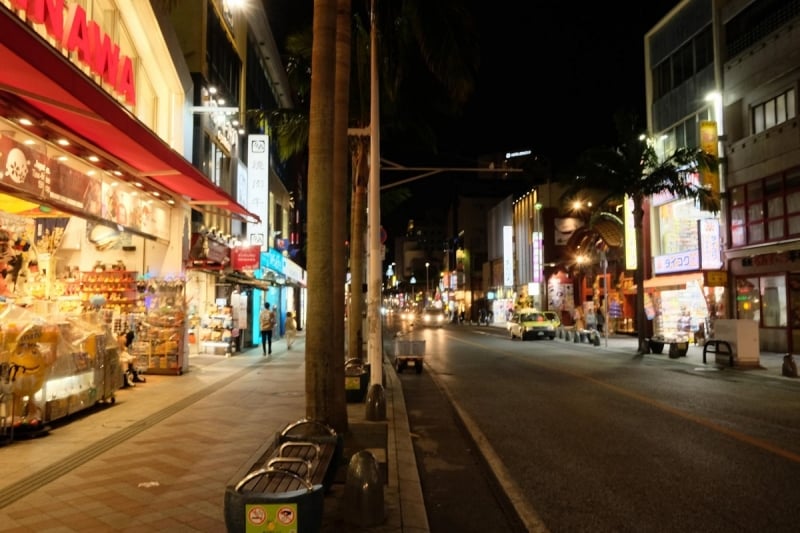 Packed with hotels, shops, restaurants, and convenience stores, Kokusai Street functions as Naha City's busiest and main shopping district. Many Japanese household names are housed here, such as Don Quijote, Mos Burger, Ichiran Ramen, and even a Pokémon Center! This two-kilometre stretch will surely be a hit for shopaholics and those looking to get some pasalubong for their family and friends!
3. Enjoy the magnificent views from Nirai Kanai Bridge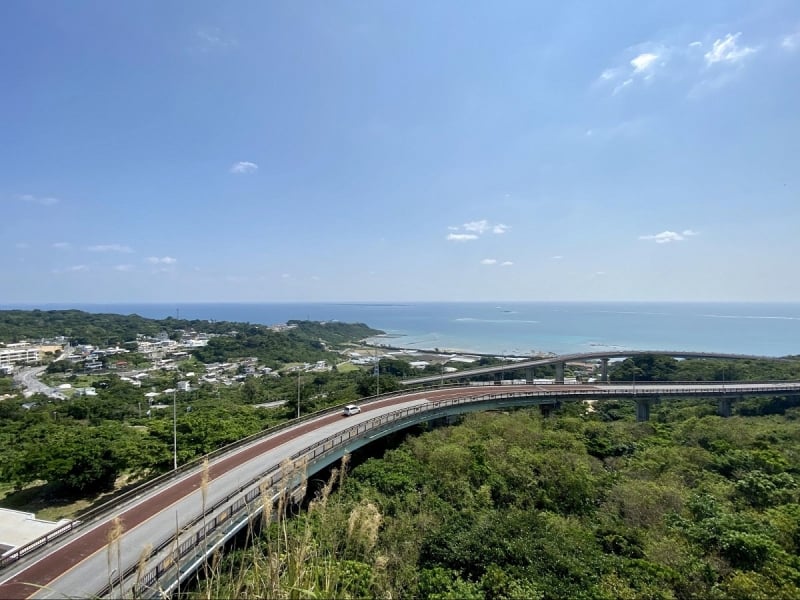 I'm not much of a nature lover — but wow, the breathtaking views of the Pacific Ocean from Nirai Kanai bridge left me speechless! The observation deck on the bridge also provides you with a perfect bird's-eye view of the Sefa-Utaki, the most sacred place on the island.
If there's one moment that changed my perspective regarding nature and how I view it, it would be seeing everything from Nirai Kanai. I'll have to admit, my eyes did well up a bit looking at the beauty of nature's creation.
4. Learn all about Okinawa's history at Okinawa World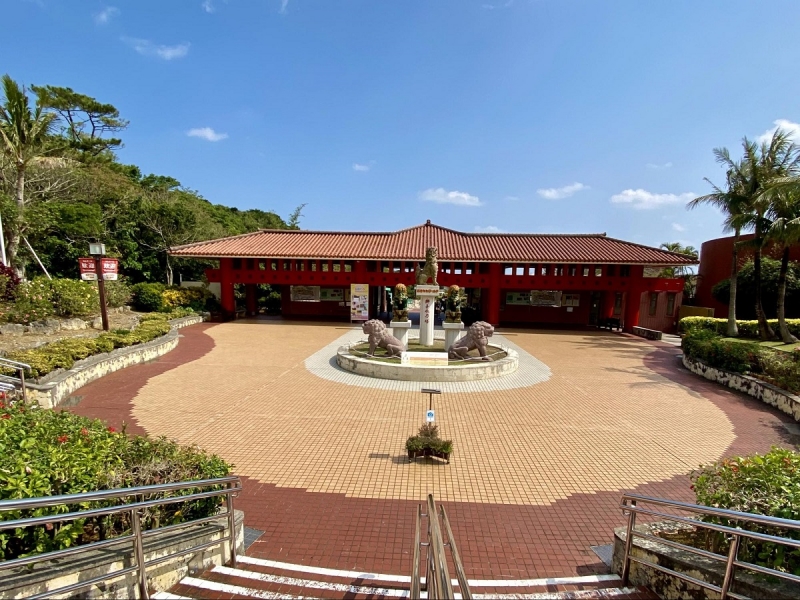 Okinawa World is a theme park dedicated to Okinawan history and culture. It also houses a natural cave and a museum dedicated to the Habu, Okinawa's local poisonous snake. As I'm a big history and culture buff, can you imagine my excitement upon knowing this? I was so excited to get lost in all the new information I was going to learn — and boy was I pleased!
I was able to watch a traditional Okinawan folk dance called the eisa and see the Habu snake in action. I also froze in amazement due to the huge Gyokusendo Cave and its many stalactites and stalagmites. I came out of Okinawa World equipped with so much new knowledge, I even cracked a joke to our tour guide that I could start assisting her for bigger group tours in the future!
5. Marvel at the majestic Cape Manzamo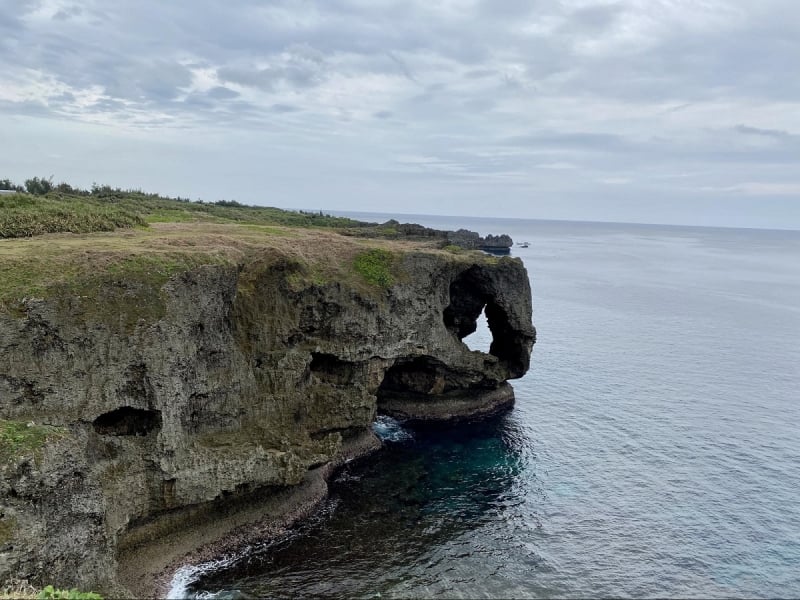 Cape Manzamo is unlike any other rock formation I have seen before. If you look at the edge of the formation, it resembles that of an elephant's trunk and makes for a perfect background for those landscape photos!
Cape Manzamo is a popular destination for tourists and locals alike. Since the rock formation faces the West, it's great for watching the sunset and admiring Okinawa's natural wonders. This explains why there are many luxury resorts lined up beside the cape!
6. Get up close and personal with sea animals at the Okinawa Churaumi Aquarium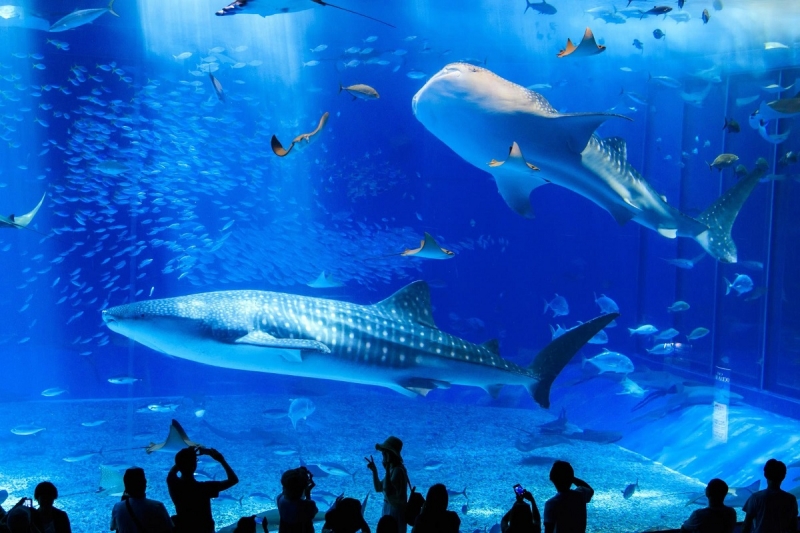 While I wasn't able to visit the Okinawa Churaumi Aquarium, I've heard it's one of the biggest aquariums in the world! It features manta rays, different migratory fish, deep sea creatures, and even several whale sharks raised in captivity. Visiting this top attraction in Okinawa is just one of the many activities you can do at the Ocean Expo Park complex. You can also visit the botanical gardens, a native Okinawan village, and an oceanic culture museum and planetarium. These are definitely enough reasons for me to come back to Okinawa!
7. Fall in love with Kouri Island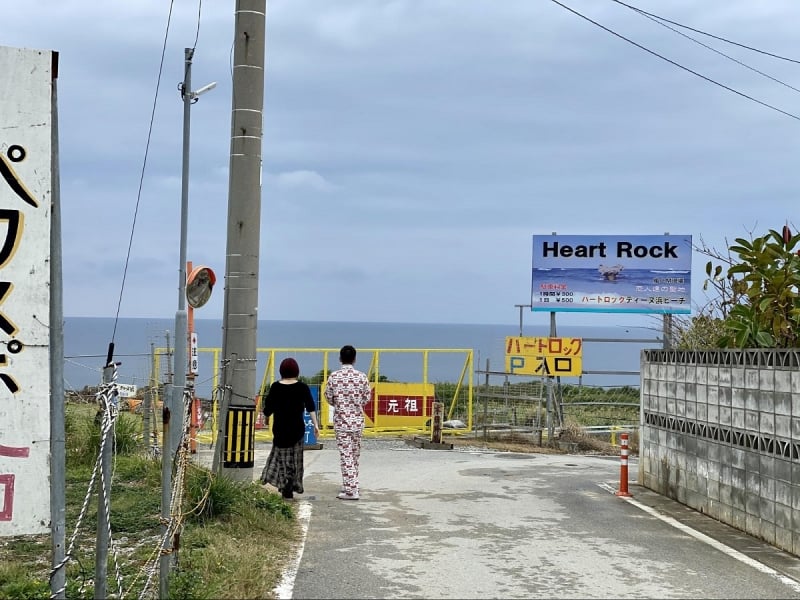 Located on the northern part of Okinawa, Kouri Island is known as Japan's Love Island. According to the Japanese people, Kouri-jima is a place with positive spiritual energy. This is why it comes as no surprise that couples have dates and even get married here!
A two-hour drive away from Naha City, Kouri Island is home to must-visit sights like the Heart Rock and Kouri Ocean Tower. Plus, make sure to admire the blue hues from the 1,960-metre long Kouri Bridge while you're at it!
8. Unleash your inner artist at Shuri Ryusen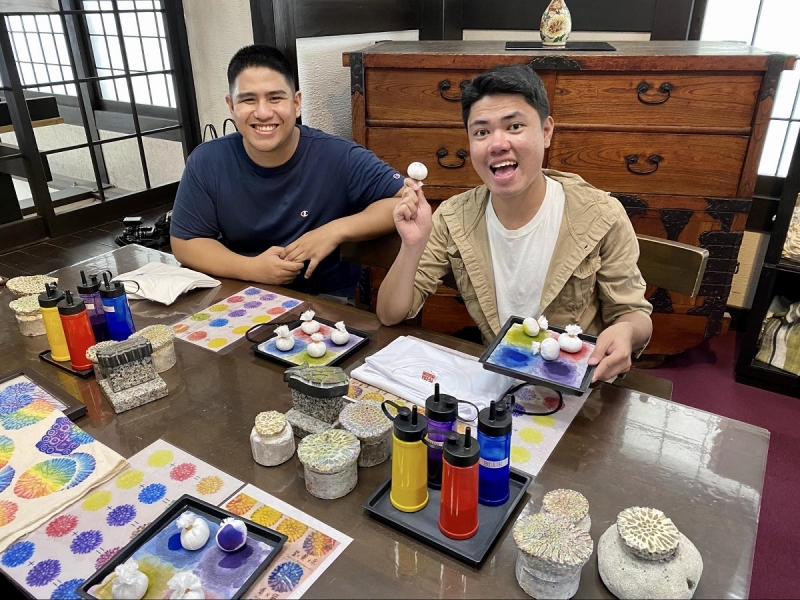 What makes Shuri Ryusen a must on a trip to Okinawa is the rich history of the land on which it stands on. The remains of the Chuzanmon Gate, the first outer gate of Shuri Castle, was located where Shuri Ryusen currently stands.
Today, you can enjoy several activities in Shuri Ryusen such as coral dyeing. It's the shop's very own original technique, with its design and trademark patterned, too. Placing cloth on top of corals, big and small, and gently applying dye while creating patterns on my t-shirt was a therapeutic experience!
You can paint on t-shirts, tote bags, scarves, and even home decoratives which you can bring home after. It surely made me feel like a kid again and took me back to the arts and crafts projects I used to work on back in primary school!
9. Make beni-imo tarts by hand at Okashigoten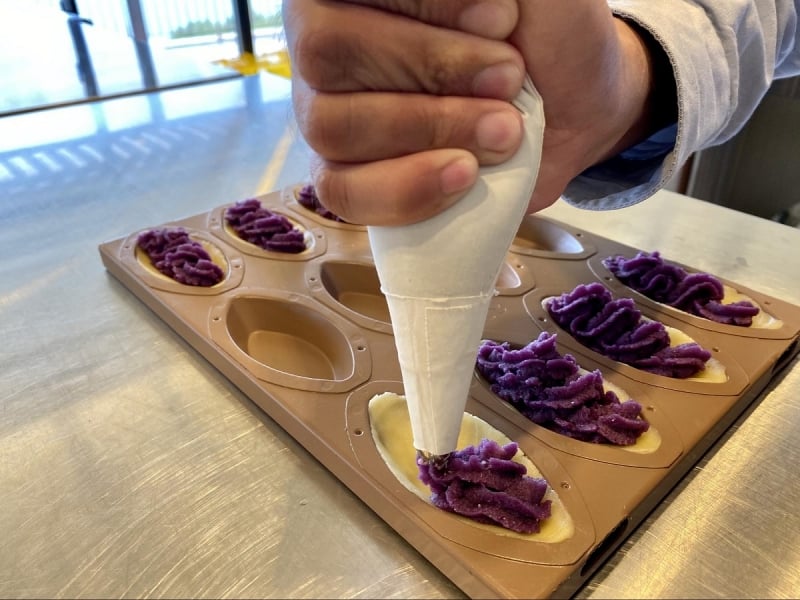 Another must-do activity for the young and the young at heart is creating beni-imo tarts from scratch. Beni-imo, or special sweet potato, is a traditional snack for the Okinawan people. Since they love beni-imo, it can be found in many different forms, from ice cream to tarts. The best part about this make-your-own activity is that you can bring your own beni-imo tart creations home — perfect for those on the hunt for souvenirs with a more personal touch.
10. Roam around the Nakijin Castle Ruins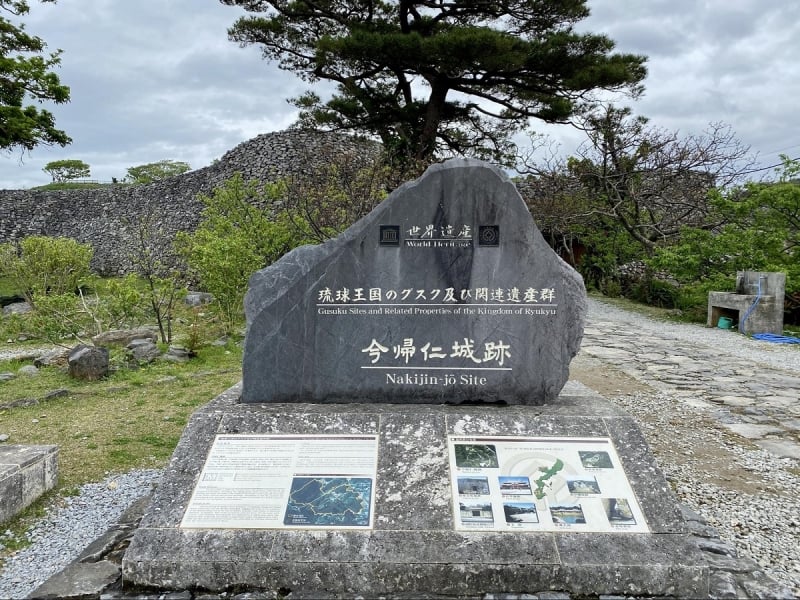 Located in northern Okinawa, the Nakijin Castle Ruins are known for their meticulously placed stone formations that work as a fortress and self-defence measure, as well as their numerous utaki or sacred areas. The stone fortress of the Nakijin envelops a vast area of the castle. It's almost unthinkable that humans stacked all these stones one by one to create such a formidable defence mechanism!
Lastly, Nakijin is also known as one of the first places where you can see sakura flowers in full bloom! They even have an annual Cherry Blossom Festival, where you'll be treated to gorgeous sights that include cherry blossoms, the Nakijin Castle ruins illuminated at night, eisa performances, and more!
11. Explore the stoned-paved roads of Shuri Castle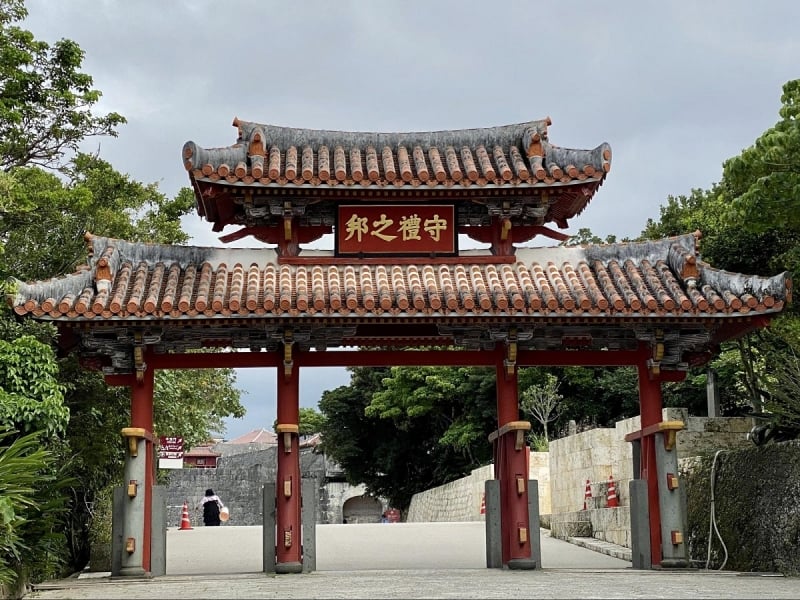 A trip to Okinawa is not complete without walking through the stone-paved roads of Shuri Castle. As the main palace complex of the Ryukyu Kingdom and the centre of trade, politics, and culture, the castle welcomed many foreign envoys for centuries.
In the year 2000, the Prime Minister of Japan hosted a dinner at Shuri Castle for the G8 Leaders. A special ¥2,000 note featuring the Shurei-mon Gate was even printed to commemorate the gathering of these leaders. They say that this note is quite rare in Japan; so this is one of the many souvenirs you could possibly take home, too!
Also read: First Time in Japan: I Travelled to Okinawa And Didn't Regret It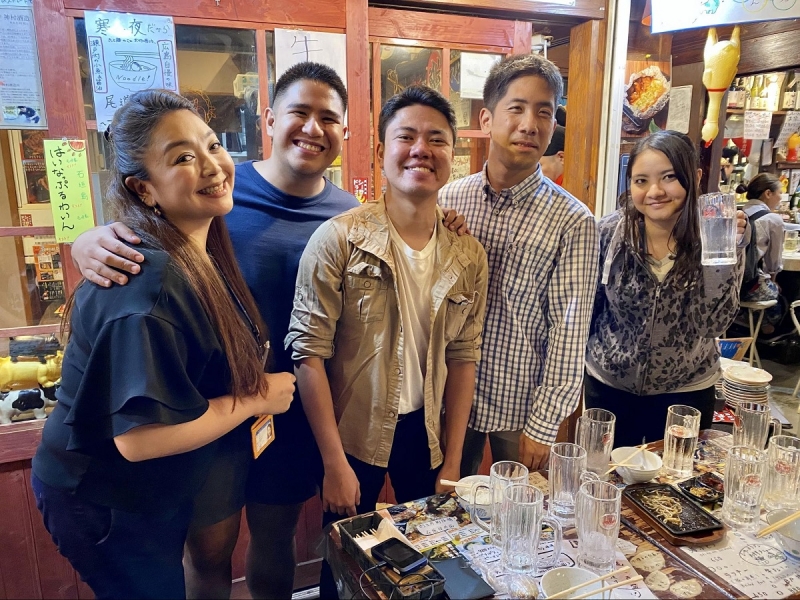 More than its natural beauty, the warmth of the Okinawan people is unparalleled. In my short stay, I fell in love with its people — always willing to lend a helping hand to visitors like myself. I have nothing but sweet and fond memories from the trip, and they will stay with me for the rest of my life. Many thanks to Yuri, Kei, and Shin at the Okinawa Convention & Visitors Bureau, as well as to our tour guide, Ai!
I'm looking forward to the day I get to plant my feet on Okinawan shores once again, and I'm encouraging you to do the same. See you in Okinawa soon!
For more information, please visit Okinawa tourism's official website, Facebook, and Instagram.
---
Brought to you by the Okinawa Convention & Visitors Bureau.