If you have plans to visit Japan anytime soon, and Tokyo is the place where you intend to spend your getaway, I'd suggest you consider a side trip to Yokohama, particularly around Minato Mirai. Considered the representative area and central business district of the city, it is just 45 minutes away by train from Tokyo Station and is best explored either by bus or even by foot.
I was lucky enough to experience the land of the rising sun twice. First was in the summer of 2016 and the second was in spring earlier this year. On both occasions, Yokohama served as my home away from home.
What I love about this picturesque city is its more laidback vibe compared to Tokyo's bustling daily scene. On top of that, it has a lot to offer in terms of beautiful tourist destinations, dynamic activities and delicious cuisine. It also boasts a vibrant contemporary art scene, from its numerous galleries and museums to its impressive installations scattered all throughout the city. There is just something for everyone here.
Sure, a day is too short to cover every nook and cranny of Yokohama. But, it's enough to explore and experience some of the attractions that it is abound by, especially within Minato Mirai. Here are some of my suggestions on how you can enjoy and make the most of a one-day side trip to this great city.
Also read: How I Spent 14 Days in Japan with Less Than ₱30K Cash on Hand
Get An Insight to Yokohama Port and Trading History at Nippon Maru
Permanently moored in a harbour near Sakuragicho station is Nippon Maru, a former training vessel built in 1930. Over its 54 years in service, the ship served as the training facility for 11,500 cadets until its retirement in 1984. Today, it is a preserved museum that is open for public viewing.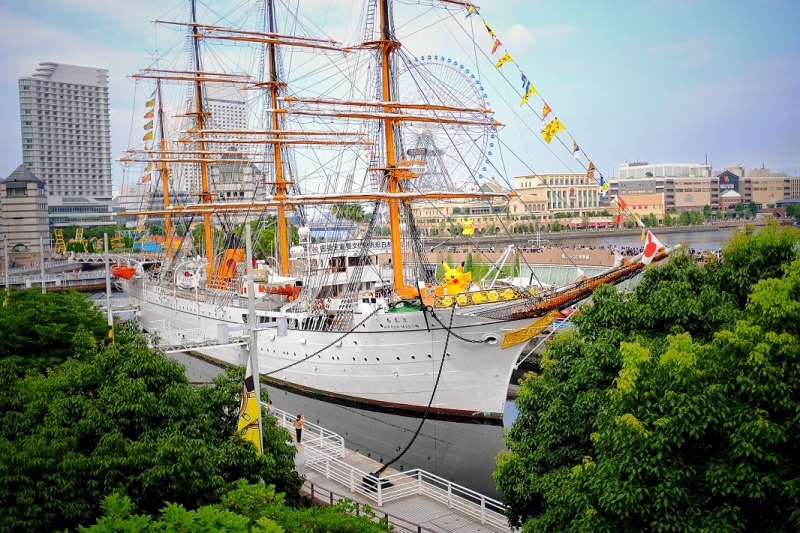 Once you arrive at the station and start making your way to Minato Mirai, it is hard not to spot Nippon Maru, as the ship measures 318 feet long and is standing in its white glory. If you time your visit right, you may see all 29 sails of Nippon Maru in full exhibition. Sadly for me, I didn't get to see such grandiose display.
If you want to get insights into Yokohama's development as a premier port, understand what life was like for sailors back in the day or simply explore the ship's decks, you can enter Nippon Maru for ¥400 or you can get a combo ticket for ¥600, which will also give you admission to Yokohama Port Museum. However, if you do not want to spend on admission fee, you can just enjoy the view of Nippon Maru in one of the nearby seats in the harbour.
Nearby places you can visit: Landmark Tower, Dockyard Garden, Queen's Square
Ride Your Worries Away at Cosmo World
For big fans of amusement parks, Cosmo World is a place not to miss when visiting Yokohama. It is family-friendly and home to the famous ferris wheel, Cosmo Clock 21, which stands at 354 feet. There is no entrance fee to worry about. You will only pay per ride or attraction, which is not bad a deal since you won't be spending all your time here.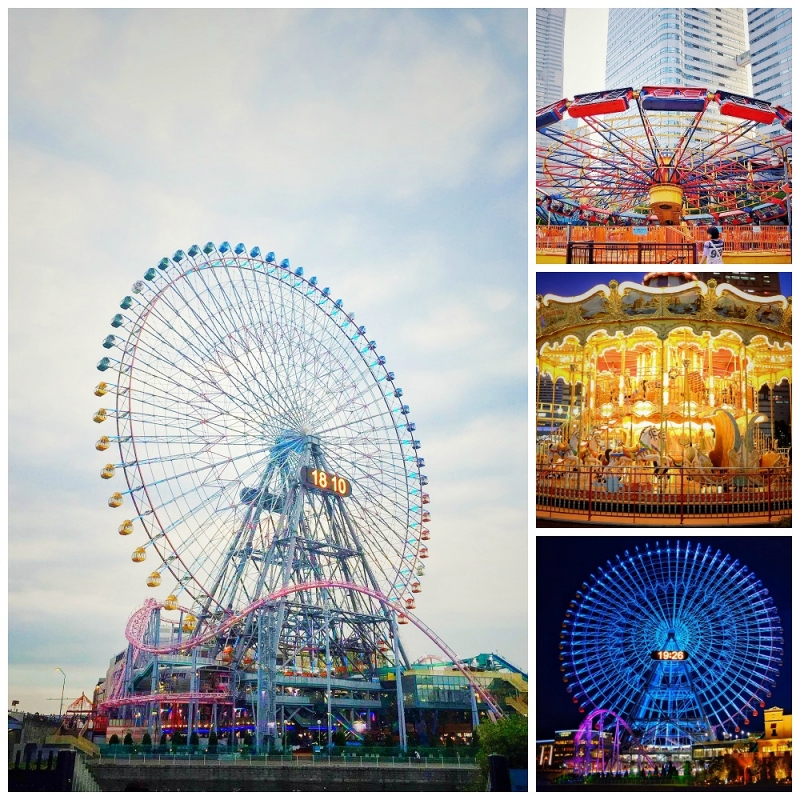 If you have kids in tow, the 'Kids Carnival Zone' has an extensive list of rides geared for younger audience. There is a merry-go-round, kiddiride and battery car, just to name a few. For adults, the diving coaster called Vanish, rapid slide cliff drop and the Cosmo Clock 21 are great choices to consider.
While I've been to Cosmo World a couple of times, it was only last spring that I got to ride the Cosmo Clock 21. Service charge for a 15-minute ride set us back at ¥800 each (around ₱380) and it was worth every yen. Each coach is clean, spacious and air-conditioned, and the view from above was amazing. I'd say it's best to ride at night when all the city lights are lit.
If you are an adrenaline junkie, it is hard to pass up on Cosmo World's pink diving coaster, Vanish, which virtually dives into water. I didn't have the heart nor guts to give this ride a try. Just watching it from the ground, speeding through the rail and taking sharp curves and dives, almost gave me a heart attack. My husband thought otherwise, though. He rode it together with his friends because he couldn't convince me, and he thought that it was something I'll regret later on (I didn't). To each his own, I guess.
Nearby places you can visit: Pukari-Sanbashi Pier (if you want to ride the Seabass, an ocean travel bus) and World Porters
Make Your Own Original Cup Noodles
Cup noodles, or instant noodles in general, saved me back in college when my allowance wasn't enough to cover my food expenses. So imagine my excitement to find a museum dedicated to cup noodles.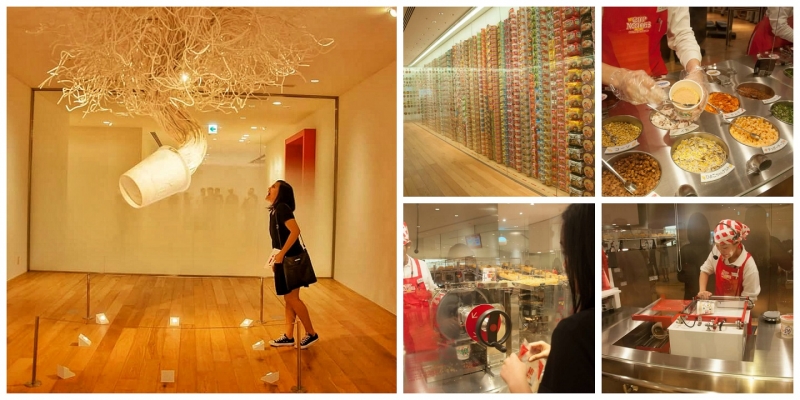 You have to pay ¥500 (around ₱250) for the admission to explore exhibits that include the replica shed where Momofuku Ando invented instant noodles, a room full of instant noodle products from different countries and a couple of modern art pieces representing Nissin's innovations and contributions to the field of ramen production.
You can create your own cup noodles at the museum's My Cupnoodles Factory. However, you have to pay an extra ¥300 (about ₱150) to do so. For the said price, you are provided a styrofoam cup, which you can design on your own. You then choose your preferred flavour and combine a variety of toppings to create an original cup noodle. Once done, put it in a cute bubble package and take it home with you.
Nearby place you can visit: Japanese Overseas Migration Museum
The Red Brick Warehouse Experience
The Red Brick Warehouse is one of the most iconic buildings in Yokohama. It used to be the official customs inspection house of the city until it was converted into a cultural and commercial facility. Today, you can find several shops within the building, many of which sell random yet seasonal goods as well as Yokohama-only finds. There are also restaurants, cafes and bars that'll serve you will when you just want to laze around or stuff yourself with good food.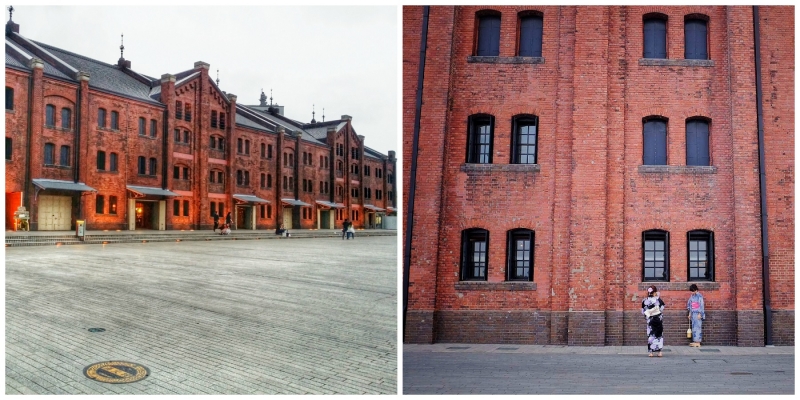 One thing worth mentioning about Red Brick Warehouse is that it holds themed events throughout the year. For instance, during spring this year, I had the opportunity to experience Yokohama's months-long annual flower event. The theme was Garden Necklace and the entirety of Yokohama came to life with millions of flowers beautifully displayed at different locations throughout the city. Red Brick Warehouse and its surrounding areas were among the destinations decorated with an abundant mix of blooms and lush greens. There were no words to describe how captivating the places were.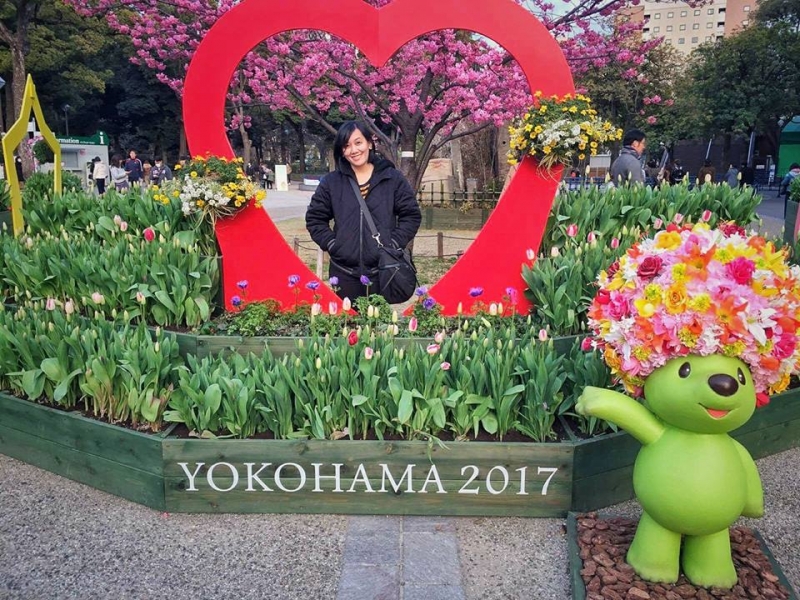 In case your scheduled visit to Red Brick Warehouse does not coincide with an event, don't worry, your short trip won't be in vain. If you are into brick buildings like me, you'll definitely find the warehouse's façade Insta-worthy. Start taking pictures that are sure to turn out like postcards, because there's just really no bad view of the building. Besides, there are a number of other areas within walking distance that you can explore and enjoy.
Nearby place you can visit: Zuo-no-hana Terrace
Stroll Around Yamashita Park and Osanbashi Pier
During my stay in Yokohama, Yamashita Park was our go-to place when my husband and I did not want to stay cooped up at home on slow weekends or if we were in the mood for a night-time stroll. It's walking distance from Red Brick Warehouse and sits in front of Yokohama Port, giving it a nice waterfront view.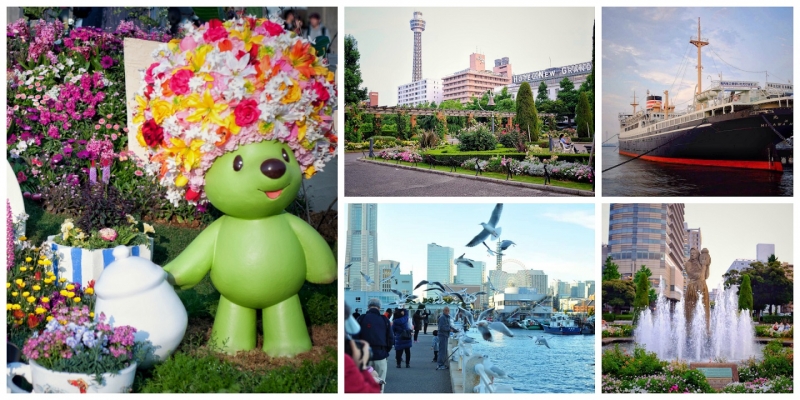 The park is massive with tons of beautiful areas to boast, including a grass field where visitors can set up tents and a flower garden for those who want to enjoy seasonal blooms. The 'Hikawa Maru Yokohama,' a retired naval ship, is also anchored in front of the park. All these and more make the place a pedestrian haven.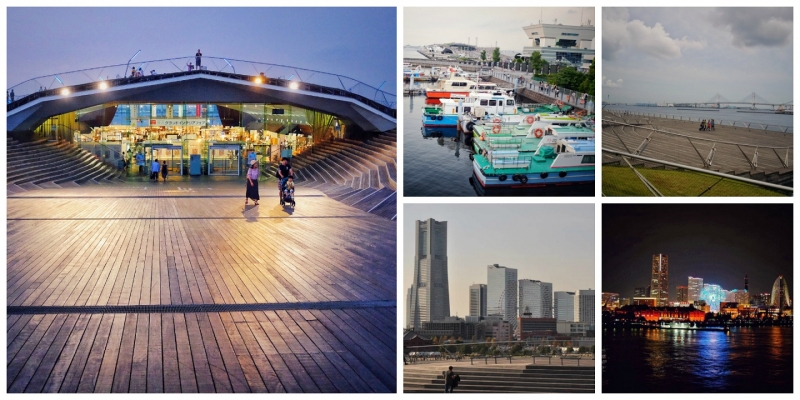 On the east side is Osanbashi Pier which, aside from being a passenger terminal and a dock for international ships, is an attraction on its own. The pier has a floorboard walkway, perfect for long romantic walks. It also incorporates a patch of green space where you can enjoy the view of Minato Mirai skyline (best done at night and with cold beer on hand, of course).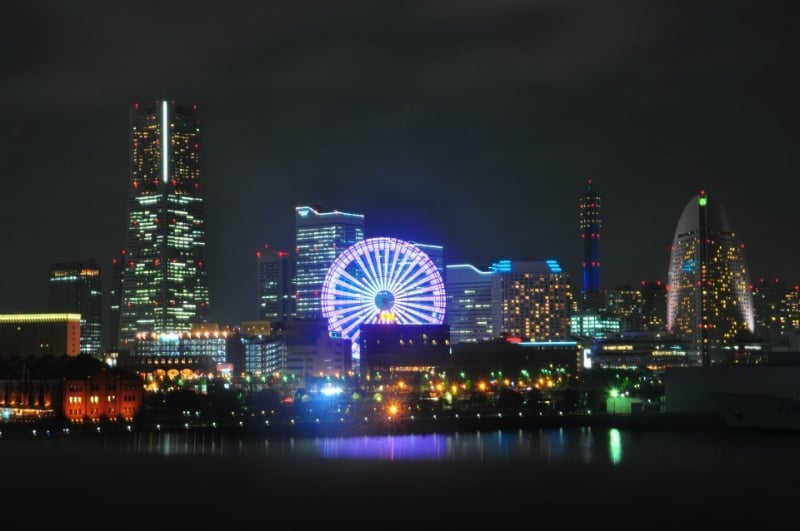 Nearby places you can visit: Silk Museum, Yokohama Marine Tower, Doll Museum
Have a Gastronomic Feast at Chinatown
Your trip to Yokohama is best concluded with a visit to Chinatown. Considered as the biggest in Asia, the 150-year old town is a haven for delicious grubs. There are more than 600 food stands lining the streets on both sides and you can enjoy everything, from dumplings and steamed buns to ramen noodles and peking duck.

Many of the restaurants in the area offer eat-all-you-can course meals, with prices ranging from ¥1,500 to ¥4,000 (around ₱700 to ₱1,900). Some places have time limits to accommodate other customers who often wait in line just to get a taste of authentic Chinese food. However, if you are just like me who finds ¥1,500 expensive for a single meal, consider going for the food stalls. Their offerings are equally good as the ones offered in restaurants and you are not limited to a couple of items. You can stuff yourself up with siomai (Chinese-style dumplings), nikuman (steamed meat bun) and goma-dango (fried rice cake balls), just to name a few. What I can guarantee is that your palate and tummy will be happy without putting your wallet in misery.
After a satisfying meal, you can drop by the Kateinbyo and Masobyo temples. Both are dedicated to historical figures and are intricately designed with patterns and lanterns. You can also shop around for charms, jewelries and other trinkets to take as souvenirs of your visit to Yokohama Chinatown.
The sights and attractions I've mentioned above are within walking distance from each other and are near the train stations. Be prepared, though, as you will do a lot of walking, so I highly recommend that you wear comfortable shoes. Also, you can enjoy the rest of Minato Mirai for free, unless you are willing to shell out cash for museum admissions.
I barely scratched the surface with my suggestions above. Yokohama has many more places to offer, such as Isezaki Mall, Shin-Yokohama Ramen Museum, Sankeien Garden, Hakkeijima Sea Paradise and Enoshima Shrine, among others. Of course, getting around these places will require more than a day or two.
Hopefully, you could spare Yokohama a day of your travel schedule. The city is packed with many things to do and its rich history, scenic views and unique charm will enamor you.
Also read: 10 Fun Things to Do in Tokyo for First Time Filipino Travellers