Have no plans for tonight? Here's an idea: Watch One Love Asia, a free online concert featuring some of our most loved performers and celebrities!
WebTVAsia and YouTube partnered up to bring us this event tonight, 27 May 2020. Starting at 8pm, the four-hour concert will stream exclusively on One Love Asia's official YouTube channel. Make sure to watch out for your favourite artists!
In support of UNICEF Asia, the live concert will also be accepting donations for the agency. All proceeds will help support at-risk children amidst the pandemic. 
Hosting the live stream will be UNICEF ambassador and Korean Super Junior star Siwon Choi. Joining him are over 50 Asian celebrities including our very own Rico Blanco, Morissette, and Christian Bautista. Up-and-coming social media stars Ranz Kyle and Niana Guerrero are also part of the lineup.
One Love Asia as part of #Reimagine campaign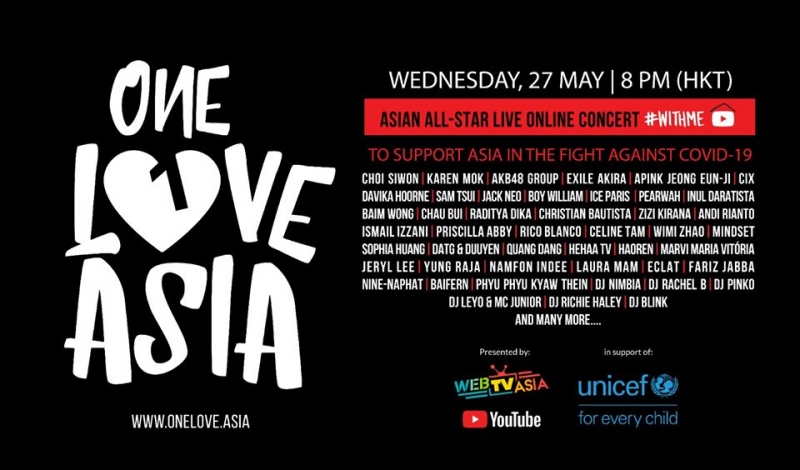 "With many countries slowly opening up, 'ONE LOVE ASIA' hopes to spread positivity in countries on the path to recovery, while igniting a sense of unity and love across Asia," UNICEF said in its press release. 
The One Love Asia concert is part of UNICEF's #Reimagine global campaign. The agency hopes to stop the COVID-19 pandemic from developing into a lasting crisis for children. At the heart of this campaign are children affected by poverty, exclusion or family violence.
Also read: 25 COVID-19 Initiatives You Can Support Through Local Volunteer Orgs
"The COVID-19 crisis is a child rights crisis,"  UNICEF Executive Director Henrietta Fore previously said about the campaign. "We need everyone's ideas, resources, creativity and heart. It is our shared responsibility today, to reimagine what the world will look like tomorrow."
---
Featured image credit: Rico Blanco, Morissette Amon, Niana Guerrero, Ranz Kyle, and Sam Tsui | Facebook.