Contributed by Gora D Explorer
This is our 7-day trip to Singapore, Kuala Lumpur Malaysia, Siem Reap Cambodia, Phuket and Bangkok Thailand. Yes, we managed to congest all these four countries in seven days because we only visited some of the key destinations included in our bucket list.
I guess, you've already read so many articles about this itinerary, but this article may still give you tips that you haven't read from any other blogs.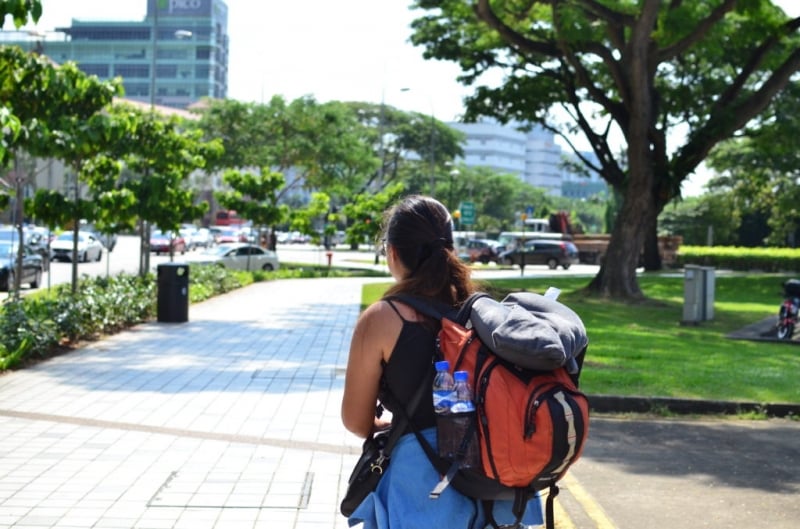 The preparation
The backpacking was planned for almost a year by reading some blogs and asking some friends on how we could possibly transfer from one country to another. It was my first time to travel out of the country and I must admit that since we only had seven days to go around, I had the fear it won't go as planned.
We were worried we might miss our flights or flights might get delayed which would ruin the whole itinerary. However, we were blessed since all of our flights were on time and we didn't have any problems transferring from one destination to another.
In this post, I will share to you our budget, itinerary and guides per country which you can use on your next trip, too. I have also written separate articles per country for a more detailed itinerary.
Also read: How I Travelled 30 Days to 5 Southeast Asian Countries Under ₱50k Budget
First things first. Booking cheap airfare is one of the major factors in achieving a budget travel. Our flights were booked months before the trip. I downloaded airline applications like Cebu Pacific, Air Asia and Philippine Airlines so I can receive notifications on their latest promos.
Our flight to Singapore was booked last Nov 2016 which costs ₱1,999 per person. Kuala Lumpur to Siem Reap was booked last Dec 2016 and costs ₱1,012. Siem Reap to Phuket costs ₱2,000 while Bangkok to Manila costs ₱2,500.
Bus transfers were also booked two weeks before the trip through the RedBus.SG (₱565) and BusOnlineTicket.com. (₱700+). It's also an advantage that we were in a group since we were able to divide our cab rides into four persons.
Singapore
Fast forward to 7 June, we left Manila at 5am and reached Changi Aiport at 9am. We pretty much saw most of Singapore in one day. We went sightseeing in their famous tourist spots like Sentosa, Little India, China Town, Merlion Park, Marina Bay Sands and bought pasalubongs at Mustafa Centre.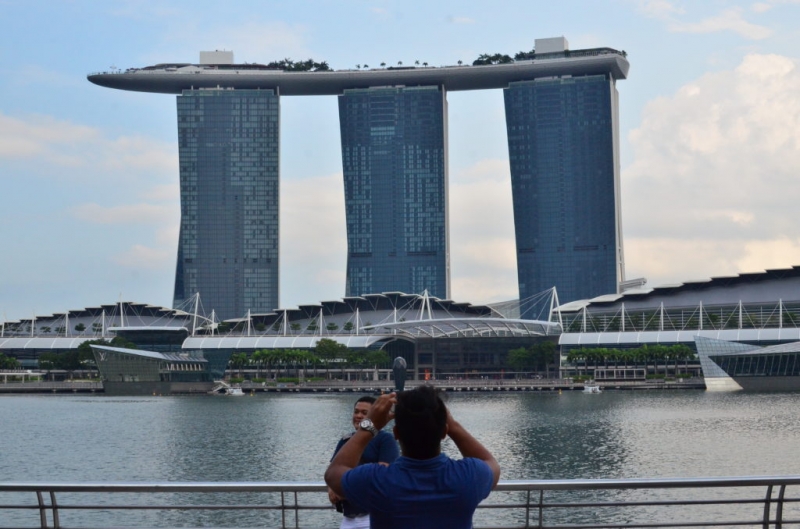 Not so much into amusement parks, we didn't bother purchasing tickets for USS but since we were already in Sentosa, the group decided to still visit the Waterfront Station and take pictures in front of the Universal Studios sign. For a more detailed itinerary of our Singapore trip, read this.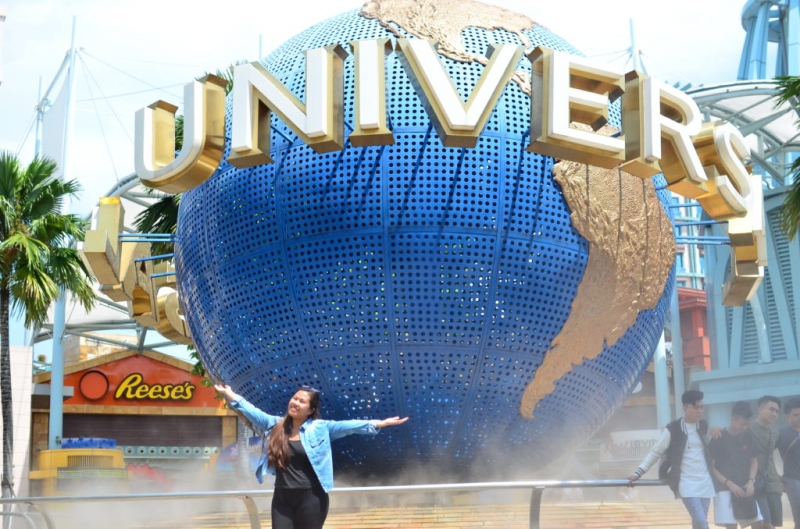 There are so many other places in Singapore which we did not visit on this one-day trip, like the Night Safari, Boat Quay, Orchard Road and the National Museum. We also missed the Singapore Flyer which I heard is a great destination, too.
Although, honestly, we have no interest in those places we missed but if you want to experience more of what Singapore has to offer, you have to stay for at least three days.
Bus trips from Singapore to Kuala Lumpur and vice versa are available every day. We booked through RedBus.SG online weeks before our trip and presented our online reservation at the ticket centre of Seasons Express Company located at Beach Road, Golden Mile Complex, Singapore.
Malaysia
We left Singapore at 11.30pm and arrived in Kuala Lumpur at 5.30am.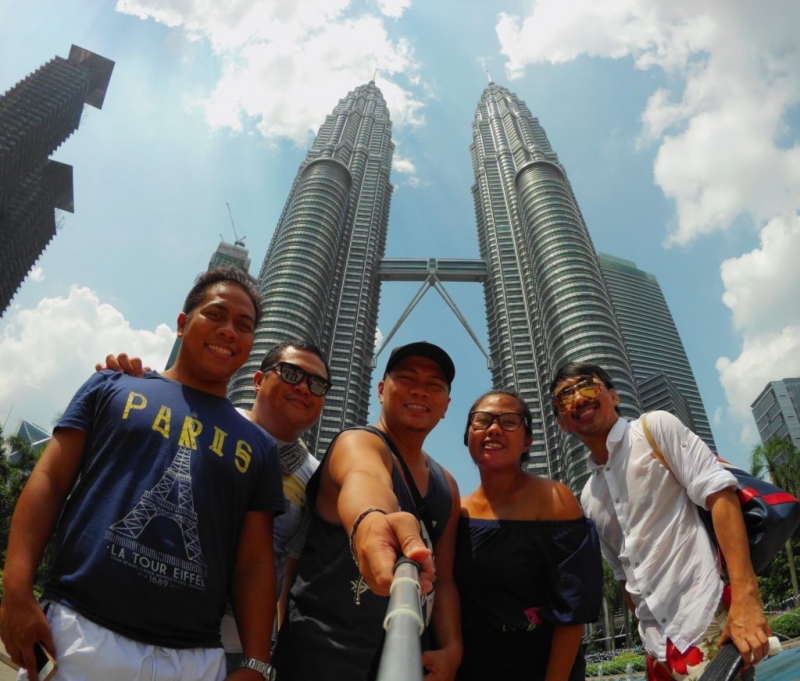 We were dropped off at Berjaya Times Square and stayed at SCC Hotel. In the morning, we went to Batu Caves and Petronas Towers, then rested for a while in the hotel. In the afternoon, we visited the Merkeda Square, Chinatown and the Bukit Bintang to buy pasalubongs.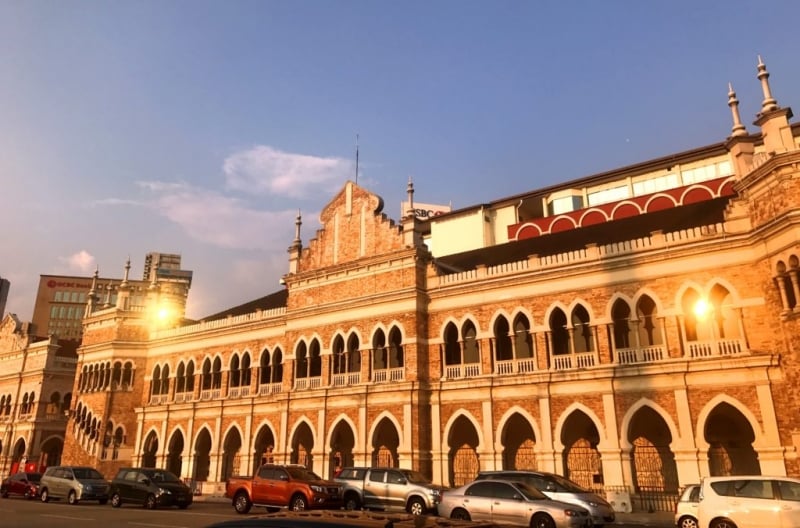 We spent the night in Kuala Lumpur and the next day, we flew to Siem Reap. For a more detailed itinerary of our Kuala Lumpur trip, read this.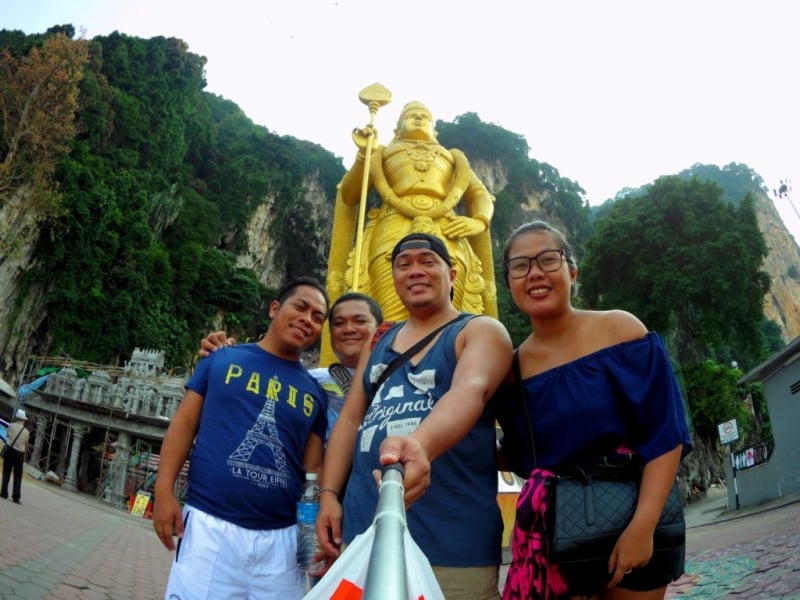 Cambodia
In Siem Reap, we spent the whole day touring the Angkor Wat Complex and went to the night market for dinner and pasalubongs. We spent the night at Tan Kimlong Guesthouse who also arranged our tuktuk ride for us. Read this for a more detailed itinerary of our Siem Reap trip.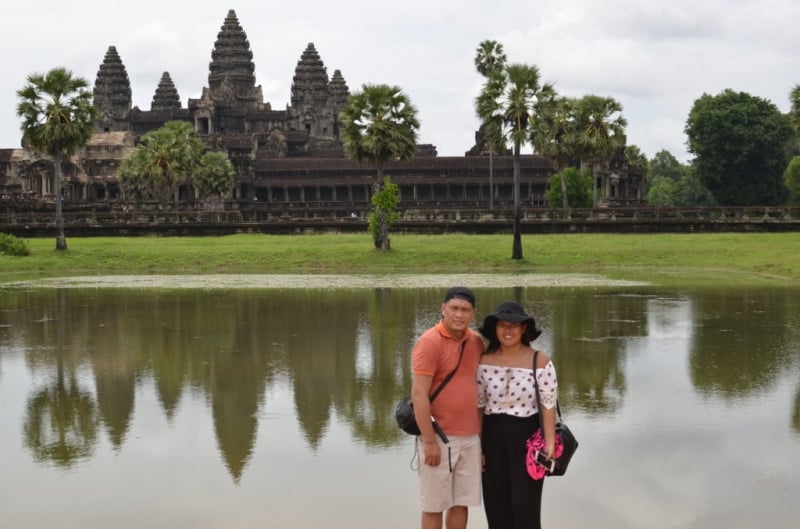 Thailand
The next day, it was our trip to Phuket, Thailand. We stayed in Phunara Residence near Patong Beach. The first day was spent going around Patong on a motorbike, enjoying the beach, watching the sunset and visiting Bangla Road. The next day, we visited the famous Phi Phi Islands and Khai Island.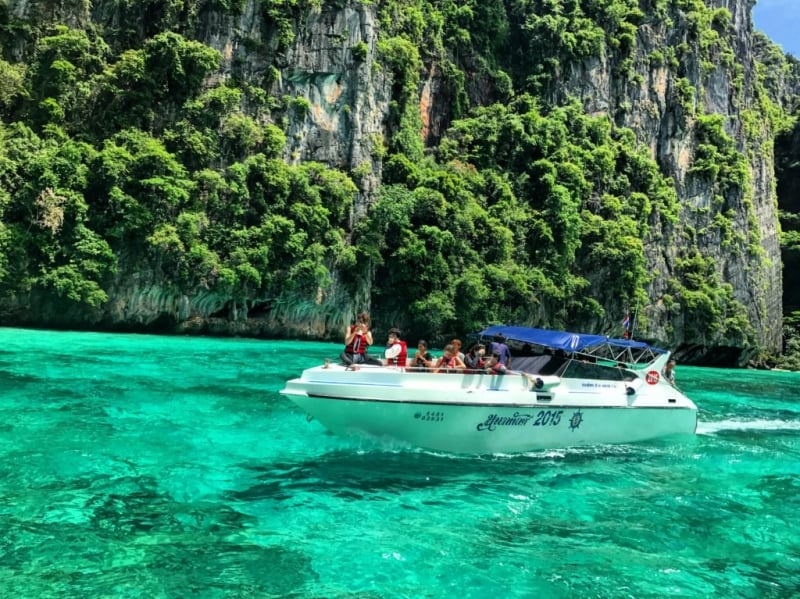 After the island hopping experience, we took a 12-hour bus ride to Bangkok which was absolutely an amazing experience as the VIP bus was really comfortable. We enjoyed free snacks, dinner, blanket and WiFi!
We reached Bangkok at 6am and stayed in Green House Bangkok located in Khao San Road. In Bangkok, we visited the floating market and spent the night buying souvenirs along Pratanum. Go here for a more detailed itinerary of our Phuket and Bangkok trip.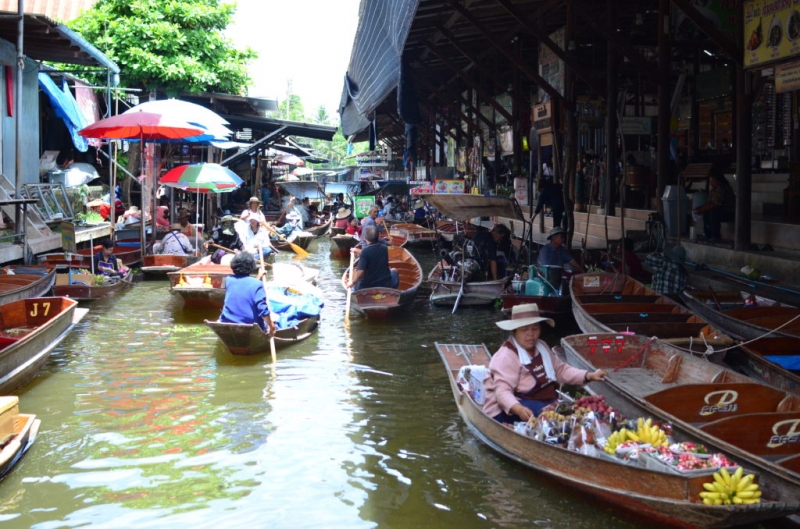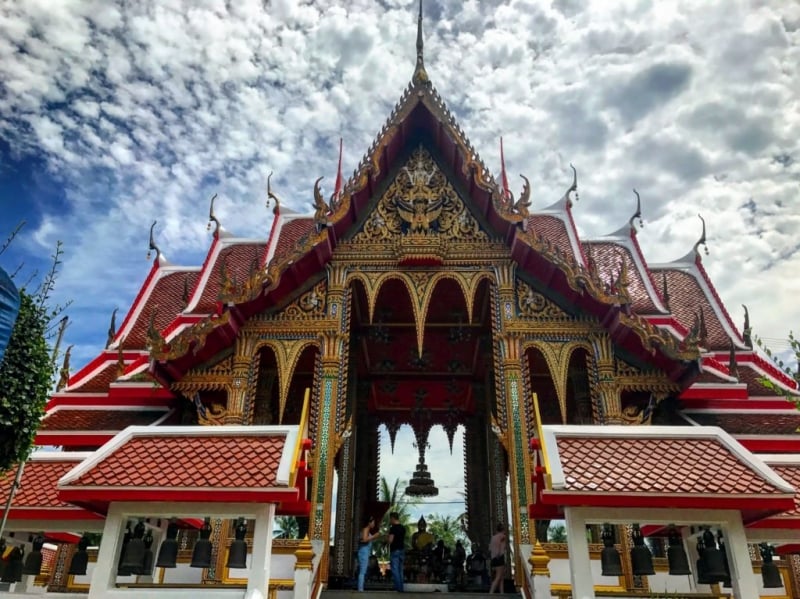 The next day, we flew back to Manila. Below is a quick look at how our days went down and our expenses on each trip.
Itinerary and expenses
Day 1: Singapore
Little India
Sentosa (Waterfront Station)
Chinatown
Marina Bay Sands
Merlion Park
Mustafa Center
Expenses = ₱1,692
Day 2: Kuala Lumpur, Malaysia
Batu Caves
Petronas Towers
Merdeka Square
Chinatown
Bukit Bintang
Expenses = ₱1,710
Day 3: Siem Reap, Cambodia
Angkor Wat Temple
Bayon
Angkor Thom
Ba Phuon
Phnom Bakeng or Bakheng Hill
Angkor Wat Night Market
Expenses = ₱4,085.48
Day 4: Phuket, Thailand
Patong Beach
Bangla Road
Day 5: Phuket, Thailand
Phi Phi Islands
Khai Island
Monkey Beach
Pileh Lagoon
Expenses: ₱4,241
Day 6: Bangkok, Thailand
Damnoen Saduak Floating Market
Damnoen Saduak Temple
Coco Sugar Farm
Pratunam
Khao San Road
Expenses = ₱1,744.185
Day 7: Bangkok to Manila
Fly home
Other expenses
Philippine Travel Tax: ₱1,620
Manila to Singapore : ₱1,999
Kuala Lumpur to Siem Reap: ₱2,000
Siem Reap to Phuket: ₱1,012
Bangkok to Manila: ₱2,400
Souvenirs: ₱3,000
Total expenses: ₱25,184
Also read: Backpacking Southeast Asia: 10 Days in 5 Countries with Just ₱25k (All-In)