Contributed by The Travel Debugger
Our DIY Puerto Princesa and El Nido, Palawan for 5 days on a humble budget.
During our trip to Palawan, I posted a picture in Facebook of me and my wife enjoying the beauty of Shimisu Island. Then a friend of mine (real friend, not just an FB friend) commented "Big Time" to which I replied "Di naman pre, budgeted lang. Sardinas nga lang kinain namin kahapon eh lol" (No dude, we're on a budget. We even only ate sardines yesterday). Well, I can't blame him for saying that we are "Big Time" since we are in a very beautiful place known to be visited only by those who have the "moolah". And since I am the "Travel Debugger", let's try to debunk the stereotype in this post that El Nido (and Palawan for that matter) is only for the high rollers. My wife and I committed with a budget of PHP 25,000 (for the two of us) without sacrificing much of our comfort and our addiction to good food.
Also read: 10 Things You Need to Know About El Nido, Palawan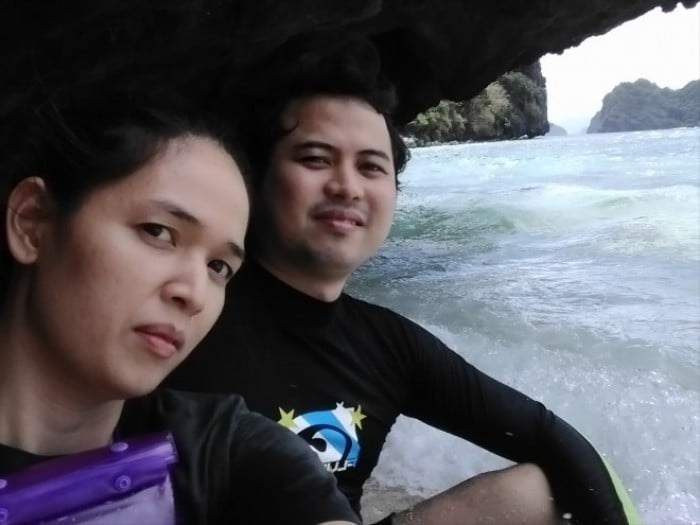 Chillin' in Shimisu Island
PS: This blog post is more on the budget breakdown of our trip to Palawan. Though I would post a summary of our itinerary, there's not much stories here. I will write a separate post of our amazing trip to Palawan.
First things first
I very much advice you folks that you just DIY your travel to Palawan instead of booking your tour in with Travel Agency. For me, it's cheaper, more flexible and sometimes, even easier. I have never booked a tour in a Travel Agency before because doing your own Itinerary is much more fun than being fed to you in a golden spoon. It's very easy to DIY your tour in Palawan. Just do a little research and read some Blogs (like mine ;p) and you're good.
Out Itinerary
Day 1 (March 4)
4:30AM – Depart NAIA T4
5:45AM – Arrival PPS
7AM to 1PM – Underground River Tour
3PM – Depart to El Nido by Van
7PM – Arrive in Tay Miloy's Inn in El Nido. Sleep.
Day 2 (March 5)
8AM – Early Checkin Ricgem Hotel.
9AM to 4PM – Island Hopping Tour A
8PM – Eat at Squidos restaurant
Day 3 (March 6)
9AM to 4PM – Island Hopping tour C
8PM – Pukka Bar
Day 4 (March 7)
12pm – Checkout Ricgem
1PM – Depart El Nido. Click here for a blog post regarding the sights and sounds of El Nido Town
7PM – Arrive in PPC. Check in Aniceto Pension House.
8PM – Dinner in Balinsasayaw restaurant.
Day 5 (March 8)
7AM to 11AM – DIY City tour
12PM – Airport
3PM – Depart Puerto Princesa
4:30PM – Arrive in Manila
You can also check a sample itinerary in my post here.
Also read: 4 Days 3 Nights El Nido, Palawan Itinerary for Your Summer Getaway
Transportation
Airfare
We booked our roundtrip tickets for two from Cebu Pacific Air for PHP 7,053.68 (PHP 3,526.84 each) all in. It's a little expensive than the usual since we booked it just a month before our trip. Reason is, this trip is something we didn't plan months in advance. I was thinking of somewhere to go on our 2nd Wedding Anniversary on March and I swear I didn't think of going out of town. What I just want back then was like a simple restaurant dinner or a road trip to Tagaytay. But then I thought that we should do something out of the ordinary or just go somewhere we have never been to for our anniversary. Then, frack it, let's go on a trip out of town. It's been 7 months since our last trip anyway (July 2014 in Vietnam was our last trip).
Going to Underground River
The Van transfer from Puerto Princesa to Sabang was part of our Underground River tour payment. More information regarding the tours later.
Going to El Nido
We initially planned to take the RoRo Bus to El Nido at night as I have read that sometimes the Van is too tight, crowded and does not have much legroom. Plus, if we ride the bus, I can stand from time to time to stretch. But since our Underground River tour guide told us the tour will be finished at around 1:00 PM, we decided to go ahead to El Nido from Salvacion earlier than we were supposed to (Salvacion is the junction to those going to Sabang or El Nido). I contacted Tay Miloy's Inn to book us one night, plus he offered a Van transfer from Salvacion for 500 each. It's a good deal and we left Salvacion at around 3PM and arrived in El Nido at 7PM. That's just 4 hours! Thanks to our speed demon driver. And oh, the comfort level in the Van was just okay. We were still able to stretch our legs a bit.
Going around El Nido
A tricycle ride from the market terminal to El Nido town proper will cost you PHP 50. So if you are 4 in a group, you can share the fare and pay much cheaper.
Don't bother riding a tricycle going around the El Nido town proper since it's small. You can just walk around from one point to another. Plus, it's good exercise.
You can also rent a motorbike or a mountain bike when you are in El Nido and go somewhere else if you crave for more adventure. I just didn't take note of how much though since we didn't avail it.
Click here for a blog post regarding the sights and sounds of El Nido Town
Going back to Puerto Princesa
Northern Hope tours offered us van transfer from El Nido to Puerto Princesa for 500 each. I don't know if that's their rate for everybody or just because we booked all our tours with them. The going rate for Van transfers, as some say is around 700 to 800 per person but I think you can haggle or try to get it from the tours/hotel you booked in since they can give you a discounted price.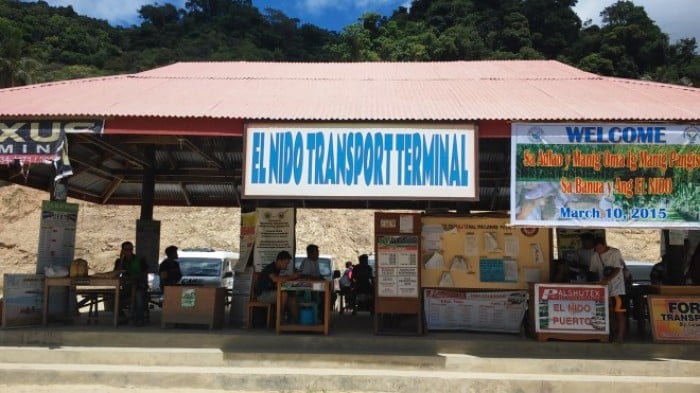 El Nido Terminal
Going around Puerto Princesa
A short distance tricycle in Puerto Princesa cost us PHP 10 per ride (PHP 20 for 2 pax). If a tricycle is charging you more than that, then they are being greedy and are ripping you off just because you're "tourists".
You can also ride a multi-cab to your desired destination. From Puerto Princesa proper to Mitra Road, our fare is PHP 15 each. I guess the minimum fare is the same in Manila, I'm just not sure. We managed to do a DIY tour of the city for PHP 80 each. More on that on the Tours section.
For more info and details regarding transportation in Palawan, check it on this site: www.elnidopalawan.com/go.html
For our DIY Puerto Princesa Half day City Tour, click here!
Accommodation
For our first night in El Nido, we booked a fan room in Tay Miloy's Inn for PHP 500. We just needed a place to crash that night, and luckily there is an available room for us even if we didn't reserve days before. We just booked the room the same day.
For the succeeding nights in El Nido, we booked at Ricgem Hotel a month in advance for PHP 2,550 for 2 nights for a standard room with a/c and own restroom but no T.V. (You don't need one anyways right?). Actually, I think the price of the room is just PHP 1,000 per night, but the price increased to PHP 1,250 because of the hotel tax and service charge (I booked the hotel through Agoda). So if you're going to stay at Ricgem, you can just contact them directly to get a cheaper price which I should've done. Also, I very much recommend Ricgem Hotel as the room is clean and nice, and the owners were very polite and kind. I wrote a review about our stay here.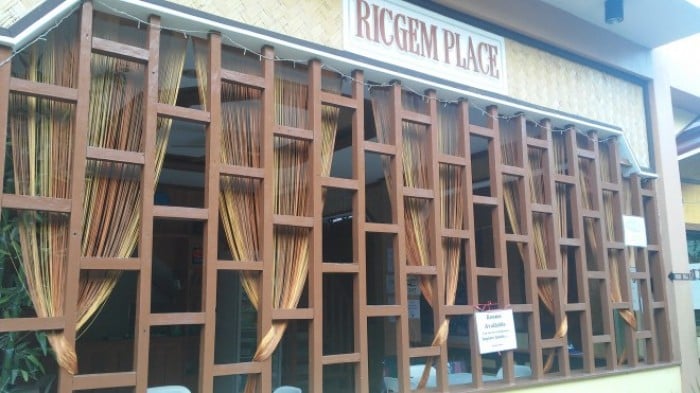 Ricgem Place Hotel
Tip: If you're thinking of booking a beachfront hotel in El Nido for a higher price, you may want to think twice. A beachfront hotel is nice but is not a must in El Nido since it is not advisable to swim in the town proper's seashore anyways. They dock their boats there, and it smells of gasoline.
For our last night in Palawan, we booked a fan room in Aniceto's Pension in Puerto Princesa for PHP 550. Just like in Tay Miloy's, we just need a place to crash so don't expect anything fancy.
Tours
We booked our Underground River tour and Island tours with Northern Hope tours based in El Nido.
For the Underground River tour, we paid a total of PHP 1,400 each inclusive of buffet lunch (home cooked meals), air-conditioned van transfer, permit, environmental fee, boat transfers, paddle boat tour and a licensed tour guide.
For the El Nido Island tours, they offered us Tour A and Tour C which we happily agreed on. We paid PHP 1,000 for each tour per person plus PHP 200 each for ETDF (Eco Tourism Development Fee).
The Island tours are inclusive of a sumptuous lunch, snorkelling gear, life vest and tour guide. On our last tour (Tour C), we gave a PHP 100 tip to one of the tour guides (Kuya Bong) since he is very kind and assisted us especially my wife because she can't swim very well.
Also read: Travel Tips for Island Hopping In El Nido, Palawan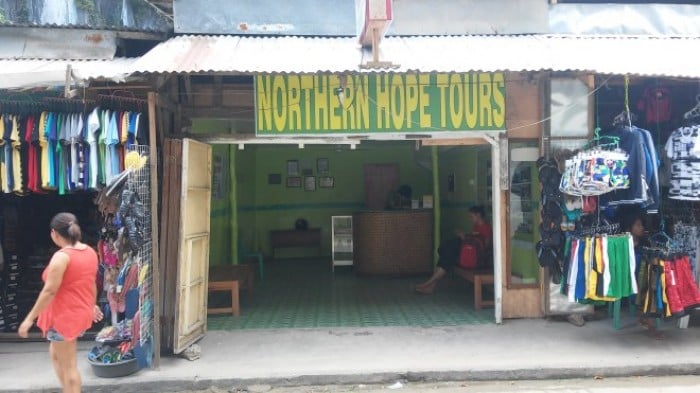 Tip: They will offer you to rent a kayak in the Small Lagoon for PHP 300 for 30 minutes. I think this is not worth it since you can rent a Kayak for PHP 500 in the town proper for a whole day! You can even take the kayak in the tour boat and use it everytime you visit an Island or lagoon.
We didn't rent a Kayak, because, well, we're not up for it.
For the city tour in Puerto Princesa, you can hire a tricycle to take you around the tourist spots for PHP 600.  But in our case, since we just would like to visit 4 places (Immaculate Conception cathedral, Plaza Cuartel, Mitra's ranch and Baker's hill), we opted not to hire a trike but just commute from one place to another. This is very doable and much cheaper. We just spent PHP 80 each for our customised City tour, and it really wasn't tiring.
PS: You can walk from Mitra's Ranch going to Baker's Hill. Also, there are tricycles waiting at Baker's hill, so don't worry about the scarcity of transportation when you want to go back to the highway.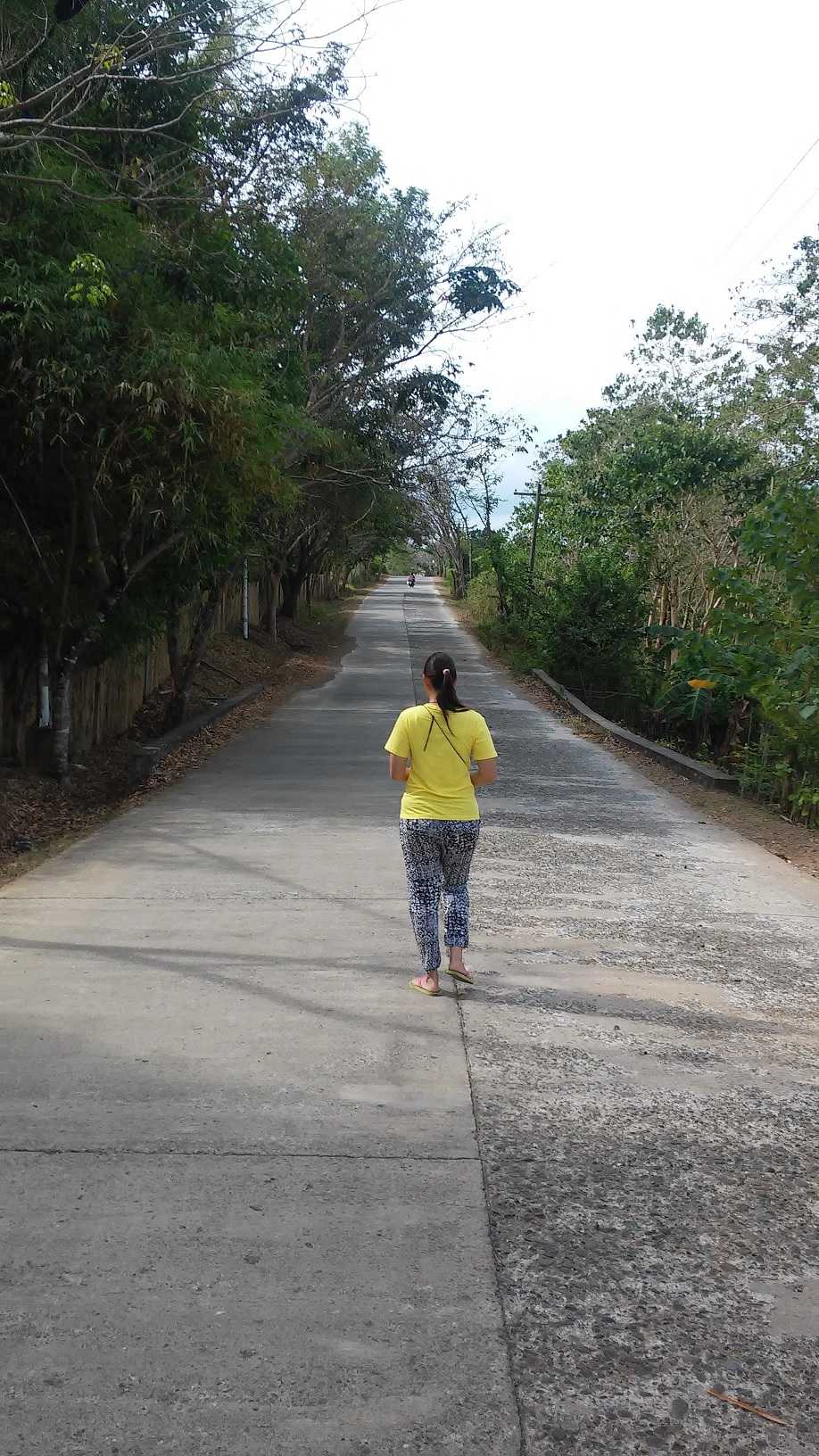 Wifey walking from Mitra's Ranch to Baker's Hill
For our DIY Puerto Princesa Half day City Tour, click here!
Food
This is where things got balanced. We ate in all of the types of food places. We ate in the streets, carinderias, mini restos and restaurants. When travelling, eating is one of our favourite things to do. We still keep an eye of our budget but at the same time, we don't want to miss out on the cuisine or dishes the place has to offer. One type of eatery won't provide all of our foodie needs. I'll sub-categorise this section with the types of food we ate. Here it goes:
Eat like a pauper
We brought canned goods (sardines), bread, junk foods and mamon baked by my wife for those times that we just need to fill up our empty stomachs. We ate dinner twice in El Nido with just a can of sardines and steamed rice bought from the Hotel/Inn we are staying at for PHP 15.  The price of mineral water ranges from PHP 20 to PHP 30. This is the cheapest way to go if you are very tight on budget. Just bring your own food and buy rice/water and you're solve.
Eat like a local
Puerto Princesa and El Nido have lots of carinderias, eateries and street stalls to satisfy those empty stomachs in a cheap price.
In El Nido, we ate at Silog Republic which cost PHP 65 per order of a Silog Meal. There are also street stalls where you can buy pork and/or chicken barbeque for cheap. Don't buy at those commercialised grill stalls where a stick of chicken bbq costs PHP 75, and it was not satisfying for its price. You can also check out the Women's Cooperative eatery which sells home cooked Pinoy meals similar to our carinderias in Manila. We spent PHP 85 for an order of sweet and sour fish (good for two), 2 rice and a mineral water. We also ate at this Chao Long eatery in El Nido where we ordered Vietnamese beef stew, pork sisig and rice. The sisig was not great but the beef stew is close to authentic. We paid a total of PHP 195, a little costly than most carinderias but the bad thing is they have bad service and the food takes a while to be prepared. For breakfast or merienda, there is a bakery in El Nido named Midtown bakery where they sell fresh breads and pastries for dirt cheap. We bought 2 big Spanish breads and 2 piyayas for just PHP 30 total. You see, it's not that expensive in El Nido like what others thought.
In Puerto Princesa, again, we ate at a Chao Long eatery called Bona's Chao Long. You see, I love Vietnamese food (check my post here) and I would like to try if the dishes here are at par with what is served in Vietnam. We ordered one beef noodles (PHP 65), a French bread with chicken spread (PHP 35) and one softdrink (PHP 20) for a total of PHP 120. As opposed to the Chao Long eatery in El Nido, this one has good service and better noodles in terms of taste and serving.
Eat like a tourist
Let's admit it, when we travel, we really like to go on a splurge sometimes or when we have remaining budget, we like to spend that money on something fancy. And food is one of the things we like to spend that on.
On our second night in El Nido, we met with a newly wed friend of mine and his wife in El Nido where they are spending their honeymoon. We both agreed days before that we will eat and drink in Squidos. Then off we went to Squidos, ordered seafood pizza, calamari and I don't remember how many Pale Pilsens we ordered but it sure got us tipsy. We have a total bill of PHP 970 to which my wife and I shared PHP 470. Not bad for a fun night.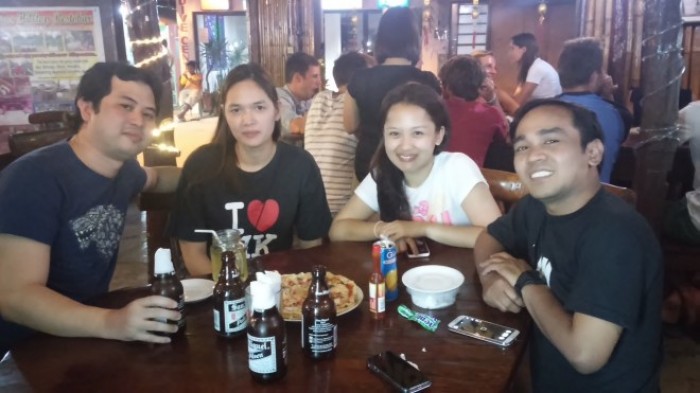 At Squidos with the newly weds!
Then the night after, my wife and I went to Pukka bar to enjoy some beer (PHP 50), fries and Reggae for a total damage of PHP 470. I love music and I can't let it pass not to see local acts in a place called "Heaven on Earth".
For the Island tours, Northern Hope tours prepared a sumptuous lunch for our grumbling stomachs. Nothing beats fresh seafood eaten at the beach.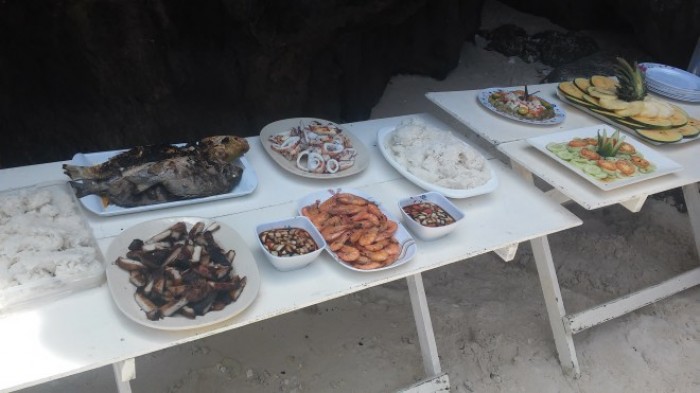 Our delicious lunch in Tour C
For our last day in El Nido, we ate breakfast at the Art Café for a change. We were supposed to have breakfast in The Alternative but it was temporarily closed so we opted for the Art Café instead. Total damage was PHP 350 for a Tomato Omelet meal and Fried Eggs and ham.
Other touristy expenses include 2 halo-halos in the 7 Commandos beach for PHP 100 each and a Selecta cornetto ice cream for PHP 50 in the Helicopter beach.  Don't blame us, it's hot out there.
In Puerto Princesa, we would at least like to try some dishes in one of the famous restaurants there. We chose the restaurant that's near our hotel and that is Balinsasayaw restaurant. We ordered the Balinsasayaw express (PHP 175), Shrimp with green peas (PHP 175), Pineapple rice (PHP 110) and a Green Mango shake (PHP 69) for a total of PHP 529. Well the main dishes were good but the Pineapple rice is not that good. It was gooey and very far behind what we had in Thailand or even in local restos in Manila.
Also read: 3 Days Puerto Princesa Itinerary for Your Next Summer Getaway
To summarise, please see below the breakdown of all our expenses on our trip to Puerto Princesa and El Nido. I will just itemise the expenses for one pax for clarity.
Transportation
Airfare – 3526.5
Van from PPC to El Nido – 500
Van from El Nido to PPC – 500
Tricycle from El Nido terminal to Tay Miloy's – 25 (50 per trip divided by 2pax)
DIY City tour – 80 (160 total for 2 pax)
PPS Terminal fee – 150
Taxi from NAIA 4 to Pateros – 100 (200 total)
Transpo Sub-total: PHP 4,881.5
Accommodation
Tay Miloy's Inn – 250 (500 per night)
Ricgem Hotel – 1275.005 (2550.01 for 2 nights)
Aniceto Pension – 275 (550 per night)
Accommodation Sub-total: PHP 1,800.005
Tours
Underground River tour – 1400
Island Tour A – 1000
Island Tour B – 1000
Tip to Tour guide – 50 (100 total tip)
ETDF – 200
Mitra's Ranch maintenance fee – (20. This is optional since you will just have to pay if you want to enter the house)
Tour Sub-Total: PHP 3,670
Food
Squidos – 235
Pukka bar – 235
Art Café – 175
Silog Republic – 72.5
El Nido Chao Long – 97.5
Women's Coop – 42.5
Bona's Chao Long – 60
Balinsasayaw resto – 264.5
Others – 339
Food Sub-Total:  PHP 1,182
PS: I did not include the cost of our "baon". Items are posted per individual, meaning the total cost was divided by 2. I only highlighted the cost for the major eateries, the rest are all consolidated in the "Others" item.
For a grand total of *** drumroll *** PHP 11,533.505 per pax (PHP 23,067.01 for 2 pax)! Not bad for 5 days trip to Puerto Princesa and El Nido. It's not cheap but it's not that expensive also.
What increased the total is the airfare and food. For the airfare, of course, you should get tickets as cheap as possible. For food, you can eat like a pauper or a local and forget eating like a tourist. I'm okay with the price of our accommodation in Ricgem because it's very reasonable, and the place was nice and comfortable. With that being said, you can imagine that it can be very much cheaper if you will just bring your own food, eat little or eat cheaper and book a cheaper flight with a budget airline. Much cheaper if you will book a fan room all throughout your stay.
So guys, don't be afraid of going to Paradise because of the cost. I tell you, it's all worth it.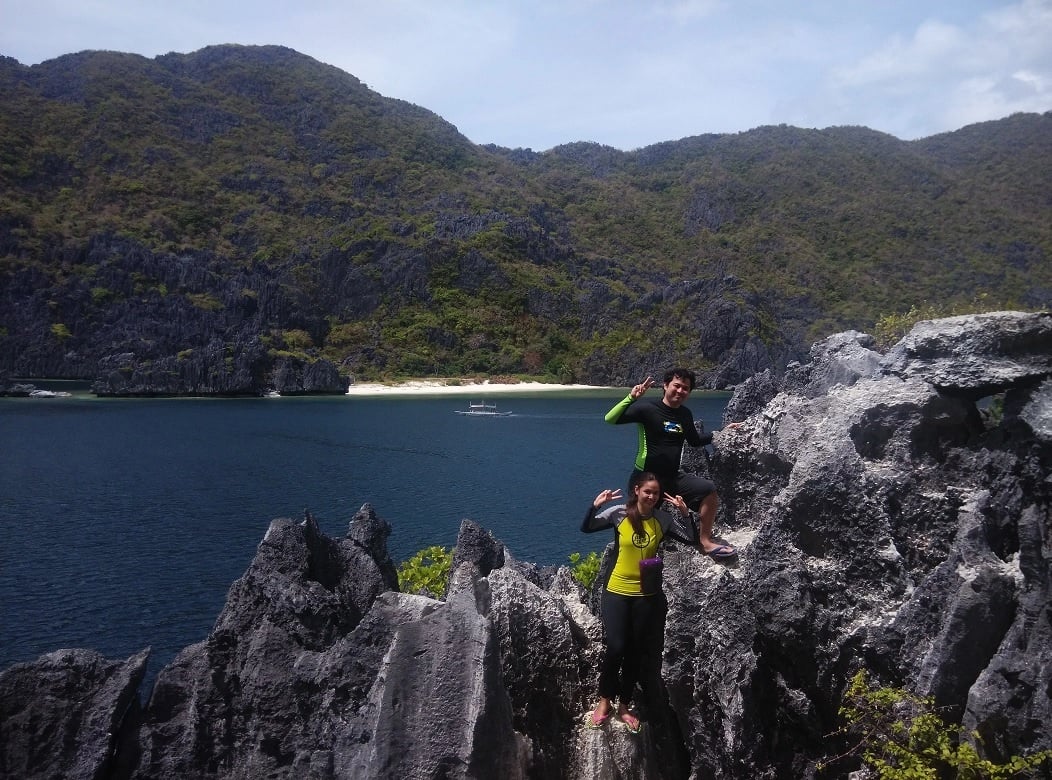 A very happy couple atop the Matinloc Island