Contributed by theresewrites
I never realized how far Peru was until my family decided to include it in our itinerary when we were still planning our trip to New York City (NYC). The trip from Manila to NYC alone takes approximately 16 hours, including layover. On top of that, NYC to Cusco, Peru takes 10 hours with a layover in Colombia.
So, it was a good thing we spent six days in NYC to sightsee and adjust to the time zone before pursuing another long-haul flight on the second leg of our vacation. It's worth noting too, that Peru is one hour behind NYC (which is 12 hours behind Manila). We still had to make a slight adjustment in our sleeping pattern once we got there. But trust me, Peru was worth the travel fatigue what with its friendly people, overwhelming natural beauty, nostalgic architecture, and local products.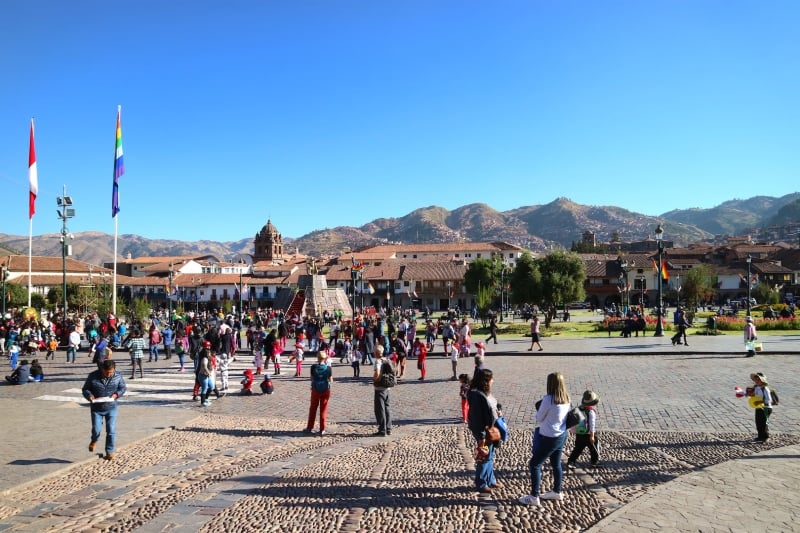 Most Peruvians are bilingual; they speak Spanish and either of their indigenous language of Quechua or Aymara. They can also speak English, maybe not as fluent, but easy and clear enough for conversations with tourists. Aside from Machu Picchu, Peru is also known for their llamas and alpacas. Peruvians love their native animals especially because their wool helps in keeping local businesses afloat. Alpaca wool, in particular, is famously used to make ponchos, coats, bags, and other miscellaneous items like yarn and keychains. Their local fashion made of wool truly does keep you warm! I recommend you buy at least one sartorial find made of alpaca wool as a souvenir.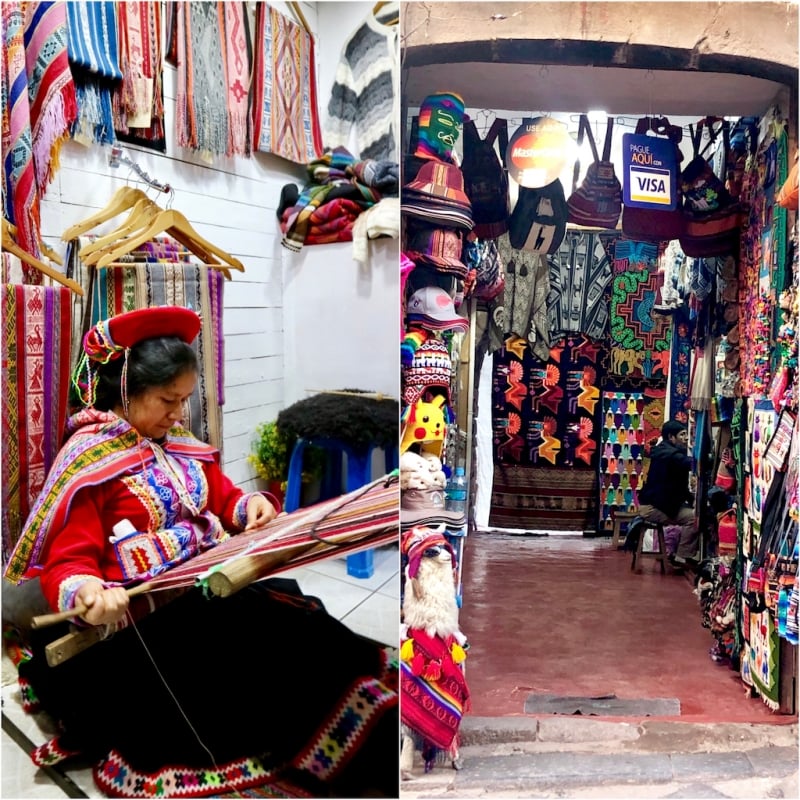 During our free walking tour, we stopped by a shop that showed us how ponchos made of Alpaca wool were woven. We saw several stores selling various Alpaca products too. They're basically everywhere in Cusco, so you won't miss them!
Tip: You can differentiate between an alpaca and llama based on their height alone. Llamas are taller, have longer faces, and finer hair compared to alpacas.
During our time in Peru, we stayed in Cusco where we went on a free walking tour, visited other archaeological sites, and took a day trip to Machu Picchu.
Also read: Backpacking In South America For 14 Days: Cost Breakdown
Exploring Cusco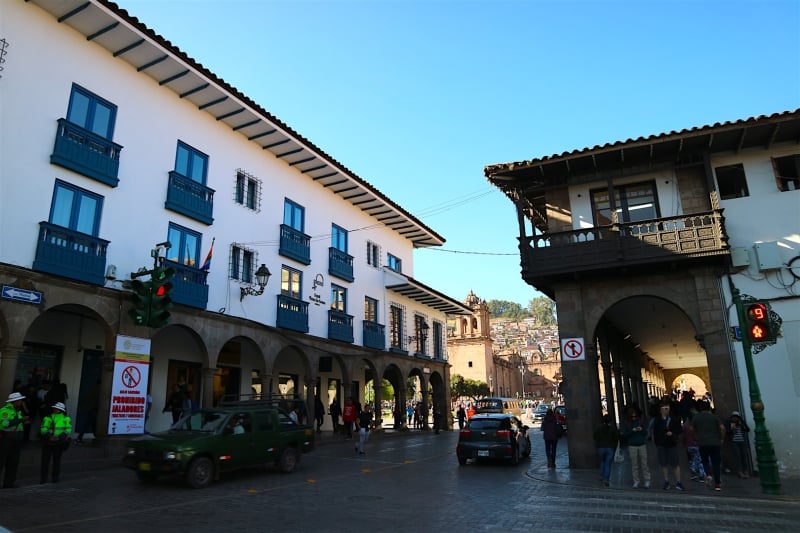 After getting picked up at the Cusco airport, I couldn't help but notice similarities between the Philippines and Cusco as we were driving by the city's establishments. I could see houses from the road which looked simple and reminded me of the quiet suburban areas going to Baguio or Tagaytay. They even have, what we would call in the Philippines as sari-sari stores. I guess the ultimate difference is that Cusco City is a UNESCO World Heritage Site which means it's way cleaner and has better-preserved architecture. It was no surprise then that when we got to the city centre, it was like having a bigger and better Intramuros come to life right before our eyes.
I was elated! I always had an affinity for old-world charm and historically preserved towns. Peru, having been under the Kingdom of Spain just like the Philippines, bore nostalgic resemblances in architecture, food, and even Peruvian hospitality.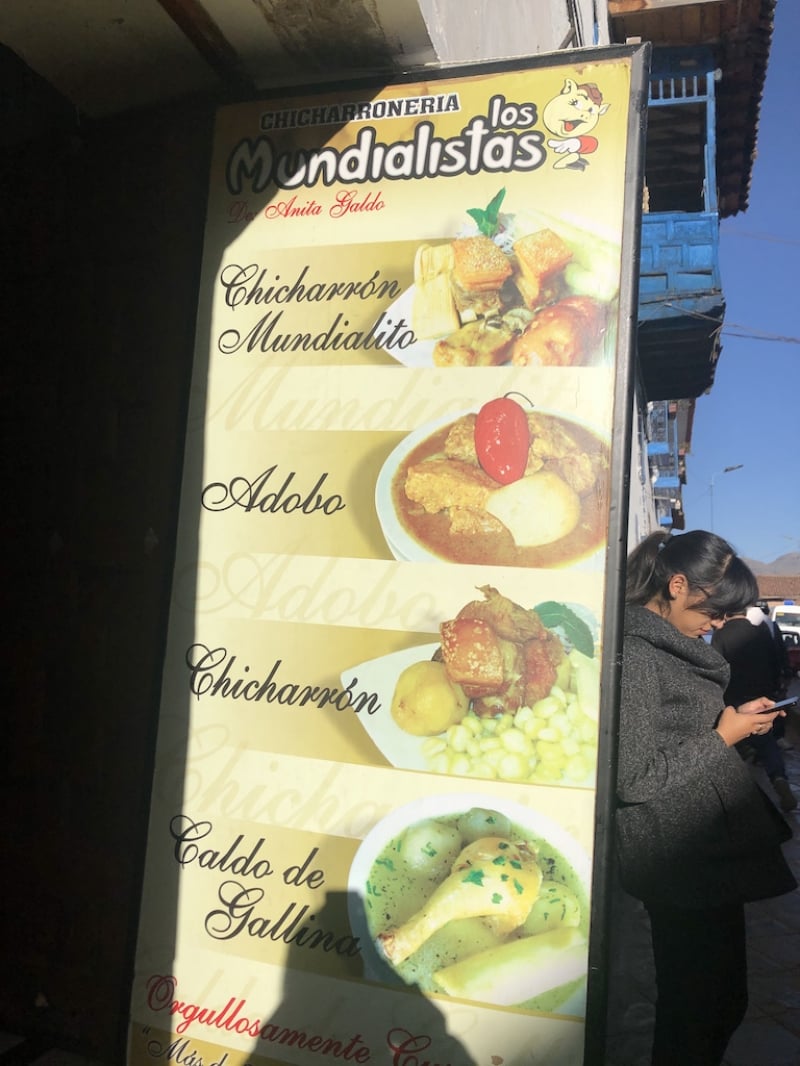 See anything familiar on the menu?
I felt right at home as we walked around the cold Peruvian city. But it didn't take long before the Altitude Sickness kicked in.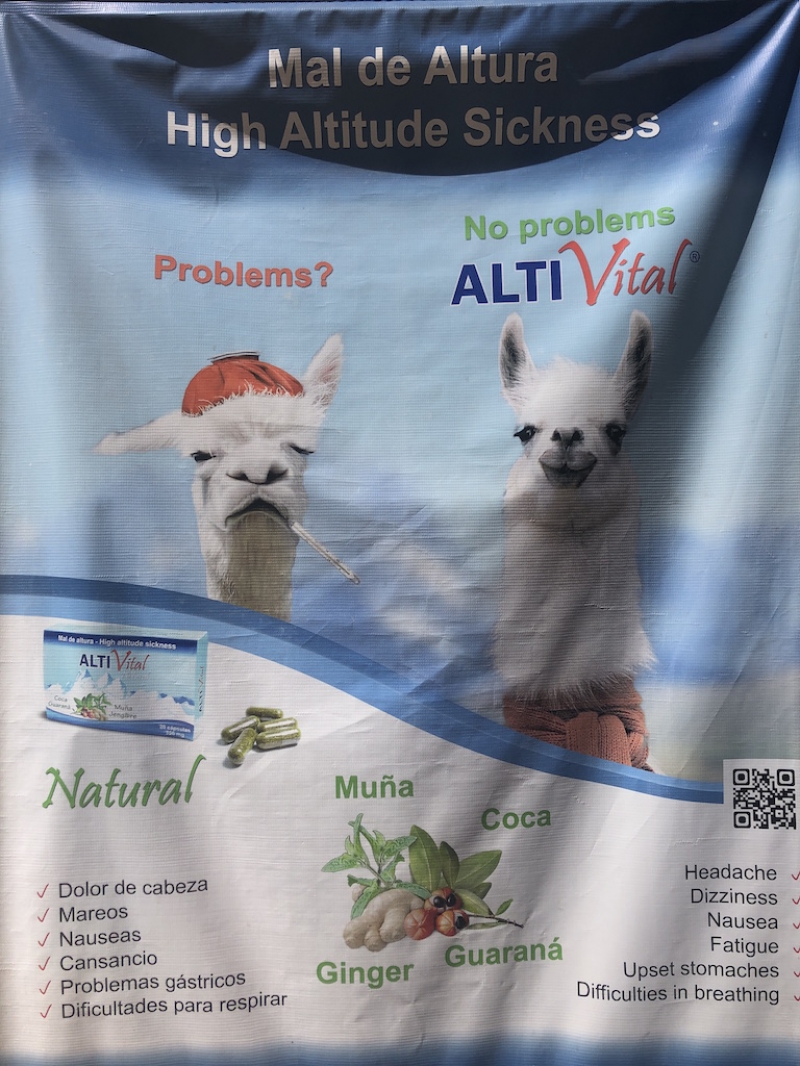 They use llama and alpaca images to market local products, altitude pills included!
Altitude Sickness is caused by high elevation and usually experienced in the mountains. Cusco is 3,399 metres above sea level which means tourists who aren't acclimatised can definitely fall victim to the lack of oxygen. Don't worry, this is perfectly normal and it doesn't have to ruin your Peruvian holiday. Local drugstores all over town sell altitude pills to help combat the sickness. We bought two to three blister packs (banig) since it's recommended to take altitude pills at least twice a day. You don't need a prescription for this.
Aside from that, there's really no reason not to like Cusco. We were in the city while the locals were preparing for the parade of their Corpus Christi Festival, if I'm not mistaken.  The children who were participating were really the stars of the show. Their participation in the festival clearly meant a lot to them and that was easy to see in their rehearsals as they sprung to the beat of the drums. Watch the video below!
By the way, Cusco's churros? Even better than the churros I had in Spain, if you ask me. And that's without the chocolate dip!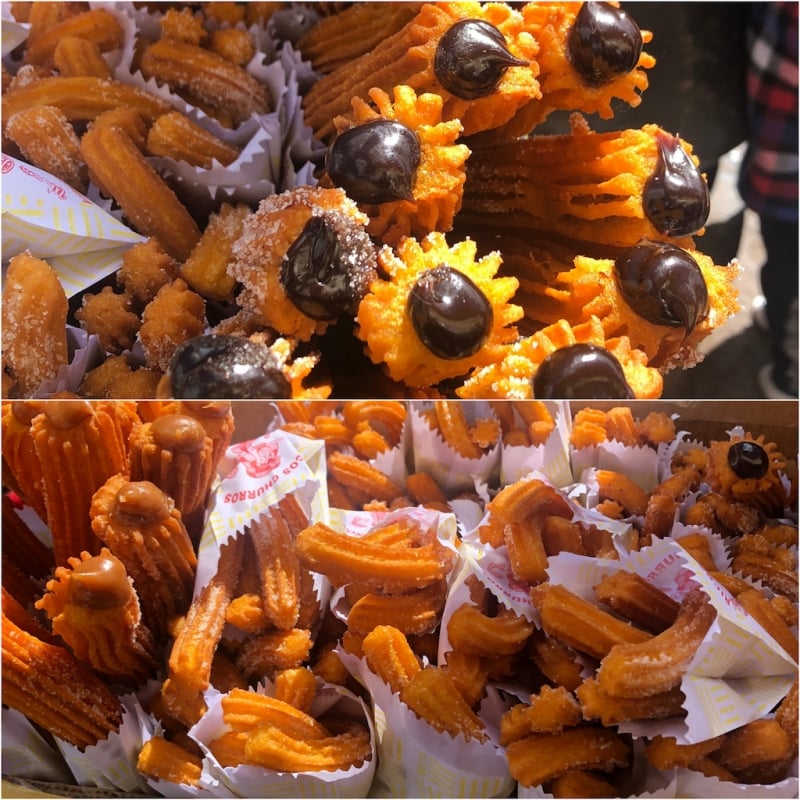 The smaller ones only cost 1 Sol!
Discovering Saqsaywaman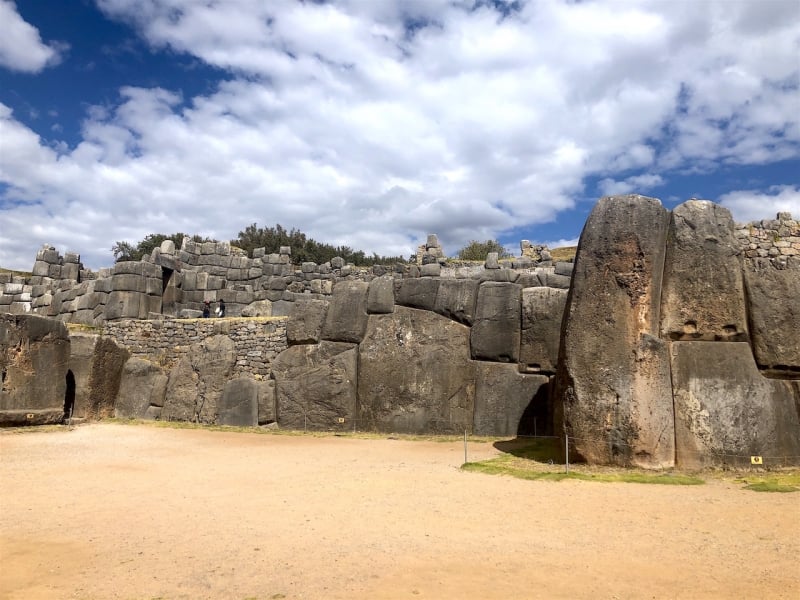 From Cusco, we took a tour that would take us to other archaeological sites besides Machu Picchu. The most impressive of these was Saqsaywaman. This site is only around a 15-minute drive from Cusco, but it's 3,700 metres above sea level, so you might want to pack some altitude pills.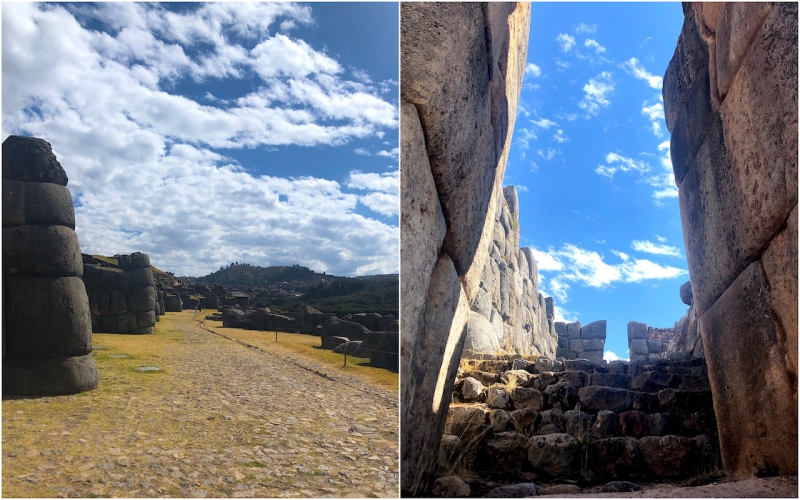 The place was believed to either be a fortress or ceremonial site for the Incas. But more than that, this giant stone structure is one of the Incas' greatest works and is a marvel to lay your eyes on. Locals believe that approximately 20 thousand men built Saqsaywaman by piling the giant stones one after another. But even that has never been proven. Much is still shrouded in mystery, which is why these Inca archaeological sites are so popular.
Having said that, we were adviced by our tour guide not to believe in what History Channel would rather describe as the work of aliens (sounds ridiculous anyway). According to him, it's absolutely impossible that the Incas were able to accomplish such a feat without the help of their own technology during that time. And frankly, that's what I would rather believe too.
Look closely at the photo below. You'll see a bend at the lower corner. How can anyone, let alone an ancient people, even bend stone? But it seems like the Incas found a way with the unknown contraptions they created. Whatever their building technology was, we might never know.
Notice that there's nothing in between the giant stones to stick them together. They're just laid on top of one another, unmoving. How amazing is that?!
On the way to Machu Picchu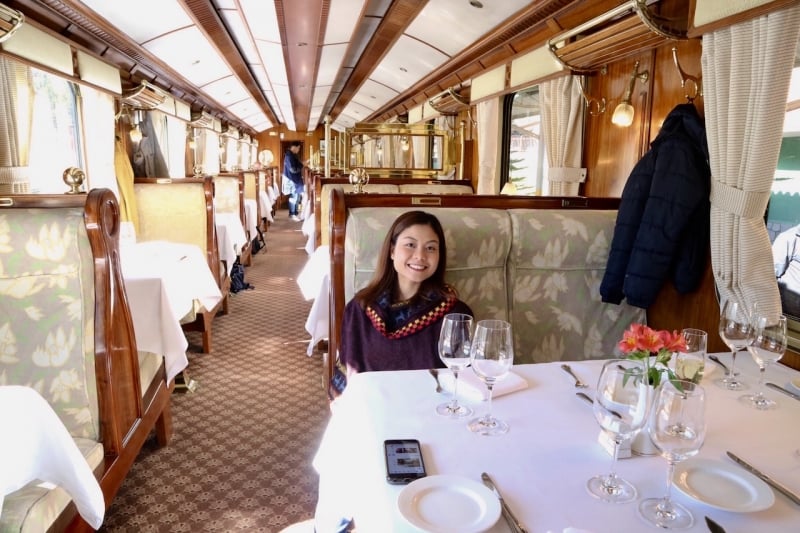 We dedicated one whole day to Machu Picchu. To get there, we had to take a cab from our hotel to the Poroy Station in Cusco where we would ride the Belmond Hiram Bingham train. This was my first time to ride a luxury train and I wouldn't have had it at any other time, considering how tiring the Machu Picchu hike is. The train has excellent service from beginning to end. Before we boarded, we were treated to white wine and a small cultural performance by the platform. But that was only a teaser of what waited for us inside the train.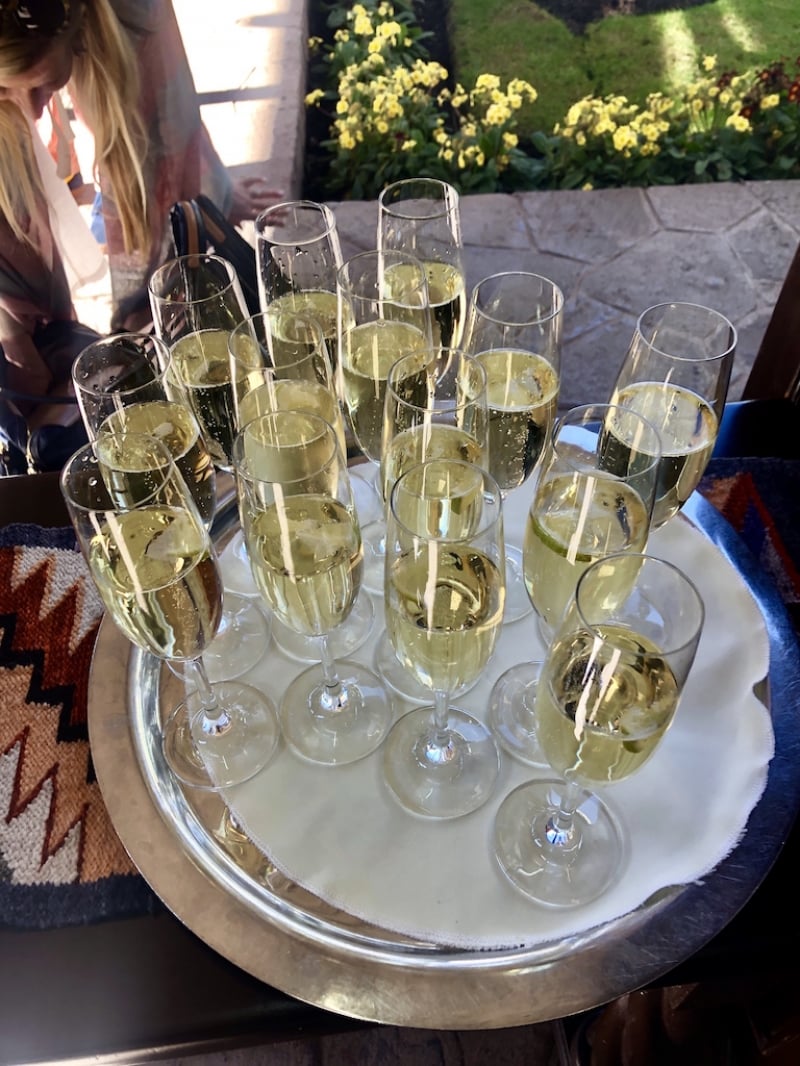 The Belmond train exudes vintage sophistication through its wood-panelled interiors and 1920s inspired parlour cars. The brass and wooden motif really set me in the mood to just sit back and enjoy the view of flourishing landscapes. You won't have much of a choice either since you'll be riding past this view for almost four hours.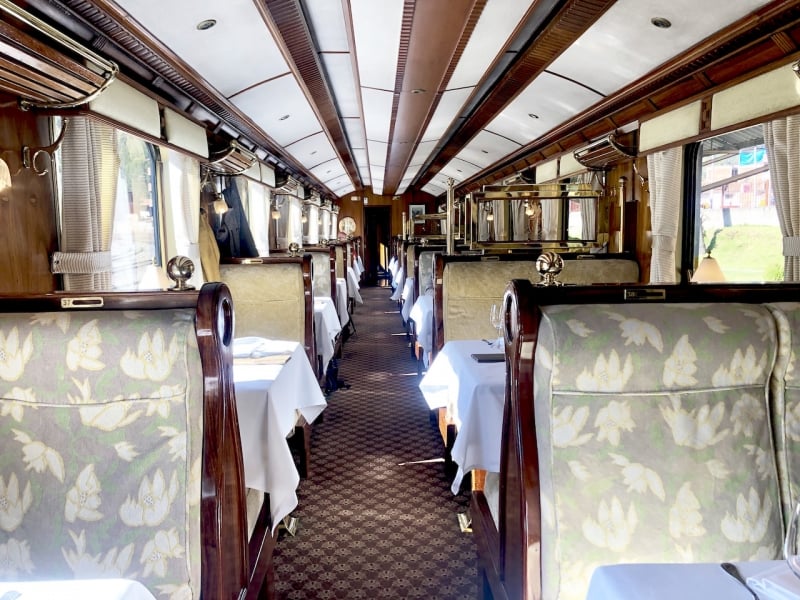 Look at these interiors. What's not to love?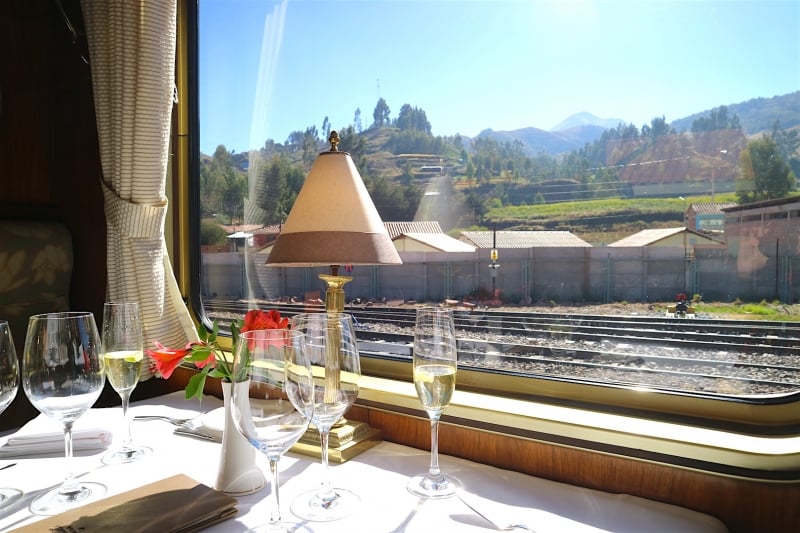 The train serves a complete three-course meal for both lunch and dinner, going to and from Machu Picchu respectively. This is your chance to enjoy Peruvian fine dining, all the while making your way to the ancient Inca citadel. You're going to hit two birds with one stone!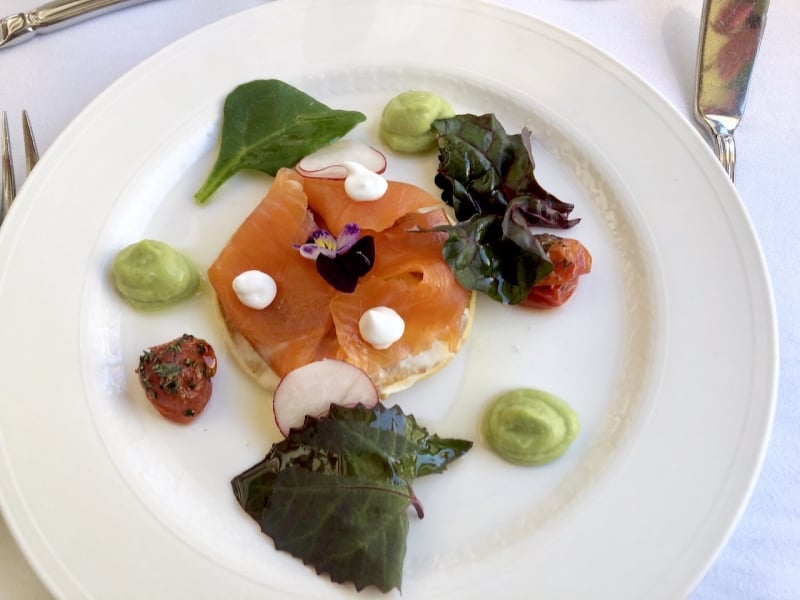 Appetizer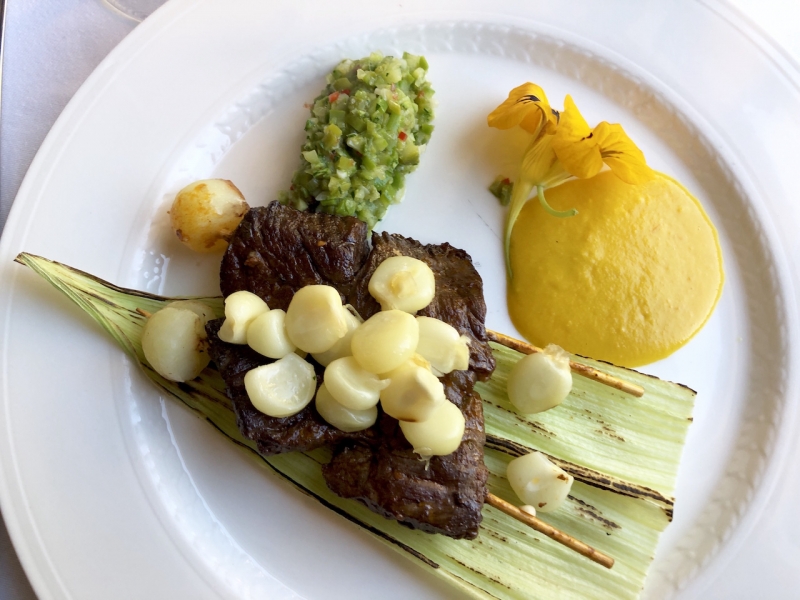 Main course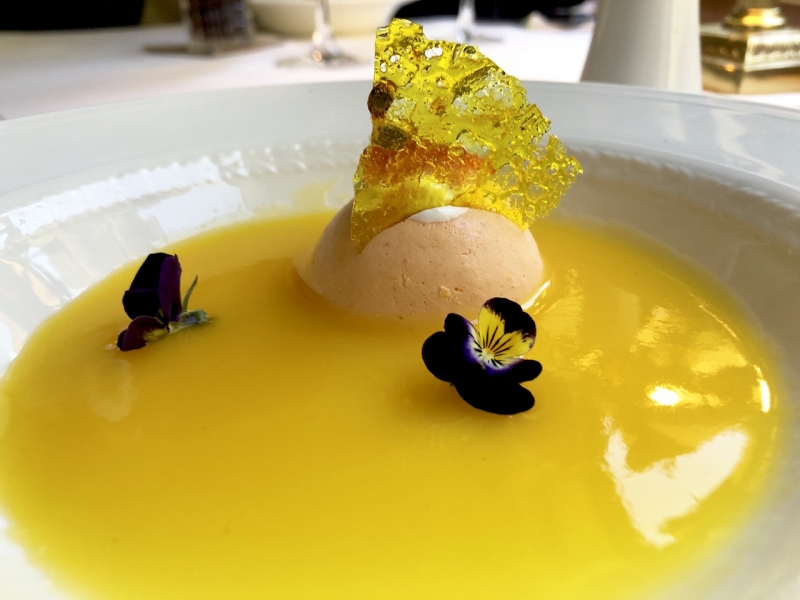 Dessert!
As if this isn't fancy enough, the train offers musical entertainment with their in-house band. Passengers are asked to proceed to the parlour car at the back of the train where the band performs their songs. Watch the video below for a snippet.
Climbing Machu Picchu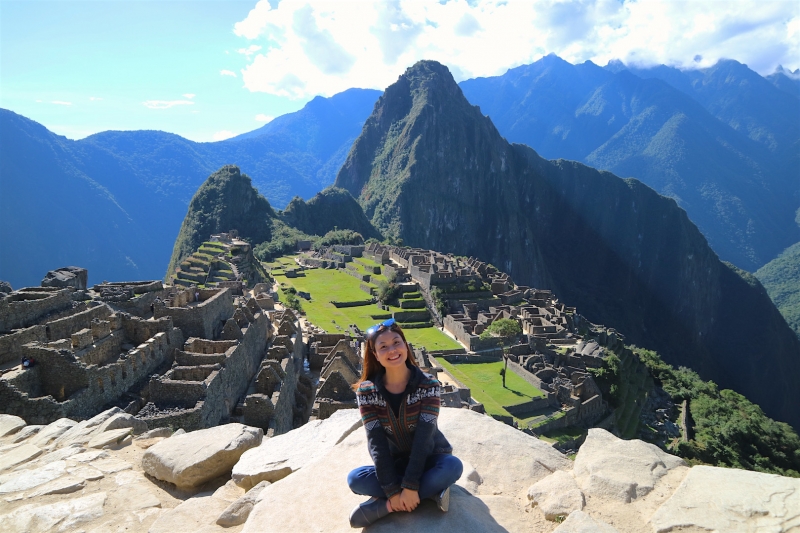 Booking the Belmond Hiram Bingham train also comes with a Machu Picchu tour guide. Our guide was already on the train with us and gave us instructions from there. After four hours, we disembarked at the Machu Picchu Station and transferred to a bus that took us to the foot of Machu Picchu.
Surprisingly, Machu Picchu is only 2,430 metres above sea level, making Cusco more elevated than the ancient ruins. So, my altitude sickness wasn't as bad when we were hiking the mountain. However, it still wasn't an easy climb. There were surely steep areas which will have you gasping for breath once you reach a flat surface. But like every hike, the view and experience were all worth it.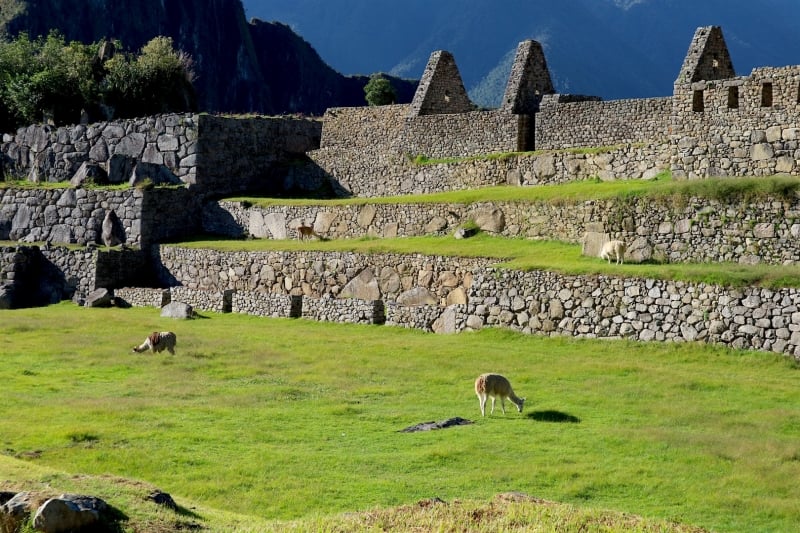 Llamas and alpacas live in Machu Picchu! You can take photos of them, but don't disturb their peace.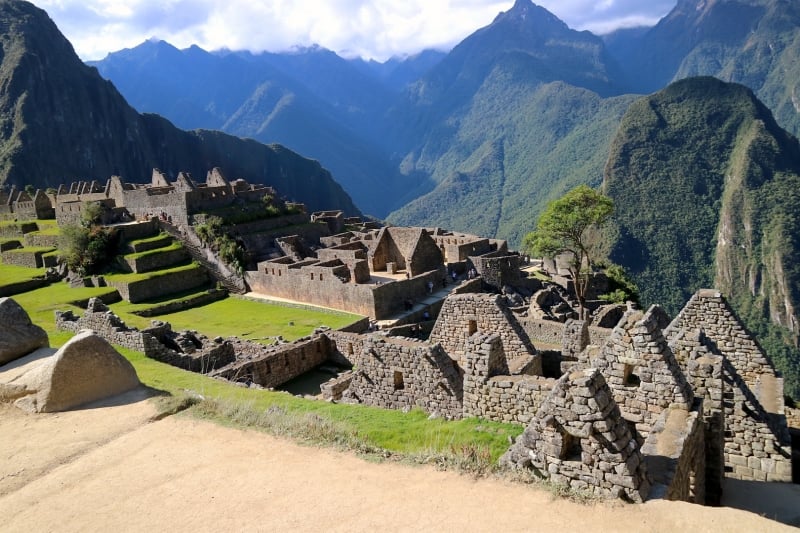 The tour took us around the ruins so we got to see all the stones and different structures up close.
Things to know about Machu Picchu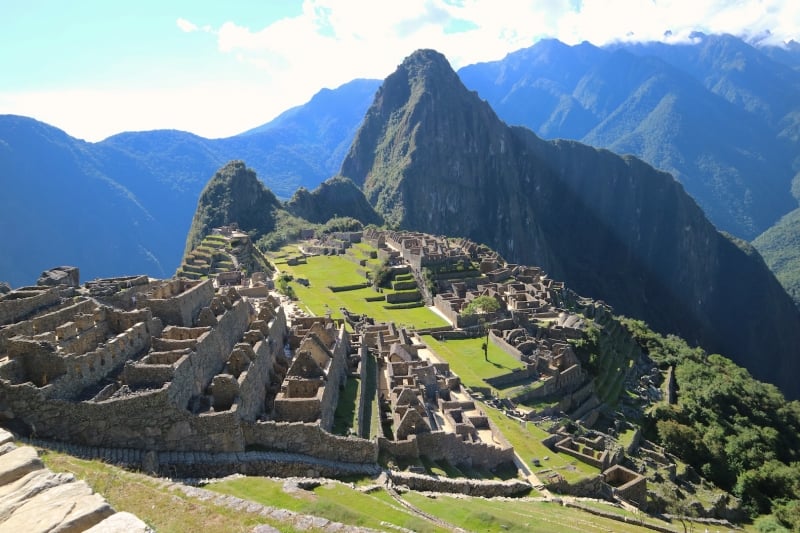 Veiled in mist and wonder, Machu Picchu is the most awe-inspiring archaeological site that the ancient Incan Empire left behind. Much like the other stone structures you'll encounter in Cusco, little is known of Machu Picchu's purpose. Our tour guide shared a theory that the Incas may have used Machu Picchu as a temporary shelter as they would make their way to the Amazon rainforests. Researchers also believe it to have been a dwelling place by elite Incas who abandoned the site during the Spanish conquest.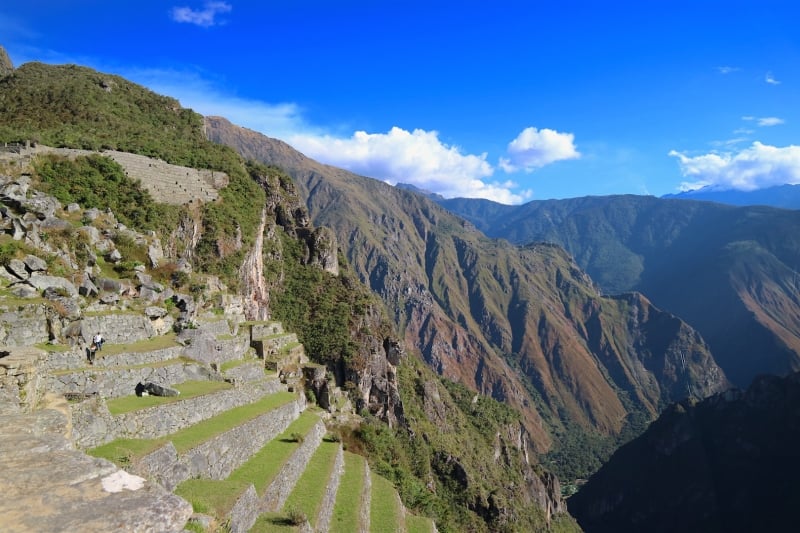 Machu Picchu was only rediscovered a century ago in 1911 by an American archaeologist named Hiram Bingham. Sound familiar? Yes, the luxury train we rode was named after him! Bingham was actually looking for a city called Vilcabamba, where the Incas are believed to have escaped after the Spanish started to take over in 1532. When Bingham was asking for directions, the locals were unsure of what he was talking about, so they simply pointed to the direction of Machu Picchu just to lead him to an interesting place. The rest was history. In 1983, Machu Picchu was finally declared a UNESCO World Heritage Site and dubbed as "The Lost City of the Incas".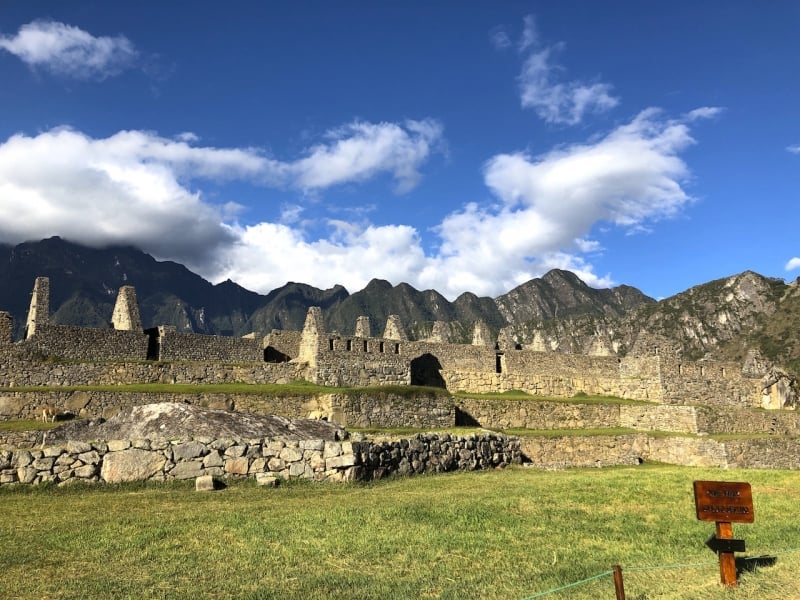 The ruins of Machu Picchu are made of polished dry-stone walls. The way these giant stones are stacked together is so close and precise that you can hardly place a card between the gaps. The environment is evergreen where animals like alpacas, llamas, and chinchillas have settled. There are also smaller archaeological sites in Machu Picchu itself which include the Sun Gate, Temple of the Sun, and the Temple of Condor.
SPOT THE CHINCHILLAS!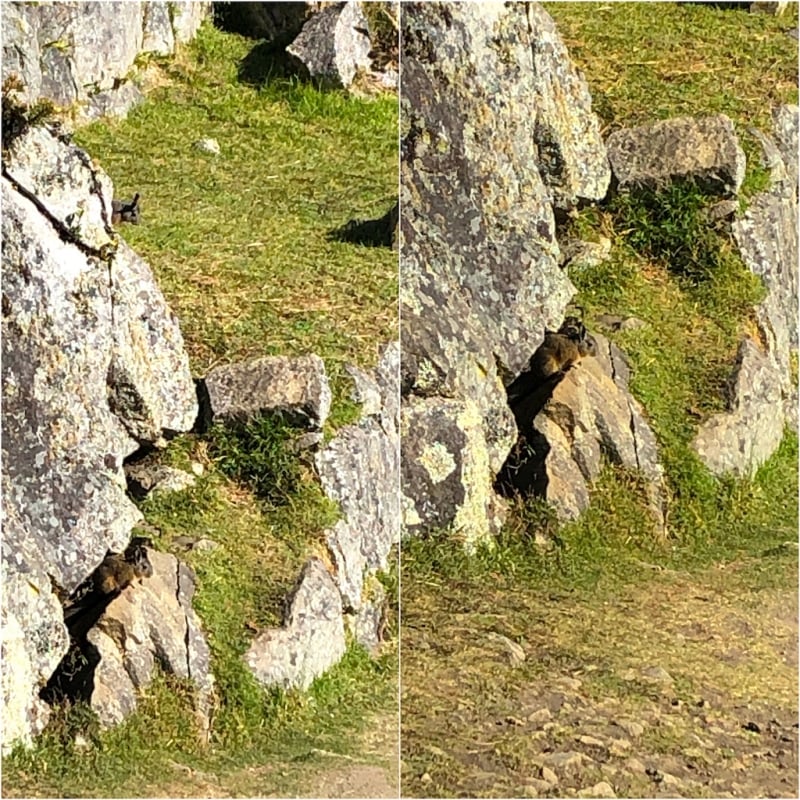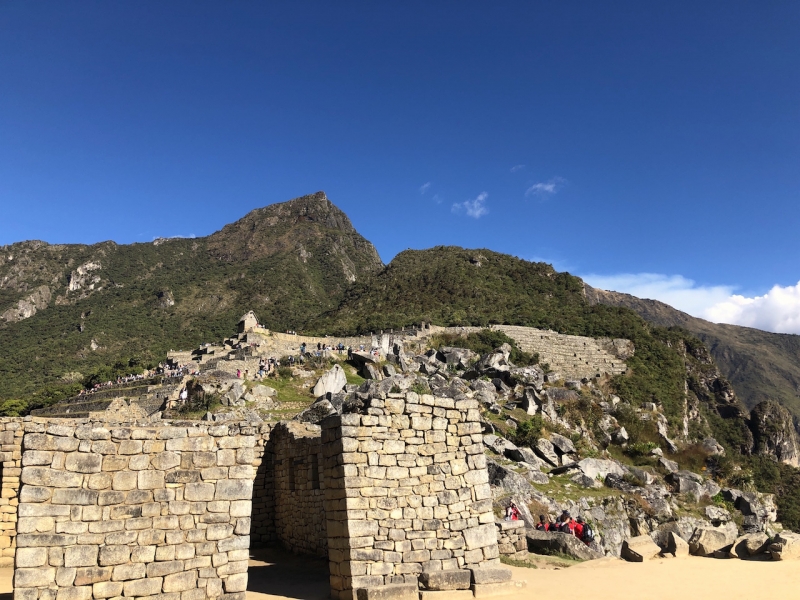 Stones upon stones on stones, some of them stuck together with mud in between.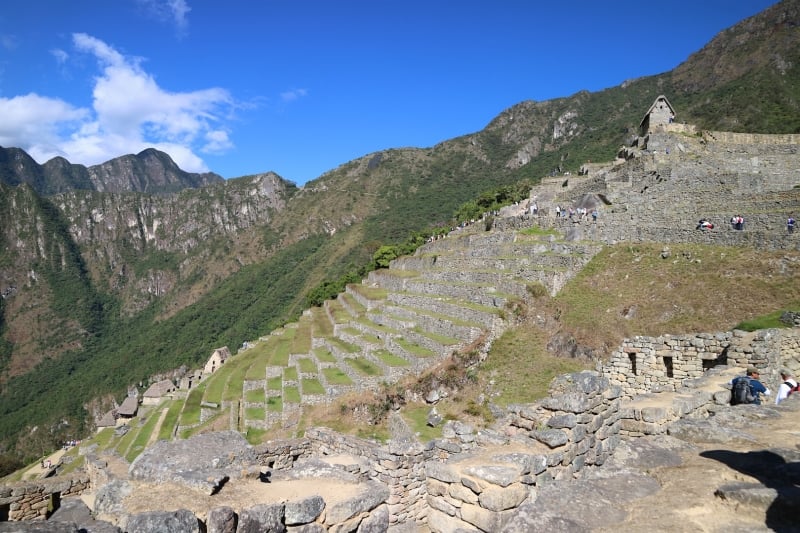 We were lucky that we visited during what so happens to be their dry season (June – August). It was the clearest of days with the sun shining high and the blue sky making for a picture-perfect backdrop against the mighty grey walls of Machu Picchu. Book your Machu Picchu tour and tickets months in advance because the Peruvian government has declared a 500-person limit per day, so the earlier you book, the better.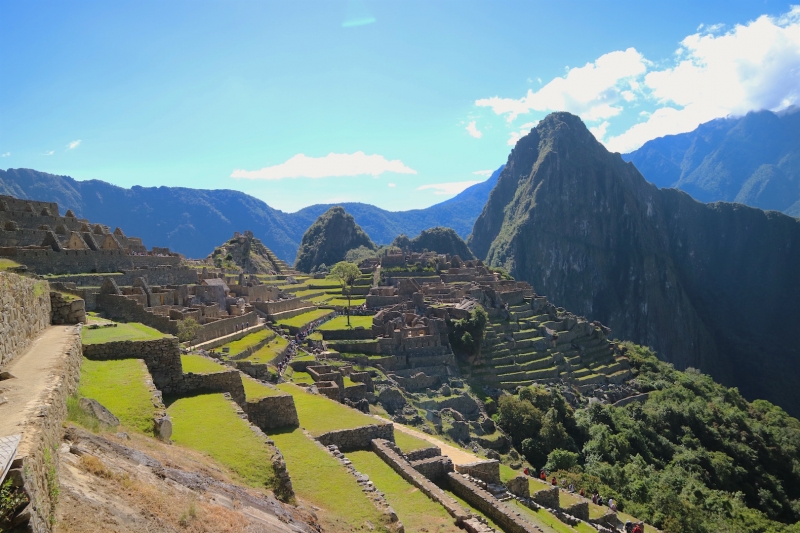 We ate another three-course meal in the Belmond Hiram Bingham train on the way back to Cusco. It was a hassle-free and sleep-inducing journey back to the city.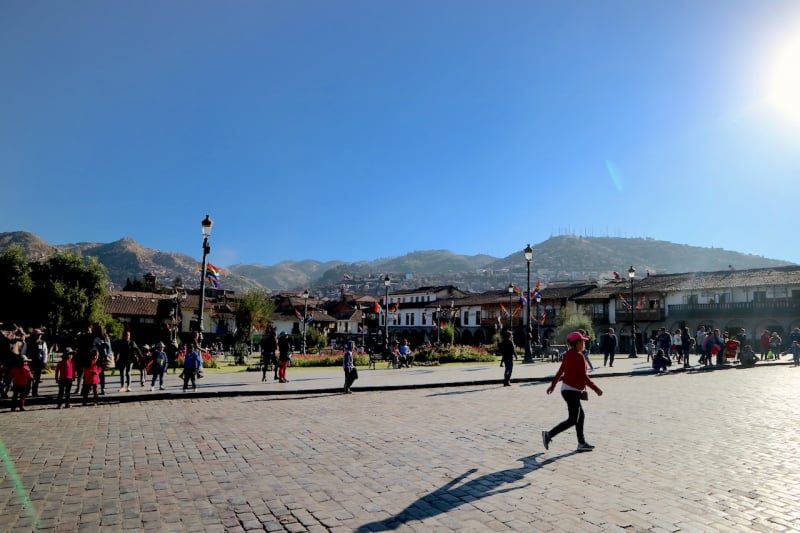 There's plenty more to say about Cusco's layers of history and how beautiful it is as a city. Looking back, I wish I had taken more photos of the streets and landscapes. But I was too caught up taking in the vision of everything around me. How beautiful the mountain range looked against this cobblestone city. From slopes, mountains, to the flourishing plantation, you can see all of that in Cusco as nature itself cradles the heart of the ancient Inca Empire.
Also read: Historical Places Around The World Every Pinoy Should Visit
But the best view of the city is when you make your way to an elevated place and see the city lights glimmering like stars near the earth. It's truly a destination on its own even without the pull of Machu Picchu. Having said that, I'll still be the first to claim that Machu Picchu is surely one of the most breathtaking sites one could ever witness in this lifetime. As cliche as it sounds, my photos don't do Machu Picchu justice. You have to see it for yourself. Peru has quickly become a favourite of mine. No matter the long travel, I wouldn't mind coming back to South America if this was my destination.