Contributed by Inspiring Journey
Filipinos love to eat. It is the main reason why the food industry is booming in the country. But the needs and wants of food lovers levelled up. Customers do not just come for delectable food, excellent service and all other nice things, but most importantly for something different. AMBIENCE is the keyword. They come and come back to a certain place not just to have an equitable return of their money but to have a comfortable stay and remarkable experience.
Also read: Dine with a View: 10 Scenic Restaurants in the Philippines
In order to help you select the best places to dine and enjoy life in Quezon Province, here are my top 12 restaurants. The list will be updated regularly as I continuously explore other restaurants in the 2 cities and 39 municipalities of this province.
The criteria for a restaurant to be in my list are as follows: 1) PRICE must be reasonable; 2) AMBIENCE is nice and relaxing; 3) the PLACE must be clean and presentable; 4) SERVICE should be excellent, fast and reliable; 5) STAFF must be attentive, courteous, neat and energetic; 6) OVERALL, the restaurant must showcase care for humanity, respect for ethical laws and concern for the environment by having a "NO SMOKING" signage.
1. Silangang Nayon Park and Restaurant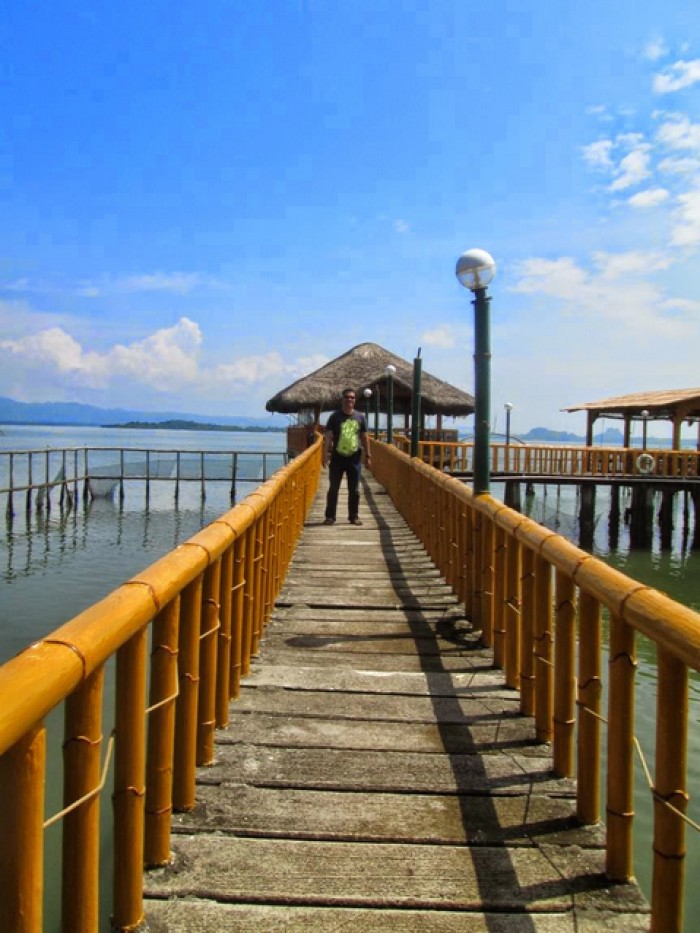 Silangang Nayon Park and Restaurant is famous for their scenic restaurant cottages by the bay. Diners here will enjoy the majestic view of the sea, refreshing ambience and delicious dishes. You should definitely try their fresh seafood cuisines.
Location: Brgy. Bantigue, Pagbilao
2. Catalino's Restaurant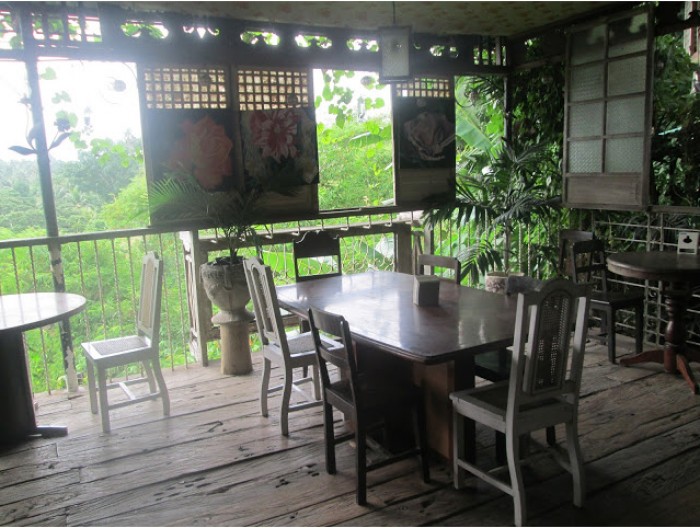 Catalino's Restaurant has a quaint and rural ambience. It is located right at the edge of a ravine where you can actually see a relaxing view of Alitaoo River. Read my full review of the restaurant here.
Location: Villa Javierto, Gulang-gulang, Lucena City
3. "Ugu" Bigyan Secret Restaurant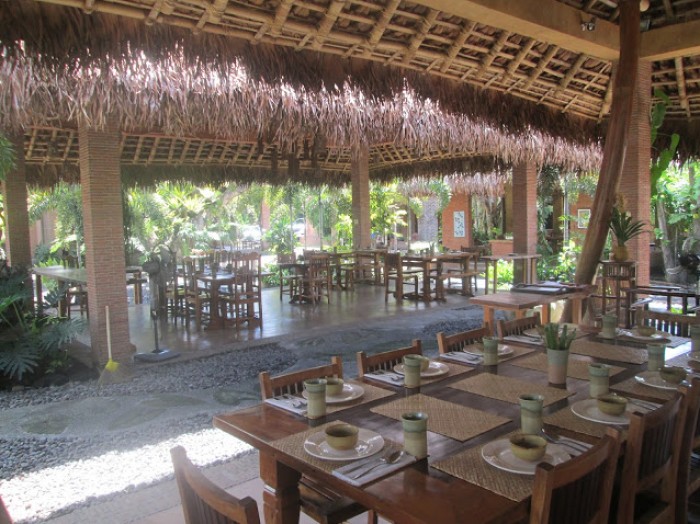 With no visible signage, this restaurant is literally a secret, as its name suggests. The owner of the place is the celebrated pottery artist Augusto "Ugu" Bigyan. No wonder it's a reservation-only restaurant. I love its relaxing ambience and the artistic environs. Read my full restaurant experience here.
Location: Lusacan, Tiaong
4 & 5. Kamayan sa Palaisdaan (old & new)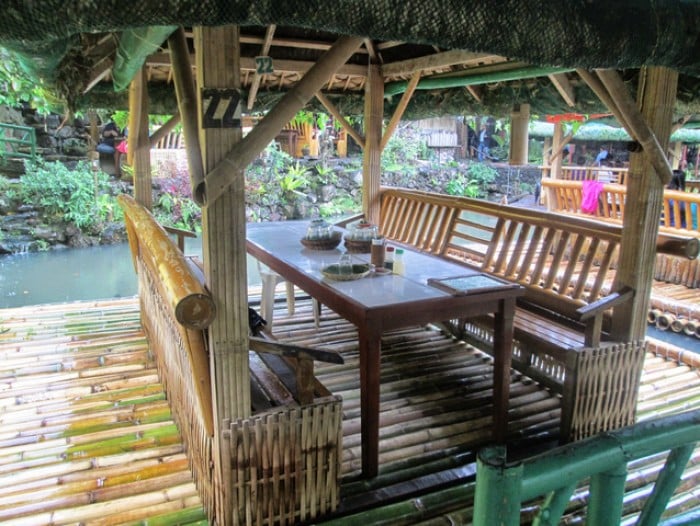 Kamayan sa Palaisdaan (old)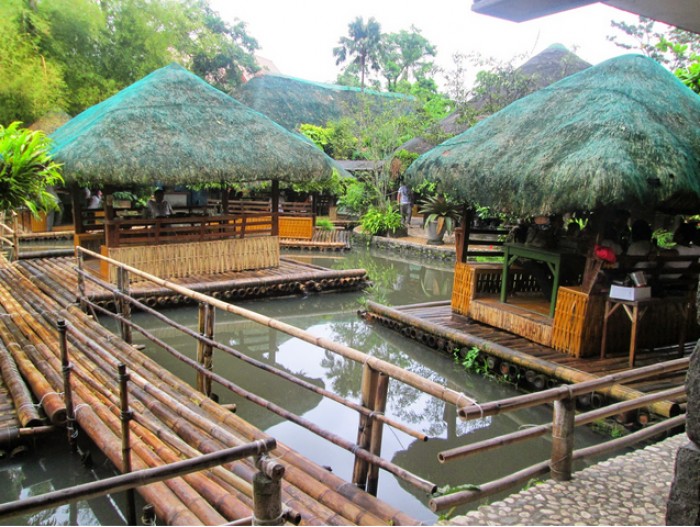 Kamayan sa Palaisdaan (new)
Kamayan sa Palaisdaan consists of cottages on floating bamboo rafts. Diners here will enjoy a cool environment with the alluring view of Mt. Banahaw, one of the sacred mountains of the Philippines frequented by travellers during the Holy Week.
Also read: 10 Religious Destinations in the Philippines Perfect for Visita Iglesia
Location: Tayabas City (along the highway between Tayabas & Lucban)
6. Buddy's Pizza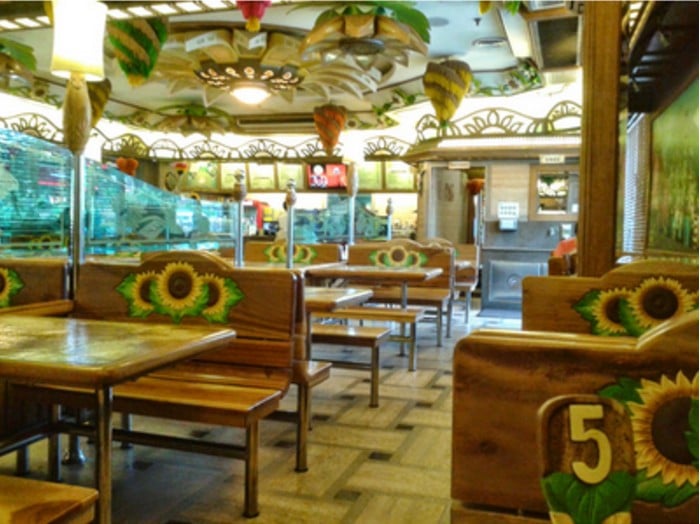 Buddy's Pizza is one of the restaurants in the country with intricate, creative interior design, and has been originally serving customers in Quezon Province. It now has branches in different parts of Metro Manila. What I like about this place is the extremely relaxing ambience reinforced by delicious food and refreshing drinks at affordable prices.
Location: Lucena City (SM Lucena, Pacific Mall & Quezon Avenue) and Lucban
7. Alvino's Roast, Grill & Fry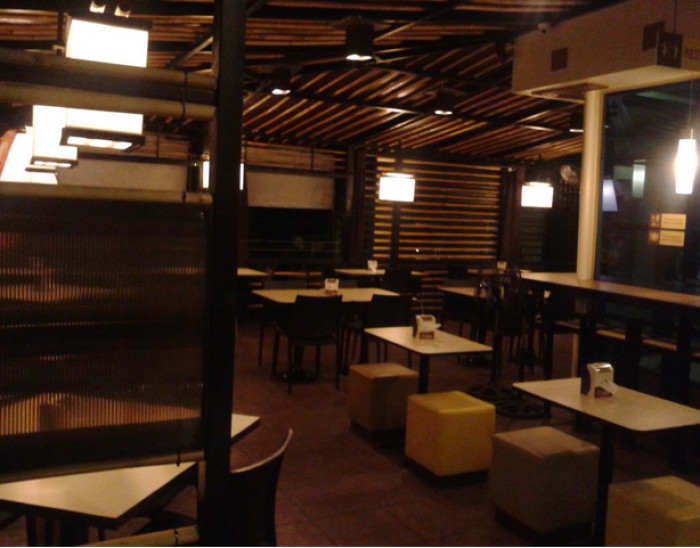 There are varying reviews about Alvino's Roast, Grill & Fry in Lucena City, but for me, it's a perfect blend of great ambience and good food at very reasonable prices.
Location: Lucena City (city proper)
8. Cafe Jungle
This branch of Cafe Jungle is located within the compound of PTT gasoline station along Diversion Road in Lucena City. It is about 2 kilometres from the main intersection road. Other branches are located in Tayabas City and the municipality of Lucban, which are both in Quezon Province.
The restaurant is open 24/7 so it is a convenient stop for hungry and tired travellers, especially those who are travelling from Manila to Quezon Province or Bicol Region.
Location: Lucena City (Diversion Road), Tayabas City and Lucban
9. Cafe Quay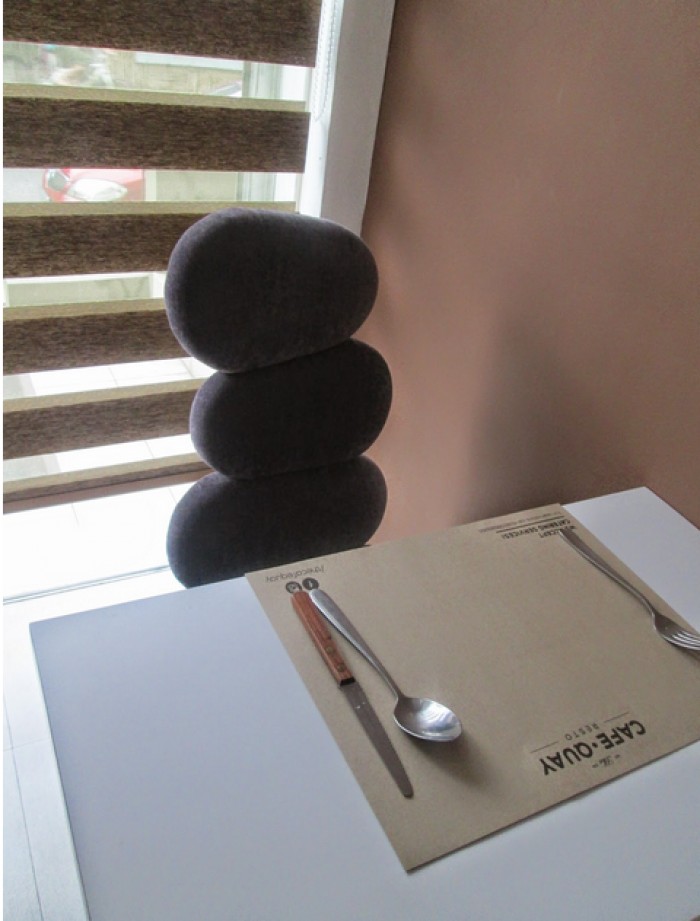 Cafe Quay is the home of the Black Burger. Yes, as weird as it sounds, the Black Burger tastes yummy, and the creative interior adds up to the whole colourful cafe experience. BLACK is indeed beautiful and delicious!
Location: Lucena City (city proper)
10. Bubble's Restaurant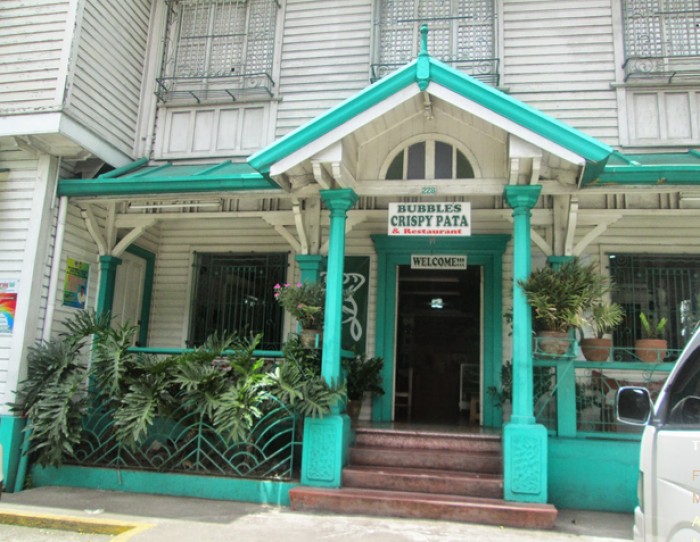 You should not leave Quezon Province without trying the delicious crispy pata at Bubble's Restaurant. It is located in the heart of Lucena City, fronting Pereze Park near the Quezon Provincial Capitol.
Location: Quezon Avenue, Lucena City (in front of Quezon Provincial Capitol)
11. Samuelito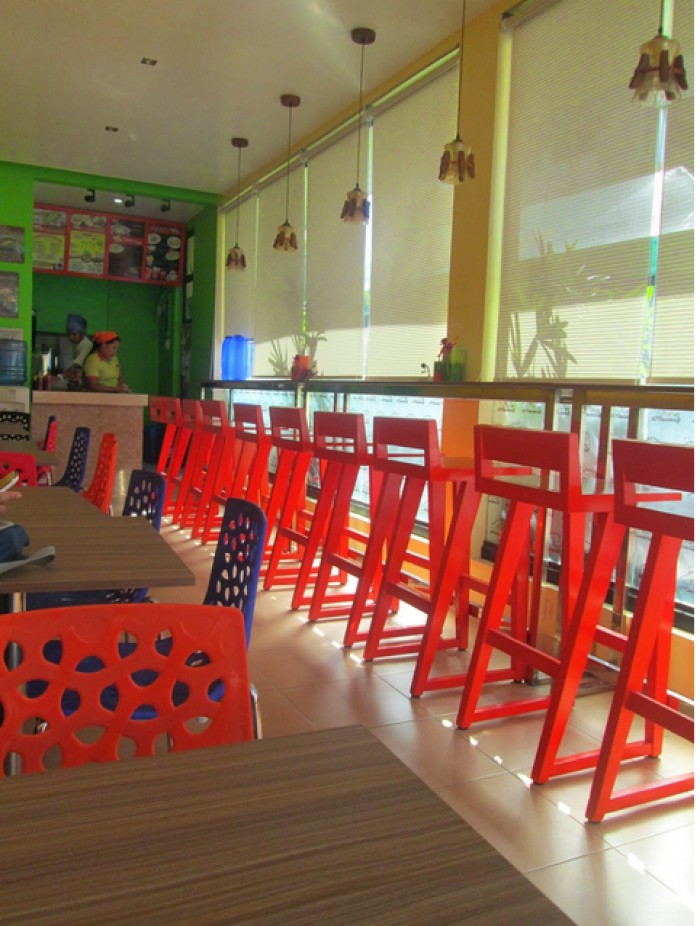 A new environment will help you gain a different perspective of life — this is exactly what I experienced at Samuelito. The place and the food delivered a new taste that nourished my senses, and I came out with a new disposition in life. You'll get what I mean when you dine in there.
Location: Profugo Street, Lucena City
12. Ana Belai Restaurant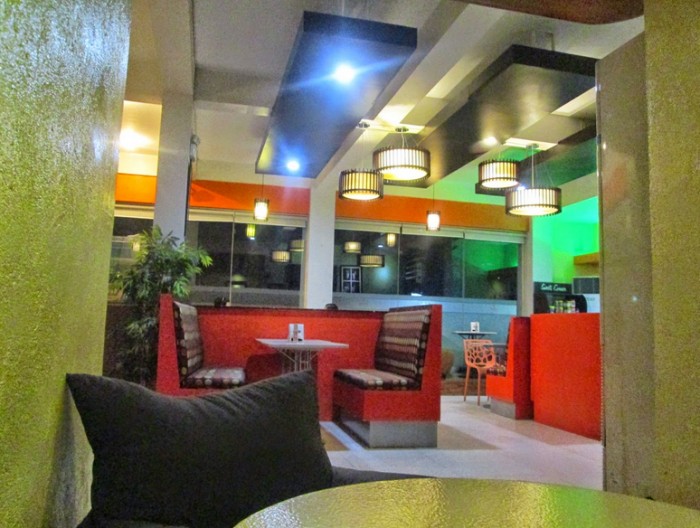 Located right in the heart of Lucena City, Ana Belai Restaurant is a perfect venue to unwind while enjoying a wide variety of delicious food and refreshing drinks. See more photos of the restaurant in a separate post.
Location: Corner of Allarey Street and Gomez Street, Lucena City
Also read: 15 Totally Underrated Destinations in the Philippines
How about you? What are the top restaurants you've tried in the Quezon Province?