Contributed by Chinito Wanders
Piere Lotti: an Ice Cream that actually stretches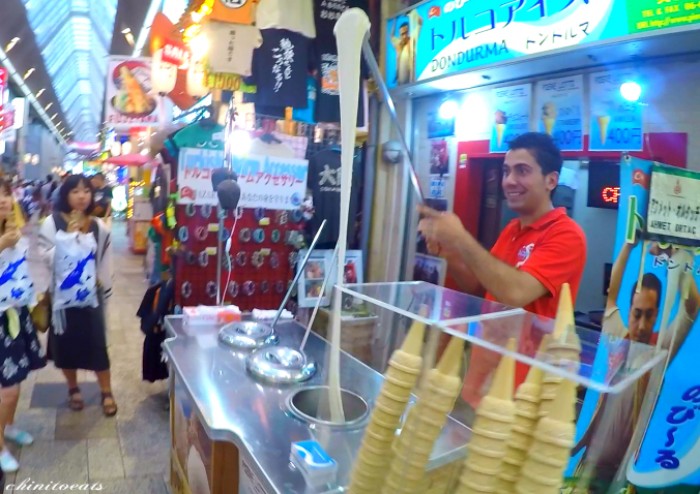 Stretching it up yeah?
"An Ice Cream that stretches? No way!" That was my initial impression when I saw the vendor stretch his ice cream in front of his customers. I was entertained at the same time amazed by how far the ice cream stretched.
I came across this ice cream stall while I was strolling along Dotonburi in Osaka, Japan. This one wasn't actually listed in my must-eats in Japan as I was not able to see anything about this being in Dotonburi. I consider it as one of the perks one gets while strolling around the area, killing time. What a treat!
Also read: 25 Weird Ice-Cream Flavours in Japan You Have to Taste to Believe!
I did not notice it immediately until I saw a man stretch something. I initially thought he was selling a melted cheese-like dessert or something but when I got closer and read the signage, I was instantly in awe. It was ice cream! He was stretching THE ice cream! And I told myself, "What! Ice cream?". Yes, it's ice cream alright.
Piere Lotti ice cream wasn't invented in Japan. It is actually Turkish ice cream. Hence, the name  Piere Lotti  Turkish Ice Cream.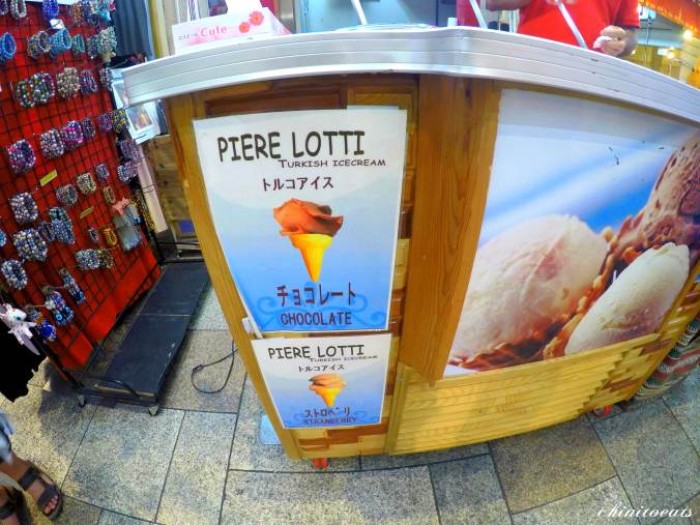 It's Turkish babeehh..
Every time a customer buys his ice cream, the vendor puts on a brief show before giving the ice cream to you and it was actually fun!
The taste? Well, I tasted the vanilla flavour, and I liked it! It was very creamy and smooth.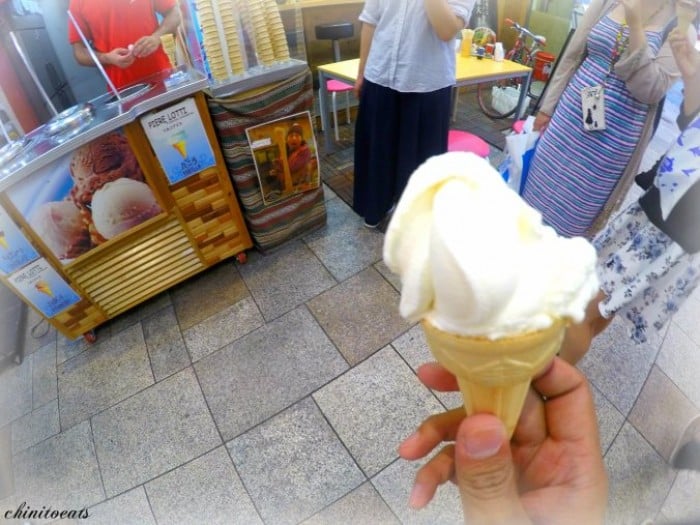 My Vanilla, my precious. lol
The vendor also told me that he gets a few Filipino customers. He knows how to say "Salamat po" (Thank you). Hahaha 😁. It was a quick chat with him though and I wasn't able to get his name nor ask what made the ice cream stretch because I was already busy enjoying my treat. Yum. 😋
I really do recommend trying this kind of ice cream at least once in your life. It was my first time to witness this unique kind of presentation  in an ice cream and  I did not regret it. I was actually happy that I found and tried this kind of ice cream.
Location: Somewhere in Dotonburi- Osaka, Japan. (just try using your google map when searching for this stall).
Price: 400 JPY
Flavours: Chocolate, Vanilla and Strawberry
My Fiery Ramen Experience. Definitely not to be missed!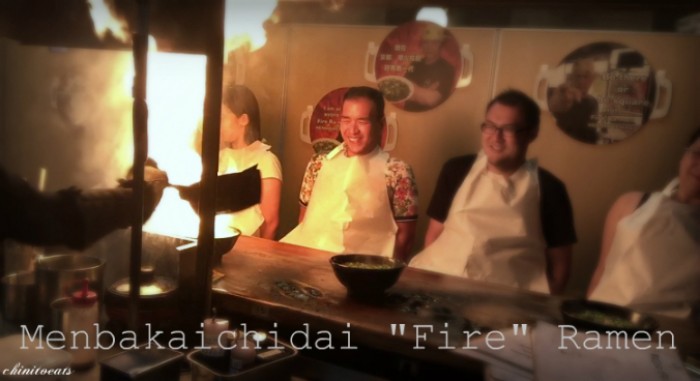 This Ramen is on FIREEE!!
I came across this flaming ramen house in my Facebook news feed. It was suggested to me by tripadvisor.com. I don't know how it showed up in my feed but maybe it's because my Facebook automatically detected my location that time, which was Kyoto. I ignored it at first, as it wasn't in my to-do list until it showed up again. I initially planned that, if ever I'll eat ramen, I'll eat at Ichiran Ramen, a chain of Japanese ramen houses that has single cubicles so diners can really concentrate and appreciate the ramen solely while eating (another must try by the way while you're in Japan).
Also read: 22 Ramen Reinventions: My Favourite Type of Men is Ramen
It wasn't until around 3pm, after my Golden Pavillion sightseeing, that I decided to pay a visit to this one of a kind ramen house. I arrived around 4pm at the ramen house. Keeping in mind that they'll open at 6pm, I went to Nijo Castle to stroll. Unbeknownst to me, you actually need to get a priority number to dine in the ramen house. That, and because I neglected to read the sign that said so.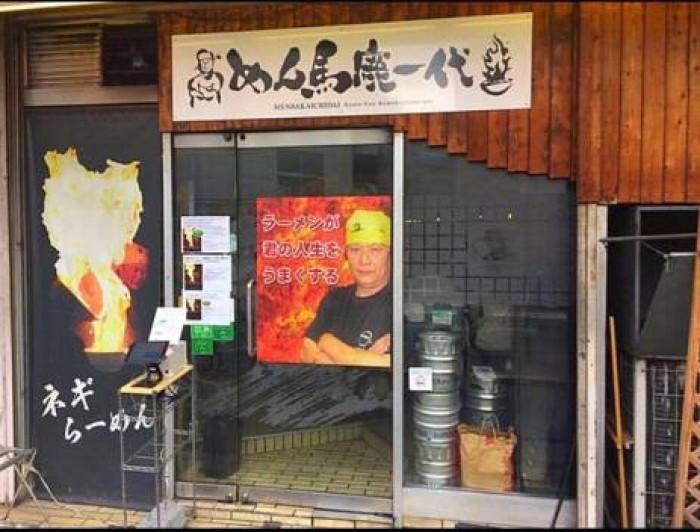 When I got back, there was a couple who were in queue already and they told me that I should get a priority number. I was saddened especially since the priority number I got was  #23. I just prayed that hopefully those people whose priority numbers were before mine wouldn't show up until way after the restaurant opens.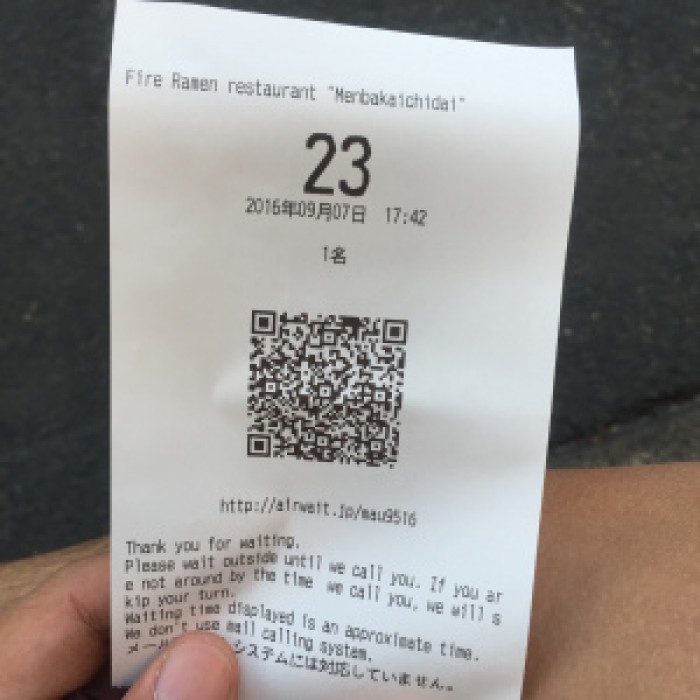 My priority number.  ='(
As luck would have it, the restaurant opened at exactly 6pm and there were only five of us. Luckily, I am one of those customers who was catered first. The restaurant was packed with tourists outside already after I had my dinner. Ahahahaha. *grin. Well, I waited for almost two hours for this so I guess the heavens were on my side.
This ramen house caters up to 12 customers at a time. That is how intimate your ramen experience will be. Until then, all other customers should wait outside and get their priority number. They do not accept reservations.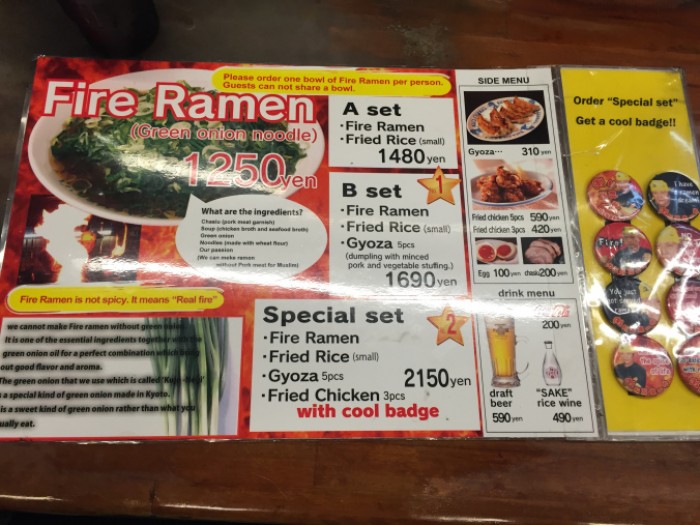 Their menu
My experience
Upon entering, you will be greeted by the chef himself and his staff of two. You will then be assisted to your assigned seats. Once you are seated, they will provide you with the necessary instructions, rules and what to expect in this flaming ramen experience. After which, they will give you an apron for protection. For women with long hair, they will give you a rubber band / scrunchie for free to tie your hair. Then, they will ask to have your camera phones for them to video your experience. They have a phone stand just across the table far enough not to get caught by the fire but close enough to document your experience.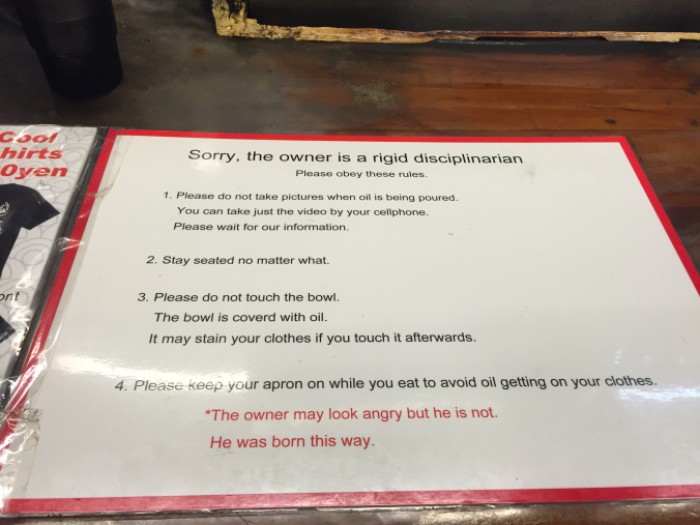 Rules of the house.
Then the show begins! They start off by covering the bowl with oil then filling your ramen bowl with noodles, roasted meat and soup, then placed in a heaping amount of Kyoto's special spring onions. It is said that these spring onions are only grown in Kyoto and are essential for the ramen be on fire (maybe because of a chemical change that will happen when a hot oil is poured but I'm not sure). Then the chef prepares the hot oil and pours it over your ramen. And bam! This ramen is on fireeee!! This ramen is on fireeee!!! (with Alicia Keys's  "This Girl is on Fire" in mind). Hahaha! Lol! 😂😂
This is what I ordered. The set B.
After the ramen was set on fire, we were immediately given a pair of chopsticks and a spoon. Included in my ramen were five pieces of gyoza and fried rice. Both the gyoza and fried rice were quite good. While eating, the chef interacted with his diners. He also took some photos of us while we were eating the ramen . Here's my take: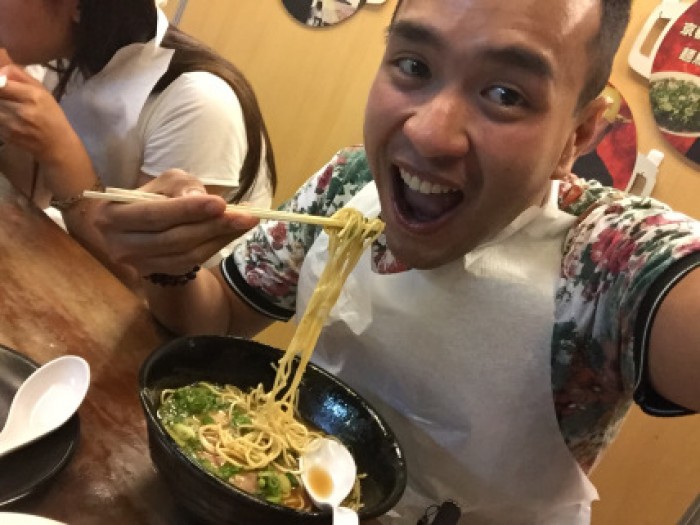 The ramen taste? It was dangerously good. It's not like most ramen that I tasted here in the Philippines which are salty and too oily/fatty for my taste. Though taste differs from person to person, this one was definitely to my liking since they are using chicken and fish broth for their soup which I find light and full of flavour. The famous spring onions add flavour and aroma to the ramen, too.
My last thought, as per  the chef's motto: "No Ramen, No Life."
Name of Ramen House: Menbakaichidai Fire Ramen House
Location: 757-2 Minami Iseyacho, Kamigyo-Ku, Kyoto 602-8153, Kyoto Prefecture (a 10 minute walk from Nijo Castle. You may use Google maps to locate this establishment — that's what I did.)
Opening Hours: 11:30 am – 2:15 pm; 6:00 pm – 11:00 pm
Fugu – eating the world's most poisonous fish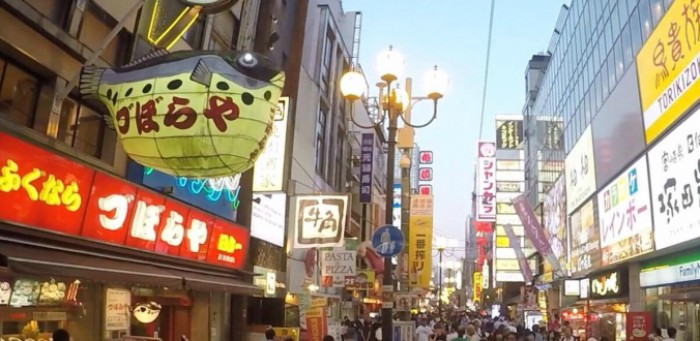 Since I was little, I already knew what Fugu is,  considering how I loved watching Animal Planet as well as Discovery Channel. The episodes I watched talked about the fugu which is otherwise known as the puffer fish or the blowfish, how the Japanese prepare the fish and how deadly it is when incorrectly prepared.
It has always been my dream to see the actual delicacy and try it! When I had fixed my plan to travel Japan, I immediately researched where in Osaka I will be able to taste this exquisite yet deadly fish. Then I read that there are quite a few restaurants in Dotonburi area that offer this kind of fish in their menu. All you have to know is that they have puffer fish lanterns outside their establishment.
Also read: 7 Courses of Deadly Fugu Fish Later… I'm Still Alive in Japan
Immediately, after I arrived in Osaka, I went straight to Dotonburi in search for this. Well, it's not that hard to find actually. When I was there, I think I saw at least 4 restaurants that sell this. By the way, this is what Fugu (blow fish) looks like: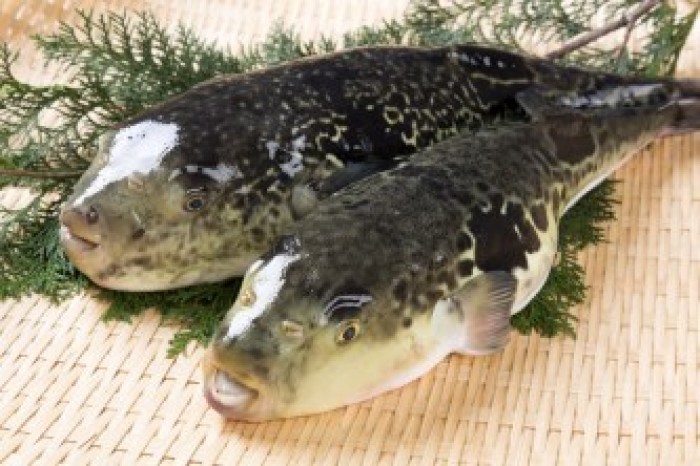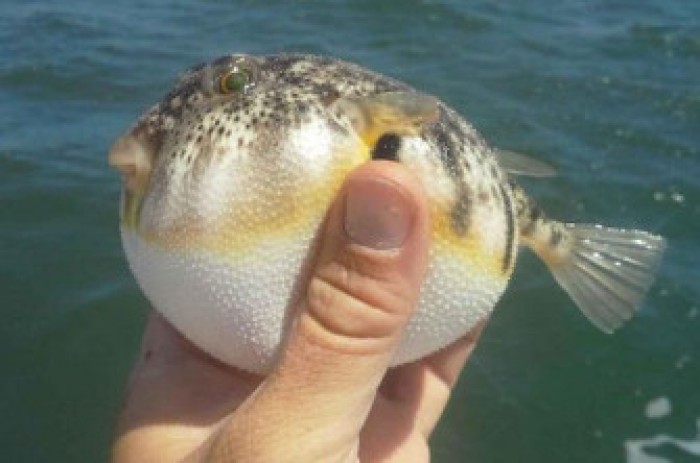 Cute isn't it?
I love food, and I am also adventurous when it comes to eating exotic dishes. So this one is absolutely one item on my bucket list of exotic delicacies to try.
Fugu contains a powerful neurotoxin that's 1,200 times stronger than cyanide. There is currently no antidote for its poison.
How's that for adventurous?
If prepared incorrectly, symptoms from ingesting a lethal dose of fugu's tetrodotoxin may include dizziness, exhaustion, headache, nausea, and difficulty breathing. Unable to speak nor move, the victim remains conscious until breathing stops and asphyxia begins.
The average fatality rate of fugu poisoning in Japan is roughly three deaths out of an average 49 annual poisoning cases, according to statistics. It's a discerning number but I don't think it's too alarming considering that almost all of those deaths involved fishermen eating their own catch without the expert knowledge on how to prepare the fish.
With strict regulations mandating that chefs go through an extensive training program, restaurant goers have little to fear these days.
Well, at least that's what I told myself.
Actually standing between 2 restaurants that specialises Fugu, I was memontarily unsure if I should try it. I just told myself, "The heck with this! I'm already here. I can't back out now." Then, I chose the one that offers a set Fugu Meal and went inside.
This is all or nothing!
Let's eat! 😁😉😆
So, I ordered, anxious to taste it. When it arrived, it was beautifully presented. I had the Fugu Set meal which comprises: Salmon Sashimi, Tuna Sashimi, Fugu Sashimi (which was expertly sliced), Fried Fugu, Fugu skin Salad, Fugu soup and a fragrant rice. This is how it looks: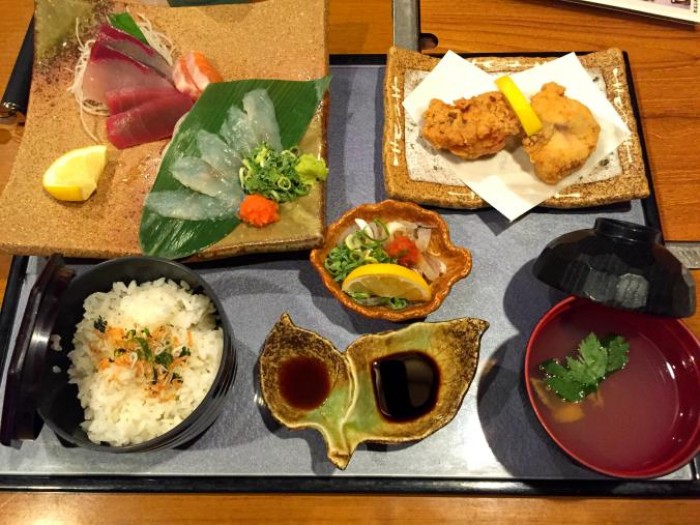 My Fugu Set meal
I tasted the Fugu sashimi first. I don't know if it was my severe anxiety that sunk in but I suddenly felt a numbing sensation in my legs, then came the sweating and a slight difficulty in breathing. It came to me that maybe these are the signs and symptoms of poisoning. I was more nervous now. Funny as it may seem but I started panicking . I began messaging my friends and family back home, telling them that whatever happens to me, it was all because of the fugu I ate. Hahahaha!
After which, it dawned on me that if something were to actually happen to me, it will be my loss since I would not be able finish my meal. Hahaha! So there, I ate the whole thing! I  took a deep breath. Slowly, the symptoms subsided. Hahaha! Maybe it was just anxiety. After all, I'm still alive, right?
Fugu Sashimi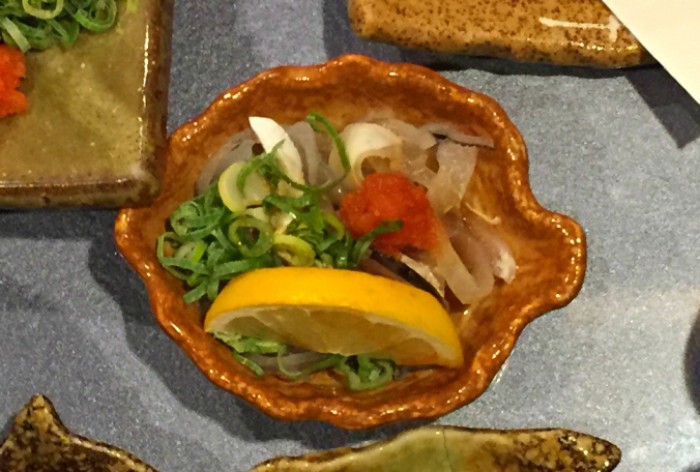 Fugu Skin Salad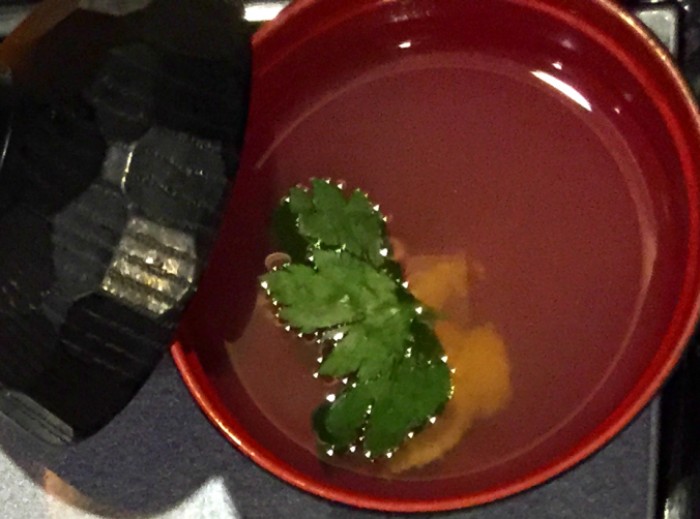 Fugu Soup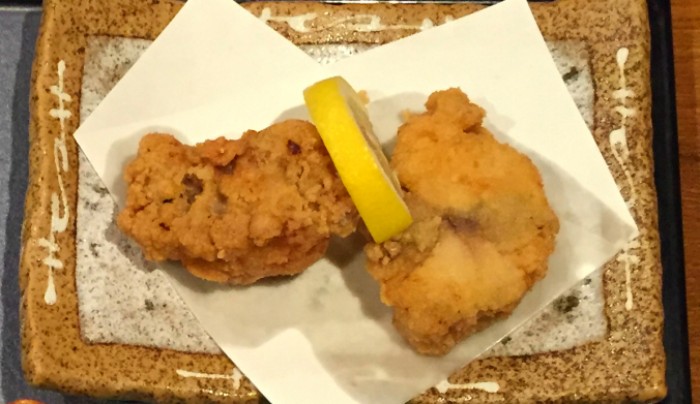 Fried Fugu
It is true: the fugu sashimi itself was close to near being tasteless. The fried fugu is crunchy and flavourful though. But then, it's really not all about the taste. Sometimes it's about the art of how it is tactfully prepared that gives a dish it's appeal.
If someone asked me if I tried this, I'd say, "Been there done that. But… I would not dare to try it again!"Bwahahaha. The feeling of uncertainty when I ate it was immeasurably out of this world. It was just as they say , " When you eat Fugu, you get to play with death itself".
It's a once in a lifetime experience for me. Though it will not stop me from eating more exotic foods, I would not eat this one again! Maybe.😉
So, I dare you to try it!
Name: I forgot to ask the name, but it's the restaurant after Zuburaya which specialises in fugu, but they don't have the set meal that's why I chose the latter.
Location: Dotonburi area, Osaka, Japan
Price: JPY 1,650
Also read: Must-Try Food Specialties in Different Regions of Japan