Contributed by The Backpack Couple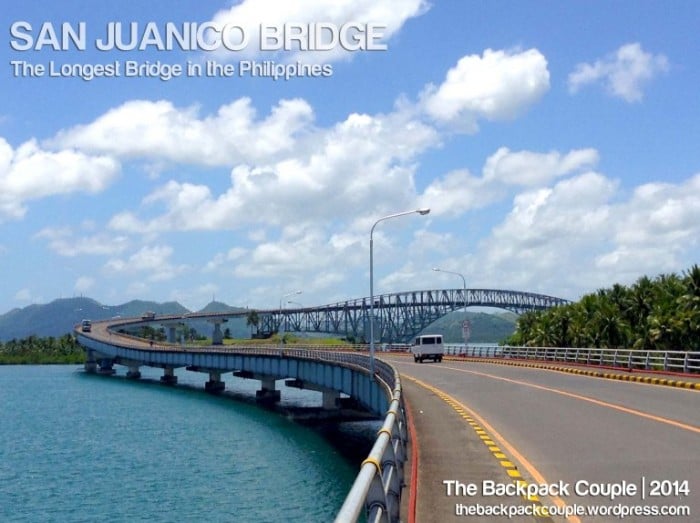 Going to Leyte or Samar usually would not be complete without the standard photo-stop opportunity in perhaps its single most popular landmark, the San Juanico Bridge. It spans across the San Juanico Strait that separates the islands of Leyte and Samar, and connects the so-called Pan-Philippine Highway. At 2.16 kilometres long, it is the longest bridge in the country that crosses a body of water*.
First constructed in 1969, this expansive and ambitious project of the Marcos regime was only completed in 1973 under the auspices of then First Lady Imelda Marcos. Rumour has it that it was built as a symbol of love of President Marcos to Imelda, a native of Leyte. Urban legend also suggests that blood offering was done to complete the bridge. But regardless of its history, the San Juanico Bridge is truly a magnificent and captivating landmark that one should not miss when in Tacloban. So on our Holy Week visit to Waray-landia last year, we did not only take our selfies on the bridge, but we also decided to actually scale its entire 2-kilometre Samar-Leyte stretch on foot.
Also read: 10 Beautiful Philippine Attractions Developed During the Marcos Regime
How to get there
From Tacloban, the fastest way to the bridge is to hire a vehicle when in a group or hail a multicab, Tacloban's most common public transport. The bridge is located about 15 minutes away from the city proper. We rode a multicab going to the Tacloban Bus Terminal and from there, we looked for any Samar-bound jeepneys or mini-buses since these will surely pass by San Juanico. We took a regular mini-bus going to Sta. Rita, the first town of Samar Province and alighted at the first stop after crossing the bridge, where we started our concrete walking adventure back to Leyte. It is highly suggested to do this early in the morning or late in the afternoon to keep yourself from being baked by the sun.
Gateway to Samar Island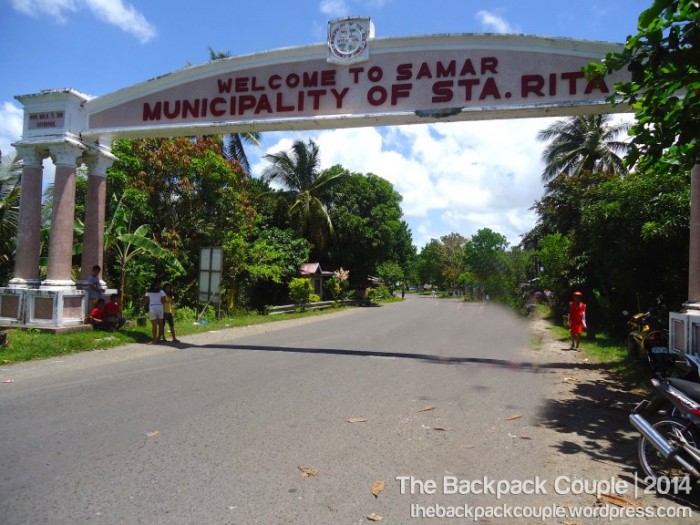 Stepping foot in Samar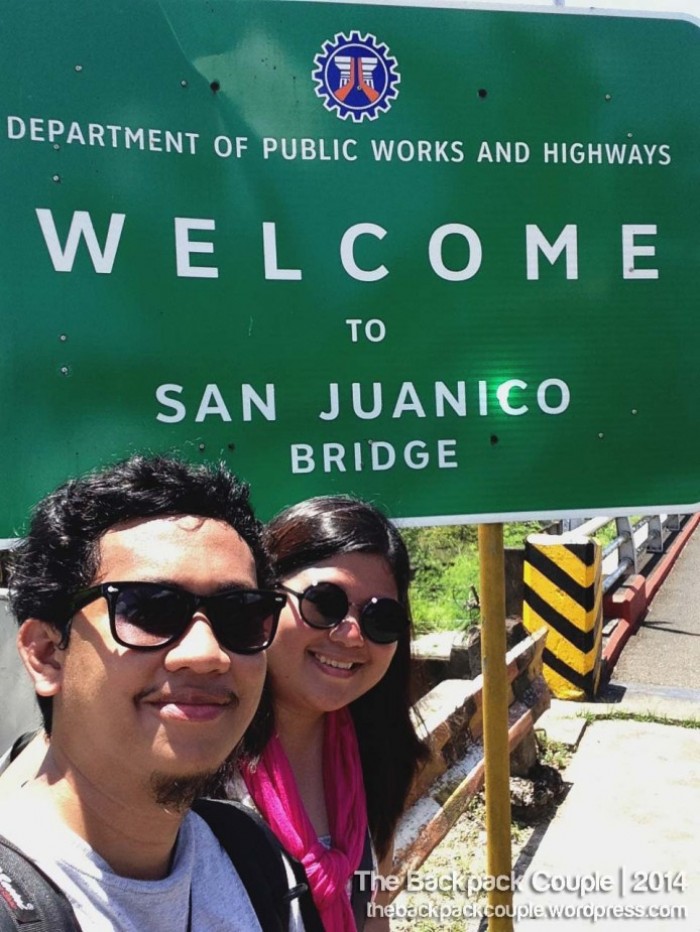 TBC selfie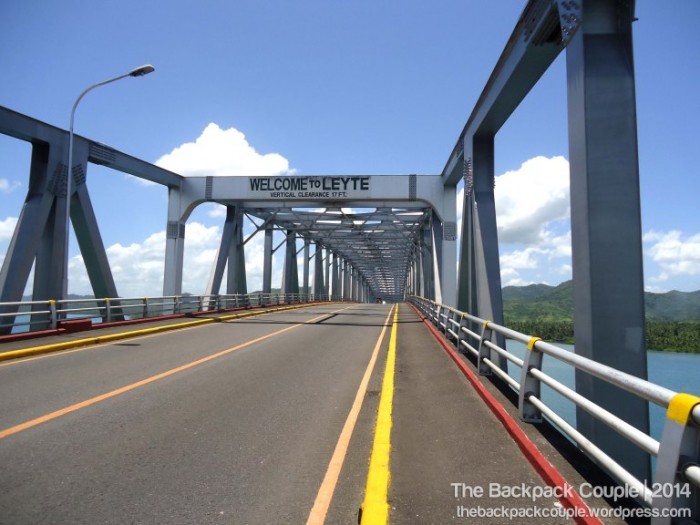 Gateway to Leyte Island
Sights and signs
Despite the searing noon heat, we started our foot adventure. There are several police check-points in both ends of the bridge, so it is always advisable to inform them that you are just walking through. You may also take note of their hotlines for safety reasons. The locals would say that large vehicles are prohibited from stopping at any time between the bridge due to structural and safety reasons. In fact, a weighing centre is stationed before the bridge for container vehicles. After some ceremonial welcome landmark photos, off we went.
True enough, the views from the bridge are beautiful against the panoramic expanse of the San Juanico Strait, the clear blue skies, and the smooth landscape of both Leyte and Samar, which is dominated by coconut trees. Below, typical fishing activities are alive across the strait's murky-clear waters. We even saw a family on a picnic and we were warm enough to extend some smiles and waves. Equally captivating is the architecture and design of the bridge. It also gets exciting every time vehicles, especially trucks, pass through since you can feel the bridge trembling, creating the effect of a very mild earthquake. It was also fun to note the probing and curious look of some passersby whenever they see us walking.
Also read: A First Timer's Guide to Tacloban: What to See and Do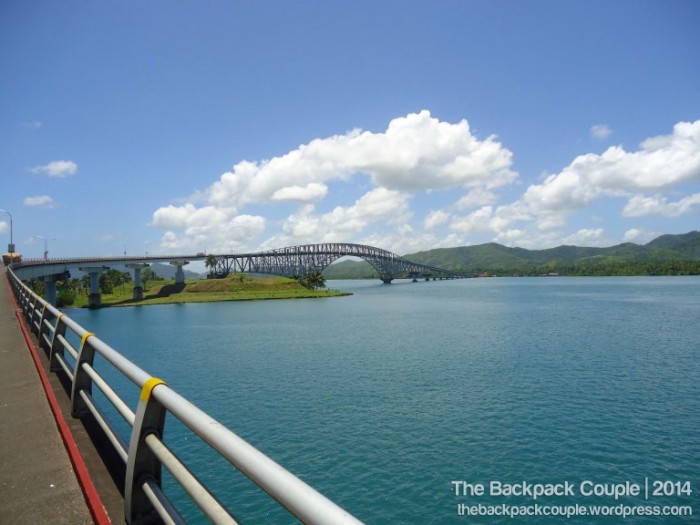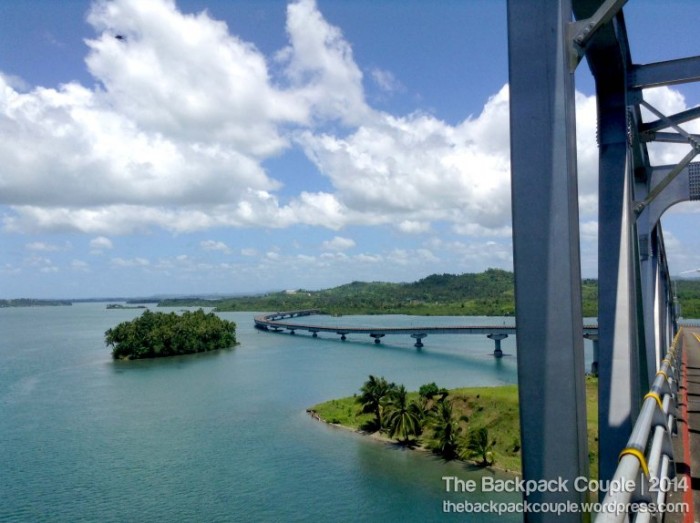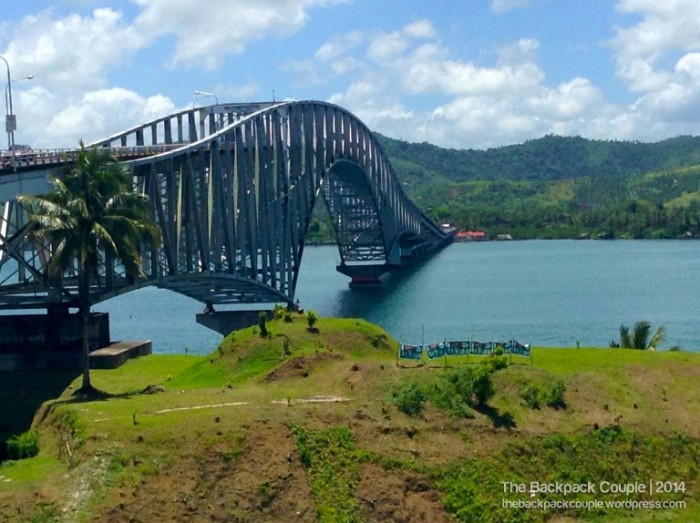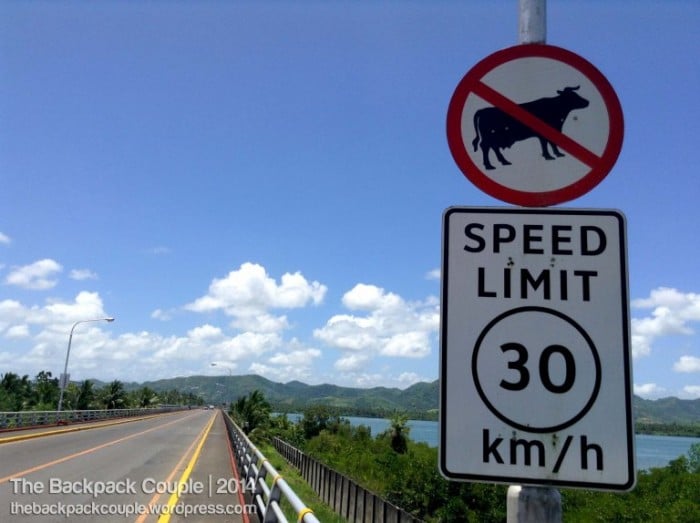 No animals allowed on the bridge?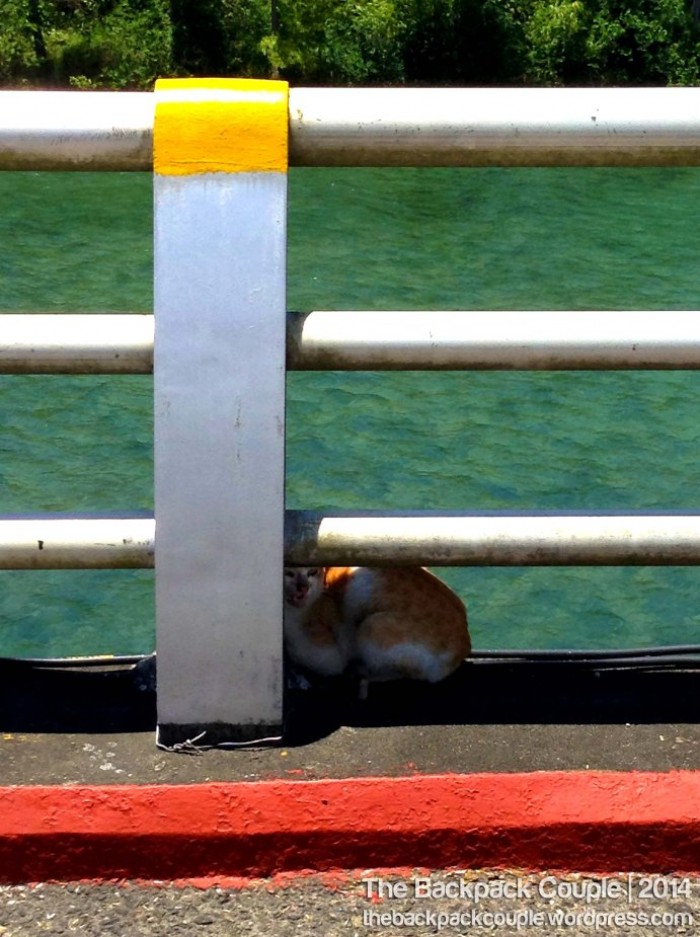 But this one managed to slip through the signage.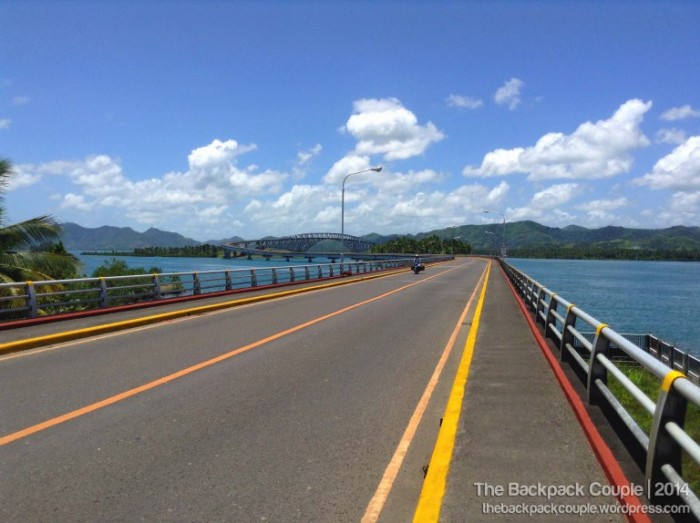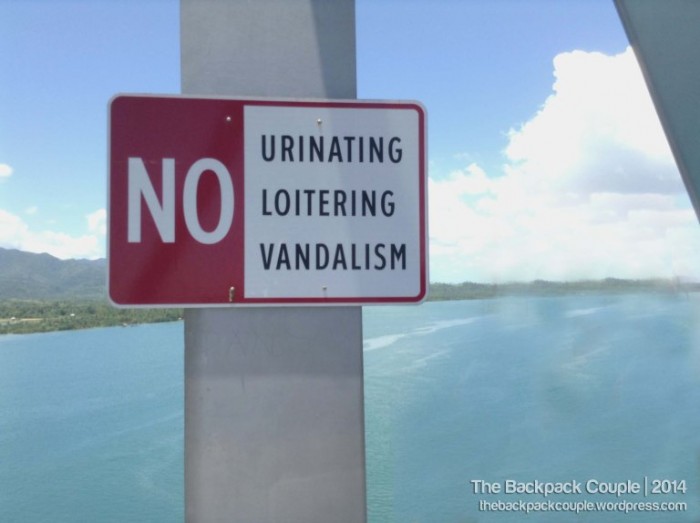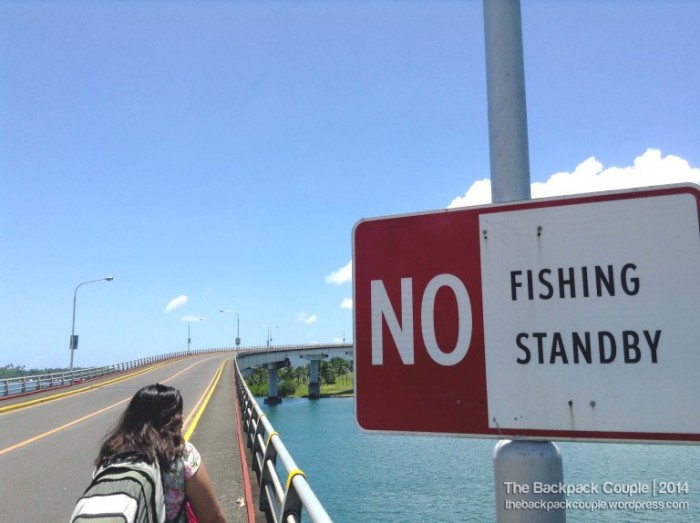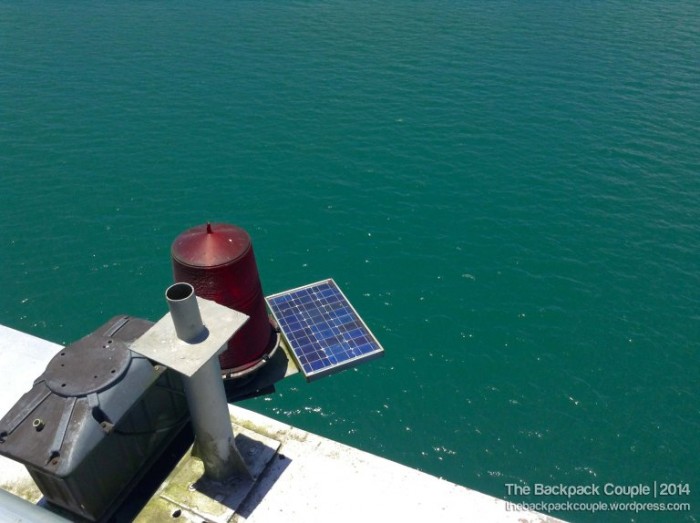 Solar-powered bridge lights
After almost 30 minutes of exhausting but fulfilling bridge-walking, we finally set our feet back on Leyte. We took another mini-bus back to the city proper and looked for a hearty lunch to regain our energies back.
Also read: A Simple Travel Guide to Leyte: What You Need to Know Before Your Trip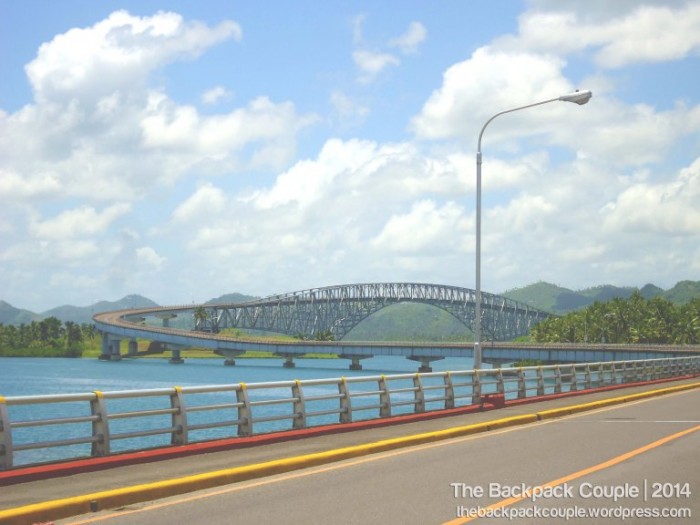 'Til we meet again San Juanico (View from Samar)
Brief itinerary
09:00 Hotel-Tacloban Terminal
10:00 Terminal-Sta. Rita (Samar-bound vehicle)
10:30 Start of Bridge Walking
11:00 Back to City Proper
11:30 Lunch
*San Juanico Bridge was the single longest bridge structure in the country until the completion of the Candaba Viaduct in Pampanga, now used as part of the North Luzon Expressway that extends to a total of 5 kilometres.
Reference: Basey6720 Blog | waraylanguage.org