If you've just watched the haunting yet intriguing movie Perfume, you're probably a recently converted fragrance enthusiast. The story revolved around a man's obsession with capturing and creating the "perfect" scent. His passion would've been inspiring (minus the haunting elements) had he not taken the road of murder and violence. In a way, we can all probably agree on this: there's a very passionate person in constant search of the perfect scent in all of us. 
Of course, our senses are equally important, and it's human nature to desire everything that satisfies it. For instance, we fulfil our olfactory sense through perfumes, scented candles, essential oils, and even nature. The good thing is, no one has to go way out of line like Jean-Baptise Grenouille. But all kidding aside, we decided to make a list of some of the best scented candles in the Philippines to add to your carts. Keep reading to find out where to shop for relaxing, calming, and amazing-smelling scents guaranteed to give you a spa-ntastic day! 
Where to buy scented candles in the Philippines
1. Wix Cozy Homes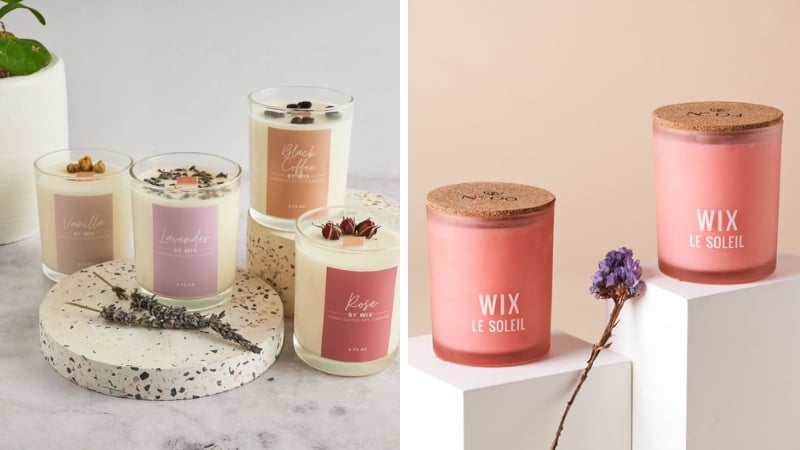 With over 5,000 ratings on Shopee, many users can vouch that WIX Cozy Homes is true to its name. The charming glass jars plus the scents like rose, lavender, vanilla, and black coffee are good enough reasons to try these scented candles out. They're guaranteed to give you a cosy ambience at home!
WIX Cozy Homes' candles are made of high-quality soy wax and fragrance oils. If you're not a fan of strong hot throws, theirs will certainly suit your preference. Achieve that coveted spa smell for your room with their WIX Le Soleil collection, which boasts scents like Luxury Spa, Lush Evergreen, Tropical Paradise, and more.
Make your sanctuary smell great with soy scented candles in the Philippines for as low as ₱175 on Shopee!
Also read: Candle Warmers Philippines: Different Kinds & Where to Buy Them
2. Pabango de Manila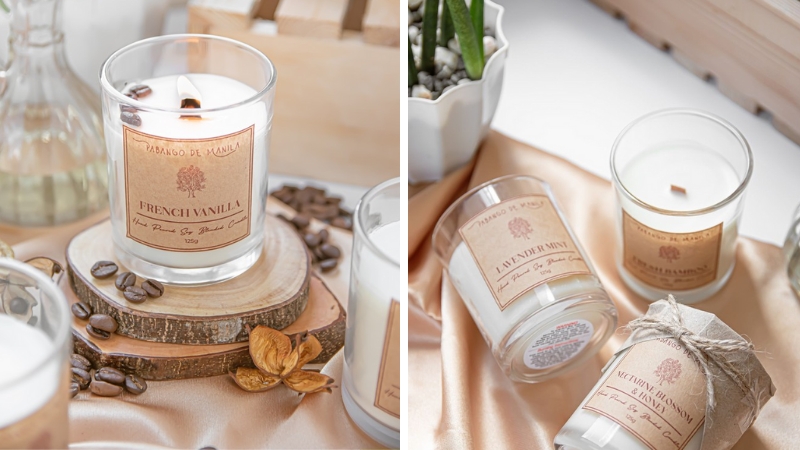 Still in search of a signature scent for your home? Try out Pabango de Manila's scented candles. Perfect for those who prefer bamboo wicks over the traditional ones, theirs produce less soot with the bonus relaxing crackling sound. 
You can choose from reviving scents like Vanilla, Fresh Bamboo, Lavender Mint, and Vanilla Spiced Cinnamon. We won't lie: the aesthetics have a pulling effect, too!
We're all for a good-smelling room — and for only ₱218 each on Shopee, these candles are worth a try.
Also read: La Candelle Co. Makes Relatable Soy Candles for All Workaholics
3. Kandlelit MNL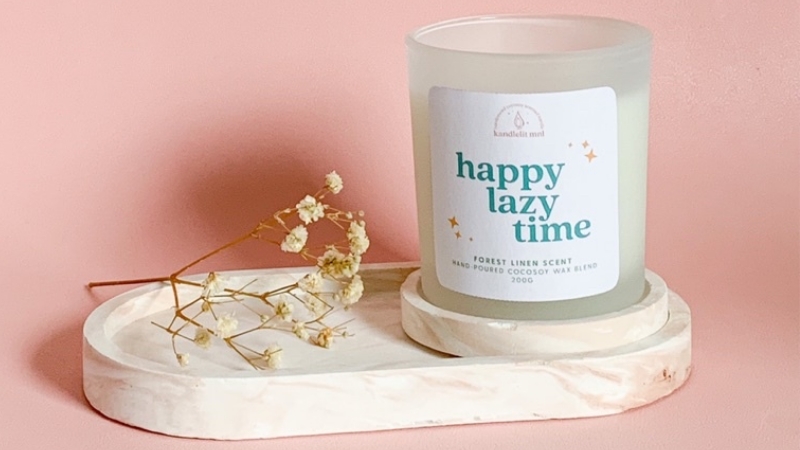 Kandlelit MNL's "Happy Lazy Time" collection advocates for what we all need to have once in a while — a lazy day. After all, it's important to take a break and recharge. With a burning time of 20 to 40 hours, these scented candles are more than enough for a spacation at home! 
We love all the other collections that promote self-care and rest, like "Hello, Rest Day!" and "Better Days Ahead!" Surely, these scented candles will do just that and leave all of us rejuvenated.
Make your "lazy day" special with these candles that you can buy on Shopee for as low as ₱255. 
4. La Flagornerie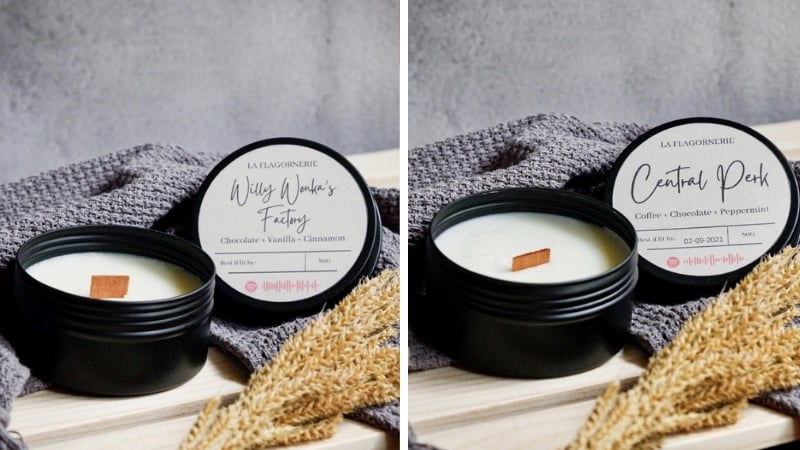 Ever wondered what Central Perk and Willy Wonka's Factory smell like? Luckily, La Flagornerie has it all figured out. Create a film set vibe while you take a spa day in your room and rewatch your scenes all over again. Quite frankly, we can't think of a better way to elevate your Netflix experience!
They also have other cool movie-inspired scents, such as their Diagon Alley, Hogwarts Scented Candle, Hogsmeade Scented Candle, and Neverland Scented Candle.
Purchase one of their candles on Shopee for only ₱200, and find out if they can also transport you into a world of pure imagination!
Also read: BTS Scented Candles You Should Add to Your Cart
5. Fuega Candles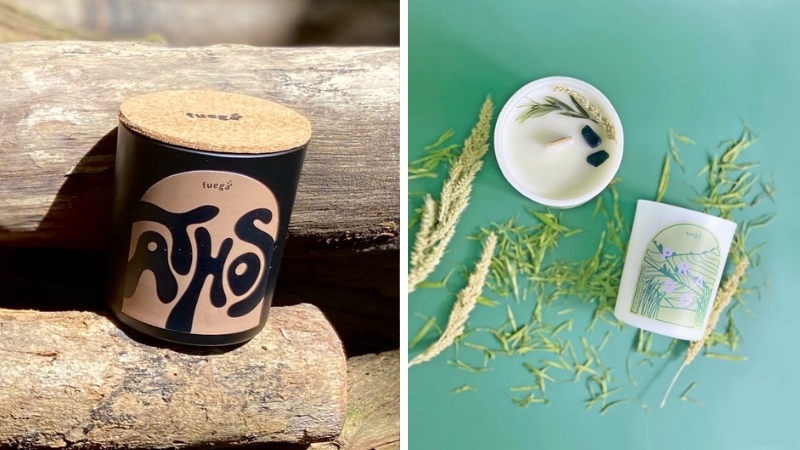 With scents aromas like Whiskey and Leather, Incense and Amber, Bamboo and Green tea, we can't think of any reason you won't find what you're looking for with Fuega Candles. There are a lot of scented candles here that even men will enjoy.
If you're looking for exciting scents for an olfactory treat, these scented candles are perfect for you! Personalised candles are also available if you want your loved ones to have a unique experience, too. 
Turn your room into a sanctuary that's exclusively yours when you buy these scented candles on Shopee for ₱409 and up! 
Also read: Turn Your Room Into a Spa With These 7 Items from Lazada!
6. The Doctor Chandler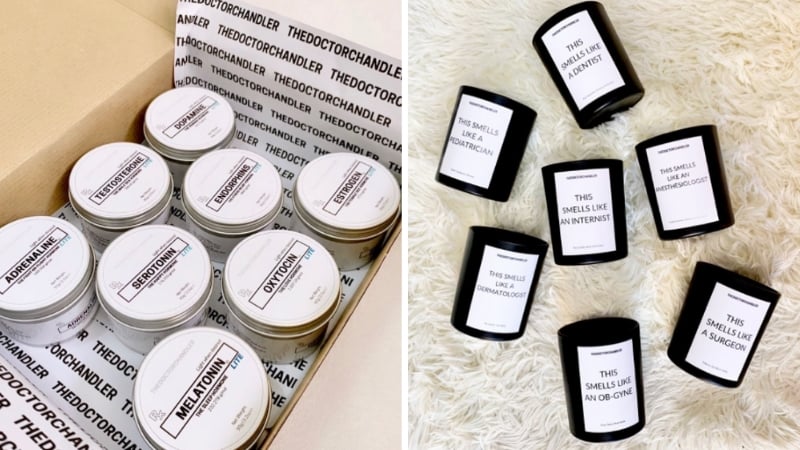 Owned by an actual medical doctor, The Doctor Chandler never fails to impress with their witty and straightforward branding. With scents like Dopamine, Melatonin, Oxytocin, Serotonin, and Adrenaline, you'll definitely feel better once you light up their candles. 
We're also getting major kilig and dreamy vibes, care of their Grey's Anatomy collection. This particular lineup includes famous #MerDer lines such as "Pick me. Choose me. Love me," and "It's a beautiful day to save lives." And of course, there's also a candle inspired by the iconic line uttered by the well-loved and greatly missed Dr. Cristina Yang: "Screw beautiful! I'm brilliant."
You can check out the rest of  The Doctor Chandler scented candles collection on Instagram. Prices start at ₱320. 
7. Lighter Note Candles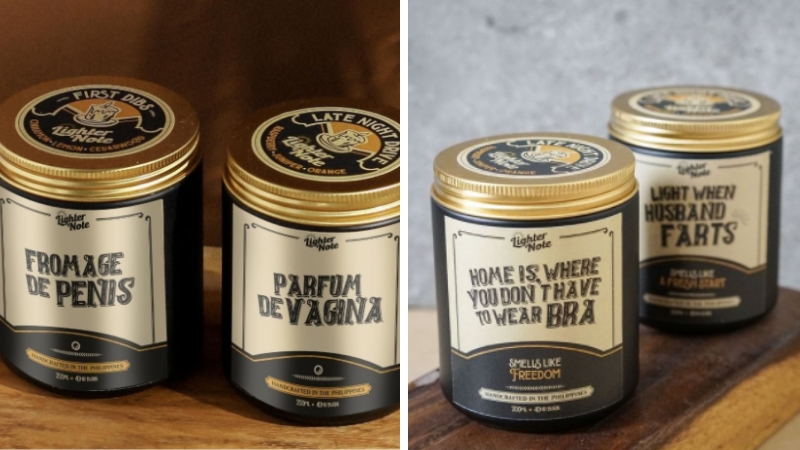 On a lighter note, let's talk about the penis and vagina. You read that right! We're referring to these snarky and humorous scented candles from Lighter Note Candles that make a good conversation starter. After all, adding comedic elements to rest and rejuvenation is a must!
Once you light them up, your room will be full of the aroma of Fromage De Penis, which smells of cinnamon, lemon, and cedarwood; and the scent Parfum De Vagina that smells of raspberry, juniper, and oranges.
There are many fun variations to choose from, starting at ₱550. Make sure to check out Lighter Note Candles' official Instagram account for more!
8. Lit Candle Co.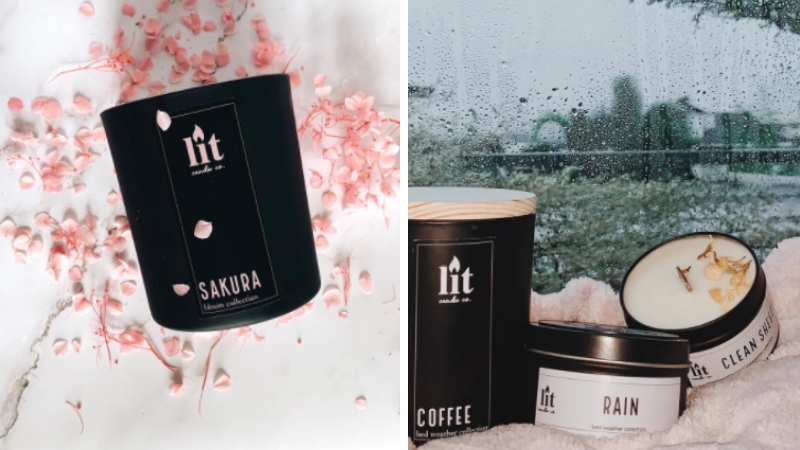 The smell of clean sheets, rain, flowers, and coffee can initiate a surge of so many good memories. These scented candles from Lit Candle Co. may not bring back the past, but they make the perfect companion for days when you're feeling nostalgic. So whatever day you're having, good or bad — let their scented candles ease your worries!
If you're feeling generous and would like to share the gift of scent with your loved ones, there are available gift sets on their Shopee and Lazada stores starting at ₱550.
9. Kindled Gift
Given that Kindled Gift embraces all things local and even promotes tourism, making their candles a part of your home's character is imperative. We're not just after their products' distinctly Filipino aesthetic — we also can't help but become emotionally invested in the themes of their scented candles.
The candles are named after Ben&Ben's songs, meaningful words like Puhon and Padayon, and places we sorely miss such as Elyu and Sagada. 
Treat yourself to a #SupportLocal spacation at home with Kindled Gift's scented candles,  available on Shopee from ₱367.
10. Manila Candle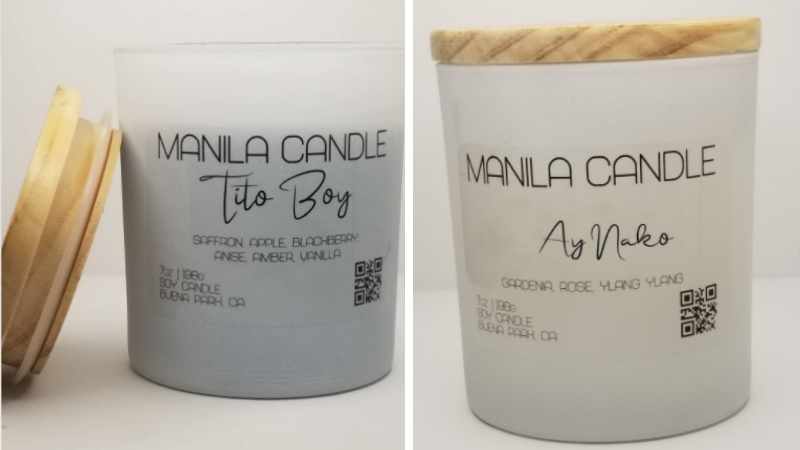 For Filipinos living overseas wanting a glimpse of home, Manila Candle leaves us amused and happy with their tribute to every Filipino family's beloved members. These scented candles are inspired by the Tito Boy, Tita Baby, and Jun Jun that we all know and have. The US-based owner also thought of other tatak Pinoy scents like Kapeng Barako, Simbang Gabi, Harana, Baypor Rub, among others. 
For them, the goal is simple: "Spreading the beauty of the Philippines through candles, one scent at a time!" This particular business is based in the United States and only supports international shipping to Canada. 
Order for your family and friends via their Instagram account, and make them feel the warmth of the Philippines while far from home! Prices start at $25. 
11. Halina Candle Studio
Halina Candle Studio produces scented candles to suit just about anyone. Its first batch of candles is named after comforting Tagalog affirmations (e.g. Piliin mong magpatuloy; Hindi ka kulang.); its latest collection boasts scents from oddly specific, but nevertheless romantic, scenes (e.g. Late Night Drives, Coastal Cafe). 
The brand advocates for the environment, so they only make small batches at a time using "a natural coconut-soy and beeswax blend and phthalate-free fragrance oils." They also use eco-friendly packaging.
Order your own Halina Candle from ₱650 at Shopee.
12. Two AM Candle Co.
Our favourite memories and things all have distinct scents: coffee dates, forgotten books, sunsets in the city, Sunday mornings… these scents are all available at Two AM Candle Co. Though recently launched in September 2020, the brand has reached many customers through sentimentality, so much so that it has expanded into a full-grown cafe at Avenida Rizal! 
You can purchase premium scented soy candles scented candles in the Philippines through Shopee, starting at ₱499.
13. Relive Scented Candles
Need a pick-me-upper? Some motivation for a Fresh Start? A reminder to be Proactive & Productive? Relive Scented Candles has just the scented candles for you. Offering soy wax candles, this brand has a wide range of scents that comes in different sizes. If you want to try them out, you can order their scented candles in mini tin cans, which are available for only ₱99!
Shop for Relive Scented Candles on Shopee, available from ₱99.
14. Lumière + Amour
Handcrafted in Bacoor City, Lumière + Amour offers fascinating scented candles and wax melts. Travellers will especially appreciate their Japan and Europe collections; the former has scents for Geisha District, Itsukushima Shrine, and Shibuya Crossing; the latter has Summers in Naples, Parisian Dreams, Overlooking Lake Brienz, Mornings in Provence, and Sunsets in Marino. 
Lumière + Amour also has a collection for Potterheads! Gryffindor, Slytherin, Hufflepuff, and Ravenclaw scented candles each come with a Hogwarts Express ticket, a thank you card, a candle card, and two magnetic bookmarks — all packaged in a Hogwarts enveloped sealed with the iconic H wax.
Get yourself a Lumière + Amour package on Shopee, starting at ₱207.
15. Home Studio Scents
Fancy packaging and calming fragrances are what Home Studio Scents does best. Their scented candles boast unfailing cold and hot throw, allowing you to smell them even in a large room. Their fragrances tend to last up to an hour after putting them out.
Some of their best-sellers include Clean Sheets (with fresh bamboo, green tea, and cedarwood scent notes), Bedtime Stories (with lavender, peppermint, and cedarwood scent notes), and Baker Street (with cinnamon, vanilla, and peppermint scent notes).
Shop for Home Studio Scents scented candles on Shopee, available from ₱239.
Also read: This Touchnote App Lets You Send Postcards Straight From Your Home
There's something magical about the gift of smell. Its ability to take away anxiety, homesickness, and stress is a priceless treat you can give yourself for that much-needed spacation at home! Which of these scented candles in the Philippines are you most likely going to buy? Feel free to share with us in the comments section.