Contributed by My Quirky Soul!
I'm totally biased when it comes to Korean food (well actually, anything Korean), but there is really good food in Shanghai as well.  Since China is so vast, the cultural and culinary diversity follows.  There's a variety of food choices in this city.  However, I'm not a fan of pork and beef so this list might be a bit limited.  Anyhow, I have listed down below the top five Shanghai food picks you should eat!
Also read: 10 Foods in Shanghai That Will Keep You Returning For More
1. Jia Jia Tang Bao's Crab Xiao Long Bao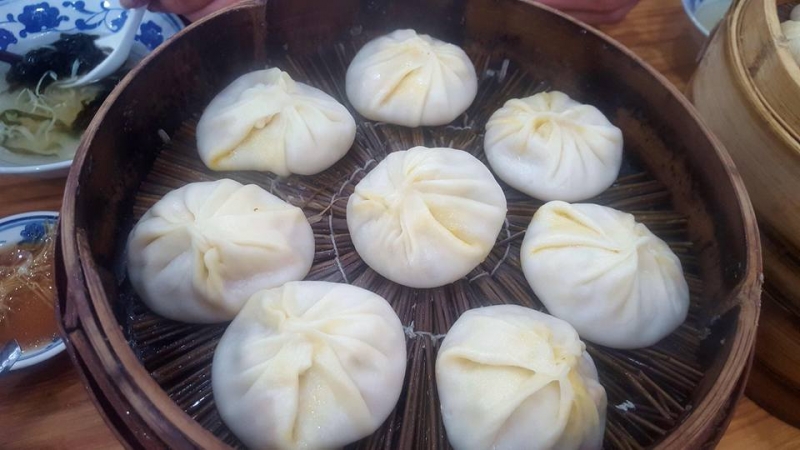 This is my top one since I love crabs. I never really had a chance eating  Crab Xiao Long Bao before because they are normally made of pork in the Philippines. Eating my first in Shanghai felt pretty cool and special! Just writing this article, trying to reminisce the experience, really makes me salivate.
It's quite flavourful, the kind that's not too strong that you'd easily get overwhelmed and immediately reach a saturation point. No. It makes you want to eat more. It's quite addicting! What makes it even more flavourful and interesting is that it comes with a ginger sauce dip (you can even add some chilli oil).
Eating Xiao Long Bao is actually very challenging. You need to be careful not to tear up the skin and spill the soup inside! But it's what makes the eating experience more satisfying. The mix of good flavours and spices will explode in your mouth! Okay, I went overboard with that.  The point is, it really tastes good!  This Crab Xiao Long Bao is definitely worth every penny in your pocket. It's quite expensive as compared to Pork Xiao Long Bao. Nevertheless, it's my favourite so far in Shanghai. It left a very good lasting impression on me.
You should definitely try this Crab Xiao Long Bao at Jia Jia Tang Bao. The long queue every day just proves it's worth checking out.
Location: 90 Huanghe Rd, Huangpu Qu, Shanghai Shi, China, 200000
Nearest Metro Station: People's Square Line 2
2. Lijiang Fish Hotpot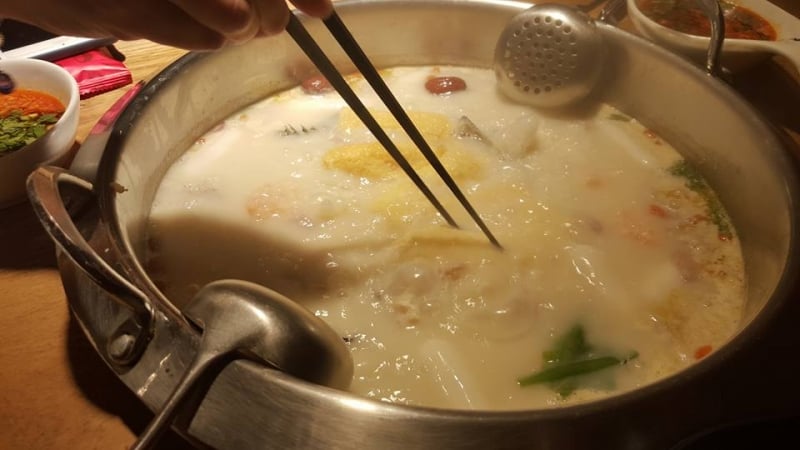 This one is pretty interesting, well, at least to me. And I mean not only the taste of the food but the way it's presented and served.
We had this big pot of fish stock at the centre of the table. All the necessary ingredients that you need to cook in the pot are served one at a time –  they look ridiculously cute, it's actually entertaining. I remember a heart-shaped one with flower petals on the side, which I thought was some kind of an appetizer or dessert. Then our friend, Cheryl, told me it was actually minced prawn – you have to shape it in balls and put them in the pot. It was so enticing and deceiving, I could have eaten it if I didn't ask what it was.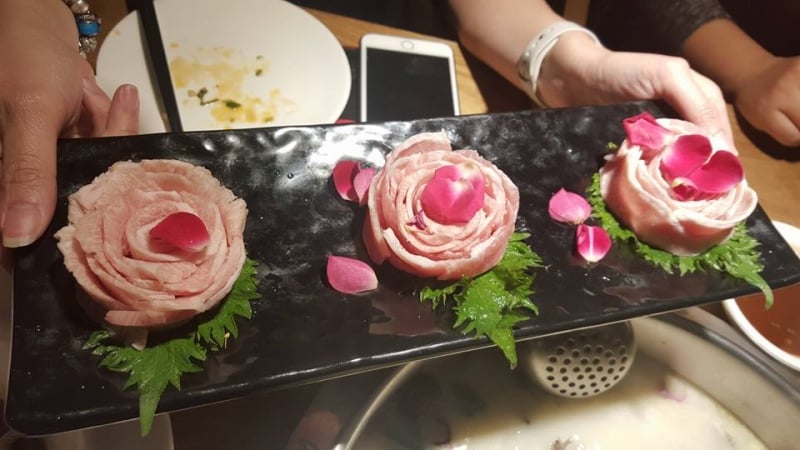 One by one, all the ingredients came with a unique presentation. Pork meat arranged to look like flowers sprinkled with rose petals (I think), rolled bean curd, a whole array of mushrooms (it was my first time seeing most of them), vegetables, and my favourite – the fish which was astonishingly thinly cut into several pieces. You just have to dip it for about five seconds in the pot and it'll cook – that's how thin it was. Quite impressive, right?
The pile of food being served was just overwhelming. It was an amazing experience.  My favourites are the fish, bean curd and the prawns.
Location: 6F 258 Nan Jing Xi Lu, NanJing XiLu, Huangpu Qu, Shanghai Shi, China, 200000
Nearest Metro Station: People's Square Line 2
3. Xibei You Mian Cun's Barbeque Fish with Shallot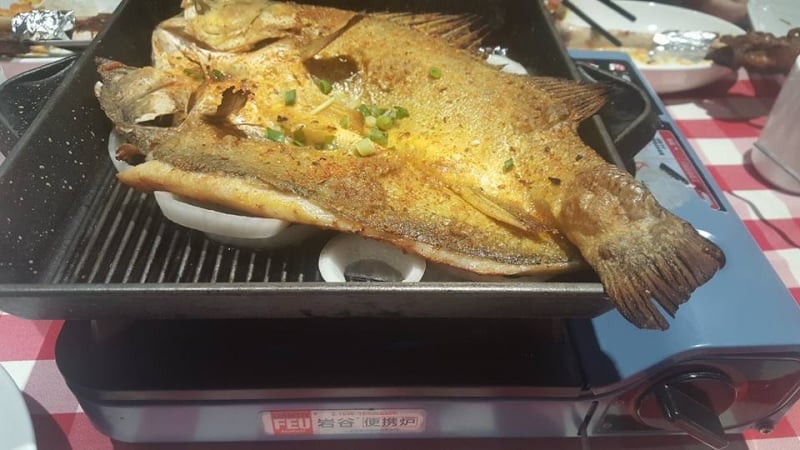 This one is also very delicious and tasty.  I remember I was really craving for rice meals at the time when we ate in this restaurant.  To my delight, there was grilled fish in the menu. My eyes are so keen on anything fish/seafood that it was the first thing I noticed. Fish plus rice sounded like I won the lottery. I was so excited!
The fish tasted very good and you can easily tell it's fresh. It's served in a stove (for a second, it felt very Korean), more of like a sizzling plate of big fish. Plus, they had this spicy condiment which I poured all over it to add some flavours. You see, I'm pretty experimental when it comes to condiments.
Our friend, Jennifer, mentioned that the chef of the restaurant is quite famous – no doubt it was why the food tasted really great.
Location: Hongxin Plaza, West Wing,  5/F, 762 Tianshan Lu, near Gubei Lu
4. Yershari Xinjiang Food's Milky Rice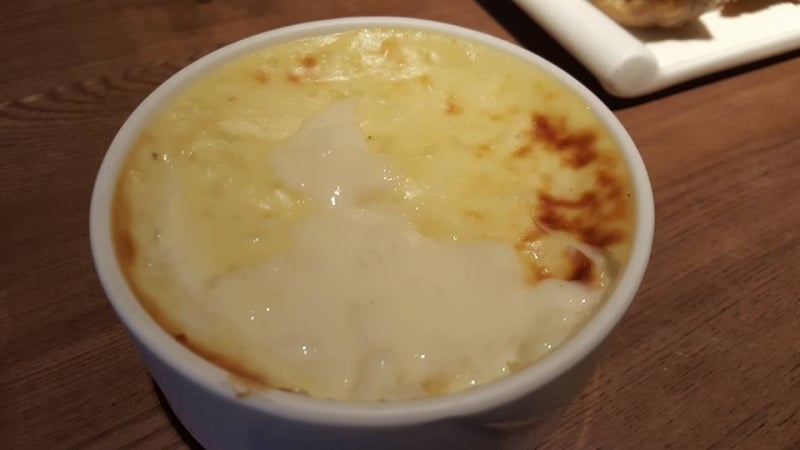 Awww. This one brings back memories. I was craving for rice back then, that's why we ordered this aside from the plain rice. Now that I'm writing about it, I remember how much I craved for rice! I guess I missed it every single day that I was in Shanghai.
This milky rice felt similar to Champorado (chocolate rice porridge Filipino dish), only it's creamier, sweeter, and super milky. At first, I thought it could go with viands just like your typical plain rice, only that it's flavoured with milk! Little did I know it's somewhat an appetizer. It was so delicious we had to order additional bowls of it.
Location: 号 -48, 44 Xiangcheng Rd, Pudong, Shanghai, China, 200122
Nearest Metro Station: Lujiazui Line 2
5. Panda Cheese Tart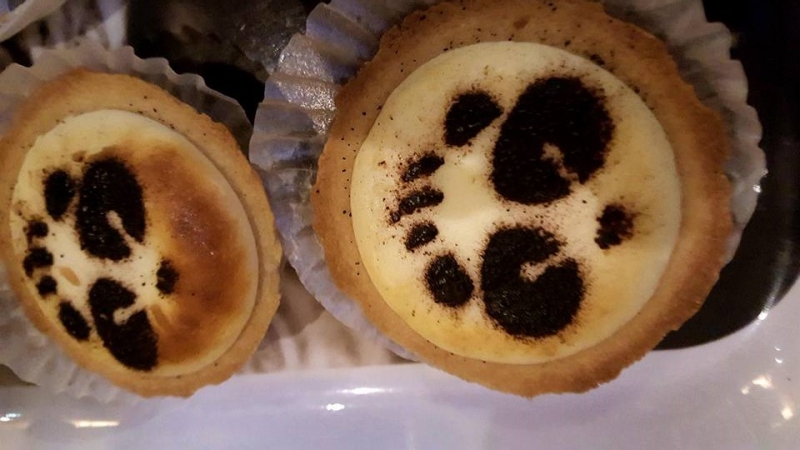 In my FB post, I mentioned this as one of the highlights of the day together with the Crab Xiao Long Bao. How did we stumble upon this very delectable panda cheese tart? We were roaming around Tianzifang and we saw this food stall with a long queue –  my always-curious brain instantly thought we should try it. To me, long queues equate to good food! It's a default.
When the man handed us the box of tarts, he also gave us plastic spoons. I was confused. Then when we were already eating the cheese tart, after one bite, we noticed the cheese inside was liquid. That's what the spoon was for!  
The Panda Cheese Tart was so yummy and scooping cheese tart with a spoon was a unique food experience. It was my first time doing this. It was like eating a banana with a fork.
Location: Tianzifang
Nearest Metro Station: Dapuqiao Line 9
Also read: 5 Must-Visit Attractions in Shanghai