Contributed by The Travel Debugger
When we got back from Siquijor, some of my friends told me that they saw our pictures in FB and said they didn't know that Siquijor is so beautiful. So I told them, "Yeah it is! And it is very serene and uncrowded. It was a relaxing travel."
Here I want to share with you our exploration around the "Island of Fire" (or Isla del Fuego as called by the Spaniards) via a hired local tricycle driver in the province. Siquijor is the 3rd smallest province in the Philippines, and you can tour the island in just one day. In our case, for just half a day on selected spots!
Also read: My Wife and I Travelled 4 Days to Dumaguete, Apo Island and Siquijor with a Budget of Only PHP 5,653 Each (All-In)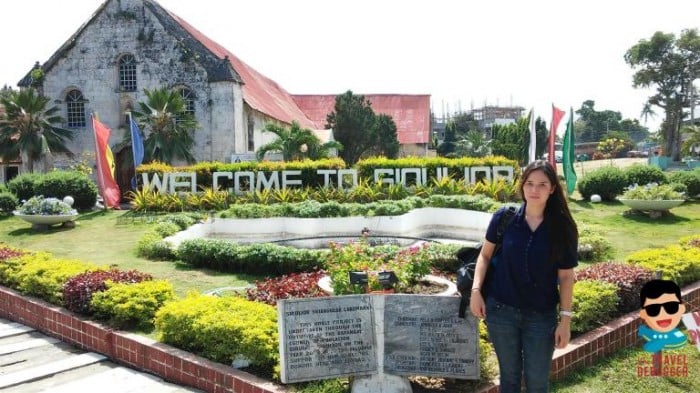 Welcome to Siquijor!
For details on San Juan beach and accommodations in Siquijor, go to my post here.
Read on for the detailed post!
Transportation
You can rent tricycles and habal-habal (motorcycle taxi) to take you around Siquijor.
One of my FB friends who recently went there referred her tour-guide to us as she was very happy with his services. So I texted him and we agreed on a rate of PHP 800 and for him to use a tricycle, not a motorcycle (we prefer a tricycle for comfort).  When we met him, unfortunately, he still brought his motorcycle. We humbly declined to ride in his motorbike, because first, it's not safe for 3 people to ride one scooter, and second, we are just not comfortable with that.
The good thing is, he called one of his friends who has a tricycle and offered us to tour with him instead. He doesn't look as friendly as our contact, but we just have 4 hours to tour the island and time is running out so we agreed.
And oh, I think the standard rate for an island tour in a tricycle is PHP 1,000 (2 to 4 persons I guess) and PHP 500 (for solo travellers) for a motorbike. We just haggled it to PHP 800 because we are only touring for half a day.
Also read: 7 Things to Do in Siquijor for a True Island Retreat
Start of Tour
Old Enchanted Balete Tree
Our first stop is the Old Enchanted Balete Tree where you can take a tingling fish spa in its clean pond. We've seen lots of Balete Trees in the provinces including Aurora's millennial tree but this one is unique since it has a free flowing pool beside it with small to medium fishies ready to nip on your callus feet.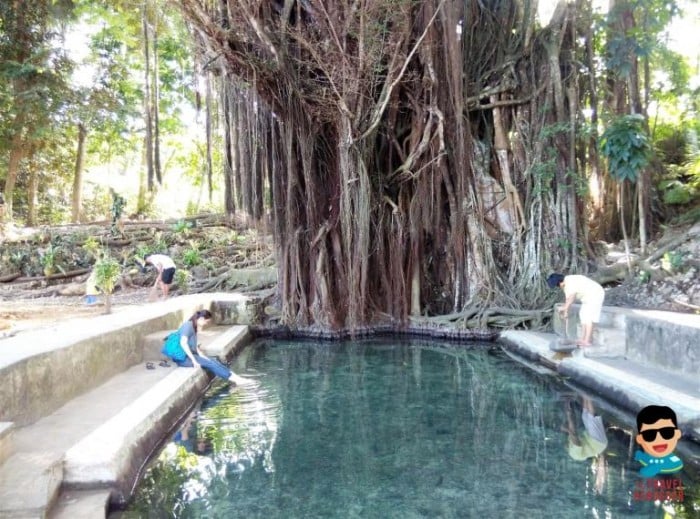 Wifey taking foot spa to another level.
It was our first time to experience a fish spa. Those little fishies are really hungry as they nip on your feet like there's no forever. The medium ones nip slowly but surely as they open their big mouths and French kiss your big toes.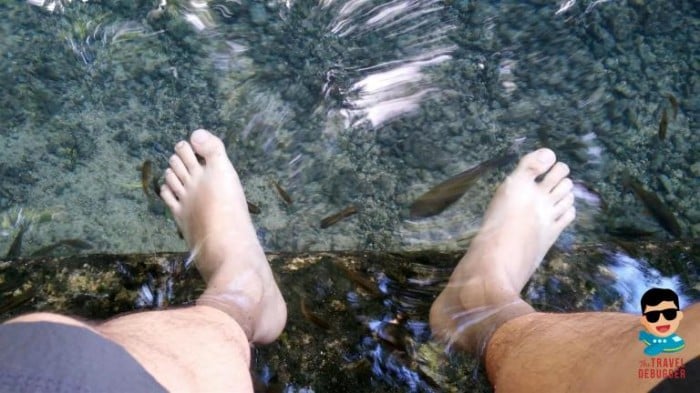 So clear!
After the fishes got bloated with our calluses, we decided that's enough and headed to a mini-store just beside the pool. We saw that they are selling some herbs and love potions. For PHP 28 a bottle, you can make Solenn Heussaff sweep off her feet and beg for your love. It also helps you get rich in your start-up business by just applying it with your favourite perfume or cologne. It really is a good deal!
San Isidro Labrador Church and Lazi Convent
Next stop, the San Isidro Labrador Church (Lazi Church) and Lazi Convent.
As per Wikipedia:
The present stone church was built in 1884 by Filipino artisans followed by the bell tower in the following year. The construction of the convent was made with coral stones and hardwood, commenced in 1887 and completed in 1891.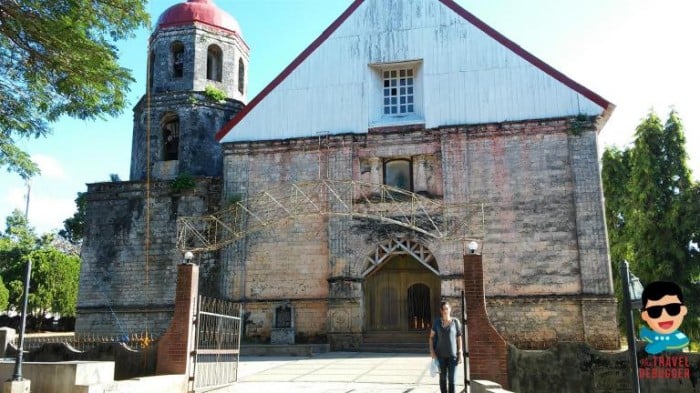 The old Lazi Church
When we entered the church, the first thing I noticed is its simplicity, antiqueness and perhaps a little eeriness. The holy water is murky, the hardwood flooring is really old that some parts really need repair.  There's no one in sight but one old woman who went to the front of the altar to kneel and pray. But that somehow adds to the church's gloomy feeling. We felt like we went back in time in the 1800s.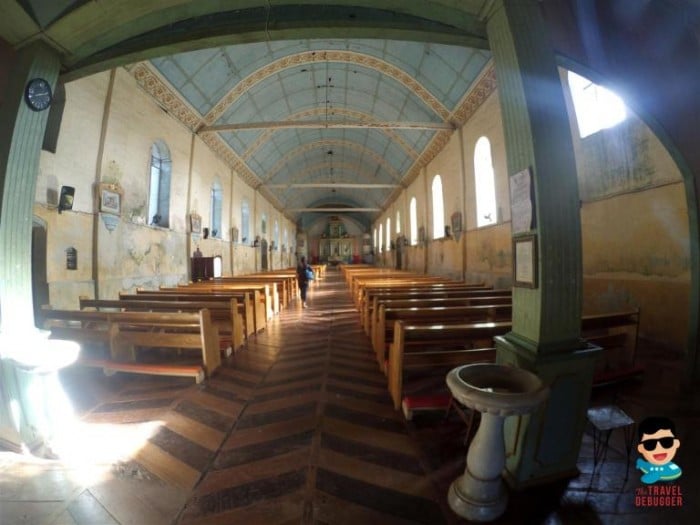 The Interior of Lazi Church
I then scouted the other areas of the church and saw one particular sculpture that caught my attention. It's the 'Pieta' or the sculpture of Virgin Mary holding the dead body of Jesus Christ on her lap. The Pieta is a very common sculpture all around the world, so what's unique with the one in Lazi Church you say? Well, the Virgin Mary is dressed in black. I don't know if that's common to you but it sure is not common to me as I always see the Virgin Mary always dressed in blue and white.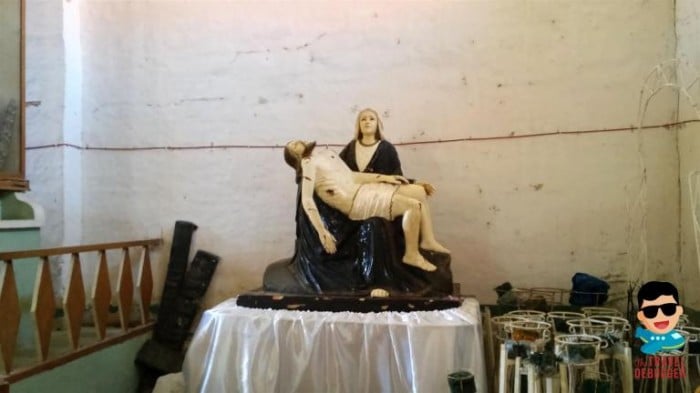 The Virgin Mary dressed in black
After my wife prayed, we went outside and rode our tricycle, and as we were about to go, our driver told us that we haven't checked out the Lazi convent yet which is just at the other side of the road. So we immediately went to the convent to explore.
Lazi Convent
It was a little dark inside the convent and you will also notice that it's very old too. And I don't know, but it was also spooky inside the convent.
Cambugahay Falls
Next stop, the divine Cambugahay Falls!
Based on what I saw in the internet, this falls is one of the most beautiful there is! Well, it didn't fail my expectations! The falls and the place altogether is one stunning beauty. Don't believe me? Here are some photos.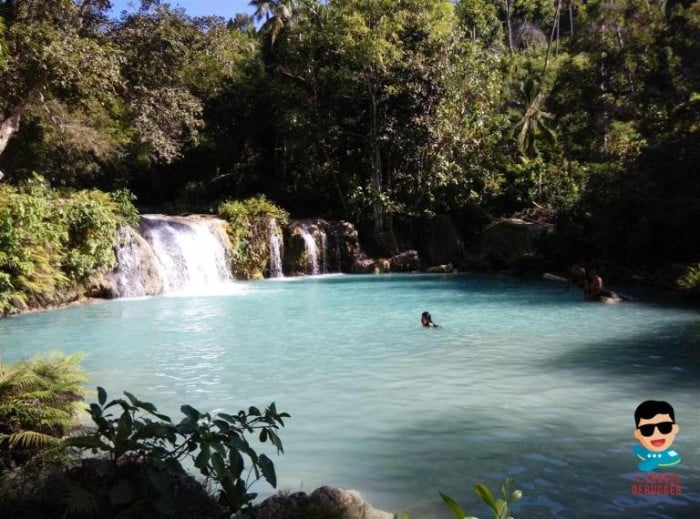 Cambugahay Falls
There are also smaller falls above it which has shallower water for kids like me to enjoy.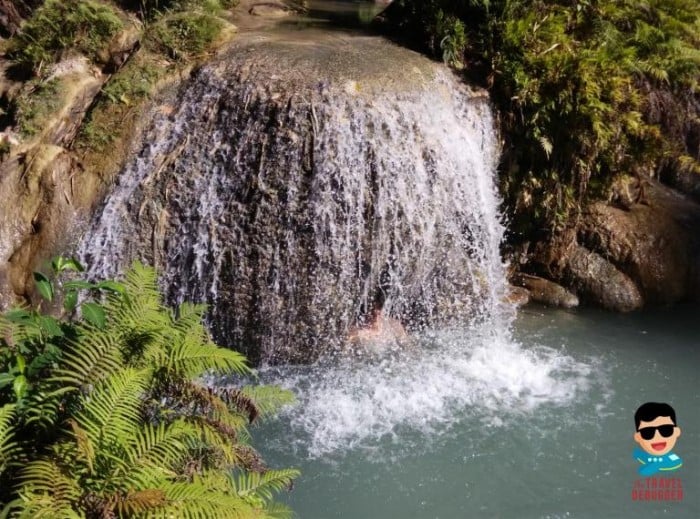 That's me inside the small falls
Also read: 13 Awe-Inspiring Waterfalls in the Philippines You Must Visit
Here is my video doing the Tarzan Swing!
The middle part of the mini lagoon is not deep so don't worry about drowning. Anyway, there's a life guard on duty. Just be careful when stepping on the rocks as it is slippery.
Going to the falls, follow the sign in our picture below and enter. Follow the steps down to the falls (It's not a long trek down).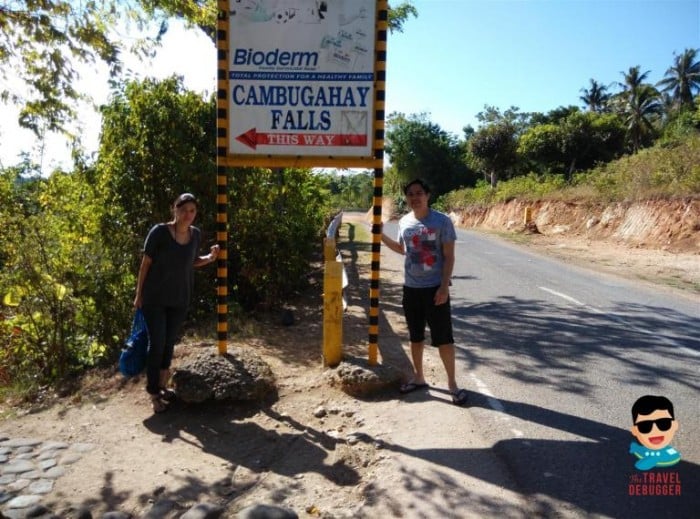 Follow this sign
Last, but certainly not the least, Salagdoong Beach!
Salagdoong Beach
All I can say is, wow! The water is so clear and nice to swim at. Though there are small rocks at the shore, you can feel that the white sand is very fine. There's a big rock formation where a slide is constructed. Too bad the tide is low, so I didn't get to slide down nor jump off the cliff.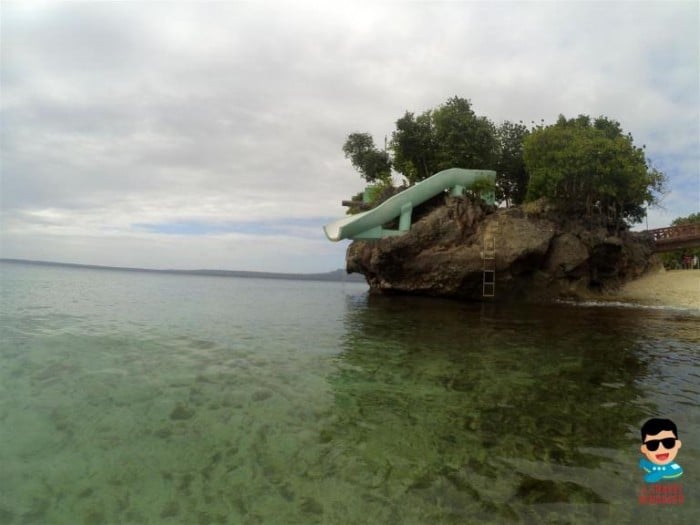 Salagdoong Beach
We don't have much time to bum around the beach but I took a quick swim and shot some pictures. If ever we'll go back to Siquijor, I'll definitely book a room here.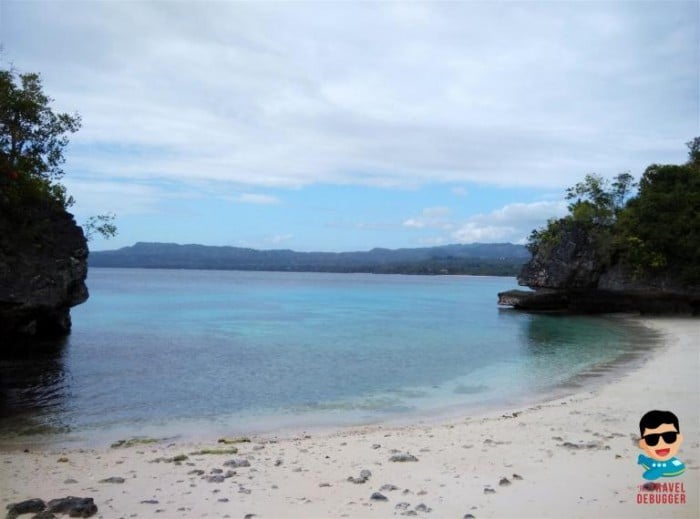 Salagdoong Beach is 30 minutes away from Cambugahay Falls. You will have to pay an entrance fee of PHP 25 each at the entrance.
That's it for our Siquijor Island tour! It took us around 4 hours to visit all the places above. We spent the longest time in Cambugahay Falls and given the chance again, we will spend a night in Salagdoong.
Siquijor is definitely an underrated destination. People should really come and pay a visit.
Also read: 20 Underrated Provinces in the Philippines Totally Worth Visiting