Contributed by Laag ni Josh
To this day, some still have second thoughts about visiting Siquijor, owing to the wrongly popularised myth that shamans, sorcerers, and dark powers still thrive on the island.
Forget about this nonsense and head to the island, and discover that another great power, not dark, but pristinely beautiful—Siquijor's charm itself—awaits, and will entirely change what you first thought of the island before you got there. What's more, it'll make you want to stay longer than you originally planned to.
Also read: 10 Reasons Why You Will NEVER Want to Go to Siquijor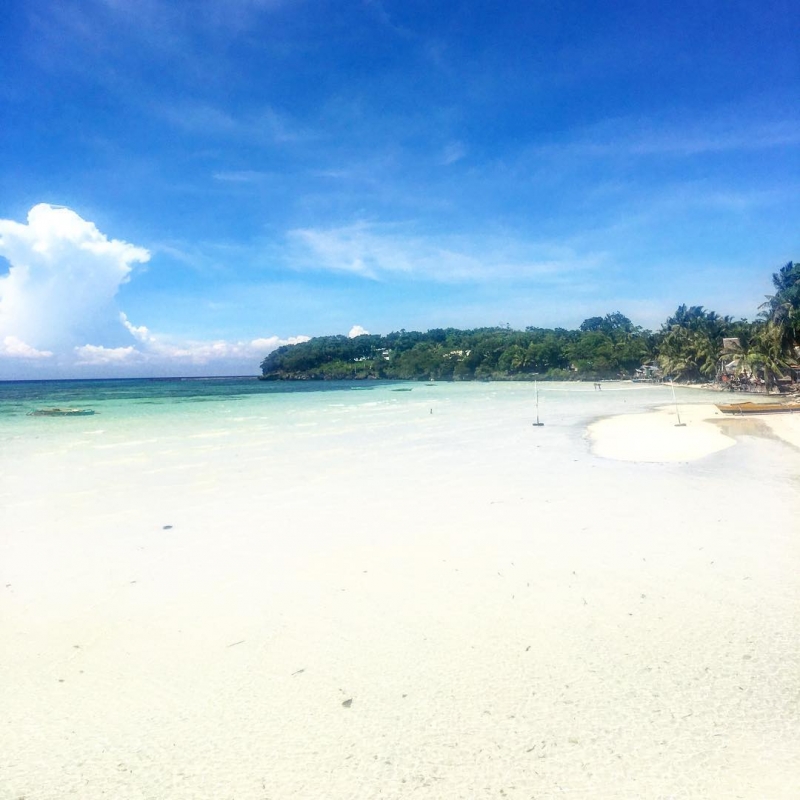 We visited Siquijor for 4.5 hours and were able to explore two of its tourist destinations (four and a half hours because everyone woke up late! LOL). We were told that the boat trip to the island is scheduled every hour, but upon arriving at the port of Dumaguete at around 9am, we were surprised to know that the next available trip was scheduled way later into the day, at 12 noon. Luckily, no one dared to back out so we pushed through with our planned day tour. (More like a half day tour, actually.)
The boat left the pier later than scheduled, so this used up our already very limited time. We arrived at the Siquijor port at around 1.30pm and immediately got two motorbikes for ₱300 each. We also booked the 6pm trip back to Dumaguete before commencing our tour.
The plan was to visit a beach in San Juan (we didn't know it's called Paliton Beach), see the Balete Tree, Cambugahay Falls, and Salagdoong Beach. But since we had very limited time, we decided to visit at least two of these. Salagdoong is located around 30km from the port, so we took this out from our itinerary.
Paliton Beach, the island's Little Boracay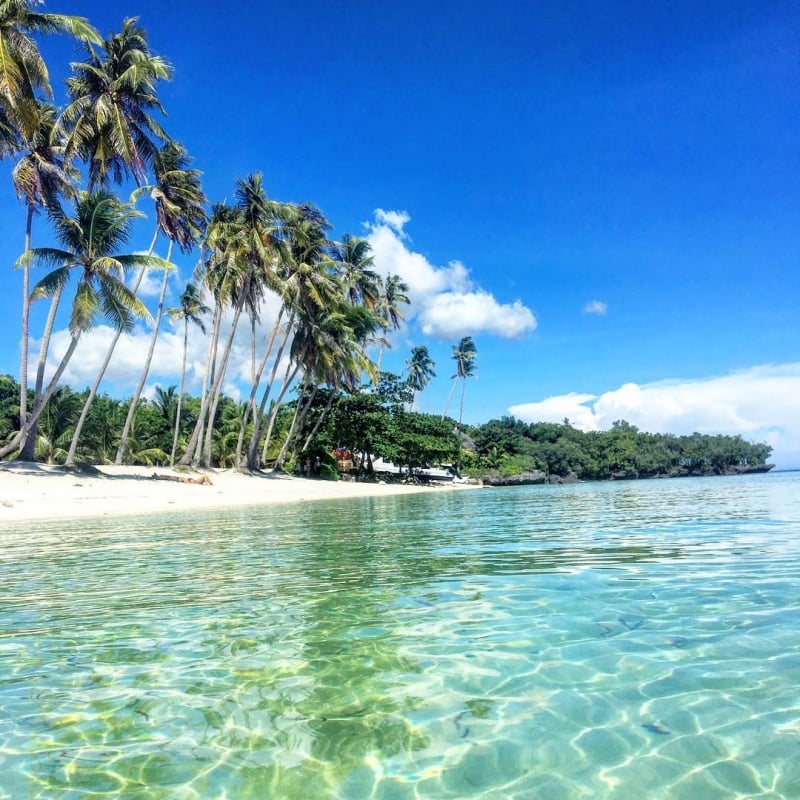 Located in San Juan, Paliton Beach is dubbed as "The Little Boracay" for its white sand beach, stretch of coconut trees, and crystal-clear waters. From the highway, we went along a very narrow road leading to the coast. Few minutes after, we saw a "No Trespassing" sign leading to the beach, but according to some locals it's fine, so we started our way to the beach..
Throwing caution to the wind, we walked through the sign and headed to the beach. A minute or two later, we were welcomed by a stretch of white sand beach. The sand was very similar to that of Boracay's—powder-like fine and soft. But what's more, the beach is less crowded, of course, since it hasn't been hyped yet on social media, and virtually unknown to many tourists. There were only around ten people that time.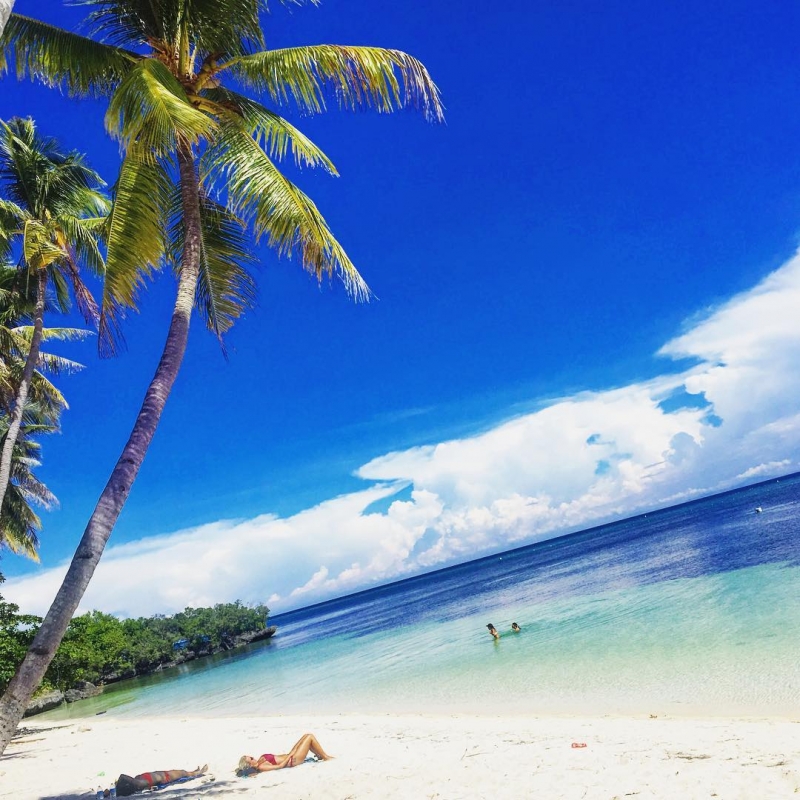 The Coco Grove-owned beach is yet to be fully developed and completed, hence, we were there FREE of charge. Grab the chance to visit this beach before a fee per visit/person gets implemented, like the Coco Grove Beach Resort, which is now exclusive to its member-guests.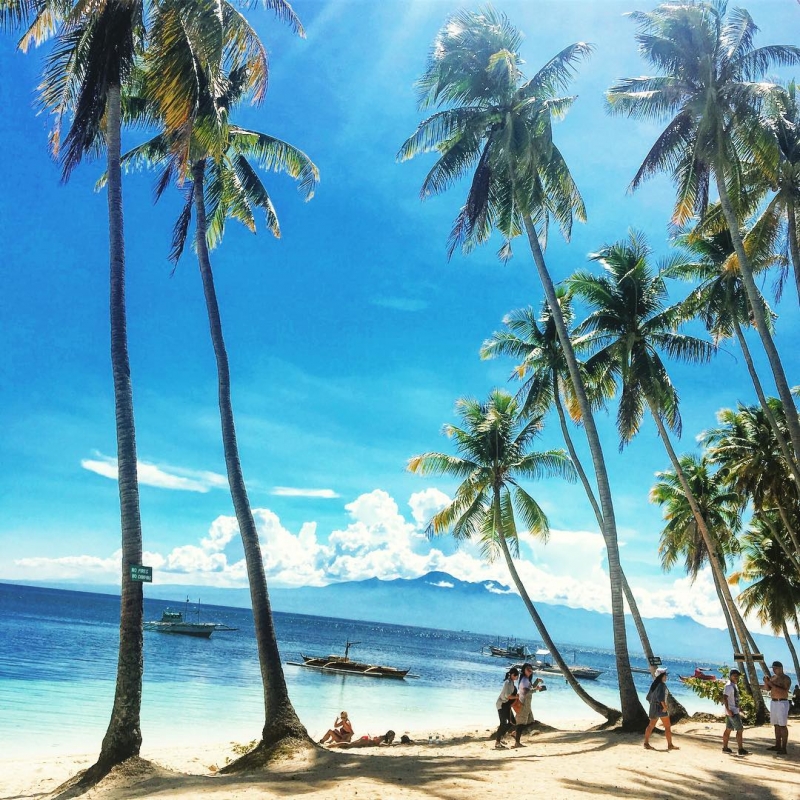 We gave ourselves 30 minutes to explore this beach since we still had to drive around two hours to Cambugahay Falls. But we still ended up taking almost an hour at this beach because someone from our group misplaced one of the keys of our rented motorbikes. Talk about some misadventures!
By the way, a few steps from the "No Trespassing" signage we saw earlier, was another stretch of white sand beach. The same powder-like sand, soft and fine. The best thing about this area is it's also free for everyone to enjoy; no entrance fees, no nothing!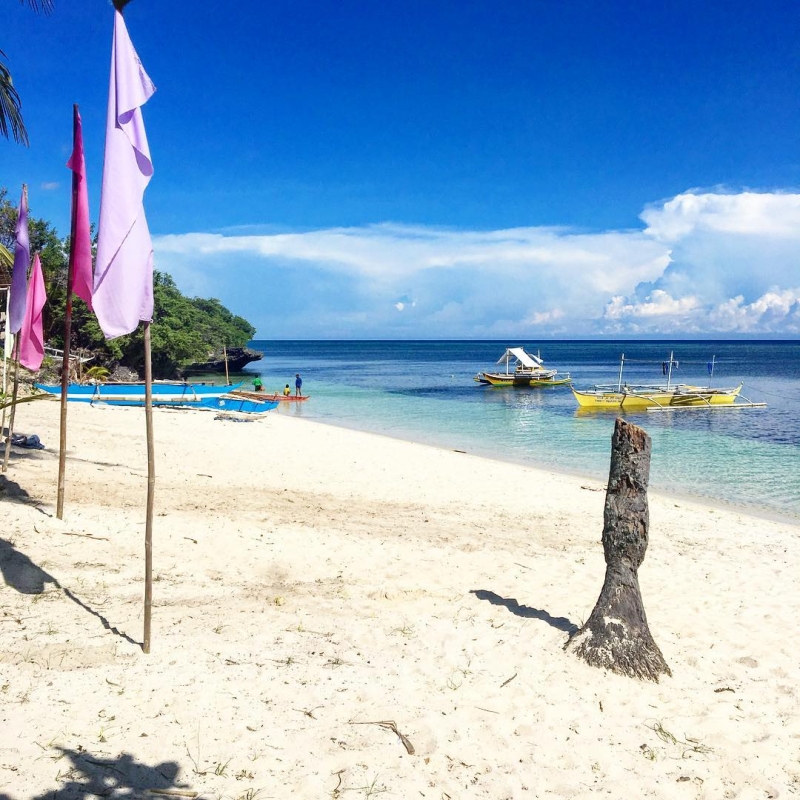 We were on our way to Cambugahay Falls, after spending almost an hour at the beach.
Cambugahay Falls, Siquijor's Majestic Waterfall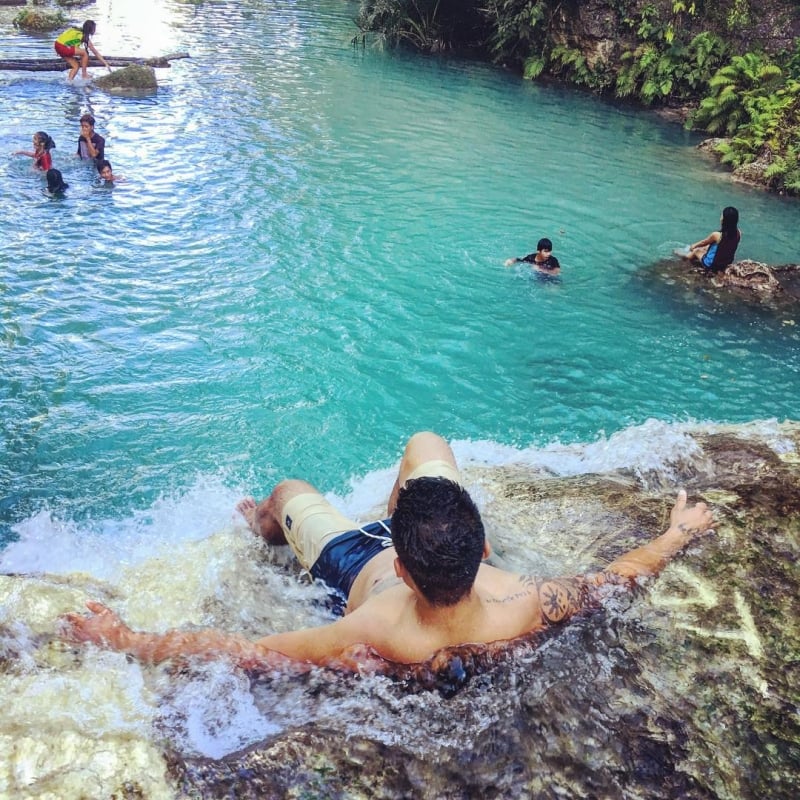 One of the country's notable waterfalls, Cambugahay Falls is an approximately two-hour drive from the island's port (took us an hour and a half to get here though). Capilay Spring Park and the Balete Tree are located along the way to the falls, but we didn't get to stop at these spots because we were obviously running late of our schedule and had very little time to spare.
There are many reasons why the waterfall is a must-visit in the island. For one, upon reaching its location, you are welcomed by a one-of-a-kind feel; a serene ambience, almost majestic. There is a kind of subtle regal feel that is innate in the Cambugahay Falls; well at least that's what we felt. To get here, you need to walk down more than a hundred steps from the highway. We lost count but other sites said there are 135 steps.
There have been some changes since my last two visits to this spot. From one rope wing, the falls now has about five. There are also mini-stores and stalls built now, which, in my opinion, distract the view a bit, and in a way "crowd" the fall's area.
One way to best enjoy the pool, besides of course just marvelling at it, is by trying out one of the rope swings. Make sure to ask the locals for tips which spot is narrow enough, to avoid stumbling or tripping, or any similar accidents.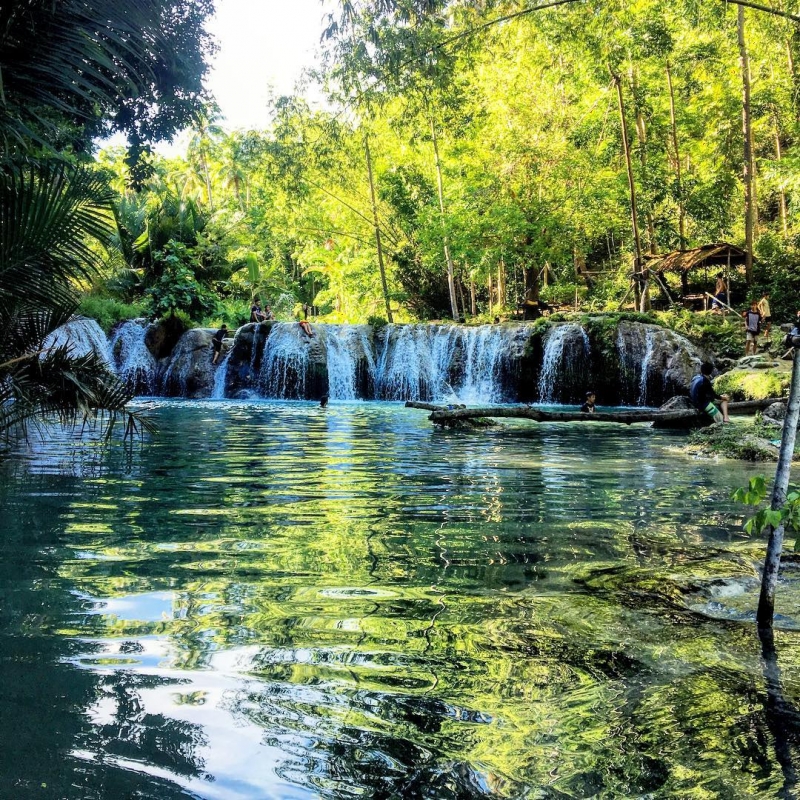 We were here for only 30 minutes, and had to drive back to the port to catch the 6pm trip back to Dumaguete. On our way back to the port, we did a short stop at Lazi Church to take some photos.
We arrived at the port minutes before 6pm. It was a real short trip, yes, but it's all worth it! Plus this view of a sunset!
Also read: How We Spent Half a Day to See the Enchating Beauty of Siquijor on a Tricycle Tour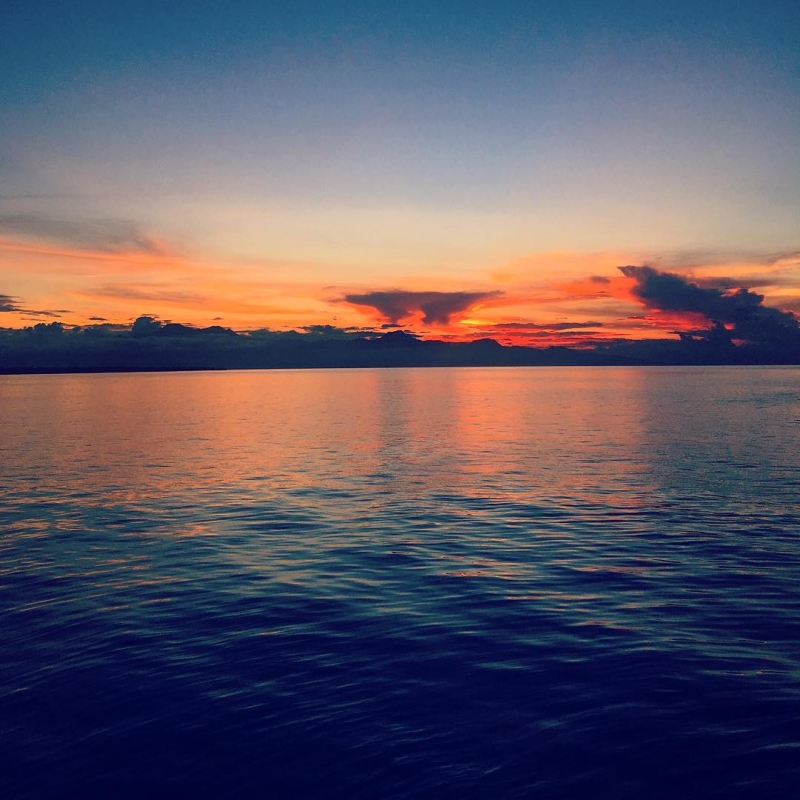 Visit Siquijor now! Here's how:
Book a flight to Dumaguete (local airlines Cebu Pacific and Philippine Airlines fly twice daily to DGT from MNL). If you prefer land travel, bus companies from Cebu and Bacolod also offer daily trips to Dumaguete. The Ceres bus company provides daily trips from Manila to Dumaguete, too.
From the airport, take a tricycle to the Dumaguete pier for ₱150 (special ride). If you want to save some more, walk a few minutes to the highway and take a tricycle for only ₱15 to ₱20.
Book the 6am ferry trip to Siquijor for ₱150. From Siquijor, rent a motorbike for ₱300 and load a litter or two of gas.
Have FUN!
Also read: 7 Things to Do in Siquijor for a True Island Retreat
If you're planning on going on a day tour on the island, book the 6am trip from Dumaguete to Siquijor for you to visit as many spots/places as you can. Better yet, spend a night or two. (Also, it DOES pay to try to be always on-time).