As a proud Pinoy, I feel #blessed to live in a country studded with such beautiful islands, where picture-perfect beaches, mountains, and waterfalls are just a scenic road trip or quick plane ride away. Not only are these places Instagram-worthy, they also promise fun and exciting experiences you'll surely remember for a lifetime. With jaw-dropping attractions and mouth-watering cuisines, there are so many local destinations you won't want to miss. At the top of my local bucket list? Coron and Batanes!
Coron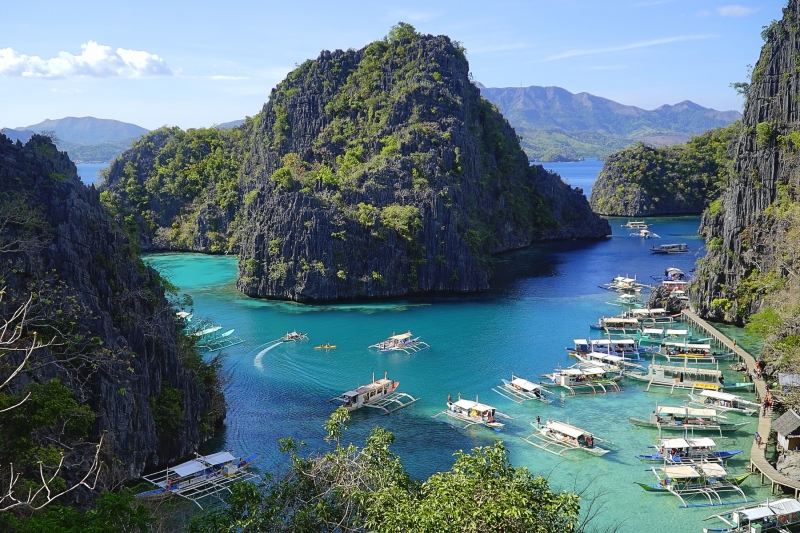 Time and time again, the island paradise that is Palawan has been listed among the best in the world. And as you probably already know, it's even topped these lists several times, too! With its pristine lakes, gorgeous lagoons, and world-renowned diving spots, how could it not?
Truthfully, however, my knowledge on Palawan remained limited for the longest time. Like many others, I thought El Nido was the only magical place in this Philippine province — until tons of awe-inspiring photos of Coron began to dominate my Instagram feed a few years back. "How did I not know about this beautiful place?" I wondered.
I still remember it clearly: I would see photo after photo of my friends on clear, glass-bottomed boats floating atop turquoise waters. These picture-perfect seascapes, dotted with rock formations, seemed almost unreal — almost as though they were dwelling places for beings as mystical as mermaids! Ever since then, it's topped my list of must-visit local destinations. And once I did my research, I was extremely pleased to find that there are so many more exciting things to do and places to see in and around Coron!
Know before you go: Best time to visit Coron and how to get there
Of course, the best time to visit this tropical destination would be during the summer months —  April and May, to be exact. During this time of year, you can expect to enjoy  the full island experience and witness Coron's beauty at its best!
Flights to Coron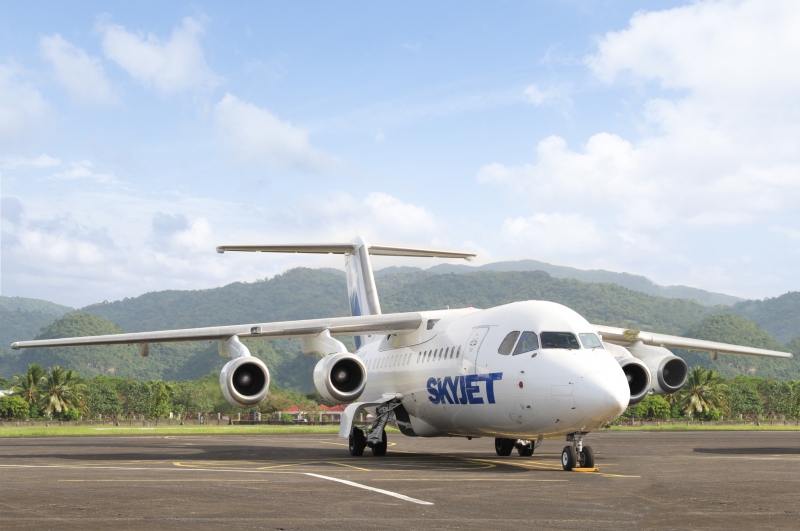 The country's leading local airlines have multiple daily flights directly from Manila to Coron. SkyJet Airlines' flights depart from Ninoy Aquino International Airport Terminal 4, and arrive at Francisco B. Reyes Airport. After the one-hour flight, visitors must travel by land to get to the island.
Note: SkyJet Airlines' one-way ticket can cost around ₱4,000 during Coron's peak season and about ₱2,000 during off-peak season. 
BOOK YOUR FLIGHTS TO CORON TODAY!
Top places to see and things to do in Coron
1. Witness the magical sight that is Coron Bay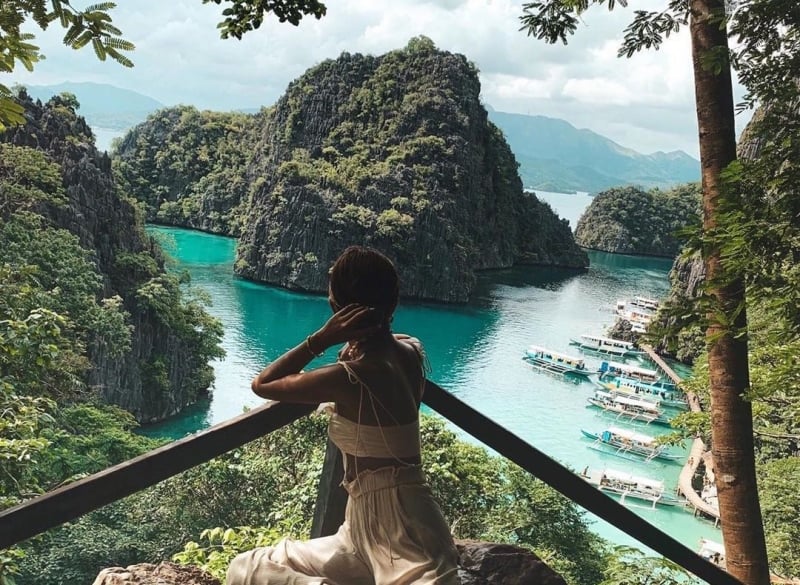 No trip to Coron would be complete without paying a visit to the island's most iconic sight. Not simply one of the most popular places on the island, Coron Bay's clear waters and ethereal rock formations make up one of the Philippines' most photographed scenes!
On your way to one of Coron's most famous lakes, make a stop at Kayangan Lake Viewpoint to witness this glorious view — and take advantage of this perfect photo op while you're at it! If you love documenting your travels with stylish snaps, this is the place to do that. 
Tip: As it's quite a popular spot, expect that there will be a line for taking photos! Make sure to prepare your picture-perfect poses to save time!
2. Swim, snorkel, or kayak around the famous Kayangan Lake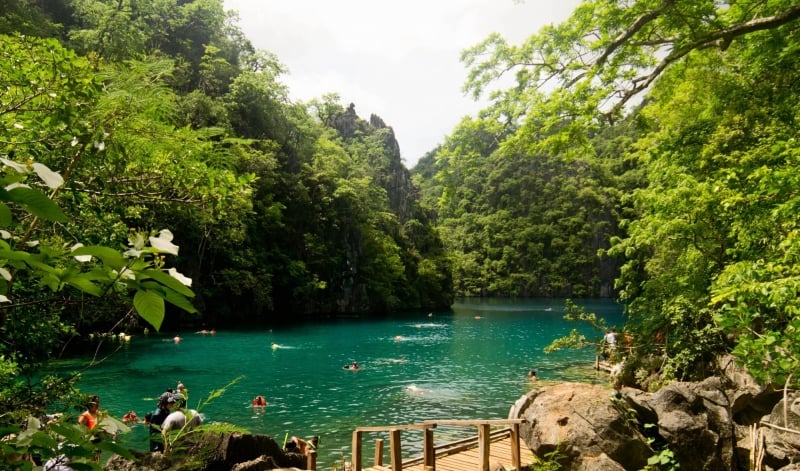 Once you've bagged the perfect shot overlooking Coron Bay, head over to Kayangan Lake — the country's cleanest and clearest lake. (Some even say it's the cleanest in Asia!) As it's an undoubtedly breathtaking natural wonder, simply basking in its beauty already feels like a valuable activity in itself.
Thankfully, however, Kayangan Lake offers visitors a full experience. Going for a swim, renting a kayak, or snorkelling around its clear waters are just some of the top things to do in Coron! Just don't forget to keep your life jacket on — the lake is actually quite deep, about 20 feet. And because it's a mix of freshwater and saltwater, staying afloat without one can be a little more challenging!
Tip: Want to experience Kayangan Lake sans the crowds? Hire a private boat and come as early as 7am!
3. Head to Twin Lagoon, where saltwater and freshwater meet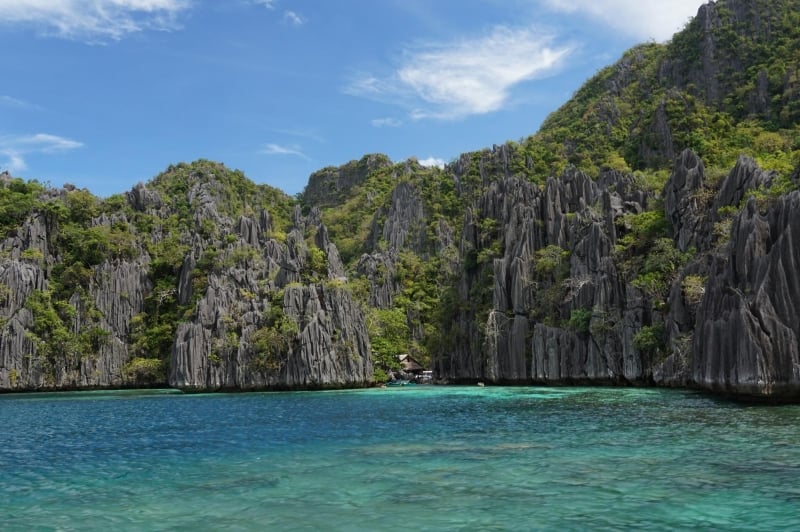 Nearby, you'll also find another of Coron's must-visit attractions: Twin Lagoon. Separated by a wall of karst, this beautiful body of water is divided into an outer lagoon and an inner lagoon. If the tide is low, you can swim through an opening under the rock formations to get to the inner lagoon — but if not, you can cross over via a wooden ladder!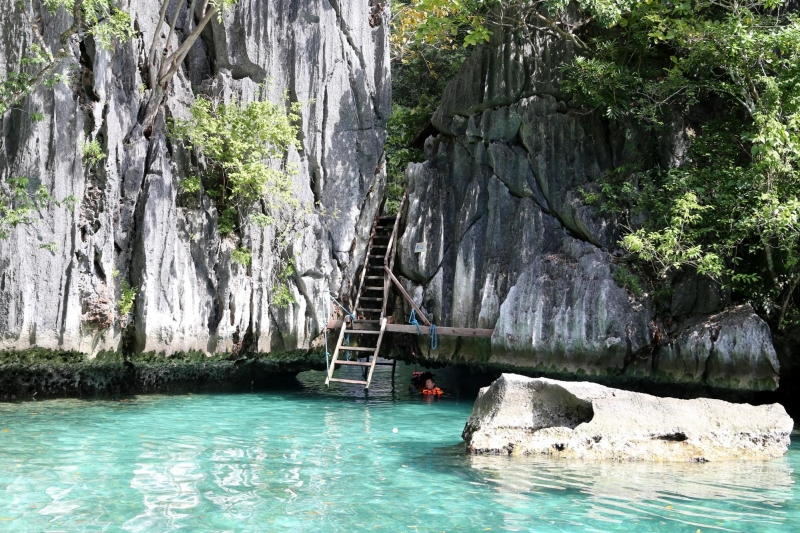 Have you ever been to a place where saltwater and freshwater meet? It's quite an interesting experience — the temperatures at Twin Lagoon can go from freezing cold to very warm, even when you least expect it!
4. Laze around on Banul Beach's fine white sand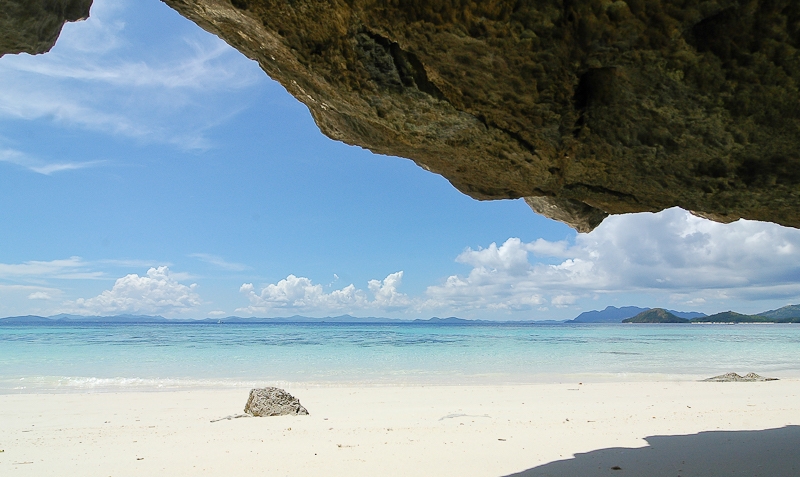 What's a trip to one of the Philippines' most famous islands without getting to relax on a white sand beach? While Coron (and Palawan in general) is particularly renowned for its lakes and lagoons, I personally think its beaches don't get enough attention!
More than its fine sand and bright blue waters, what makes Banul Beach such a gem is that it remains unspoilt. Save for a few bamboo huts that sell fresh buko, there are no commercial establishments on this beach. I love that it gives off this middle-of-nowhere vibe despite that it's just about 15 minutes away from the town proper!
Tip: Banul Beach often gets full at lunch time, so schedule your visit earlier if you want to avoid the crowds.
5. Observe local and African wildlife up close at Calauit Safari Park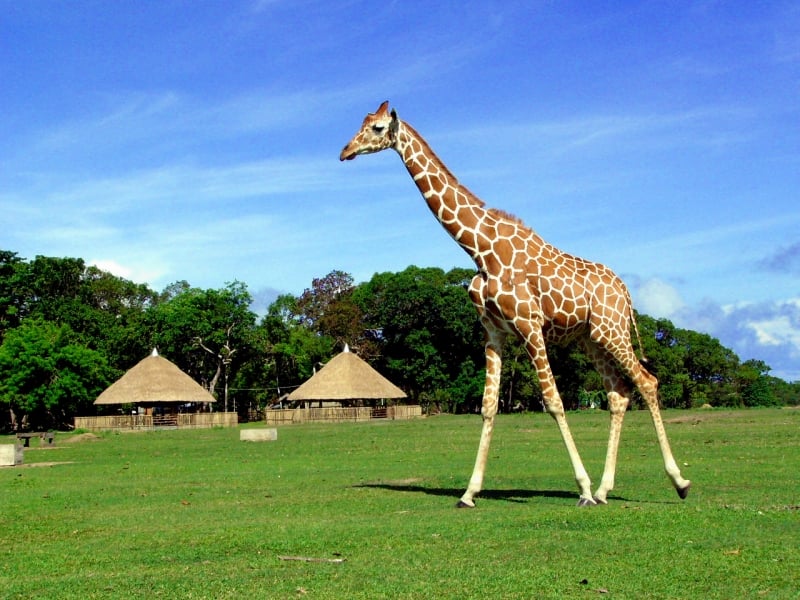 Honestly, I only recently discovered that Palawan had its very own safari — I couldn't believe that it's been around since the '70s! An hour and a half away from Coron town, Calauit Safari Park is a wildlife sanctuary home to free-roaming giraffes and zebras all the way from Kenya, as well as Palawan's very own Calamian deer.
Come by between the morning and early afternoon if you'd like to assist the park rangers as they feed the giraffes! Otherwise, I recommend taking the safari bus around the park, so you get to see everything (without even having to break a sweat). Isn't it amazing that we get to experience such charming creatures up close?
Also read: Wildlife Tourism: When Is It Ethical?
6. Venture out to the idyllic Malcapuya Island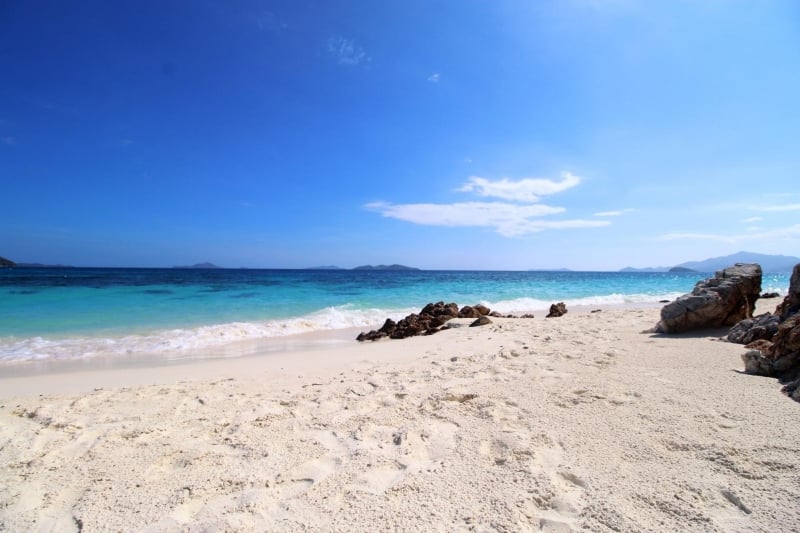 Can't get enough of white sand beaches? Go on a day trip to Malcapuya Island — or better yet, stay overnight! This remote, almost untouched island is an hour and a half's boat ride away from the main town — and though it's certainly a popular tourist spot itself, it offers visitors some much-needed peace and quiet at night.
Once you arrive, you'll be greeted by a long, sandy beach, rocky cliffs, and mesmerisingly bright blue waters. Spend the day swimming, sunbathing, and just having fun under the sun! If you'd like to stay overnight, you can rent out a simple hut or small house — you can even go camping. Because there's no electricity on the island, you're guaranteed to fall asleep under a star-filled sky. What a dream!
7. Explore Coron's awe-inspiring underwater scene
For adventure-loving travellers, as well as those with a great interest for marine life, going scuba diving is definitely one of the top things to do in Coron. To witness some of the best of the island's underwater, don't miss out on Barracuda Lake and Coron Bay. Expect to see stunning sea creatures,  coral reefs and — get this — shipwreck sites that go back as far as 1944.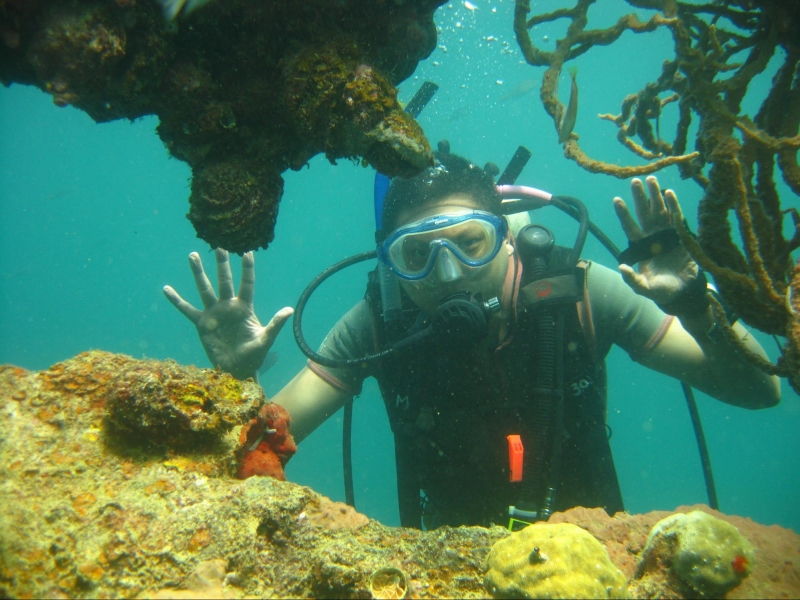 Now that we're on the topic of shipwrecks — did you know that Coron is actually one of the world's top wreck diving destinations? Just several feet below the island's turquoise waters, there are actually around 10 well-preserved wreck diving sites that date back to World War II. These Japanese vessels were discovered to be bombed back in September 1944, and you can still explore much of their interiors until today!
With shipwreck sites that range from 10 to 140 feet underwater, Coron offers wreck diving experiences for both beginners and advanced divers. Just imagine literally getting to swim through history — this is certainly a once-in-a-lifetime opportunity that will leave visitors in awe.
8. Escape to the tranquil and remote Malajon Island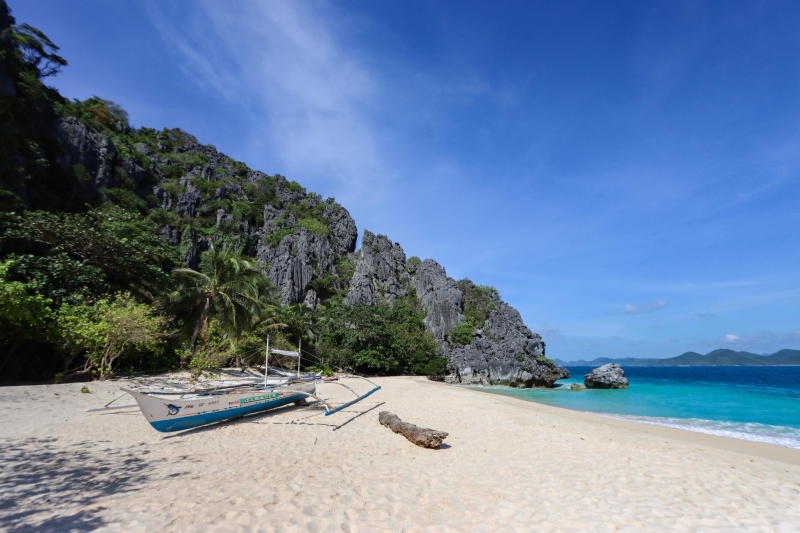 About three hours away from Coron's main town lies the tranquil Majalon Island. Recognised for the dark-coloured rock formations that dominate it, this remote slice of paradise is popularly known to tourists as Black Island. Contrary to its name, however, it's also home to a pristine beach that happens to be well-loved for its soft white sand.
If you're not one for busy tourist sites, then you will certainly fall in love with this unspoilt island. Spend your hours sunbathing or snorkelling — the nearby waters are studded with stunning coral reefs! In addition, the Nansin Maru Wreck (also known as Black Island Wreck) is also well worth exploring — as it's quite shallow, it's a beginner-friendly wreck dive, too!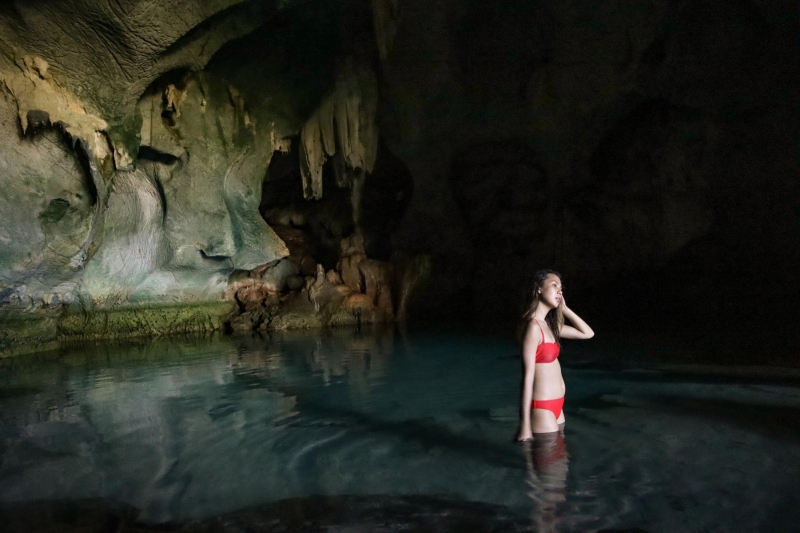 Moreover, the island isn't just another gorgeous place to enjoy your usual beach activities. It's also studded with caves, three of which visitors are welcome to explore. You can even swim inside the natural saltwater pools inside one of the caves!
9. Trek up Mt. Tapyas for panoramic views of Coron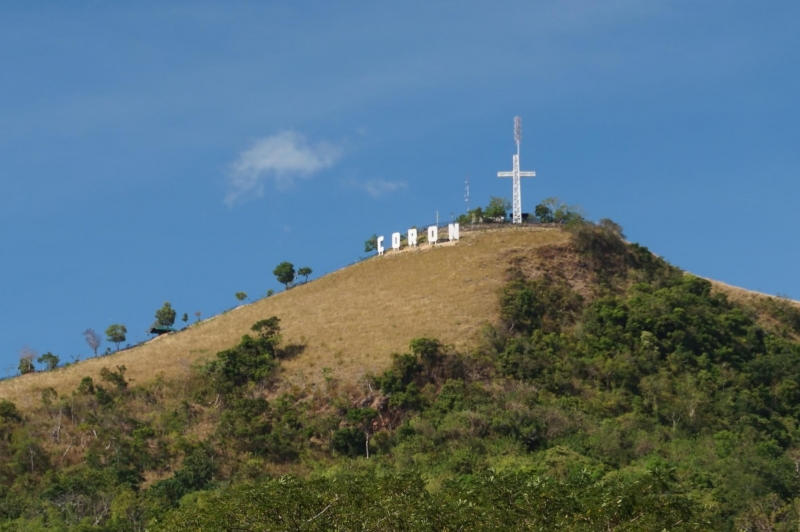 Bearing a resemblance to Los Angeles' famous Hollywood sign, the Coron sign atop Mt. Tapyas is one of the island's most iconic landmarks. Anyone is welcome to make the trek — entrance is free! It takes about 720 steps to the top, so don't be afraid to pace yourself. And bring a bottle of water with you while you're at it!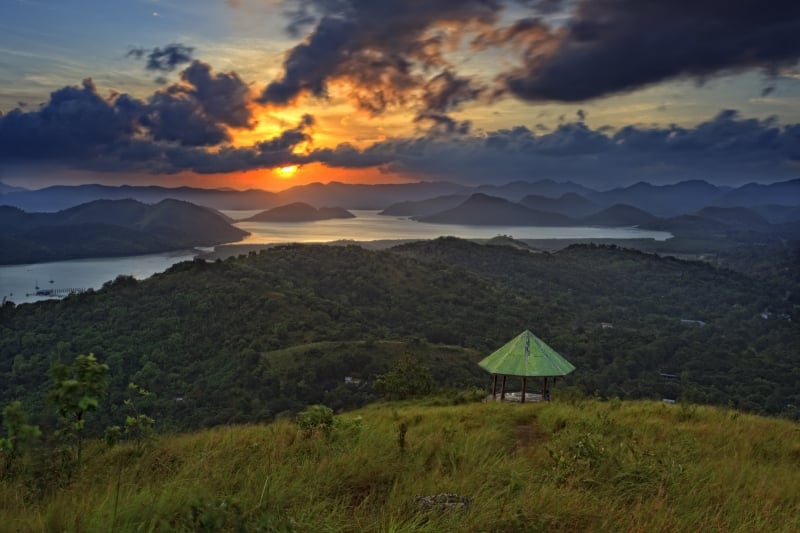 Apart from being a cool backdrop for photos, Mt. Tapyas also happens to be the town's most popular viewpoint. So, if you ever find yourself wanting to turn around and head back to your hotel — don't. We swear the views are truly rewarding.
From the top, visitors will have 360-degree views of Coron over beautiful rolling hills. Those who've previously made the climb recommend starting the hike in time to make it to the top right before sunset. Witnessing the remarkable transition from daylight to sunset will be one of your favourite Coron memories!
10. Take a relaxing dip in the Maquinit Hot Spring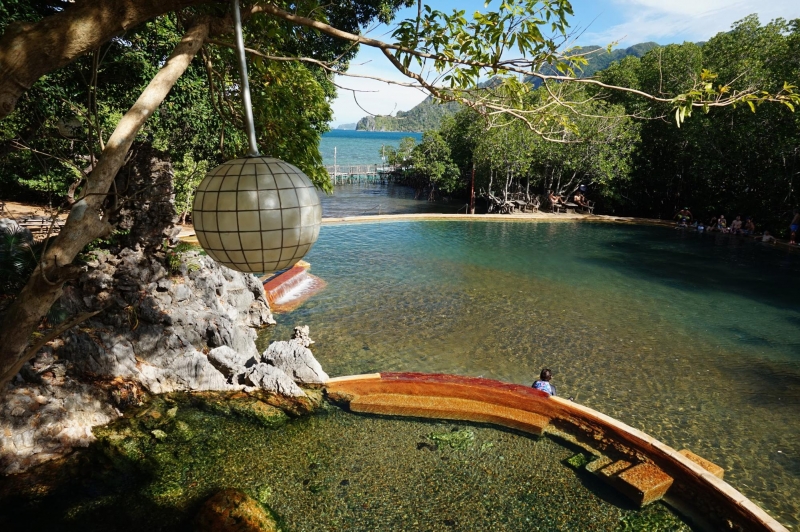 After trekking up and down Mt. Tapyas, we don't doubt you'll be feeling even just a little sore! Locals recommend heading straight for Maquinit Hot Spring for some much-deserved relief. Another reason to visit? It's the only known saltwater hot spring in the Philippines and in Asia!
But don't be fooled by this cool scene — while it may be surrounded by mangrove trees, this hot spring is truly hot. Scorching, even, if you happen to visit during the peak of the summer sunshine! If you can't handle that level of heat, come by during the late afternoon, when the temperature decreases.
11. Go on a food trip!
In typical Pinoy fashion, I believe that a full vacation experience requires lots and lots of food. In between exploring Coron's majestic seascapes and dreamy beaches, you must allot time for exploring the local culinary scene. By the end of your trip, your happy tummies will thank you! Here are a few restaurants you can't miss:
Lobster King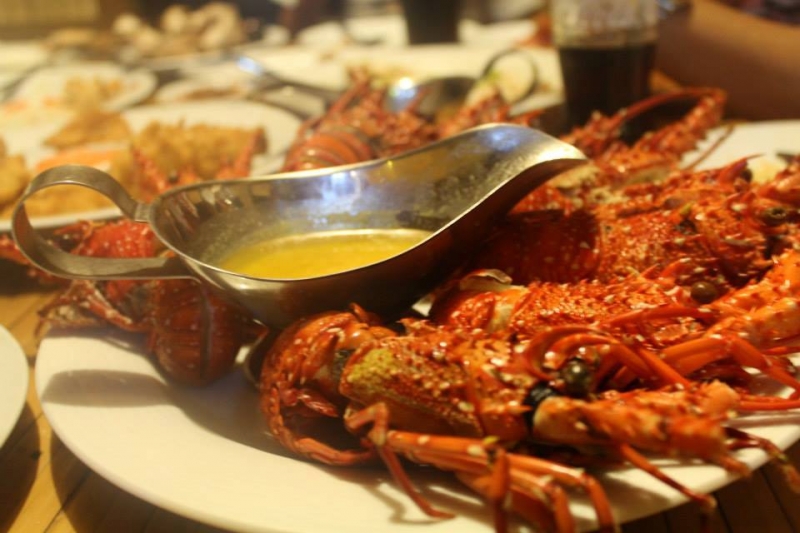 Of course, when visiting an island like Coron, getting your fill of fresh seafood is a must! Lobster King is one of the most popular restaurants in town, and for good reason — their affordable menu includes lobsters, crabs, and other seafood items freshly prepared in a mouth-watering combination of butter and garlic. And what's more, their buko shake is excellent, too! Trust us — you'll be craving for these flavours the moment you leave!
Address: 5 Coron – Busuanga Rd., Coron Town Proper, Busuanga, Palawan
La Sirenetta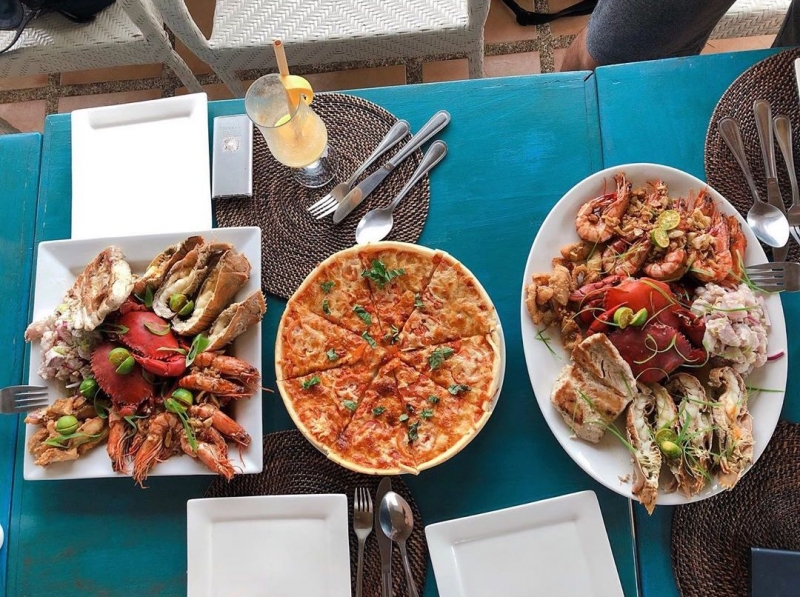 One of the top places to eat in Coron, this floating restaurant is particularly regarded for its picturesque views — and their food is equally worth your visit! La Sirenetta, literally translated to 'Little Mermaid,' offers a mix of European, Asian, and Filipino cuisine. Their recommended dishes include their pizza, pasta, and grilled seafood — plus local dishes like sisig and adobo and interesting menu items like their Greek-inspired fish souvlaki!
Address: Real St., Coron Town Proper, Coron, Palawan
Trattoria Altrove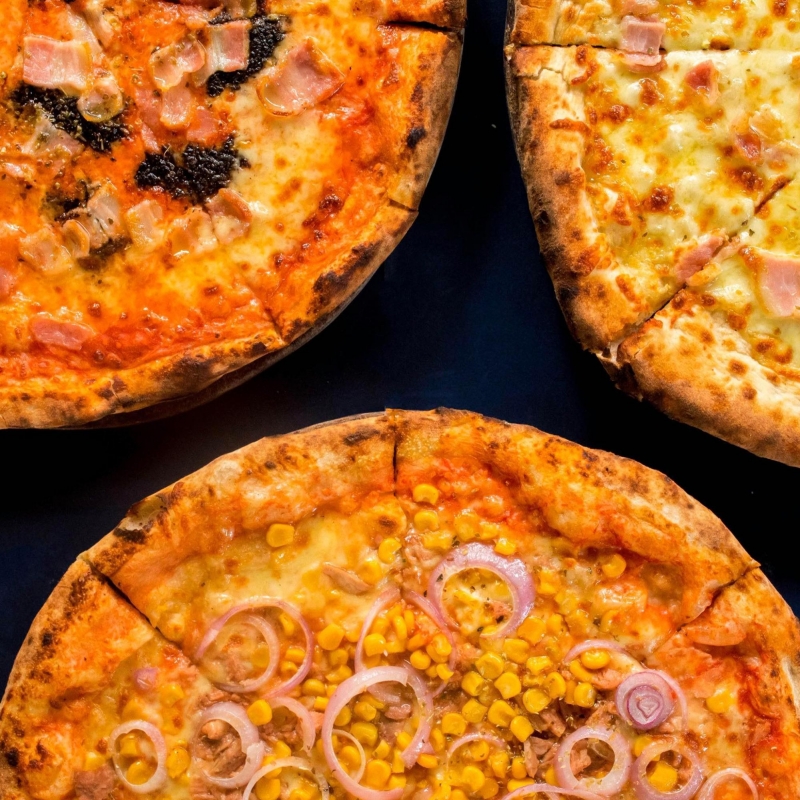 Those partial to Italian cuisine will love Trattoria Altrove! This restaurant is even said to serve the best pizza in all of Coron. In addition to their brick oven pizzas (with dough made from scratch), they also offer generous servings of delicious pastas as well as homemade gelato. And with such an intimate setting, it's perfect for a romantic night out or a meal with your dearest friends!
Address: Rosario Street, Coron Town Proper, Coron, Palawan
Kawayanan Grill Station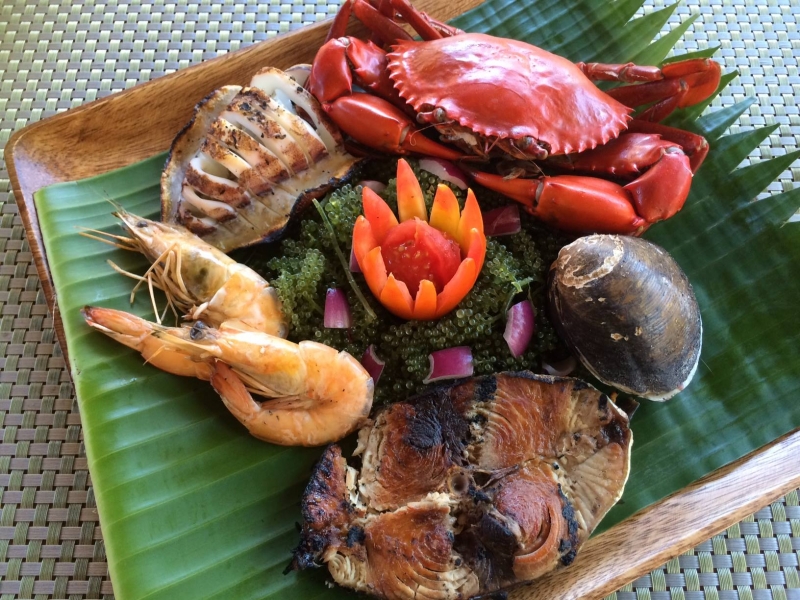 When in Coron, seafood lovers will surely find themselves in heaven! Kawayanan Grill Station is a spacious and ambient restaurant that serves grilled seafood, as well as chicken, pork, and beef dishes. Their crocodile sisig is worth trying, especially for those with more adventurous palates. On top of everything else, we love their alfresco setup, too!
Address: 19 Real St, Coron Town Proper, Coron, 5316 Palawan
Also read: Coron Travel Guide: All You Need to Know Before Your Trip
Are you inspired to visit Coron now, too? It truly amazes me that I live in a country dotted with such beautiful places — and speaking of which, let's move on to the next local destination on my bucket list: Batanes!
Batanes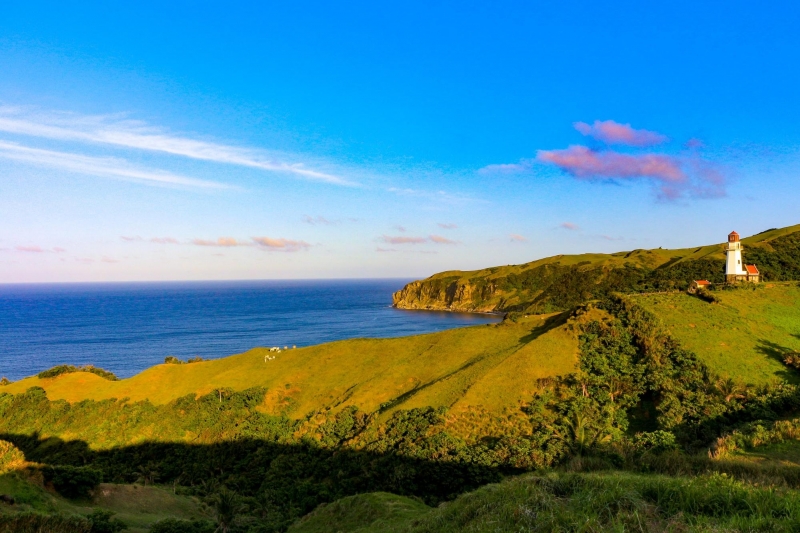 Ahh, Batanes — another destination that left me in wonder when I discovered that such an enchanting place was just a little over an hour's plane ride away. Truthfully, I was one of those people who confused it with the province of Bataan — and boy, was I wrong. They couldn't be any more different!
This, however, added to the 'wow' factor when I first saw photos of Batanes' lush green rolling hills, side by side with images of mesmerisingly blue water. Even now, I can almost feel the cool winds and hear the waves crashing against such stunning landscapes just by looking at photos alone.
On top of this, you'll find that there are many other things to do and places to see in Batanes. Besides postcard-worthy scenes, more spectacular sights and experiences await at the country's northernmost province!
Know before you go: Best time to visit Batanes and how to get there
To make the most out of your visit, try to come to Batanes between April and June, when the weather is sunny and bright! During this time of year, you can expect to witness the province's vibrant scenes in all their breathtaking glory.
Flights to Batanes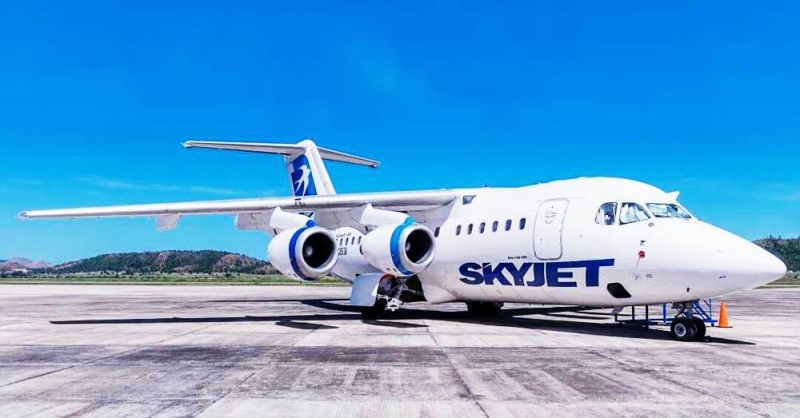 The country's leading airlines offer daily flights from Manila to Batanes. SkyJet Airlines flies to Batanes once a day, from Ninoy Aquino International Airport Terminal 4 to Basco Airport in Batan Island. Travel time is just an hour and 20 minutes!
Note: One-way flights to Batanes can cost as much as ₱8,000 during peak months, and as low as  ₱4,000 during off-peak season.
BOOK YOUR FLIGHTS TO BATANES TODAY!
Top places to see and things to do in Batanes
1. Feast your eyes on the breathtaking Vayang Rolling Hills
Like many others, my mind instantly sings "The hills are alive with the sound of music" every time I see photographs of the Vayang Rolling Hills. Such a majestic scene would easily inspire any of us to spread our arms out wide and dance around the hills à la Julie Andrews — these lush hills practically invite us to!
Dare to roll down the hills (just remember to take extra care!) or simply have a seat and take in stunning views over the West Philippine Sea. For an even more memorable experience, come by in time to watch the sunset!
2. Make your way up the iconic Basco Lighthouse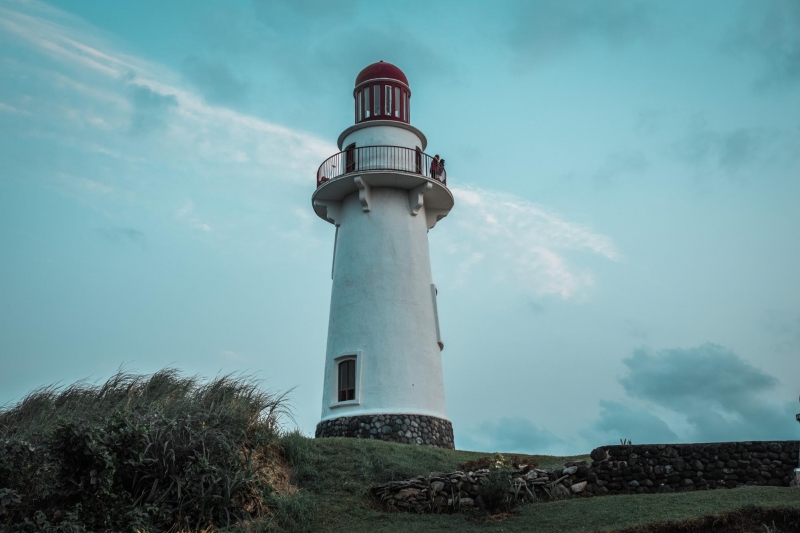 If there's another thing Batanes is well-known for, it would have to be the lighthouses that dot the province's landscapes. Basco Lighthouse, in particular, is one of the province's most popular landmarks! As you walk across the Naidi Hills, take the opportunity to enter the famous lighthouse.
This six-storey building has a viewing deck on the fifth floor, from which you can see just about everything: the town of Basco, Batanes' famous rolling hills, Mt. Iraya, and the West Philippine Sea. And on top of all that, entrance is free!
3. Go for a stroll along Valugan Boulder Beach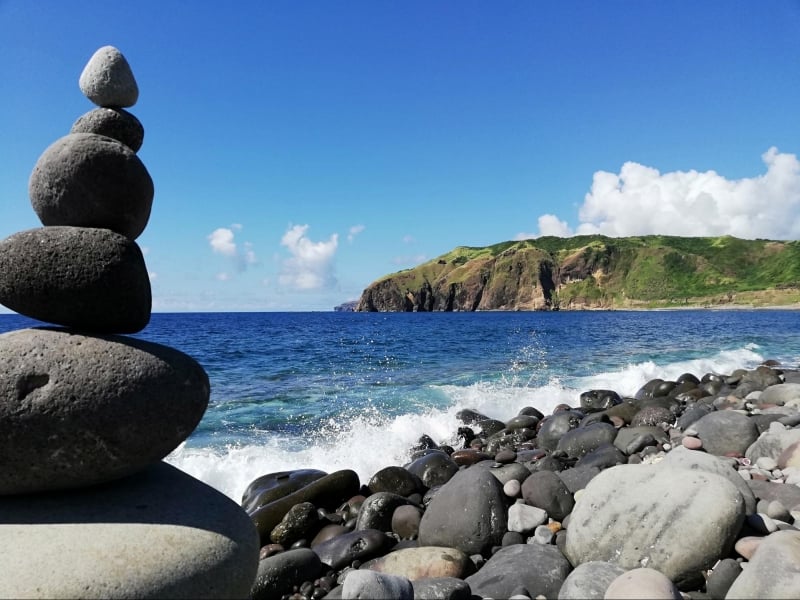 It is said that centuries ago, Mt. Iraya erupted and scattered volcanic rocks all around the northern part of Batan Island. With every wave that crashed against them, the rough rocks grew smoother and more polished. Today, you'll find that these rocks still line the shore at Valugan Boulder Beach.
Located in the eastern side of Basco, this beach is the perfect place to watch the sunrise — and we promise it'll be worth getting up at the crack of dawn for. Sadly, it isn't safe for swimming — but you should definitely still come by for the scenic views. Just remember to wear appropriate footwear!
4. Introduce your palette to Batanes' Ivatan cuisine
There's no better way to get to know a new place than by trying out the local dishes! Batanes is known for its Ivatan cuisine, which is marked by dishes cooked in a simple yet delicious seasoning that consists of salt, soy sauce, and vinegar. The seaside province's popular dishes include lobsters, flying fish, and mahi-mahi! Beef dishes are quite notable as well, as they come from grass-fed cows. Below are a few must-try restaurants around Basco:
Vunong Dinette at Jessica's Place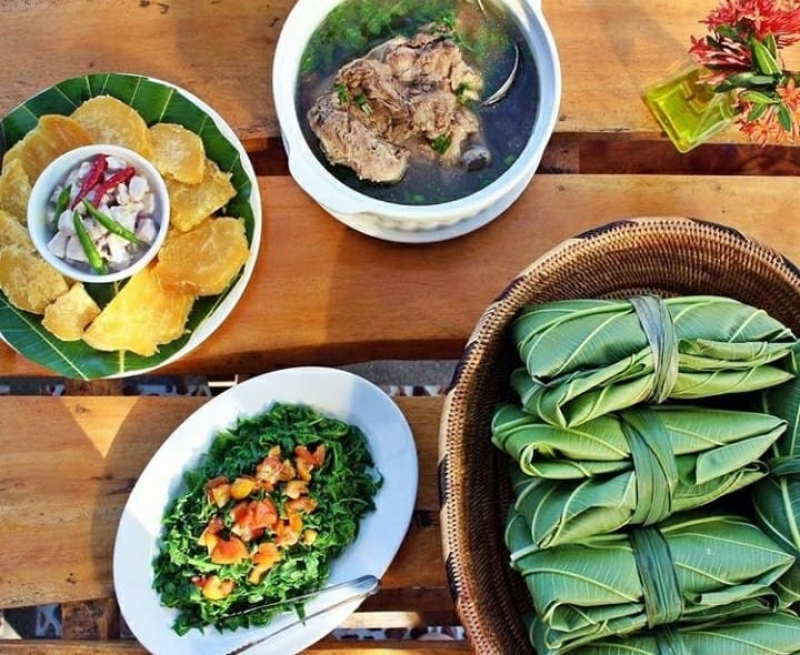 One of the best-loved restaurants in Batanes, Vunong Dinette at Jessica's Place serves authentic Ivatan cuisine. Here, you can enjoy vunong — Ivatan rice meals wrapped in kabaya leaves. Turmeric rice and viands are wrapped separately; inside the viand leaf, you'll find uved (a mix of ground meat and minced fish, cooked in onion, garlic, salt, and pepper), Ivatan bistek, tanigue, and luñis (a traditional pork dish similar to adobo, but served dry).
Along with this, meals are served with fern salad, your choice of beef or seafood soup, and maruya (fritters made with kamote). In just one sitting, your palate will already be well-acquainted with the local flavours!
Address: Taytay St., Basco, Batanes
Pension Ivatan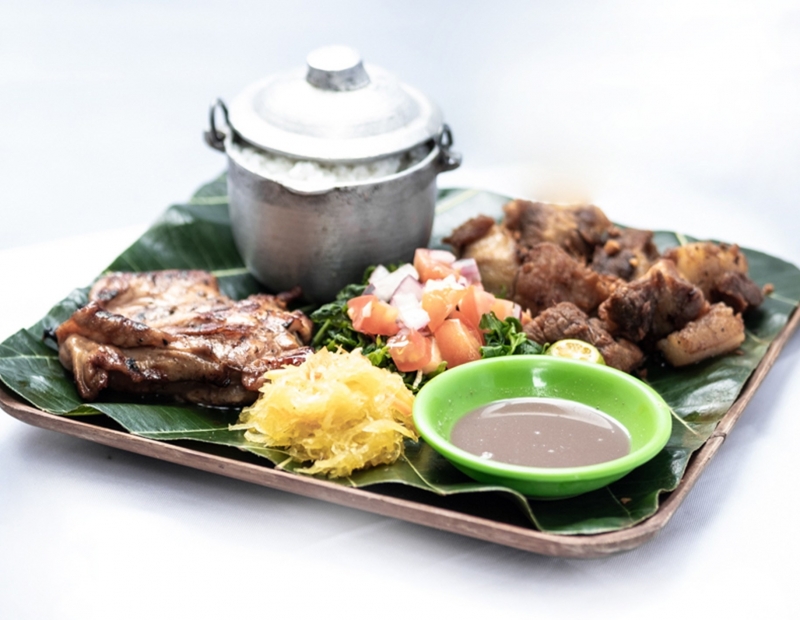 Another Basco restaurant where you can experience Batanes' local cuisine would be Pension Ivatan. Offering big servings, this restaurant is a great choice for those travelling with groups — you'll have more chances to sample all their mouth-watering dishes!
Their popular menu items include bulalo, sinigang na luñis, and adobo. In typical Ivatan fashion, the dishes are served on kabaya leaves with turmeric rice. But of all their offerings, the Ivatan Platter is what you certainly can't miss out on! This generous platter consists of uved balls, payi (lobster), tatus (coconut crab), luñis, grilled dibang (flying fish), pako (fern) salad, and more. This being said, you'll want to arrive on an empty stomach!
Address: Basco, 3900 Batanes
Café du Tukon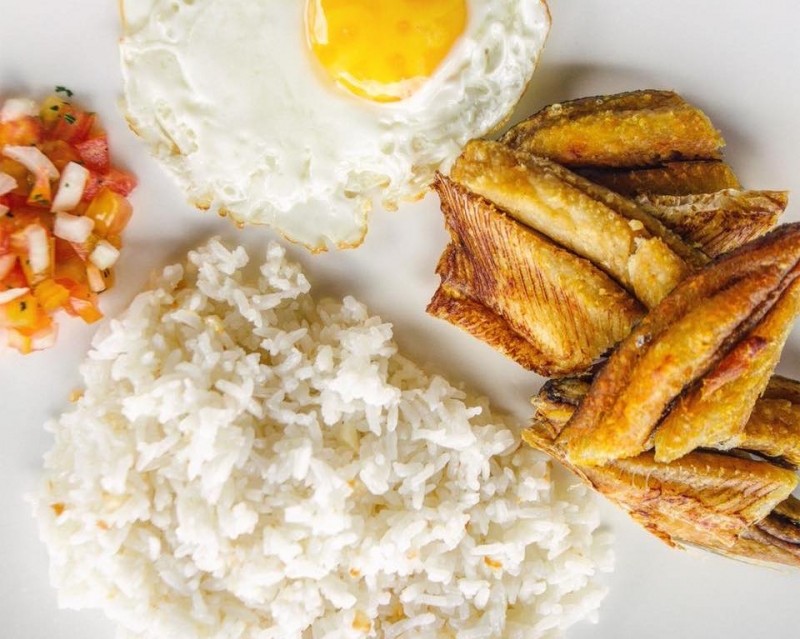 Get the full dining experience at Café du Tukon, where you can enjoy both Ivatan and Western dishes while enjoying stunning views of the sea! In addition to being delicious, their farm-to-table dishes are locally produced and organically raised — you'll enjoy every guiltless bite. Café du Tukon guarantees that their seafood menu items are made with only the freshest catch!
Enjoy dishes like freshly caught dibang, tokwa't luñis, and braised beef short ribs. And for dessert? Dulce de leche cheesecake, of course!
Address: Fundacion Pacita, Sitio Tukon Chanarian, Tukon, Basco, 3900 Batan
Hiro's Cafe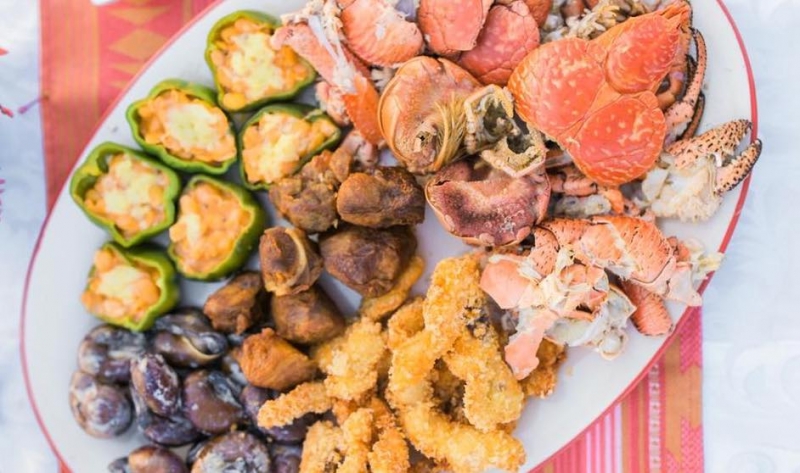 A simple and homey restaurant, Hiro's Cafe is another great place to introduce your palate to Ivatan flavours. Their uved, Ivatan salad, and venes (a dish similar to laing) are among their must-try dishes. Seafood lovers will want to treat themselves to tasty delights such as snails cooked in coconut milk, lobsters, and fried octopus, as well.
In addition, their basic Pinoy menu items like home-cooked tapa and corned beef come well-recommended, too. As for dessert, make sure to order either their buko pandan or buko juice!
Address: 106 Abuyo St, Basco, Batanes
5. Go on a biking tour around Basco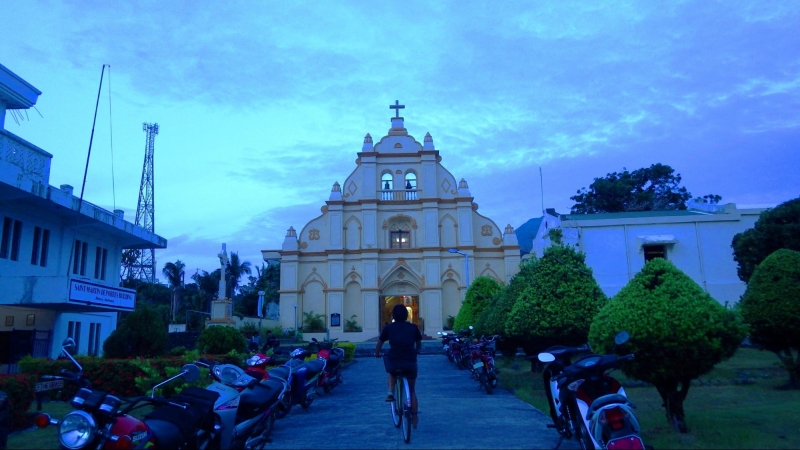 Fun fact about Basco: Bicycles are the most common means of transportation around the area. While you can easily navigate your way through the vicinity (you can walk around, take trikes, or hire cars), renting a bike is a great way to experience Basco like a local! In addition, it's also the cheapest way to get around. Most inns and homestays will have bikes available for rent, so this may be something you'll want to take advantage of.
Up for a challenge? Seasoned bikers choose to circle the entirety of Batan Island — a trip that would take you around five hours, without any breaks. But hey, don't be afraid to take your time!
6. Be awed  by Racuh-a-Payaman's picture-perfect pastures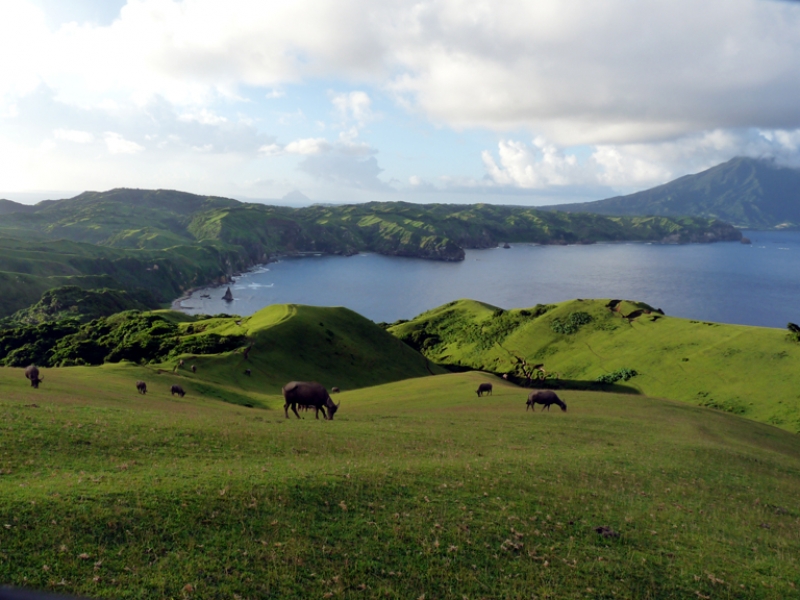 Just 30 minutes from Basco's city centre lies the breathtaking pastures of Racuh-a-Payaman. The first time I laid eyes on a photo of this place, I couldn't believe it was in the Philippines! Known to some as the 'New Zealand of the Philippines,' it's also been dubbed 'Marlboro Country' by tourists because of its striking similarity to the verdant landscapes featured in Marlboro commercials.
There's much to admire around Racuh-a-Payaman. From here, you can enjoy views of Mt. Iraya and Diura Beach, and take in scenes of free-grazing cows, horses, and water buffalos. The beauty of nature will undoubtedly awe you!
7. Marvel at Batanes' famous stone houses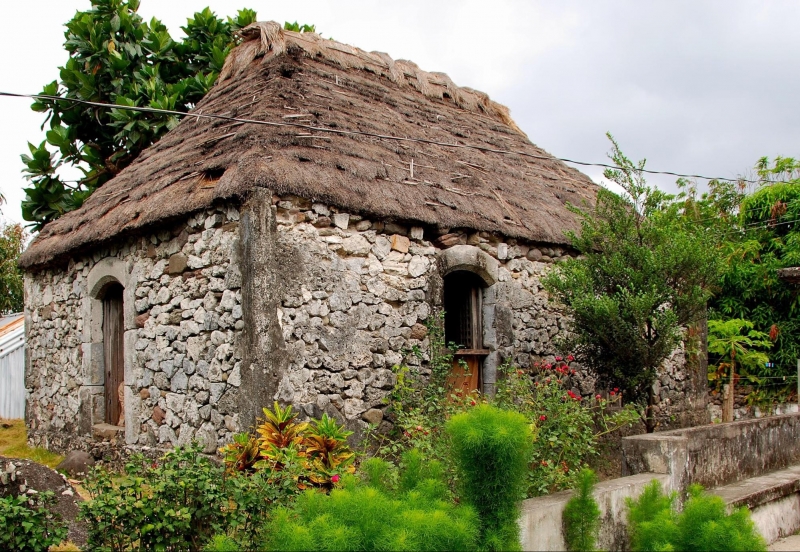 Aside from the many lighthouses that dot its landscapes, Batanes is also well-known for its unique stone houses. Some of these homes, made with lime and stone, still stand after decades' worth of storms and earthquakes — among them are homes that have stood for over a century.
So, what's the story behind these stone houses? Because of Batanes' geographic location (right by the South China Sea and the Pacific Ocean), strong winds and heavy rains frequently hit the province. Given this, the Ivatan people built homes strong enough to withstand natural calamities. Built with lime and stone, these houses have metre-thick walls and thatched cogon grass roofs, which are changed every 25 to 30 years.
You can find Batanes' oldest stone house, Vahay ni Dakay, in the old town of Ivana. In addition, you'll also locate some of the best preserved stone homes in Sabtang Island's Chavayan and Savidug villages.
8. Venture on a faluwa ride to a neighbouring island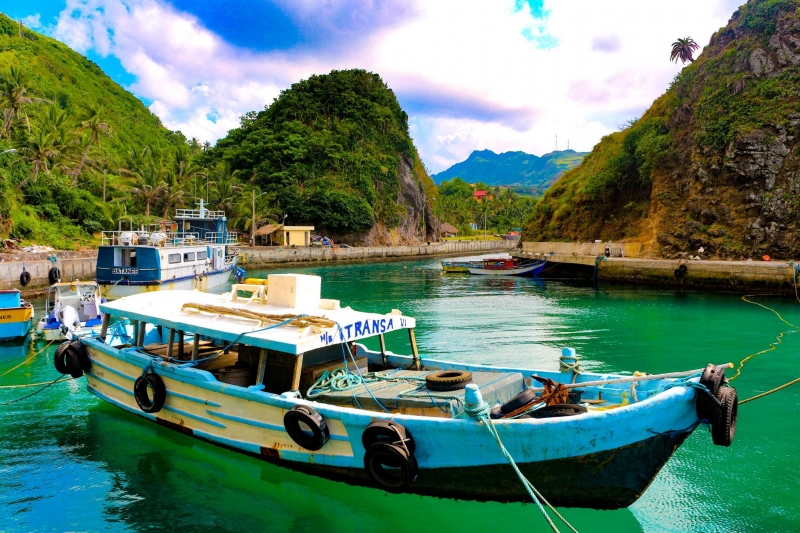 There's so much more to this province than the sights and sounds of Basco. This being said, venturing out to neighbouring islands like Sabtang or Itbayat is one of the top things to do in Batanes. The best way to do that? On a faluwa, of course! These native Ivatan boats are often compared to Noah's Ark (but smaller), and are strong enough to brave Batanes' turbulent waves. Some say you might even get to see dolphins while you're at sea!
9. Visit Sabtang Lighthouse and spend the night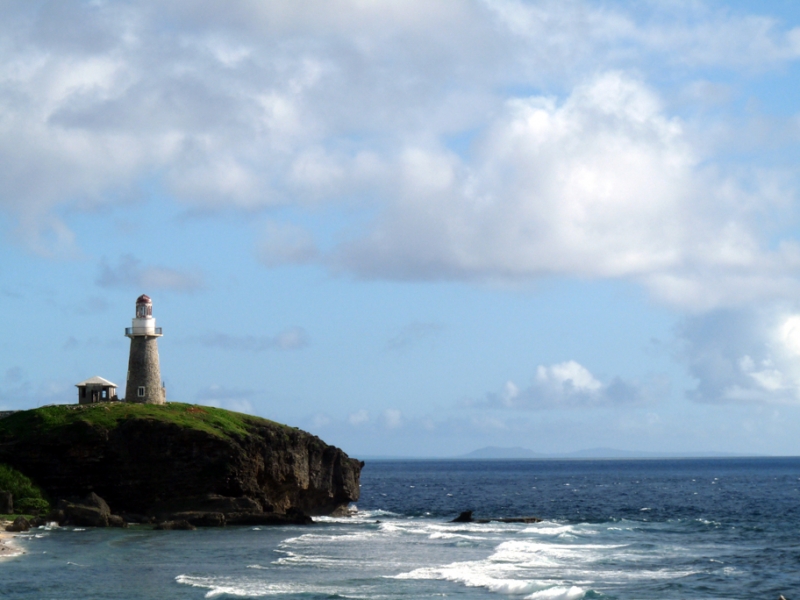 Once you get to Sabtang Island, the idyllic Sabtang Lighthouse will be the first thing that greets you. Truly a remarkable sight, the 59-foot lighthouse is located atop a hill that overlooks the ocean. Isn't that poetic? It definitely reminds me of old tales of wives waiting for their husbands to come home after travelling far away by sea.
Make your way up to the gallery deck for some of the most unforgettable views of the island. To take your visit a notch higher, you can even spend the night just steps from the lighthouse! For the longest time, Sabtang Lighthouse was located on private property — but a few years ago, its owners decided to open up their place and turn it into a homestay. In addition to being a quaint and peaceful accommodation, we hear they've got perfect views of the milky way, too!
10. Take in surreal views of Chamantad-Tinyan Cove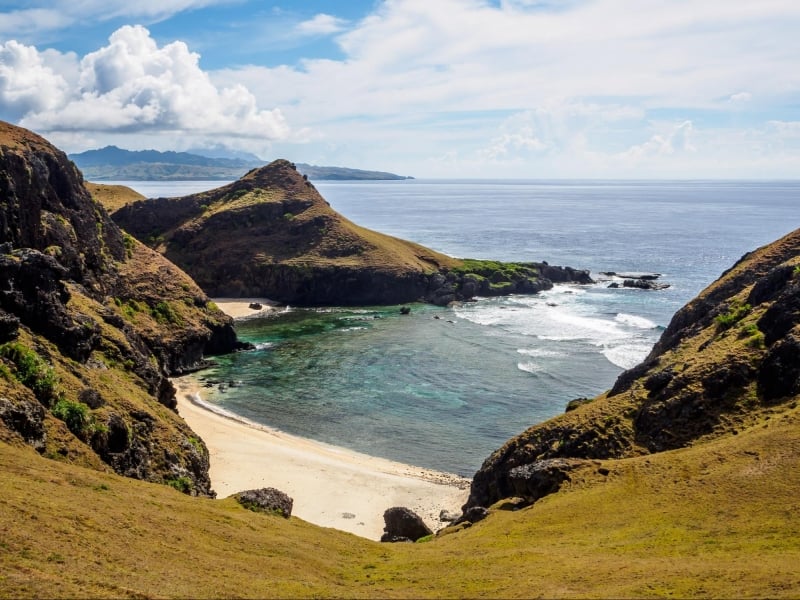 When on Sabtang Island, a short trek across beautiful rolling hills will get you to the Chamantad-Tinyan Viewpoint. The moment you gaze upon this awe-inspiring seascape, you'll understand why it's one of the most popular places to visit in Batanes. Those who've seen it in real life swear that even the most breathtaking photos don't do it justice.
Nearby, you'll find native huts where you can buy delicious local snacks like bocayo, kamote cue, and tuba. Don't forget to treat yourself to these tasty bites!
11. Enjoy a day of sun, sand, and sea at Morong Beach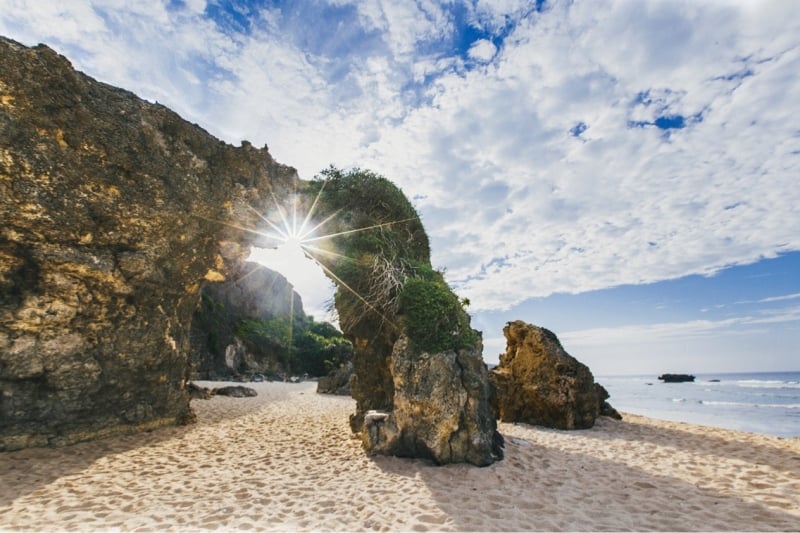 Take a break from lighthouses and verdant hills, and head on over to Morong Beach! Also referred to as Nakabuang Beach, this white sandy beach is best known for the rock formations that form an arch. An iconic Batanes landmark, Nakabuang Arch or Mahayaw Arch is one of the most photographed spots around the province. Don't be shy to strike a pose underneath it!
Also read: 10 Must-Visit Sights That Show the Breathtaking Beauty of Batanes
There are so many gorgeous islands and provinces to visit around the Philippines, and Coron and Batanes are great places to start — especially given that SkyJet Airlines makes it easy to travel there directly. May your local travel bucket list continue to grow as you discover more about the beauty our country has to offer!
START YOUR PHILIPPINE ADVENTURE WITH JUST ONE CLICK!
For more information, please visit SkyJet's official website, Facebook, and Instagram.
---
Brought to you by SkyJet Airlines.