Contributed by The Travel Debugger
Travelling to South Korea was my wife and I's dream since we were still boyfriend and girlfriend in College. It was the time when the Meteor Garden fever struck the Philippines and the K-Drama series was rising in popularity as well. Series like Full House, My Girl, Winter Sonata and Stairway to Heaven were just among those K-dramas my wife is totally crazy about. We got really hooked in My Girl and the crazy antics of Lee Da-hae and thought about making a wish and holding our breath while going up to the elevator to meet each other. We were also crazy about our Korean crushes. My wife always tells me that if Lee Min Ho would date her, she would leave me in a blink of an eye. I then retorted that I'll go to South Korea and find Song Hye-Kyo, never to go back to her again.
Also read: BEST NEWS EVER: Song Joong-ki is The New Face of Korea Tourism for 2016!
To stop all these craziness, I booked two tickets last February 2015, and we finally travelled to South Korea to achieve our dream. This post will include an itinerary, expenses summary and links to our guide and experiences in South Korea. Please enjoy and read on!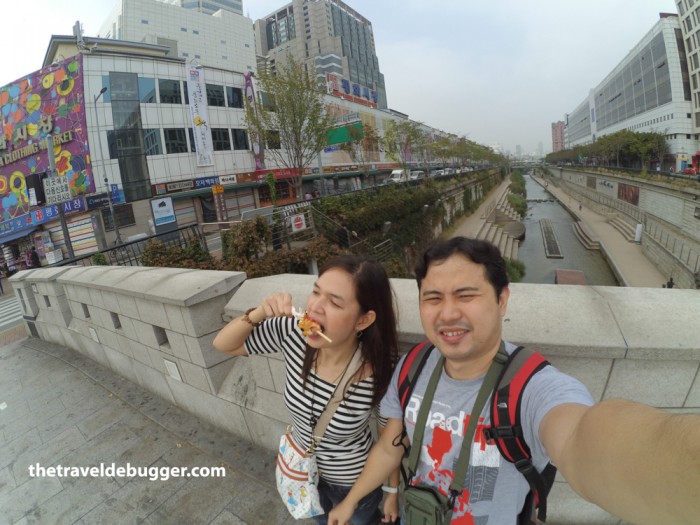 Wifey posing while eating a hotdog in Cheonggyecheon Stream
Itinerary
Our planned Itinerary wasn't followed as we expected it to. Nevertheless, we went to almost all (85%) of the places we planned to visit. So here is our DIY semi-impromptu itinerary:
Day 1 (September 19)
7:00 AM – Depart Manila via Air Asia
12:00 PM – Arrival in Incheon Airport
2:00 PM – Arrival at Zaza Backpacker's Hostel
Note: Travel time from ICN to Hostel is only an hour and 20 minutes by Limousine Bus. We just got hung up in line for the rental of the pocket WiFi and got lost finding the Hostel.
4:00 PM – Myeongdong Shopping and Food Trip
Day 2 (September 20)
8:00 AM – Dongdaemun Market and Design Plaza
Cheonggyecheon Stream
11:00 AM – Ewha University and Sinchon area
1:00 PM – Lunch
1:30PM – Hongdae Area
3:00 PM – Yeouido Park
7:30 PM – Hangang River Ferry Cruise (Live concert and Banpo Bridge Fountain Show)
Day 3 (September 21)
8:00 AM – Gwanghwamun square
8:30AM – Gyeongbokgung Palace
11:00 AM – Back to Gwanghwamun square where we tried Hanbok dress
12:00 PM – Dongdaemun Market again for lunch and some shopping
4:30PM – N Seoul Tower
6:30 PM – Dinner at a nearby restaurant from our Hostel
7:00 PM – Chicken and Beer at Two Two Chicken
Day 4 (September 22)
7:15 AM – Depart to Nami Island
9:20 AM – Arrival in Nami Island
2:00 PM – Petite France
3:00 PM – Depart Petite France
5:00 PM – Meat-ing Korean BBQ Buffet in Hongdae
Day 5 (September 23)
8:00 AM – Depart to Korean Folk Village
9:00 AM – Breakfast at Guro Station
11:00 AM – Arrival in Korean Folk Village
2:00 PM – Depart KFV to Lotte Mart in Seoul Station
4:00 PM – Arrival in Lotte Mart
5:00 PM – Rest in Hostel
7:00 PM – Myeongdong Shopping and Food trip again
Day 6 (September 24)
10:30 AM – War Memorial Museum
1:00 PM – Korea National Museum
3:00 PM – Lotte Mart at Seoul Station again
5:00 PM – Depart to Incheon Airport
9:00 PM – Flight back to Manila
Transportation
Airfare
We booked our roundtrip tickets last February 2015 from Air Asia for PHP 7,203 Net each using a Credit Card. I think it's a pretty good deal. Even though it is a normal promo fare, you can still get lower fares if you wait for a super low promo.
Also read: 8 Tricks to Successfully Grab Cheap Promo Flights in the Philippines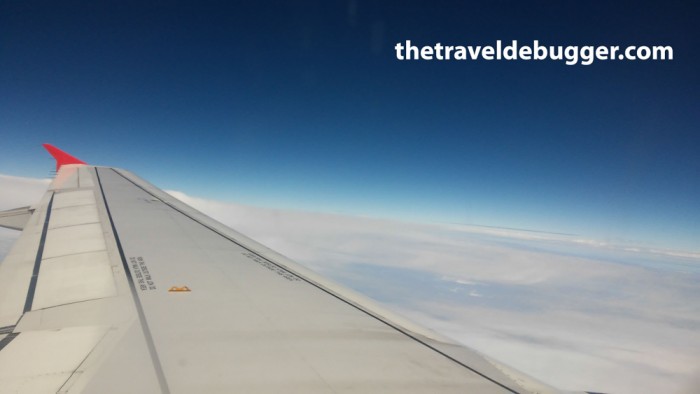 Aboard the Air Asia flight to Incheon
Going to downtown Seoul from ICN Airport
We took the Standard Limousine Bus number 2015 for KRW 10,000 each going to Myeongdong. After purchasing the tickets, we proceeded to bus stop 12A and waited in line. Travel time took us about an hour and 20 minutes. It was pretty fast as there was little traffic that time.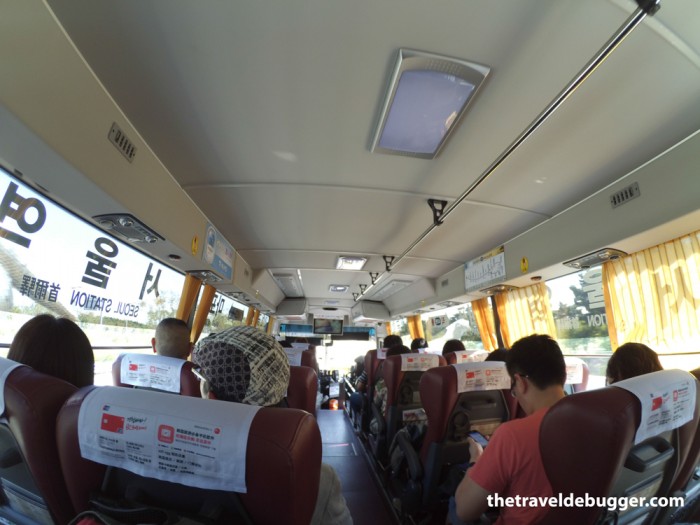 Inside the Limousine Bus going to downtown Seoul
Going around Seoul
Seoul City has one of the most efficient mass transport systems in the world. You can go from one place to another in the fastest time possible. Just be prepared though that there will be lots of walking especially on train transfers. Wear a pair of comfortable shoes ideally with good foam. In preparation for this, we bought our Champion shoes at Pay Less in SM Megamall. It is cheap and has a memory foam. It did its job and our feet were well protected from lots and lots of walking (sometimes even running).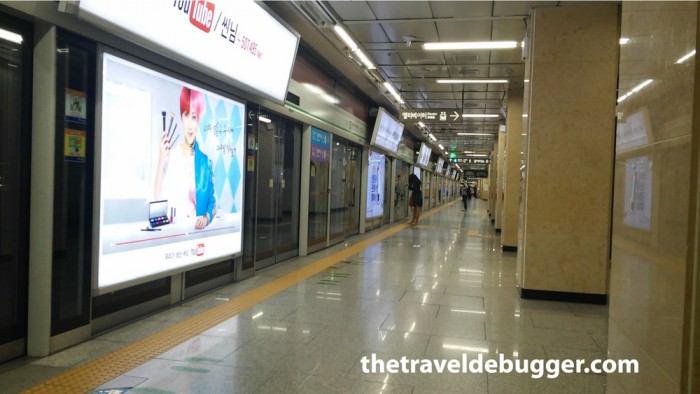 Waiting for the Train to arrive
Be sure to purchase a T-Money from the convenience stores and/or vending machines. This will make your commuting more efficient and convenient. We charged our T-Money KRW 25,000 each with KRW 4,000 deposit. It was sufficient for our six-day stay. We didn't bother to get the M-Pass as the T-money is sufficient. Click here for more details regarding T-Money.
Also, before you board a train or bus, purchase a Subway Map and a Map of Seoul. These two maps are your best friends when navigating especially if you don't plan to rent a pocket WiFi or purchase a sim card. Though we have a map in our guide book that I borrowed from my office mate, we were happy that our hostel provided us one as well as we can just fold and slip it in our bags conveniently anytime.
We were proud to say that this is the first country where we didn't ride a taxi. All of the places we went to are either reached efficiently via train and bus or just by walking.
Going back to ICN Airport
There are lots of ways to go back to the Airport. You can take the train, bus or a taxi. We took the Airport Railroad Express (AREX) All Stop train from Seoul Station as it is much cheaper and there is just a little time difference between the All Stop and Express train. Since we refunded our T-Money in downtown Seoul, we just bought a Single Journey ticket from Seoul Station to Airport. Note that we too are in a hurry to go back to the Airport but we like to save more money and just spend the remaining KRW we had so we didn't need to exchange our USD. All's well that ends well, we left our hostel at around 5:00 PM and checked our baggage in at the airport at around 6:30 PM. Good thing that our hostel is just two stops to Seoul Station.
Accommodation
We booked our stay with Zaza Backpackers Hostel for five nights and six days for a total of KRW 300,000 (KRW 60,000 per night). I really liked the location as it is just a 3-5 minute walk from Myeongdong station Exit 2 and 3 and around 10 minutes walk to Myeongdong Shopping Center. Our room was really clean and the beds are comfortable but the aircon has a little drip; we managed to put tissues to stop the dripping. The place is quiet and the staff are really helpful and friendly. They have free breakfast everyday which consists of bread (with peanut butter and jelly) and coffee. We paid cash (full stay) upon arrival. I'm not sure if they accept credit cards.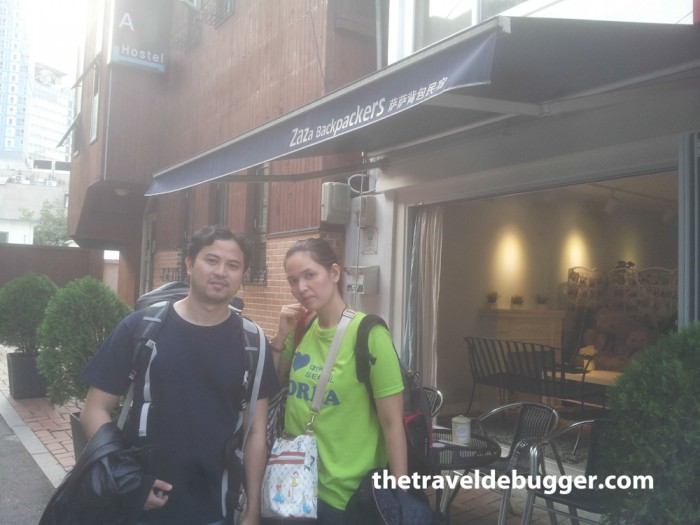 Zaza Backpackers Hostel was our home for six days.
Tip: Book a hotel/hostel that accepts payment upon arrival; that means no downpayment or deposit in advance. This is to make your plan flexible.
Tours
We didn't book a single guided Tour in Korea. All of our tours are DIY and all of our tickets were purchased in the destination but if you will book a DMZ tour, then it is required to have one.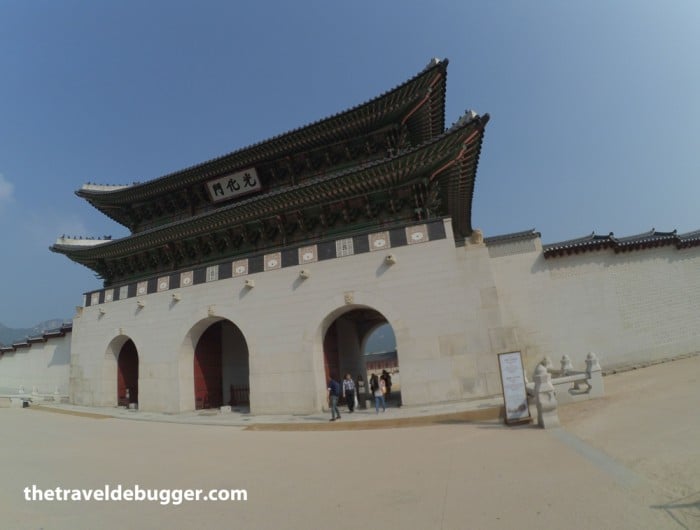 Entrance to the Gyeongbokgung Palace
For the places we went to, check our Itinerary or the Related Links below!
Also read: How I Travelled 7 Days in Korea This Winter for Only PHP 15,000 (All-In)
Food
Food in Korea is amazing but it's not that cheap as well. Be prepared to shell out around KRW 3,000 to KRW 12,000 per meal in a restaurant. That's around PHP 120 to PHP 470. Street food ranges from KRW 900 to KRW 6,000. The prices also differ depending on the location e.g. a skewered sausage in Myeongdong cost around 3,000 to 4,000 while in Hongdae, a University place, is just KRW 2,000 to 2,500.
Of course, it also helps if you have brought your own food with you. Food that will just get you by, like when you are aboard the plane and you don't want to buy airplane food with exorbitant prices. You can also buy sandwiches or biscuits in supermarkets or convenience stores as it is much cheaper than dining in a restaurant. It can also save time as you can just eat while walking or when you are in the metro. Also, since our hostel provides bread for breakfast, we asked them if we can just bring some bread with us instead of eating it there in the hostel lobby. Saves us precious time and we can get our bread from our bag every time we get hungry.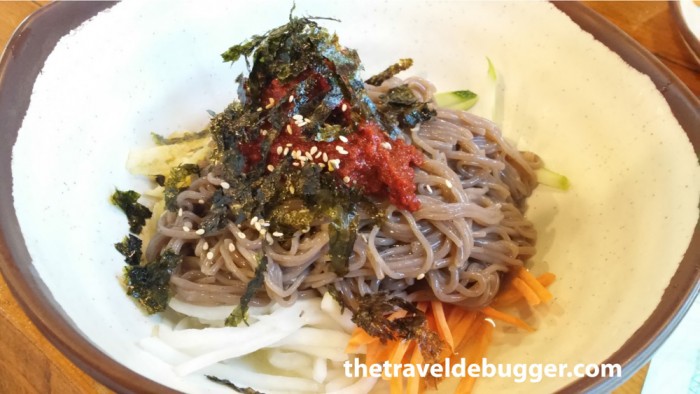 Cold Buckwheat Noodles with chili sauce. Very delicious!
Expenses Summary
Here is a summary of our Expenses in Seoul. Please note that shopping items and souvenirs were not included as this may vary per individual preferences. Food and drinks were shared between the two of us.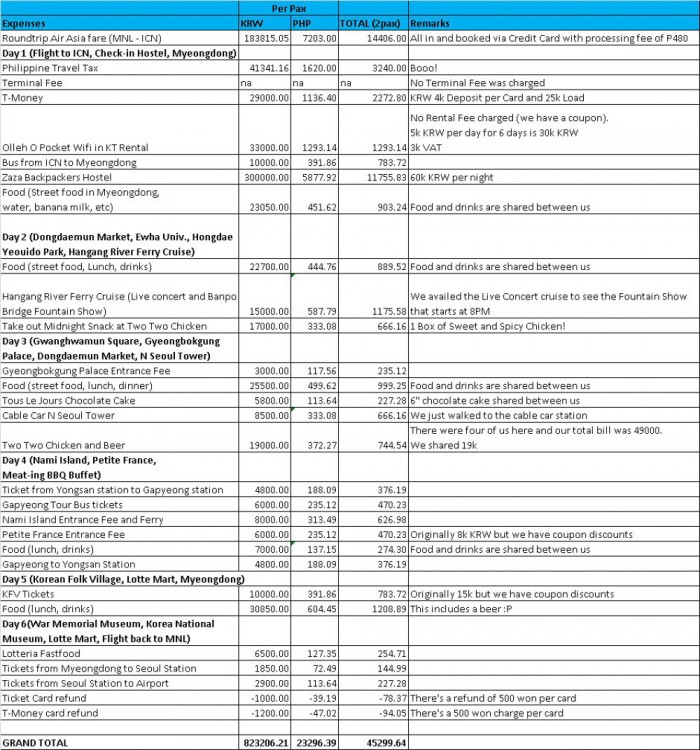 South Korea Expenses Summary for Six Days
Well, not bad for a six-day trip right? If you will exclude the air fare then the total expense (excluding shopping) is just PHP 30,893.63 for two persons. Then maybe just allot PHP 10,000 to 15,000 for shopping and souvenirs then you're all good.
For our budget tips, click here!
Thanks for reading!
Also read: How to Travel Korea on a Budget