Truly, there is nothing better than being able to explore the world with your best travel buddy, your significant other, beside you. If you are up for something a little more adventurous and would not mind being away for more than a few days to get a glimpse of the rest of Southeast Asia, here are our most recommended routes for you.
Also read: 10 Practical Tips to Survive Backpacking with Your Partner
Note: Most of these routes are extensive and take time to explore. You can do it in a much shorter time but it would mean skipping on some places or being constantly on the run, which is not exactly the best idea of a "vacation". Enjoy!
The Philippines
Estimated Duration: 2 weeks to 1 month
You obviously can't go and backpack the rest of Southeast Asia until you have gotten to know your country a little better. So here's a quick guide to the best places in the Philippines:
Manila
The capital of Manila may be notorious for its traffic but it certainly boasts of several tourist attractions including the Rizal Park, Fort Santiago, Quiapo Church, Manila Cathedral, Manila City Hall and several others.
 El Nido and Coron, Palawan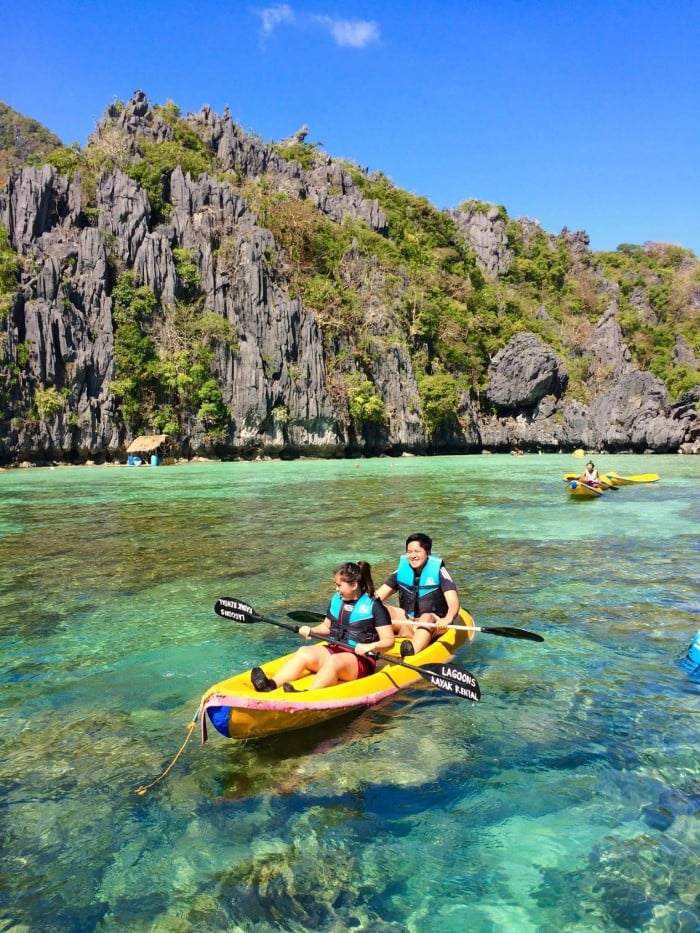 Image credit: Hector Jasmin | Small Lagoon, El Nido, Palawan
These are the two best towns in Palawan where you can find grandiose rock formations, hidden and secret lagoons, hidden and secret beaches (yes all these four are entirely different places) and many more. If you can spare a few hours more, you can also make your way to the capital city of Puerto Princesa, which is the home to the Puerto Princesa Underground River, a UNESCO World Heritage Site.
Boracay
The most famous island in the Philippines is Boracay, known for its powdery white sand beaches and beautiful sunsets. Apart from being a romantic destination, the island is also well known to foreign and local tourists day in and day out.
Cebu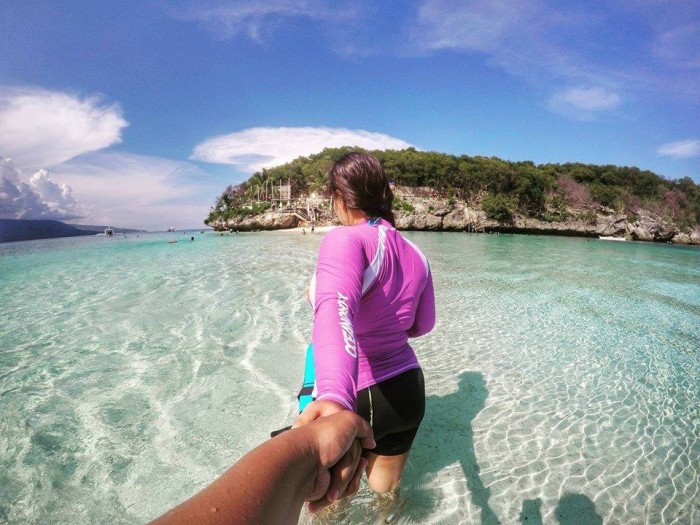 Image credit: Hector Jasmin | Sumilon Island, Cebu
The Queen City of the South is not to be left behind by the country's capital because it boasts of an equally vibrant nightlife and even more thrilling adventures both in the city and the mountains and beaches (no bias here). The only difference here is that Cebu has a more laid-back vibe compared to Manila.
Bohol
But if you would like to have an even more quiet time, you can also hop on board a ferry from Cebu that will take you to Bohol. This province is known for its numerous Chocolate Hills and tarsiers. The ultimate relationship goal would be to try out the extreme adventures at EAT Danao.
Siargao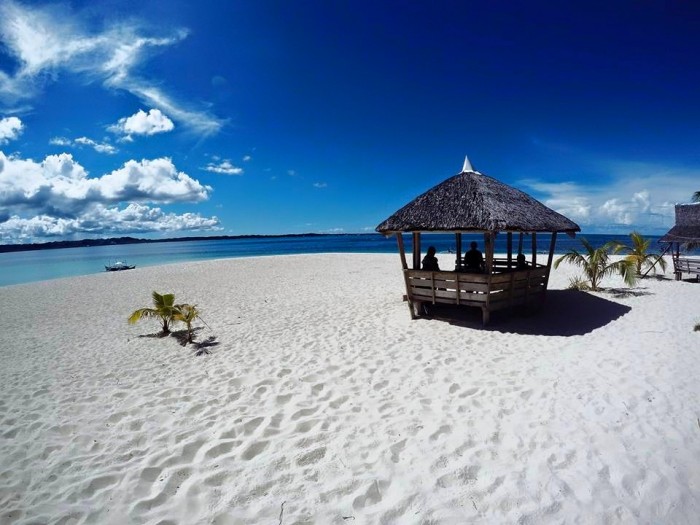 Image credit: Mclovin'tosh
It seems that this itinerary has been slightly conservative and less adventurous so it's time to head somewhere more breathtaking: at the Surfing Capital of the Philippines. General Luna is the best place to catch waves in this beautiful island — and you can also choose to extend your stay here and experience a carefree island life.
Davao City
This city is considered as one of the safest (and also the cleanest, IMHO) cities in the country. There are a lot of museums and parks to check around but you can also push yourself and your SO by climbing the top of the highest mountain in the Philippines. Or you can also use the city as a gateway to other awesome destinations in Mindanao.
Indonesia
Estimated Duration: 4 days to 1 week
Indonesia, an archipelago with more than 13 thousand islands, is best known for its volcanoes, beaches, jungles and Komodo dragons. A visit to Indonesia would not be complete without visiting its temples or taking a dip in one of its beaches.
Also read: The Essential Southeast Asia Backpacking List
Jakarta
Among the places that you should not miss in the country's capital include the National Museum of Indonesia, the National Monument and the National Gallery. The city is the best place for shopping, food tripping and experiencing the nightlife.
Yogyakarta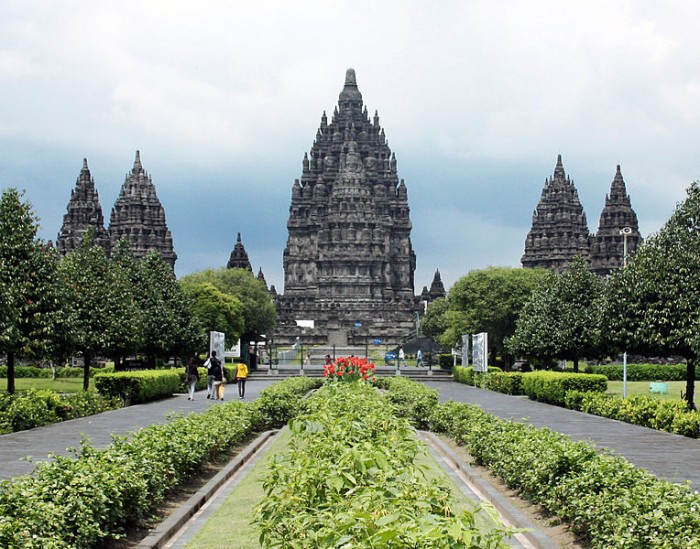 Image credit: Gunkarta Gunawan Kartapranata
This city in Indonesia is well known for its numerous temples and traditional arts and cultural heritage. Top attractions include the Prambanan Temple, also a UNESCO World Heritage Site, the Sewu Temple, Sambisari Temple and many more.
Bali
Once you have your fill of urban tourism, why not head on to the forested volcanic mountains, beaches and rice paddies of Bali? The beachside cities in the south is a lot of lively bars and there are several places there that have turned into popular resort towns.
Gili Islands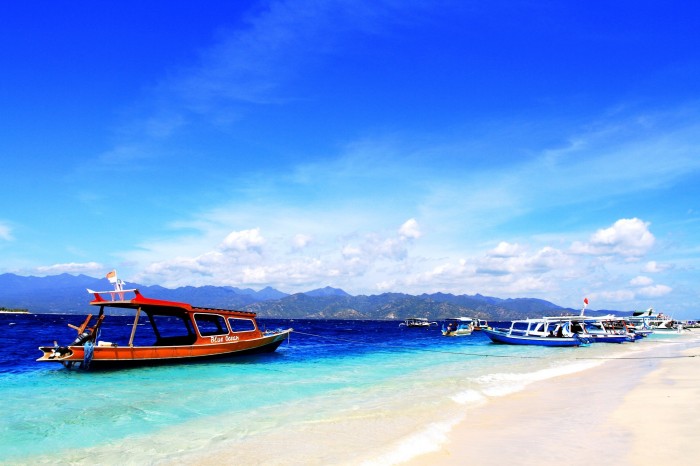 Image credit: skyseeker
This destination actually refers to a group of three islands namely Gili Trawangan, Gili Meno and Gili Air. The largest island, Gili Trawangan, features a sunken ship at Wreck Point. Meanwhile, the smallest island, Gili Meno, boasts of sea turtles at Turtle Point.
Komodo
If you are adventurous enough to visit the only existing dragons in the world, do not forget to visit the Komodo National Park which is home to more than 4,000 dragons. Or you can also go scuba diving in the surrounding waters and take a glimpse of its diverse marine life.
Singapore + Malaysia
Estimated Duration: 4 days to 1 week
If you want no-fuss travel at among the most tourist-friendly cities in Southeast Asia or if you are just starting out in travelling as a couple, this is the must-try itinerary for you:
Also read: 20 Tips for Travelling Around Southeast Asia
Singapore
The garden city of Singapore is one of the easiest cities in Southeast Asia to get into from the Philippines. Aside from checking out the Merlion, you should also not miss visiting the Universal Studios, the Singapore Night Safari, Jurong Bird Park, Singapore Flyer, Singapore Botanic Gardens and more.
Kuala Lumpur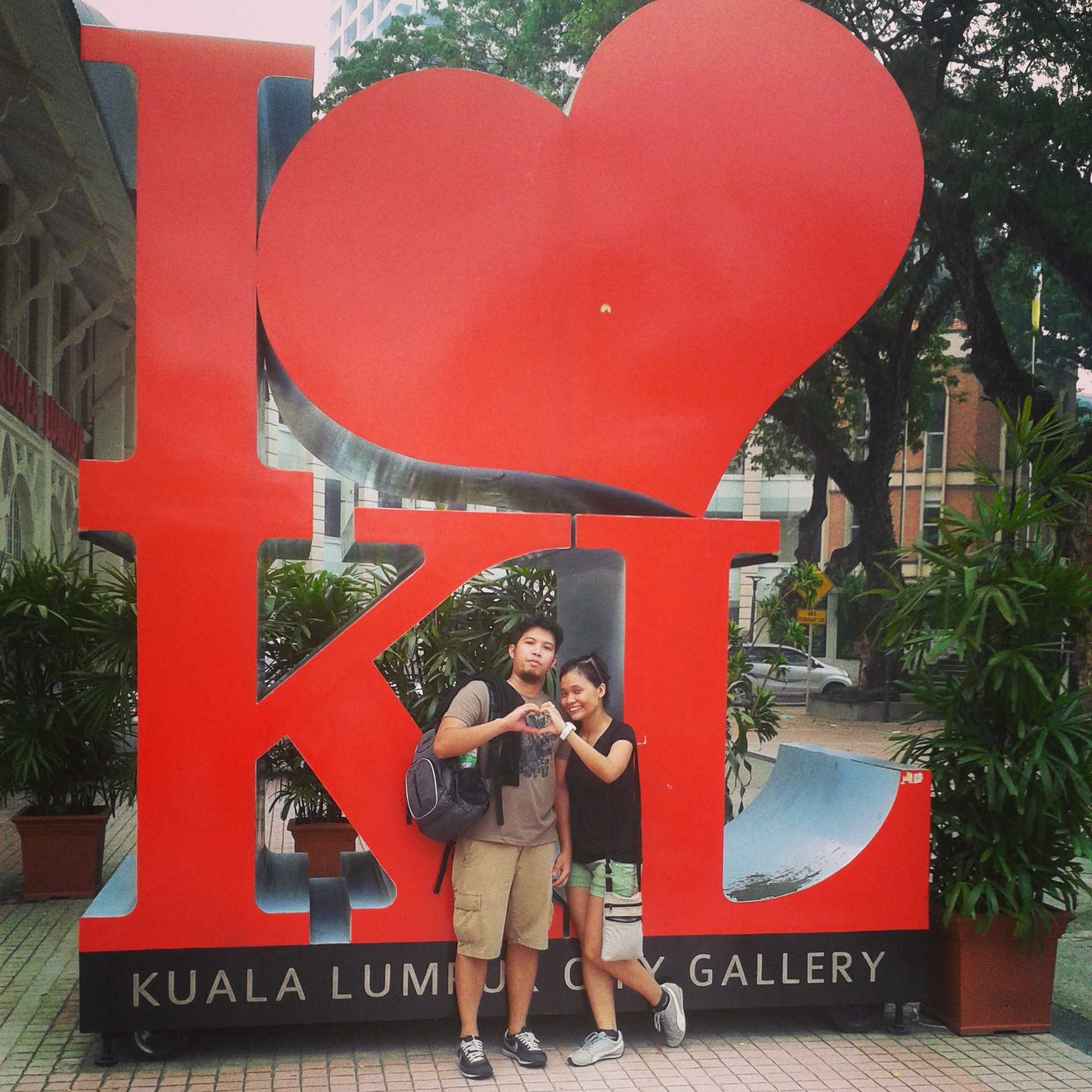 Image credit: Chill and Travel
Getting to Kuala Lumpur from Singapore takes around six hours during the day or seven hours on an overnight sleeper via train.
Among the sights you should not miss out in Kuala Lumpur include the Petronas Towers, Kuala Lumpur Bird Park, Batu Caves, KLCC Park, Jamek Mosque, National Museum and several others.
Kota Kinabalu
If you are up for more adventures with your significant other, you should definitely go on and visit Kota Kinabalu, which can be reached from Kuala Lumpur via air travel.
Mount Kinabalu is the most famous attraction in the city but you can just go and visit the Tunku Abdul Rahman National Park, Kinabalu Park or snorkel or dive at Tanjung Aru.
Cambodia + Vietnam + Laos + Thailand + Myanmar
Estimated Duration: 3 weeks to 1 month
The ultimate Indochina getaway that will leave you wanting for more. Check out how this couple backpacked Indochina, visiting six cities within four countries in just 11 days.
Cambodia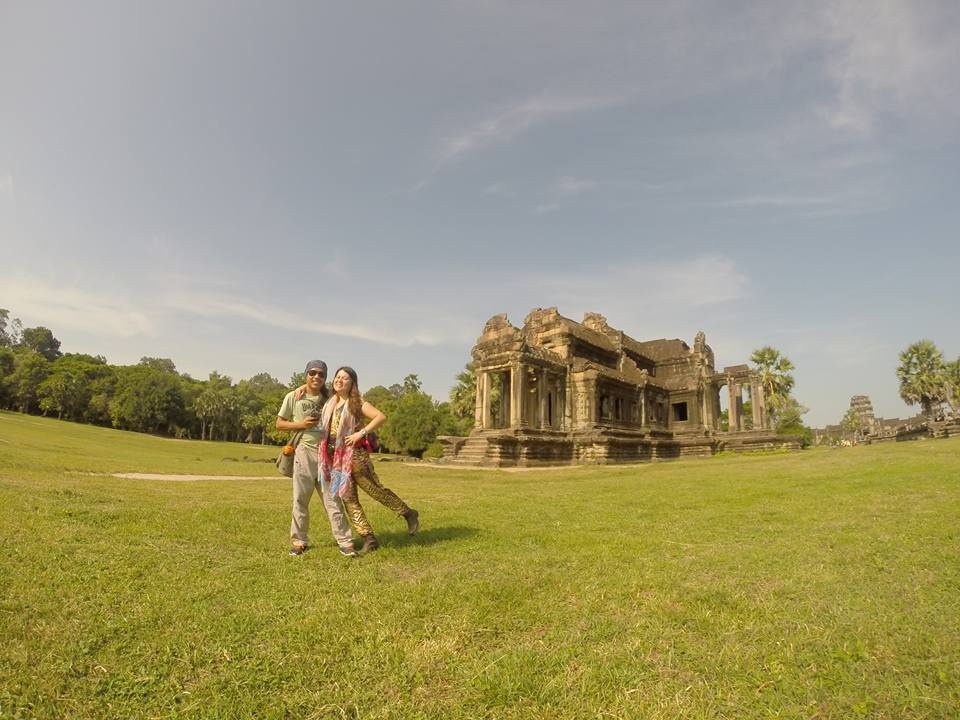 Image credit: Kresia Julio | The WANDER (FULL) LIFE | Siem Reap
Siem Reap
This resort town in the northwestern part of Cambodia is your gateway to popular attractions including the Angkor Wat, Angkor Thom and several other temples.  Other places to check out in the city include the Cambodia Landmine Museum, War Museum Cambodia, Angkor National Museum.
Phnom Penh
The capital of Cambodia, it is also known as the Pearl of Asia and considered as one of the prettiest French-built cities in the entire Indochina region. Shopping is quite popular here but you can also go around to see beautiful architectures and attractions, including French colonial buildings.
Vietnam
Image credit:

Arianos

| Halong Bay
Ho Chi Minh City
Just like the previous destination, HCMC in Vietnam is also full of French colonial buildings as it had been the capital of Cochinchina, when it was still known as Saigon. Prominent structures in the city include the Reunification Palace, Notre Dame Cathedral, City People's Court and Municipal Theatre.
Hoi An
The Old Town of Hoi An is considered as a UNESCO World Heritage Site as it is still a well preserved trading port until today. Aside from it surrounding infrastructures, Hoi An is also well known for its cooking classes where tourists get to experience cooking the city's signature dish, cao lau.
Ha Long Bay
Have you had enough of the urban jungle? Perhaps you should go north to the UNESCO World Heritage Site that is Ha Long Bay. This area is surrounded by islets made of limestones and is popular for rock climbing, hiking and scuba diving.
Hanoi
The best way to get to the next country is to first travel to Vietnam's capital city, Hanoi. Hanoi is very picturesque and is even called the Paris of the East. It is a very popular attraction among tourists due to its numerous lakes and French colonial buildings.
Laos
Vientiane
It takes 24 hours to get from Hanoi to Vientiane but is among the cheapest ways to travel the route.
Albeit small, the city is packed with quite a number of attractions including temples and Buddhist monuments. While you are there, don't forget to visit Wat Si Muang, Pha That Luang, Patuxai and the Buddha Park.
Luang Prabang
Literally the 'Royal Buddha Image', this town is a UNESCO World Heritage Site and is home to a number of natural and historical attractions. Don't forget to check out Kuang Si Falls, Tat Sae Waterfalls, Haw Kham Royal Palace Museum and the Wat Xieng Thong Temple.
Thailand
Image credit:

Jan
Chiang Mai
Getting from Luang Prabang to Chiang Mai is an adventure of sorts. You can take a boat from Luang Prabang to Pak Beng then to Huay Xai then do a boat-tuktuk-van/bus combination to get to Chiang Mai in Thailand.
When it comes to places in Northern Thailand, Chiang Mai is considered as the largest and most culturally significant. The city is home to the Wat Phrathat Doi Suthep, the most famous temple; Wat Chiang Man, the oldest in the city;  Wat Phra Singh and many more.
Mae Sai
You can take a bus from Chiang Mai to Mae Sai and visit the Tham Pla Caves or Wat Phra That Wai Dao, a Burmese temple. Mae Sai will also be your gateway to the next country, Myanmar.
Myanmar

Tachileik
The small border town of Tachileik is home to the Schwedagon Pagoda, located on a hill not far from the border crossing. You can also drop by the Hilltribe Tourist Village, a kilometre from the border, where you can take photos of the villagers.
Yangon
The former capital of Yangon is also the country's largest. Although it looks relatively underdeveloped compared to the other major cities in the Southeast Asian region, it still has quite a number of notable sites including pagodas and temples, gardens and national parks, and museums and art galleries.
Also read: Backpacking Southeast Asia: 7 Great Destinations to Kickstart Your Adventure
Have you decided where to go on your next backpacking adventure with your significant other yet? Wherever you decide to go, have fun and enjoy!