Contributed by Trisha Aguilar
Southern Mindanao is one of the least talked about destinations in the Philippines. It has a variety of natural riches that should definitely not be overlooked. With a budget of only ₱6,971, you can experience the south for four days, all in! Here's our 4 days 3 nights itinerary.
Also read: How Our Family Spent 22 Days in Eastern Mindanao: Tips & Cost Breakdown
Day 1: Mati, Davao Oriental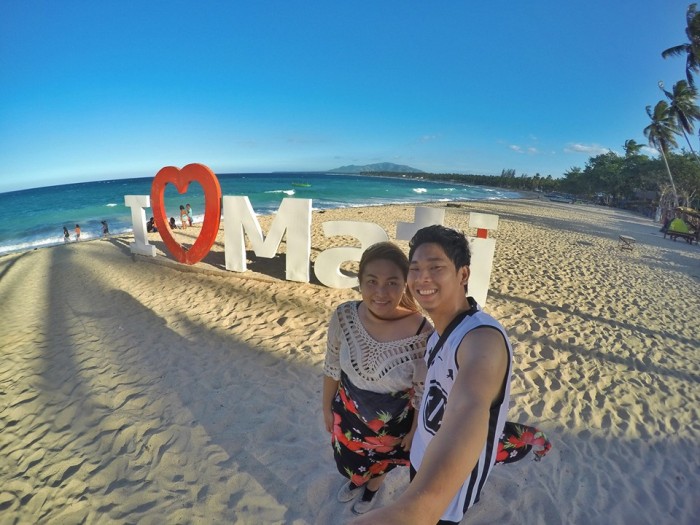 From Davao Airport, we walked to the left side until we saw the big golden durian. We then walk towards the highway and took the underpass. Then we rode a multicab or jeepney that will pass by GMALL and from there, took a van to Mati City. Estimated travel time is three to four hours for about ₱200-220 pesos only (no stop-overs). I do not recommend getting a van outside the airport like we did because it took us four to five hours to reach Mati and transferred to three different vans, although the total cost was still ₱220.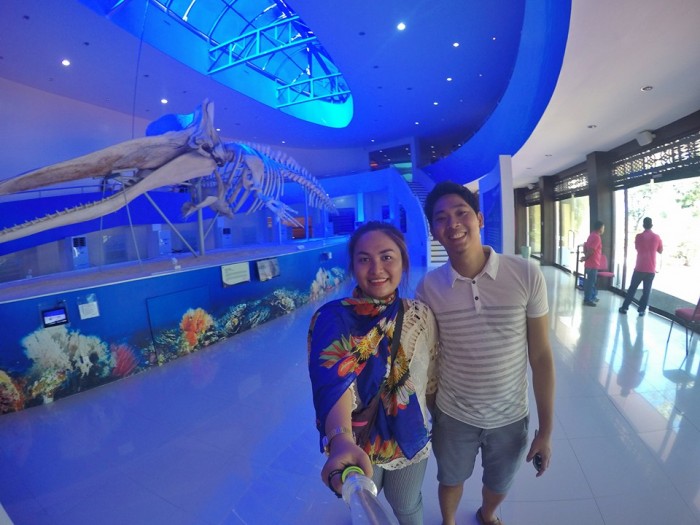 On our way to the terminal, we stopped by the Sleeping Dinosaur Island. Then we had our lunch at a carinderia (small eatery) near the terminal entrance. Afterwards, we visited Subangan Museum, a high-tech and interactive museum. The entrance fee is ₱50 only for Filipino non-residents.
The highlight of my trip to Mati was the untouched Dahican Beach. The strong waves are perfect for surfing or skim boarding for ₱500 and ₱300 per hour, respectively. We camped at Amihan sa Dahican. You can rent a tent for ₱300.
Tip: It would be best to buy your dinner at the terminal as there aren't any restaurants at Dahican Beach.
Day 2: Cateel, Davao Oriental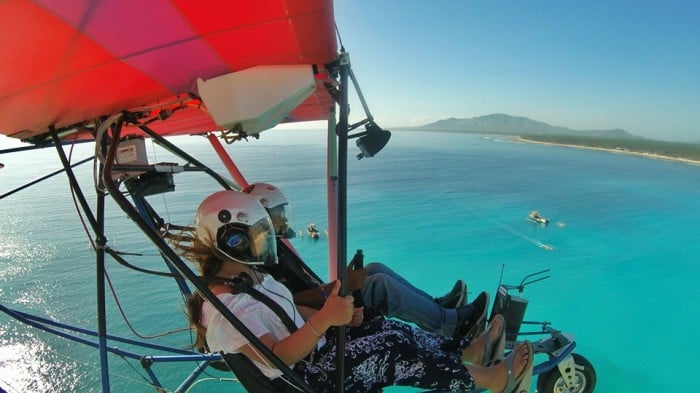 We woke up at around 5.15am to catch the sunrise at Dahican Beach, then we headed to the abandoned airport. The best fifteen minutes of my life so far was when we tried the open ultralight for a fee of  ₱1,600. We then had our breakfast at Jollibee right after. We rented a habal-habal (motorcycle) to take us to the terminal for our next destination — Cateel.
Update: As of January 2017, Ultralight Plane Ride is now ₱2,500.
We stayed at Edar's Place which is near the old bus terminal. You won't find it on Google Maps so I recommend taking a tricycle for ₱10 per pax. It only takes five minutes. On the other hand, the new bus terminal is also close, around ten minutes away. We paid ₱1,000 per night for a room with air conditioning.
We went to Aliwagwag Falls Eco Park; entrance fee is ₱50. We also tried the 680-metre suspension cable zipline for ₱200. Another must-see is the Monkey Bridge; prepare ₱50.
As for the food, you can find really cheap eateries anywhere. I also recommend Edwards Grill near the City Hall. Try their liempo for only ₱120!
Also read: Northern Mindanao Travel Guide: Iligan, Camiguin, Bukidnon & CDO
Day 3: Surigao del Sur
There is only one trip per day to get to Surigao del Sur from Cateel. Be sure to be at the Cateel terminal before 5am. If you miss the daily trip, you'll have to take a habal-habal to get to Mangagoy Terminal, however, it will cost a bit more.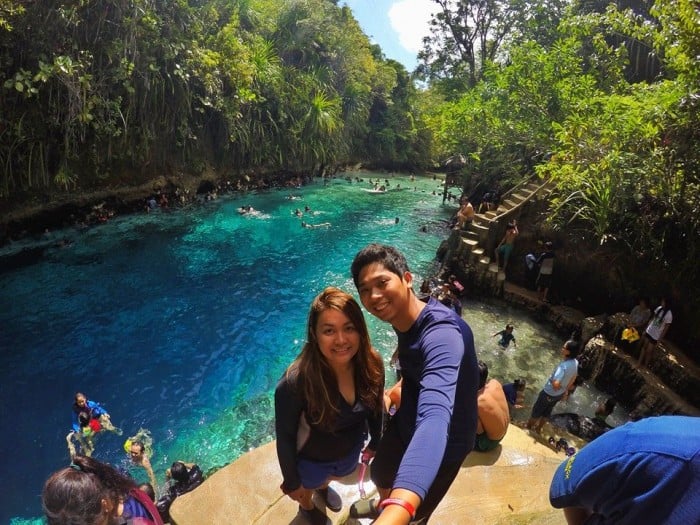 The places we visited were Hinatuan Enchanted River (₱30), Sibadan Fish Cage, and Tinuy-An Falls (₱50). Island hopping costs ₱150 per hour. Make sure to haggle when you hire a habal-habal driver. Tour fees usually cost ₱1,000-1,500 including the Tribal Fee.
From Mangagoy, we headed to Davao City. Make sure to go back to Mangagoy Terminal before 4pm if you want to go back to Davao on the same day. It took us about five hours because the driver was slow. Do not fret if you stop at a military checkpoint; just follow instructions.
We arrived at Victoria Plaza Mall at 9pm. From there, it took us 20 to 30 minutes to walk to D'morvie Suites. We could have taken a multicab but we opted to have a night tour of the city and try some street food. Jenny's Chicken seems to be popular in Davao.
When we arrived at D'morvie Suites, there were too many waiting guests so we transferred to  Megiko Dormitel just across the street. Because we only needed a quick nap and a place to wash up, we took the 9-hour room for ₱450.
Day 4: Samal Island, Davao del Norte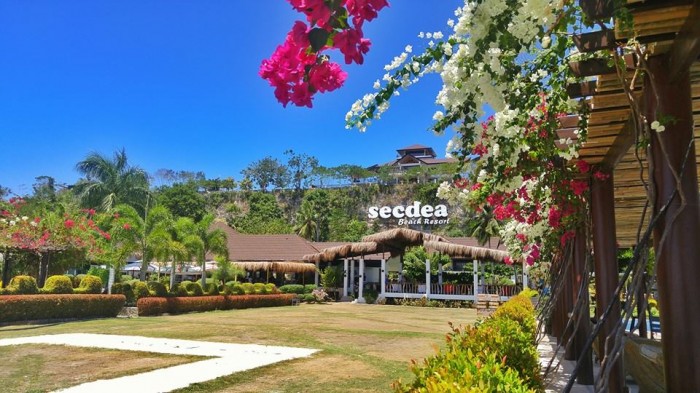 Before heading to our main destination, we took a side trip to Monfort Bat Cave for fifteen minutes. The entrance fee was ₱100 which I thought was not worth it. We just took a few photos.
We took a day tour at Secdea Beach Resort. The pass costs ₱1,000 per person including a yummy buffet lunch. You can start as early as 7am until 5pm. It was a good place to relax and swim.
Day 4 was our last day but we didn't get to explore much of Davao City and Samal because we had limited time; our flight was at 6pm.
Also read: 22 Photos That Will Make You Want to Live in Davao for Good
Breakdown of Expenses (per pax)
Particulars
Price (

₱

)
Notes

Roundtrip airfare

₱220

AirAsia piso fare

Day 1

Snacks

₱93

Airport

Transportation

₱220

Airport to Mati City

Lunch

₱50

Dinner

₱100

Subangan Museum

₱50

Amihan sa Dahican

₱150

Tent

Day 2

Ultralight plane

₱1,600

15 minutes

Transportation

₱100

Dahican Beach to the abandoned airport

Breakfast

₱95

Jollibee

Transportation

₱250

Van; Mati to Cateel

Transportation

₱10

to Edar's Place

Accommodation

₱500

Edar's Place

Lunch

₱138

At Aliwagwag Falls Eco Park

Aliwagwag Falls

₱50

Monkey bar and zipline

₱225

Transportation

₱350

Roundtrip

Day 3

Breakfast

₱40

At Cateel Terminal

Transportation

₱120

Bus; Cateel Terminal to Mangagoy Terminal

Transportation

₱650

Habal-habal

; including Tribal Fee

Enchanted River

₱30

Island Hopping

₱160

Per hour

Sibadan Fish Cage

₱90

Entrance fee + 1 hour tour

Lunch

₱102.5

Including driver's meal

Tinuy-an Falls

₱50

Transportation

₱300

Van; Mangagoy to Davao

Snack

₱15

Biko

Snack

₱22

Jenny's Chicken

Megiko Dormtel

₱225

9 hours

Dinner

₱65

Minute Burger

Day 4

Transportation

₱15

Calvaleria to Sasa Wharf

Transportation

₱20

Ferry; to Samal Port

Breakfast

₱46

Angel's Burger

Environmental Fee

₱5

Transportation

₱50

Port to Manfort Bat Cave

Manfort Bat Cave

₱100

Transportation

₱75

Manfort to Secdea Beach Resort

Secdea Beach Resort

₱1,000

Day Tour

Transportation

₱75

Secdea to Samal Port

Snack

₱20

Ice cream

Transportation

₱10

Samal Port to Davao City (Samal Barge)

Transportation

₱50

Taxi; Seaport to Davao Airport

Allotted Budget: ₱7,000
Actual Expenses All In: ₱6,971
Also read: How to Fully Enjoy Your Travel in the Philippines
This is the most successful DIY trip we've done so far. If you have any questions, feel free to ask! Also, checkout the video that my boyfriend made: