For those who love K-pop and/or K-dramas, travelling to the Land of Morning Calm is already a dream come true. But living and studying in South Korea while pursuing your passion? For 31-year-old Gracey Kim, it's nothing short of living her best life! This hallyu fan from the Philippines is currently training to be a chef in The Culinary Institute of Korea in Incheon. 
Of course, it goes without saying that she also enjoys exploring the country during her downtime. Given that her current city is less than an hour away from Seoul, this gal has definitely made the most out of her stay by seeing everything that the place has to offer. But hey — we'll get to more of that later! For now, read on for Gracey's full story; from  diving into the fascinating Korean culinary scene to knowing the best places to visit (beyond usual touristy sites).
Early beginnings of her culinary journey
Culinary arts has always been something that Gracey wanted to study. In fact, her love for cooking started all the way back in elementary! "As a child, I often chose to stay home with my mother and cook together, rather than playing with my friends outside. And if ever I would play outside, I'd make cakes and soups out of sand and leaves," she reminisced. 
From then on, she promised herself that she would take up culinary someday. The eventual cherry on top was that she would be studying it in her favourite country! 
Getting the opportunity for a South Korea scholarship
Before moving abroad for further studies, Gracey taught the Korean language at the University of St. La Salle in Bacolod City. Apart from that, she also runs a construction company with her husband. Their primary focus is building Korean-inspired homes, with Gracey in charge of interior design. So, you're probably wondering — what led her to pursue studying in South Korea?
"A friend of mine just invited me to apply for this scholarship, and I decided to try my luck. Though, to be honest, I was actually doubting myself at first, given how challenging the application was; everything from the interview to the paperwork required at least an intermediate Korean fluency," Gracey shared. Fortunately, her efforts came through and she was able to attain a full scholarship in The Culinary Institute of Korea!
A peek into the life of a Filipino studying in South Korea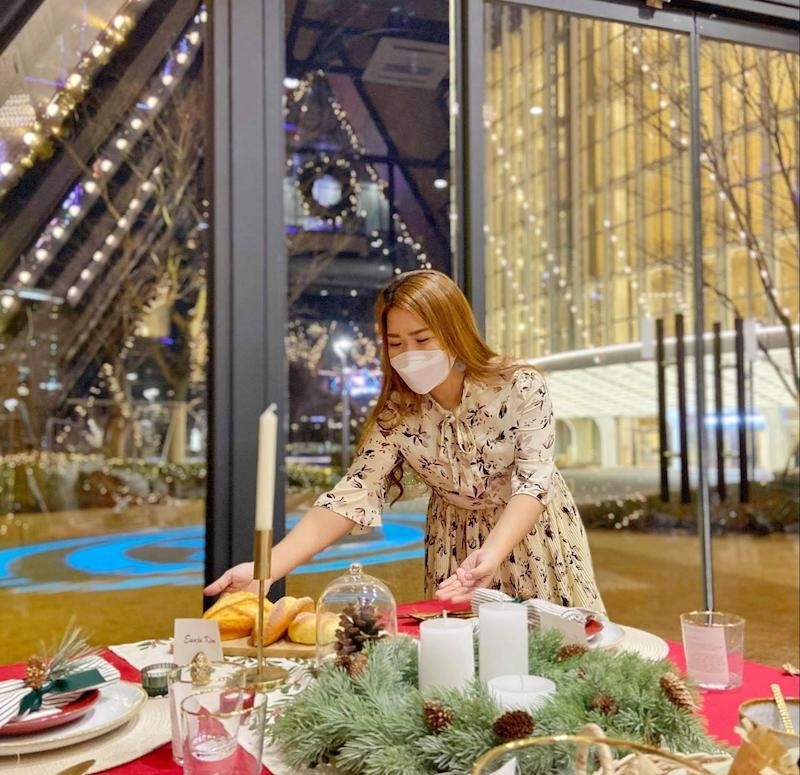 As of writing, Gracey has been in culinary school for six months and staying in Incheon for 11 months… that's almost a year of her living the dream in the Land of Morning Calm! "I was fortunate to have arrived here before COVID-19 lockdowns happened, which was good timing," she said. She also expressed her amazement with the way the country handled (and continues to handle) the pandemic. "They're very helpful not only to Koreans but also to the foreigners. In fact, even foreigners will be given the vaccine for free!" 
She has recently completed two (additional) Korean language courses, with the more advanced one being required for employment in the country. While learning the language might not always be the easiest, Gracey is easily able to practice on the daily — especially since she's the only foreigner in her culinary class! At the same time, she gets to immerse more in Korean culture from her local friends' perspectives. "I've gained a ton of friends at school, and they've become somewhat like my unnies," she gushed. (Writer's note: unnie is the common Korean term for 'older sister.')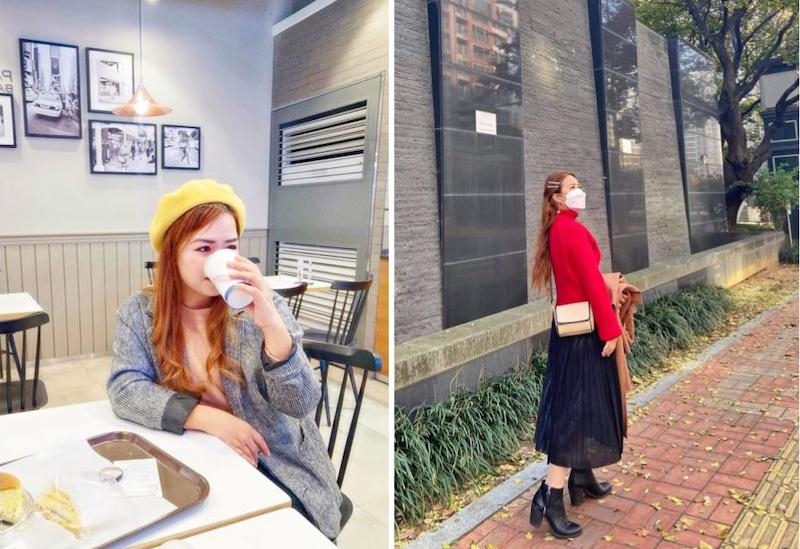 So, what about a usual week in her life? "I have classes during the weekdays, usually until 5pm. Sometimes, before I go to school, I'd drop by at some of the cool cafés nearby to try their cakes and hot drinks. I also like going to the Lotte Department Store for window-shopping, as well as grocery shopping," Gracey shared.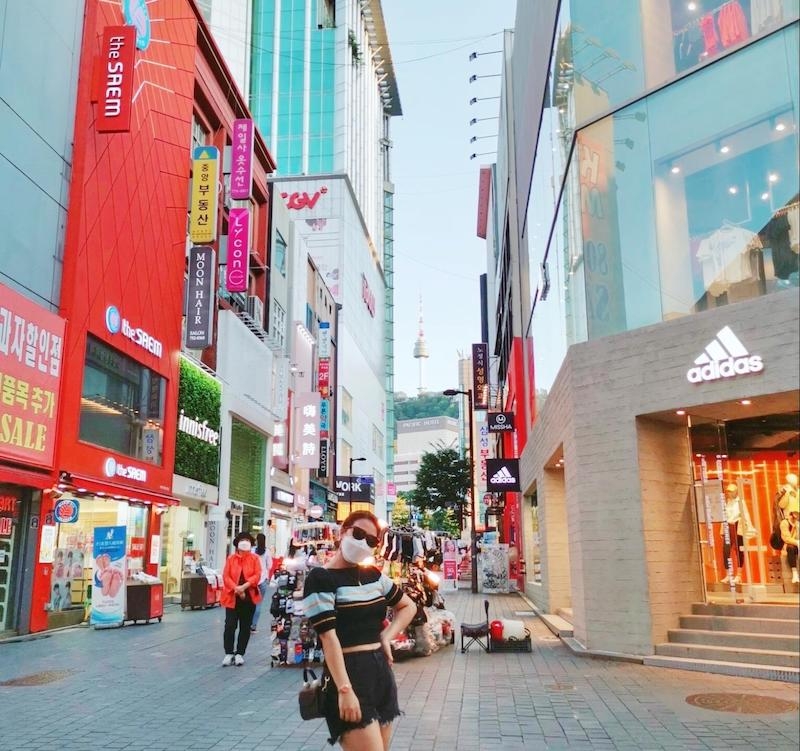 Even when she's busy with school, she makes it a point to not let that stop her from enjoying her life in South Korea! On weekends, you'd usually find her taking day trips to Seoul because — hey, might as well, right? Lucky for her, the ever-shining capital is just a short train ride from Incheon, where she lives! "I love visiting Hyehwa-dong, which actually has several Filipino restaurants and stores," she claimed. Her favourite spots in the city also include the equally famous Gangnam District and Myeongdong.
Also read: A Quick Guide to Getting From Incheon Airport to Seoul
On must-visit places in Seoul and Incheon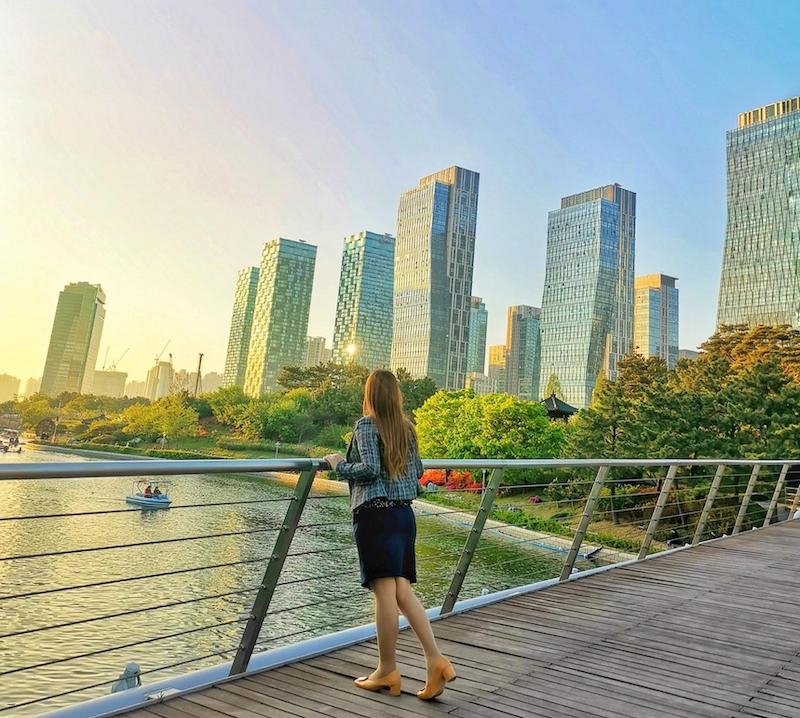 Some of you are probably curious to know what an expat like Gracey would suggest to those planning to travel to South Korea for the first time! It also helps that she has been going on vacation there nearly every year, even prior to her culinary studies in the country. Below is a rundown of her top recommended places to visit, along with her own takes for each item! 
1. Gangnam District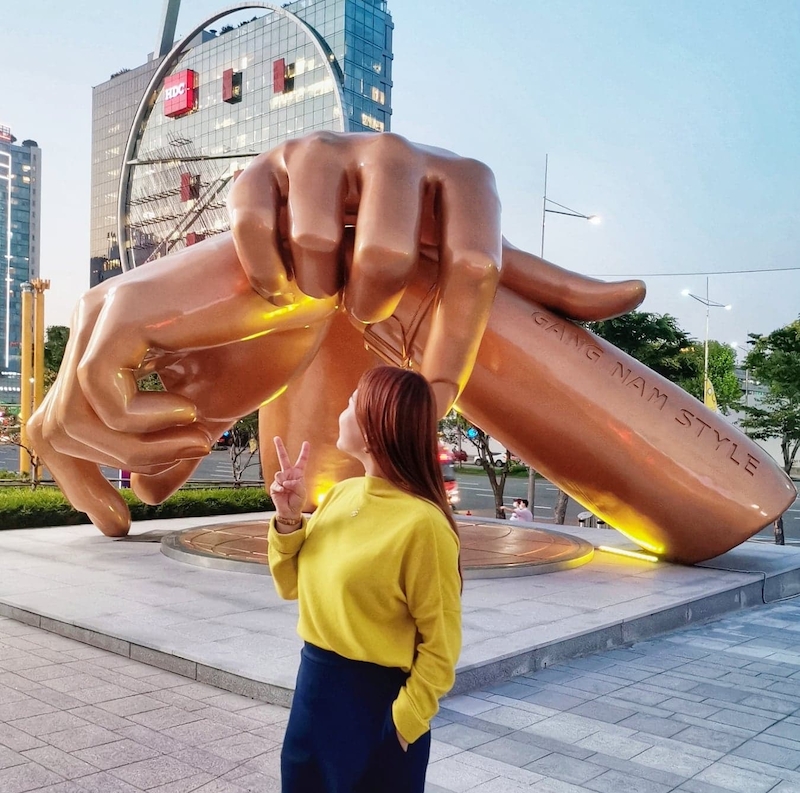 "Make sure to see the world's largest anamorphic illusion, called the Giant Wave, outside the COEX Artium. Also in this same mall complex is the Instagram-worthy Starfield Library, which has over 50,000 books and magazines that you can read for free!"
2. Lotte World Jamsil
"It has both indoor and outdoor amusement parks!" 
3. Songdo International Business District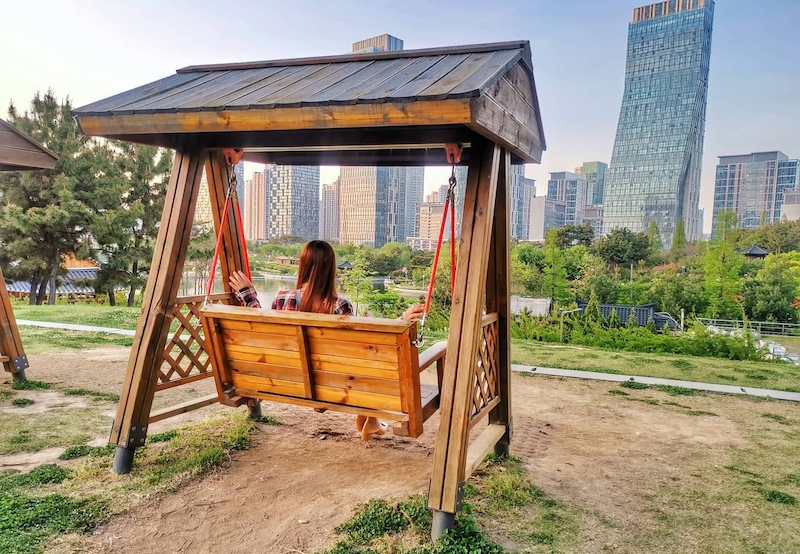 "This 'smart city' within Incheon boasts a beautiful cityscape with nature parks here and there. Like Seoul, it also has some incredible architecture."
4. Incheon Jungang Park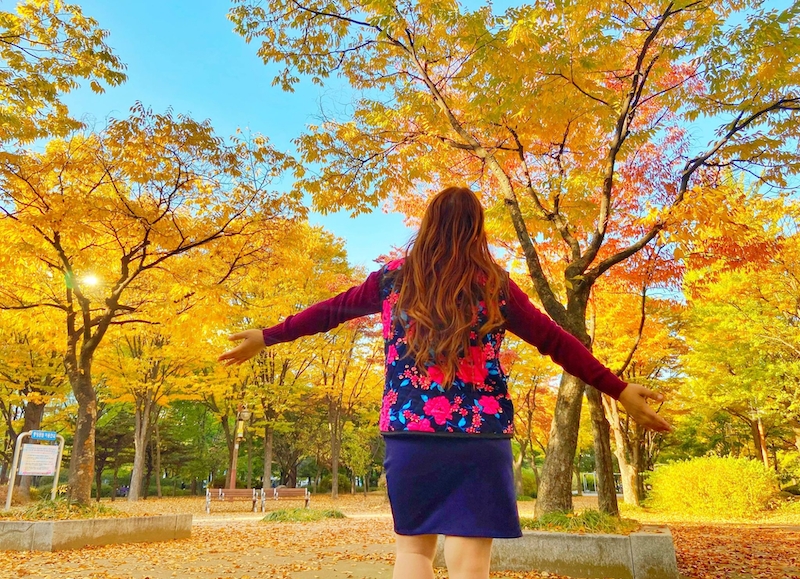 "The best thing to do during your free time is to visit a Korean park! This place is one of my go-to spots for a dose of nature. Here, you can witness the beauty of all four seasons; though, my favourite would be autumn, since I love how the trees and other plants look like during this time of the year." 
5. K-drama filming locations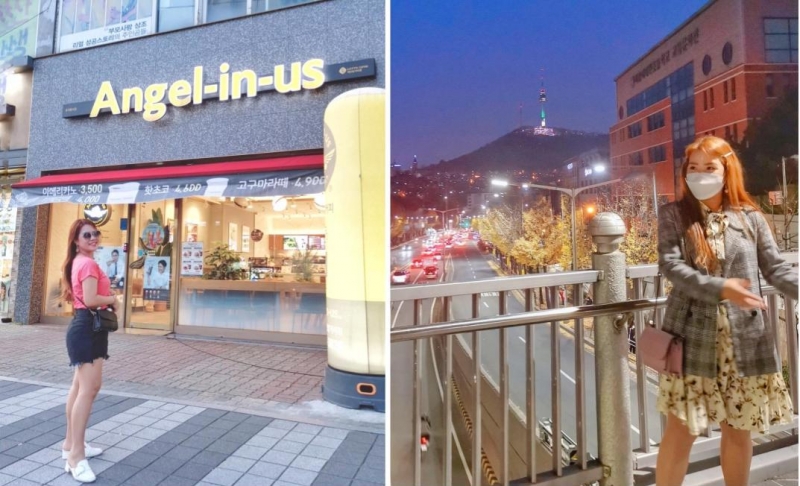 "I've been a huge K-drama fan since I was in high school, when I started watching Full House. So, even back then, I've dreamt of travelling to South Korea! Naturally, I made sure to visit nearby filming locations of shows like Itaewon Class, Crash Landing on You, and It's Okay Not to Be Okay. And yes, my goal this year is to visit more." 
Also read: 10 Filming Locations in Korea Every K-drama Lover Should Visit
On her favourites from South Korea's food scene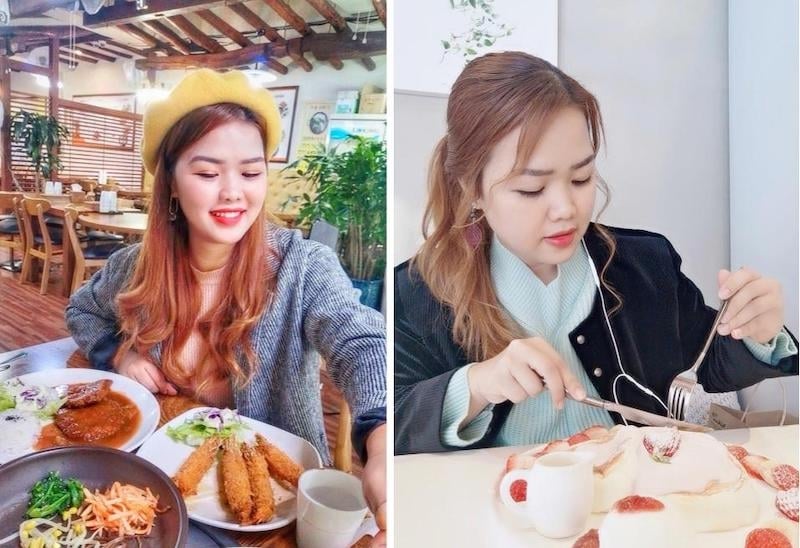 "I was inspired to move here because I love everything about the Korean life, from the language to the cuisine," Gracey said. In fact, she makes it a point to cook Korean dishes at home every day. And thanks to her culinary classes, she has been able to finally make authentic-tasting local dishes! She often whips up gyeran-jjim (steamed eggs), samgyeopsal, kimchi-jjigae (kimchi stew), and bibimbap, since these are her family's favourites. 
She's also not one to shy away from convenience store goodies. Her favourite buys include banana milk, Poca chips, ramyun (instant noodles), and all sorts of pastries. (Not gonna lie — this is definitely something we miss from our SoKor trips!) And as for food from restaurants and cafés in her area? One of her go-to dishes is Korean fried chicken, specifically that from the popular franchise, Kyochon Chicken.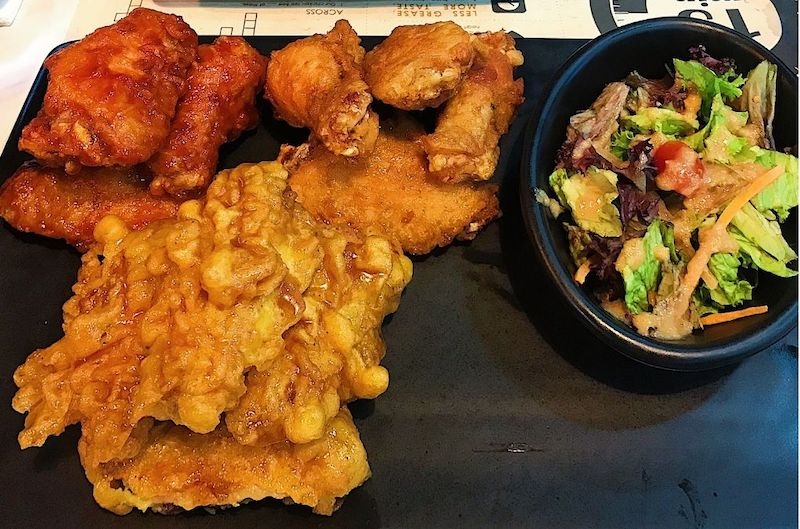 While most locals pair this tasty meal with soju, Gracey prefers to have lots of it with rice. "I think of it as a sort of Filipino take!" she joked. After all, when you're living abroad as an expat or international student, it definitely helps to have enough things that remind you of home. 
Also read: These International Students Share Their Experience of Moving Abroad During A Pandemic
Looking for more stories about Southeast Asians living in South Korea? Or are you curious to know the process of moving there for good? Either way, you can read about 'em here and here. 
On a slightly different note — do you have an interesting travel story that you'd like to share? Click here to find out how you can be a Featured Traveller, too!