Contributed by Damn Good Travels
This blog post traces my recent 7-day CARAGA adventure.
IT WAS A M A Z I N G!!!
It was not the first time I visited some of the places mentioned here, but I loved them the first time I laid eyes (or feet) on them, so when I was invited to go back, I grabbed the chance. Glad I did!
Anyway, here is a summary of our trip:
Day 1: Travel from Butuan City to Bislig City
Day 2: Enchanted River, Tinuy-an Falls, Brgy. Britania
Day 3: Britania Islands hopping, travel to Surigao City
Day 4: Bucas Grande, Naked Island, Siargao Island
Day 5: Magpupungko Beach, Cloud 9
Day 6: Back to Surigao City, Rest; and, finally
Day 7: Travel back to Butuan City, Butuan Hung Adlaw Festival, flight back to Manila
Also read: 4 Days Surigao Itinerary: An Unforgettable Summer Adventure with Friends
Our route
We decided to work our way down from the farthest point, which was Bislig City, where Tinuy-an Falls is; then to Hinatuan for Enchanted River; down to Britania; then finally to Surigao City, the jump off for both Bucas Grande and Siargao.
From the airport, we rode a van that took us straight to Barangay Mangagoy, Bislig City. The van ride took almost five hours, as it had mandatory stops in all bus stations. Fare was ₱350. It would have been cheaper if we rode from the Butuan City Bus Terminal, but we decided to just go for the ones parked at the airport to save time. Not sure if we saved time, though.
In Bislig City, we stayed at Casa de Babano, which was recommended by most tricycle drivers we talked to. We also considered Sleep Inn, which was recommended by different travel blogs, but the room offered to us at Casa de Babano looked cleaner. We paid ₱600 for a stay with a common CR, but it was okay since we were the only registered guests that night.
By the way, do not leave Mangagoy without trying its famed Mutya ng Bislig, a cream based soup with crabs, fish, shrimps and other seafood. We got ours at Gail's Resto and coffee shop for ₱600.
Tinuy-an Falls
Location: Borboanan, Bislig City, Bislig, Surigao del Sur
Our first stop was Tinuy-an Falls, our little Niagara Falls in the Philippines.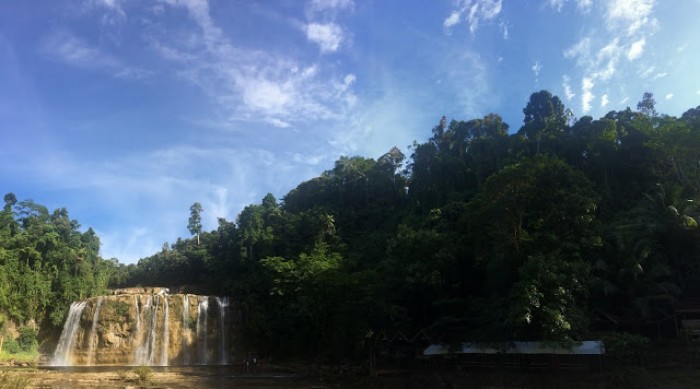 We started our day really early, as in 5:30 AM.  Paw (09293041339), our habal-habal driver, picked us up at our hotel.  It was a scenic, almost an hour drive from our hotel to the falls, passing by 77 Lakes.  The falls is located 15 kilometres from the highway.
We contracted Paw for both our Tinuy-an Falls and Enchanted River visits.  We negotiated the rate and he brought it down from ₱1,500 to ₱1,100 fee. Tinuy-an Falls entrance fee to  is ₱50 per head.
Too bad there were not enough rains the previous days so it was not as majestic as we expected. The rainbow, which was supposed to come out every AM, was also a no-show.  But, it was still a beautiful sight to see, and there was a lot to appreciate, including the cool morning motorcycle ride, the lush greens surrounding the falls, and the falls itself, which is really a beauty.
Tinuy-an is a 100 metres wide and 26 metres tall falls, with three layers.  Tourists can swim in the water and picnic at the edge. There are huts available.  Food are also being sold just outside the compound.
BTW, the locals at Tinuy-an Falls are imposing a new rule.  Tourists must be brought down to the highway, not Mangagoy, by their own motorcycles.  We found it unfair for our own habal-habal driver and a total waste of fuel. We argued and they exempted us.
Enchanted River
Location: Hinatuan, Surigao del Sur
The Hinatuan Enchanted River is a lagoon-river that quickly became a tourism sensation because of its mesmerising colours and unexplored depths. Its water shade ranges from aquamarine to dark blue, which means that water is really deep.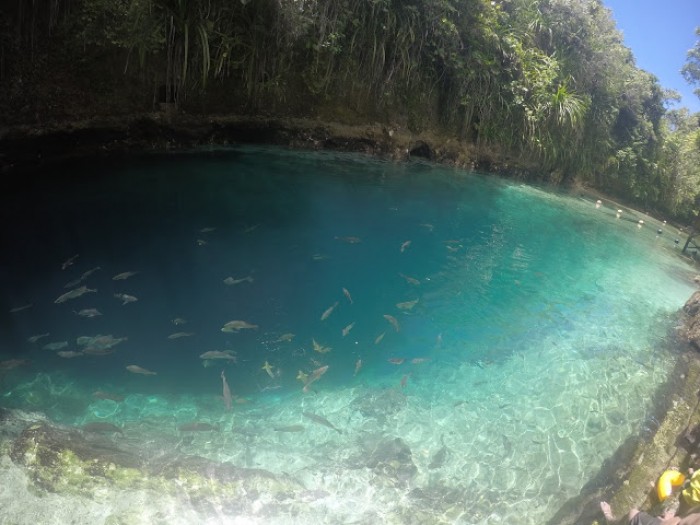 The river flows into the Philippine Sea and the Pacific Ocean at Barangay Talisay, Hinatuan, Surigao del Sur. But, no one knows where the water comes from.
Anyway, the water is so crystal-clear.  One cannot go to Enchanted River and not be lured to swim in it.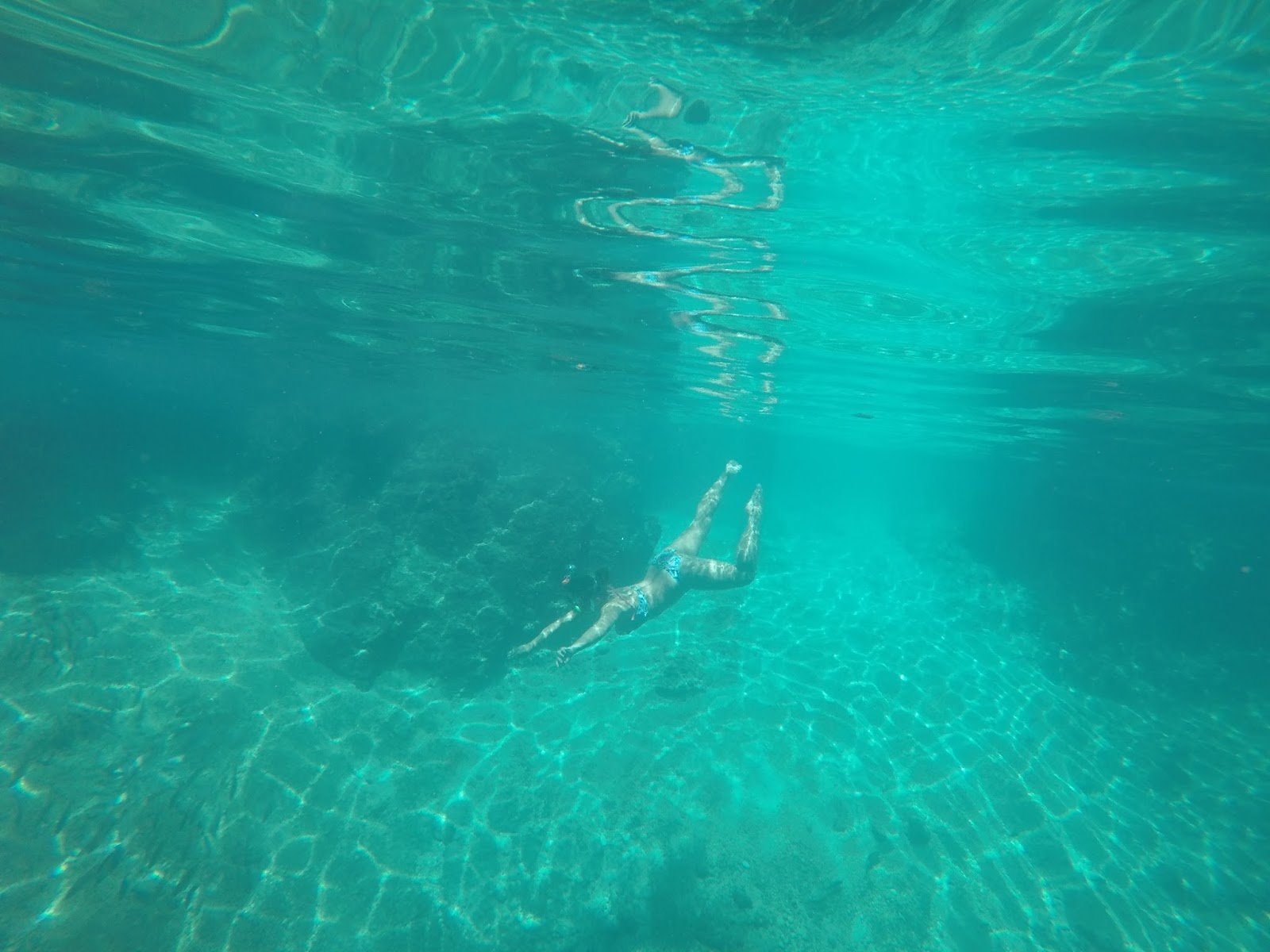 The most magical time comes at 12NN when all guests are asked to leave the waters for the fish feeding.  The "Hymn of Hinatuan" is played during this enchanting moment.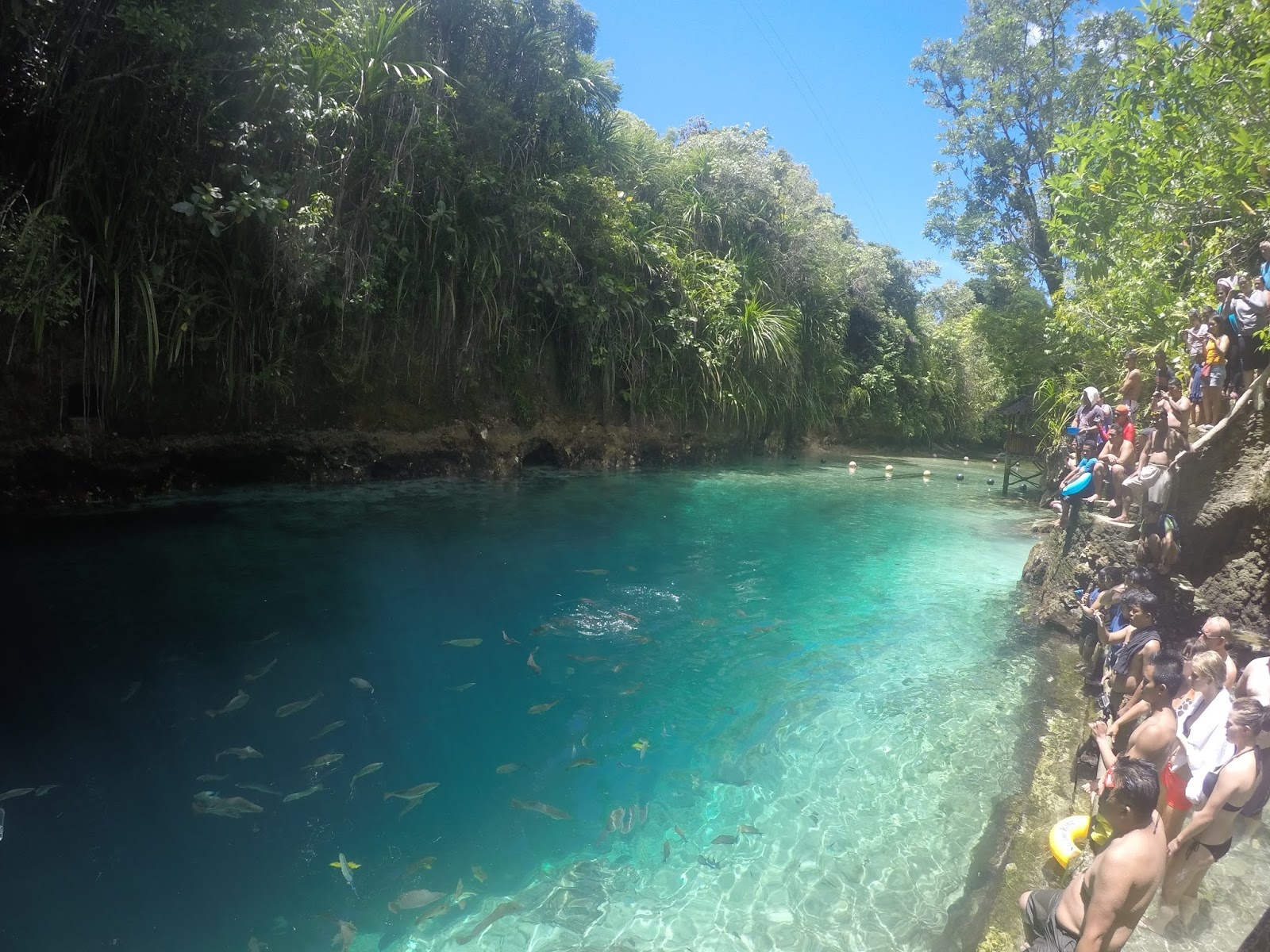 I think the best time to swim is immediately after the fish feeding when most tourists take their lunch.
Entrance Fee is ₱30 per head.  We got a table for ₱100 rental.  Food stalls, paluto style, are also available.  Just make sure to order in advance as cooking time takes long, especially during lunch time when orders pile up.
Also read: Surigao Del Sur River – Enchanting and Intimidating All at the Same Time!
Britania Islands
Location: Britania, San Agustin, Surigao del Sur
We were there in CARAGA because we needed Vitamin SEA, so we decided to spend our next night in Barangay Britania.
Paw took us to the bus station, where we took a van to San Francisco. We went down at Barobo, then changed van to Tandag City.  We asked the driver to drop us off at Barangay Salvacion (₱80.00 total for both van rides), where we took another habal-habal to Barangay Britania. On the way, we dropped by the tourism office for registration, where we paid a fee of ₱25 each.  We paid our habal-habal drivers ₱30 each because we had to do rounds of different resorts before we decided on where we wanted to stay.
Maybe it was because we were already tired, but we found the resort owners at Britania unpleasant.  They charged so high and frown on negotiations. We just got so tired so we decided to get a room at MacArthur's Place even though they have this rule that we were only allowed to take their banca for the island tour, otherwise, we had to check out before the island tour.  Talk about cooperation!
But, the view was all worth it, and it immediately erased our momentary stress!

We had our island hopping the following day and we saw what made the resort owners really proud.  If I had those 24 islands and islets scattered on my backyard, I would also have that take it or leave it attitude.  Well, actually… NO! NEVER!
Anyway, our tour took us to four beautiful islands, each one untouched and uninhabited — two words that travellers like me like to hear.
First stop was Hagonoy Island,  named after a weed that grows in it.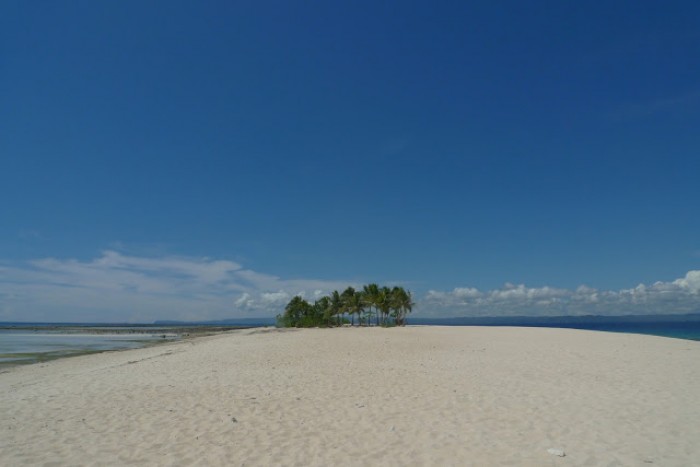 The greens and rock formations actually occupy only a small patch in the island. It is mostly white sand.
The next one we visited is Naked Island, which is really a sandbar that stretches or shrinks with the tide, but never vanishes.  How cool!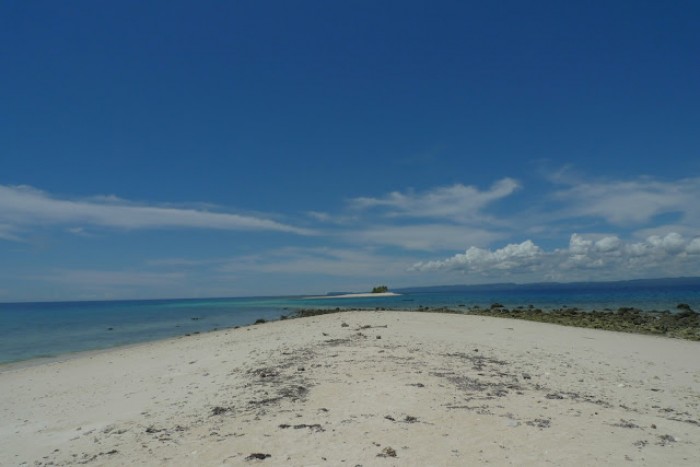 Buslon, the next island we visited is my favourite.  It is the nearest and the most picturesque.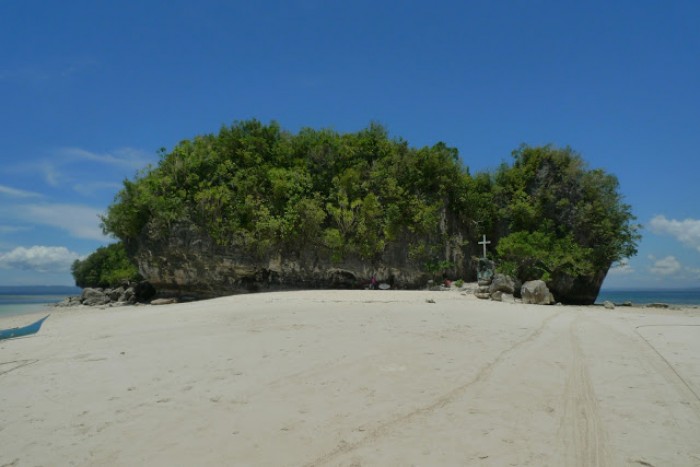 It has the best sand quality and has two subsidiary islets that are accessible on foot during low tides. The twin rocks are both names Panlangagan.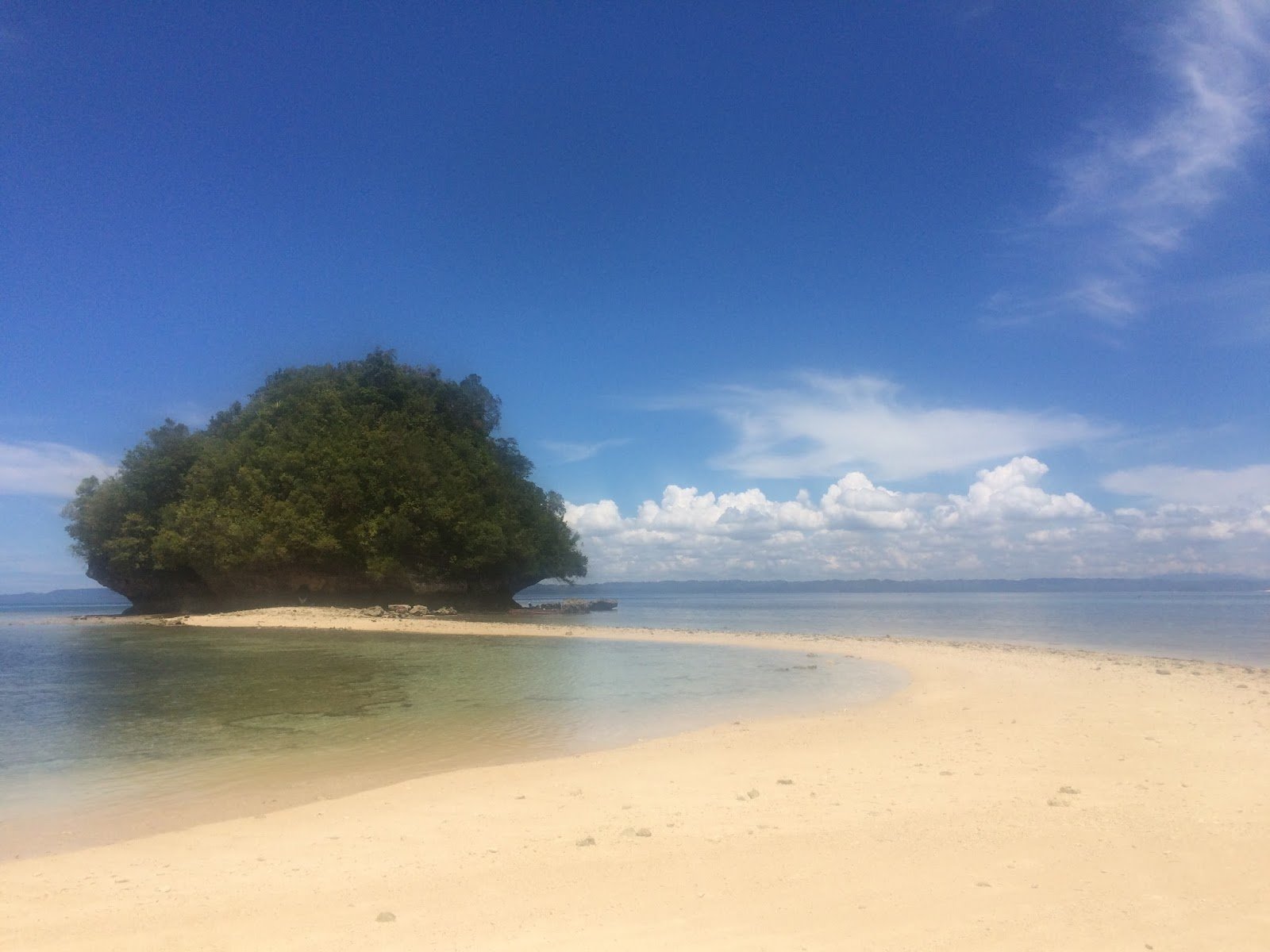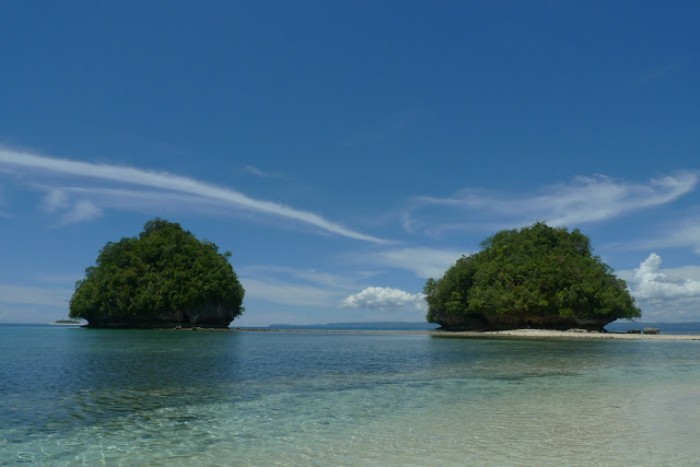 The last island on our tour was Hiyur Hiyuran. It has the most vegetation.  Also, the cutest.
We got Romnick (09293041339) for this tour.  He was highly recommended in a lot of blogs. We paid him ₱1,000, which is a negotiated rate.  There were only two of us in that tour.  Please, if you are more than two, please pay more.
From Britania, we took another habal-habal ride (₱20.00).  We wanted to take a shorter route to Surigao City, via Tandag, but we might miss the last trip, which was 3:00 PM. So, we decided to take a van to Butuan City, then changed van at Ampayon.  That took us almost 8 hours, including waiting time.  Total fare was ₱330.  From the Surigao City bus station, we took a Multicab to The Annex Hotel, where we stayed for the night.
Bucas Grande
Location: Socorro, Surigao del Norte
This was the highlight of the trip for me.  Our group got bigger.  From two, we were fifteen!
Our friend Jon, who is from Surigao City, took care of us, and the rest of the trip.  We rented a big boat, good for 25 pax for three days covering our Bucas Grande and Siargao Islands trip.  He was also the guy who arranged our first Surigao City / Bucas Grande / Siargao adventure.
Bucas Grande Island is actually an island municipality, with 14 barangays, popularly known as Socorro.  Sohoton Cove is the best part of Bucas Grande Island.
Sohoton comes from the word suhot, which means 'to enter,' as explorers need to pass through a half-submerged entrance, which is the only entrance and exit point in the blue lagoon.  But, before entering paradises, guests have to register at the Sohoton Cove Tourist Centre to register, pay fees and get guides.  We actually transferred to smaller bancas provided by the tourist centre.
Anyway, prior to exploring Sohoton Cove, we decided to see first Crystal Cave.
It was a short banca ride and when we arrived, while waiting for the caretaker, we had time to admire this view. This is Tiktikan Lake.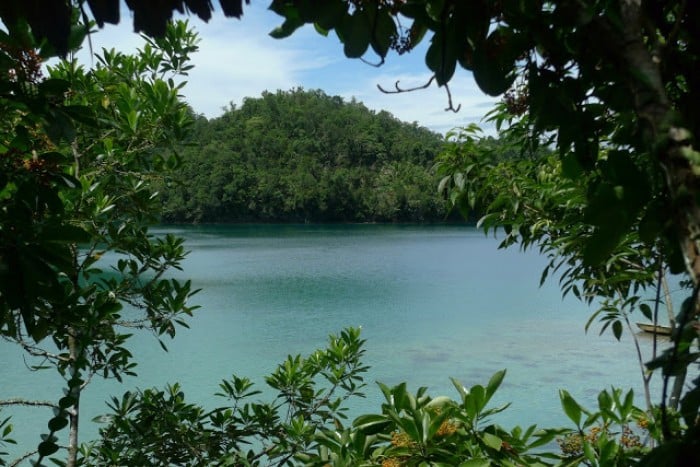 From there, we trekked up more than a hundred steps to Crystal Cave.
Crystal Cave got its name from the crystal-like stone formations inside it.  It is actually a part of a twin cave, the other being Bolitas, named after the small marble stones abundant inside the cave.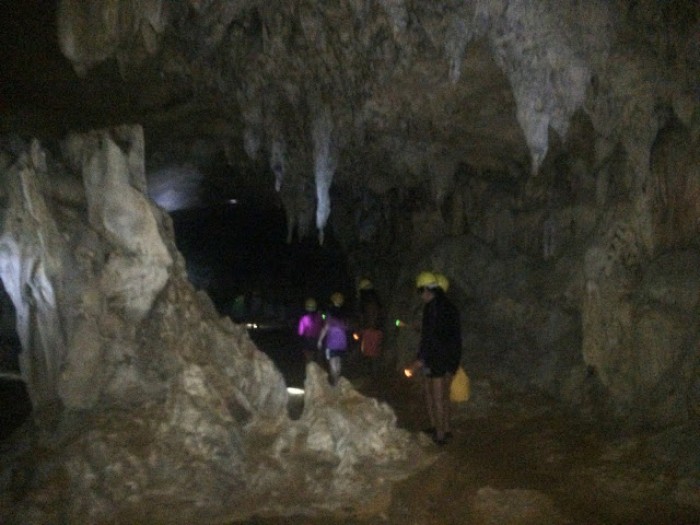 We had lunch after Crystal Cave and then, we were off to Sohoton Cove.
From the Sohoton Cove entrance, we headed first to Hagukan Sea Cave, which also has a half-submerged, small entrance.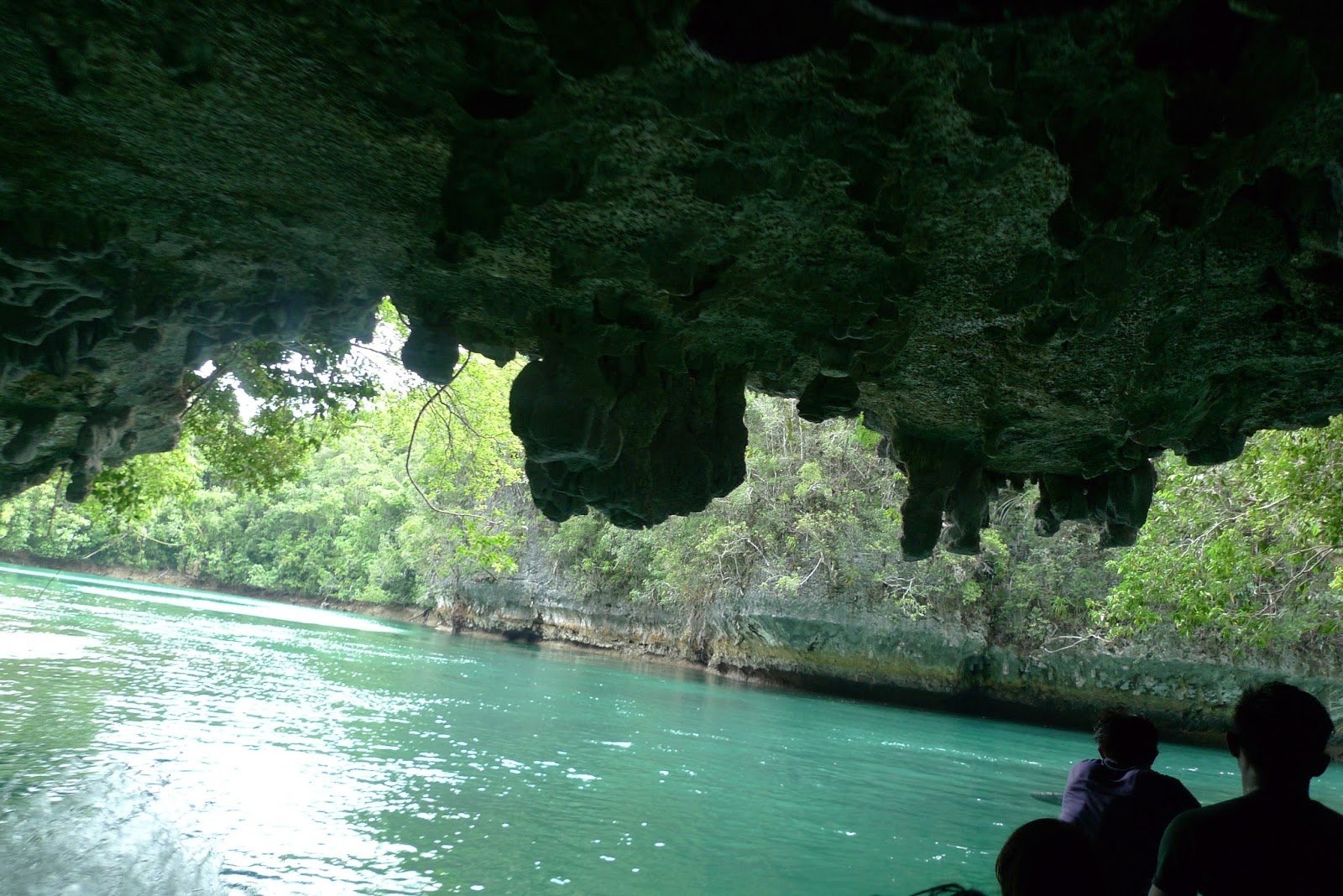 I love this cave for the illuminating reflection of the sunlight on the water, that made us look like we were glowing.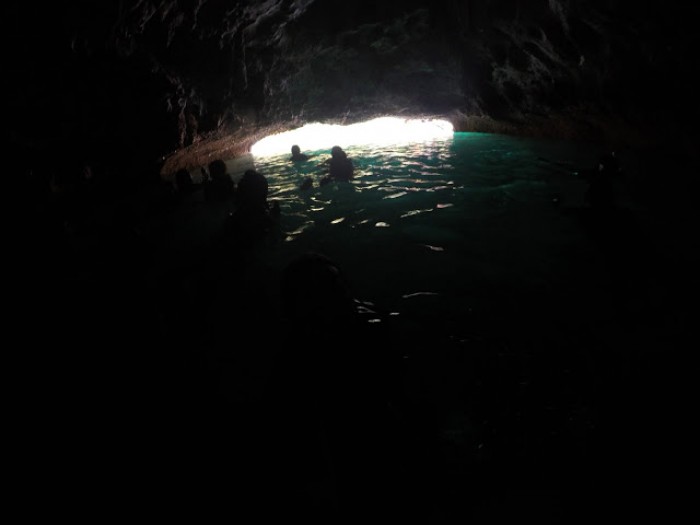 Then, came the part where I had to just sit down and watch — spelunking and cliff diving at Magkukuob Cavern.  I did that 5-metre jump during my first visit and I was afraid it would affect my leg implant, so I just designated myself as official photographer.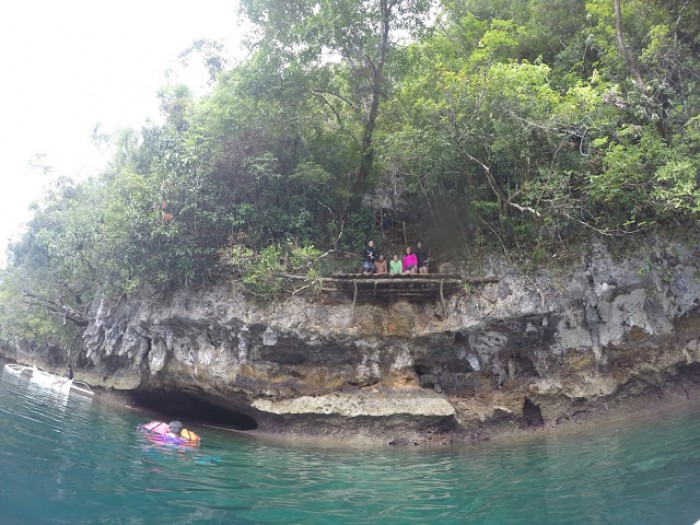 After Sohoton Cove, it was the most awaited part — swimming with jellyfishes.  We were expecting more, but we were happy with the few that joined our party.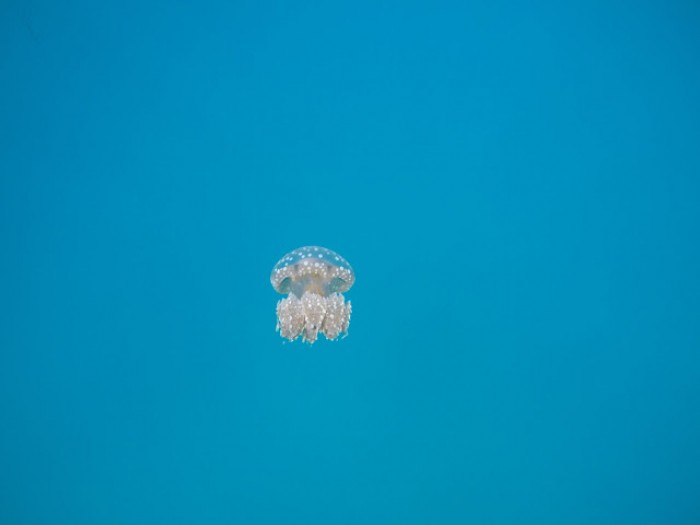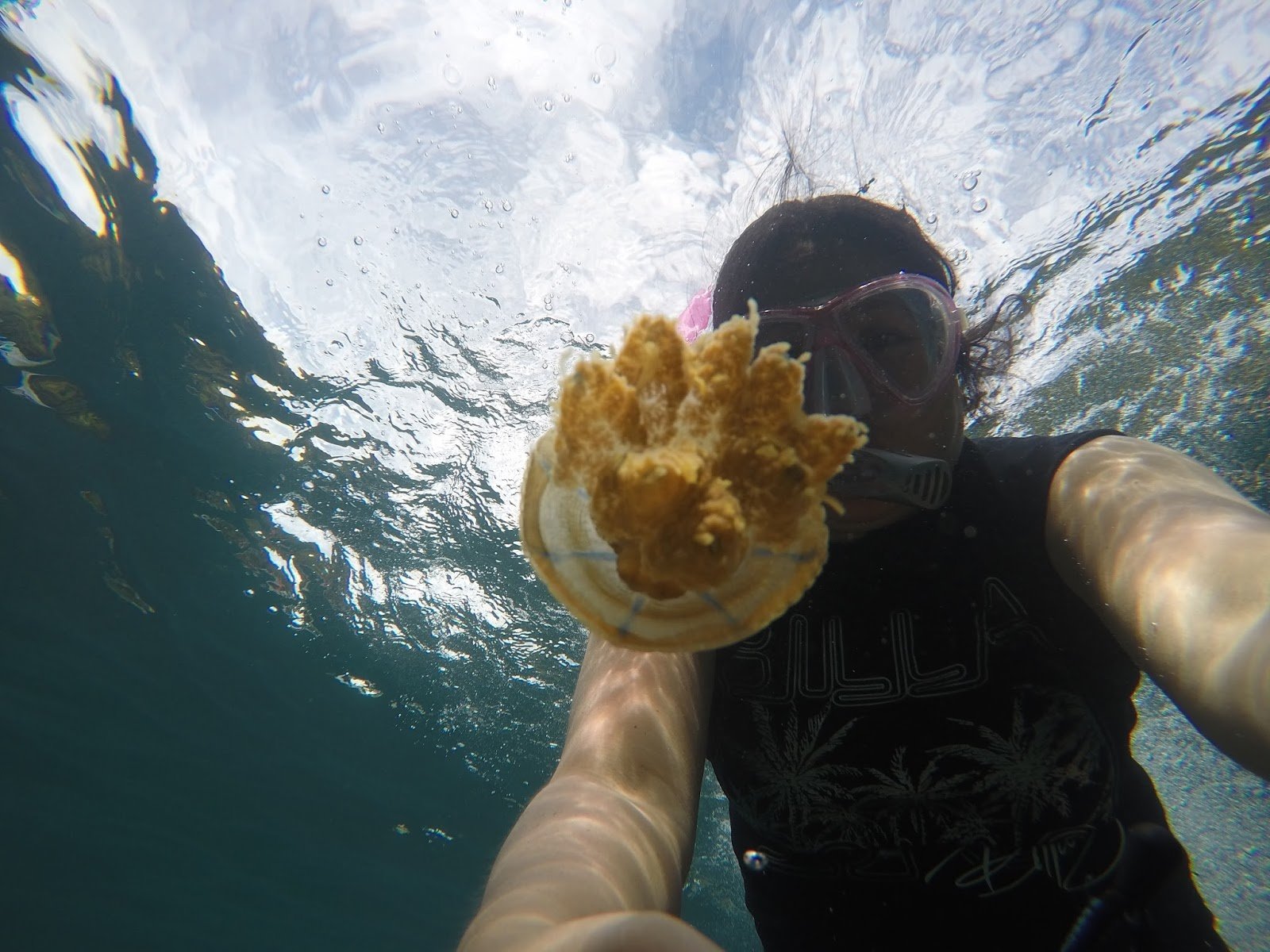 The sail to the jellyfish sanctuary required us to transfer to a small paddle boat because motorised boats are prohibited at the lagoon.  They also advise everyone not to use sunblocks.
We paid 326 each for our Sohoton Tour, plus an additional ₱800 split into 15 for the boat rental to Crystal Cave. Cave entrance was ₱30 each.
Human Nature has a reef friendly sunblock, by the way.
Naked Island
Location: Siargao, Surigao del Norte
It was already late afternoon when we arrived at Naked Island.  We only had time for a 15-minute swim and some picture taking. It was perfect actually with the melding of the blues with the greying sands and quietness of the surroundings.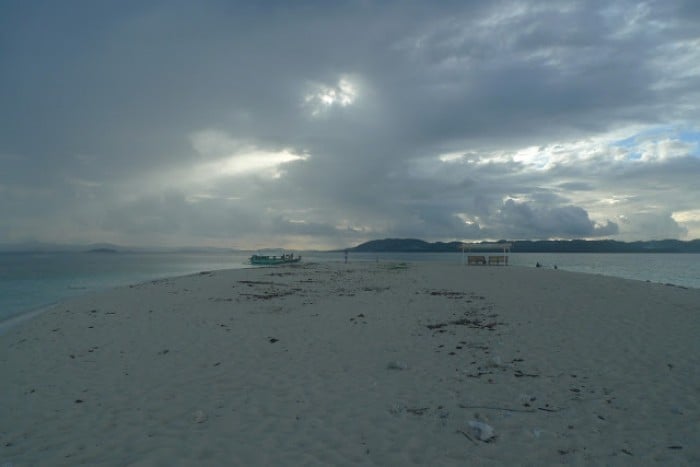 Magpupungko Beach and Tidal Pool
Location: Pilar, Surigao del Norte
The first time we visited, it was teeming with people, mostly locals so it was hard to appreciate this wonder wholly. So glad, this time around, we almost had it all for ourselves.
Magpupungko is about an hour drive from General Luna to Pilar.  God must have spent a little more time here.  After a long stretch of cream coloured sand beach comes marvellous rock formations and tidal pools.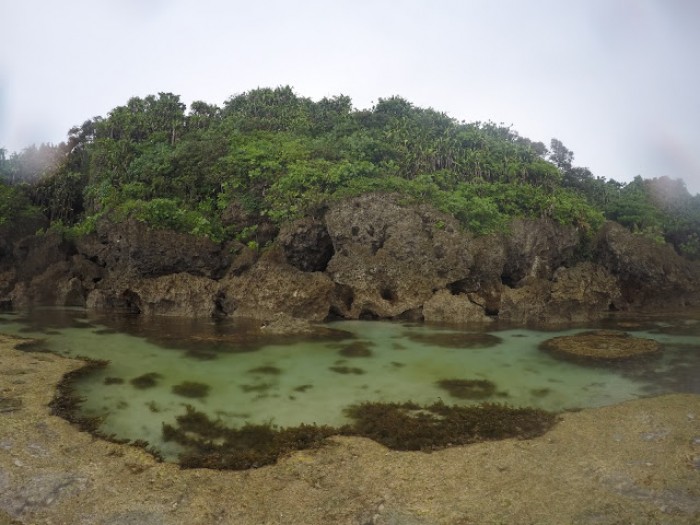 These tidal pools are hardly discernible during high tide but during low tide, these cavities form nice pools to snorkel and swim in.  Its placid water is an amazing contrast to the Pacific waves that crash the rocks.
Cloud 9
Location: Socorro, Surigao del Norte
Of course! Not dropping by Cloud 9 is like going to Rome and not seeing the Vatican.  This island is a surfing mecca and Cloud 9 is where it all happens.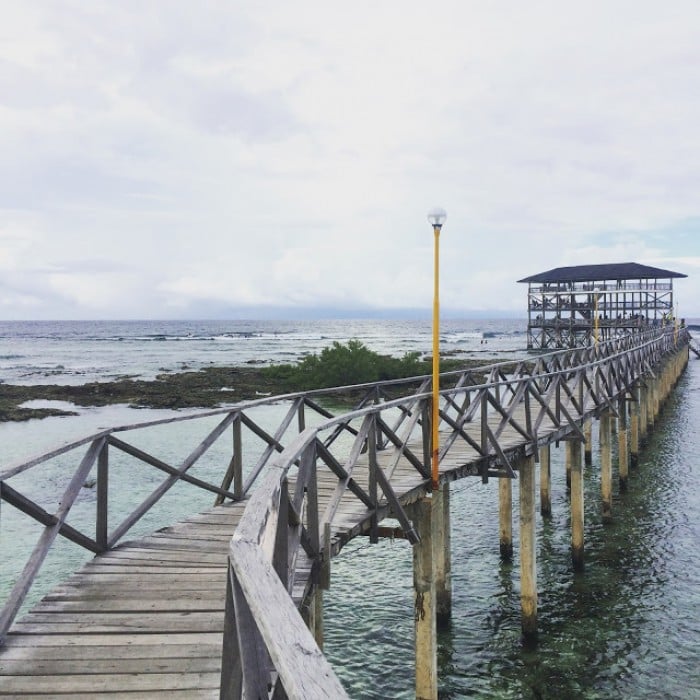 Of course, I paid a bit more homage by walking the wooden pathway to watch the adrenaline junkies play with the waves.  Then, after that, while they surfed, I slurped.
We stayed for two nights at Jadestar Resort.  Our room was good for 7 and we paid ₱1,200 per night.  They also cooked all our meals and we also rented our van and motorcycles from them.  We paid ₱5,200 for transportation, including the trips to Magpupungko, Cloud 9 and Dapa Port.
Also read: Best Places to Surf in Asia
That was it! After that, I slowed down a bit and relaxed at The Annex Hotel in Surigao City. I didn't want a vacation that needed another vacation immediately after.  That was another trip that ended too soon and I hope to be back to see more of this region.
I still want to see Tinuy-an Falls in its full glory; stay at Club Tara Resort in Bucas Grande, and see Laswitan and Ayoke Island. God willing.