Every Beatles fan should at least know that the famed Abbey Road in London was the inspiration for the iconic band's 1969 studio album — both title and cover. The latter, in particular, which shows all four band members on a zebra crossing, has become an icon of its own. To this day, the image is constantly being imitated by tourists in the city. But did you know that you don't have to fly far to experience the same photographic experience?
Earlier this month, the Municipality of Loon in Bohol introduced its three-dimensional version of the Abbey Road on its Facebook page. Located in Tajang Causeway, the Tajang 3D Lane aims to highlight the mangrove gardens surrounding the road, as well as to attract more tourists in the locale. The same road also previously went viral for its 99 Hugot Lines painted on either side.
"The three-dimensional road art challenges everyone to strike a pose at the right angle in order to create a certain scene for the camera", the post stated. According to the Local Government Unit of Loon, Tajang 3D Lane is part of its upcoming tourism-related development projects in Tajang Causeway.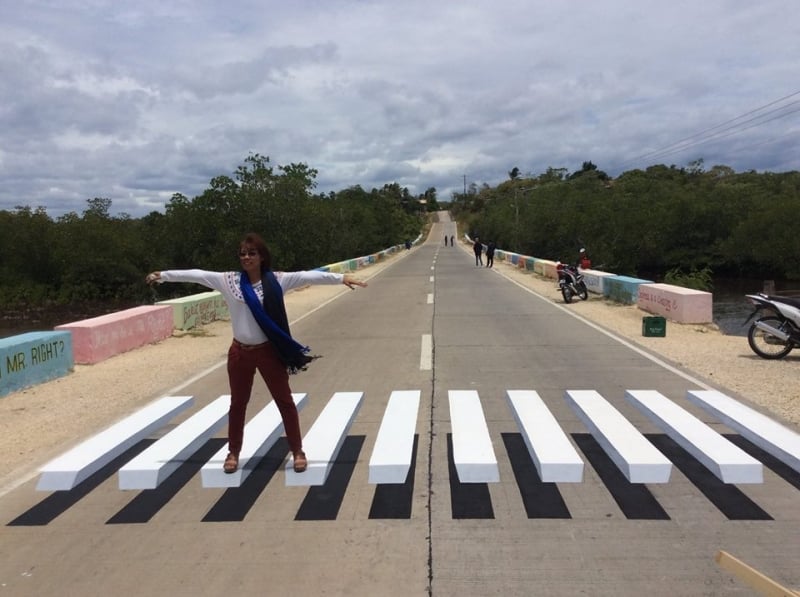 Following the popularity of the Abbey Road-inspired attraction, the local government welcomed two more three-dimensional lanes in the poblacion barangay of Napo and at the Loon Public Plaza. On the issue of road safety, Mayor Elvi Peter Relampagos shared, "They are actually so plain and flat. The 'floating' effect only shows in photographs".
The Municipality of Loon is located northwest of Tagbilaran City. Other attractions in the area include the Coral Garden, Cabilao Island, Tubig-Loon Spring, Mount Canmanoc, Mount Tanawan, Moalang River and the Cabacongan Fish Sanctuary. To go to Loon, take a ferry or flight to Tagbilaran City. Then, look for the Cogon Jeepney/Bus Terminal or the Dao Integrated Terminal. Hop on a ride of your choice going to your destination.
Also read: 21 Amazing Attractions in Bohol Every Visitor Must See
---
Images courtesy of the official Facebook page of the Municipality of Loon.