Me as a traveller? I like to take things slow. I definitely enjoy being an observer. And I love to stay in the same place for long periods of time. Not that I resent the idea of following a packed itinerary, but I tire easily and can't help feeling uneasy when I rush through a trip. In the chance that I do, I often end up ditching my return flight home to stay for a few more days. But I can't say the same when travelling in a group.
In September, I found myself in Thailand and Laos with three friends to fulfil a week-long Indochina itinerary. Contrary to most of my solo escapades, we had to accomplish everything fast, while making sure we each got what we wanted from the trip. In seven full days, we covered the cities of Bangkok, Chiang Mai and Luang Prabang, and spent a little over ₱25,000 individually, all-in. Read on for our trip highlights, expenses, itinerary, and tips!
Also read: 6 Days in Indochina with ₱14k Budget – Here's How We Did It!
Indochina Itinerary: Getting to know Chiang Mai
Trip highlights
Set in Northern Thailand, Chiang Mai is best known for its elephant nature parks, night markets, and trendy cafés. The city is also home to a number of Buddhist temples, and we got to visit two of them during our short stay — Wat Phra Singh and Wat Chedi Luang within Chiang Mai's Old Town. Of the two, Wat Chedi Luang requires a ฿40 admission fee. Facade-wise, it was the only Chiang Mai temple that appealed to me while panning, and it did not disappoint.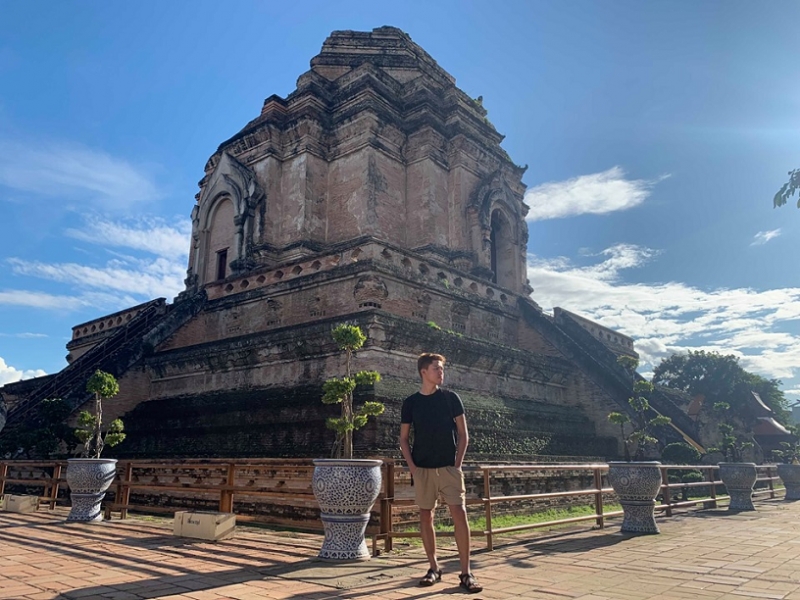 We also went to Chiang Mai Night Safari and Elephant Jungle Sanctuary, both of which are about an hour away from the city centre. We booked our tours via Klook for ₱926 and ₱2,160 each, respectively.
The half-day visit to Elephant Jungle Sanctuary was divided into feeding, mud spa session and bathing with the elephants. Even today, I can't seem to decide which of the three was my favourite because I had such a great time doing all of them. Although, I thought our time at the river was the perfect way to bond with the elephants, locals and travellers while taking in the Chiang Mai nature!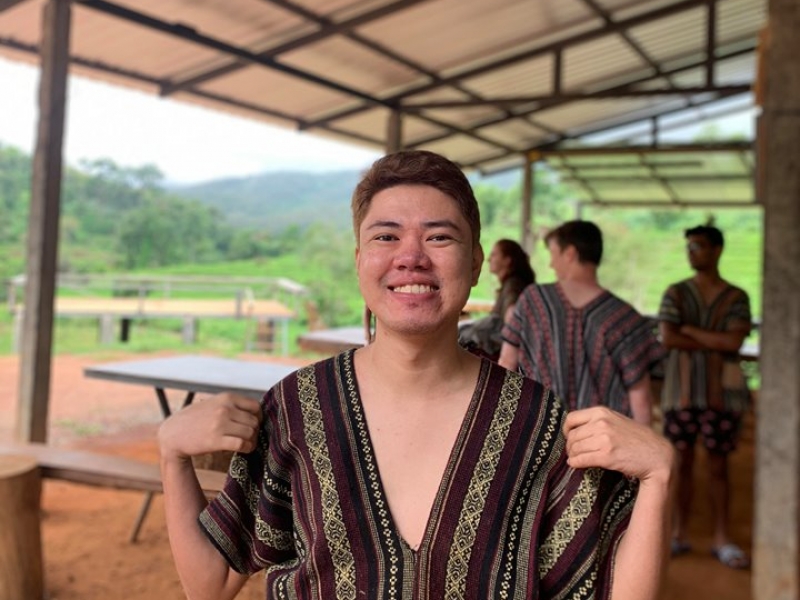 In addition, the tour included lunch, round-trip transfers from our hostel and free use of a traditional shirt which you may wear during the feeding. For the mud spa and bathing, you'll have to change into your swimming attire (so be sure to bring one!).
Meanwhile, our meals were mostly spent at Chiang Mai's markets, particularly the Anusarn Market and Sunday Walking Street (lucky we visited on a weekend).
Transportation and accommodation
We arrived in Chiang Mai via a connecting flight from Manila through Bangkok. Both legs were booked months ahead with Cebu Pacific and Thai Lion Air. Upon arriving in Bangkok from Manila, we took the free shuttle from Suvarnabhumi International Airport to Don Mueang International Airport for our flight to Chiang Mai. You can find the shuttle at Exit 4 of the former. The ride takes an hour, without traffic.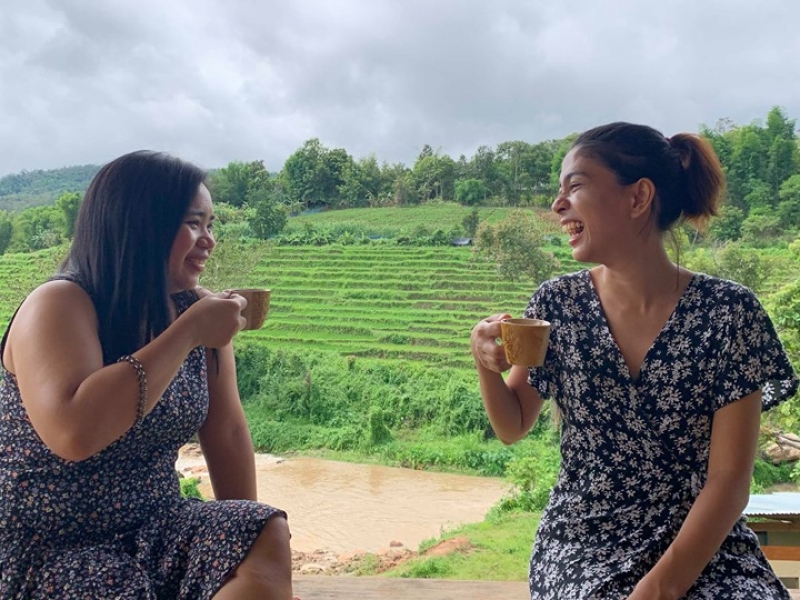 Getting around Chiang Mai is easy if you're staying within Old Town, like what we did. Chiang Mai's more famous temples are located in this walled district, along with popular markets and travel agencies. That said, we managed to explore the area mostly on foot. At other times, we rode a tuk-tuk (for short-distance trips) and Grab car (for trips going outside Old Town).
For our two nights in Chiang Mai, we stayed in Hostel by Bed. It's right beside Fern Garden Cafe, a popular restaurant in the city and may I say, one of the most IG-worthy restaurants I've seen, literally because of its outdoor garden-style dining. It cost us ₱865 each for a double bed in a mixed dormitory room. Our booking also included healthy buffet breakfast, towels and unlimited water!
Tips for first-timers
Taking the sleeper train is probably the most popular way to travel between Bangkok and Chiang Mai, and we originally planned on doing it ourselves. However, with our limited time, we simply opted to take the flight. It's cheap year-round and takes no more than two hours. Do this if you're short on time, too!
Traffic in Chiang Mai is a lot more manageable compared to cities like Ho Chi Minh or Bangkok. If you know how to ride a motorbike, you can rent one from your hostel or travel agency so you can explore the city at your own pace, and for less money overall.
Like I said, Chiang Mai is famous for their cafés, so make sure to visit some of them on your stay. Most, if not all, of them offer free and fast WiFi, making Chiang Mai one of the most popular destinations for digital nomads in Southeast Asia.
Indochina itinerary: The slow journey to Luang Prabang
Trip highlights
For your convenience, you can simply fly from Chiang to Luang Prabang via a budget airline. But in our case, we took the three-day Chiang Mai to Luang Prabang journey by bus and slow boat because of, well, the experience. The journey started with a six-hour bus ride from Chiang Mai to Chiang Khong on the Thai-Laos border. We booked our trip through a travel agency near our Chiang Mai hostel for ฿448 each. You can read our entire Chiang Mai to Luang Prabang bus and slow experience here.
Apart from the scenic slow boat ride, we definitely enjoyed our stay in the stopover village of Pak Beng, where we got to stay in one of the fancier yet affordable river-view hotels. Travelling during the low season apparently meant that we were the only guests of the hotel that night. And because of that, the staff took the liberty of upgrading our accommodations, free of charge!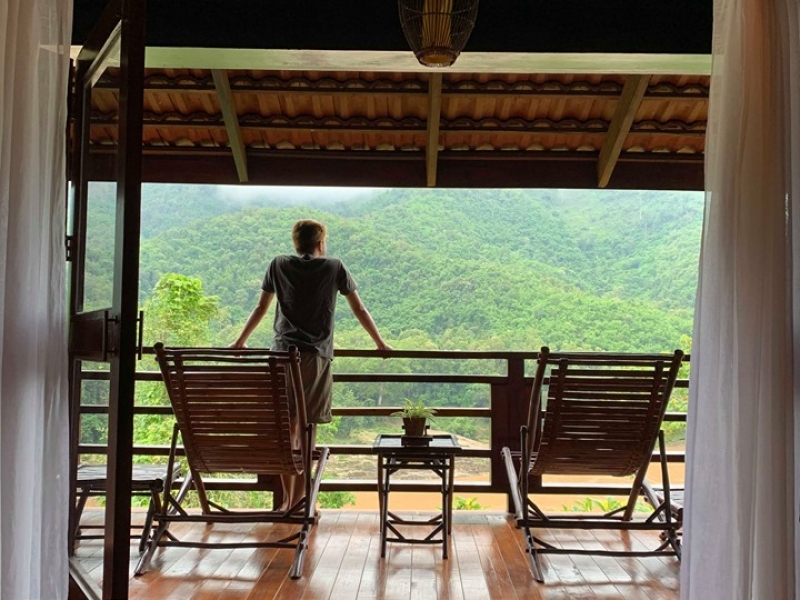 We only managed to visit three places in Luang Prabang, which was a real bummer since we fell in love with the city right away and wished we could stay longer. For a better picture, the city features a mix of French and Buddhist structures. They reminded me so much of Hanoi!
Meanwhile, the lack of elaborate modern attractions gives the city a more rustic and laid-back charm, ideal for slow travellers! Since we had less than 24 hours in the city, we decided to accept a tour offer from a tuk-tuk driver so we can manage our time better. The tour took us to Kuang Si Falls, Wat Thieng Thong and a local restaurant for lunch. It only cost us ₭90,000 each!
Transportation and accommodation
The best way to explore Laos? Definitely with the Lao tuk-tuk (or at least in the places we went to). FYI, Huay Xai is a small town, practically a barangay. Therefore, going around without transportation seems highly logical. The same applies to Pak Beng. As for Luang Prabang, you can choose among a tuk-tuk, a motorbike or a bicycle. As the city is a lot less hectic than what you'd normally imagine a city, I also recommend walking if you only intend to see the city centre.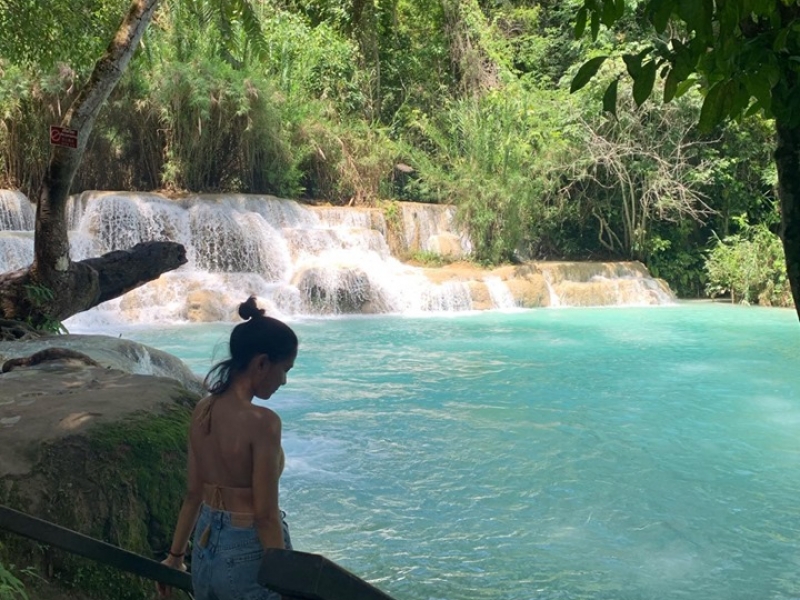 Our first night in Laos was in Huay Xai, where we stayed in Huay Xay Riverside Lodge. It was ₱605 for a night in a twin room. There's no restaurant so we had to take a short three to five-minute walk to the main road for our meals.
In Pak Beng, we booked the Pak Beng Sanctuary Pakbeng Lodge. Owned by a French expat, it has its own open-air restaurant that overlooks the Mekong River. We paid ₱1,138 for a night in a superior room, but ended up sleeping in one of the suite rooms thanks to the free upgrade.
For Luang Prabang, we stayed in Chanthavinh Resort, which is on the other side of the Mekong River across the Luang Prabang city centre. It was ₱1,028 for a bungalow for two people, inclusive of all transfers and breakfast.
Tips for first-timers
Philippine passport holders can stay visa-free in Laos for up to 30 days. Don't be fooled by the signs at the Laos immigration building that say you have to pay US$30 to enter because they're most likely outdated.
Accommodations in Pak Beng are on the affordable end regardless of type. To make the most of your stopover, get a riverside or river-view hotel like ours for more pampering!
Taking from a couple of not-so-flattering experiences at our Luang Prabang hotel, I recommend booking an accommodation right in the Luang Prabang city centre, particularly in the Baek Han area. It's close to most of the temples, markets, restaurants, and travel agencies!
People, including local agencies, recommend visiting Kuang Si Falls at least three hours. However, we managed to explore the area and still swim in just under two hours. If you do find yourself in the same hectic situation as ours, do keep this in mind! Also, if you have no problems swimming in cold water, come by in the morning when there are fewer visitors.
Indochina itinerary: Bangkok for a day
Trip highlights
I went to Bangkok for the first time in 2017 and completely fell in love with it (to the point where I actually considered moving to the city!). Save for the temples, it is a lot like Manila — from the transportation, entertainment and markets down to the weather, food and people. It's kind of like being home, but not really, which is a plus for me.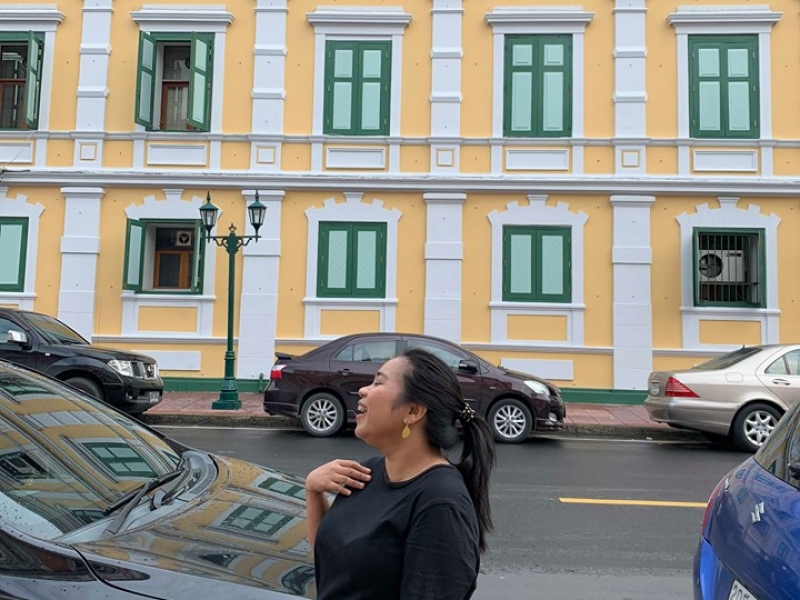 We had quite a challenge of picking out the best things to do in Bangkok given our short stay, of which we had only had one full day to explore. In the end, we went to the Grand Palace, Wat Pho and Wat Arun for a typical DIY Thailand temple-hopping tour. We only paid for admission for the latter. My friend Marc had his eyes set on it since day one of our trip!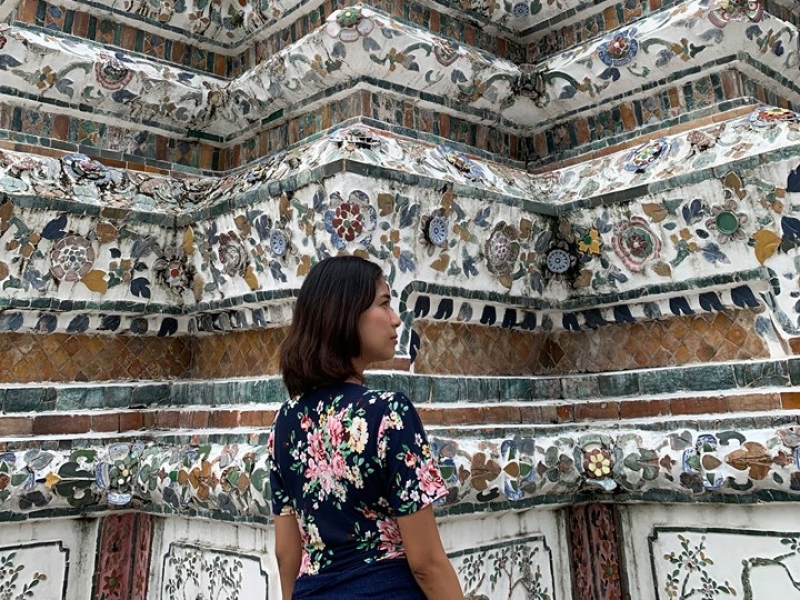 Immediately after the temple tour, it was souvenir shopping at MBK and Chatuchak Market, with quick tours around Siam Square and a newly opened mall called Mixt Chatuchak. With an early morning flight, we wrapped up our day in Bangkok with an all-Thai dinner. We ate at Khao San Road which we'd already explored the night before.
Transportation and accommodation
We mostly had Grab as our transportation in Bangkok as our stops included long distances, and it was perfect for a group of four. With it, we saved ourselves the trouble of having to negotiate with the local tuk-tuk drivers, except for our transfer from the temples to MBK. We also took the BTS from Siam Square to Chatuchak as the station was right in front of us when we'd finished exploring the mall.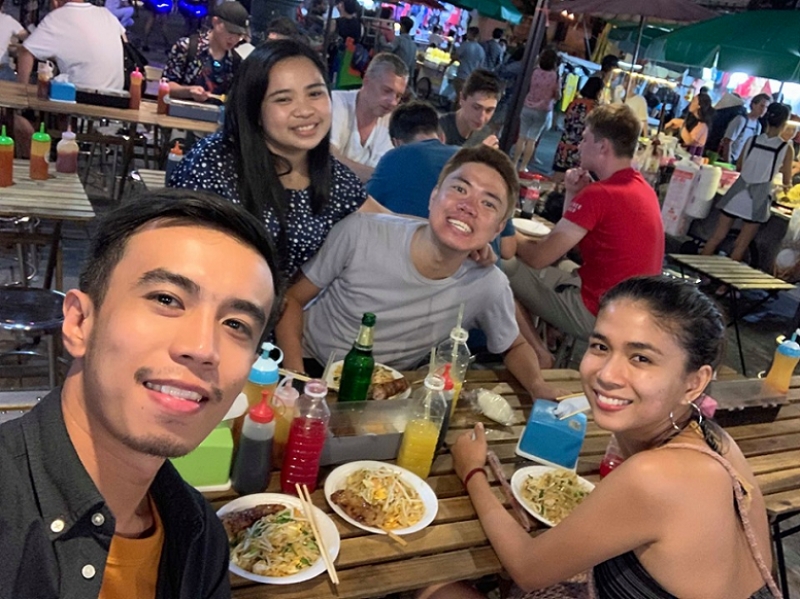 For our two nights in Bangkok, we stayed in Vivit Hostel, about a kilometre away from Khao San Road. It's also a mere walking distance from the Grand Palace, which instantly saved us money when we did our temple-hopping tour. We had an entire four-bed dormitory to ourselves, and enjoyed a complimentary light breakfast buffet and towels. The two nights cost us ₱1,005 each, which wasn't bad given the location.
Tips for first-timers
While Chatuchak Market is generally known to open at 6pm, you can enter the premises as early as 4pm or 5pm (perhaps even earlier) and start shopping in one of the few open stores! If you arrive early, you can go to the newly opened Mixt Chatuchak around the corner. It's also directly connected to Chatuchak Market itself.
The temples around the Grand Palace are great stops for your first trip in Bangkok. However, beware of tuk-tuk drivers in the area, a.k.a. the prime suspects of perhaps the most notorious scam in Bangkok! Here's what usually happens: A driver will pretend to help you by saying that the Grand Palace is closed at the time of your visit, and offer to bring you to other attractions instead, only to charge you way more money than what you signed up for. Good thing we found out about it ahead and avoided a couple of attempts by a driver and a random lady on the street. Read more about it here.
If you're into temple hopping, food crawl and nightlife, I recommend staying in the same area as our hostel. It's only about a 10-minute walk to Khao San Road, the famed travellers' hub of Bangkok. You can spend an entire day exploring this very area without spending on transportation!
Also read: To Travel Solo or With a Companion?
Our Indochina itinerary and breakdown of expenses








I know what you're probably thinking: How could we have enjoyed the week with such a tight schedule? To tell you the truth, I don't even think our itinerary was packed enough! We did prepare a list of places to go to. However, we wound up taking out a few of them when we felt like spending more time in another.
Furthermore, we made sure to take enough breaks in between, take our time when eating, and sleep whenever and wherever we could. As for the slow boat ride, that was one of the main things we wanted to accomplish from the trip. I treated it as a sightseeing activity in itself, rather than just another transit. In the end, not everything may have fallen exactly into place according to our itinerary, but the most important ones did. That was all that we could ask for.