The Philippines may be a popular tourist destination for beaches and tropical resorts, but in the midst of sunshine and heat, there are cool places to also retreat. Set your sights on the different places to visit in Baguio, the Summer Capital of the Philippines, known for its cool breeze and abundant pine trees scattered across the city. As a go-to destination for Filipinos in the summer, there are quite a few outdoor activities to enjoy in the City of Pines. Here are 12 things to do in Baguio for your summer vacation!
Also read: Where to Stay in Baguio: 25 Vacation Rentals for All Budgets
1. Explore Camp John Hay tourist spots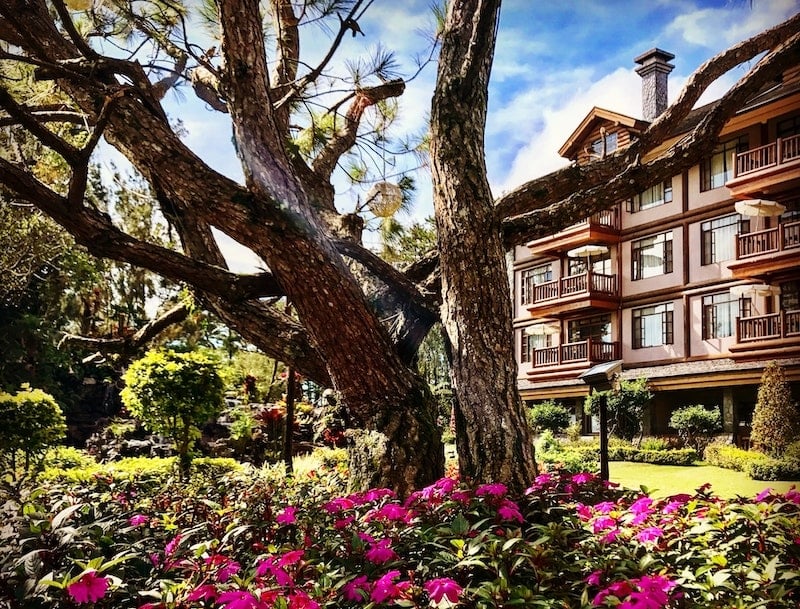 Camp John Hay is a former US military rest and recreation area, now turned into somewhat of a resort where American-themed cabin hotels are found. No need to fly to North America to experience luxurious cabin rooms and tall pine trees, because Camp John Hay offers something quite similar. However, aside from the American-themed establishments, guests have a handful of activities to do at Camp John Hay.
For one, there's the Tree Top Adventure which offers a Superman Ride (zipline), Canopy Ride, and Tree Drop (harnessed freefall). All these so you can take in the resort's fresh breeze and gorgeous landscaping from a high and fun point. You can also head to the Bell House. Once a residence of General J Franklin Bell, this vintage home is now a museum reflecting American colonial architecture. And since you're already in one of the best outdoor places in Baguio, you might as well have a picnic. Camp John Hay has a picnic area and tables you can rent for your afternoon culinary indulgence. Sounds like a family affair already, no?
2. Visit the La Trinidad Strawberry Farm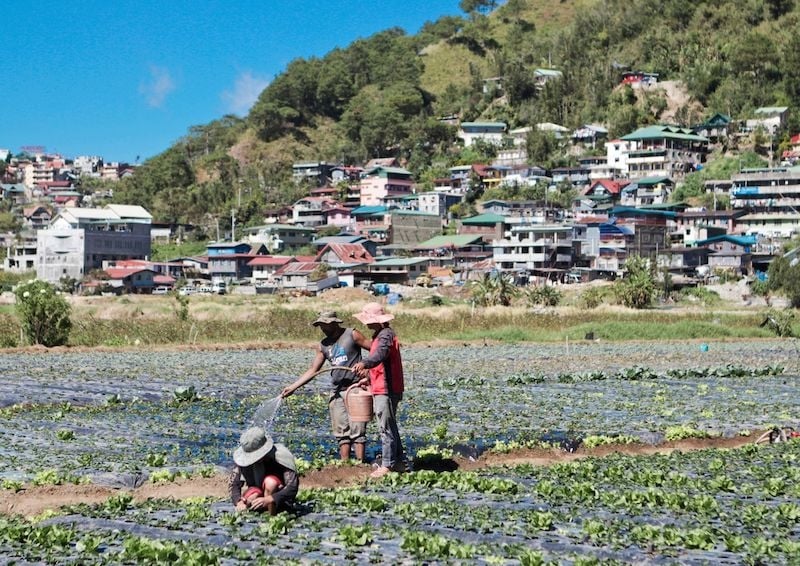 A quick ride from Baguio City, you'll find La Trinidad Strawberry Farm, which is probably the most popular strawberry farm in the country. This is where you can pick your own strawberries if you visit between November and May. The strawberries cost ₱250-₱300 per kilo.
The farm, of course, offers garden boots to help visitors tread through soil and mud. But if you'd rather just take photos and shop, you can buy souvenirs at the pasalubong centre, plus try Baguio's signature strawberry taho and strawberry ice cream!
3. Relax in the Mirador Eco Park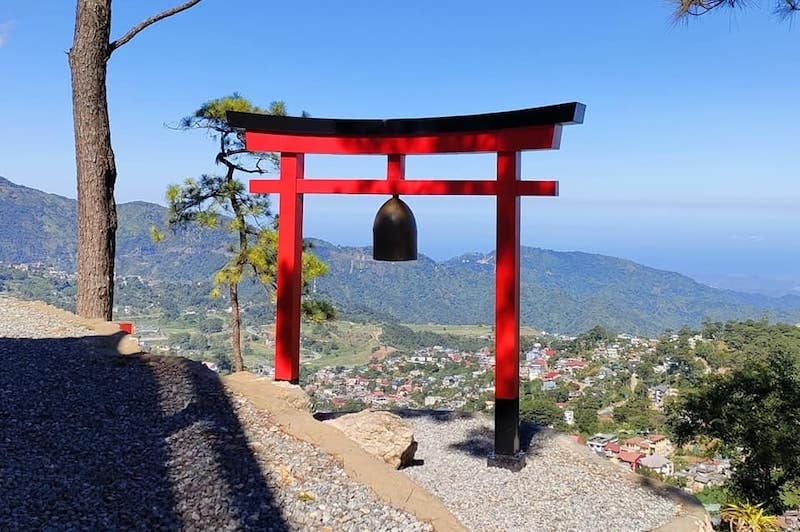 There's a little bit of Japan in Baguio, thanks to the Mirador Heritage and Eco-Spirituality Park, so add this to your list of things to do in Baguio. This rejuvenating park is a blend of Filipino and Japanese-inspired designs. Stand-outs include the Pandemic Healing Memorial, Ifugao Houses, and the Mirador Peace Memorial. The memorial consists of a torii gate sitting on top of a hill where you can also overlook Baguio City. Every attraction is like a zen area where wandering souls can find some quiet time to themselves. Unless, of course, you're travelling with friends who can't resist taking snapshots of this perfect and peaceful location. 
4.  Learn more about the Igorot Stone Kingdom
The Igorot Stone Kingdom was only opened in 2021. While some parts are still under construction, it has already become a new favourite must-see of locals. The landmark depicts modern and traditional Igorot culture as it's somewhat similar to a spacious park but takes the form of a stone castle at the same time. The castle is made up of hollow blocks and cement, with walkways and photo spots that complete a tourist's experience. 
As you explore the Igorot Stone Kingdom, notice how the walls resemble the Ifugao rice terraces. There are many sub-attractions inside the stoned fortress, and it will reportedly add life-sized statues of prominent Igorots soon.
5. Take pictures at Colors of StoBoSa, La Trinidad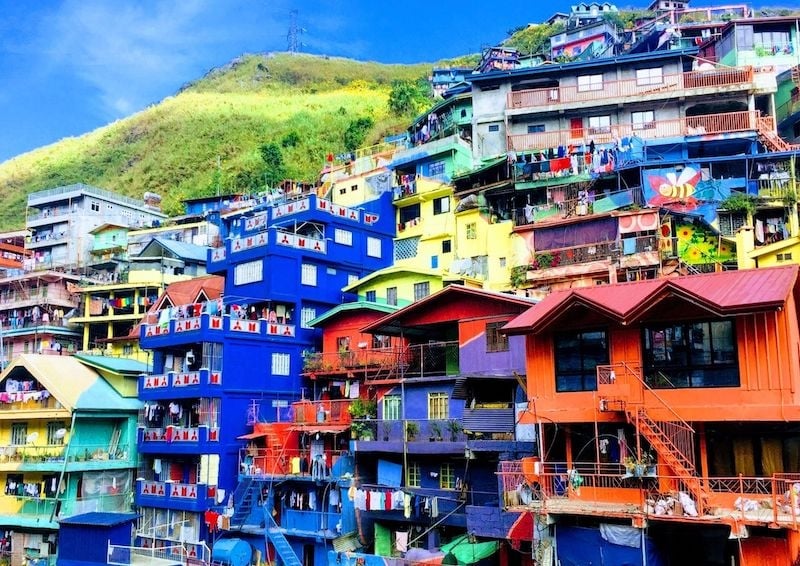 Colors of StoBoSa has made the rounds on social media in recent years for good (and colourful) reason. This is actually a residential area made up of about 500 homes whose design was a collaboration of the Department of Tourism and the Tam-Awan Village group. The whole town is like a stacked mural of yellow, red, purple, and green that's striking in photos but definitely more jaw-dropping in person. 
StoBoSa comes from the combined names of the communities in the village, which are Stonehill, Botiwtiw, and Sadjap. As this is a residential area, there's no entrance fee, but you are encouraged to mind your manners as you explore the 'ton. It's also a chance to interact with locals who are already used to welcoming tourists in their turf, so this should surely be on your list of things to do in Baguio. 
6. Ride a boat in Burnham Park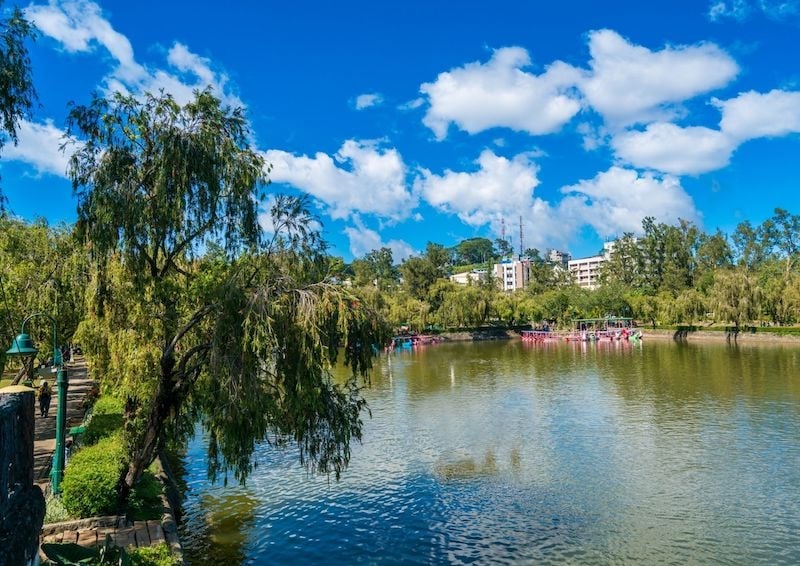 Arguably the most famous tourist attraction in Baguio, Burnham Park is located at the heart of the city. It isn't just a restful place to take a stroll or set up a picnic. Families and tourists also take the opportunity to hop on a boat — a swan boat if you'd like — and be swayed by the gentle waves of Burnham Lake. You could also go biking or explore the park's other attractions, such as the Rose Garden skating rink, the Orchidarium, and the Children's Park. 
7. Exercise in Wright Park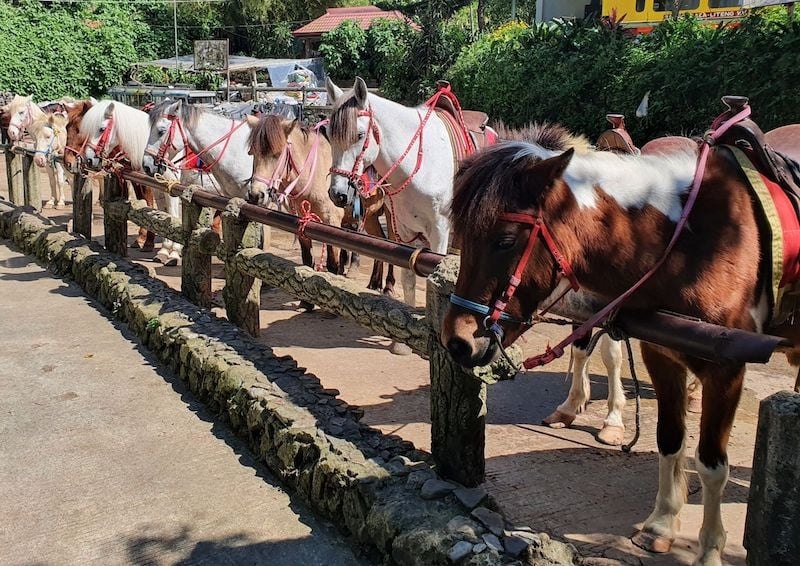 Next up on your list of things to do in Baguio is yet another park. Feast your eyes on Wright Park. This park boasts vast greenery with walking and jogging trails, a long pond, and a pine tree forest next to the bustling horse stable. Needless to say, you should take this opportunity to do some exercise. But the stable is usually the main purpose of tourists here because, yes, you can go horseback riding for only ₱200 for seven rounds. Even better, entrance is free!
8. Go up The Mansion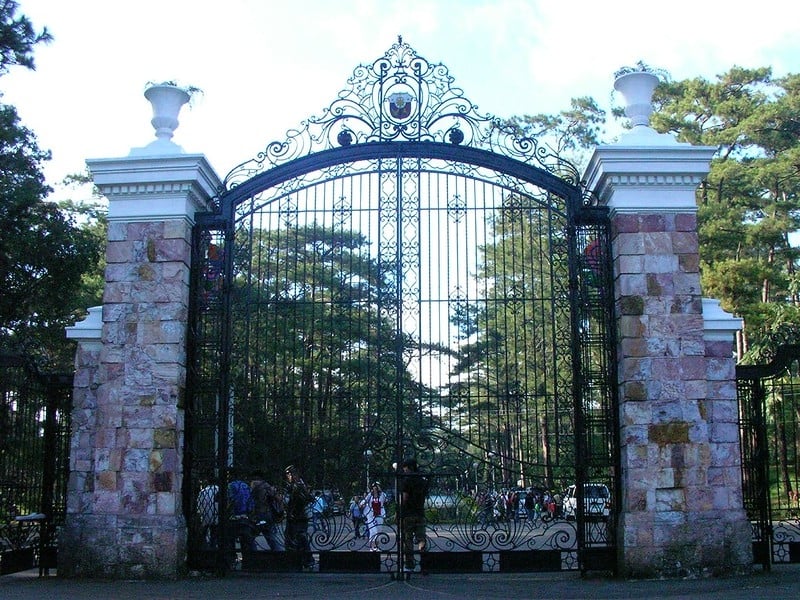 The Mansion was once the official residence of the US Governor-General in the Philippines. When the Philippines was no longer an American commonwealth, The Mansion became the official summer residence for Philippine presidents. However, most presidents no longer use The Mansion and it usually serves as a tourist attraction. Inside, it has a mini-museum with memorabilia from previous presidents. And fun fact — the elaborate gate is believed to have been modelled after the gate of Buckingham Palace in London, England. 
Also read: Cafes in Baguio: Where to Get the Best Coffee and Hot Chocolate in the City of Pines!
9. See art pieces in the BenCab Museum
The BenCab Museum was named after the Philippine National Artist for Visual Arts himself, Benedicto Reyes Cabrera. The museum showcases a collection of contemporary art and ethnography. Not only does the museum contain the artist's own masterpieces and that of his peers, but also granary gods, native implements, weapons, and indigenous arts of the Cordillera region. 
This tourist spot in Baguio is the best place to get to know the modern and traditional culture of the city from the point of view of artists. We suggest you step inside the museum's many galleries for further immersion, including the Cordillera Gallery, BenCab Gallery, Erotica Gallery, and the Philippine Contemporary Art Gallery 1 & 2. Outside, bask in the refreshing farm and garden just below the museum. Here, you get to see the city's organic farm produce, a waterfall, and a mini forest that features an eco trail!
10. Take in the beautiful Mines View Park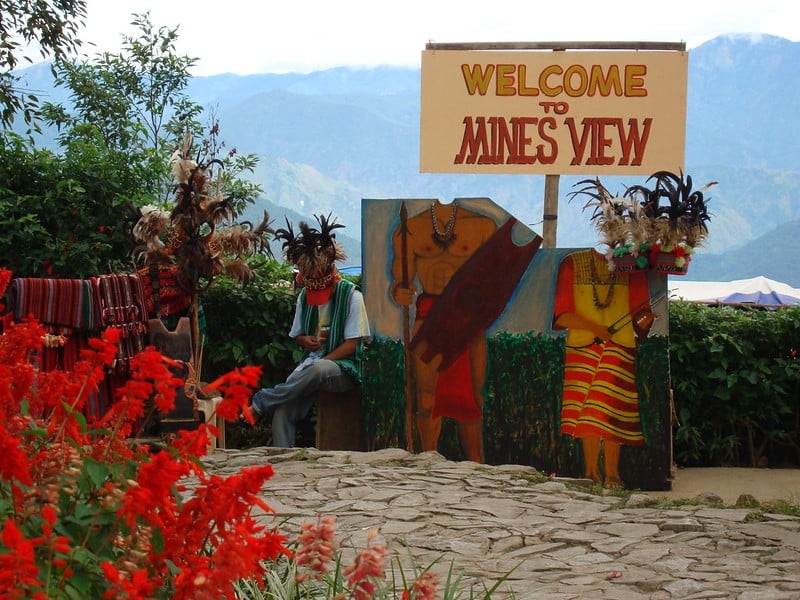 Another postcard-worthy attraction in Baguio is Mines View Park. Although this place is usually packed with tourists, the view and photo against the backdrop of lush pine trees are well worth it. If you want to have the observation deck all to yourself, it's best if you visit in the morning. There are also a lot of souvenir stalls here, and you can even take a photo in the traditional Cordillera costume. If you're travelling with little ones, they'll be ecstatic about the St. Bernard dogs they can pose a photo with too. How can you not add these big furry friends to your list of things to do in Baguio?
11. Check out Tam-awan Village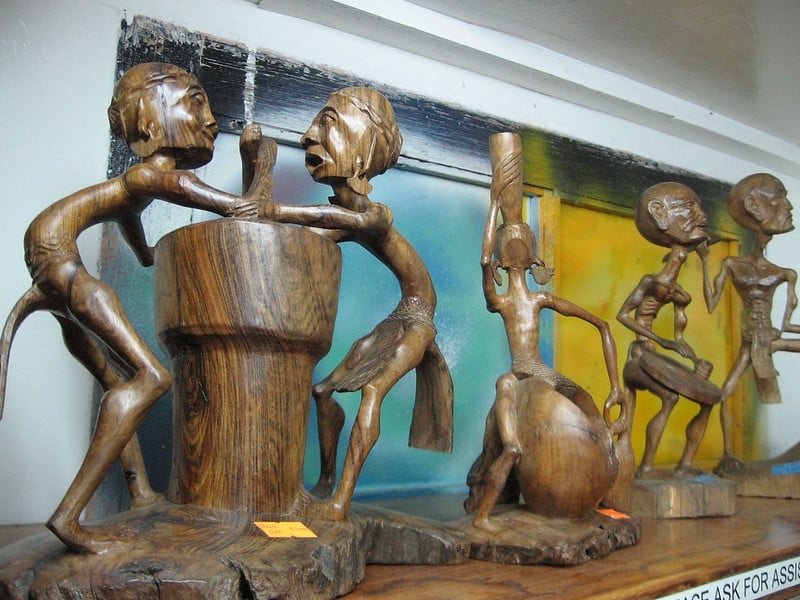 Immerse even deeper in Baguio's indigenous culture at the Tam-awan Village. This village underscores indigenous craftsmanship and the artistic style of the whole mountain region. Here, you can take photos with tree huts that come from Ifugao; there are specifically seven Ifugao huts and two Kalinga houses for tourists to study and understand. This is also a great place to buy local artwork souvenirs, attend a local art workshop, and also appreciate the cityscape from their viewing deck. As the village is located at a high point, it's aptly nicknamed Garden in the Sky.
12. Buy souvenirs in Good Shepherd
You cannot leave Baguio without having Good Shepherd on your itinerary. This is where you purchase the famous ube jam. The holy jam which summons long lines of jam lovers who are also in it for the strawberry jam, blueberry jam, peanut cluster, lengua, and cashew brittle. No matter the souvenir you buy, they're all delicious and worth the wait. Plus, the location is a picturesque area too. You might want to take photos while waiting to buy your Baguio pasalubong!
Also read: Where to Eat in Baguio: 22 Restaurants for the Wandering Foodie
And that about does it for this list of things to do in Baguio, the summer capital of the Philippines. With its ideal cool weather and a handful of outdoor activities, these Baguio attractions are a great palace to bond with your nearest and dearest. Are you ready to make for the City of Pines?
---
Facebook featured image credit (L-R): holgs and Scopio via Canva Pro. This article was originally published on TripZilla.