Contributed by Anatomy of the Awesome
I've had a lot of experiences in the past wherein travellers were literally crying and begging in front of an immigration officer to take their flight. Believe me, it is a nightmare and you don't want to be in that horrific situation. Nobody wants to be embarrassed in front of a lot of people and most especially, nobody would want to throw away all of the things they've put in preparing for the trip.
Also read: 9 Struggles Filipinos Travelling Abroad Can Totally Relate To
Recently, I went on a three-week out of the country trip, and I prepared all the documents the immigration officer might ask from me. I was ready to be interrogated. I lined up at the Immigration Window in Ninoy Aquino International Airport (NAIA), and there were two women in front of me. I assumed that they were first-time travellers and were bound for Singapore. The IO was definitely not satisfied with how they were answering his questions so he eventually decided that they should be escorted to another room for further interrogation.
They were actually being asked by the IO some basic questions. Unfortunately, the two travellers were not that prepared in presenting documents to back up their answers. It took me almost 30 minutes of waiting time, and it was really inconvenient since my scheduled boarding time would be in 10 minutes.
When it was already my turn, the immigration officer just asked me one question, and it was about my purpose of going out of the country. I said I am going to have a holiday. While he was browsing through my passport, he noticed that I recently went out of the country (I went to Hong Kong 2 weeks before this trip). After he finished flipping on all of the pages of my passport, he gave me an approval nod and my passport with a valid stamp.
To tell you honestly, I still cannot believe what had happened to me that time. It was too easy for me to pass immigration. I even brought all of the documents with me. The IO didn't even ask me some follow-up questions about my trip. It's not that I am complaining but sometimes, I really wonder if our policies are being implemented based on the mood of the IOs.
Offloading
Offloading is denying passenger entry to another country due to insufficient documentation, inconsistent response to interview questions and possible safety risk of the traveller in the intended destination. According to BI Commissioner Siegfred Mison, "Offloading is not a policy but a consequence of the implementation of the Guidelines." So for us to be able to create an effective and effortless workaround in going through this procedure and avoid being deprived of entry to another country, we need to understand the people who are involved: the Immigration Officer and the Traveller.
Also read: 10 Ways to Avoid the Notorious Laglag-Bala Airport Scam in the Philippines
The Immigration officer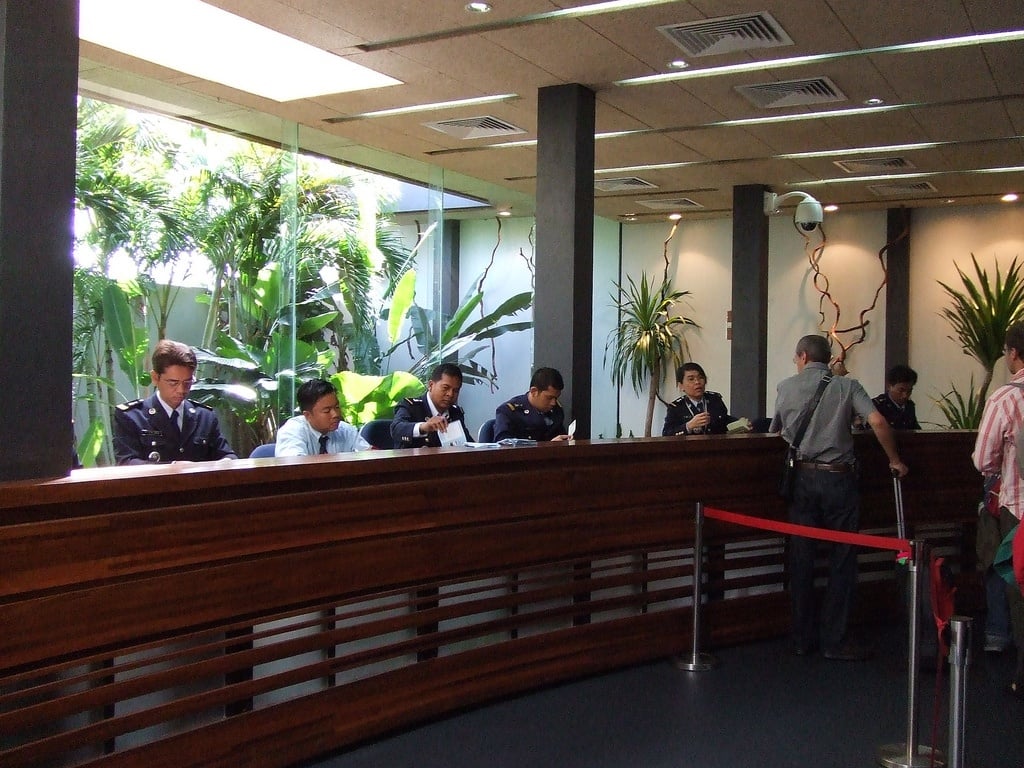 Image credit: shankar s.
One of the functions of an immigration officer is to control the traffic of travellers in and out of the country. He also gives out advice to the travellers regarding the guidelines for admittance and residence in a particular country. Also, an IO may protect citizens from becoming a victim of human trafficking, illegal recruitment etc.
Aside from financial constraints, one reason why Filipinos are hesitating to go outside of the country is that they don't want to be tightly interrogated by an immigration officer. Usually, IOs would just only ask travellers about their travel itinerary like the number of days of your stay and the location of their accommodation.
Tip: You are appearing in front of an immigration officer and it is standard for all of them to do initial profiling based on how you present yourself so make sure to dress appropriately. Also, only answer what is being asked from you. Do not voluntarily give out details which will further cause interrogation. Stay calm, consistent and convincing in responding to IOs because if you are going to make up stories, I'd say prepare for failure because most probably, you are going to miss your flight.
Everyone should be aware that IOs are just doing their job and it includes making sure that everything is in order: documents are verified and complete, fees are paid and accomplished and purpose is validated and confirmed.
The Traveller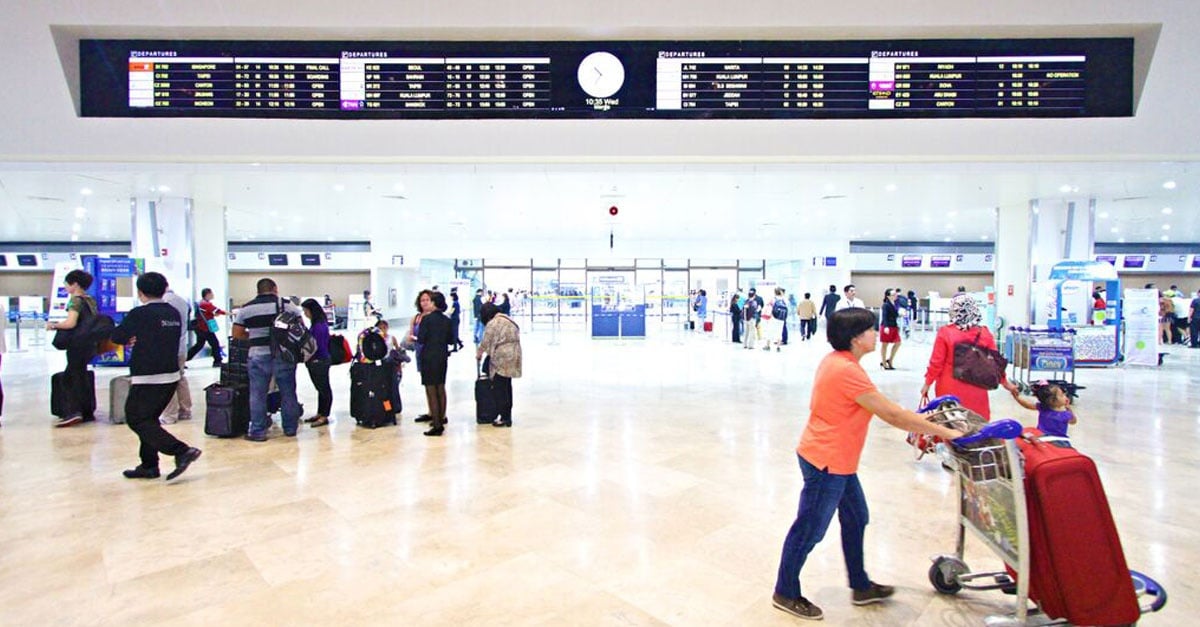 Image credit: Department of Transportation and Communications (Philippines)
Travellers are categorised according to their purpose: tourist, overseas worker and immigrants. The requirements that you need to present would depend based on the purpose of your travel.
According to the constitution, Filipinos have the right to travel but it is not absolute. There is a clear set of rules under "The Guidelines on Departure Formalities for International Bound Passengers" found in the Philippine Embassy website, wherein Filipinos who wish to travel abroad would undergo several inspections. During PRIMARY INSPECTION of TOURIST TRAVELLERS by an IO, they MUST present the following:
1. A valid passport
Tip: Should still have a minimum of six (6) months validity from departure date in the Philippines. Also, if your old passport is available, you can submit it as a supporting document to prove that you are a frequent flyer.
2. Round trip plane tickets
Tip: Return ticket should not be exceeding the days of your stay abroad. Also, if you think you are not sure of when you would want to go back or the return ticket is too expensive, you can present a printed mock booking itinerary from the airline company website. I am not saying that you present a fraudulent document but it would be better to give the IO a hard copy of your travel itinerary instead of a lame excuse.
3. Visa when required
Tip:  Should be valid and in sync with the purpose of your travel. A valid visa is not a guarantee that you are granted entry to your country of destination—it is only a proof that your visit is legal.
A SECONDARY INSPECTION would be necessary if it appears like the traveller has a different reason other than what he has initially declared before the Immigration Officer. Travellers who are most likely to go through secondary inspections are first time travellers and those who have no steady source of income. These people will be further assessed based on the following criteria:
1. Age
Tip: You can bring a copy of an NSO Certified birth certificate or Identification Card which has your birthday or Age.
2. Educational attainment
Tip: Bring a copy of your Transcript of Records or Identification card from your university.
3. Financial capability to travel
Tip: All you need to do is to prove to the IOs that you can financially support your trip and that you have a bank account to go back to in the Philippines. Your good intentions would be proven if you back it up with necessary documents:
3.1. Company ID
Tip: A follow up question would be the name of the company you are working for, the position in your company and your tenure.
3.2 Latest Income Tax Return (ITR)
3.3 Certificate of Employment
Tip: It would be better if it reflects your salary, your tenure in the company and company contact details.
3.4 Acceptance letter for Leave of Absence from your agency
Tip: Optional but it would be helpful to present this document
3.5 Bank Certificate
Tip: I know this may sound redundant because obviously, if you are going to a country that needs a visa (fortunately you were granted one), it will automatically imply that you are financially capable of travelling. Of course, you wouldn't know the mood of the IO that instance you appear in front of him, so if he asks for a bank certificate, just present one. It is better if the certificate reflects the date you opened the account in that particular bank. If you don't have a bank certificate, you can present your own credit card which you used in booking the ticket.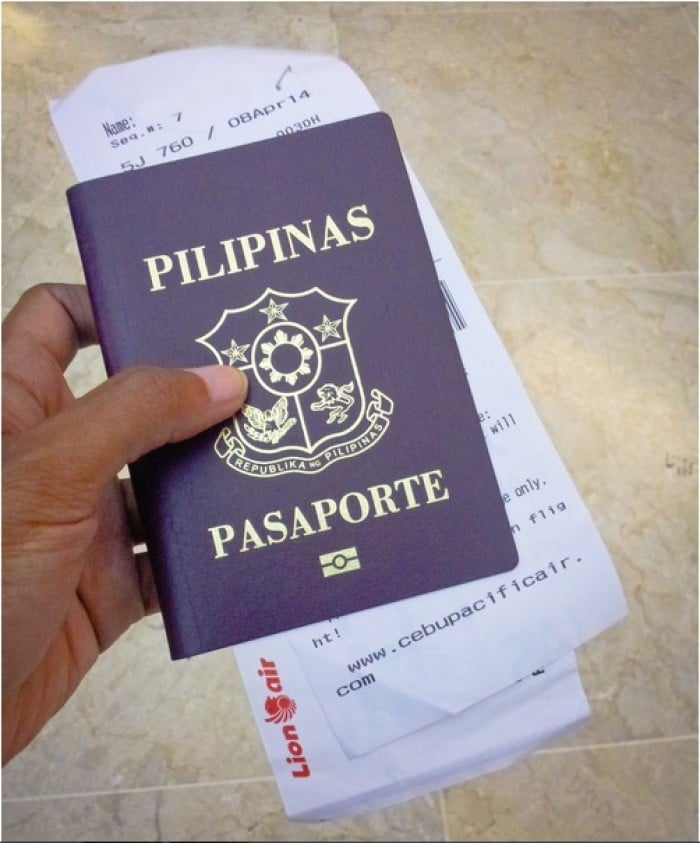 According to "The Guidelines on Departure Formalities for International Bound Passengers", you will be automatically subjected to a secondary inspection if you are categorised in one of the following:
Travellers without financial capacity to travel escorted/accompanied by a foreigner who is not related;
Minor travelling alone or unaccompanied by either parent or legal guardian without the required travel clearance from the Department of Social Welfare and Development (DSWD)
Repatriated irregular workers, in which case, travel may not be allowed without the clearance from the IACAT (generate data);
Partners and spouses of foreign nationals intending to depart to meet and/or marry his/her fiance without the CFO Guidance and Counseling Certificate
Passengers travelling to countries with existing deployment bans, alert levels and travel advisories and those in possession of visas to the said countries
Passengers who stayed abroad for more than one (1) year during a previous departure from the country as a tourist/temporary visitor, intending to depart for the second and/or subsequent time.
As what I have experienced here in the Philippines, AUTOMATIC SECONDARY INSPECTION became part of the process even though the traveller has presented a complete set of documents. I cannot blame several IOs for asking clarifying questions because more often than not, Filipino travellers would leave the country in the guise of a tourist and then would eventually go looking for an employer upon reaching their destination.
Yes, some would be able to get away from the nosy immigration officers but these people are eventually going to be vulnerable and would become victims in the country they are in because abusive employers know that they have an illegal status. This happens when the country of destination is not a popular tourist destination. Dubai, Hong Kong, Malaysia, Singapore and Bangkok are considered transit points for high incidents of human trafficking.
I haven't really tried this yet but in a worst-case scenario wherein you were offloaded and you are really desperate to board a flight, I suggest you go to another Immigration Officer's window. I may be wrong but it is definitely worth a shot.
Majority of the problem would not arise from the policies and rules that are being implemented but from the arrogant IOs who are enforcing it. I suggest, once a traveller is able to present confirmed requirements, there should be no need for further interrogation like what foreign countries are putting into practice. Sometimes, I feel like Pinoy IOs are just causing unnecessary inconvenience and delay. Also, I suggest that if an IO offloads a traveller by mistake, they should be held responsible for the damages they may have caused.
For further information, you can check out the full details via The Guidelines on Departure Formalities for International Bound Passengers or you may report other concerns directly to the Bureau of Immigration.
Bureau of Immigration
Website: http://www.immigration.gov.ph
2nd Floor Bureau of Immigration Building
Magallanes Drive, Intramuros, Manila, Philippines
Telephone Number: 465-2400 loc 231-233
Direct line: 527-3279 / 527-3248 / 336-7751
Also read: 10 Travel Tips and Precautions for Every Smart Traveller