Contributed by Inspiring Grateful Travels
Experiencing the best tourist sites in Siem Reap was fascinating! It piqued great interest in me that I haven't felt in other countries I have travelled to. It has picturesque views, significant history, and monumental structures.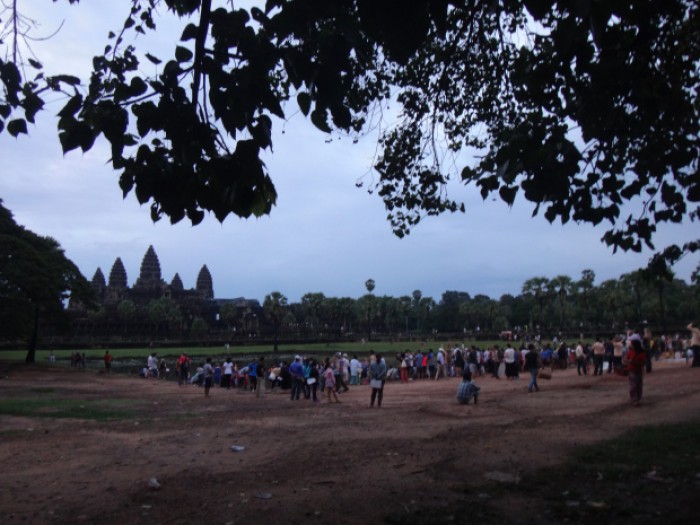 Tourists at Angkor Wat during Sunrise
I think Siem Reap really welcomed me with open arms because ALL IN ONE DAY, MY FIRST DAY:
I felt 2 weathers out in the open – intense heat and excessive out of breath rain
Talked to so many people – Tourists / Airport Staff / Roommates / Hostel mates / Hostel staff / Locals. So many conversations in one whole day!
Rode 10km worth of motorbike
Hiked a mountain for a little over 15 to 20 minutes
Motorbike tour activities
Night activities at Pub street
And so much more!!!
Doing all these with few to zero sleep because of my Kuala Lumpur Sri Packers roommates who wouldn't let me rest the night before!
It was all so overwhelming and amazing. After that one day, I was lying at my hostel bed thinking WOW I achieved ALL OF THAT in a little over 24 hours. And that in about 4-5 hours, I will be getting up to do so many things again.
Also read: 10 Destinations in Cambodia You Need to Visit
I thought about how people would always think that they lack time to do so many things that they want. They tell me that they have so much work to do, that they lack rest, and so many reasons. I beg to differ. We can do SO MANY things if we want to. We need a lot of HEART, passion, endurance, and perseverance. It's our lack of will or confidence that prevents us from doing things that we need or want to do, that's why we give off reasons like there is no time.
We have time. And we have choices. If we choose to drag on things that don't really matter, we waste time. If we choose to do things we want coinciding on things we need to do, we get everything we truly want done. People have so much more potential to greatly achieve things that they give themselves credit for.
How much time do people waste,
Scrolling down social media content on smart phones?
Watching full seasons of TV series in just days?
Sleeping or eating excessively?
Playing video or app games for hours?
Don't get me wrong. I don't say I don't do some of these. People can slack off for a time, rest more than they have to, indulge as rewarded, but these same people shouldn't complain that they do not have enough time to do the things they want. Make use of your time. You have a lot of it. Be efficient.
Siem Reap was a grateful experience.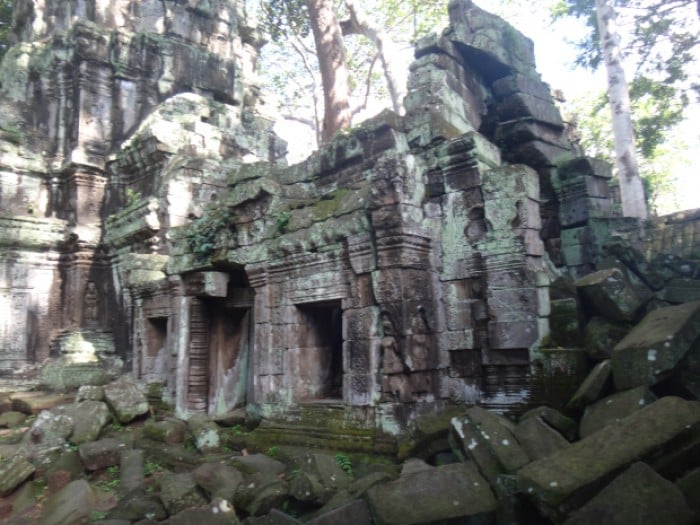 At Ta Prohm
Amazing people, significant history, jaw dropping views, Tomb Raider/Indiana Jones feels…
I will definitely come back and tour Siem Reap again.
Siem Reap International Airport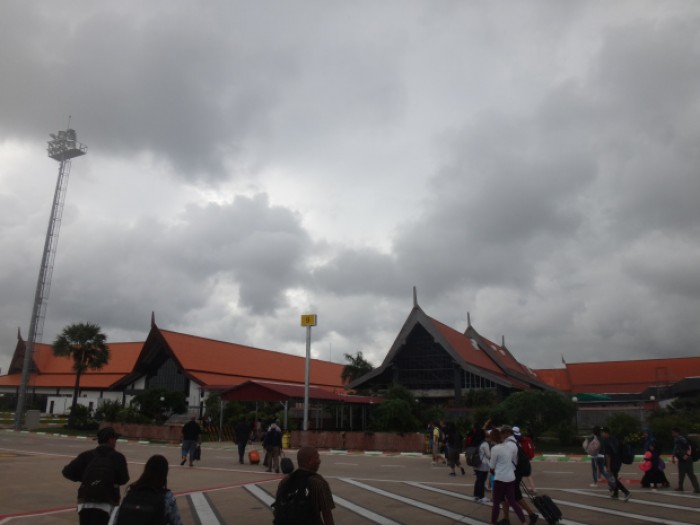 Outside Siem Reap International Airport
The airport was really different from airports I've been to. It's not modern. They've built it by infusing its country's culture. It has the temple-ish vibe. I was a little annoyed at my immigration officer because when he saw my passport, he immediately said "You Filipino, not allowed work here." Wow. Not even a question first! He already assumed that I would be looking for work. Has it really come to this? Is this really the reputation of Filipinos around the world? Just a sad reality, I guess. Just being grateful for the best! Outside Siem Reap, you'll find lots of tuktuks and car services.
When I was departing Siem Reap and was checking in, there was a lot of construction going on. Check in took me around 30 minutes and there was a lot of hammering, drilling, and banging! It was really irritating. Good thing this was only at the check in area, departure area was good.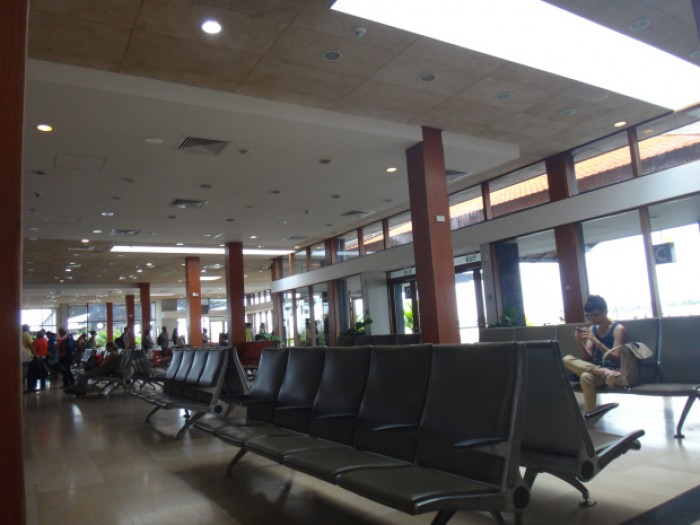 Pre departure Area at Siem Reap International Airport
Inside the airport, you'll find a lot of shops and duty free stores. I really liked the seats as they were comfy for departure process. The view of the runway was great too – a long road with a backdrop of the fields – really awesome grateful view!
Accommodation: One Stop Hostel
One Stop Hostel was really awesome! This is the most fun hostel I've ever been in! The staff were great! And I've had a lot of conversations at the common room. Everyone was so friendly! Thank you to everyone I've met! I learned a lot from all of you. You can sit with anyone and just strike up a conversation! The common room was really homey too. Everyone was just there making conversations while eating, watching movies, surfing the internet, and many more.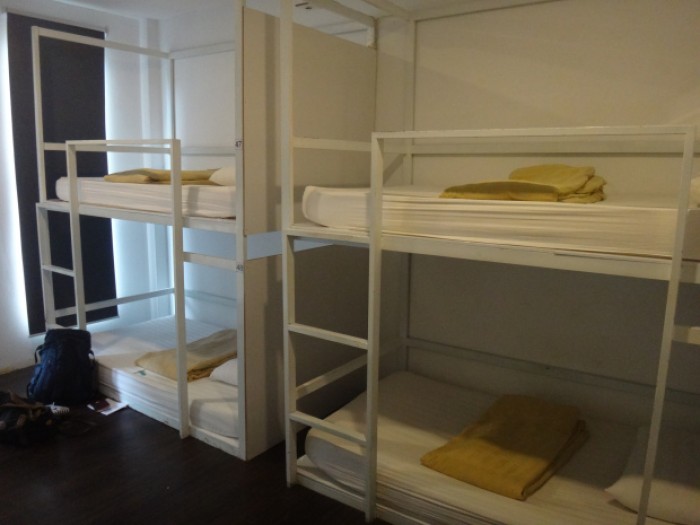 Female Dorm at One Stop Hostel
The room was clean. The beds and pillow were very comfortable. The bathrooms are shared and there was no hot water when I took a shower. But all good, refreshing cold water after a day's worth of Siem Reap tourist activities was a great relief!
This is a very popular hostel as there a lot of foreigners here. Outside, there are a lot of tuktuk drivers awaiting guests who want to go temple hopping.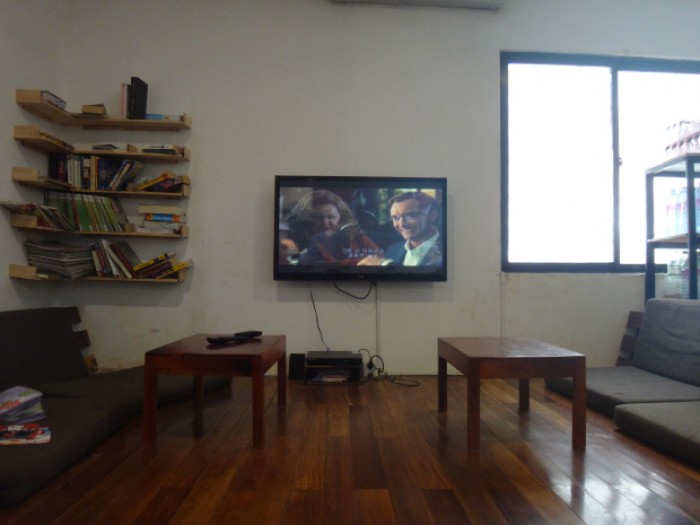 TV Common Room at One Stop Hostel
Food, drinks, and parties are also very accessible as Pub Street is like a 30 seconds walk away. Hostel to airport is about 20 to 30 minutes away. Souvenirs are also accessible from the hotel as the Night Market is only a 1 minute walk away.
Exploring Siem Reap
Sabai Adventures Cambodia
Sabai Adventures Cambodia is owned by Scott, a Canadian who married a Cambodian. His company offers affordable motorbike, tuktuk, and jeep tours. He was really cool as I got to talk to him at the start off my tour. He said that prior to me a lot of Filipinos have been availing his tours recently.
I availed the one day easy rider motorbike tour. I've never had this kind of tour before so it was really exciting. You can choose to ride your own motorbike or ride pillion. I chose to ride pillion but my tour guide, Sin, taught me how to ride on my own during the tour. I rode it all by myself for about a minute.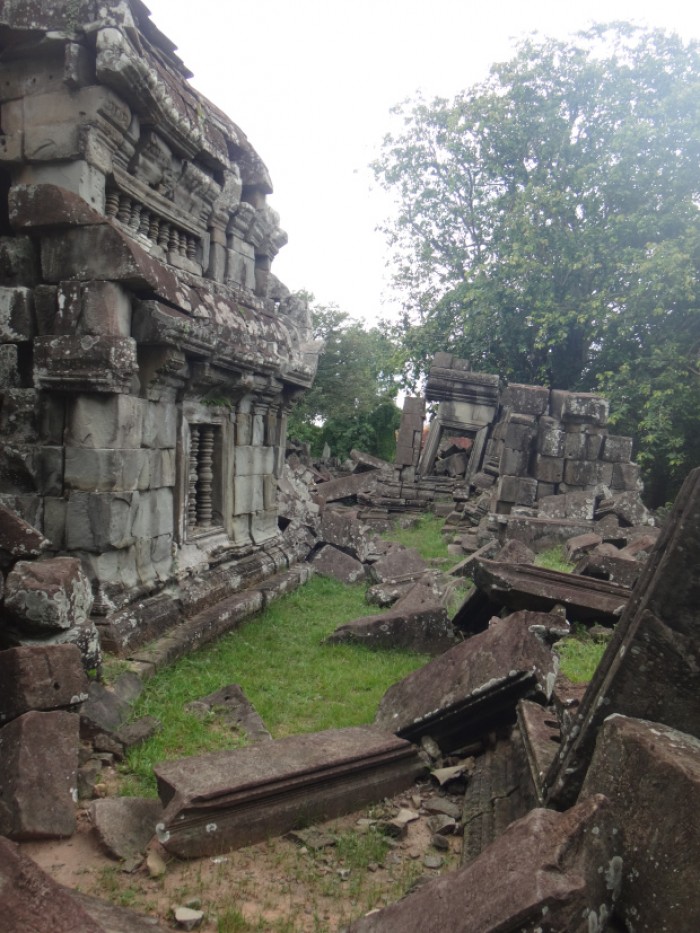 Temple during the motorbike tour
This was a really great tour because you deviate from the usual temple hopping tourist sites of Siem Reap. I got to see how locals lived and other beautiful places that can be explored in Siem Reap. Touring Siem Reap is not only about ANGKOR WAT temples, there is so much more to a country than its popular tourist sites. Whenever I visit a country, I try as much as possible to learn more about the culture. As important as popular tourist sites are, I'd also like to get something more out of other places in the country, famous or not.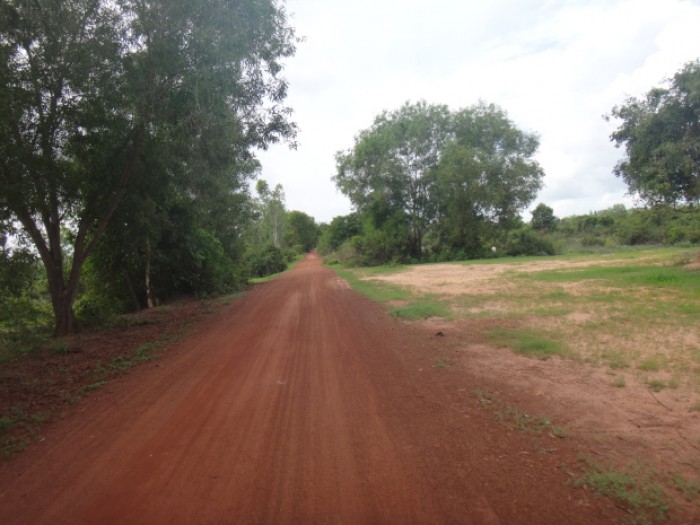 Countryside Red Roads
Here are the sites that we went to during our motorbike tour:
1. Countryside Roads & Fields
When you research on Siem Reap, you don't really see these. You only see temples which is sad because the countryside roads and fields were so beautiful. The trees, the red colour of the roads were just cool and different. We passed by a lot and it was so great riding through.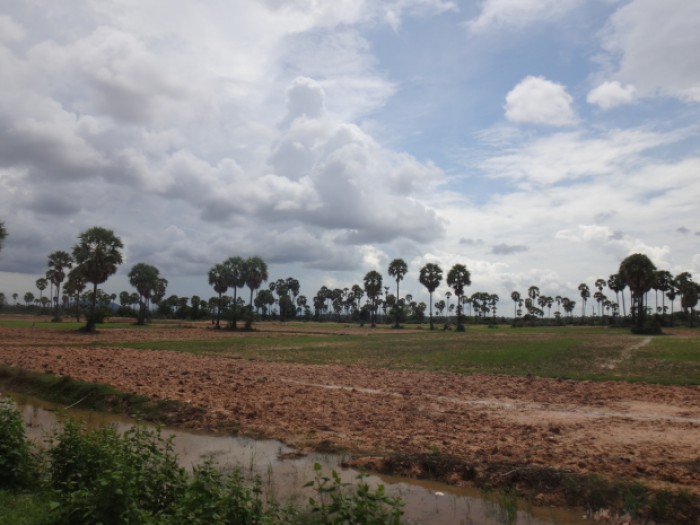 Country Side Roads
2. Highways
Riding the motorbike through highways was really fun! I wasn't wearing a helmet and Sin was just riding through it fast. The feeling was just mind blowing. A really great adrenaline rush! The clean air, the long highway, NO TRAFFIC, was just so breathtaking!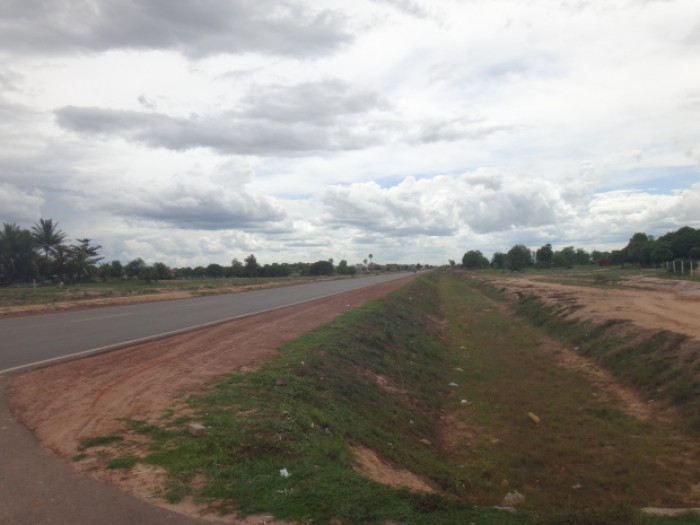 Siem Reap Highway
3. Traditional Villages
The traditional villages we passed by can be comparable to the Nipa houses we can see in the provinces of the Philippines but almost all are elevated for flood prevention. We stopped by one house so some of the locals can teach me how to weave a basket. It was really cool and fun. I made some mistakes so she had to start the row over again. The locals really did look like Filipinos, ones I would see whenever I travel to provinces in the Philippines. They were all smiles because I was trying to communicate with them. Not all locals can speak English that's why they were just smiling at me.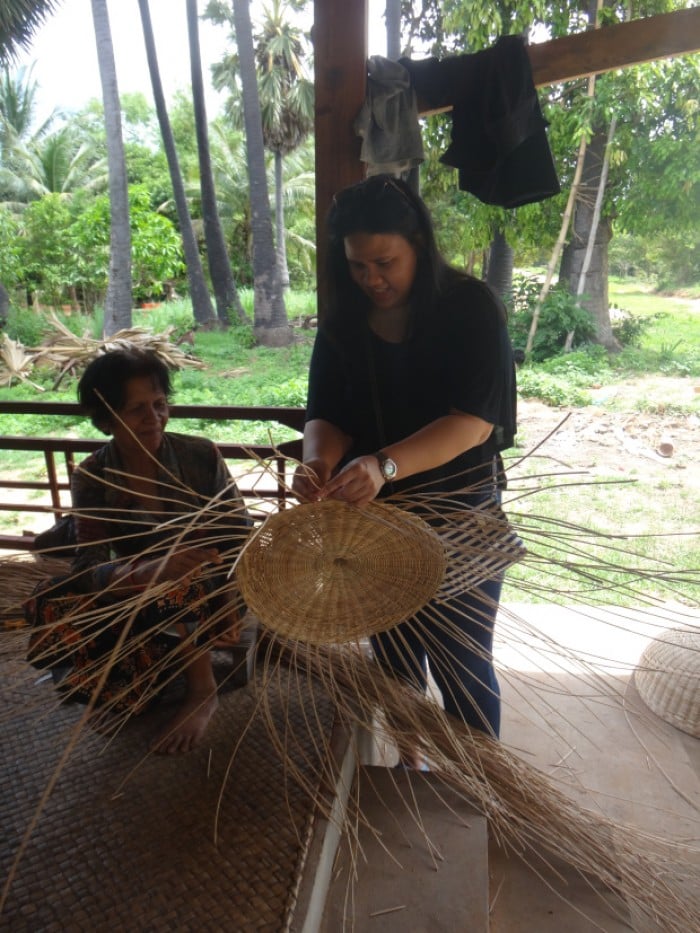 Basket Weaving at Local's Home
4. Chau Srei Vibol Temple
This was really nice! Coming to Siem Reap, I was really anticipating that some structures were being preserved that having the "temple feels" might be gone. But this temple, even though broken, still felt real. I still felt that I was there during the time it was at its prime. The rocks deformed and falling down, it was so fascinating!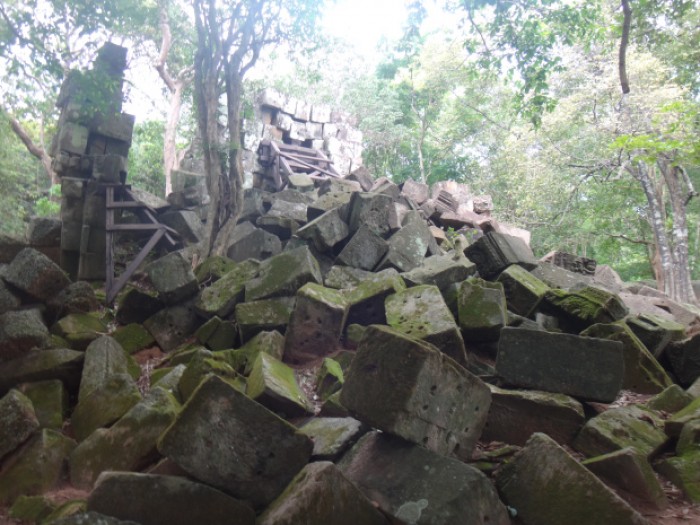 Falling Rocks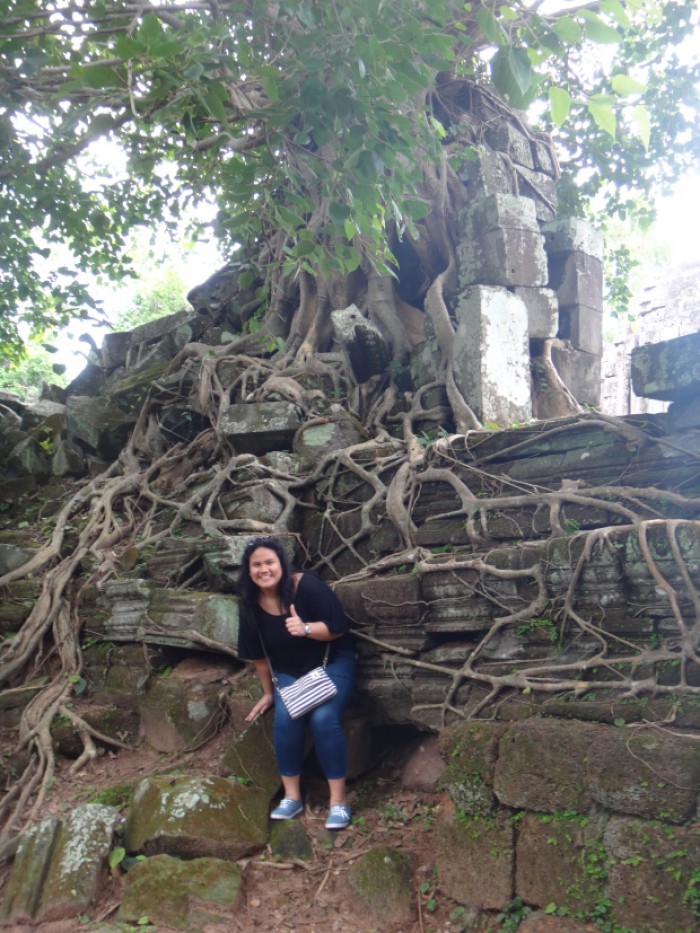 Ta Prohm Look a like tree
5. Eco Lake
We went to an eco lake where tourists of the tour usually swim. But I didn't. It was a vast lake with other tourist activities like food market and lake rides. The lake was just normal for me but what I liked here was the view of the red road. I'm glad that they still preserve it and not build modern roads.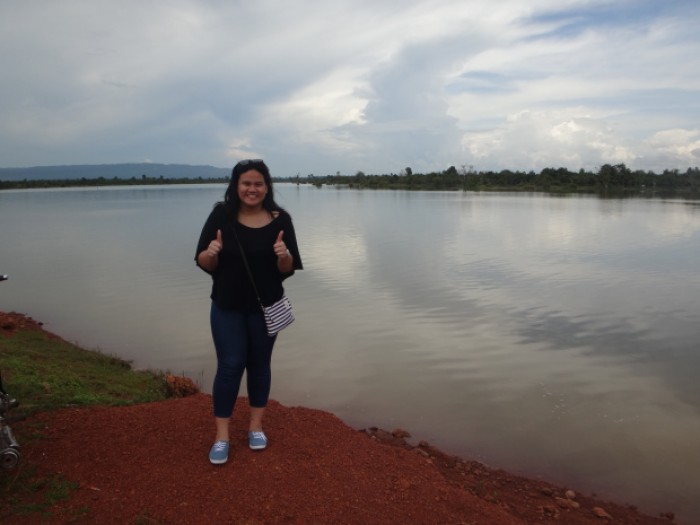 At the Eco Lake
6. Bakheng Mountain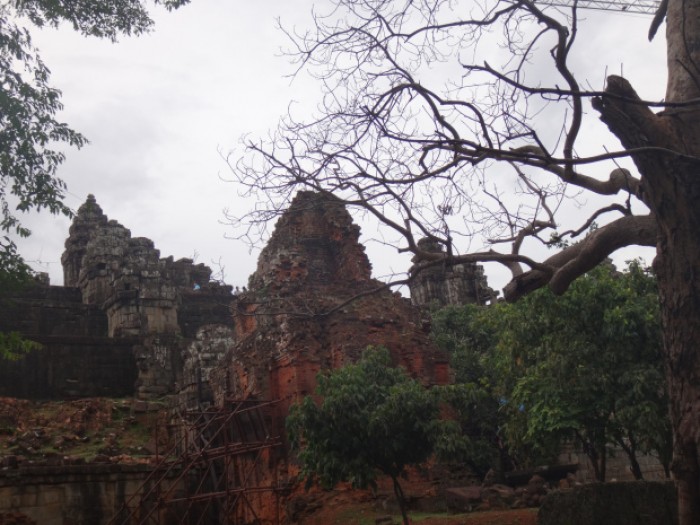 View of Bakheng Mountain from the base
This was my first ANGKOR WAT temple. As this is a popular temple for sunset viewing, I was really excited. The hike to the top would take around 15-20 minutes. I think it took me longer because I was really tired from all the activities I've done.
Also read: 3 Days 2 Nights Trip to Beautiful Siem Reap, Cambodia
Bakheng mountain was being reconstructed when I went there. There was a line as the staff limits a certain number of people at the top.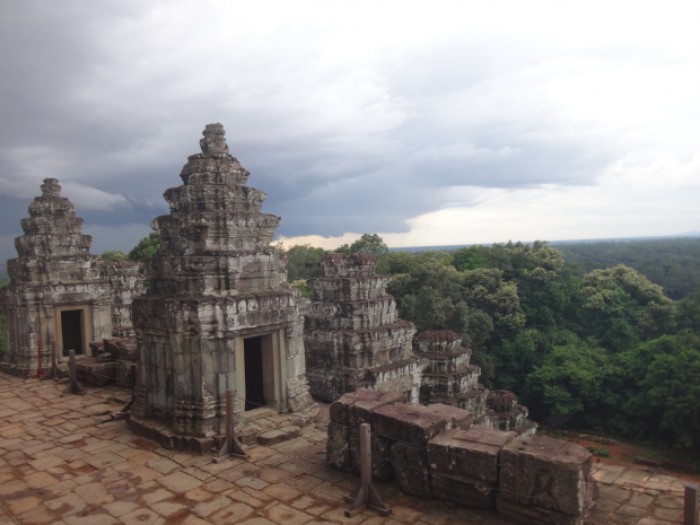 View at Bakheng Mountain
The temple was really beautiful! I really wanted to go here because this is where Lara Croft from Tomb Raider landed when she came to Cambodia for the Angkor Wat scene. It was really cool!
Unfortunately, there was no sunset view. My view was dark clouds raining in different parts of Siem Reap. Everyone was hurrying because the rain might come to where we were. It was really cool! I've never seen a view of rain before. What a first!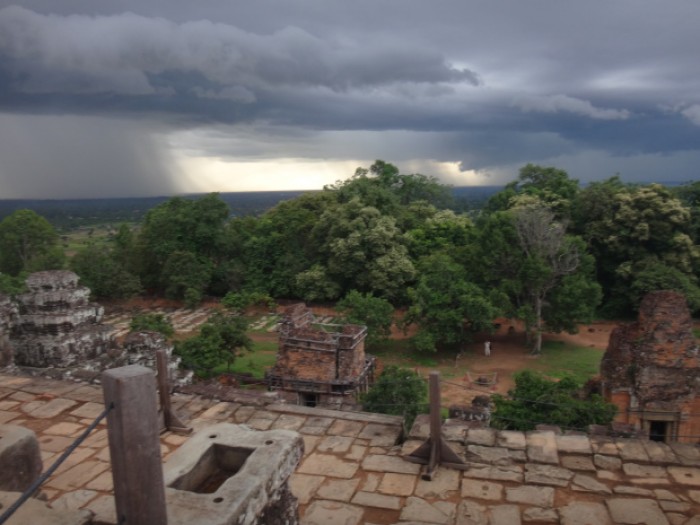 Rain view at Bakheng Mountain
The Motorbike Ride
The Motorbike was really exhilarating! I had no helmet but Sin, my tour guide, really made sure I was safe. He told me lots of stories and historic significance to the places we went to. He also told me interesting stories about his family, tourists, and Siem Reap. We rode through red roads, long highways, and fields. Sin told me we rode about 10 km worth of land.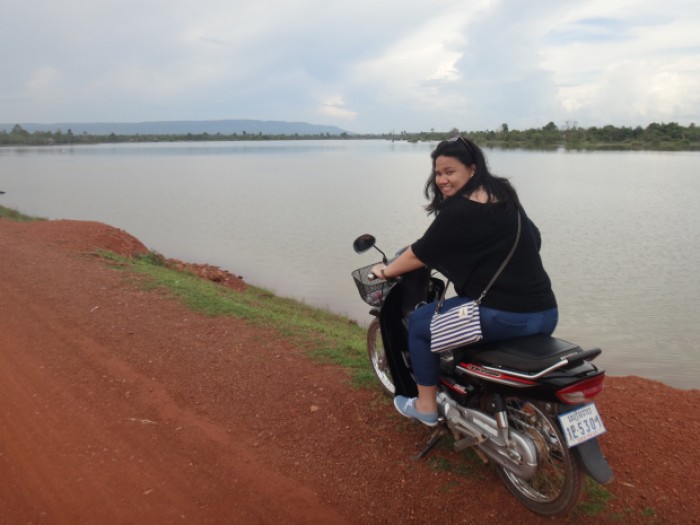 Riding a Motorbike
In the morning of the motorbike tour, it was really hot! But I didn't mind because the cool air was really refreshing! But in the afternoon, on our way to my hostel from Bakheng Mountain, the rain poured, AS IN REALLY POURED! Sin was still going fast but I didn't mind because it was really fun! We were both soaked by the rain. In the middle part, Sin stopped and asked me to wear a rain coat just to prevent my bag with money and camera from getting wet. I was out of breath at times because the rain was really strong. The city roads even got flooded. What a sight! What an experience! It was all so surprising and breathtaking at the same time.
No helmet!
Fast speed!
Intense heat!
Extensive pouring rain!
What an amazing ride!
THIS TOUR IS A MUST. When I come back, I'll make sure to ride my own motorbike.
Pubstreet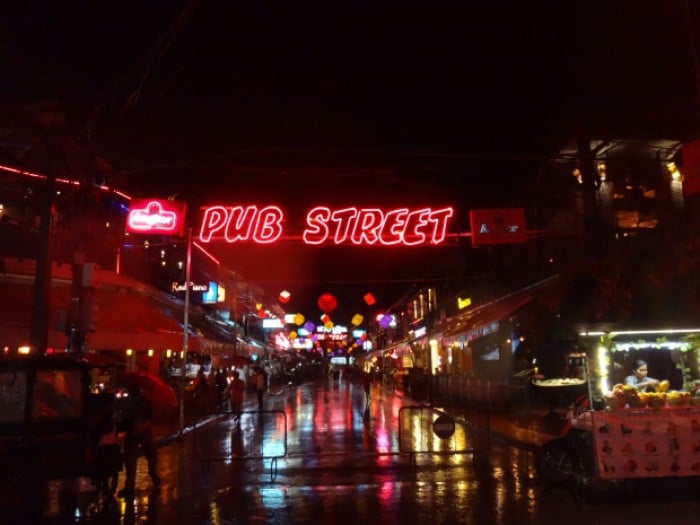 At Pub Street
After meeting some cool girls at One Stop Hostel, we decided to explore Pub Street together. We were very lucky as it was very close to our hostel. We explored the night markets which I can say is the same with the markets we have in Greenhills.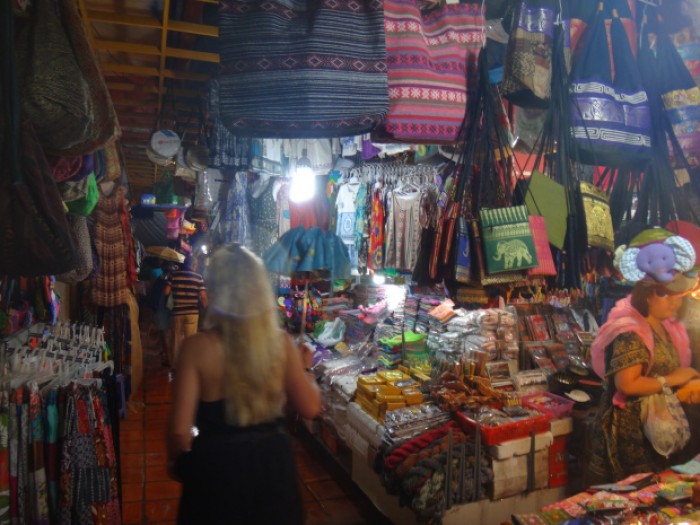 Stalls at Pub Street Night Market
We explored the bar streets and stayed at a restaurant with very good music. We enjoyed each other's company and had a blast drinking Angkor Beer.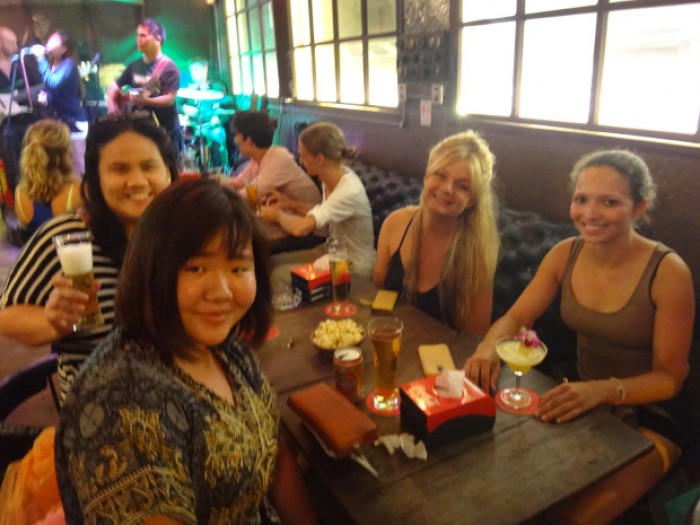 Having fun with these awesome girls
Pub Street was really a foreigner hub. Bars and restaurants from left to right just accommodating a lot of tourists. The feel of it was like Khao San Road in Bangkok. The vibe was really fun and cool.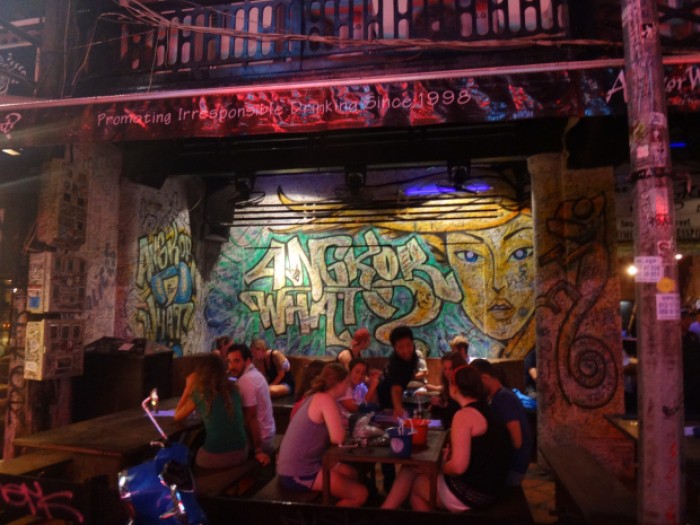 Angkor What?
Temple Hopping
You can't leave Siem Reap without temple hopping! This was really exciting! I met a Taiwanese girl from my hostel who was looking for someone to join her to go temple hopping.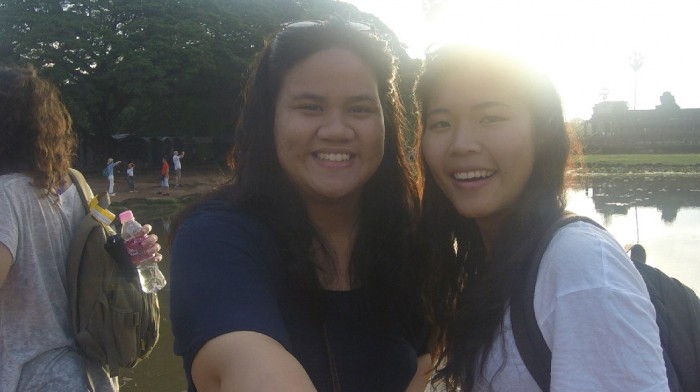 Joy & I at Angkor Wat
She was really cool as she has been travelling for some time now. I really learned a lot from her. I really liked her company during our temple hopping. She is one of the best people I've met while solo travelling! Thank you, Joy, for being awesome!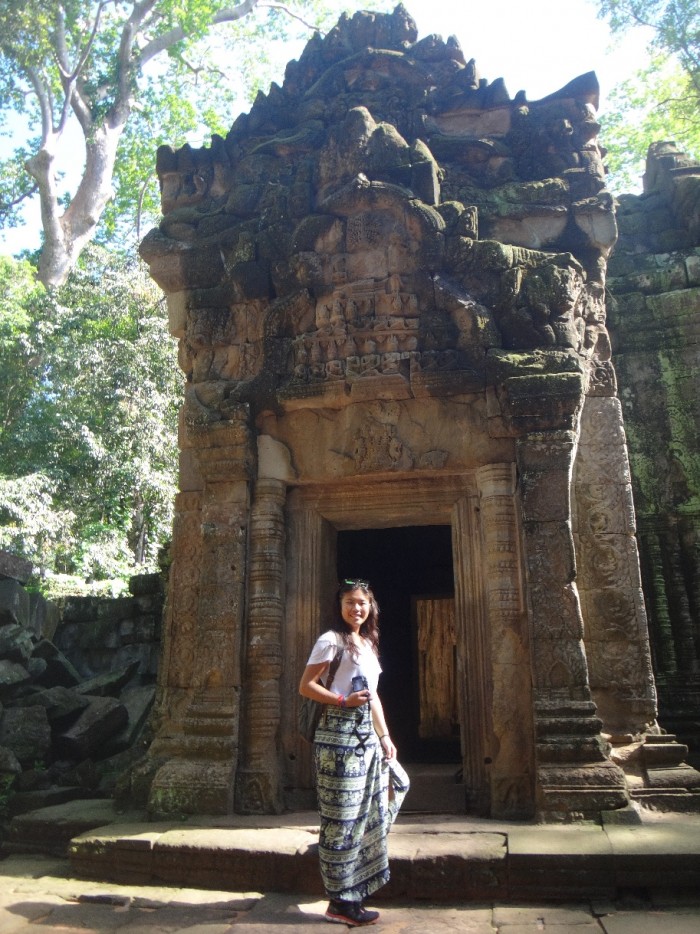 Joy at Ta Prohm 😉
We rented a tuktuk that was worth $15. It was really good because we can share the cost of the ride. Getting from one temple to another was really hard. Walking or Biking would really require great fitness ability so renting a tuktuk was the best choice and a great experience as well. Our driver was really nice too!
The Angkor Wat temples were really magical. Pictures on the internet don't really do justice for the feeling when you're actually there at the temples. This is a wonder of the world for a reason. Its structure, its view, its overall historical feel was really a grateful experience.
Tip: Bring lots of water! You will get tired and thirsty! Promise!
Angkor Wat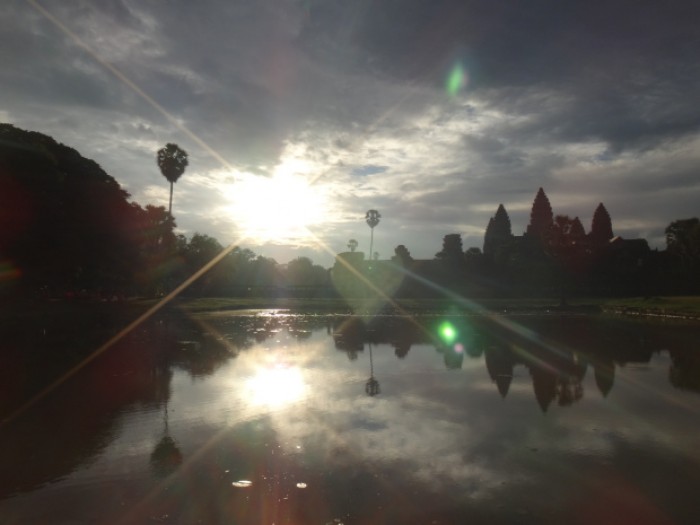 Sunrise View at Angkor Wat
I woke up at 4:30 am so we could catch the popular sunrise at Angkor Wat. When we got there, there were already a lot of tourists in good spots with their cameras waiting to catch a good picture. No words really for how beautiful the view was. Amazing!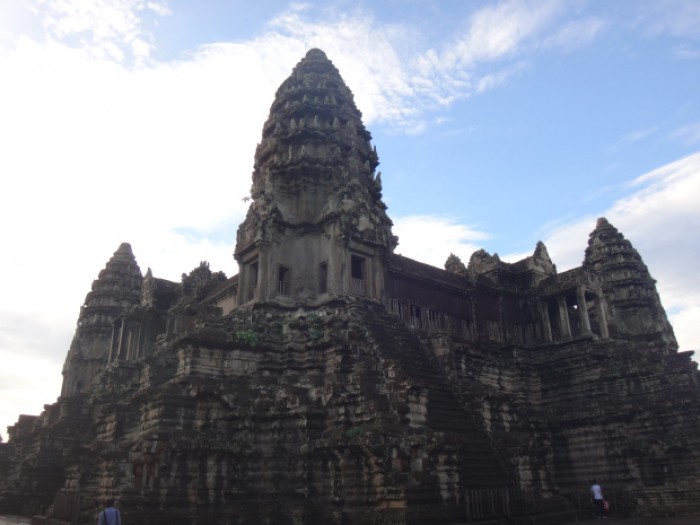 Inside Angkor Wat
Angkor Thom (Bayon)
This was Joy's favourite temple. I liked this temple too but what really turned me off was the construction and preservation going on in front and at the back. I know the temple really needs this but the overall historical feel was deteriorating. I liked exploring this temple! You'd really feel like a tomb raider here.
Bayon Temple
Ta Prohm (Tomb Raider)
I wish we went earlier to this temple because when we got there, there were so many tourists already.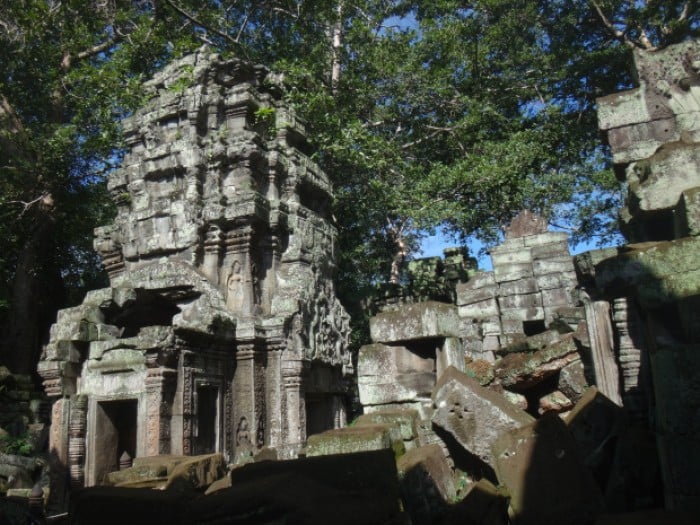 Temples at Ta Prohm
As this is the most popular Tomb Raider temple, everyone wanted to take pictures at the popular tree scenes of Angelina Jolie.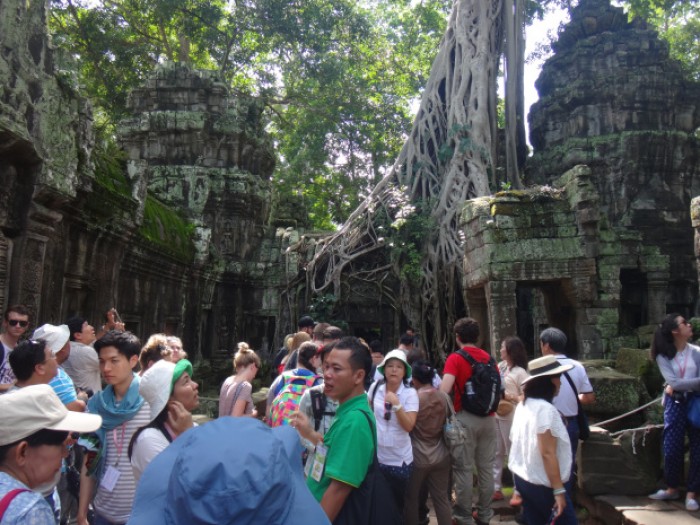 Lots of tourists at the popular Ta Prohm tree!
Joy and I took the long route and got to explore more parts of the temple. It was really nice just exploring. The structure really felt historical like if I could turn back time, a lot of things really took place there. Like I said, Angkor Wat really felt magical.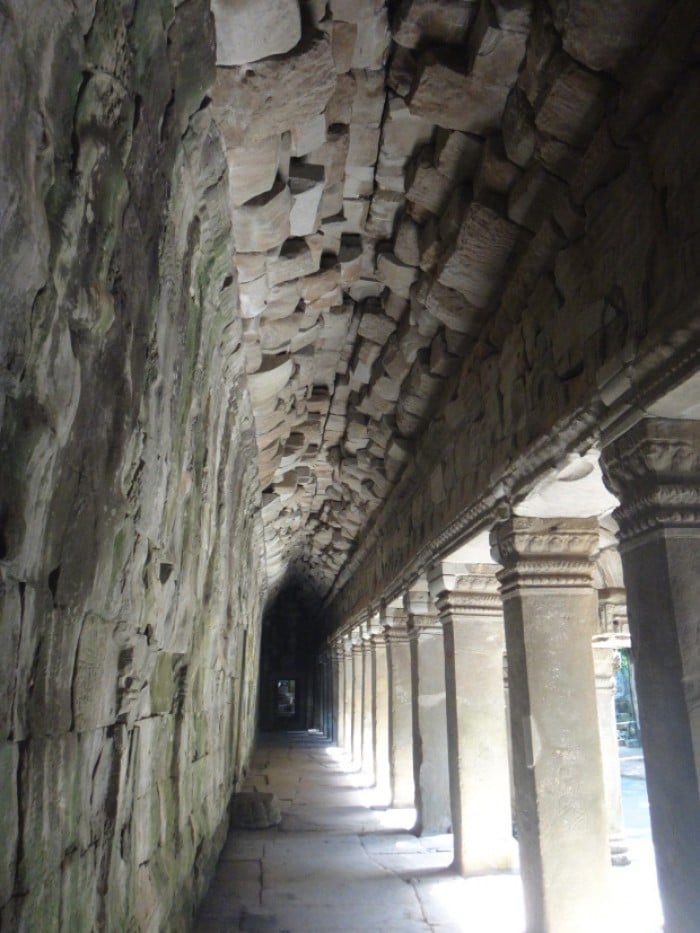 Exploring Ta Prohm
Food
Food in Siem Reap has variety. Almost all types of food were already there – Chinese, Japanese, Thai, etc. But local food (Khmer) was not all too special for me. I like other Asian food better. It was tasty but nothing really good or different about it.
Also read: A Foodie's Guide to Eating Through Cambodia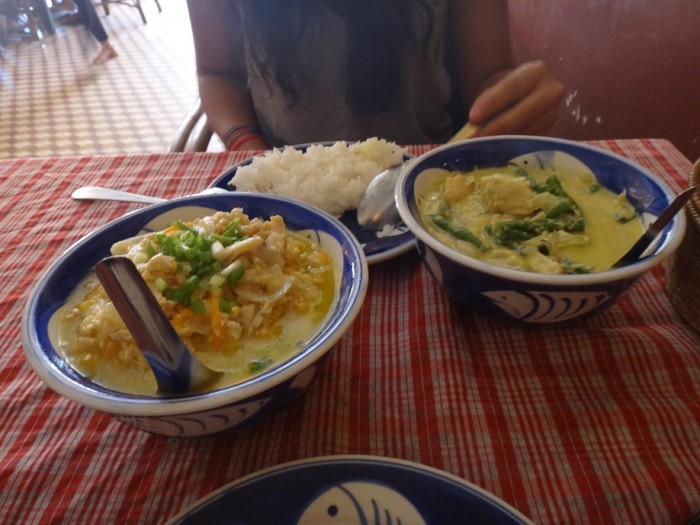 At Khmer Kitchen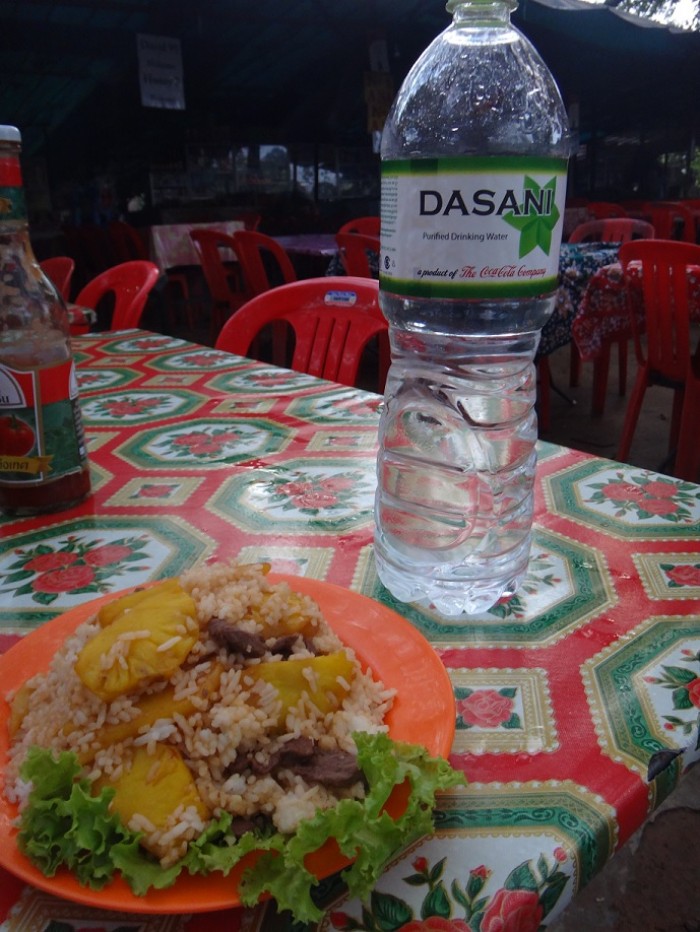 Pineapple Rice at Angkor Wat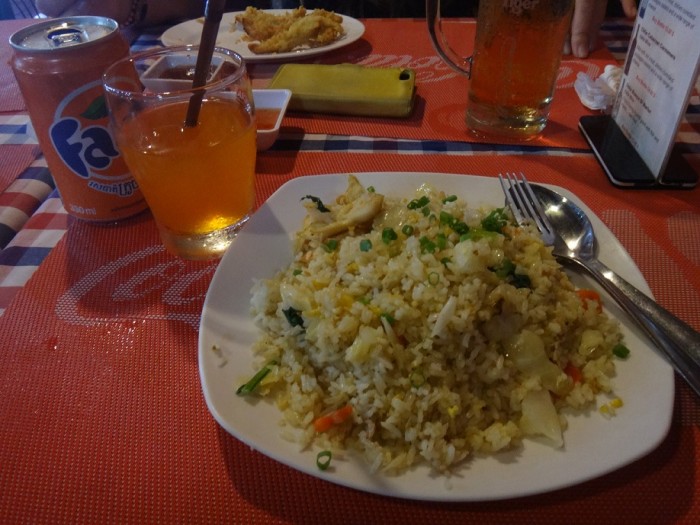 At Pub Street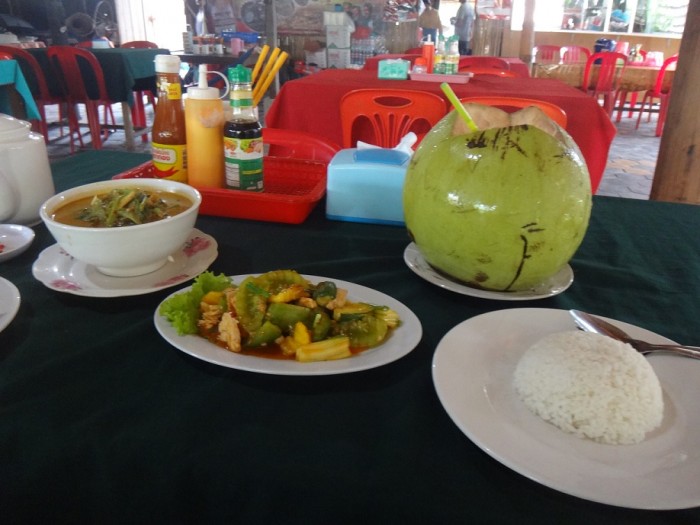 Food from Motorbike Tour
Touring Siem Reap was such a grateful experience. Meeting new friends, experiencing extreme weather conditions, talking to so many people, being a temple raider and photographer, and many more were really amazing. What an amazing and significant experience. I will definitely come back to see more temples and more sites!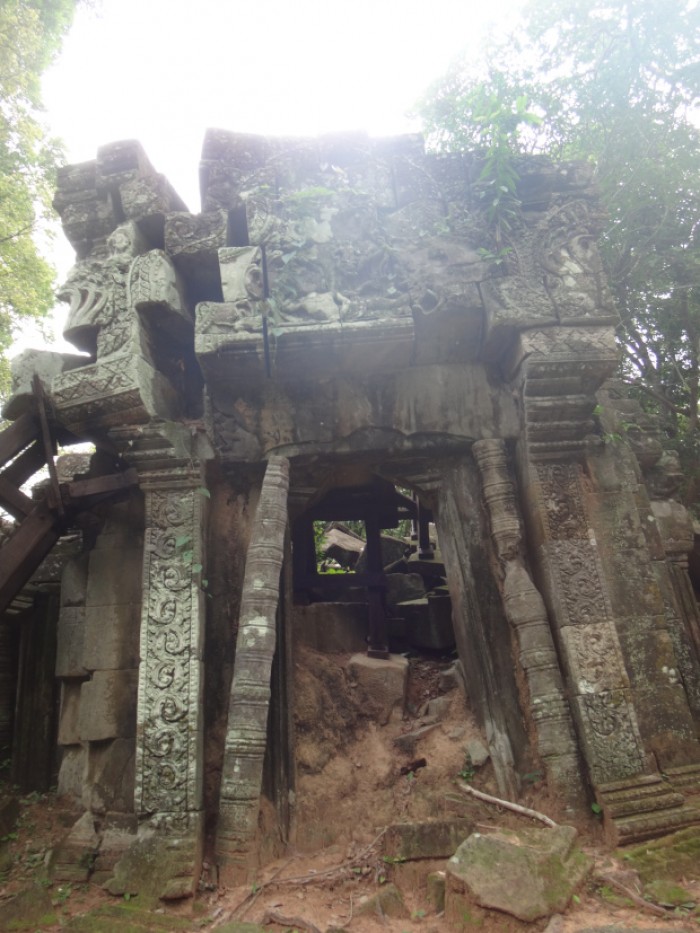 Temple at Chau Srei Vibol
I am very grateful for all the money I paid for these travel blessings:

AirAsia Flight
PHP 2,577
Accommodation – One Stop Hostel (1 night)
PHP 311.57
Angkor Wat 1 day Pass
PHP 900+
Tuktuk – Temple Day Tour
PHP 337.50+
Sabia Adventures Cambodia – Easy Rider Motorbike TourSunset at Bakheng Mountain
PHP 2,520
FoodTransportation
PHP 1,000
Estimated Total
PHP 7,650